It's clutch-a-long time! I'm so excited to share this free pattern and to see all of your creativity with it! Before you start, feel free to do something awesome to your fabric first, print it, stamp it, dye it, pleat it, stitch it to make it your OWN! Or choose a killer fabric combo and button!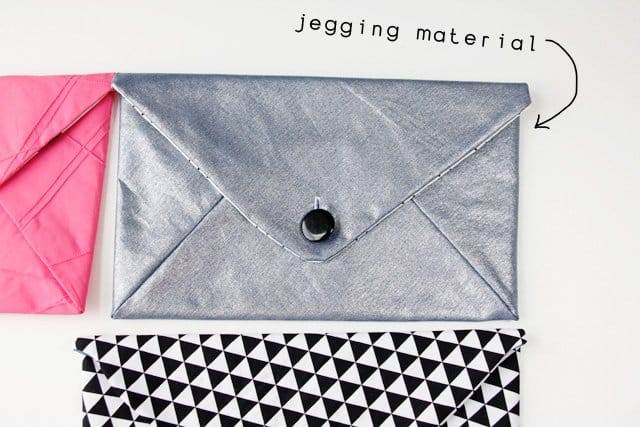 When you're done, upload it to the flickr group so we can all see and comment! If you missed the sew-a-long details, click here! I also rounded-up some cute envelope clutches if you need some inspiration.

Are you ready?!


Materials:
1/2 yard fabric (or 1 fat quarter)
1/2 yard lining (or 1 fat quarter)
1/2 yard midweight fusible interfacing
1 button, any size
Envelope Clutch Pattern Download
Additional supplies:
-needle & thread for closing
–pinking shears
(optional)

Notes:
*Use 3/8″ seam allowance
*seam allowance included in the pattern

Instructions:
Print pattern piece and tape together. The pages will overlap and fit together like so: (Use the grey lines and boxes to line up the pages.)

Cut it out and cut out 1 each from your main fabric, lining and interfacing.

Fuse interfacing to back of main fabric piece.


Set the main piece (with interfacing on the bottom) with the top flap away from you. The edge you see in this photo is the bottom edge of the clutch. 


Fold the sides up at the notch and pin them.


When both are pinned, it will look like this. The piece that is sticking up in the air is the top flap piece. 
 Press the clutch and turn the lining to the outside.
Fabrics used in this post:
jegging material from joann
constellations by lizzy house
mermaid lining by ann kelle
b/w triangles by ann kelle
solid pink from robert kaufman





Don't forget to add your clutch the flickr group, share your blog post on the facebook page and hashtag #februaryclutchalong on instagram!


Have fun! I can't wait to see them!