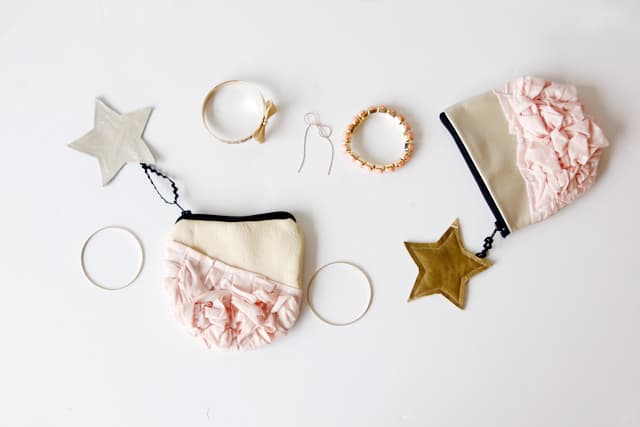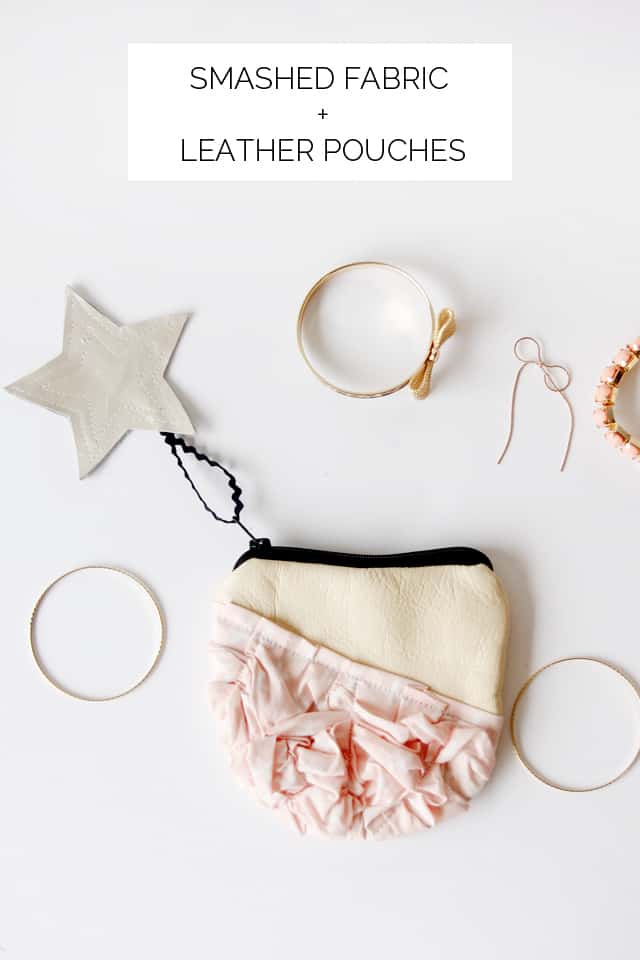 We're continuing Don't Fear the Fabric/Oilcloth + Leather today with this smashed fabric and leather pouch tutorial. Because what is better than a leather zip pouch?? A leather zip pouch with fabric, of course! Dana is tackling oilcloth again today, so don't forget to stop by MADE, too.
I used a few different colors of leather for this project, all given to me by The Leather Hide Store. This an excellent online resource for leather, I've been happy with everything I've worked with from them! (Come back tomorrow for a giveaway you won't want to miss!)
I'm using a silver, gold and and vanilla. These three leathers are super pliable and fairly easy to work with. I added quite a few layers of fabric with the smashed fabric on top, and my sewing machine got through it. It did stop a little bit over the really thick parts, but we made it through!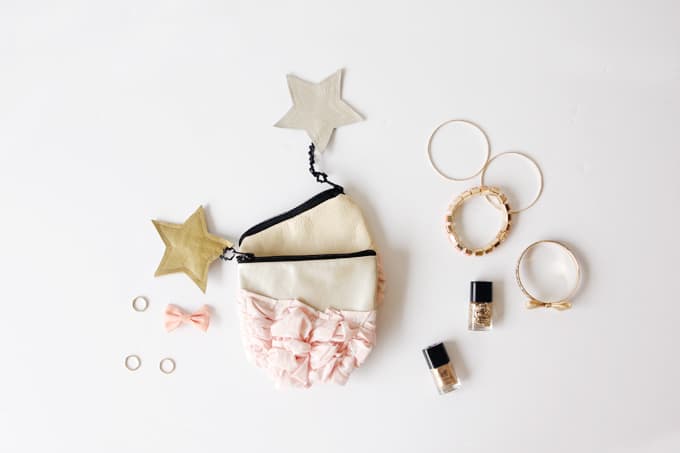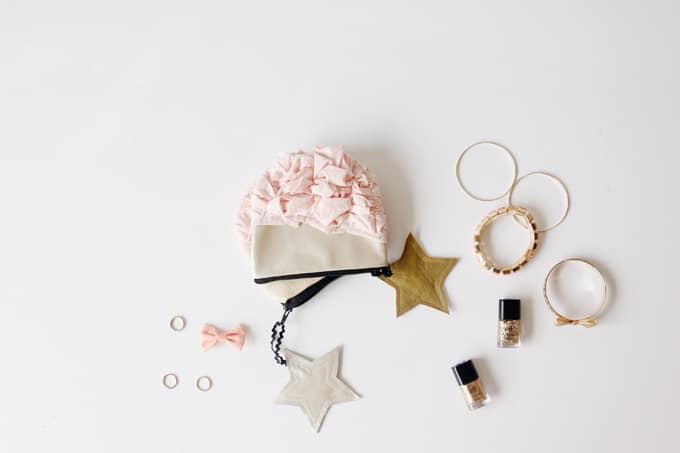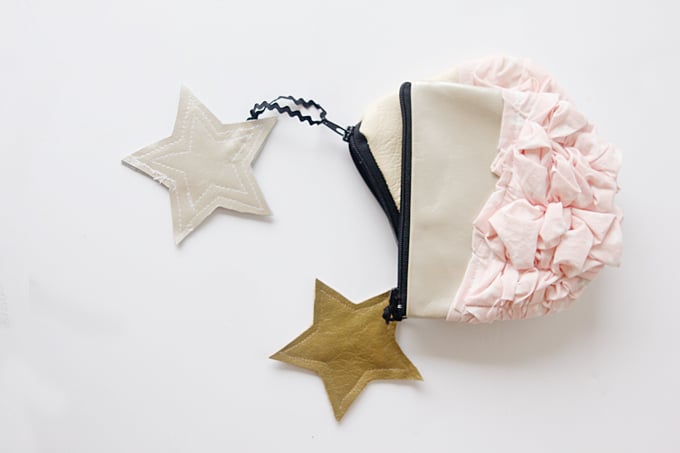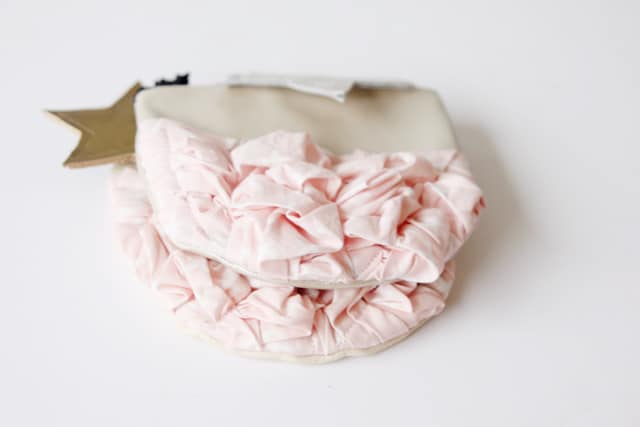 The fabric is the really fun part of these pouches, they definitely take the average zipper pouch to a new level!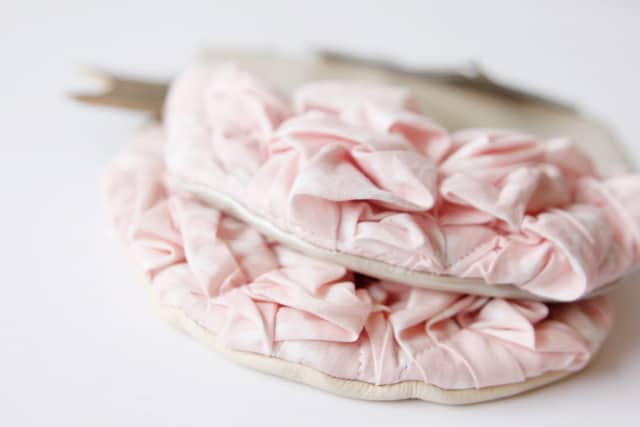 I added a little star zipper pull to each pouch. It's way easy and adds a little something! There is a free pattern download included in this post and it also has a star template.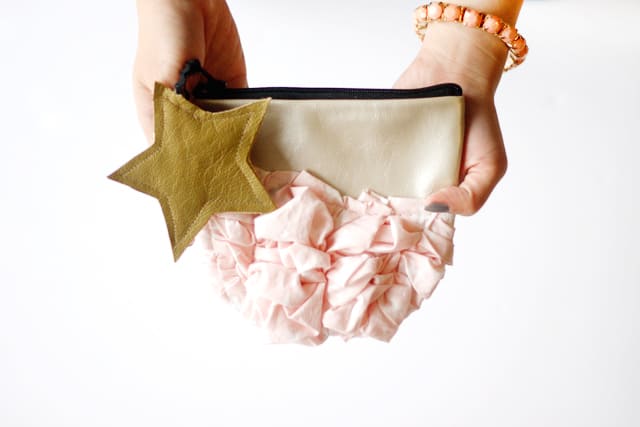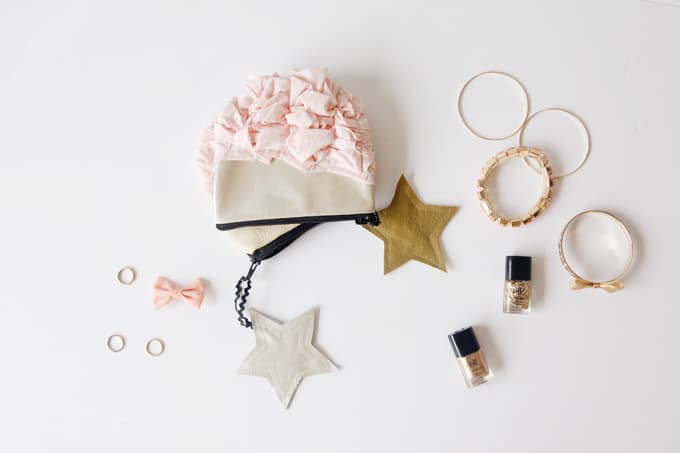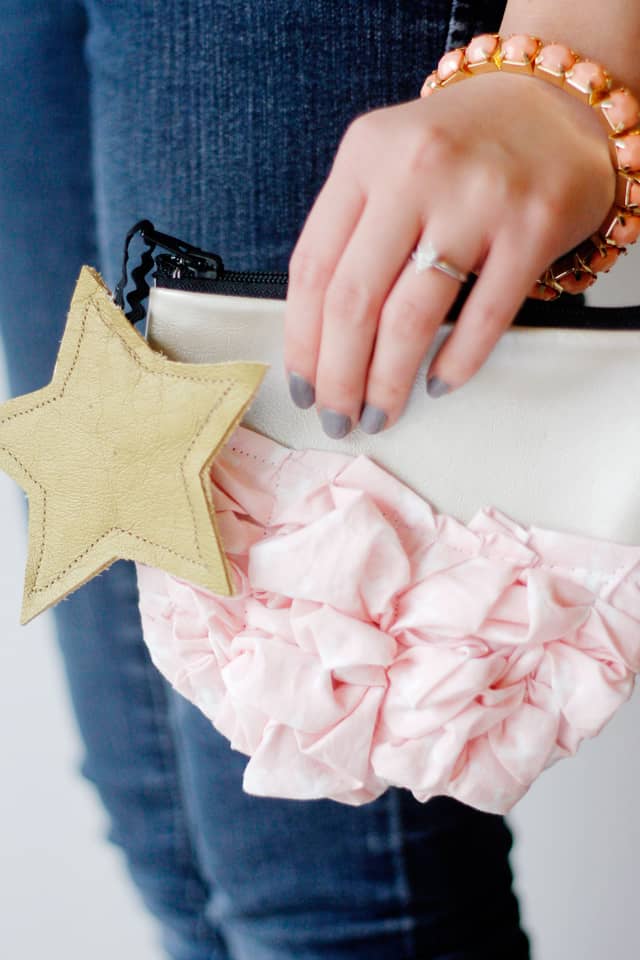 These are great little gifts, too! Fill them up with candy and little trinkets!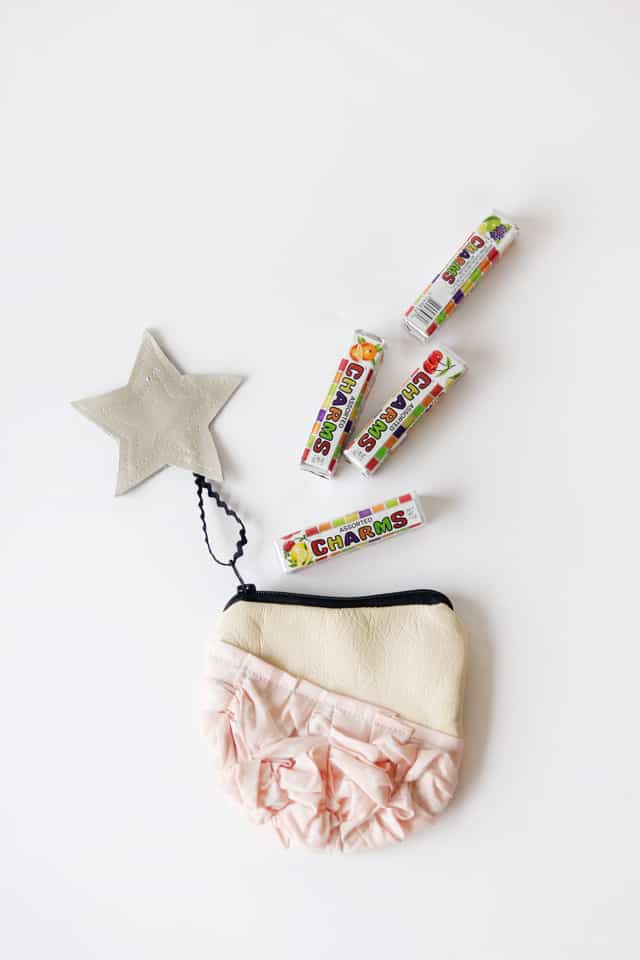 Ready to make some?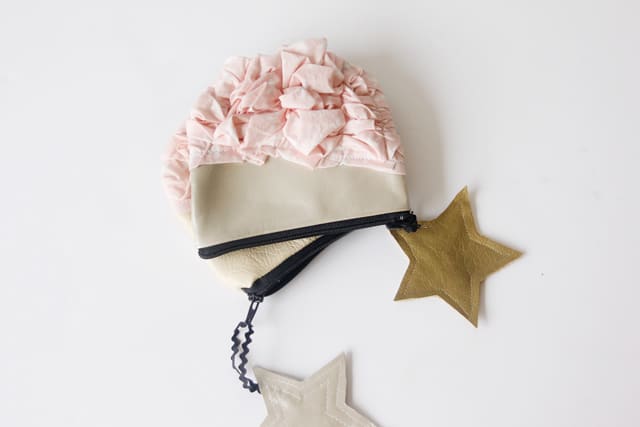 ………………………………………………………………..
Smashed Fabric and Leather Pouches//
Materials:
-leather
-1 fat quarter of fabric (or a scrap about 18″ by 14″)
-extra leather scraps for star zipper pull
-mini ric rac for star zipper pull
-7-9″ zipper
………………………………………………………………..
To start out, cut out two pieces of the pouch body and 2 start pieces.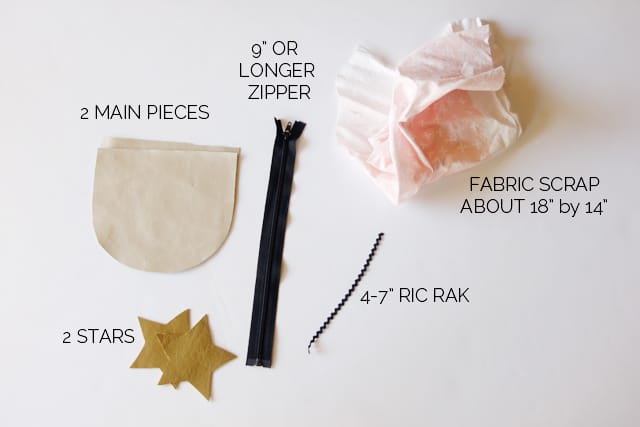 Fold over about 1″ or so of the top of your fabric. The long side will be at the top.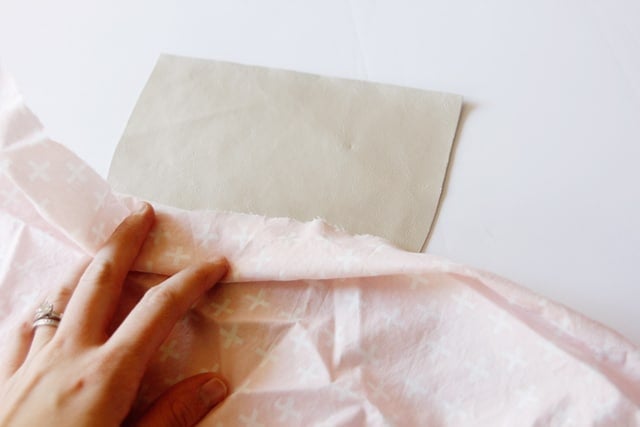 Line up the fabric at the marks on your pattern piece to create an angle with your fabric.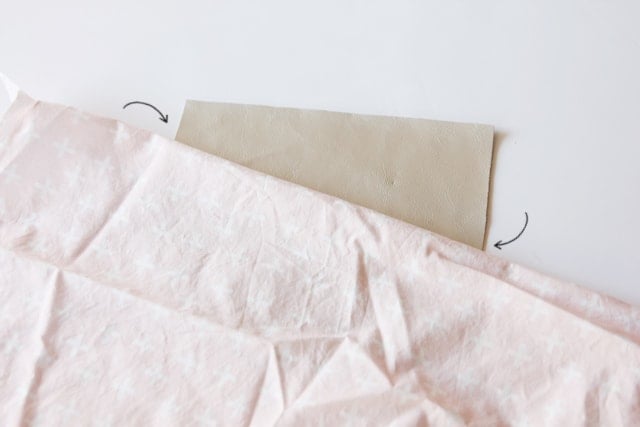 I know I told you yesterday to never use pins, but in this case the leather will be covered with fabric so any punctures won't show up. I used a combination of pins and clips for this project.
So, pin the top edges to the leather pouch. The fabric will bunch up in the middle and that is what you want.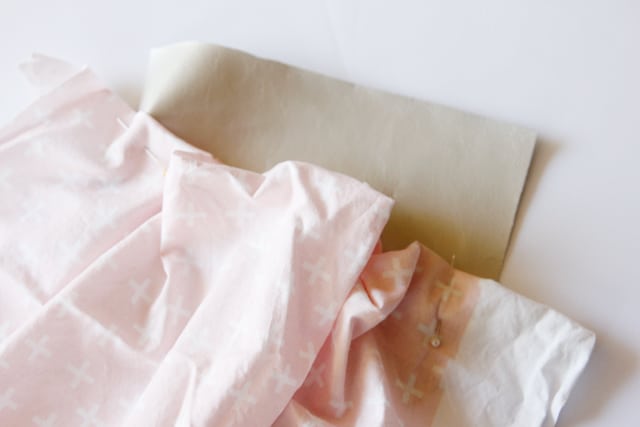 Press the fabric down with your hands, creating pleats, tucks and gathers. Topstitch right over the top edge of the fabric about 1/4″ to 1/2″ from top fold.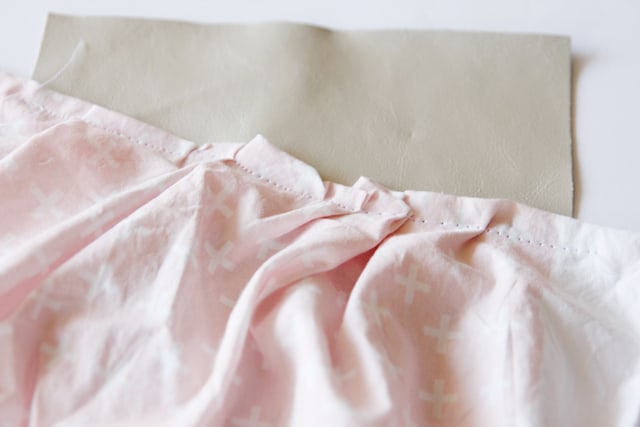 Now push fabric up and smash it down. Use clips and pins to pin around the leather. This isn't an exact art, you can bunch and pin however you want, then sew around the leather curve, catching the fabric as you go.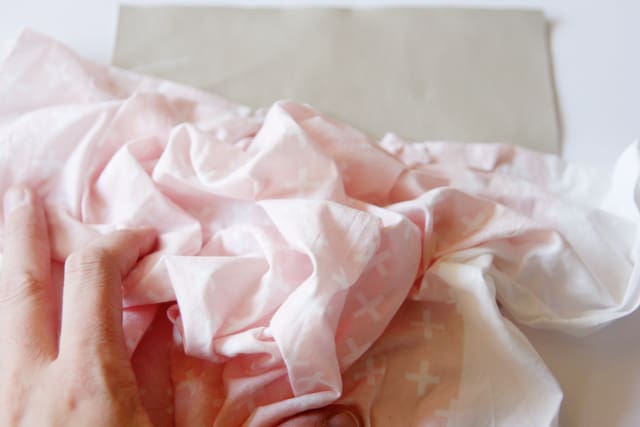 Trim the excess fabric around the curved edge.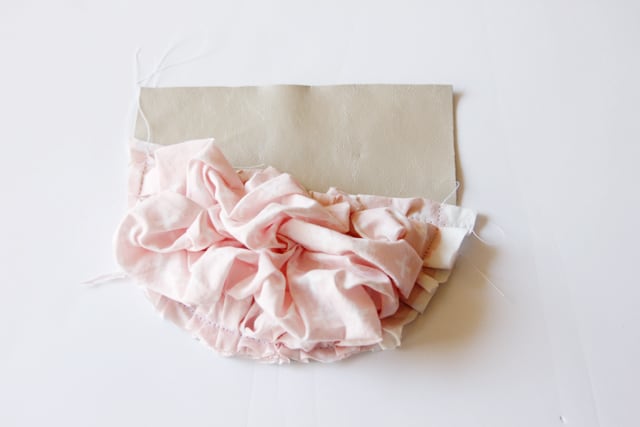 Now smash the bunchy fabric down with your hands and sew over the top of it. You can manipulate the fabric as you go, making sure it is distributed however you want it.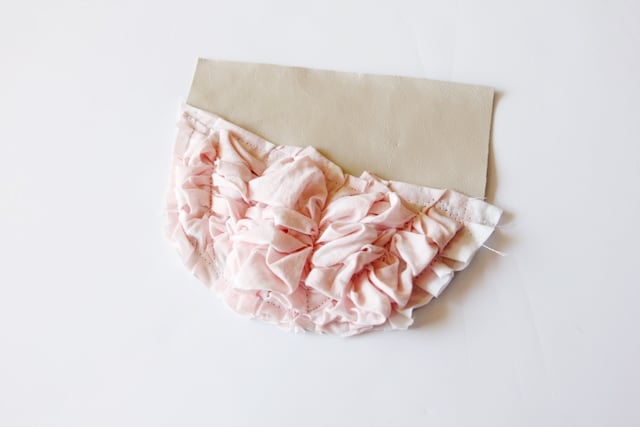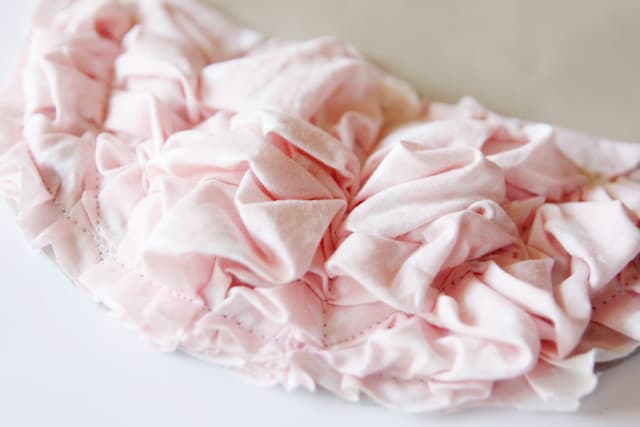 Feel free to stitch using a random pattern. I used a loose zig zag pattern, as shown below. You can also stitch horizontally if you want! This is the fun part where you get to be as creative as you want.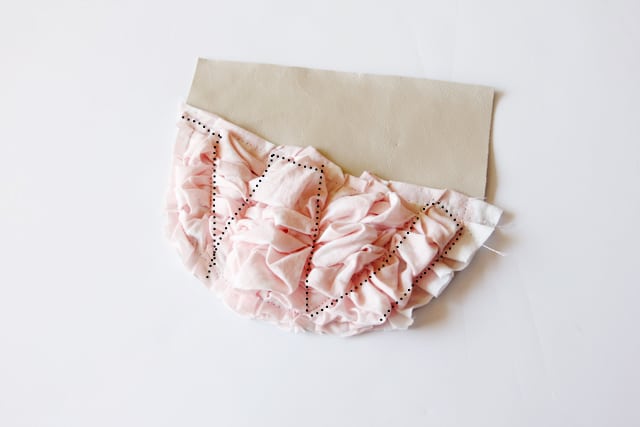 Once you've smashed your fabric and sewn it down to your liking, let's install the zipper.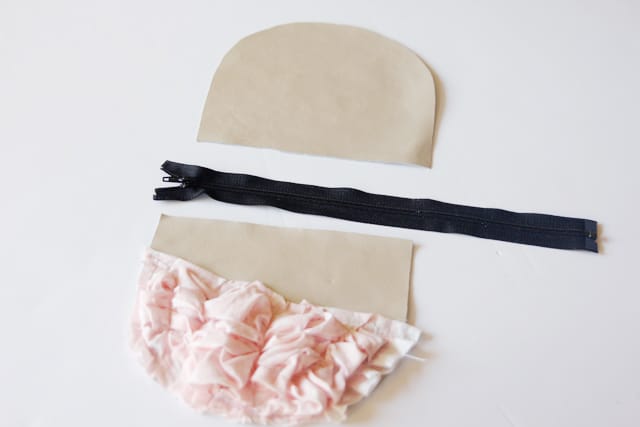 Place zipper face down and stitch it on.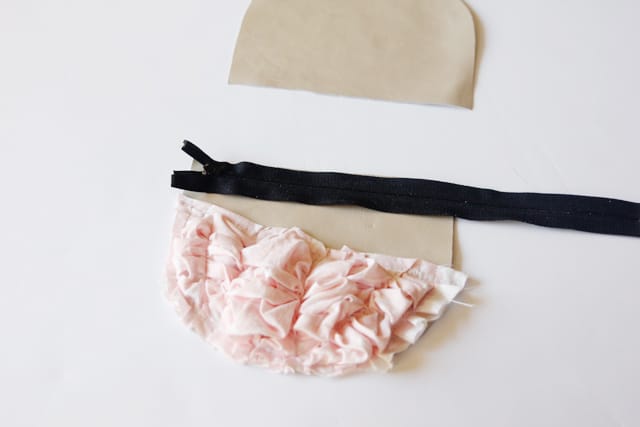 Fold leather over.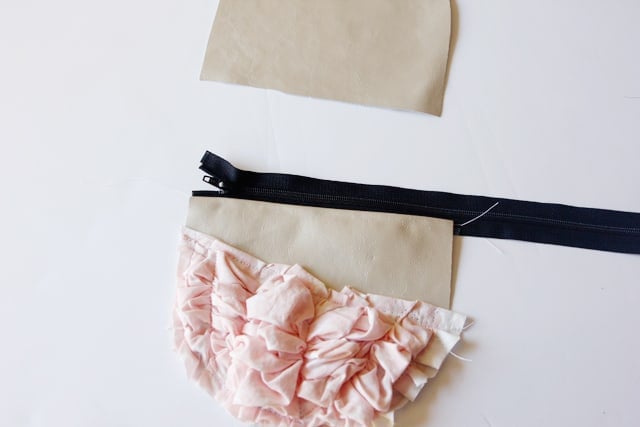 Use doublestick tape on the seam allowance and press it down to create a clean finish.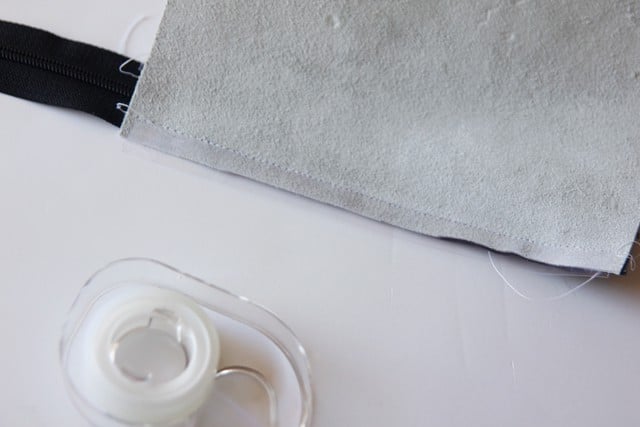 Repeat on the other side of the pouch.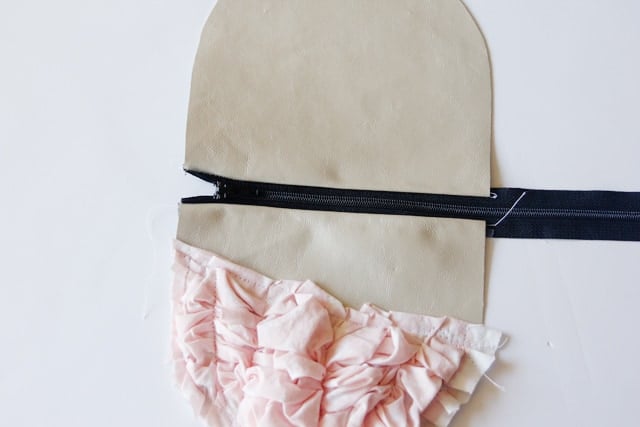 Open the zipper.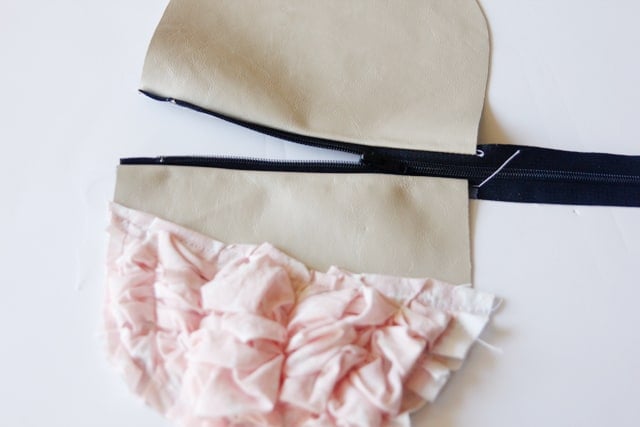 And fold pouch onto itself.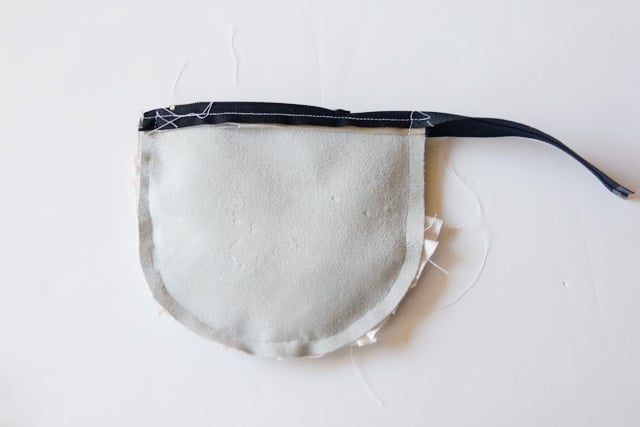 Clip zipper and turn through pouch opening.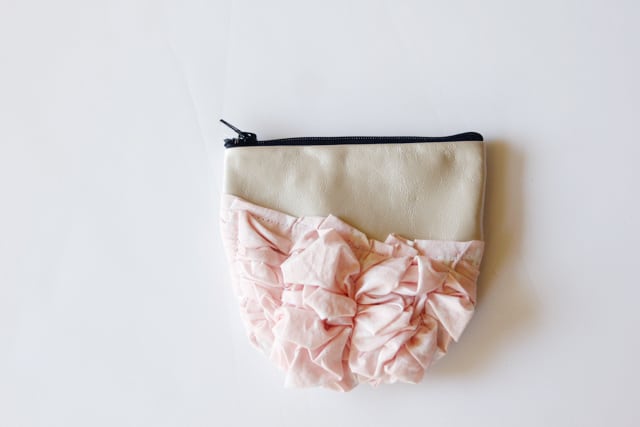 Thread a piece of ric rak through the zipper pull.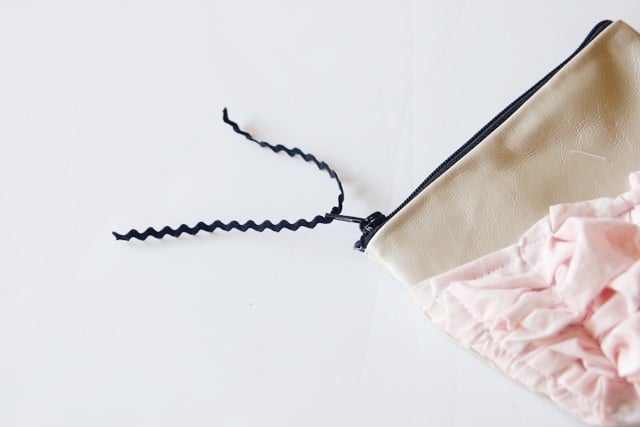 Sandwich the ric rak with your two star pieces. I slipped a piece of doublestick tape in to hold the pieces together.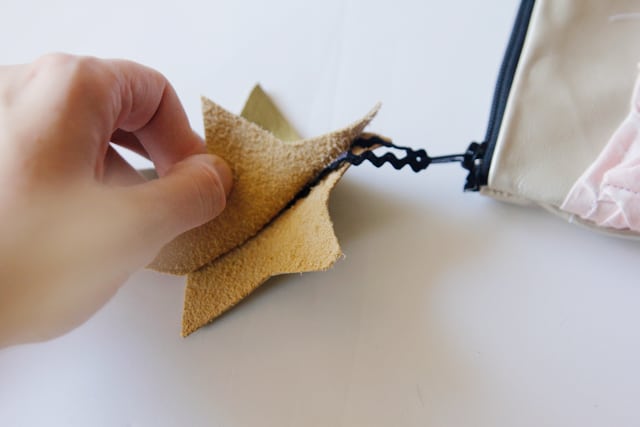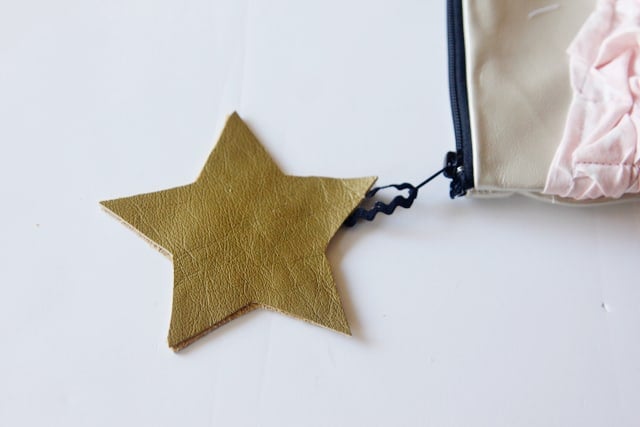 Now sew around the star edges. Sew once or twice around, backstitching at the beginning and end.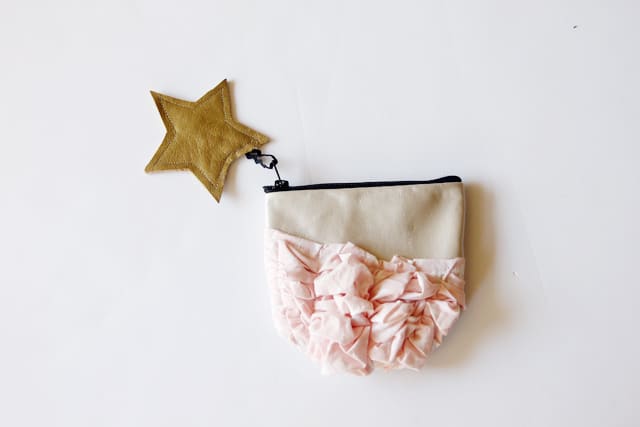 And you're done!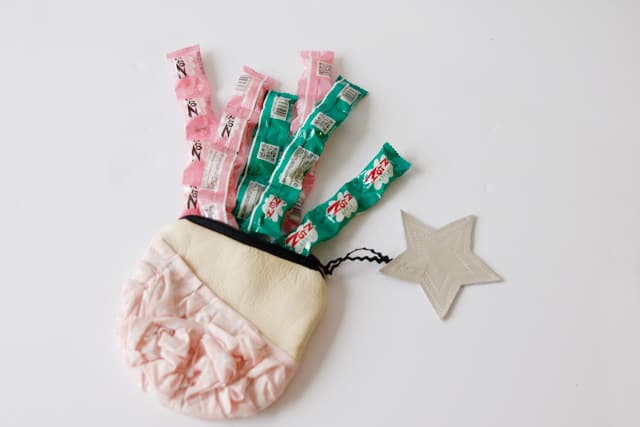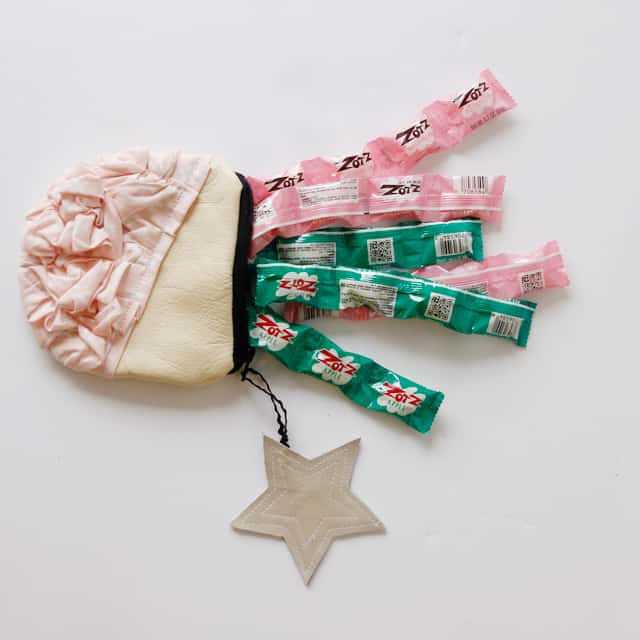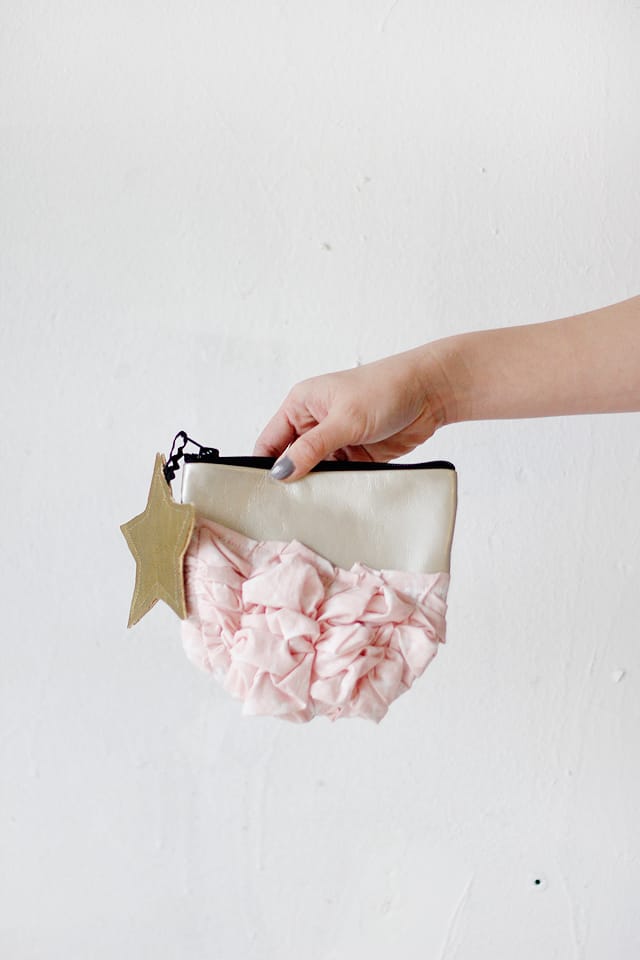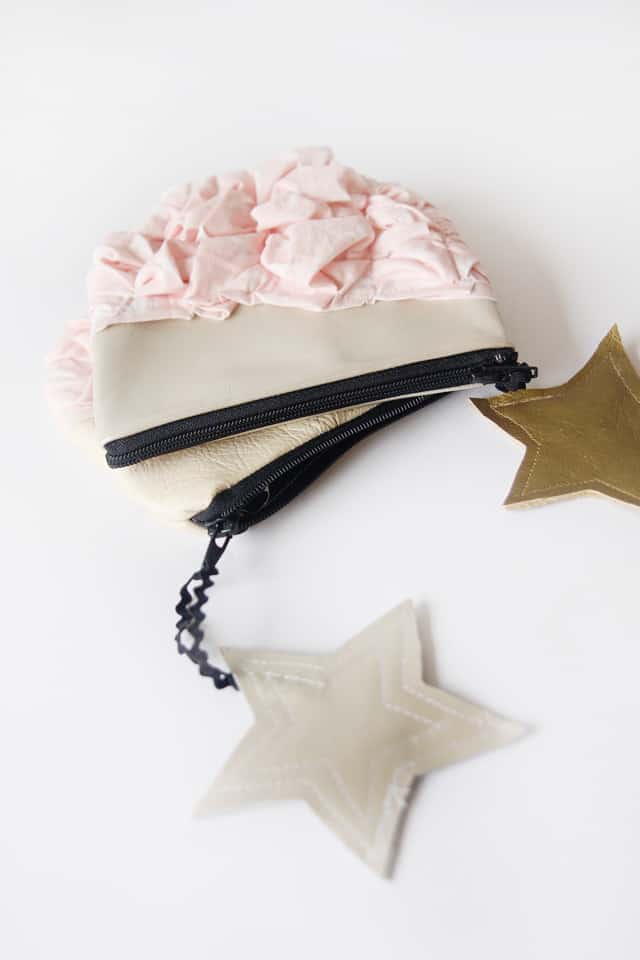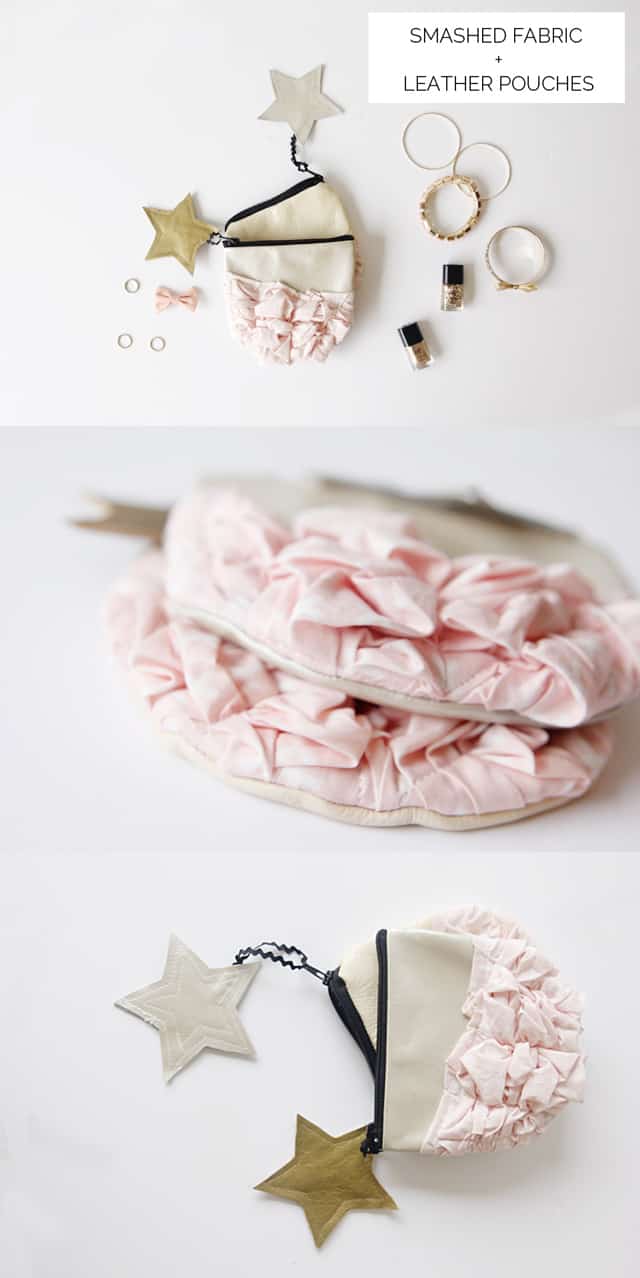 See the rest of the Oilcloth + Leather series:
Sewing 101: 6 Tips for Sewing with Leather
How to Sew with Oilcloth + Mini Project at MADE
And today on MADE: colorful oilcloth coasters!