Here's a reallllly last minute Father's Day gift – a free bow tie pattern! Making your own bow ties is really simple and pretty fun. This post has a free printable pattern in lots of different neck sizes, also!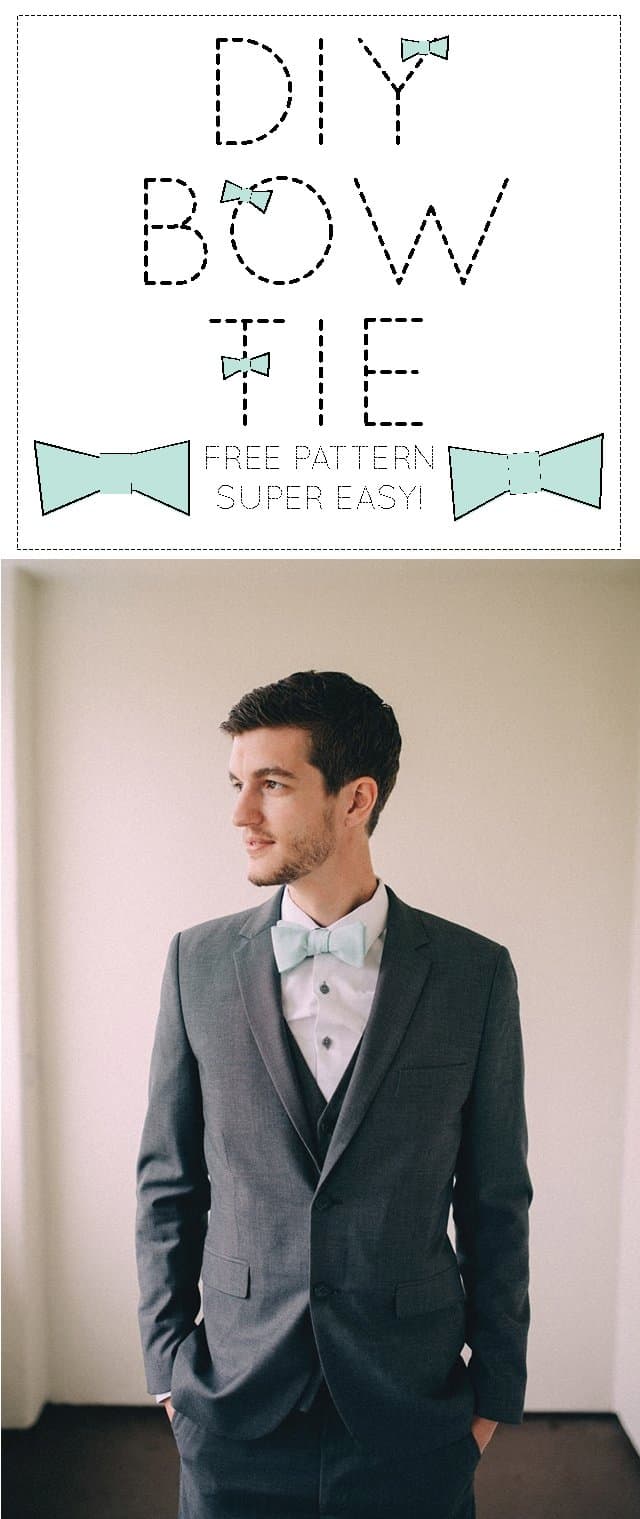 All photos by Kyle Ng Photography.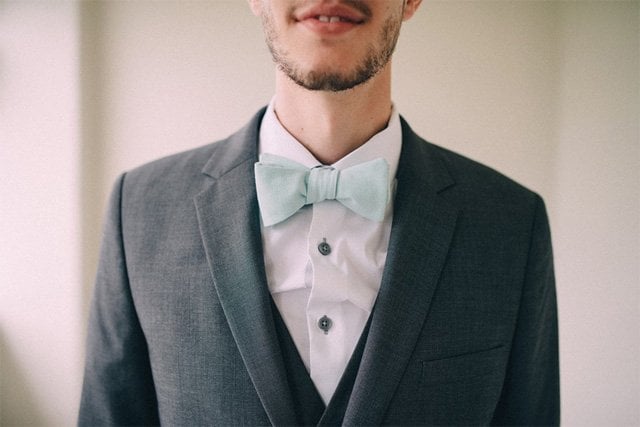 I had the honor of making a bow tie for one of my best friend's wedding this winter! Since I couldn't be there I was really happy to have this tiny part. I probably overstressed about this, I wanted it to be perfect of course. I bought 8 colors of seafoam/aqua fabric, narrowed it to 3 to make into bow ties and then sent those. I crossed my fingers that one of them would be the perfect shade and luckily it worked out!
Dani is simply gorgeous as always and these two make such an adorable couple. I'm just so happy they found each other!
Bow Tie Pattern Materials
Fabric, silk, linen, cotton, etc
Lightweight fusible interfacing
Bow Tie Template, see below
Bow Tie Template Download
Bow Tie Fabric Selection
You can pretty much use any light to mid-weight fabric for bow ties. If you want to be fancy,  silk or linen are great options. If you want more variety, any quilting cotton will work. Avoid thicker fabrics such as twill, cord and similar weights as those may be too stiff to tie.
Bow Tie Sizes
What size?
Before you start you need a neck measurement. This pattern includes sizes 14.5″ to 18.5″ so measure the neckline of whoever you're making the bow tie for and cut out that size from your pattern piece. Then follow these steps: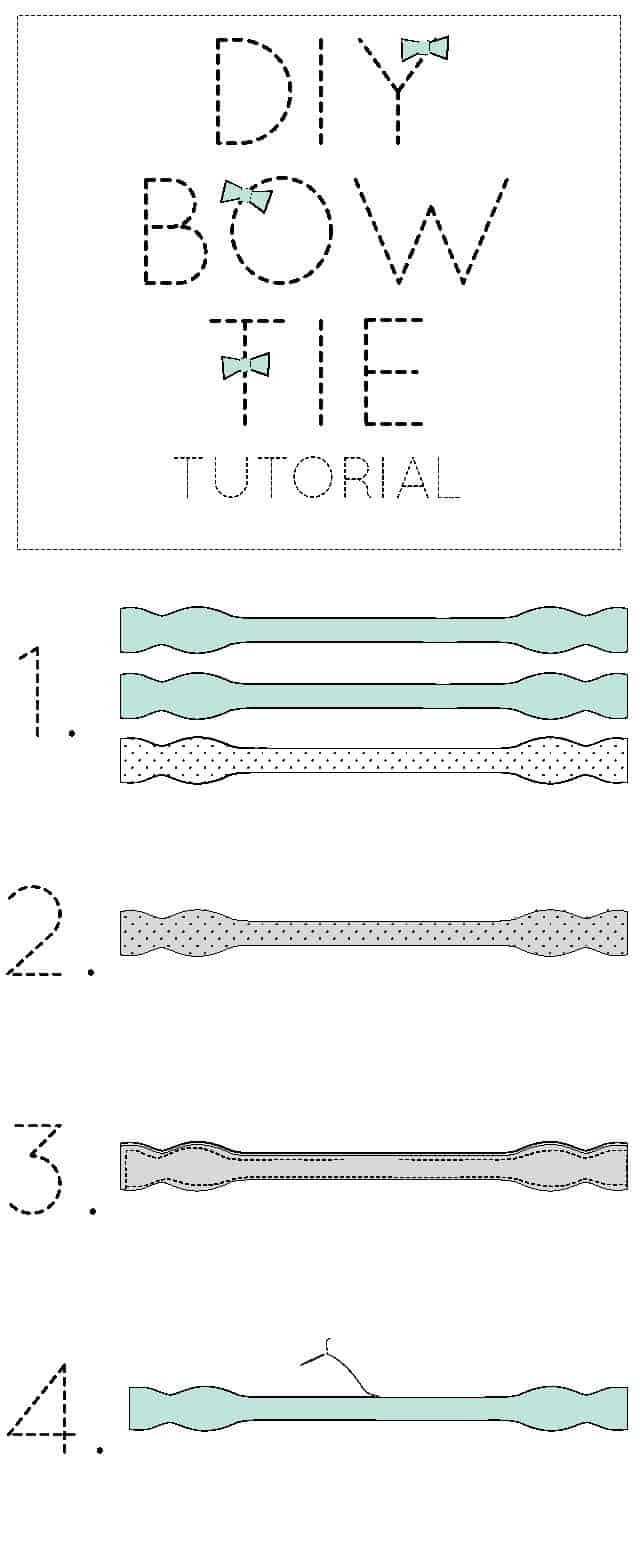 1. Cut out 2 pieces from fabric and 1 from interfacing.
2. Fuse interfacing to wrong side of one piece.
3. Pin pieces together with right sides of fabric touching. Leave a 2″ opening in the middle. Sew all the way around at 1/4″. Clip and notch bow tie seam allowance. Then turn.
4. Press and hand sew opening.
Done!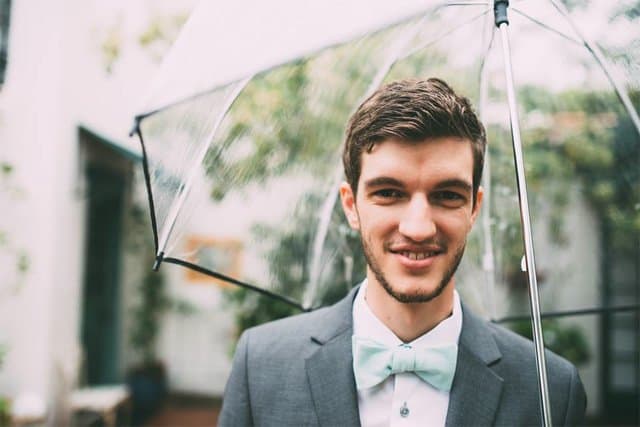 DIY Wedding Bowties
Now make a whole bunch more! This project is great to make a custom color bow tie for a wedding party! Sometimes the stores just don't have the right color and with DIY bow ties – you can choose any fabric you want!
Thanks Dani + Jordan for being so attractive, and thanks to Kyle Ng Photography for permission to use these gorgeous photos in this post!