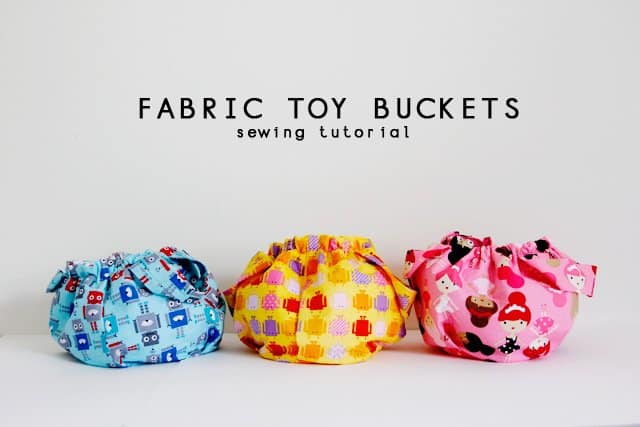 My little 2-going-on-3 year old is obsessed with trucks! OBSESSED. If you follow, you might know that. It's the cutest little obsession which I am happy to feed. His favorite trucks are the little metal Matchbox cars.
I thought of this idea when I saw him trying to carry about 7 of his trucks at a time. He would put them all up against his chest and tried to hold on with his little hands, but they were always falling out. So I made him a little bucket, a truck bucket so he can carry them around. I showed him how he can put them all in the bucket and hold the handles and he caught on really quickly. His blue robot bag and all the trucks go everywhere with him now, it's adorable!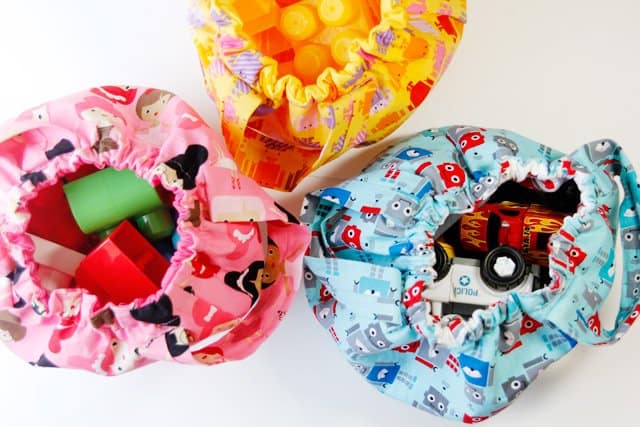 I made two more, a yellow robot bag and a ballerina one, so now he has a set that he can use for different things. They are super easy to make and really fun to use! Fusible interfacing makes them stand up a little bit so it's easier to load them up!
toy bucket tutorial
-30″ by 9″, cut 1 main, 1 lining and 2 interfacing
-circle 7.5″ diameter, cut 1 main, 1 lining and 2 interfacing
-handle pieces: 4″ by 14″
-1/2″ elastic – 16″
First fuse the interfacing to the back of each piece. Then sew the long rectangular piece together at the short edge, with right sides together. Press the seam open.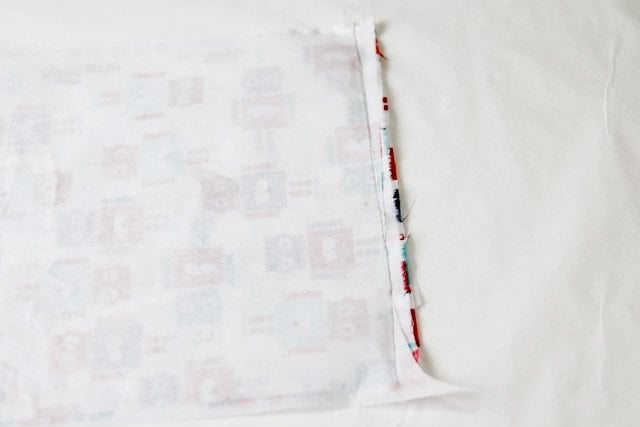 Make four 3/4″ knife pleats around the bottom edge of the circle. Space them evenly across from each other and make the pleats in the same direction.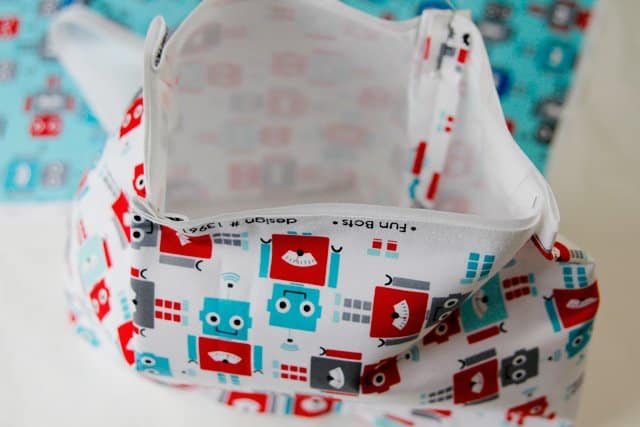 Pin the circle piece to the cylinder with right sides together. Adjust your pleat sizes to get them to fit properly.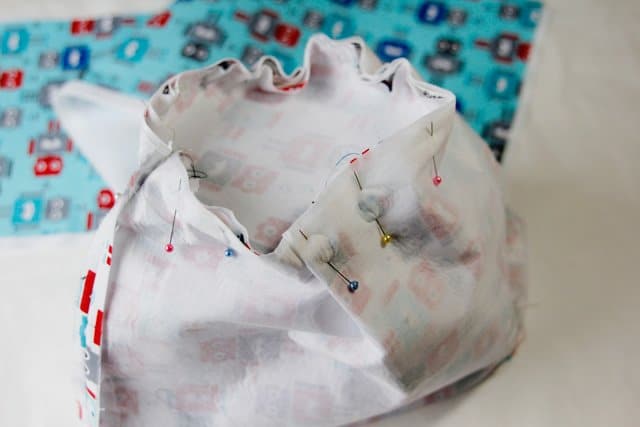 Sew all the way around. Then turn your bucket right side out.

It should look like this. Make another one with the lining.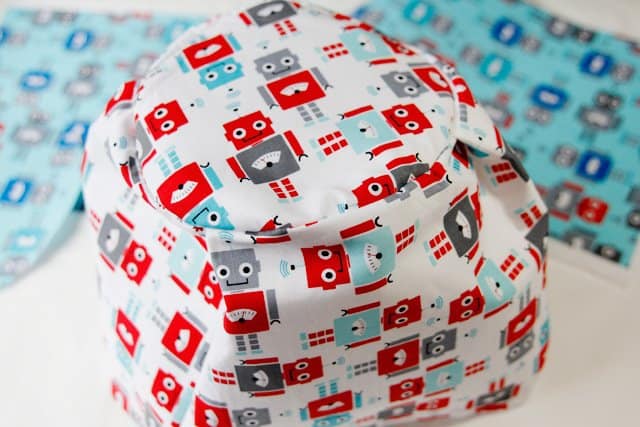 Then, stack the buckets into each other. One will be right side out and one will be inside out so the right sides face when stacked. Pin and sew around the top edge, leaving a 3″ opening.

Turn the bag right sides out and then push the lining into the main piece. Sew around the top edge at 3/4″ creating a casing. Feed your elastic through, sew the elastic together, then pin the opening closed. Topstitch it shut.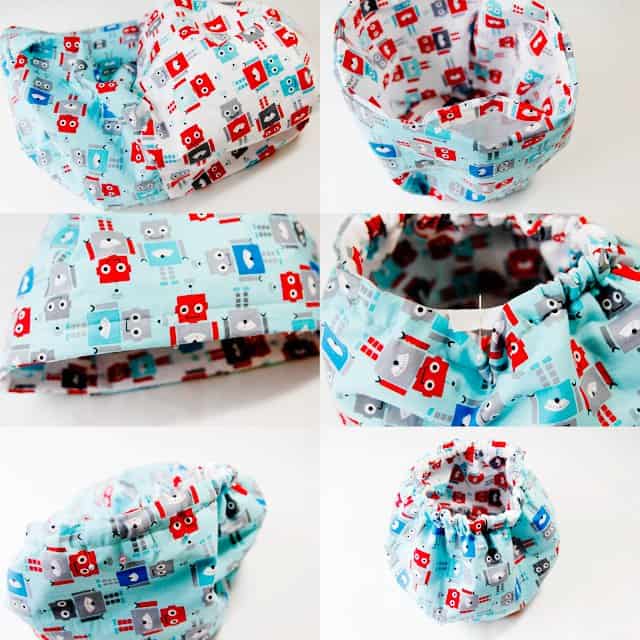 Sew the handles by folding them over the long way into a tube. Turn and press. Then press over 1/2″ on each end. Pin to bag and sew on in a rectangle. The handle edges should be 4-5″ apart.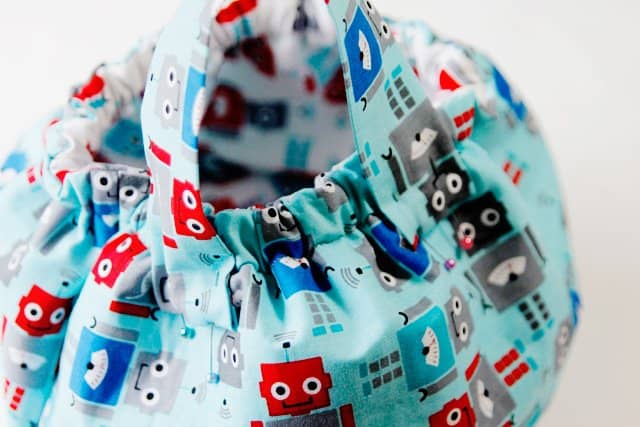 Attach the other handle and you're done! This bag is technically reversible, so use something cute for the inside, too!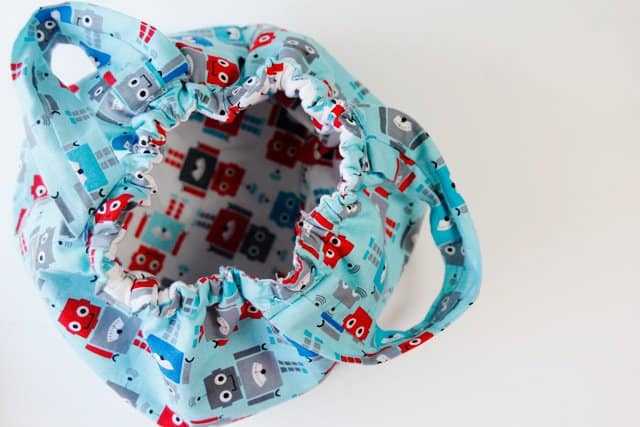 Fabrics used in this post:
funbots celebration
funbots retro
funbots spring
girlfriends ballerina bubblegum
all c/o Ann Kelle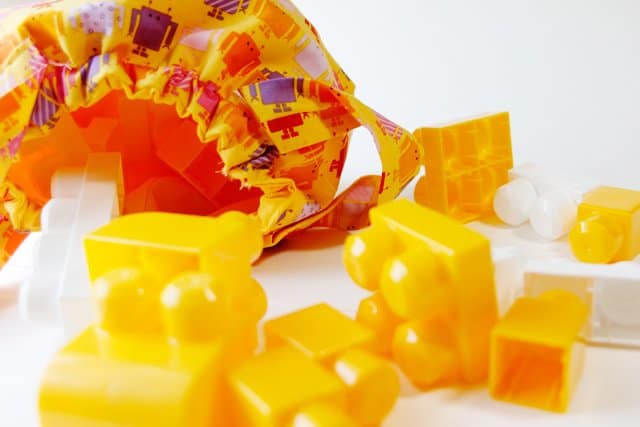 What do you use to store toys? Even though I made three of these, there are still toys everywhere!