In case you missed this last week at Made by Heidi, here's how to make fancy burp rags and a bucket to put them in. Go over to Made by Heidi to enter to win this one! (It's the last day to enter!!)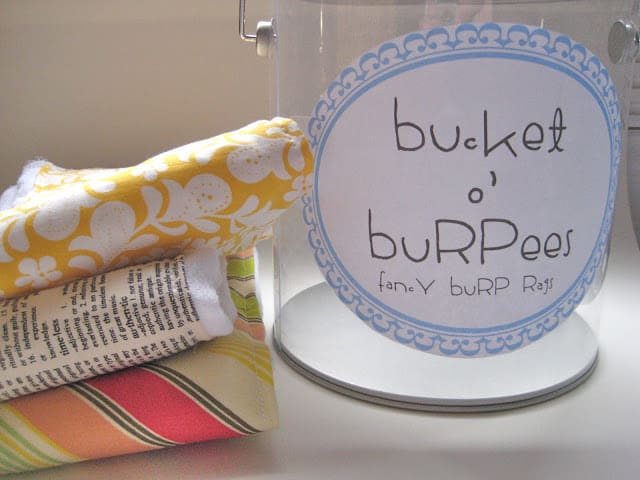 If you're ever running behind on a baby shower gift, this easy project is fast but oh so cute!
I got this idea when I was 10 weeks pregnant and just starting to revel in all the fun things I would get to sew. In a little shop in the mountains Northern California I found the cutest little burp cloths. They were just cloth prefolds with the middle section covered in a hip cotton print. Three for $15. I was so tempted to purchase they were so pretty! But the rational me decided they would be way too easy to make to even consider spending $15 on them.


Since my kid isn't a spitter, I just use these for anything else. They are perfect milk-wipers, tear wipers, and anything wipers, so they are great to have around. It's especially nice when something so useful looks so cute in the diaper bag. They look great stacked on the changing table, too!


Materials:
gerber pre-fold diapers, any kind (birdseye or cotton)
6″ by 20″ rectangle of fabric, one for each burp cloth
1 clear bucket, available at craft stores in the gift wrap section (I got mine at Michaels)
free burpee bucket printable
Step 1: Iron under 1/2″ on the long sides of your fabric strip.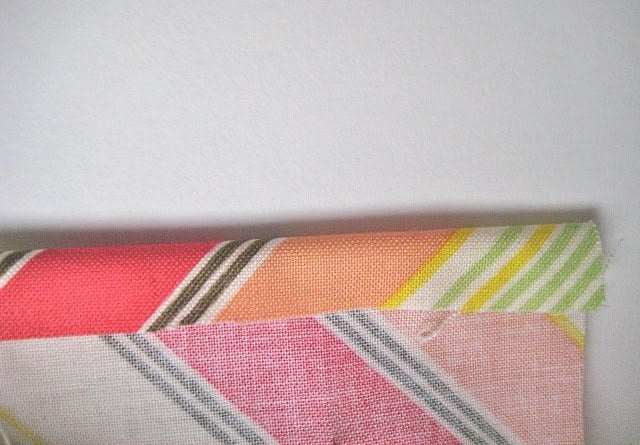 Step 2: Center strip on cloth diaper and pin in place. It doesn't matter which side you do this on, just make sure you are covering the thickened section in the middle.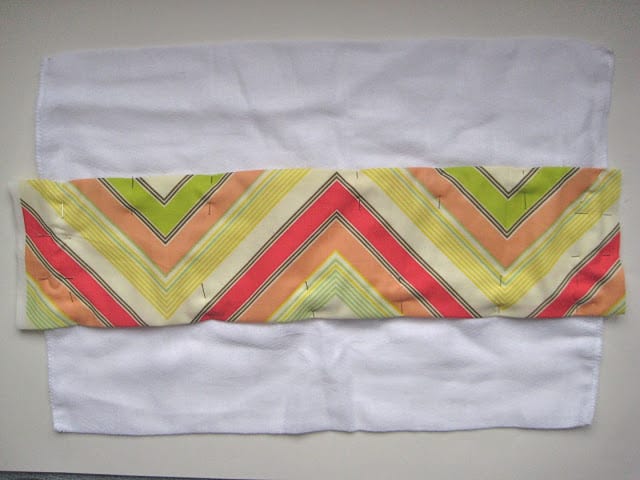 Step 3: Sew the panel to the diaper using a line of stitching 1/4″ from the edge of the fabric.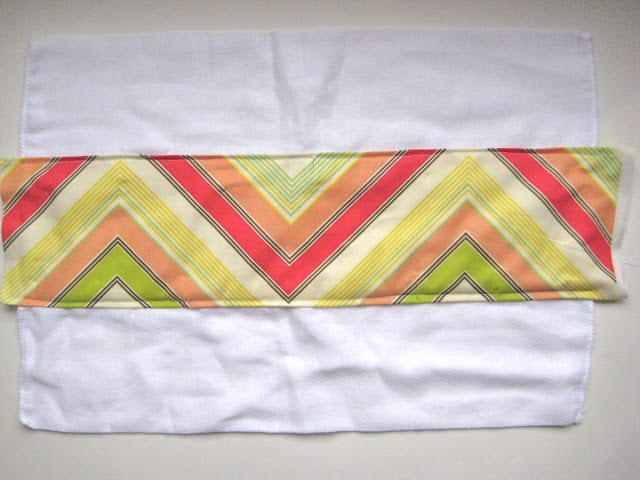 Step 4: Baste the short ends of the fabric to the diaper using a wide stitch 1/8″ from the edge of the diaper.

Step 5: Remove any pins and serge short edges. Since the diapers are pre-serged, just serge right over the existing serging, making sure to cut the extra fabric as you go.


Tip: Feed the diaper through diaper side up so you know where the edge is.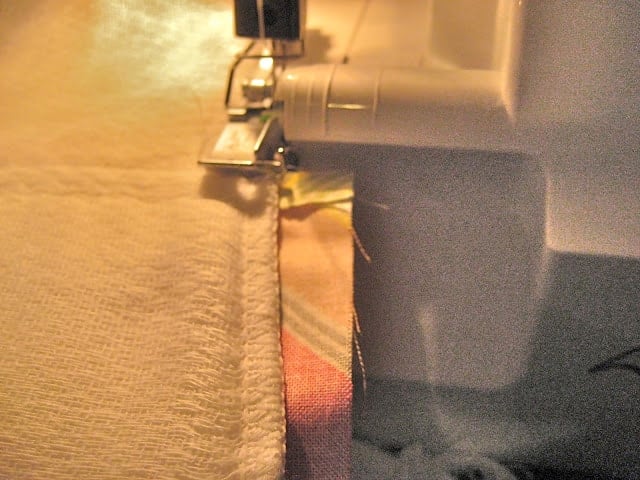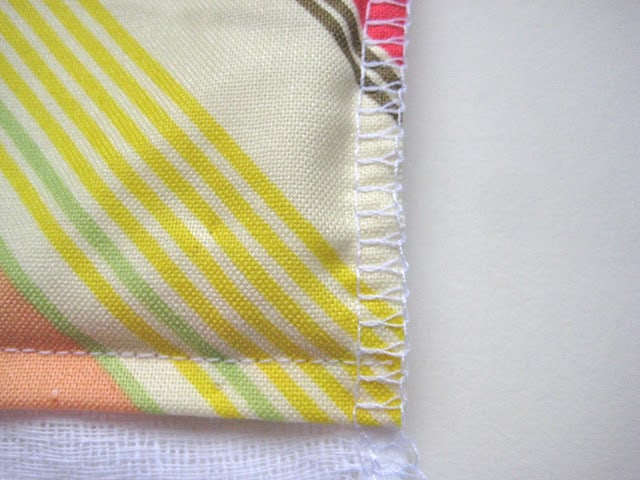 If you don't have a serger, use a zigzag stitch. Clip any hanging threads and you're done!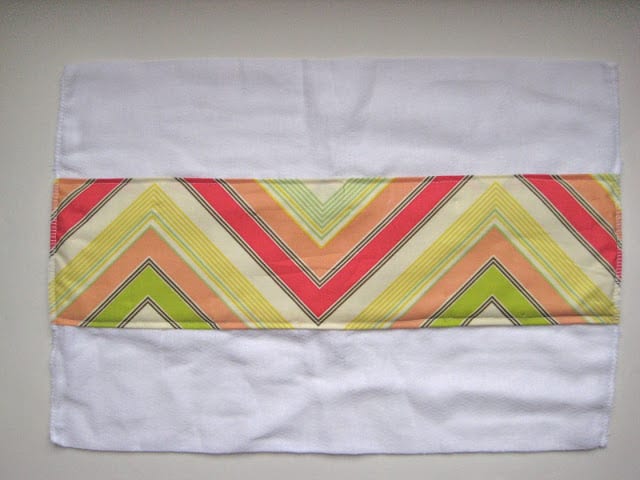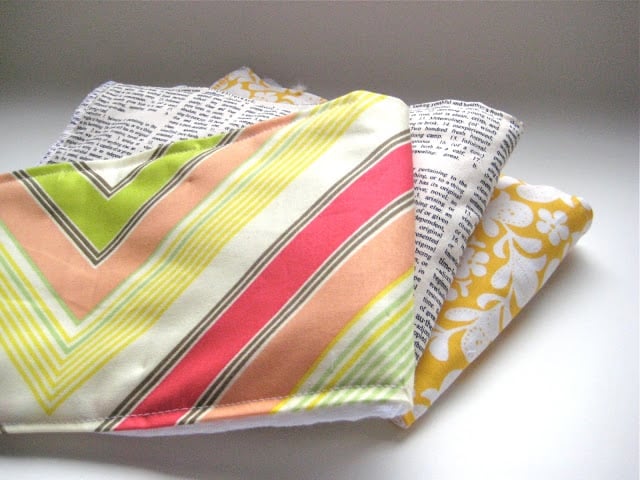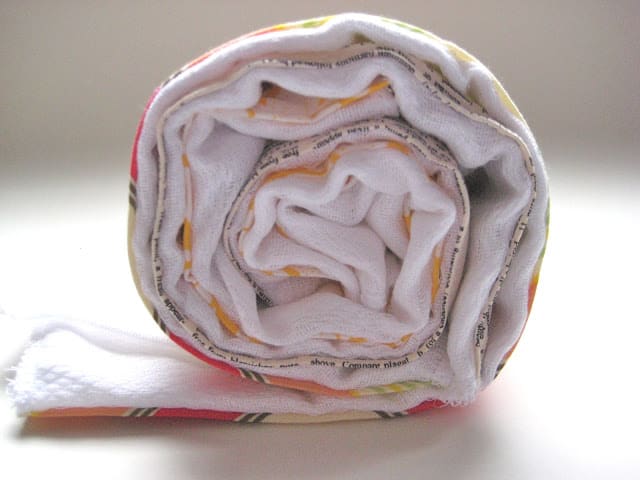 Make a few more and throw them in a bucket o' burpees! I rolled mine together so they fit just right in the bucket.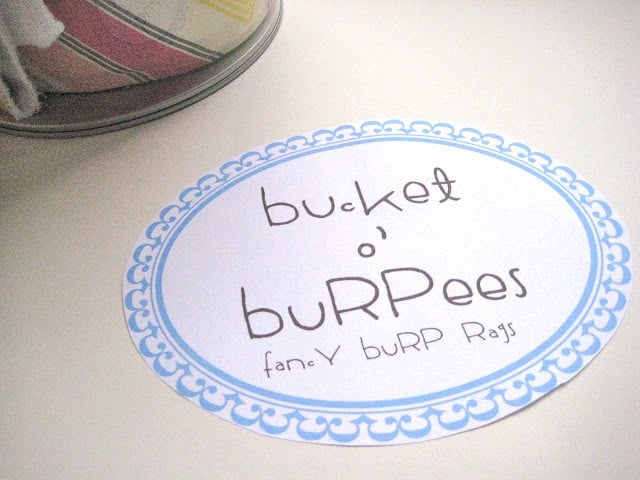 For the bucket, just print the free printable, cut it out and double stick tape it to the outside of the bucket. You can also print it on adhesive label paper to make it even easier.