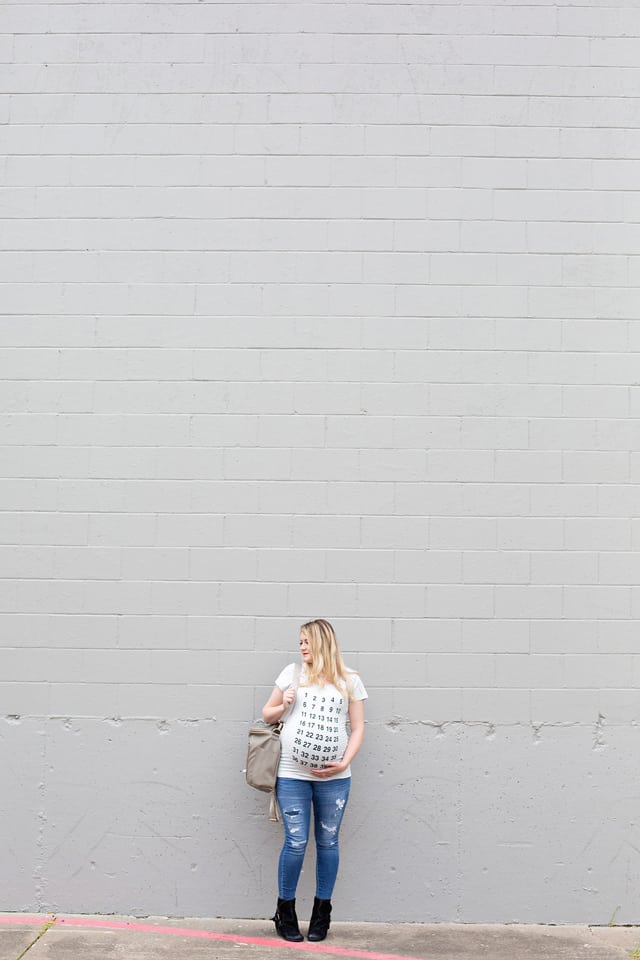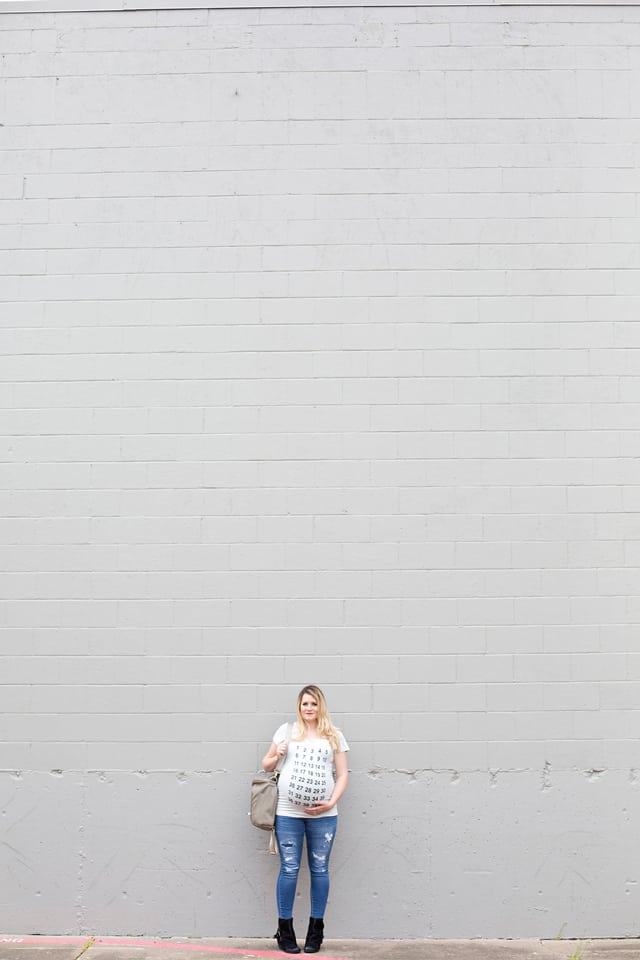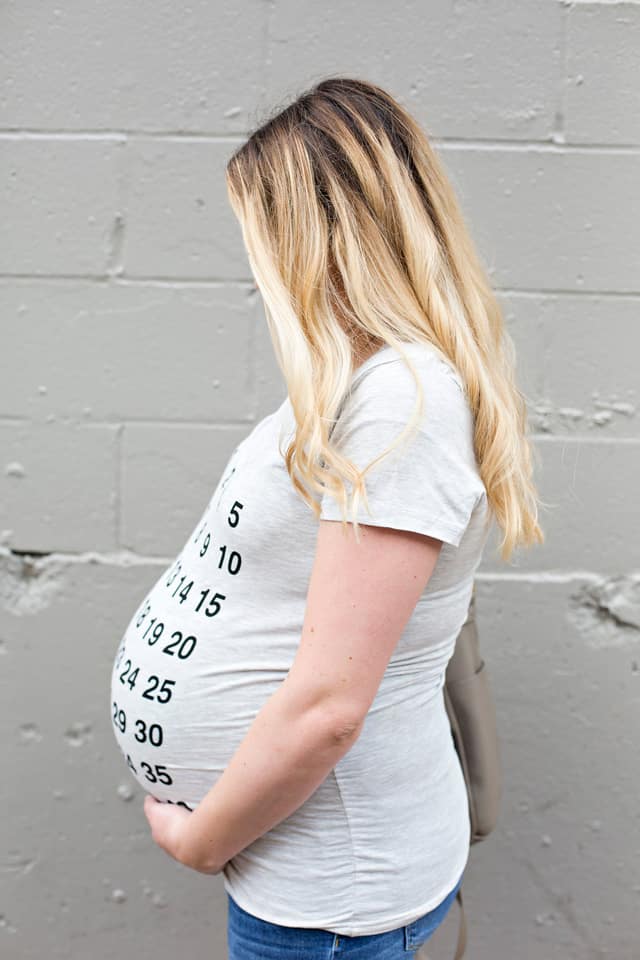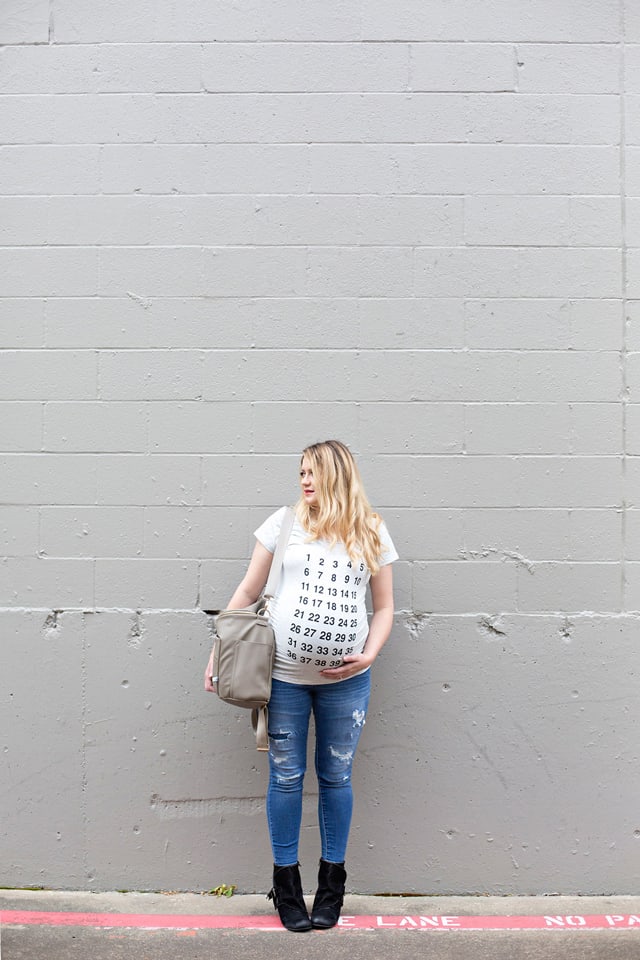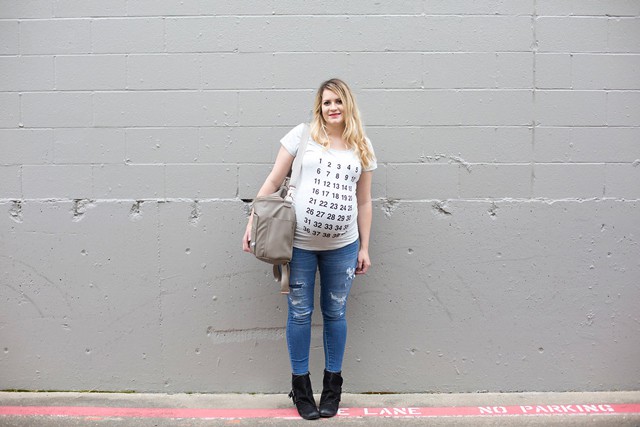 Pants: Target (sized down 1)
Shirt: c/o The Countdown Shop
Bag: c/o Fawn Design
Loving this countdown tee from the Countdown Shop! I am also glad I got it just 5 weeks from my due date because I got a size that fits! I'm running out of clothes and glad I sized up 1 from what I would normally think for this tee. I haven't had the heart to cross off any numbers yet, but the package comes with a red fabric pen, so I may do that tonight! This has been my favorite maternity outfit, jeans and a (big-enough) tee!
This shirt is really designed to get at the beginning of your pregnancy, it's such a fun way to keep track of your weeks! And a good kick to take a photo of your belly! I also think it's the perfect gift for a friend who just found out! I could definitely call it a maternity essential!
Here are 10 more things I have used throughout my pregnancies are always recommend!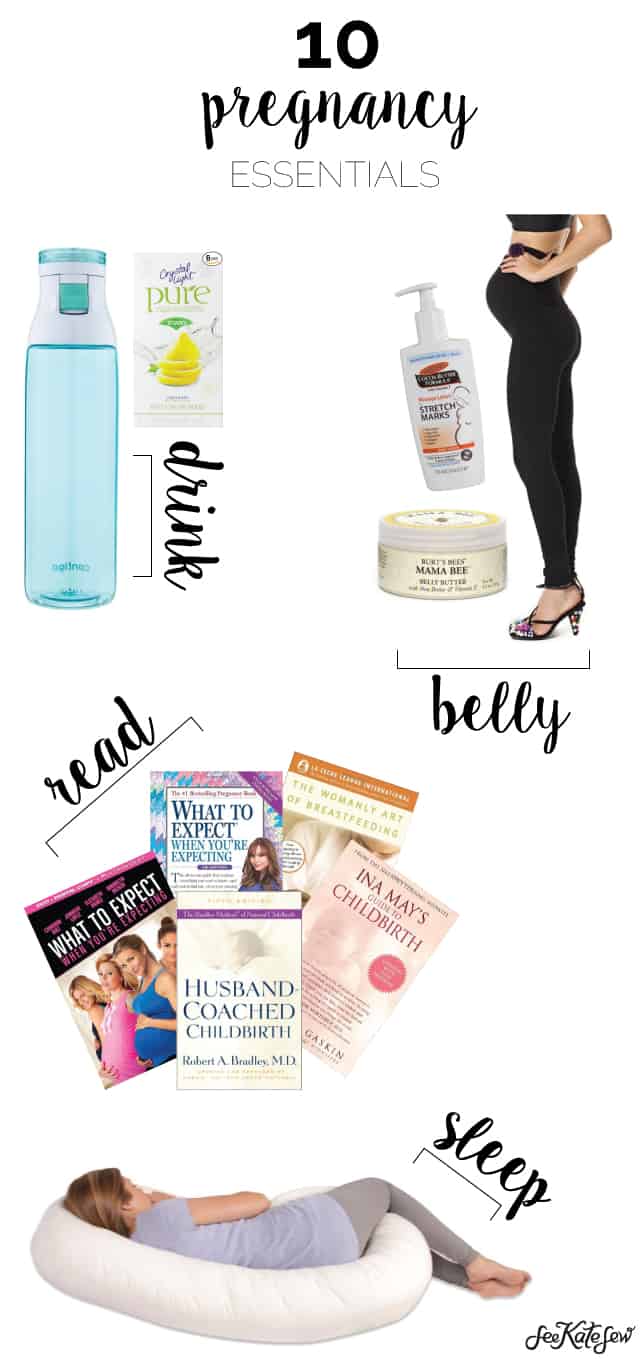 1.Cute water bottle or a few cases of bottled water to remind you to drink up! Water helps with digestion, constipation, and reduces swelling. Drink for 2! I always feel much better if I am well-hydrated! Add fruit or Crystal Lite (this is my favorite kind) if you get bored with it, which I do often!
2. Palmer's Cocoa Butter. Smells so good and I'm not sure it will prevent stretch marks, but why not cover your belly in chocolate every night?
3. I also love Burt's Bees Mama Bee for moisturizing. It's a cute big pot of cream. I alternate between cocoa butter and Mama Bee.
4. Pregnancy Body Pillow. I don't give into most of the hyped up products, but a body pillow is something I use every night! I got one with my first and have used it for each pregnancy. Sleeping is so uncomfortable at the end, and when you feel sick at the beginning and sometimes in the middle, too! Hah, so anything to make it just a bit better is a must on my list.
5. Maternity Leggings. Pregnant women are exempt from the leggings/pants debate. And pretty much any other fashion debate. So buy some leggings because they are so comfy and also the lightest pants for your weekly weigh-ins at the doctor! ;)
6. Benefiber is my favorite way to get extra fiber. That and making sure to eat an apple or pear (or 2) each day. I bought one of these in my first trimester and just ran out. This is sort of a "don't ask" type of thing. I love Benefiber versus the other options (like Metamucil) because you can mix it with anything, there is no artificial sweetener and you can even bake with it!
7. A big thing of basic prenatal vitamins. This thing has lasted me the whole pregnancy so far. With my first I gave into the hype and bought the cute, branded purple or pink packaged vitamins for $20 a month but this time I just bought a big bottle of the basic. I'm pretty sure they are actually the same.
8. What to Expect When You're Expecting the Movie. This came out when I was pregnant with my second, so we went to see it. It's just hilarious, fairly accurate and perfect to watch when you're sick on the couch, I definitely recommend watching it with your spouse so you can laugh together.
9. Childbirthing and Breastfeeding Books! Even if you plan on getting an epidural, you still have to be in labor. It's nice to know what to expect. Here's my short-list, I read them each pregnancy and take all of them with a grain of salt: The Bradley Method, Ina May's Guide to Childbirth, What to Expect When You're Expecting, and the Womanly Art of Breastfeeding.
10. A good pregnancy app to keep track of your weeks! There are a few from BabyCenter, What to Expect, The Bump, etc. Go to the App store and pick your fave! It gets especially fun at the end when your countdown is down to days!
What are your pregnancy must-haves?