Today I'm excited to be a part of the Benartex's Contempo studio blog hop sharing a free ruffle bib pattern! Benartex sent me a few yards of their Cachet line, I picked some pretty florals, in two different scales. See the end of this post to win a fat quarter bundle of this fabric!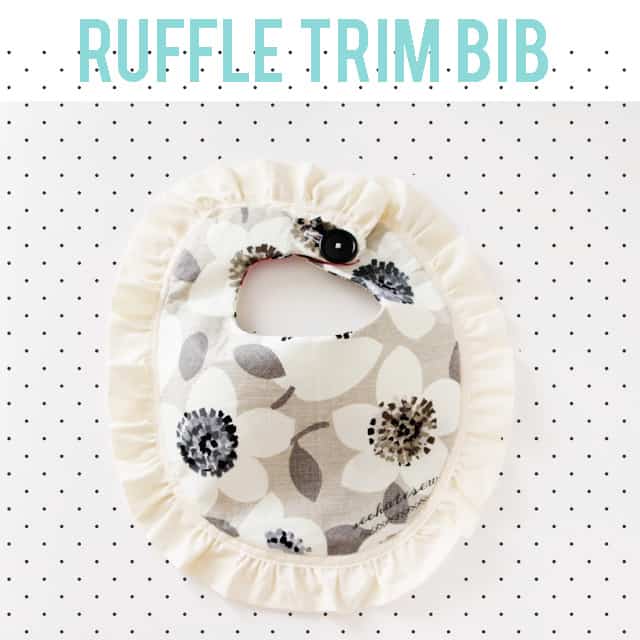 Ruffle Bib Materials
-Free ruffle bib pattern download
-14″ of ruffle trim, or handmade ruffle
-Interfacing
-two fat quarters of fabric
Download the pattern by clicking on the button above and signing up for the email newsletter. Then print the free ruffle bib pattern at 100% or DO NOT SCALE. Tape together matching up the lines.
Free Ruffle Bib Pattern Instructions
First, cut out two layers of the bib pattern from fabric. You'll need them to be mirror images of each other, so stack two pieces of fabric together with right sides together before cutting out the pattern. Then cut another from interfacing. Fuse it to the back of one of your fabrics. (Do a little embroidery now if you want to–tutorial coming soon!)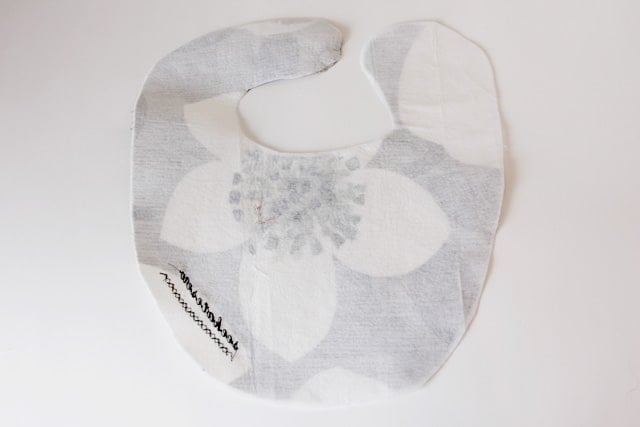 Now pin the ruffle on the right side around the outer edge of the bib. Baste in place.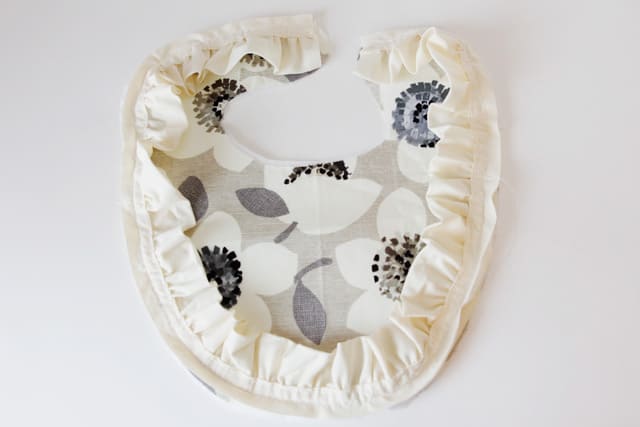 Place the second bib piece on top of the ruffle and pin together. The ruffle will be completely enclosed in the two bib layers.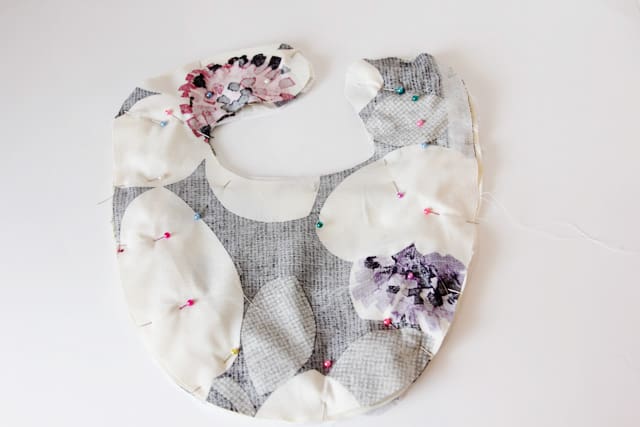 Sew all the way around, leaving a 3-4″ opening at the bottom or side.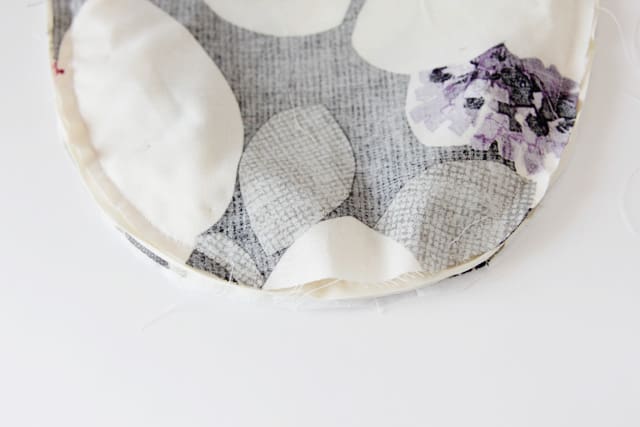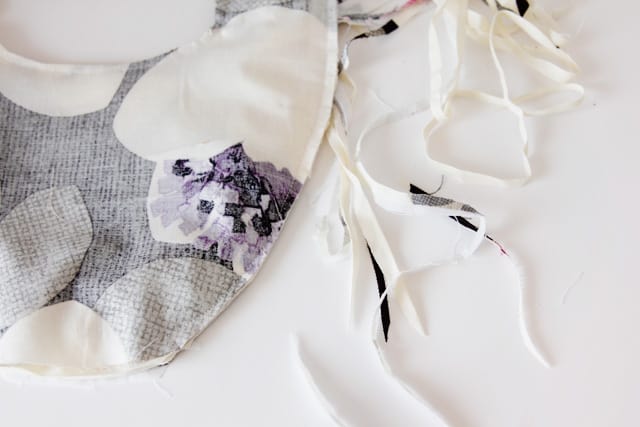 Trim seam allowances.Clip curves.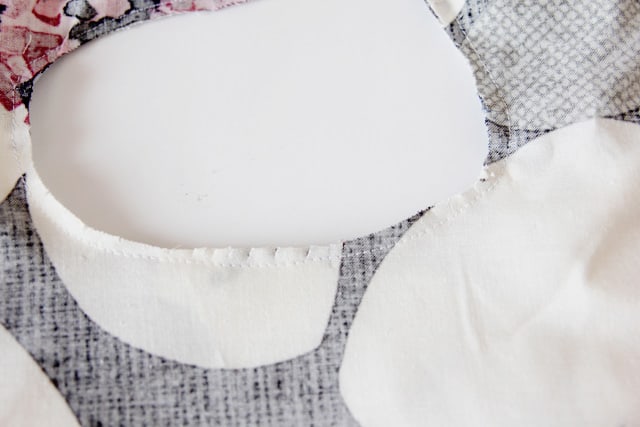 Turn right side out and press. Turn under the opening and stitch it shut with a topstitch or slip stitch.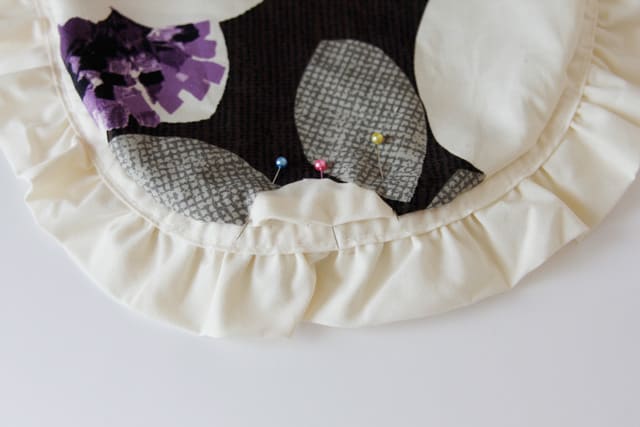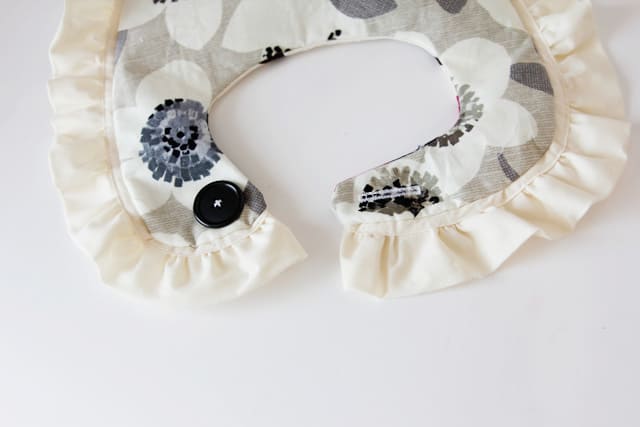 Add a button and buttonhole at the top and you're done!
Now try it on your cute baby! The best part about this bib is that the ruffle works to catch extra food and splatters. Who knew a ruffle could be so functional?!
You can enter to win a FQ bundle of this collection over at the Benartex Blog!