This was originally posted at Positively Splendid for the Swell Noel series! In case you missed it, this would make a great gift a for a little guy! It's already wrapped up for my little guy. Shh, don't tell!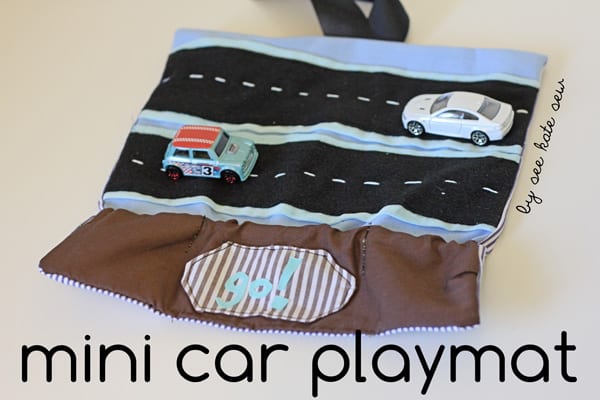 I've been so excited to make a car playmat for my little boy- since before he was born! Now that he is over a year I feel like he might be excited about it soon. I collected a few shiny new cars and made a mini car playmat that rolls up and ties. Perfect for on the go.
My biggest concern when thinking about the design of this car mat was making sure the cars stay put when we're carting it around! I added some elastic to the car parking spots to keep them snug. Hopefully it might help prevent lost car syndrome!
Materials:
front and back: 2 pieces – 12″ tall by 11 1/2″ wide, any fabric
roads: black felt, 2 pieces – 11 1/2″ by 2 1/2″
parking spots: 7 1/2″ by 11 1/2″, folded in half
sidewalk: 4 pieces contrast cotton 11 1/2″ by 1″
9″ of 1/4″ elastic
scraps for "go!" label
heat n' bond
20″ of 1″ thick ribbon
embroidery floss
3 little cars
A note about fabric: You can use any weight fabrics for this project, since it's just a little crafty project, although I recommend felt for the roads since it won't fray. I used a home decor weight fabric for the top part, an old men's shirt for the back and corduroy for the "sidewalk" pieces. Everything else is quilting weight cotton.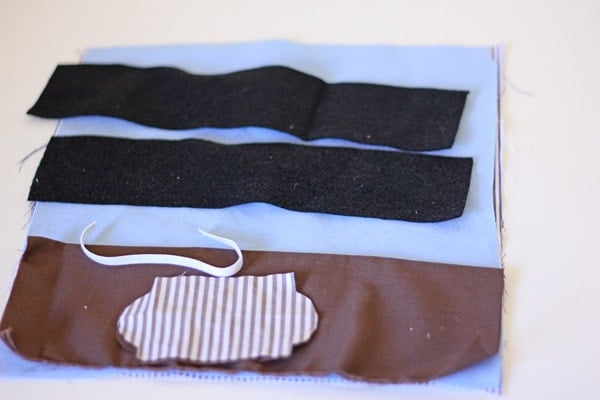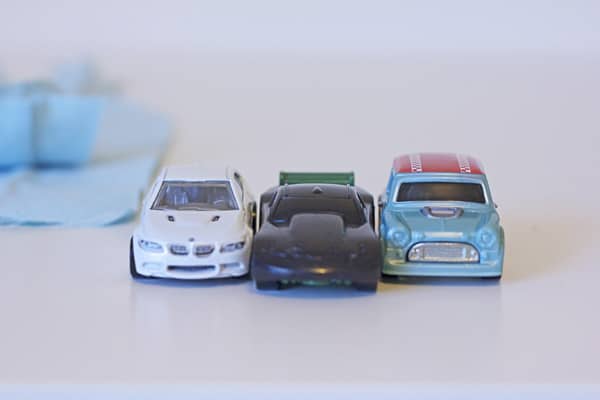 Alright, let's go! We'll start with the sidewalks. Or maybe they are bumpers. The felt looked like it was missing something, so I had to add a little something. Press your strips in half the long way.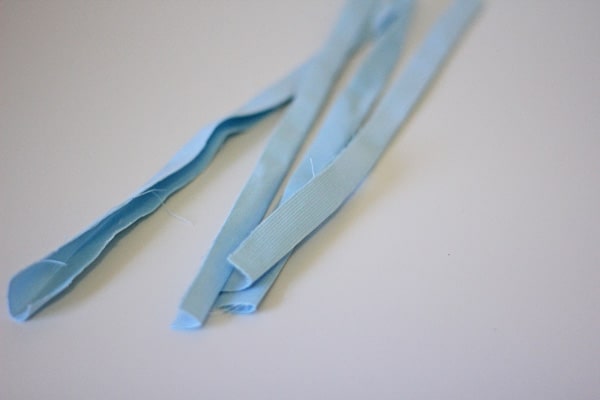 Now place your felt strips on top of the "sidewalks" and pin them both down on your playmat, about 1 1/2″ from the top, with a 1/4″ in between. The "sidewalk" should poke out about 1/4″.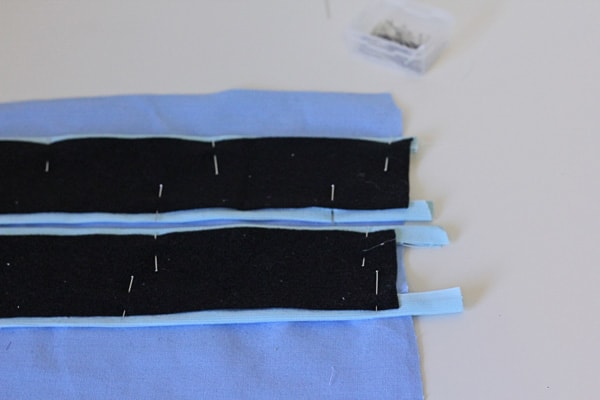 Sew them on using black thread 1/8″ from the edge of the felt.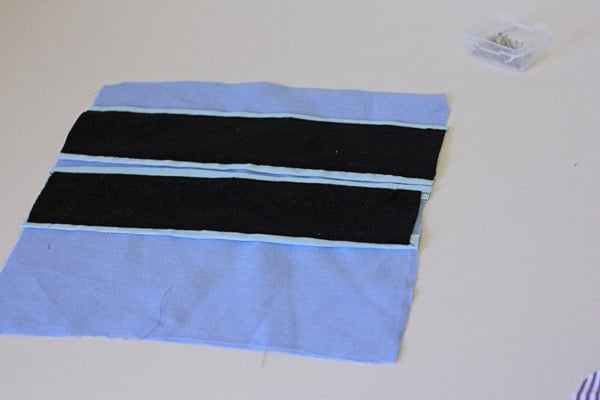 The "go!" label is made with two pieces of cotton sewn together, and turned right sides out. Cut two like the one below, adding seam allowance. Size and shape are up to you!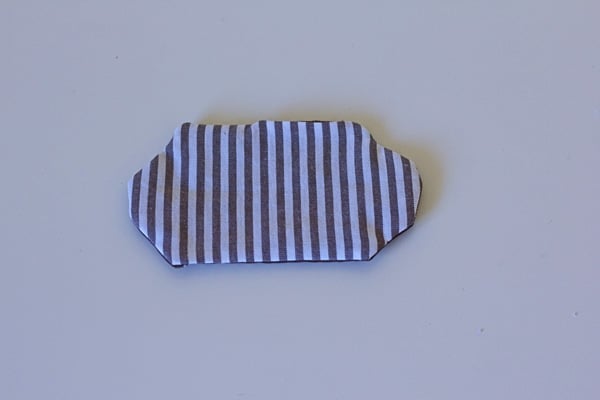 For the "go!" letters, back a scrap of fabric with heat n' bond. Cut out the letters and press them to your label.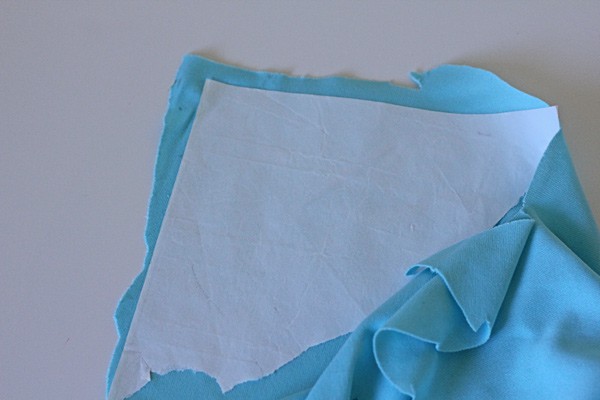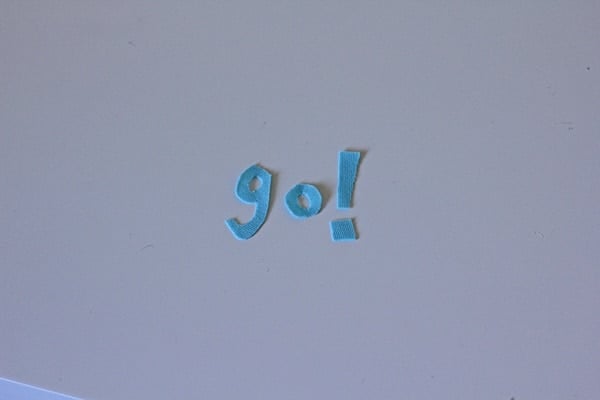 Sew the label on your "parking spot" piece, which is already folded in half.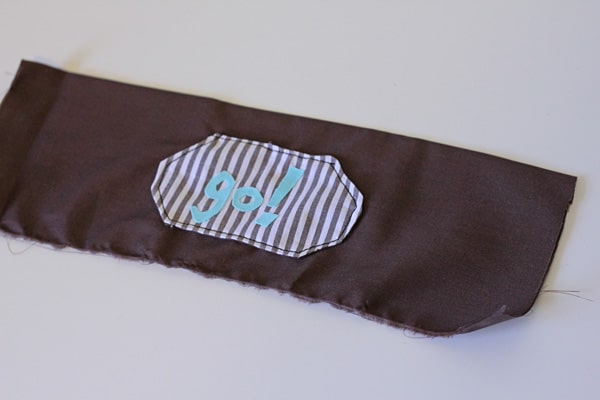 Then sew the elastic into the top of the parking spots. Slide it through and sew it at each edge.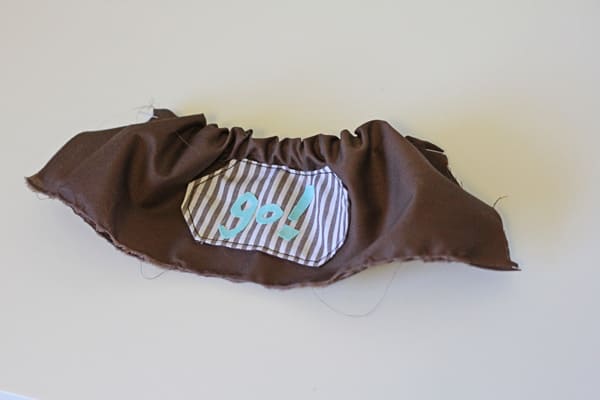 Pin it onto the top part of your playmat, lining it up with the bottom edge and corners.
Sew it on, around the sides and bottom. Pin the top into thirds and sew down about 1″ at each pin to create three stalls.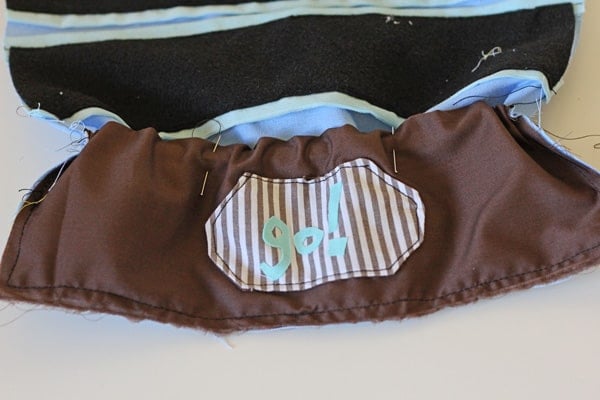 Finished stall will fit a little car!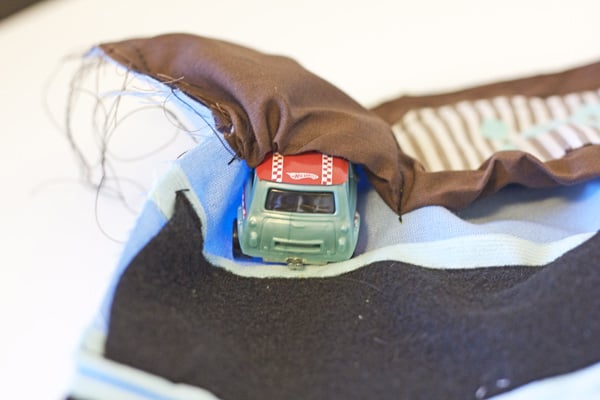 Using your embroidery thread, hand sew lines on the roads.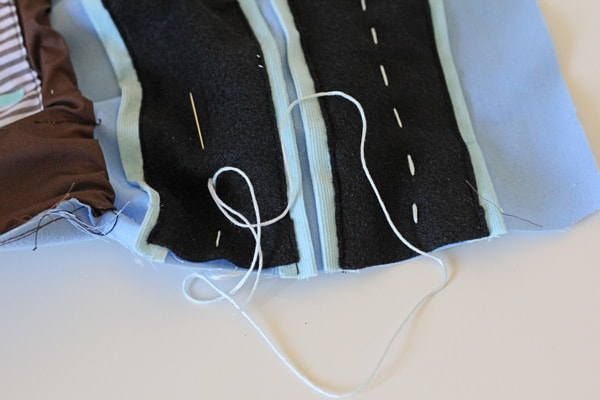 Pin the ribbon folded in half to the top of your mat.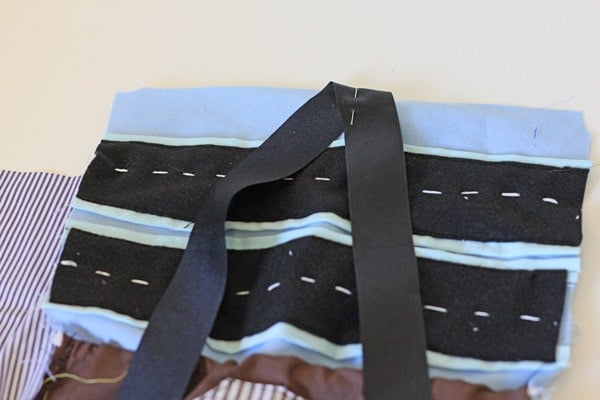 Pin the back piece on top of the top piece, enclosing everything.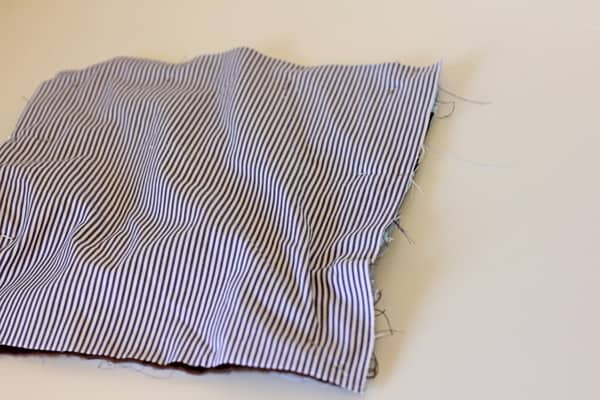 Sew, leaving a 3″ opening and turn right side out.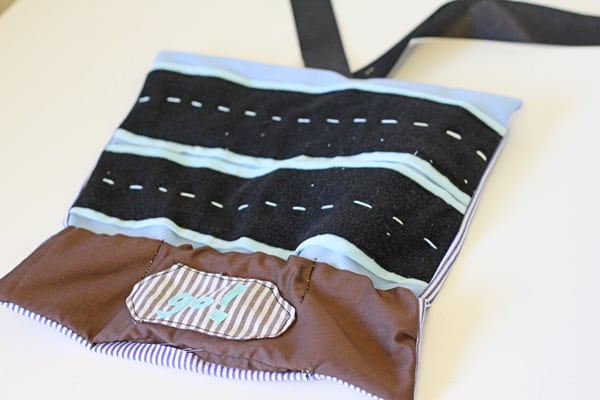 Pin your opening closed and either topstitch it or close with a blind stitch.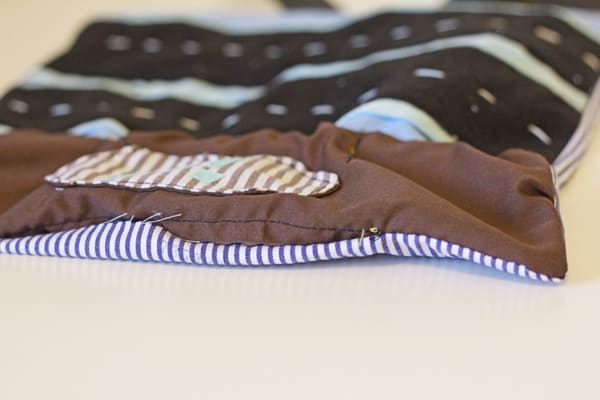 And you're done!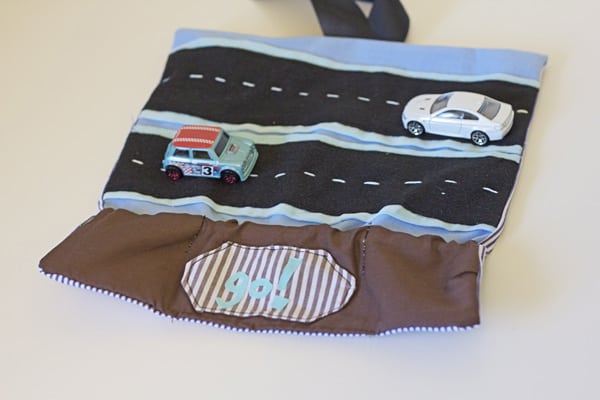 Let the boy noises begin!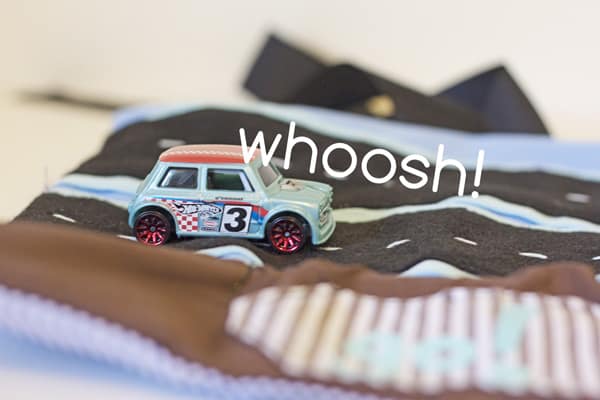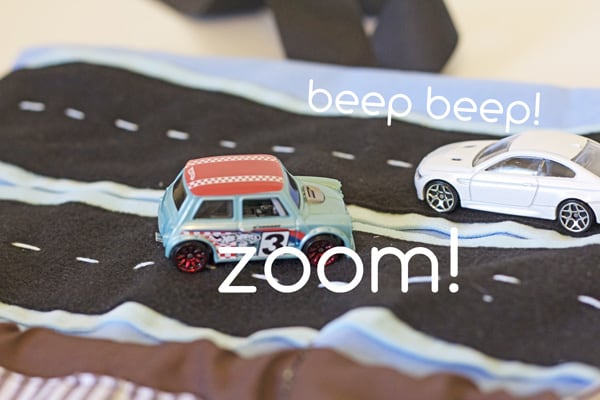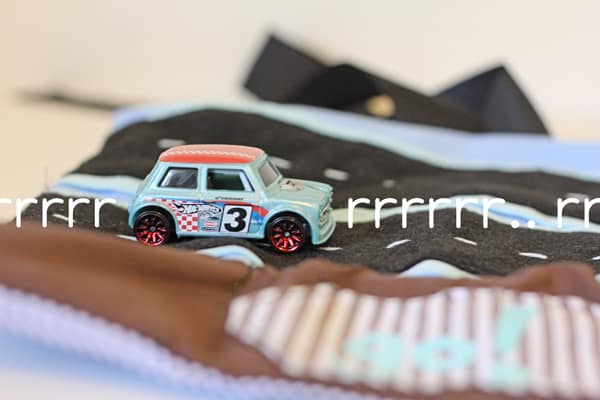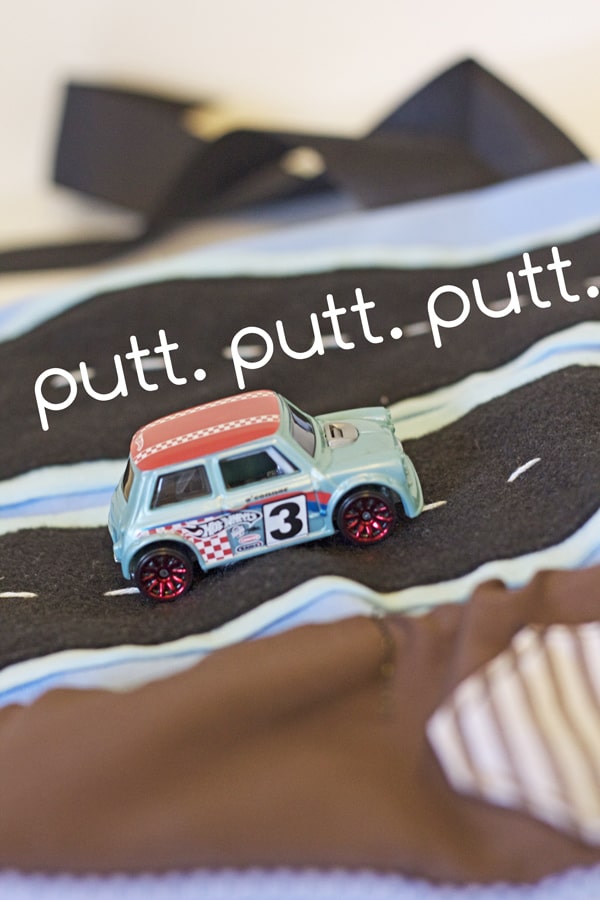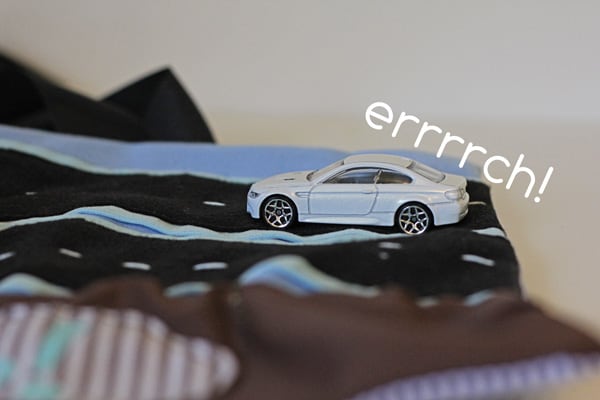 And when the cars are done playing, park them in their little special spots for the night.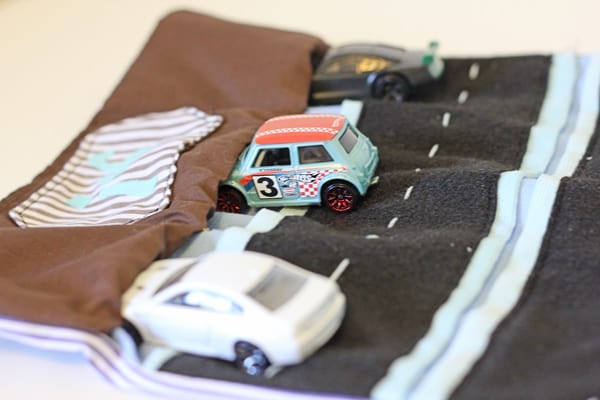 And roll it up!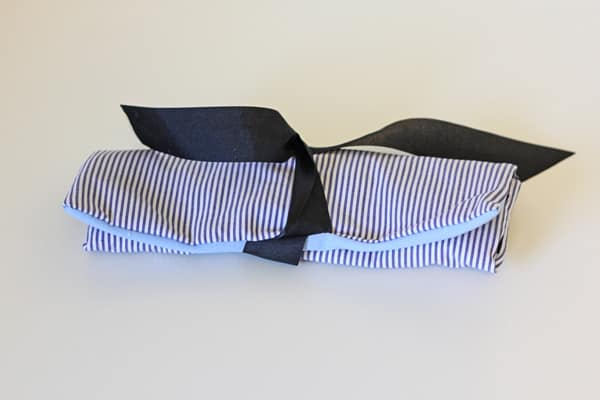 Do you have any more car noises to add?