Yesterday I showed you this men's shirt refashion in an outfit post. It's from my stack 'o free men's shirts. I have lots more to go, so if you have a suggestion, you can add it to this brainstorm post!


Anyways, here's the tutorial! You just need a plain men's shirt, any color, any size! I used lots of gathering for this redo. Gathering is the easiest way to make a big thing smaller. Plus, gathers make everything so pretty! I used elastic to make it really easy to bunch in the waist and also the sleeves. I'm also wearing a belt on top of this shirt, though, but it's cinched underneath, too. I just love belts. K, ready?


I didn't take a picture of the actual shirt on me, but here's a chart of what I did on a white one.


First things first, unpick that pocket! It just is sorta a weird place for a pocket when it's on a girl. 


Next shorten your sleeve length. Mark where you want your sleeve to hit and then add 2 inches. We'll need two extra inches later to make an elastic casing.
Once you've shortened your sleeves, try on your shirt again and decide how much you need to take in the underarms and undersleeves. You're not really supposed to write on fabric with pencil, but I did it here to show you what I did! I used a ruler to make straight lines but curved the lines in the armpit.
Sew it up and cut off your extra fabric. I serged my new seam allowance. You can also zig zag or use another method.
Cut off the collar.
I decided the neckline was still too high so I cut off a little more of the neck, making sure both sides were symmetrical.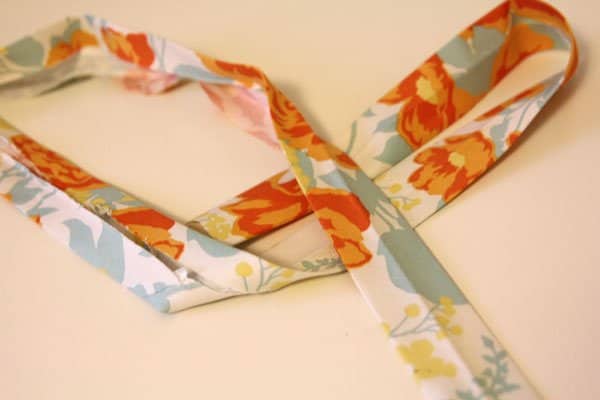 Pin it all around the neckline and sew it on.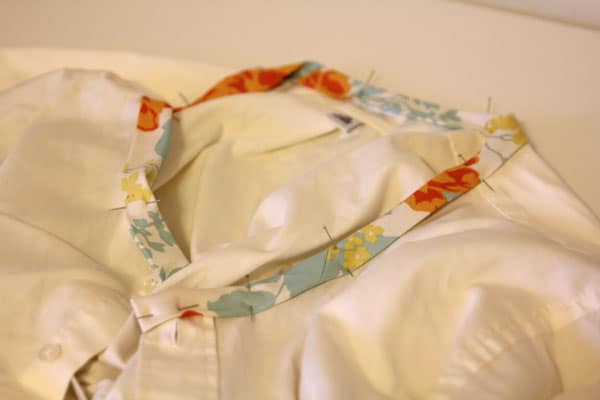 Stitch all the way around, leaving a 2″ opening.
 Now we'll thread elastic through. You need enough to fit snugly around your bicep plus an inch or two where we can sew them together.
 Using a safety pin, guide your 1″ elastic through the casing. Pull both ends through and sew them together. Push all the elastic back in and finish closing up the casing.
 To cinch in the waistline, I used more 1″ elastic to gather it all up. You need enough to fit around your waist. You can use a smaller elastic, I just have a ton of 1″. 


I tried on my shirt and marked where my waistline is. Then I drew a line on the inside of my shirt as my pinning guide. Pin the elastic at each end of the button placket. 
 Then pin the middle of the elastic to the middle of the shirt. Keep breaking it up into halves until you have a few more pins in there.
 Sew the elastic to the shirt, pulling the elastic taut as you go.
 Then fold up 1/2″ and press twice. Sew in place.
 After I had done all of that I decided the shirt poked out too much on the sides, so I took it in as shown below. You don't have to do this, it's just a preference thing.
 Next I made some pretty rounded pockets with elastic on the top and sewed them on! I'll give you a proper pocket tutorial soon, but any pocket will work! 
free blouse! yay!


One down, sixteen to go!