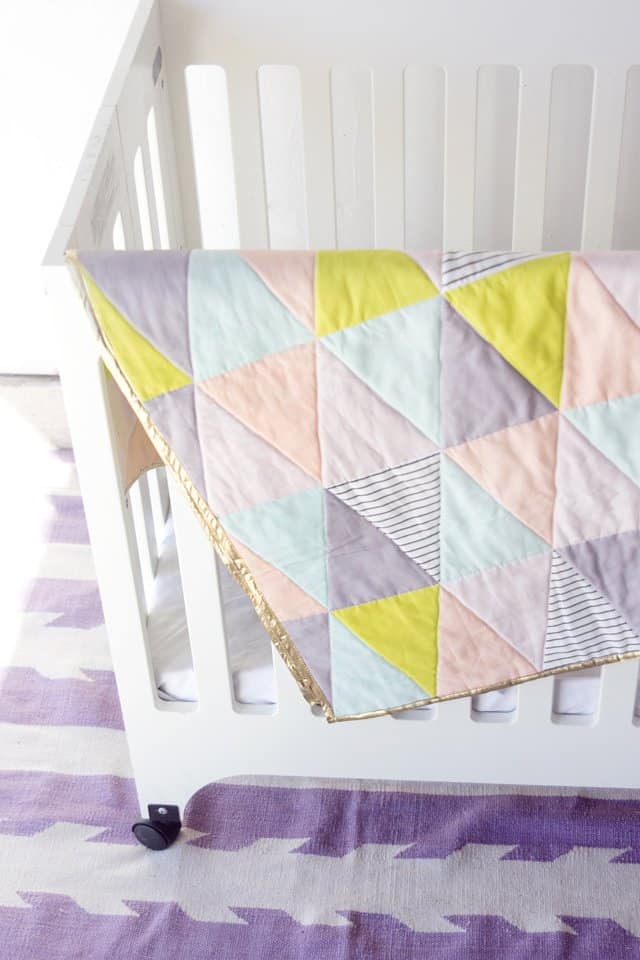 Yes, you read that right! ONE HOUR triangle quilt! I made this triangle quilt in a little over an hour. HOW IS THAT EVEN POSSIBLE??, you ask. Read on.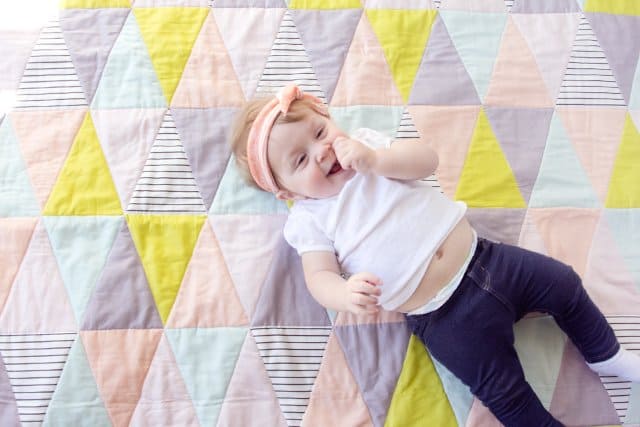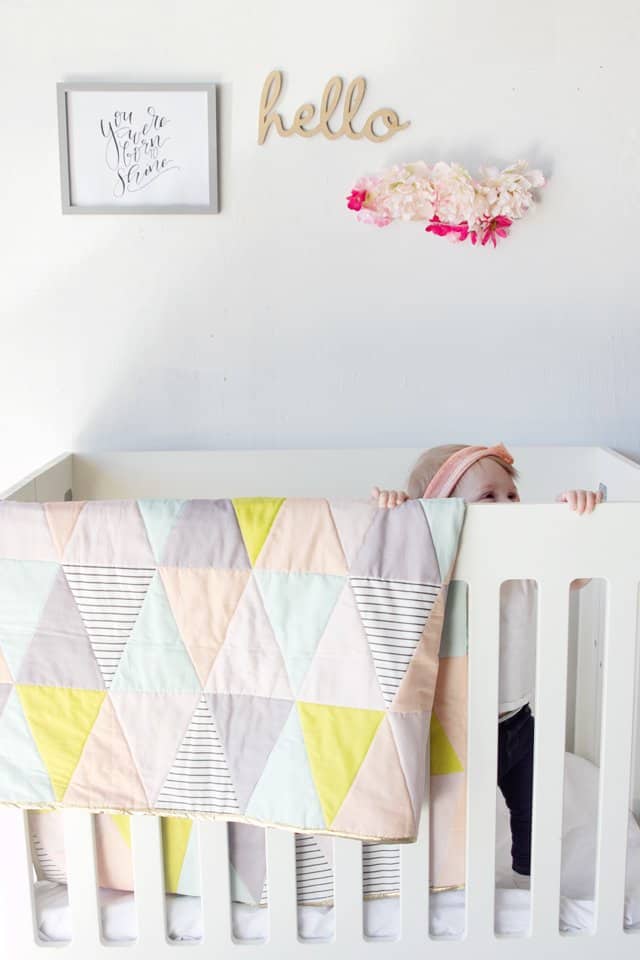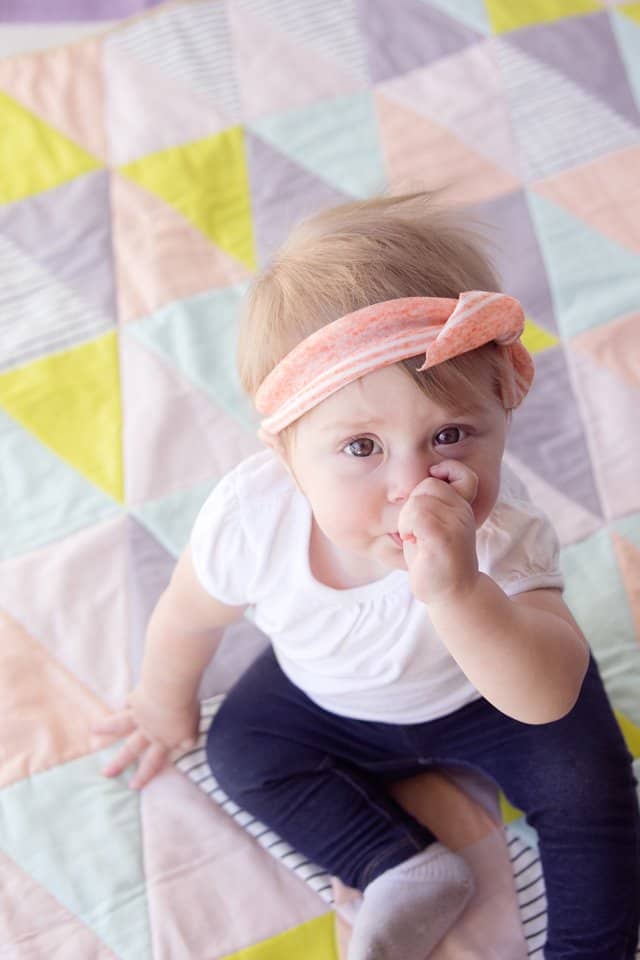 I really really love my original pink ombre triangle quilt. And it is also one of those tutorials that lots of you have loved also and made quilts from. That warms my heart, by the way. I really love seeing them!
We use ours daily, it was my daughter's special baby quilt that I made for her before she was born. It's been puked on, pooped on, spit on, snuggled with, washed, washed, washed and carted all over the place. It's still as good as new though. We have just really loved it.
(Yesterday I finally shared a follow-up post on getting sharp triangles with a new pattern piece, in case you missed that!)
So, I wanted to make it even easier to make your very own triangle quilt, just in case you are intimidated by piecing and sewing a quilt. Or, in case you just don't have the time!
Here's the big secret: I designed a special Spoonflower fabric that has FULL SIZE triangles! Yes, you just buy 2 yards, cut it up a little, sew on a backing, bind it up and VIOLA—a triangle "quilt"! So literally, after you wait a few days for your fabric, it will take you 1 hour to sew. With me?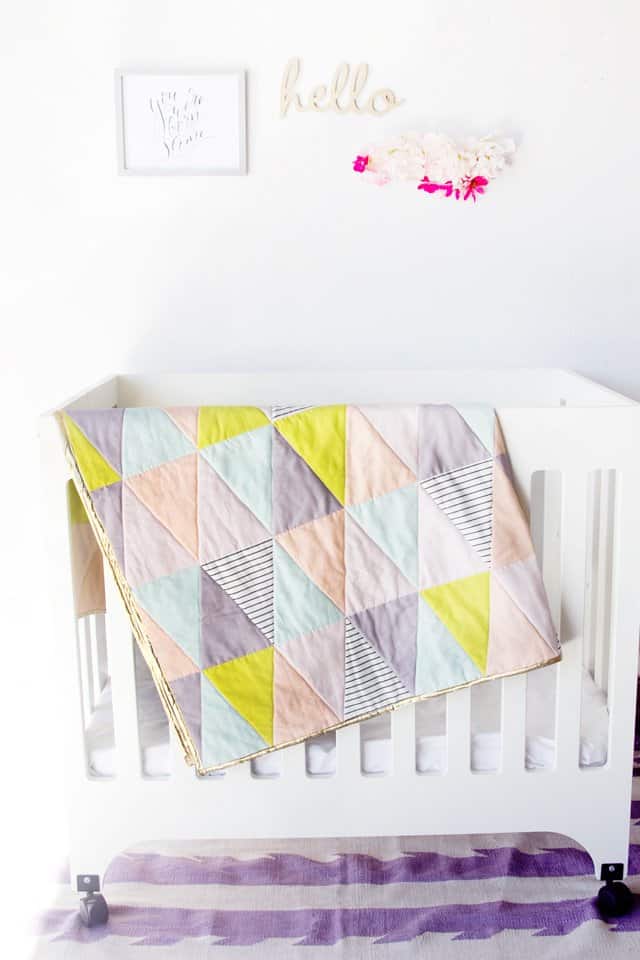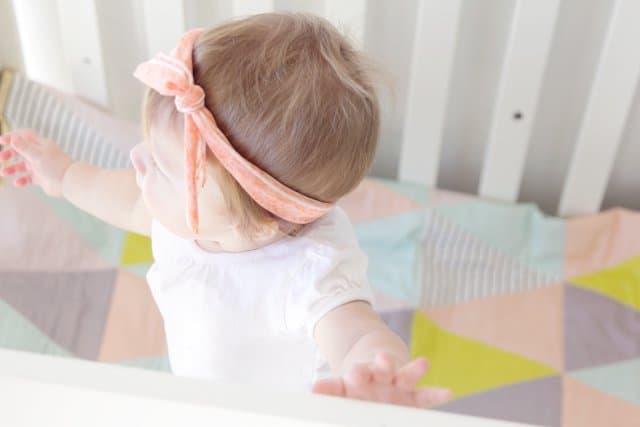 I am not sure that it is really a "quilt" since it isn't pieced. It is really just be a "quilted blanket" but, technicalities aside, I assure you it has ALL the love and thrill of a normal triangle quilt sewn into it. Plus, the points are all perfect and the lines are all straight. No guesswork here!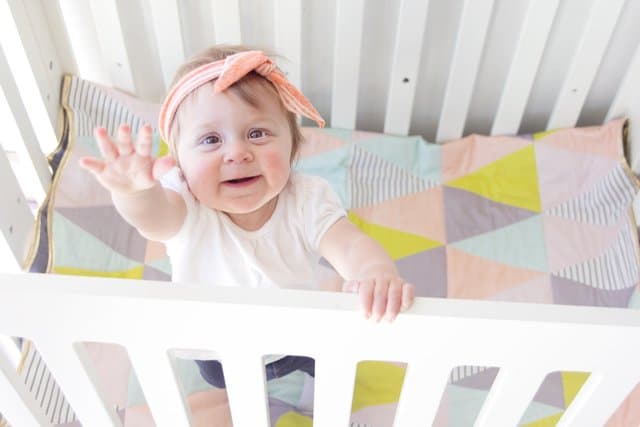 I used metallic gold bias tape to bind it, fun right?! And I added one of my new little labels (more on these later).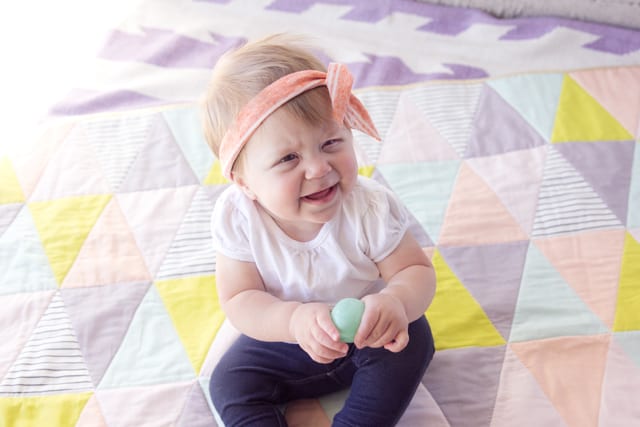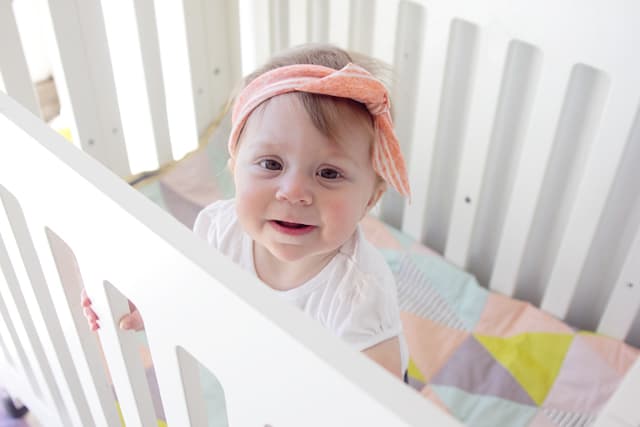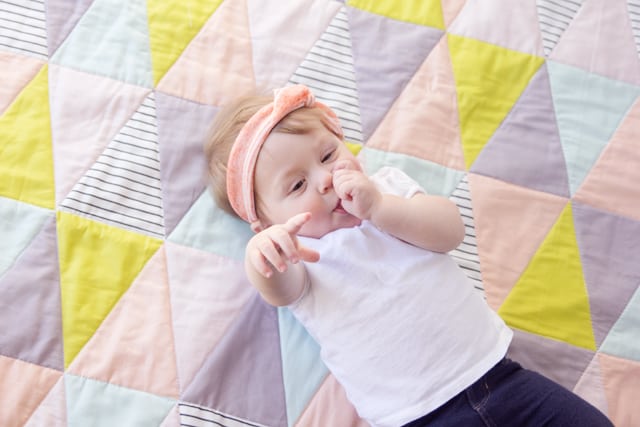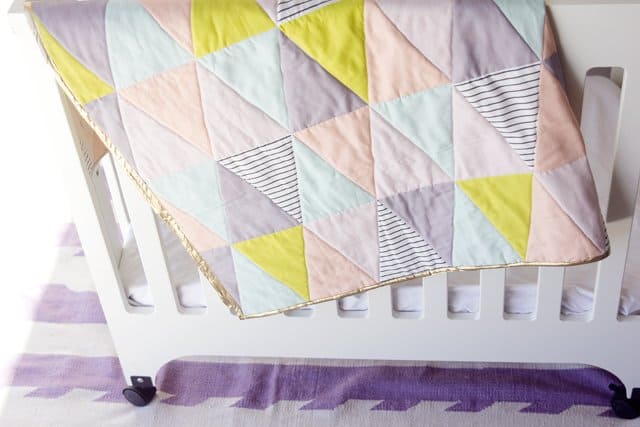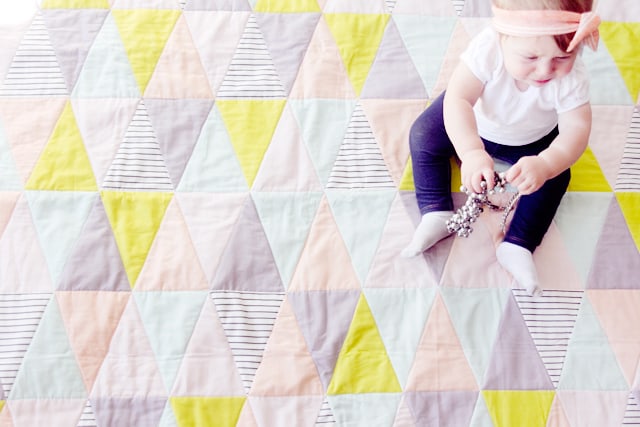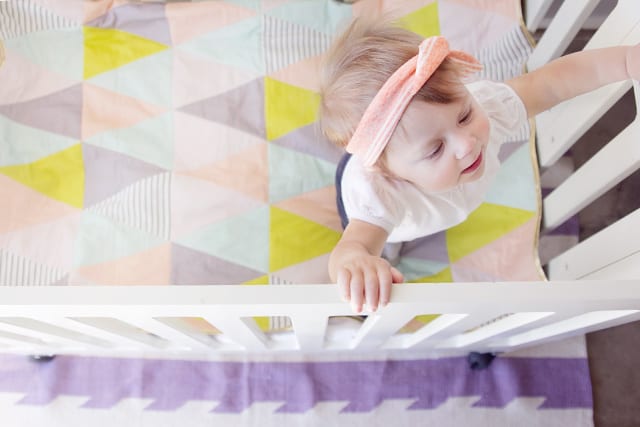 Let's make one!
Here's the rundown on Spoonflower fabric, if you've never tried it. You can purchase any amount in yards. You can print your own fabric, so I created this design and had them ship it to me and then I made the design available for anyone.  You can get as many yards as you want, or as little as a swatch or fat quarter. It's really fun!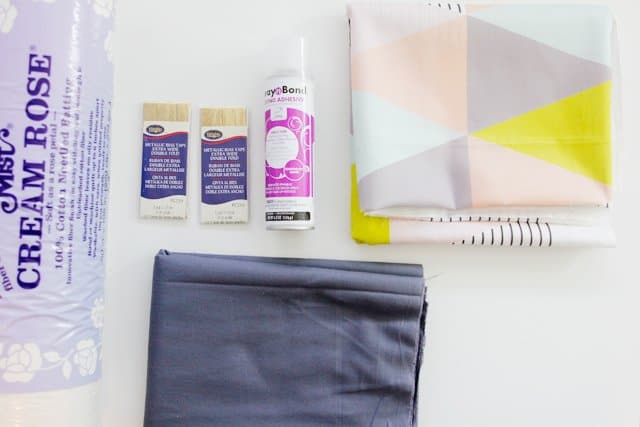 Triangle Quilt Supplies
-2 yards Triangle Print Fabric, available at Spoonflower
-2 yards backing material, any color cotton
–needled batting
-2 packages 1/2″ double fold bias tape (or make your own binding)
-thread to match backing and bias tape
–Spray baste*
UPDATES:
My gold binding is 1/2″ polyester bias tape. It is Wright's Brand in gold lame. Don't iron this :)
I used basic combed cotton for the Spoonflower fabric base. Others will work, but the measurements may vary.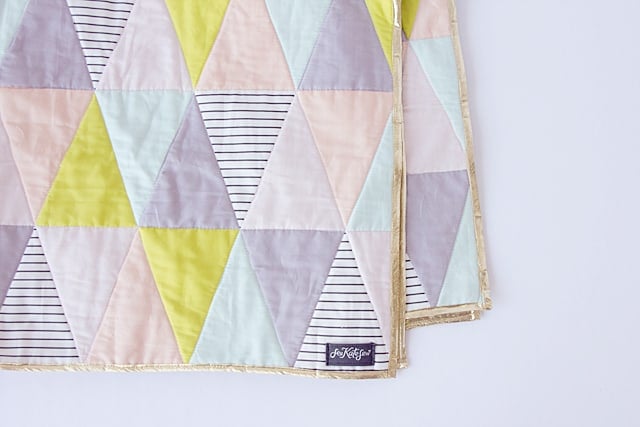 *It was my first time using spray basting. Changed my life. Thumbs up!
Quilt Cloth Sewing Instructions
Here is a break-down of the 1 hour you will spend sewing:
15 minutes : Lay out fabric, cut to size and baste.
30 minutes: Quilt layers together
15 minutes: Machine bind quilt.
First, lay the fabric out and cut it at 53.5″. This quilt is a crib quilt measuring about 54″ by 42″. The width is 42″ and the length will be 72″ if you buy 2 yards. So you just trim a little bit off.
This should slice one column of triangles directly in half.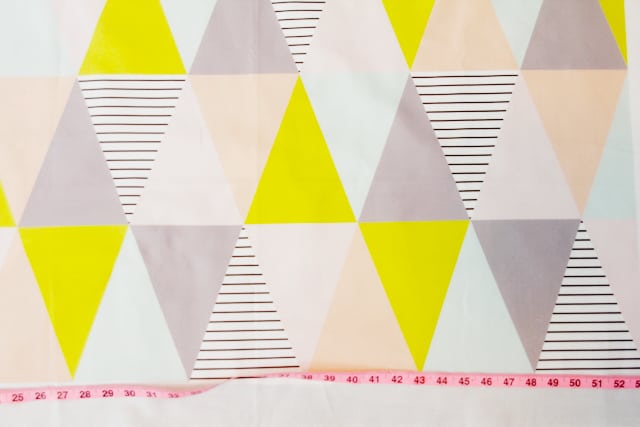 Use spray baste to stick the triangle fabric to batting. Spray it on and smooth it out.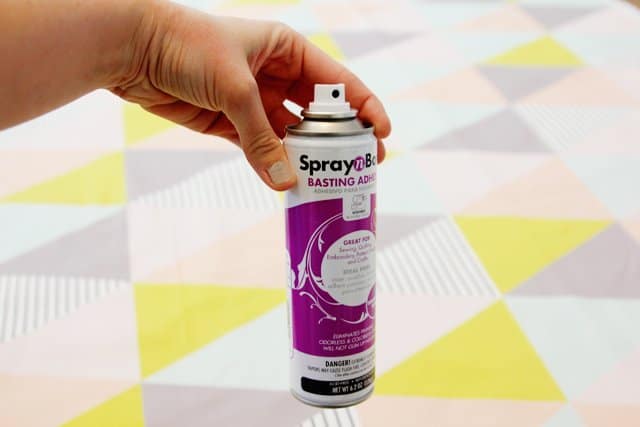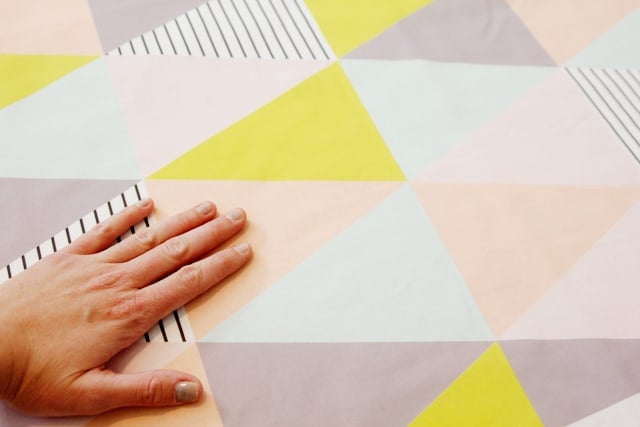 Spray baste the backing fabric to the other side of the batting.  Then trim the quilt edges.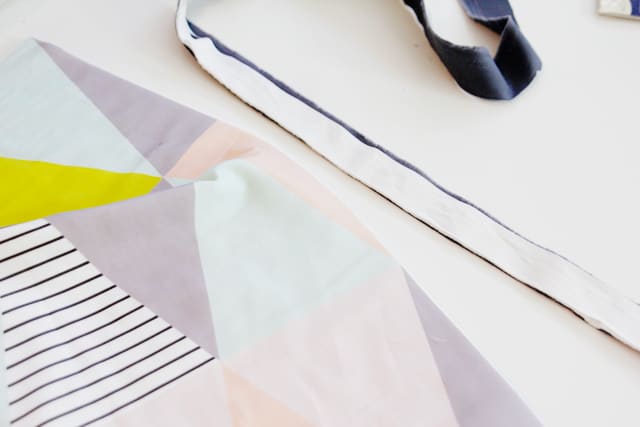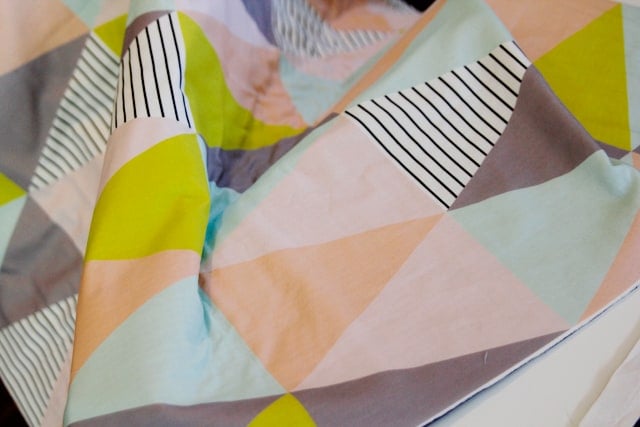 Now quilt it by sewing in between all the triangles. It will create a triangle pattern on the back and disguise your plain printed fabric as a quilt! Bind the quilt with any 1/2″ bias tape (or create your own binding with fabric.)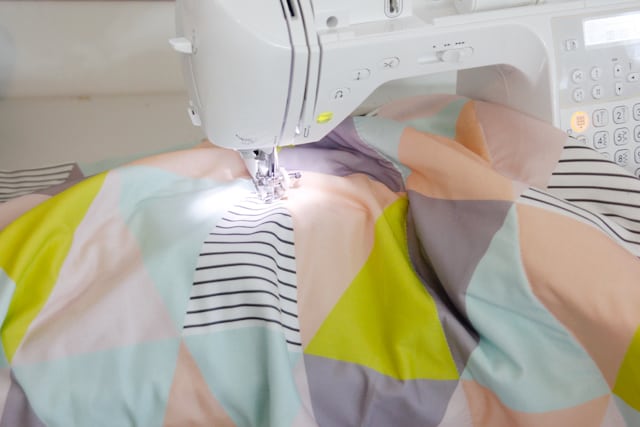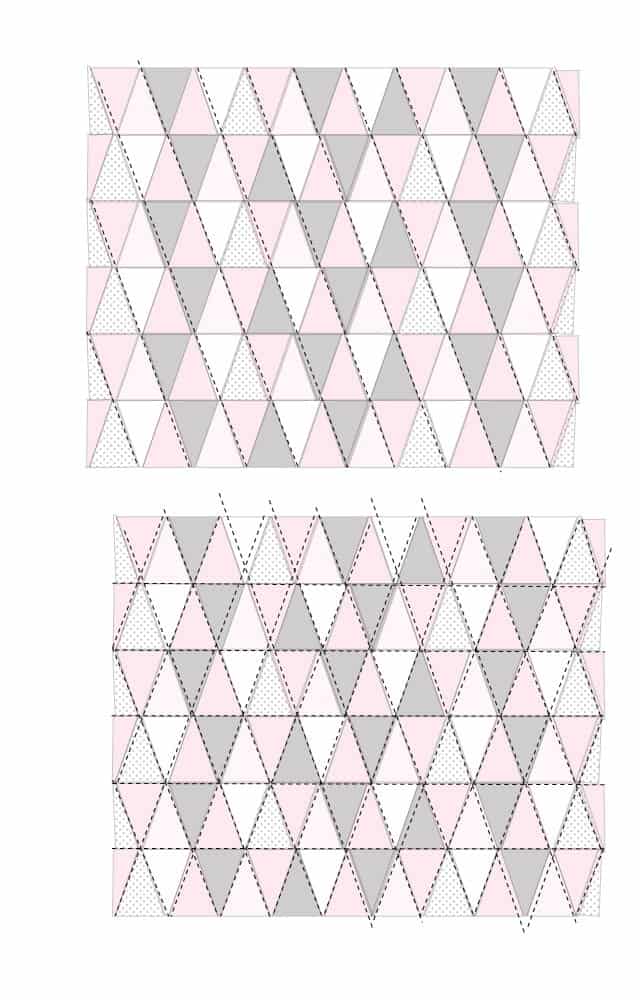 Once your blanket is quilted, it really looks like a quilt!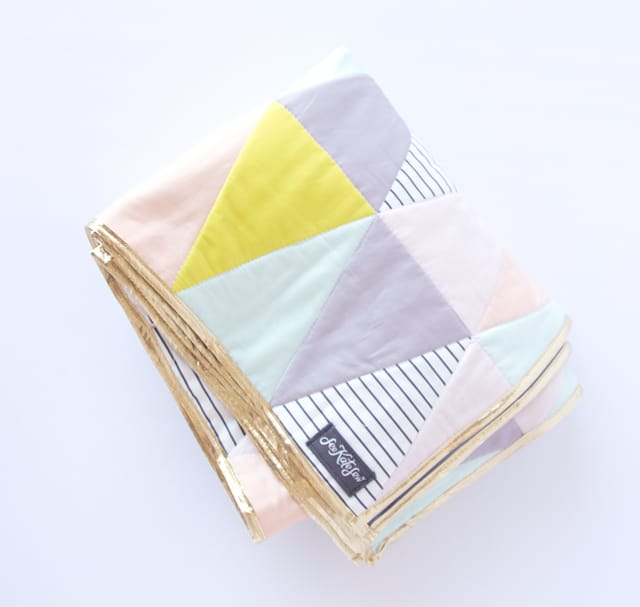 More triangle quilt posts:
-The Original Triangle Quilt Pattern
-Sharp Triangle Point Tutorial
Love quilting? Join Pattern of the Month and get a new modern quilt pattern emailed to you EVERY SINGLE MONTH!