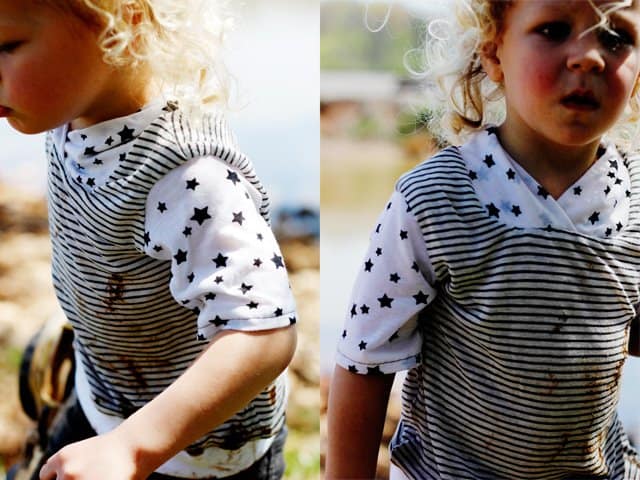 Disclaimer: The pattern doesn't say to decorate your shirt with MUD, that was my own toddler's contribution. Turns out a photo shoot without a husband helping is um, hard!
Pattern: Peekaboo Pattern Shop Varsity Cowl Neck pullover
How I hacked it: Shortened the sleeves for springtime. This pattern is a printable pdf pattern and the sleeve piece happened to be on two pages that were to be taped together. To make it elbow length, I just didn't tape the second piece to the sleeve pattern and also omitted the sleeve cuffs.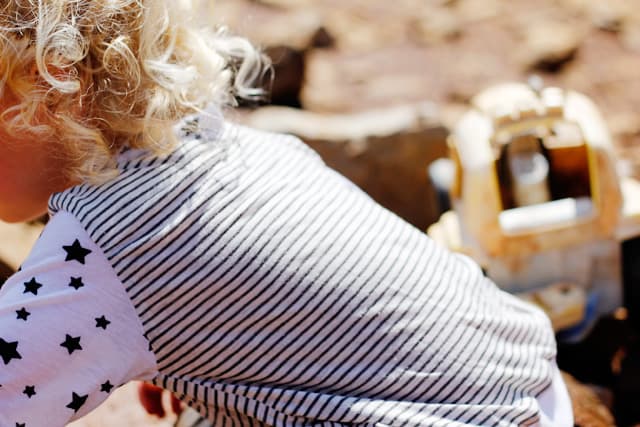 Despite it getting dirty .02 seconds after arriving at the park, this shirt is the perfect play shirt! It didn't limit any of C's necessary activities, though it did get really dirty. I had a really fun time sewing it up.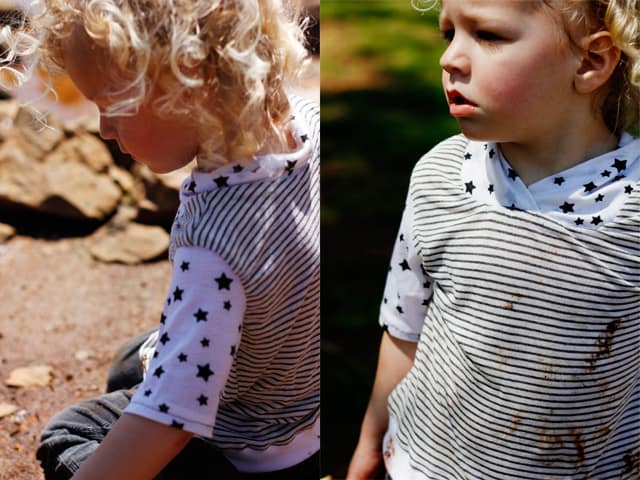 I used an old shirt of mine that I got on the clearance rack a few years ago. It was one of those batwing style shirts that were cool for like half a second. I loved it actually, but when I washed it it shrunk a ton. Still fit, but was just awkwardly short. Too short to layer with. So it has been sitting in my closet and hasn't been worn for over two years probably. I had to be careful when placing the pattern so that I would have enough fabric. I think sometimes the best way to reuse an old shirt is to use a premade pattern so that you KNOW you'll have the right amount of fabric.
I love the stripe but didn't have enough for sleeves also so I raided my stash for another knit to pair it with. I purchased the star fabric from fabric.com
almost a year ago. It's not super great quality, but it is really cute. I used a ribbed knit for the bottom waistband cuff.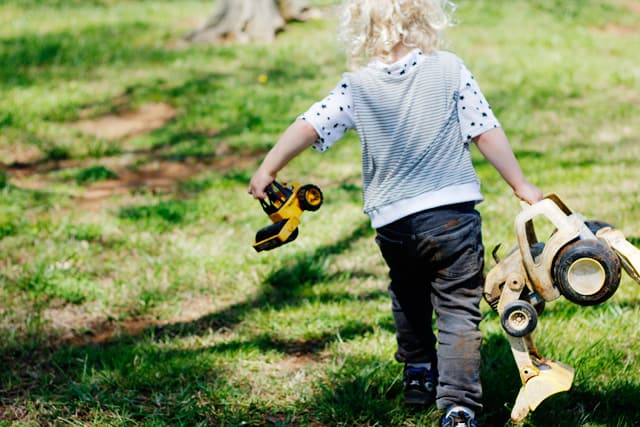 This was my first time using a Peekaboo Pattern and I was impressed with the simplicity of the pattern. It was easy to read, easy to follow and easy to print. It was just a fun sew, this would be a great pattern for any sewing level.
I'm planning to make another during Kids Clothing Week, maybe for the girl this time! Will you be sewing along with KCW this spring? I've started planning what I will sew! It starts on the 22nd!