Messing with eyes in photoshop is probably the most trendy thing to do right now and there are lots of ways to do it. Here is the way I usually add some contrast and boost. I did this in Adobe Photoshop Elements
, but you can also do it in CS versions. Ready? 
 Layer>Duplicate Layer… (Command + J)
 Click okay
 Now you'll have two identical layers:
 Zoom in a little so you can see the eyes, then adjust the Levels on your new layer.


Enhance>Adjust Lighting> Levels
 Looking ONLY at the eyes (Don't worry about what the background is doing) lighten and darken your eyes as desired. I always pull the little white triangle on the right pretty far to the left and pull the little black triangle on the left just a tad to the right. This adjusts the amounts of black and white in your image and helps boost contrast. 
 Once you have your levels where you want them, click okay. If you zoom out your photo will be way overexposed, but don't freak out! 
 Now, with the top layer highlighted, click on the little rectangle with a circle in it to add a layer mask.
 The layer mask will come up as a white box on the right of your layer.
 Command + I will inverse the box, making it black and erasing the levels adjustments you just made.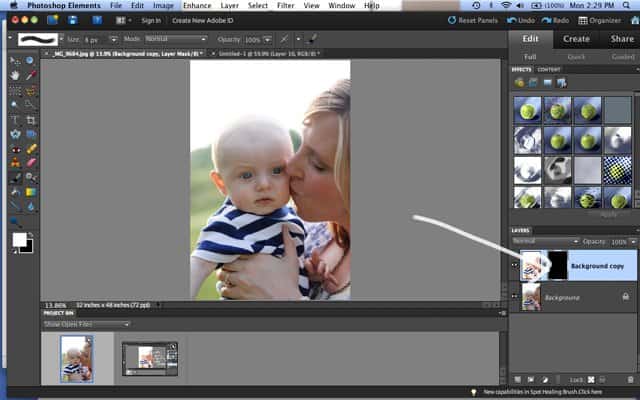 Now paint over the eyes with a white paintbrush to reveal the levels changes only where you want them.
 Adjust the opacity on the layer so you don't have an alien baby! 
 Nice! 
 Now flatten the image. There are a few more little things you can do to make the eyes pop even more.


First, create a new layer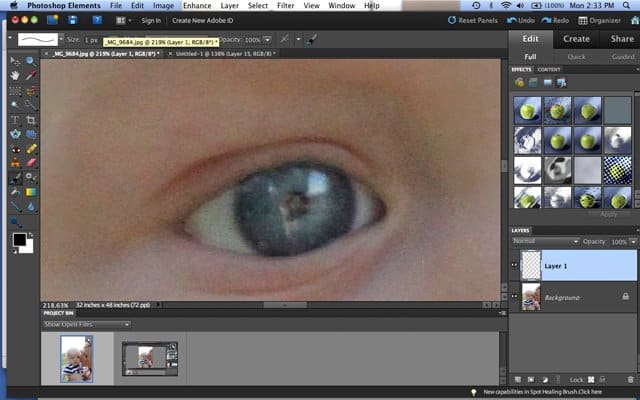 With a thin black paintbrush outline the rims of the eye. Lower the opacity. Flatten. Then do the same with white over the highlights.
 Set the layer blending mode to lighten and lower the opacity to make it look more realistic. 
 Flatten the image again and you're done !
Pretty little baby eyes! 


Did you enter the Photoshop Elements Giveaway yet? Do it!