This post, Rainbow Rope Wall Hanging Tutorial, is sponsored by Walmart Photo. 
We have been spending our extra time at home adding finishing touches to rooms and finally printing up photos to display! Being home has made me crave cozy, happy spaces and this yarn rainbow rope wall hanging will help you brighten up your space, too! The rainbow has clips on the back for displaying your favorite photos, making it an extra special project to do with your family.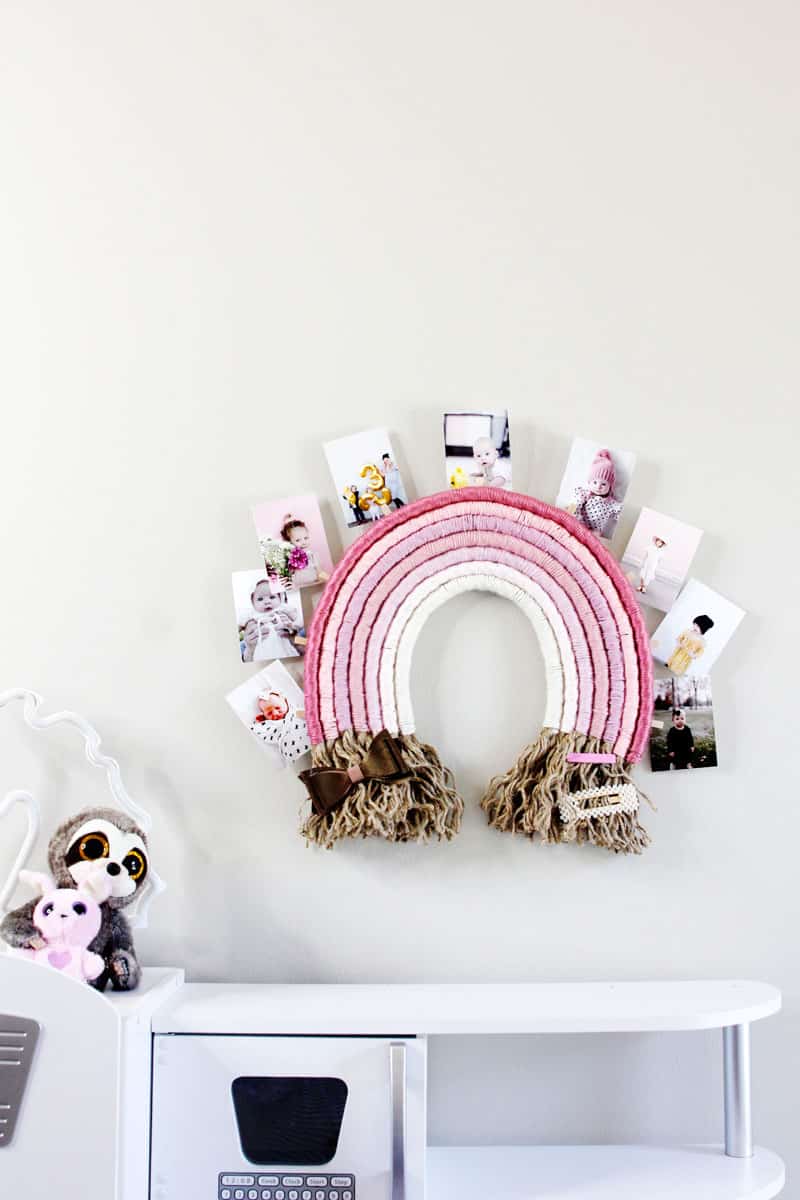 I made this fiber rainbow specifically for my girls' room, but I think it could be fun in a variety of spaces – like a nursery or craft room!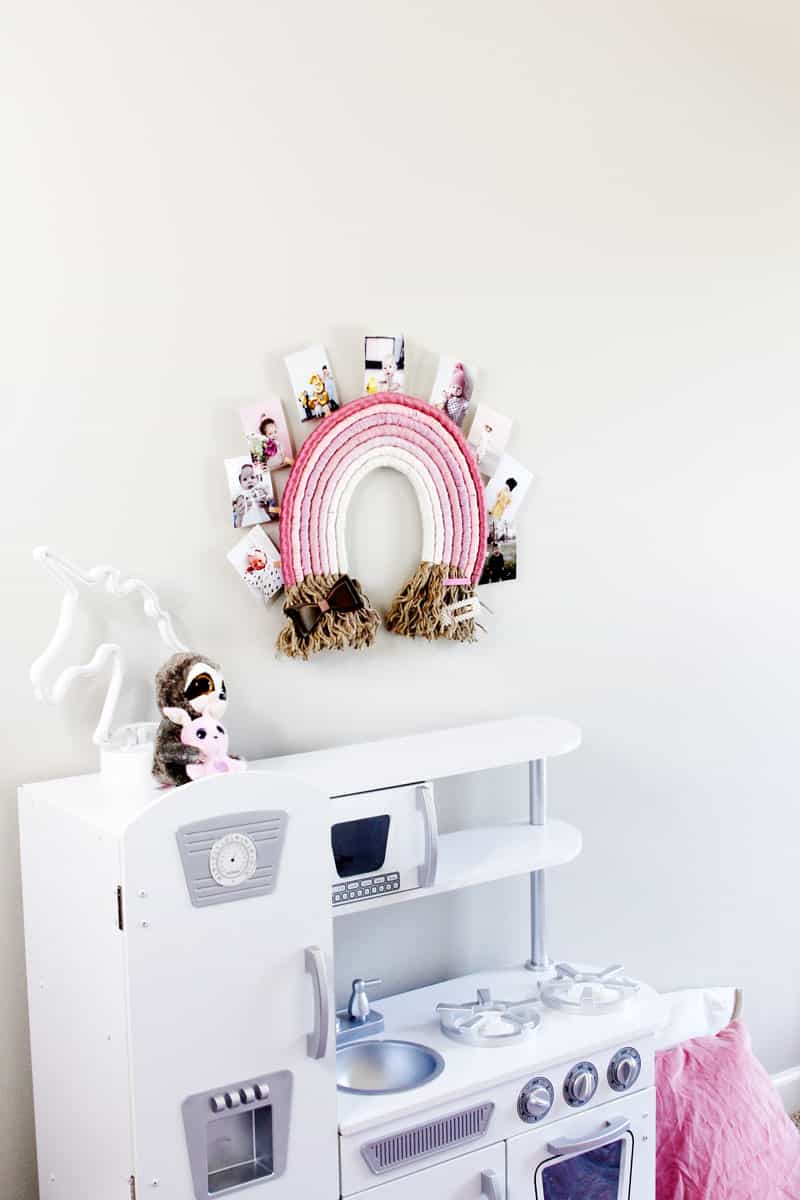 The yarn colors in the wall hanging can be customized to fit any theme and it's so easy to create. I went for an ombre effect with cream, pink and light purple yarns.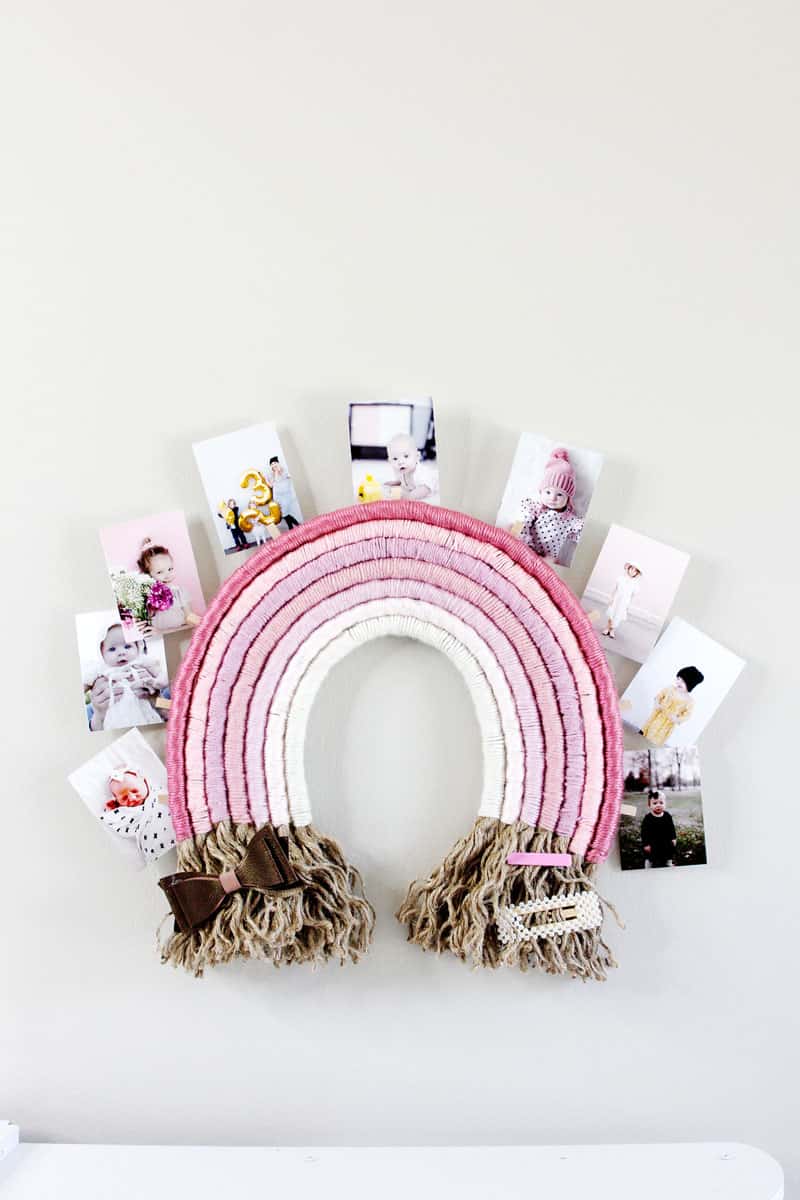 I printed up some of my favorite photos on wallet size photos using Walmart Photo's Same-Day service to display above the yarn rainbow. These photos make the rainbow wall hanging extra special for my girls, they love seeing their baby photos and other sweet memories!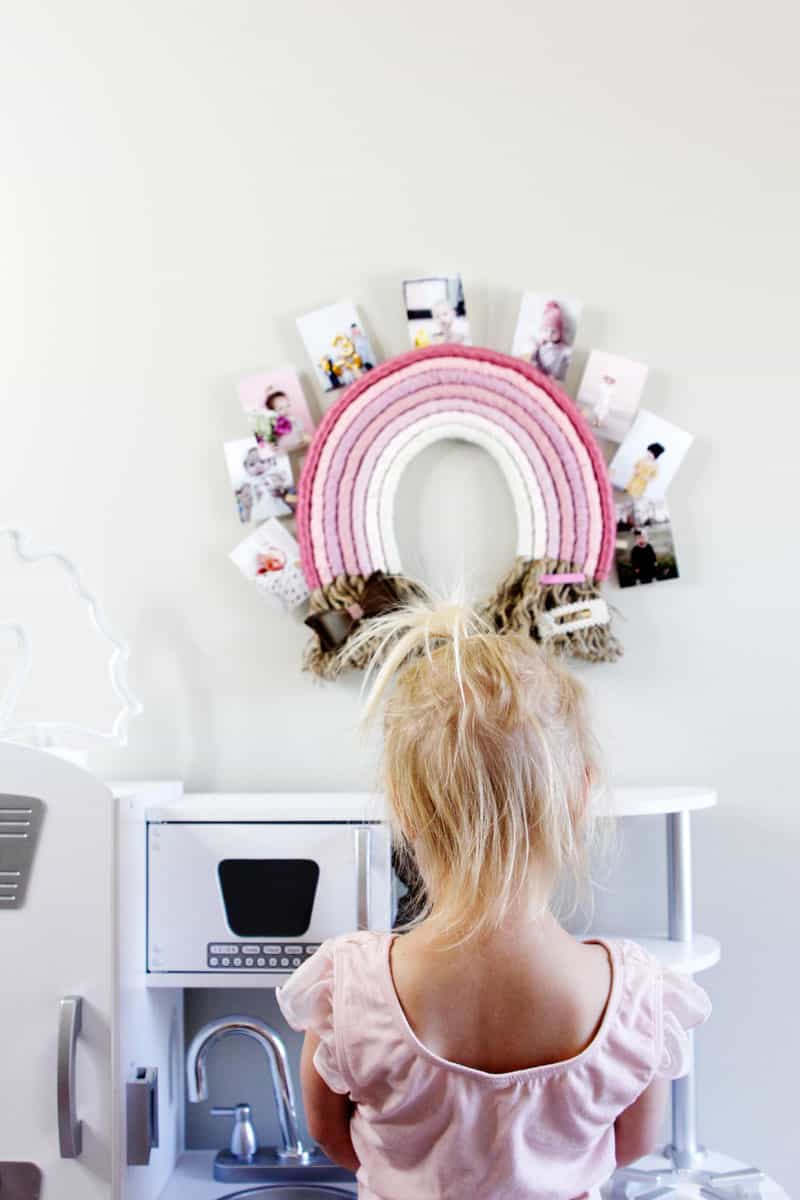 I always feel behind on printing out photos, they are all on my computer. It's always in the back of my mind and I feel so guilty about not printing out all the pictures on my phone! Walmart Photo has so many quick and inexpensive options available to help me get the project moving and done quickly! There are lots of Same-Day photo options available, which is great for me and my busy family – we can start a project and finish it in the same day!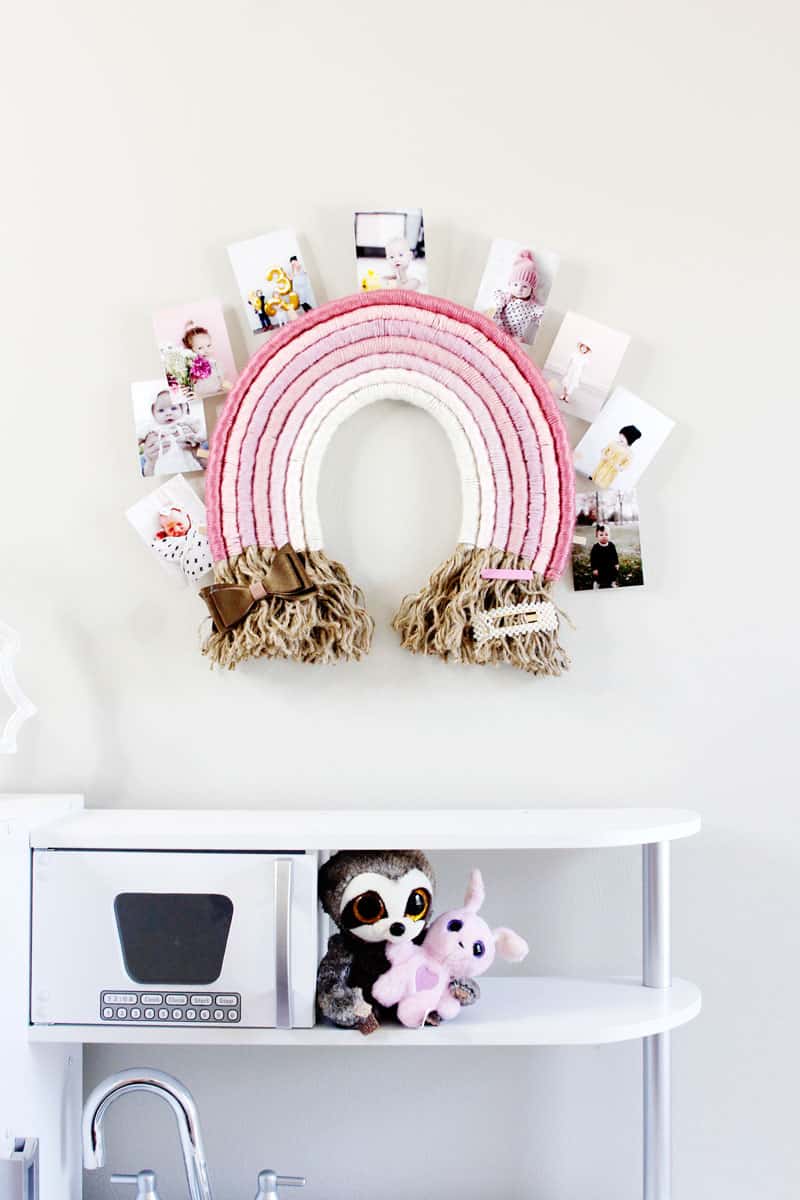 I get so much satisfaction from printing out photos and having them in my home instead of just on screens!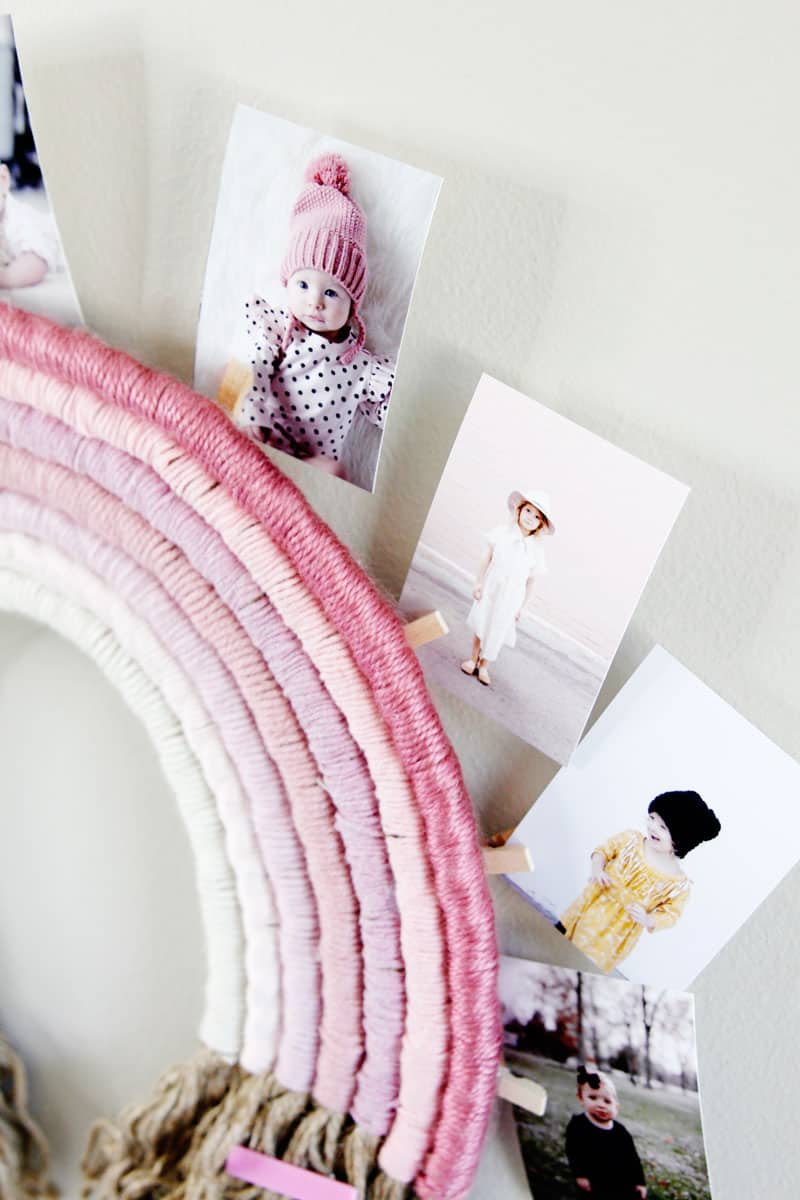 The rope at the ends of the rainbow also doubles as a hair clip holder, making it extra useful!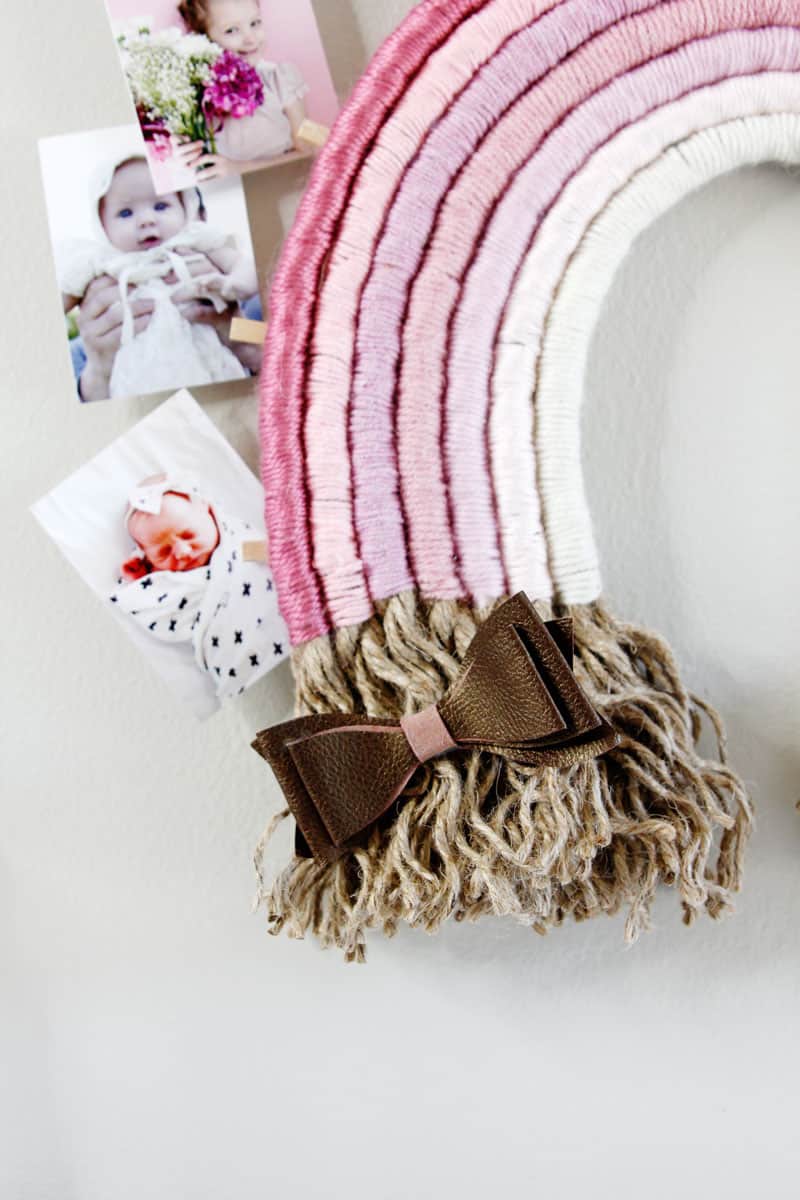 Just clip your bow and clip collection onto the extra rope at the bottom of the rainbow!
Since this project is so personalized, my girls love looking at it. We love looking at the photos together and talking about good memories. I love having each girl guess which baby photo is hers!
This fun wall hanging has brightened up our home. And who doesn't need a few extra rainbows around right now?!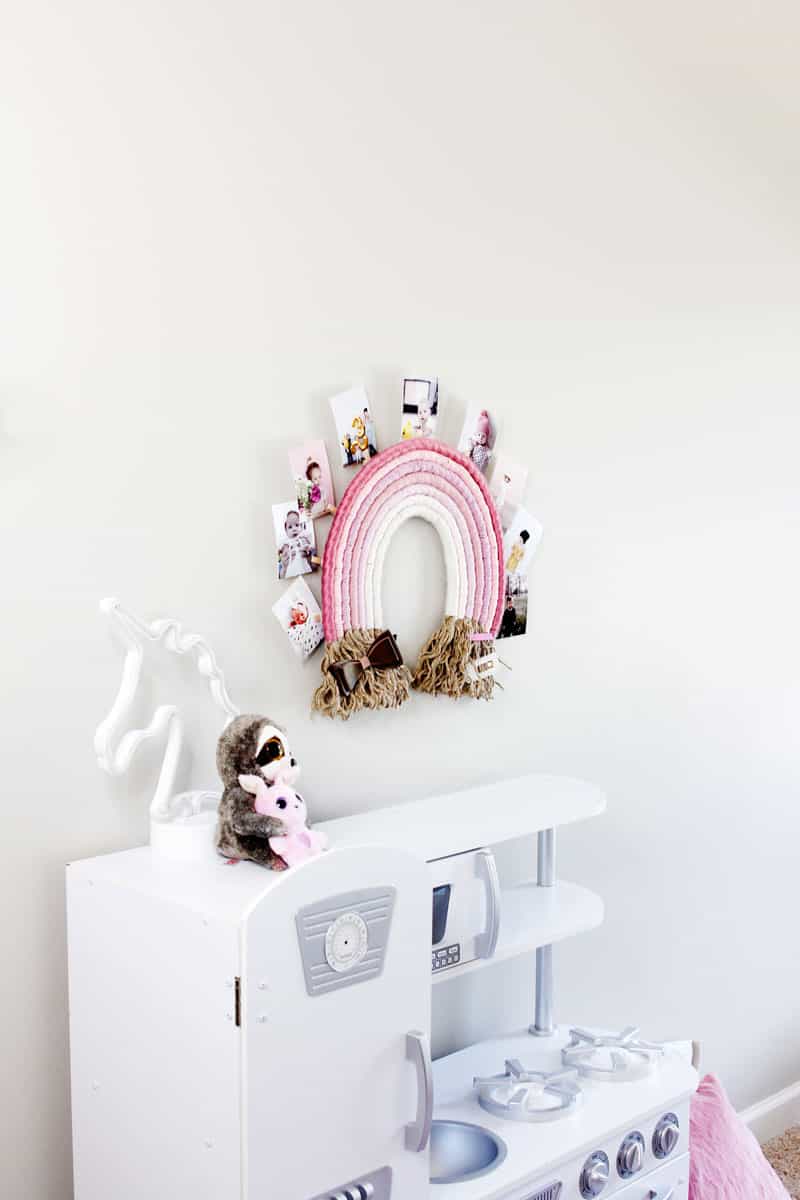 This photo wall hanging is a really fun craft to do with kids or while watching a movie. Wrapping the yarn takes a little time, but is very simple and calming to do.
Rainbow Rope Wall Hanging Materials:
-1/2″ rope
-7 colors of yarn
-Hot glue gun and glue sticks
-Tape, any kind
-Ruler
-Scissors
-Small clothespins
-Pipe Cleaner
-Chipboard or cardboard
–Wallet size photo prints
I used wallet size photos in Matte for this project, but 4×6 prints will work, too!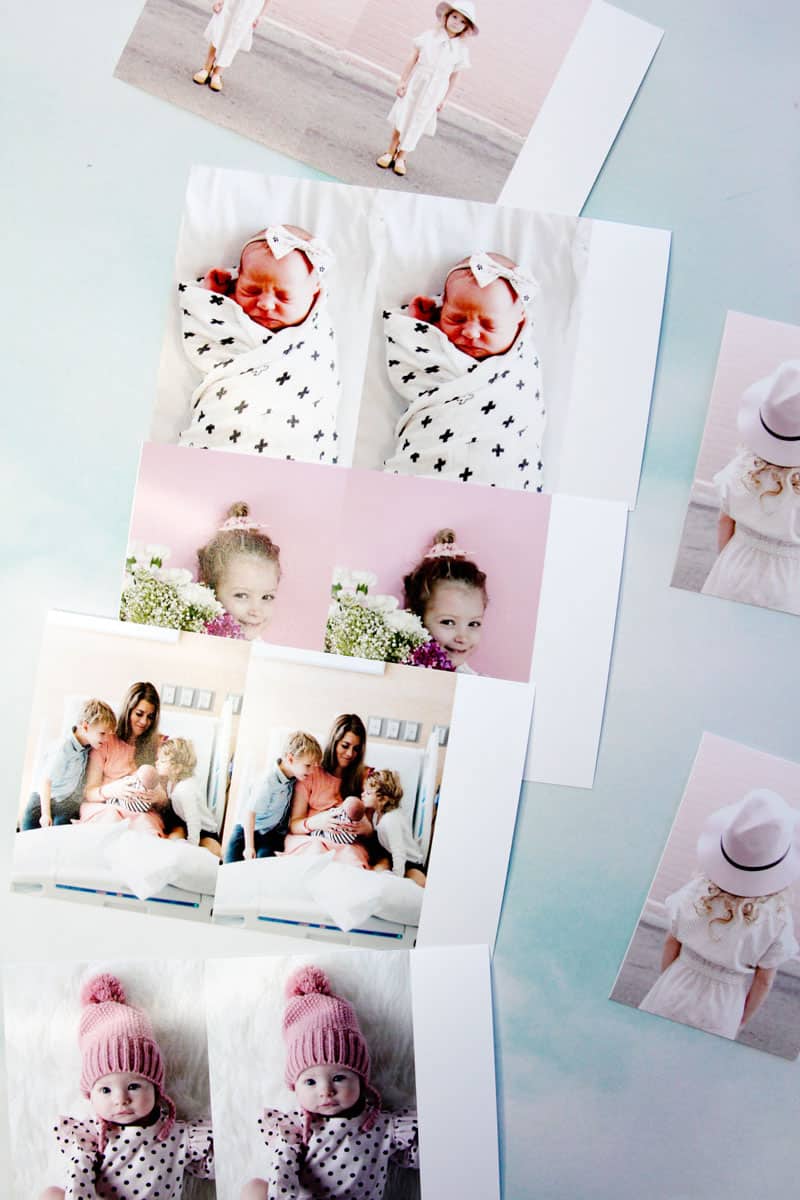 Wallets come in sets of two, so I trimmed them down and will save the doubles for another project, or maybe send them to grandparents!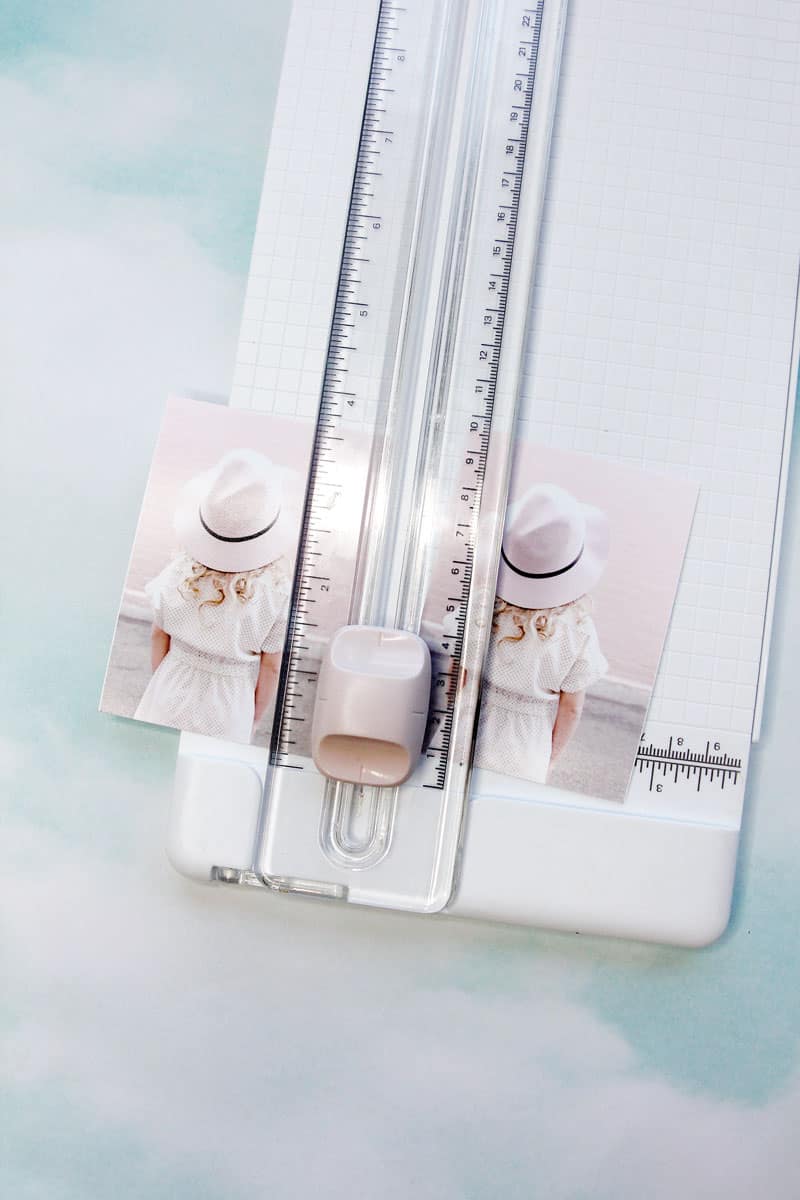 Yarn Rainbow Wall Hanging Instructions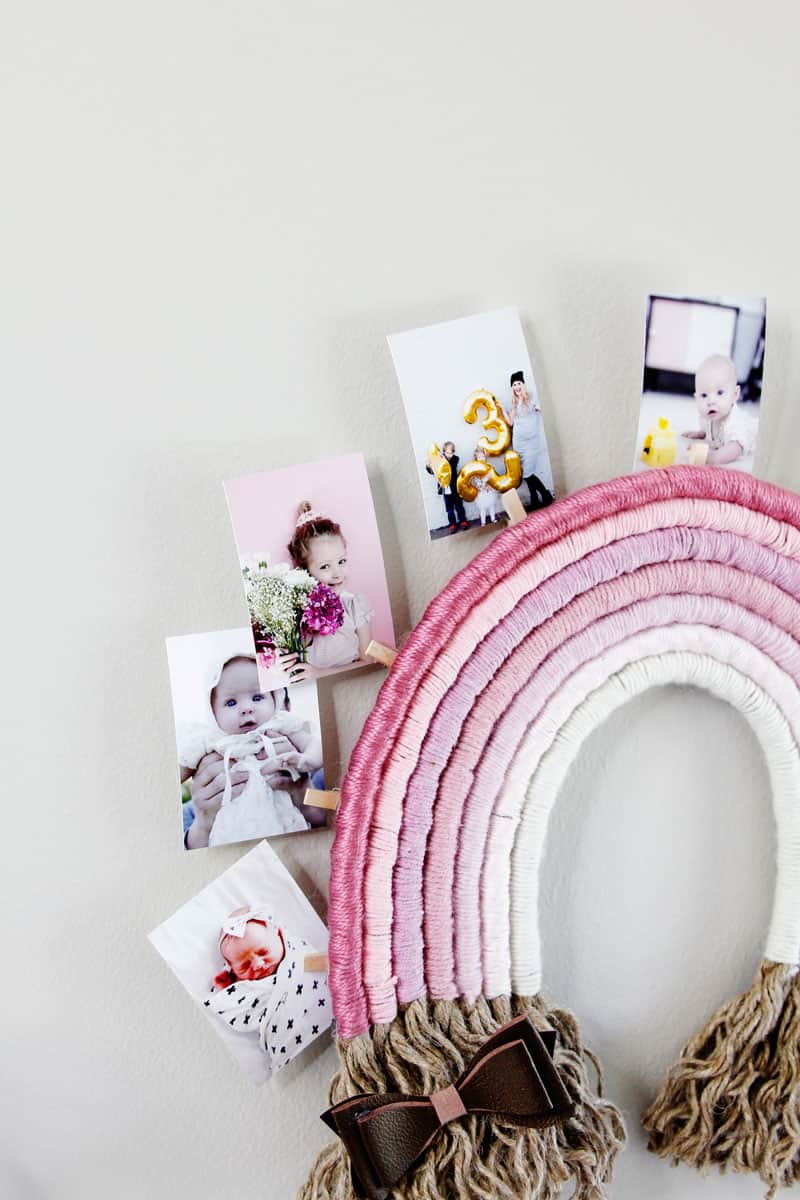 Cut seven lengths of rope, in the following measurements:
23″
25″
26″
27″
29″
31″
33″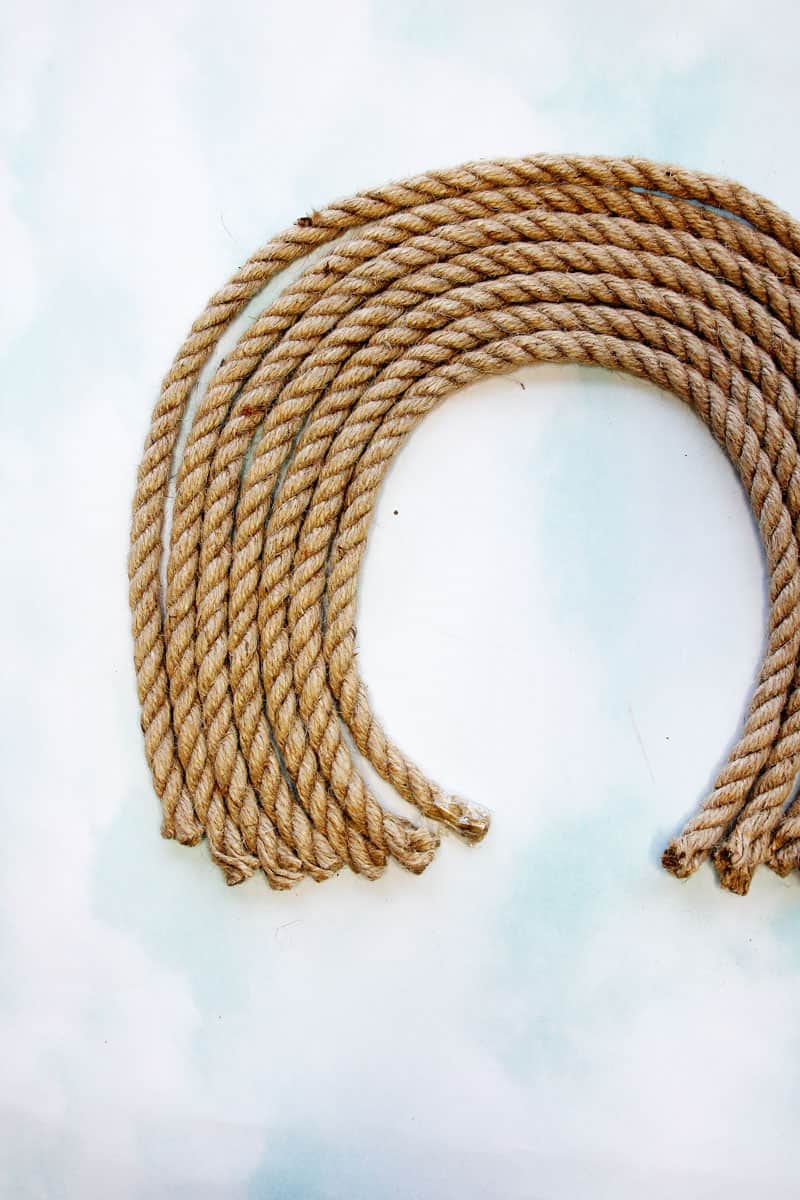 Measure 4″ from the bottom of the rope ends, on both sides. Tape around the rope, with the top of the tape at the 4″ mark. This is just a placeholder and will be removed later.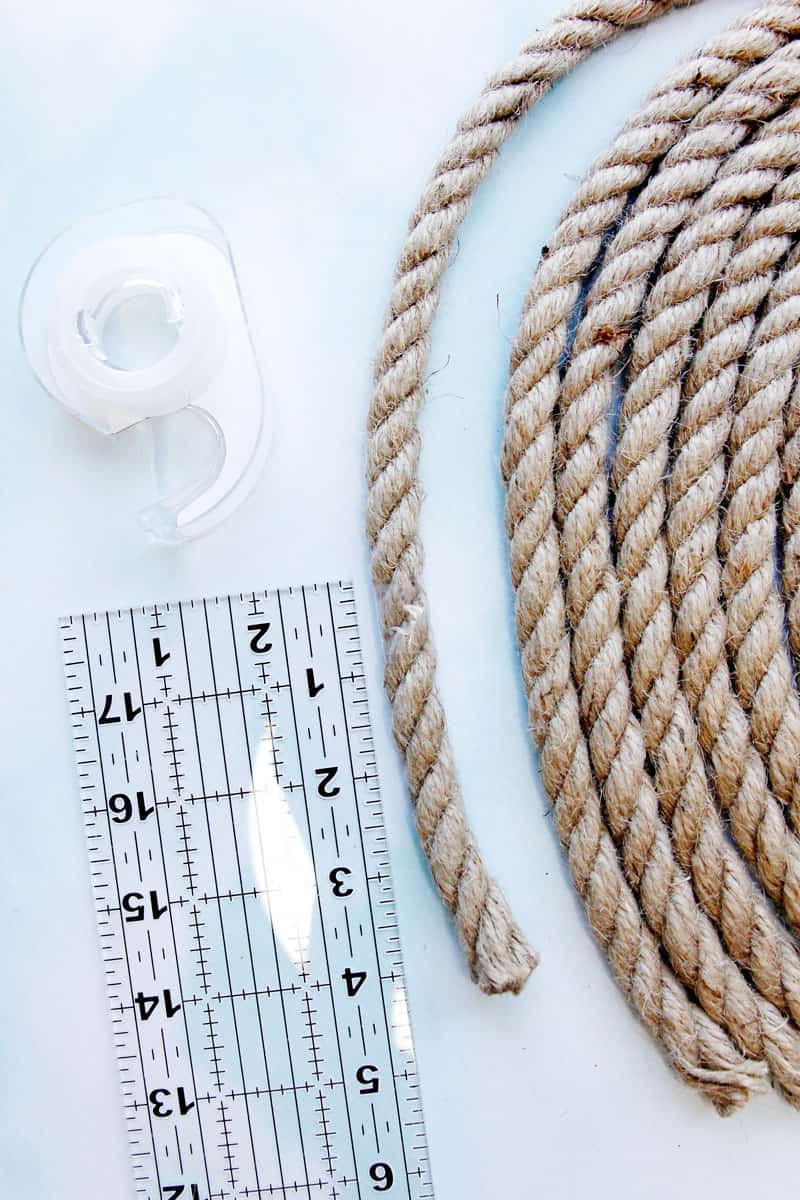 Decide what order you want the colors to go in and start wrapping yarn around the rope at the bottom. Use glue to secure the end on the back of the rope.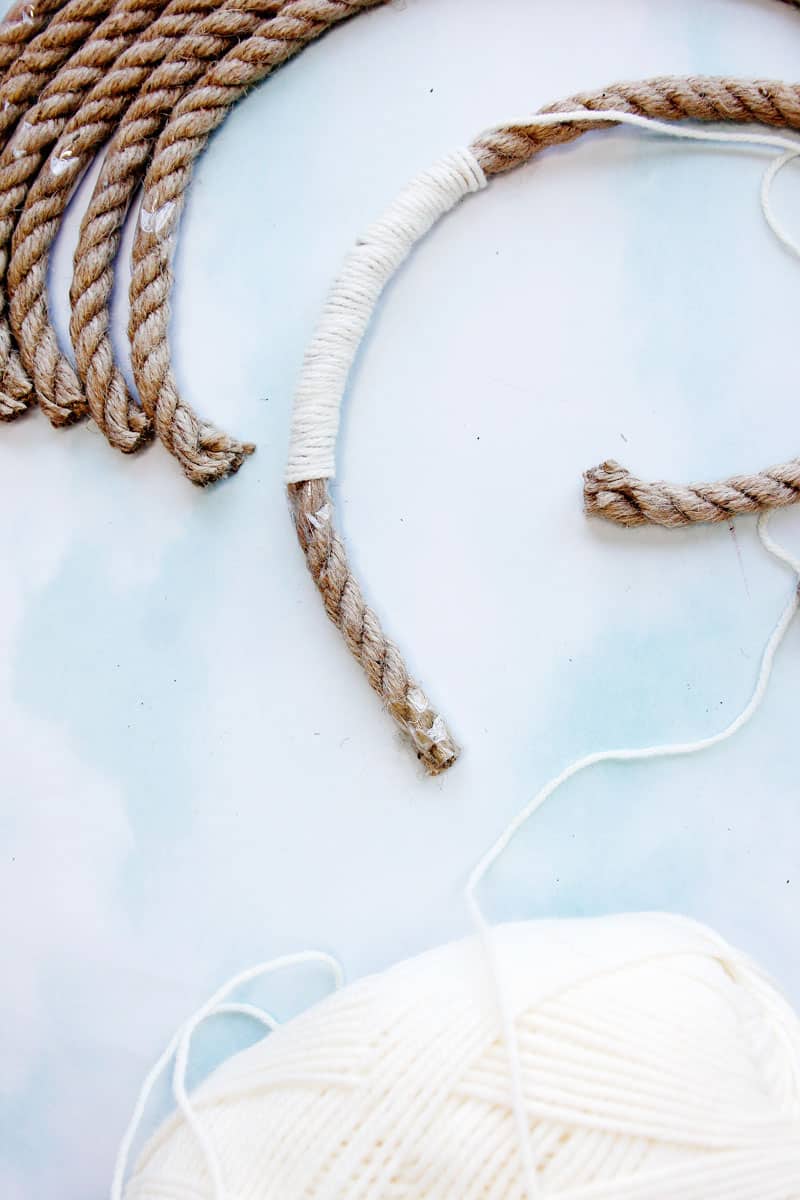 Wrap all the way until the other taped end and glue yarn in place. Make sure you glue the end of the yarn to the back of the rope so all the ends will be on one side.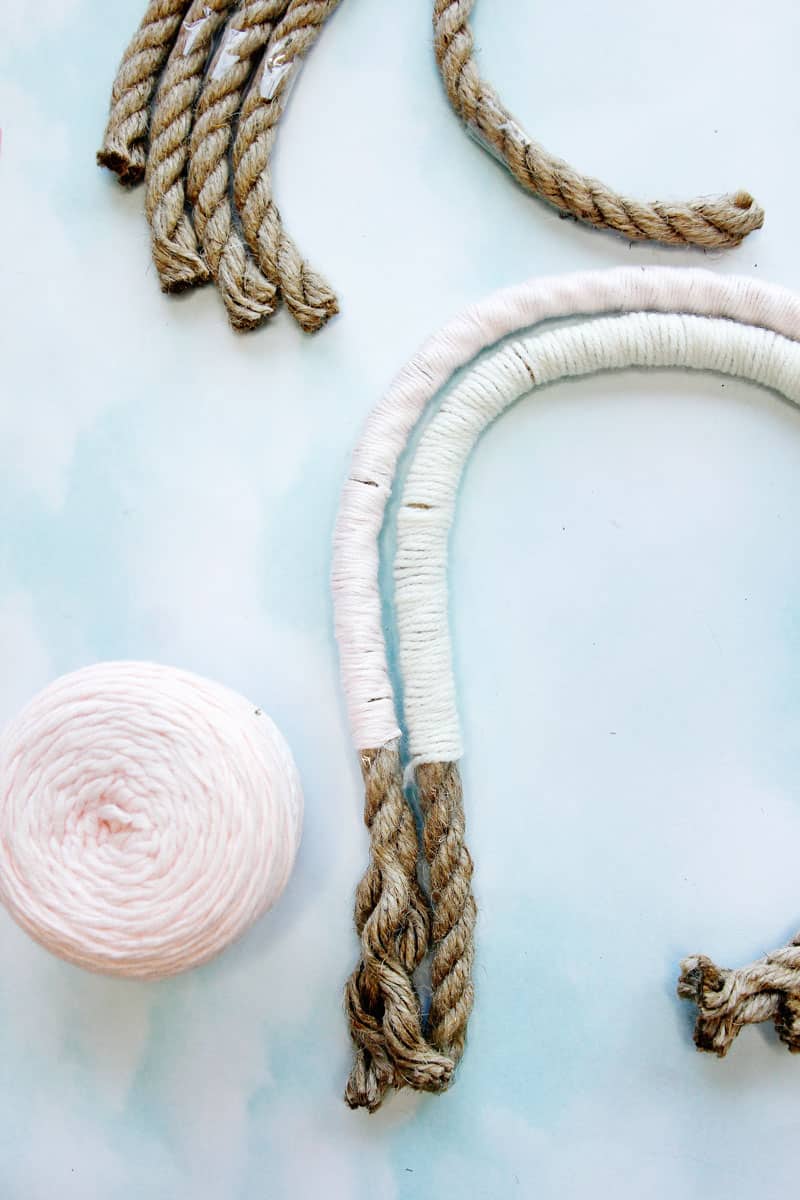 Repeat with all seven colors. Line them all up in the correct order with the backs facing up.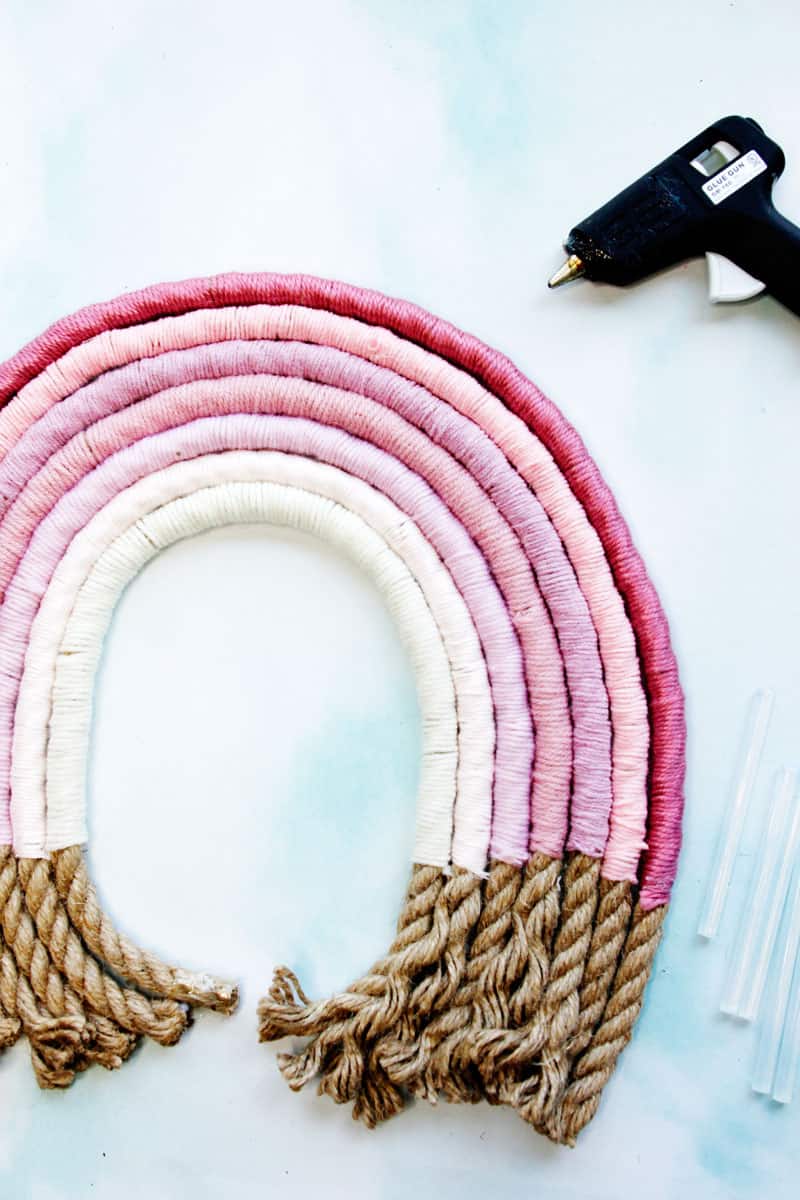 Use a glue gun to pump lots of glue into the yarn rainbow between each rope color. Hold the rainbow pieces together as you glue, so the glue doesn't go through to the front of the rainbow.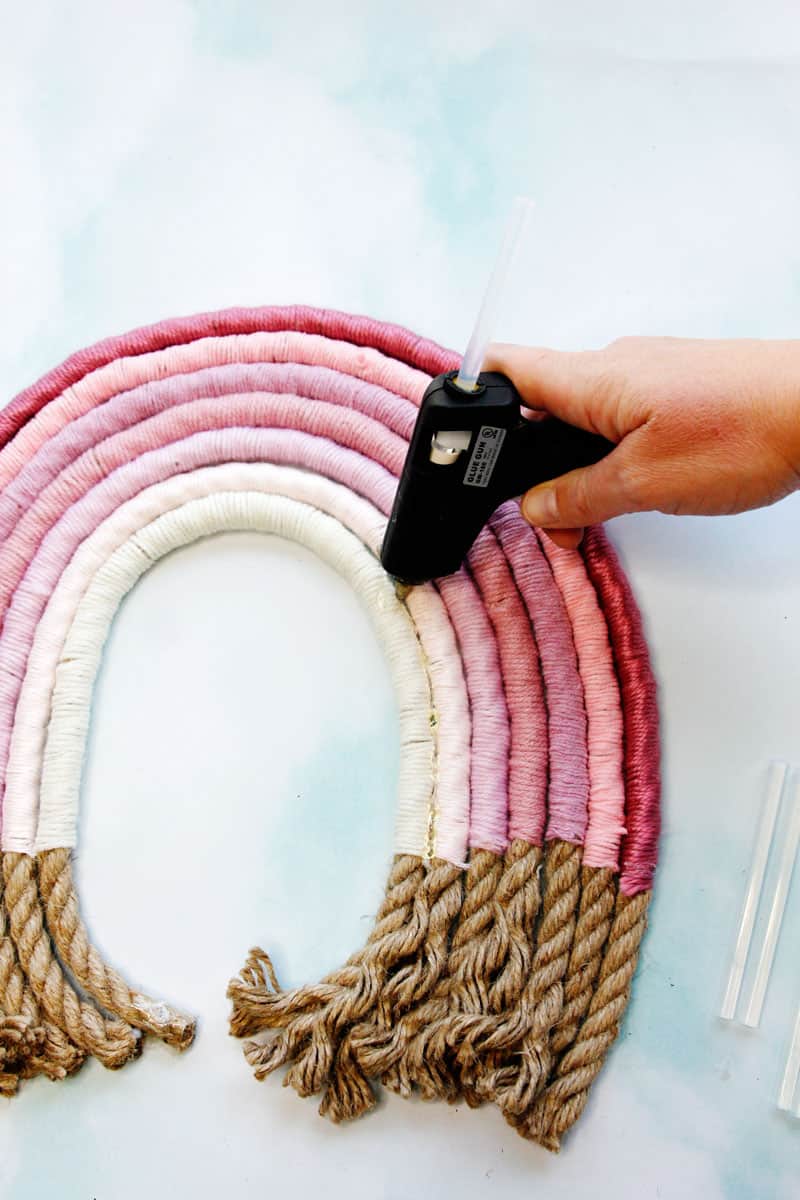 After you've glued all seven pieces together, let them dry. Cut cardboard or chip board into nine 1/2″ strips, about 4″ long. Arrange them on the back of the rainbow, spaced evenly. Start with the top center and fan them out.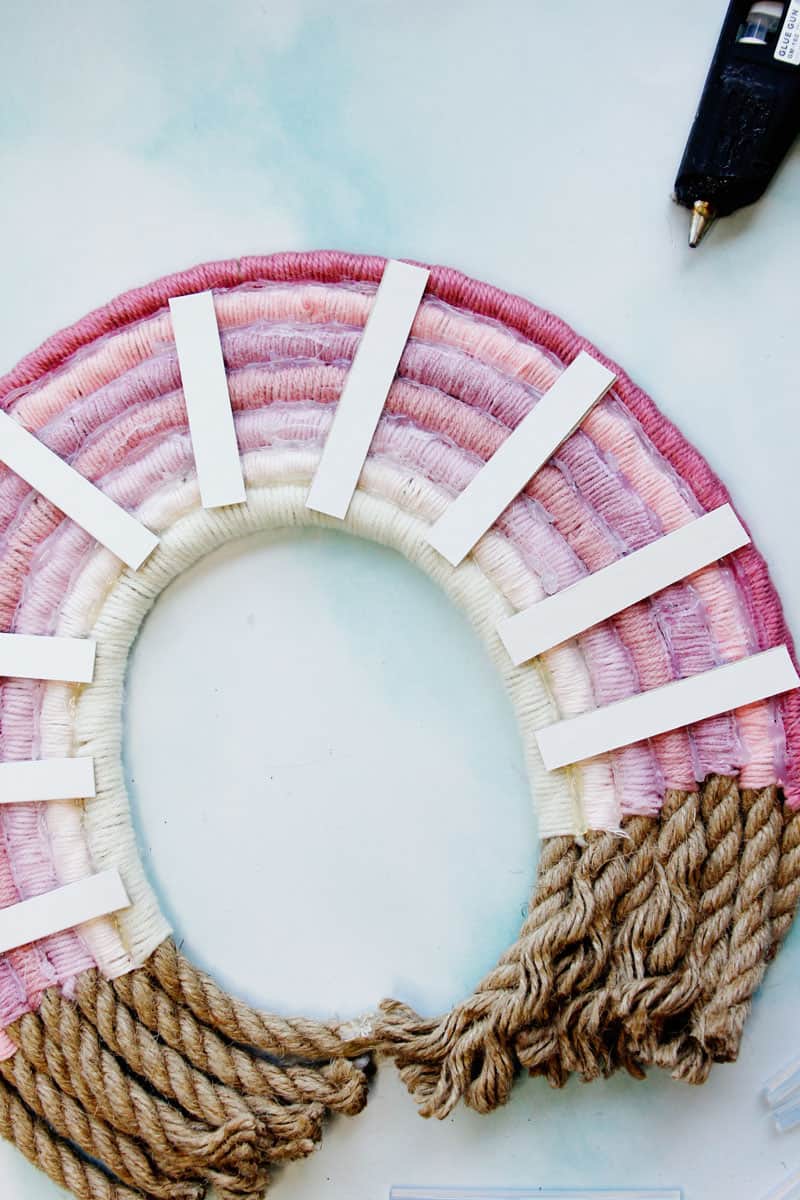 Use a 2-3″ piece of pipe cleaner to create a loop to hang the rainbow from. Glue it underneath the top cardboard strip, while gluing the whole strip down. Glue all 9 cardboard pieces down.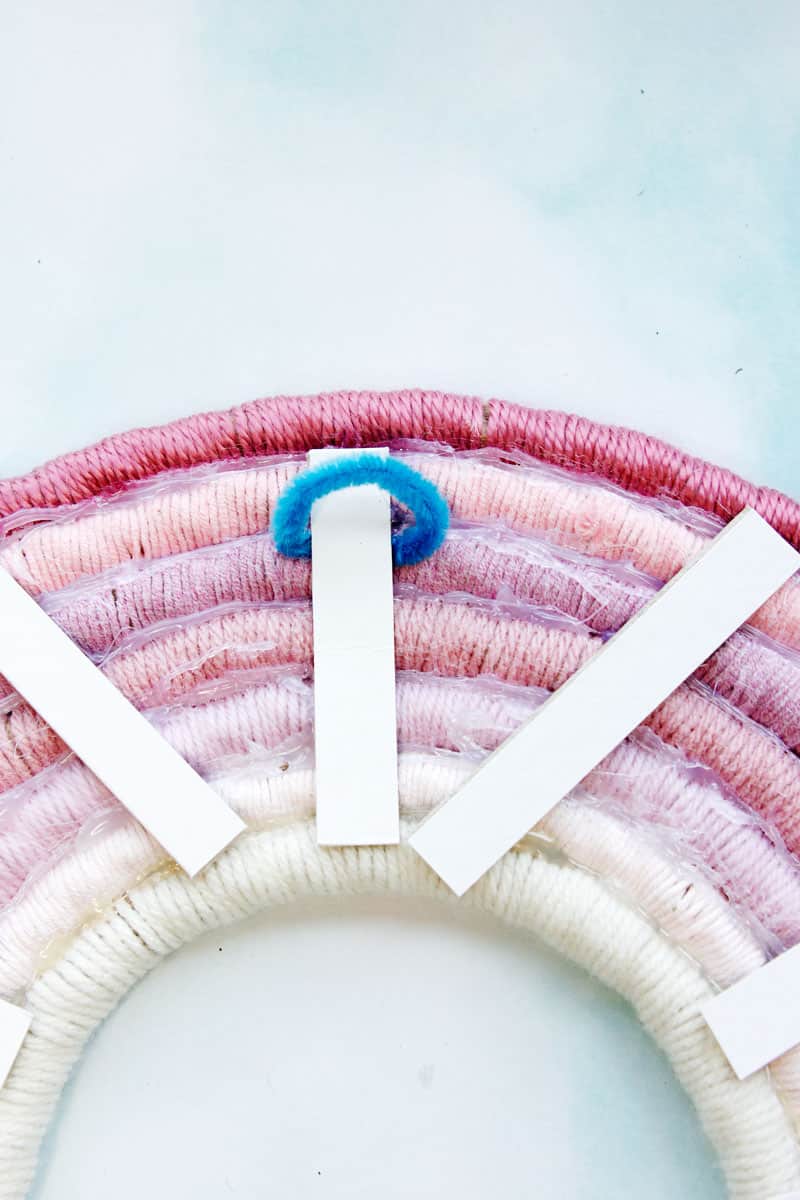 Glue clothespins to cardboard. They should extend about 1/2″ from edge of the rainbow.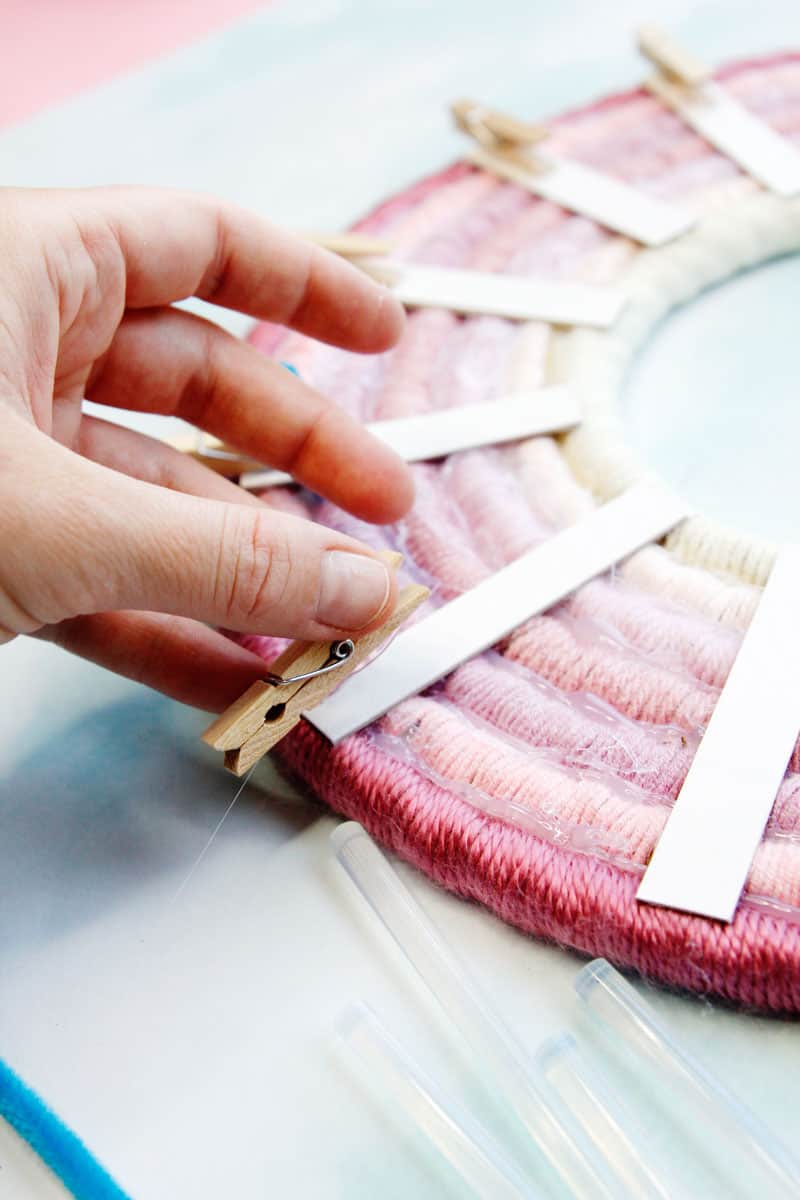 Let the glue dry and make sure all the glue threads have been removed.
Unravel the rest of the rope and trim as necessary.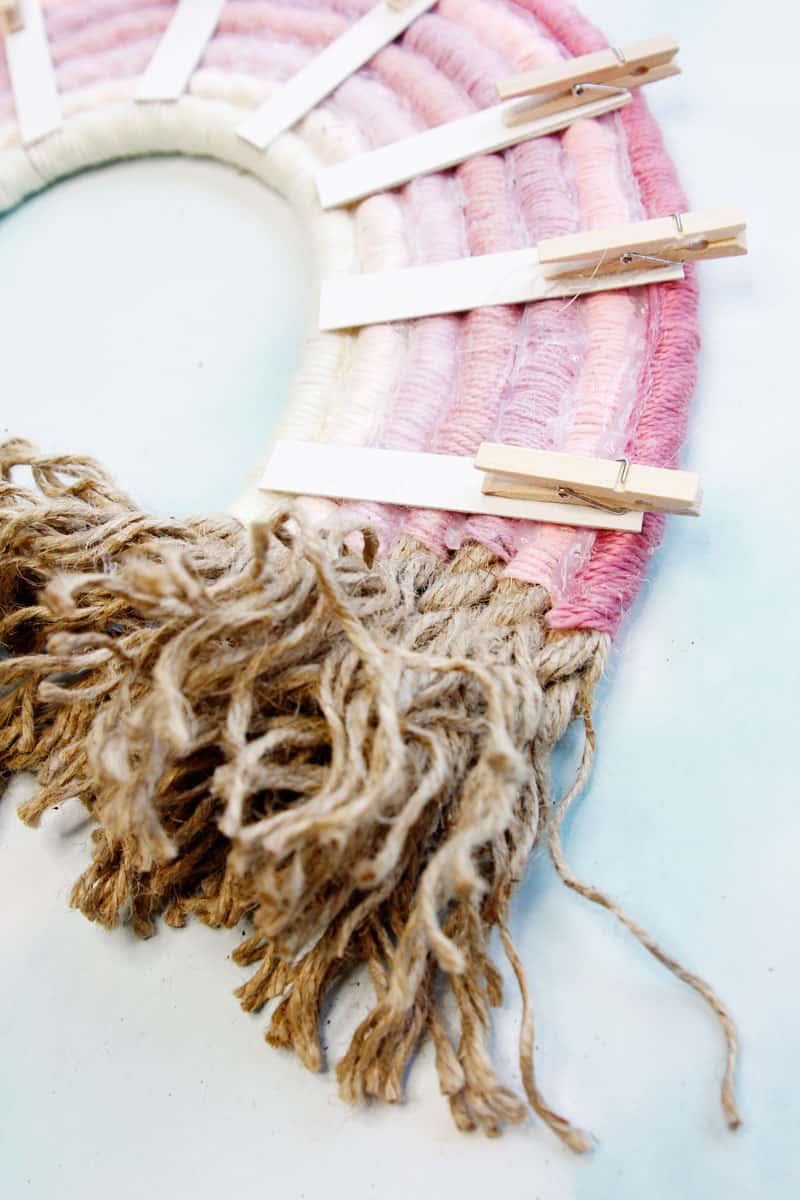 Clip your photos to the clothespins.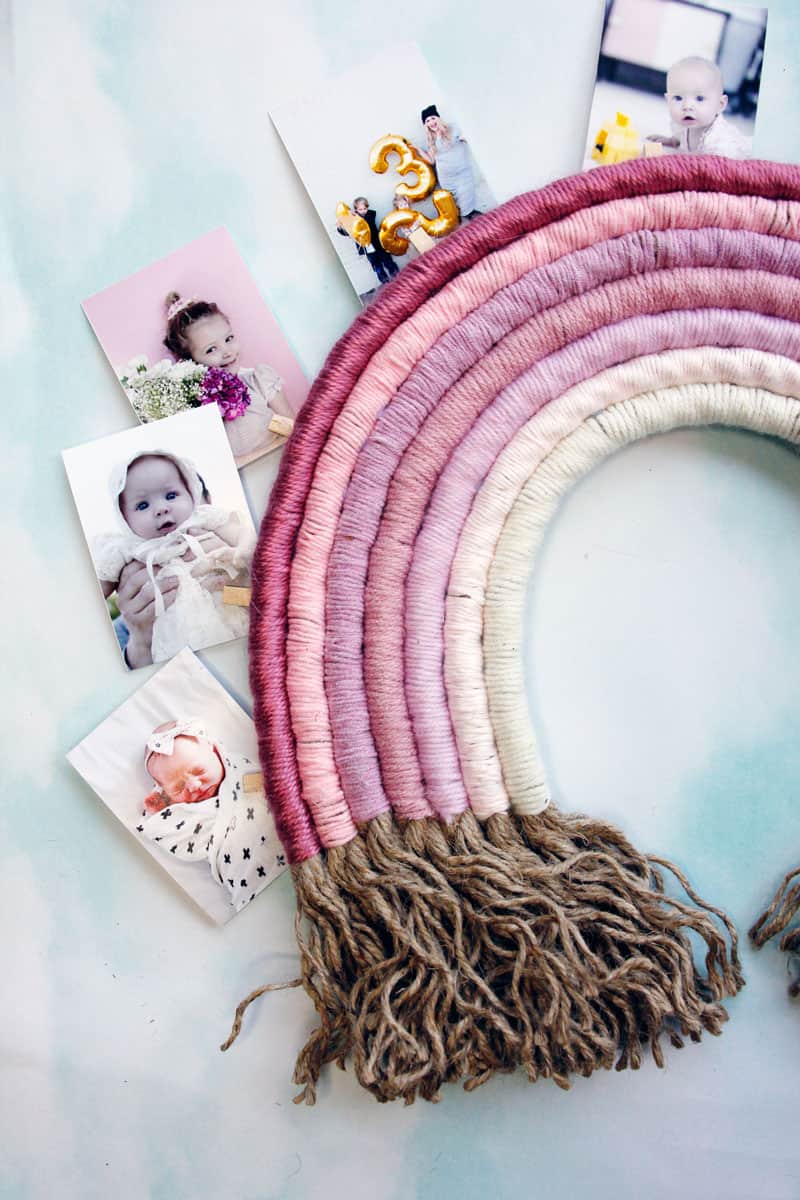 And add a few bows and clips to the bottom!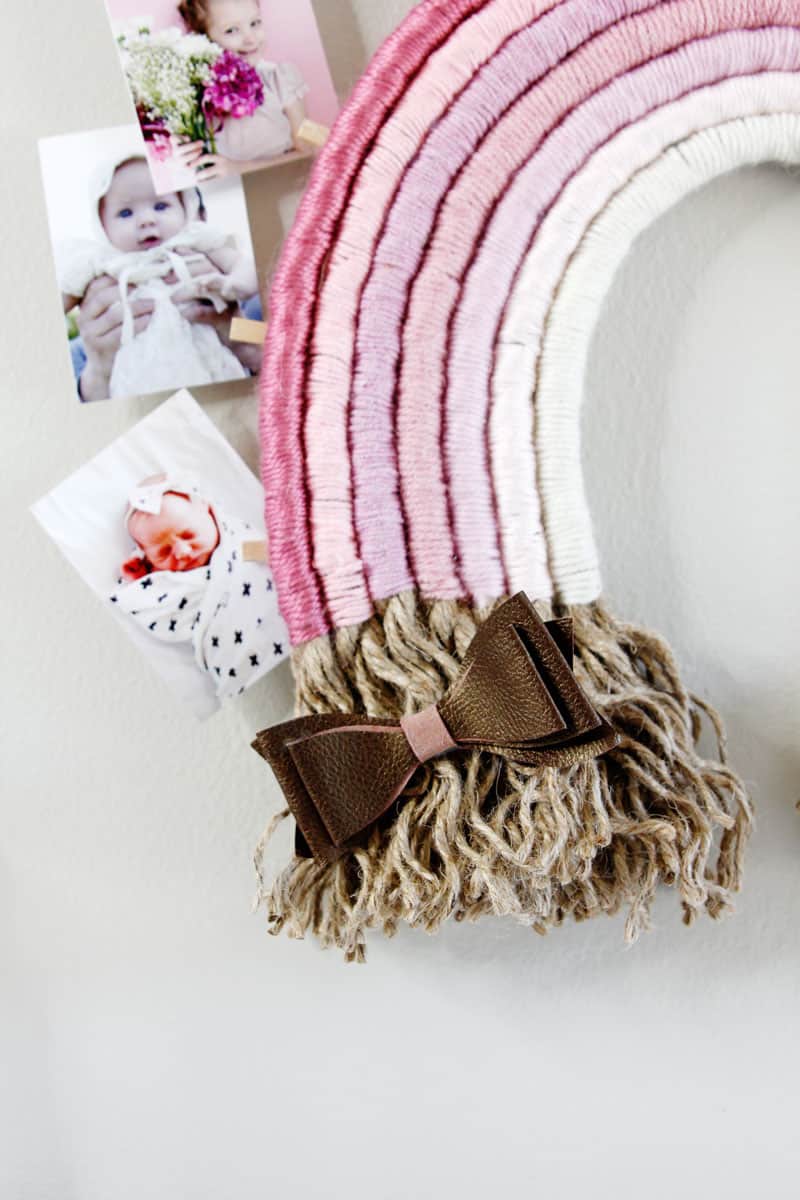 Hang your rainbow in a happy spot!