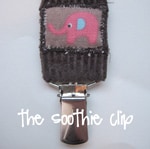 I love pacifier clips because they really reduce mommy paranoia. I never knew I could be so paranoid about something falling on the floor! I've been making pacifier clips for baby's regular pacis. His friend Jackson needed one too, but he likes the Soothies and they don't have a handle so a normal pacifier clip wouldn't work. So here is a solution for our Soothie sucking friends:


Materials:
2 3/4″ by 11″ rectangle of your choice fabric
suspender clip
8 inches of thin ribbon



1. Sew fabric right sides together down the long edge, using a 1/4″ seam allowance.
2. Turn right side out and press. I like to center the seam at the back.
3. Press under 1/4″ on both short edges.
4.  Fold ribbon in half and pin the ends into one edge. I like to put them in about 1/2″. Stitch in place, closing up the short edge.

5. Add a little applique about 2″ from the other short edge, if you want.
6. Insert suspender clip and fold over fabric 1 1/2″.
7. Pin in place and sew down as close to the clip as you can and then in a rectangle to make sure the edge is flat.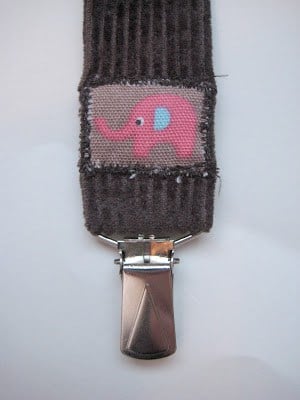 Done!