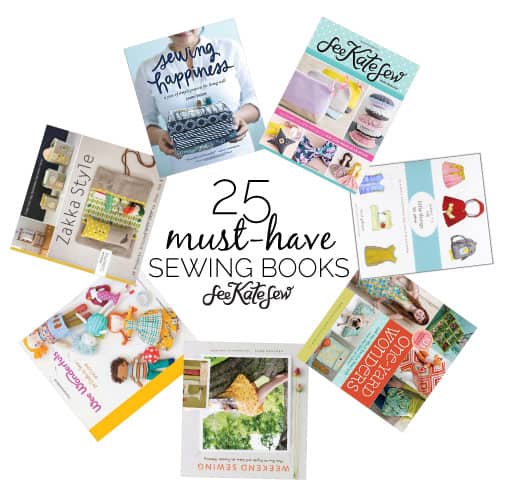 When I walk into a bookstore I always make a beeline for the craft book section. Sewing inspiration PLUS the smell of brand new books, yes please! These are a few of the must-have sewing books I either have on my bookshelf or my wishlist.
1.The New Complete Guide to Sewing (Reader's Digest)– I always recommend this book! It's the best how-to guide for sewing techniques from basic to advanced.
2. See Kate Sew: 24 Learn-to-Sew Projects You Can Make in an Hour– This is my book, woo hoo! It's set to release this month, although it's already shipping from Amazon!
3. Sew Classic Clothes for Girls– I love this book by The Cottage Mama, full of beautiful patterns for girls!
4. Oliver + S Little Things to Sew
– This one has so many cute projects that are perfect for a weekend!
5. The BurdaStyle Sewing Handbook
– This is a great resource for beginners!
6. Stylish Dress Book– I love this one! Check out one of the dresses I made using it here.
7. Simple Sewing 30– This is filled to the brim with helpful tips and techniques!
8. Bend-the-Rules Sewing
– This is a super fun book, especially for tweens or anyone daunted by sewing.
9. Sewing School– The perfect book for kids sewing!
10. Wee Wonderfuls: 24 Dolls to Sew and Love
– This book is too cute, so many fun dolls to sew.
11. Pattern Magic
– Clothing meets sculpture in this beautiful book!
12. Stitch Magic
– Use this book to learn some serious fabric manipulation skills.
13. Sewing for Boys: 24 Projects to Create a Handmade Wardrobe– All of these outfits are great! 
14. Growing Up Sew Liberated– So many cool projects!
15. The Colette Sewing Handbook
– Not only is this a helpful book, it's pretty to boot!
16. One-Yard Wonders: 101 Sewing Fabric Projects; Look How Much You Can Make with Just One Yard of Fabric!
– Grab a yard of fabric and get going!
17. Lotta Jansdotter's Simple Sewing: Patterns and How-To for 24 Fresh and Easy Projects- This book is so chic!
18. Zakka Style: 24 Projects Stitched with Ease to Give, Use & Enjoy (Design Collective)– The range of projects here is awesome.
19. Fabric A to Z– This is the PERFECT reference manual!
20. Bend the Rules with Fabric: Fun Sewing Projects with Stencils, Stamps, Dye, Photo Transfers, Silk Screening, and More
– Use this one as a jumping off point, it's so inspiring.
21. Weekend Sewing: More Than 40 Projects and Ideas for Inspired Stitching- Make your weekend into something more than just chores and Netflix. ;)
22. Pattern Making (Portfolio Skills) – The variety and detail in this book are amazing!
23. Sewing Happiness– This is perfect for the new year ahead! Work on a project a week in 2017. :)
24. The Sewing Book: An Encyclopedic Resource of Step-by-Step Techniques– Another reference book you'll turn to again and again. 
25. School of Sewing: Learn it, Teach it, Sew Together– This would be fun to use in a sewing club (kinda like a book club but even better, haha!).
What's your favorite sewing book?