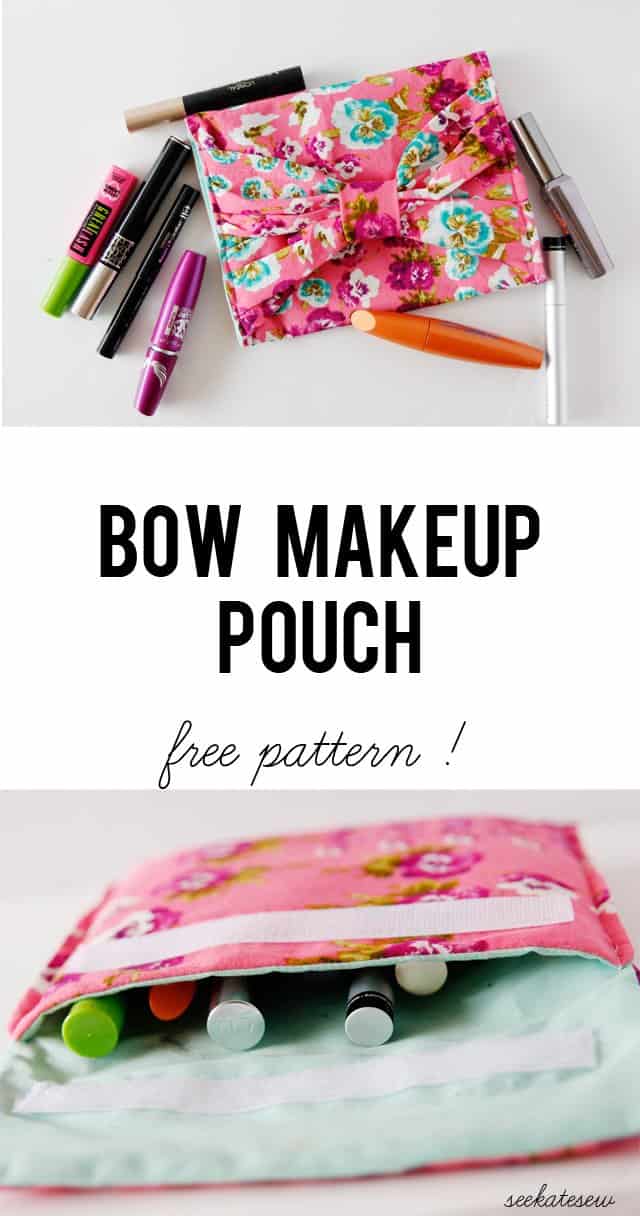 A few weeks ago I decided to find THE BEST mascara brand. I was running low of my current Great Lash, although I only had that one because it was on sale. Ever since Whip It
 came out Lash Blast has really been my favorite. But I wanted to try some different brands to see how they compare. So I asked on instagram and got some great suggestions! I bought a total of 8 top suggested mascaras (okay, no one suggested ELF, but it was only $3!) and put them to the test. I got them all in Black. Here is what I found: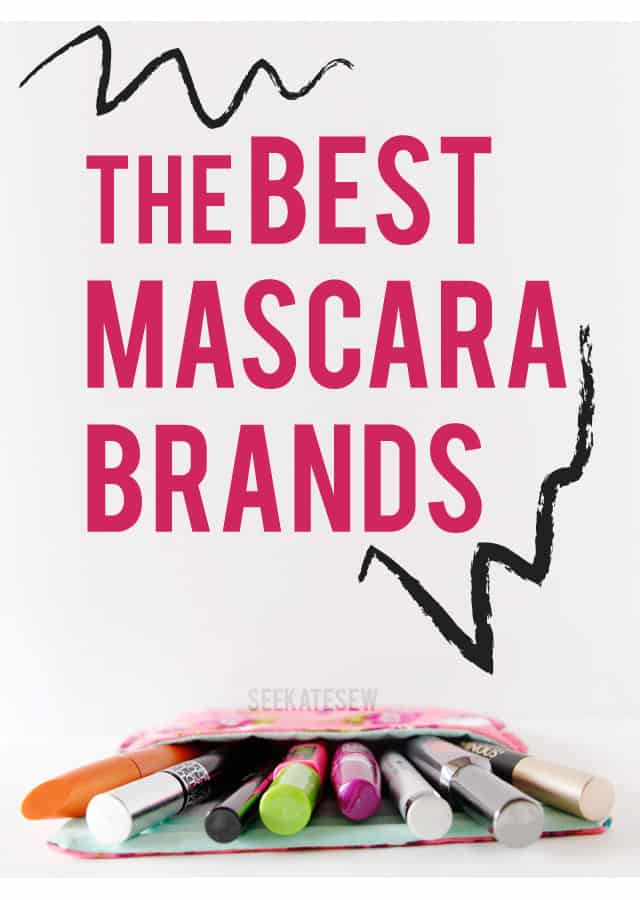 Price (1-cheapest, 8-most expensive):
1. e.l.f. Mascara

2. Great Lash by Maybelline
3. L'Oreal Voluminous

4. Maybelline Falsies

5. CoverGirl LashBlast
6. Benefit They'Re Real!
7. Diorshow Mascara
8. Blinc
Top THREE! It was really fun to try new mascaras and I couldn't narrow it down to my top favorite, so here are my top three, all with slight differences
1. Benefit They're Real. Just amazing. Like, woah.
2. Dior Show is amazing. It has a little more full effect. I loved this one and really noticed a difference as opposed to budget brands.
3. Lash Blast. Guys, Lash Blast is really great and for the price! Thumbs up.
Wildcard: Blinc! Blinc is amazing. The formula is different than any I have seen before, it seriously coats the whole lash. You can tell because when you use makeup remover to get it off, it slides off your lash, like a glove. This is my favorite wand, it's small and easy to apply. I love the way this looks! I'm calling it a wildcard because it was less of a mascara and more of an "experience". It wasn't as dark as the others when it was on, but for some reason it was really cool and I loved it. I don't consider this an everyday wear, but maybe a special occasion wear mascara.
Best Budget Brand:
Let's be real, I probably won't fork over $25 every time I need mascara. Trips to Sephora are a special treat not an everyday thing for me, so my favorite Budget Brand was Lash Blast Volume, which also made my top three. I think the big wand really makes a difference.
Also thumbs up to Maybelline Falsies and Loreal Voluminous.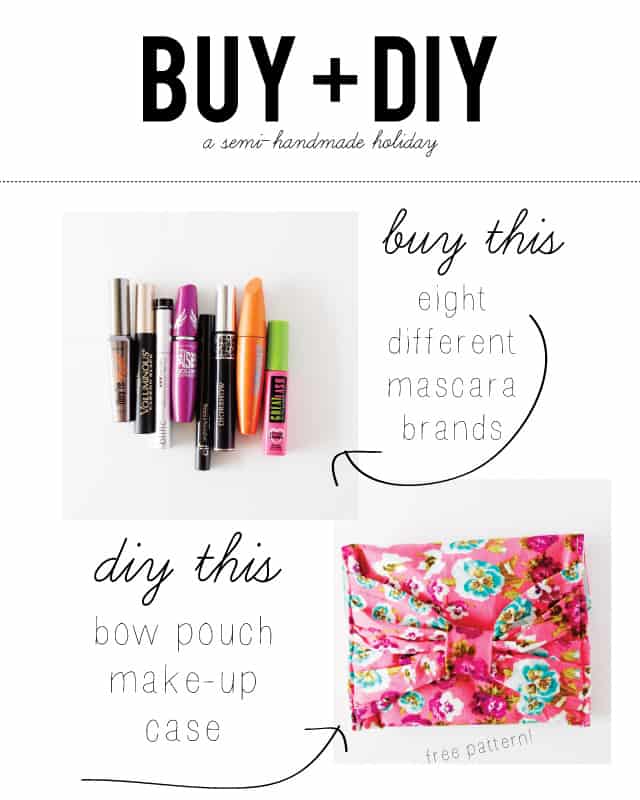 Now for the handmade part of this gift!
I thought this would make a super cute gift, a mascara sampler! What girl does not want 8 different kinds of mascara to try? It is really fun to try a different one everyday. I made a pouch to fit the mascaras perfectly. And you can make one too! Here is the free pattern:
Materials:
-1/2″ velcro–5″ piece
-1/4 yard fabric
-1 fat quarter contrast
-fusible interfacing
-a selection of your favorite mascaras. I chose: diorshow, LashBlast, e.l.f. Mascara
, Great Lash,  L'Oreal Voluminous
, Maybelline Falsies
, Benefit They'Re Real! and Blinc.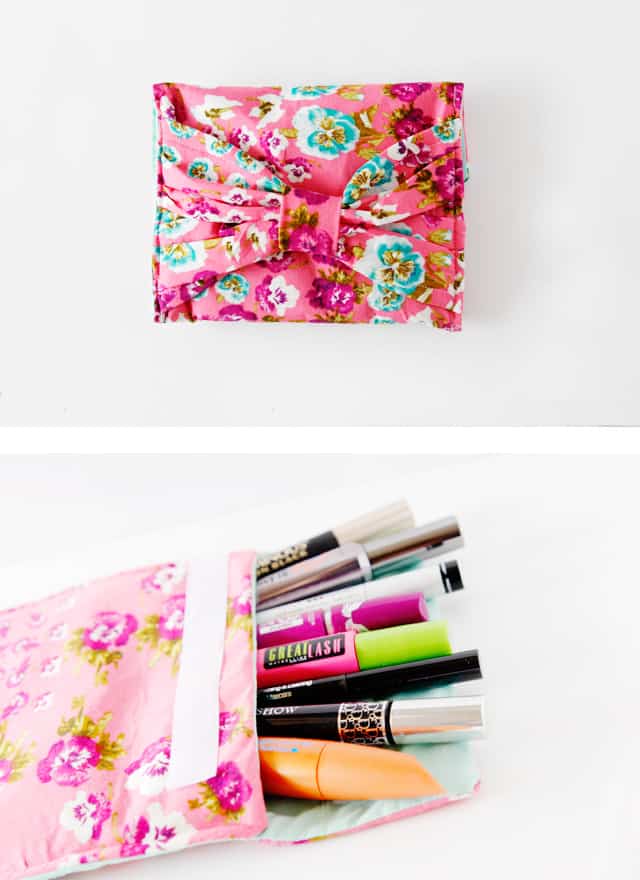 Instructions:
Cut your pattern pieces based on the chart below: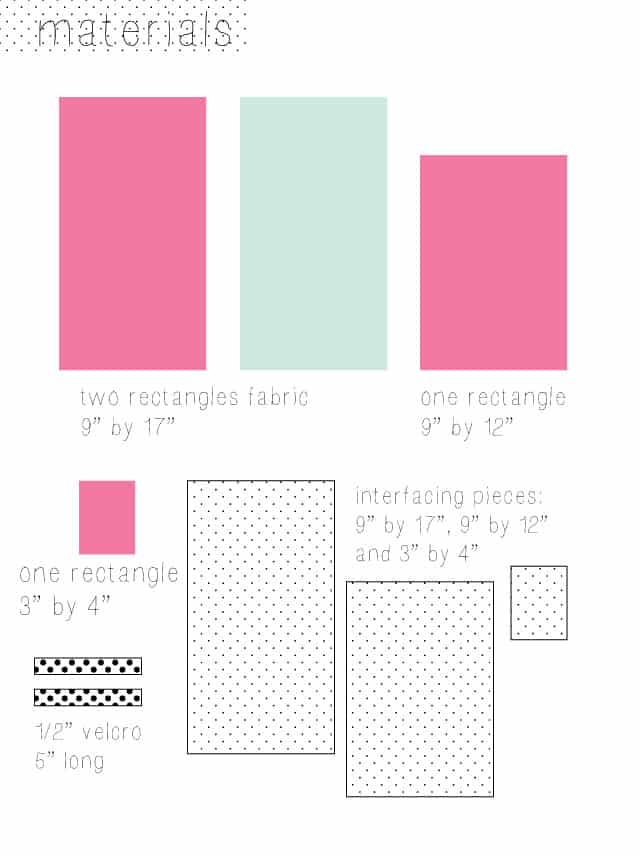 Step 1: Fuse interfacing to back of pieces.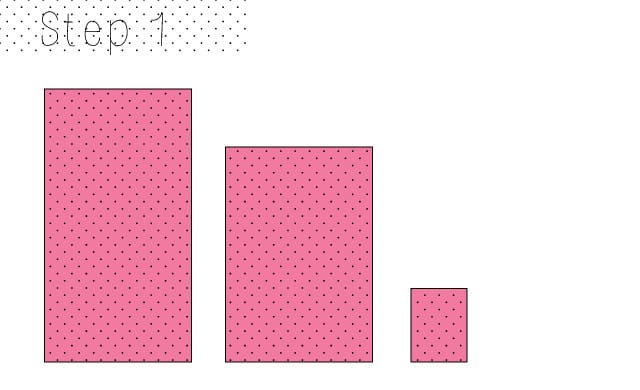 Step 2: Sew velcro on the right sides of both lining and main pieces.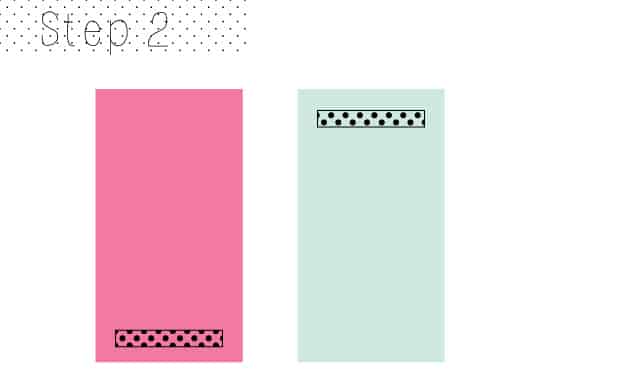 Step 3: Fold and press over 1″ on top and bottom of bow piece. Topstitch top and bottom edge. Then gather or pleat side of bow and attach with baste stitch to top of main fabric piece. This will be the back of the bag.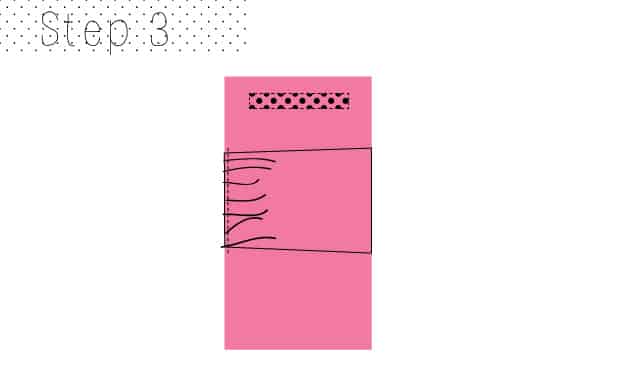 Step 4: Make loop. First fold loop piece in half lengthwise and sew (b). Then turn right side out (c) and fold in half long ways. Stitch (d). Turn right side out and you will have a loop (e).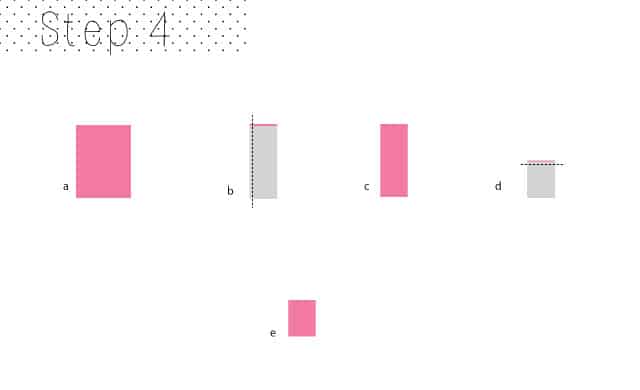 Step 5: Push loop on over the bow piece and gather or pleat other side. Bow complete.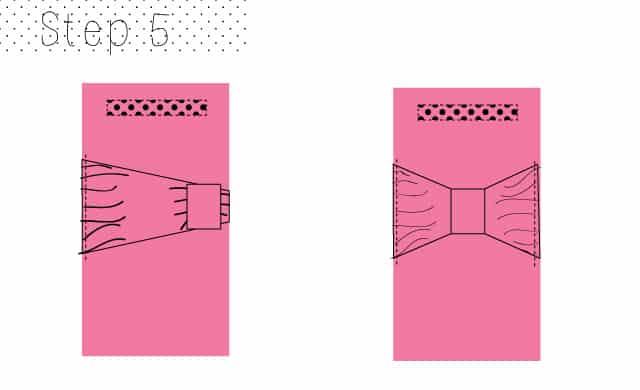 Step 6: Sew lining to front with right sides together. Leave a 2″ opening on the side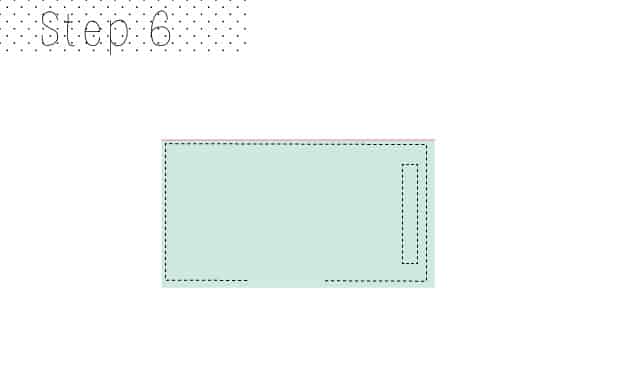 Step 7: Clip seam allowance then turn and press. Fold pouch bottom up and topstitch sides together. The stitching you create will close the opening you left. Backstitch at the top and bottom and you're done!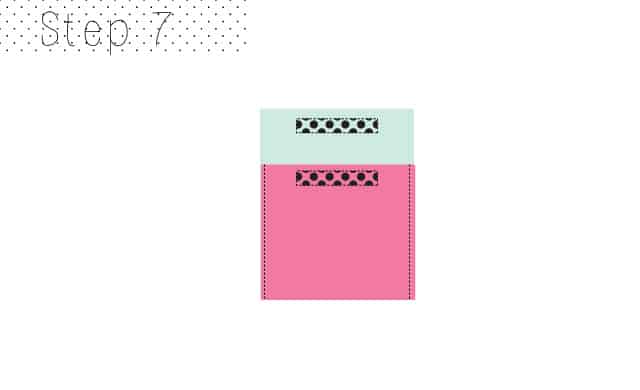 Load it up with mascara and you're ready to put it under the tree!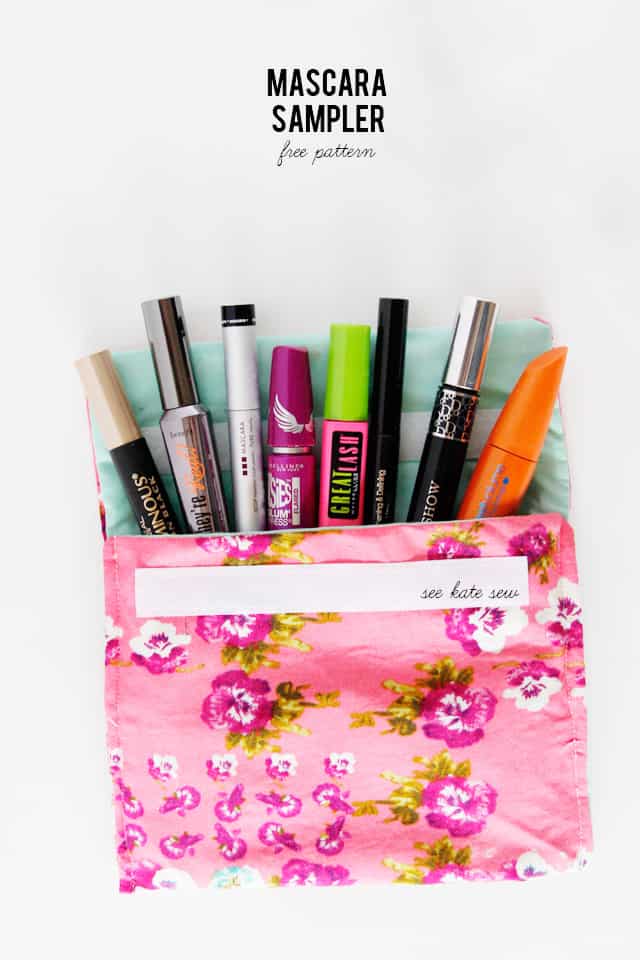 What is your favorite mascara?