It's here – the See Kate Sew Black Friday Bundle! A $129 value, just $22…this weekend ONLY!
The Black Friday Bundle includes every PDF pattern you need to make sewn gifts for Christmas…FAST!
What's in it:
12 total sewing patterns (value $129)
BONUS! Free pack of 20 sewing themed SVGs (Make your own sewing tees!)
SEW A GIFT FOR EVERYONE ON YOUR LIST!
⭐️For your NEIGHBOR: The Ice Cream Soda Apron (a $12 value)
⭐️For the BOY: Trapper Hat Winter Pattern (a $6 value)
⭐️For the GIRL: the Pippa Top + Dress Add-on Bundle (a $14 value!)
⭐️For the TEACHER: the Carrie Tote (a $12 value)
⭐️For CHARITY: The Knot Turban Pack (a $18 value)
⭐️For the TRAVELER: The Weekender Bag (a $12 value)
⭐️For the BABY: the Pixie Bonnet Pattern (a $9 value)
⭐️For KIDS CHRISTMAS PJS: the September Leggings + the Recess Raglan (a $19 value)
⭐️For your COUCH: the Subway Tile Quilt (a $12 value)
BONUS: the SVG pack for crafters! (a $15 value!)
Each project can be made in an afternoon or less!
Simple
Fast
Professional looking
GREAT GIFT IDEAS FOR EVERYONE
In this bundle, you'll find an idea for a handmade gift for anyone on your list:
Baby
Boy
Teacher
Sewing / Craft lover
Travel Lover
Neighbors
Friends
Girls
Matching Kid PJS
Dolls
And more!
CRAFTY SVG PDF PACK BONUS
As a bonus, the SVG PDF Creative Bundle is thrown in for FREE!

It has 20 crafty sewing mantras and phrases to add to your projects or print out as decor!

SEW cute!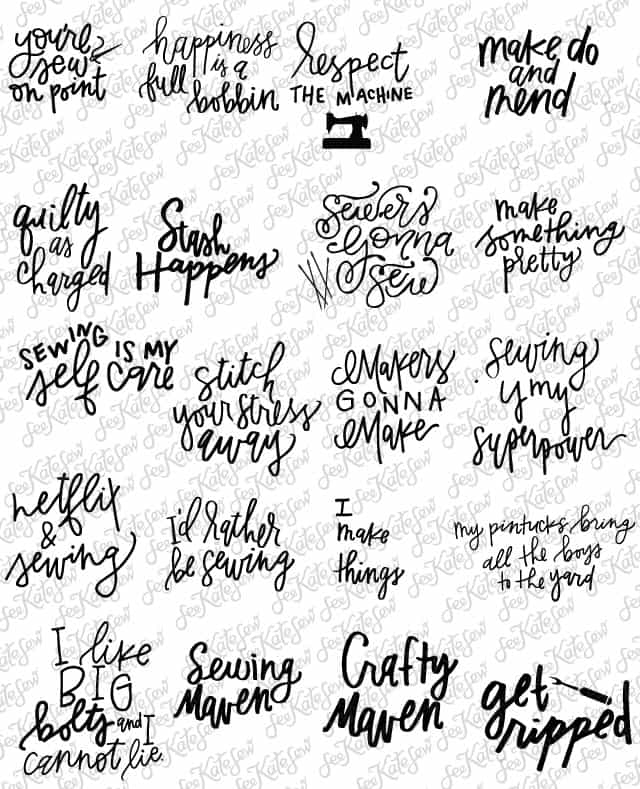 The Black Friday PDF Bundle has a gift idea for everyone on your list!
Regular price: $129
BUNDLE: $22 (save 83%)
Sale ends 11:59pm Eastern on December 1.
GOT QUESTIONS?
Today, I will answer *EVERY* question you could possibly have about this incredible deal.
What if I don't think I'll use all of these patterns?
You're essentially getting 12 patterns for the price of two.
That's an 83% savings!
If you plan to use just 2 or more of these patterns, it's a great deal!
You can use them over and over – and since they come in different sizes you'll always have a pattern ready when the occasion calls.
I'm so busy, will I have time to make these?
No worries…these are FAST. I chose the quickest patterns for this bundle!
Because I know the holiday season can get busy! It's important to carve out some time for yourself to sew, and a quick handmade gift is the perfect reason to sit down at your machine!
Most of these patterns can be sewn in under an hour.
Are these patterns hard?
Not at all!
I pride myself in creating easy-to-sew patterns with the easiest methods and graphics you can follow!
But if you're ever stuck, just ask a question in the facebook group, or email me directly! You'll have lots of support along the way! The easy to follow, step-by-step instructions are EASIER THAN IKEA!
What is included in the BONUS pattern?
The bonus pattern is an SVG and PDF pack that includes 20 different sewing themed phrases, hand-lettered!
The SVG files can be used with cutting machines for iron-on vinyl, t-shirts and more. (Example SVG file is below.)
Print off the PDFs to use as sewing room decor, or create unique embroidery designs.
How do you know I'll like this bundle?
If you are unsatisfied with your purchase, return it for a full refund. *Within 14 days.
Don't miss out! Head here and grab your bundle!