Well, not really runway. More like run and play. I passed the first round of Project Run and Play! Thanks for voting, if you did. 
Whew. This week is boy's week! I actually have one of those! No rounding up models this round, which makes life easier! Voting starts tomorrow!
I thought it would be fun to show you my original sketch of the bloom, baby, bloom dress. I plan on making a tutorial for you soon, but until then, check out my drawing board: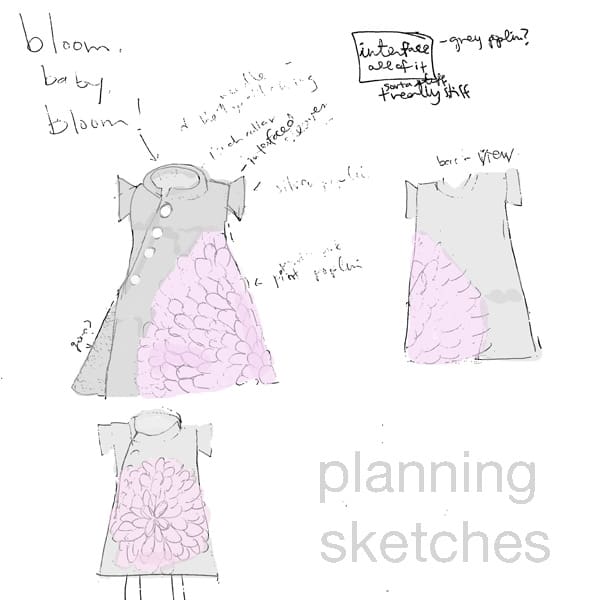 My notes are sorta silly reading them now. I made a note to buy "sorta stiff and really stiff" interfacing. Way to be exact there, Kate. Hah.
After the sketch got me all antsy to start, I went straight to fabric.com
for the fabric. They tend to have everything and are really fast. Plus you get free shipping over $35 and you don't have to wait in line. I've said this before. I love fabric.com!
1. 120″ Poly Poplin Silver
2. Blush Pink Cotton
The silver poplin is fairly wrinkle resistant and a little shiny. I loved the fabric because I wanted the dress to be overly modern: oversized ruffle collar, huge exaggerated flower applique with assymetric lines, rigid sleeves and a gore. The exact pink fabric I got isn't there anymore, but I just went with a basic pink cotton. I intended it to be a little bit paler than it was, but I was happy with it in the end.
Obviously there are a few changes from the sketch to the final, mainly I decided on the ruffle collar later. You know how I love ruffles. I wanted a little femininity to juxtapose the strict modern lines. I also used fusible interfacing on the entire body to give it more stiffness.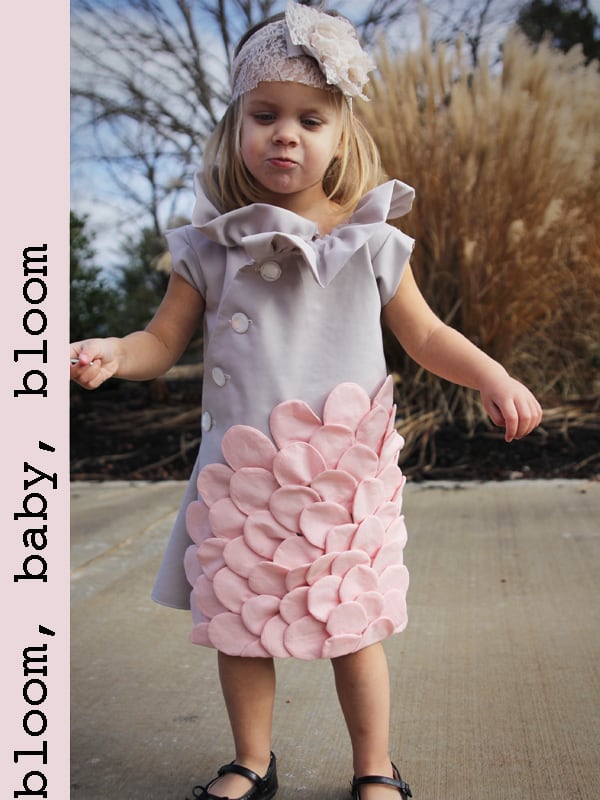 The main feature of this dress is an intricately built chyrsanthmum in blush pink. Each petal was constructed, faced and placed individually for a boutique feel. The dress sat on the floor for days while I figured out how to attach the petals so that they would stay but also keep their bloomy dimension. In the end I stitched down the short side of the petal and handstitched the tops of each petal back.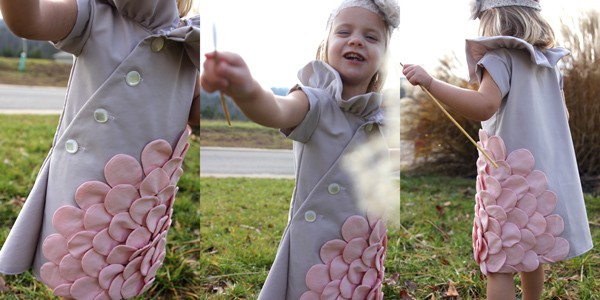 I changed a lot from the original June bug pattern,  combining the bodice and skirt for the most part with an assemetric placket from the original design. I redesigned the sleeves, turned them upside down and and self-faced them for a modern clean cut design and added a matching stand-up ruffle collar. This dress is fully lined with muslin. I added one gore on the left side to continue the assymetric line and add a structured and modern feel. I kept one side of the original junebug placket and added more workable buttons. I wanted to keep the main feature of the junebug dress (the cute buttons) but change it up a little bit!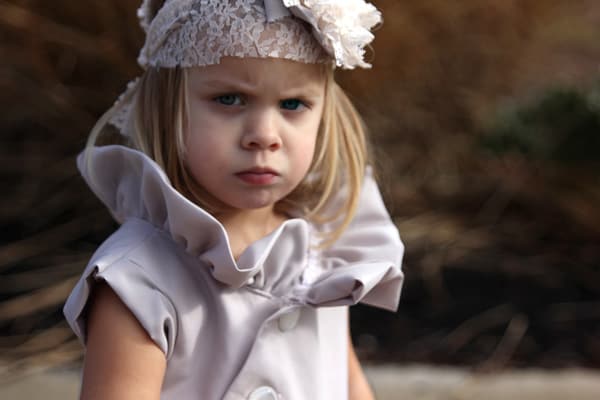 Sometimes when I'm making something I start with a totally clear idea of where I'm going (like this one) and sometimes I start with a stack of materials and see where they take me. 
Do you have a sketchbook too? What is your creative process?
See you tomorrow for my boy outfit reveal! I can't wait!