This tutorial was originally posted at Living with Punks for the Scrap your Stash series.


One of my favorite things to make with extra scraps is bows! You can make them any size, from any kind of scrap. I've been making lots lately!
First collect your materials:
(brooch pins or hair clips, 1 piece of fabric for the bow, 1 little piece for the tie, thread, and a needle)
For the bow shown in the tutorial, I used a scrap 6″ by 12″ but you can use any size. The ratio just needs to be x by 2x.
Little scraps for the middles:
Fold your scrap in half with the right sides together.
Sew up three sides, rounding the corners. When you get to the side opposite the fold, make sure you leave a 1″ opening, so we can turn it. Trim the rounded corners.
Turn right side out.
Press it flat and sew up the side using an invisible stitch.
You'll have a nice rounded square.
Press both sides of your little scrap over so you have clean edges on the front.
Accordion pleat your bow with your fingers and wrap your little strip around it.
Put it in your sewing machine just like that and sew the strip pieces to each other. Make sure to backstitch so it's super strong.
Ta-da!
Add a brooch pin or hair clip with a glue gun.
Done! Now go make the rest of your scrap pile into thousands of bows!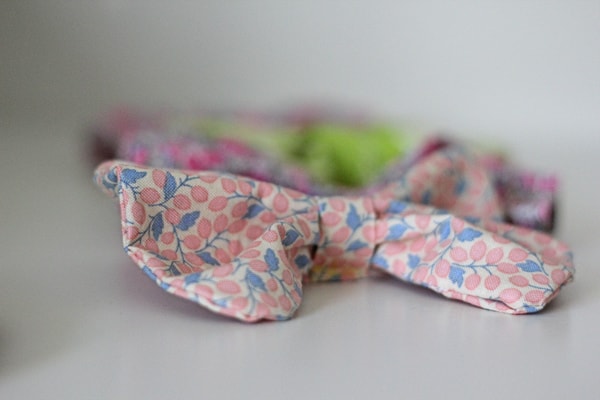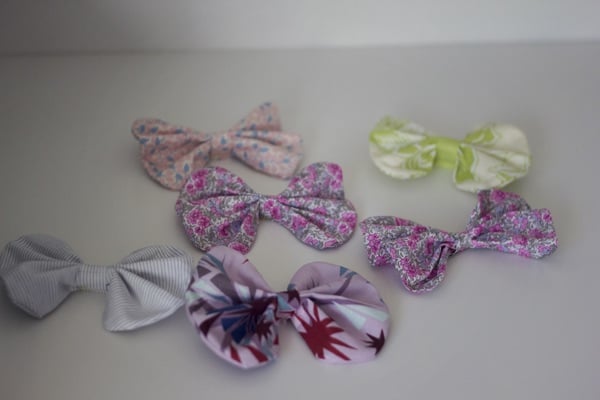 The best part is you can wear it anywhere! Or pin it to a bag!