I love encouraging make-believe play and sometimes a new accessory, like an updated doll bed, can make an old doll newly exciting! This post includes a doll bed sheets tutorial for your doll's bed or crib!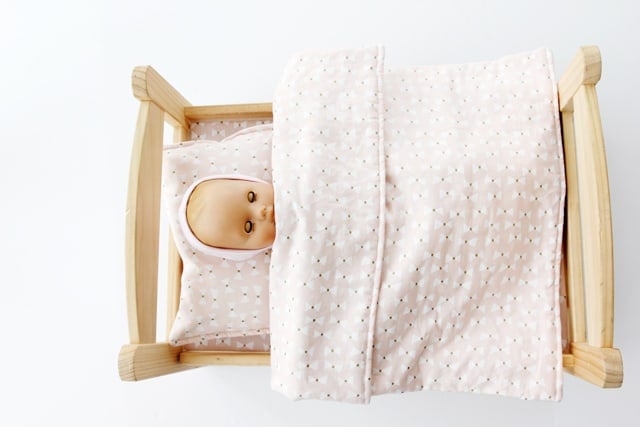 I got this basic doll bed from IKEA and made the new sheets with just 1 yard of fabric!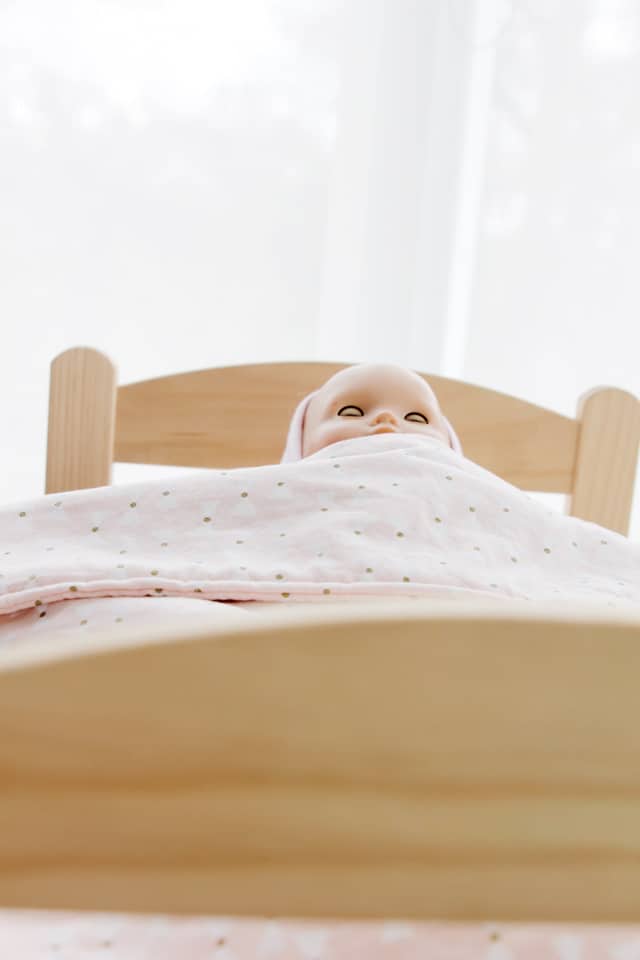 And it's just a bunch of rectangles, so it's easy to sew! Watching my babies tuck in their babies is one of my favorite things!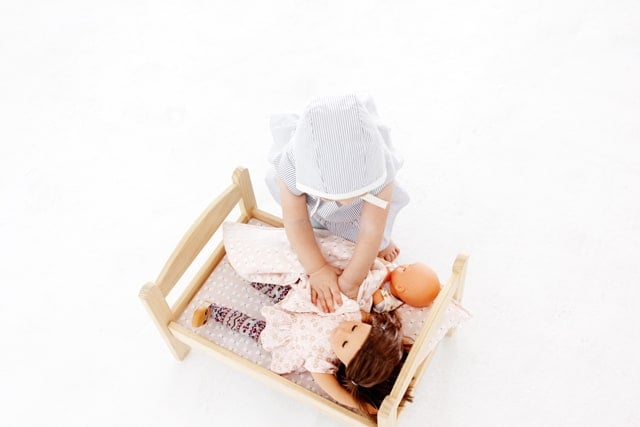 My cute bow fabric with gold accents is called Wee Sparkle Confection Bow Ties c/o Fat Quarter Shop.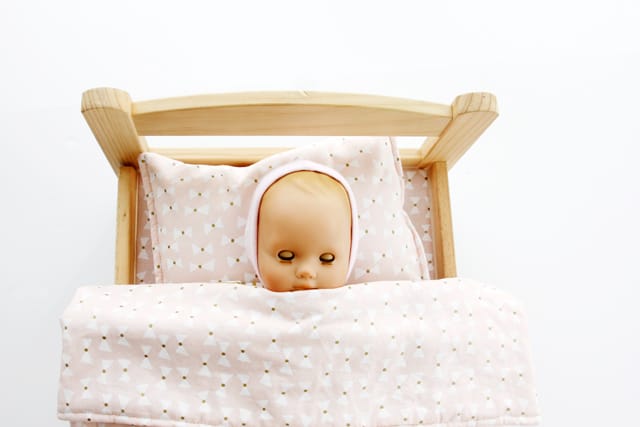 It is also available in grey, purple and mint!
Doll Bed Sheet Set Tutorial
Materials:
-1 yard cotton
-1 yard batting, I used Warm & Natural
–glue gun
–fiberfill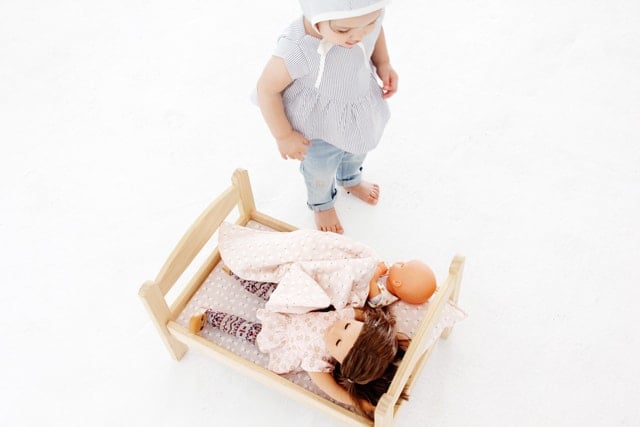 Doll Bed Sheets Tutorial Cutting Instructions
Comforter:
Cut 1 piece fabric: 21″ by 36″
Cut 1 piece batting: 21″ by 36″
Sheet:
Cut 1 piece fabric: 20″ by 13″
Pillow:
Cut 1 fabric: 12″ by 17″
Cut 1 batting: 12″ by 17″
Doll Sheets Sewing Instructions:
Once you've cut all of your pieces, the assembly is super easy! Let's start with the sheet piece. Whip out your glue gun for this one.
Lay the sheet fabric down with the right side down. Place the mdf/cardboard base thing from the doll bed on top. Fold excess fabric over to the bottom of the bed base and glue in place using your glue gun. When it's done and dry, place it in the bottom of the bed.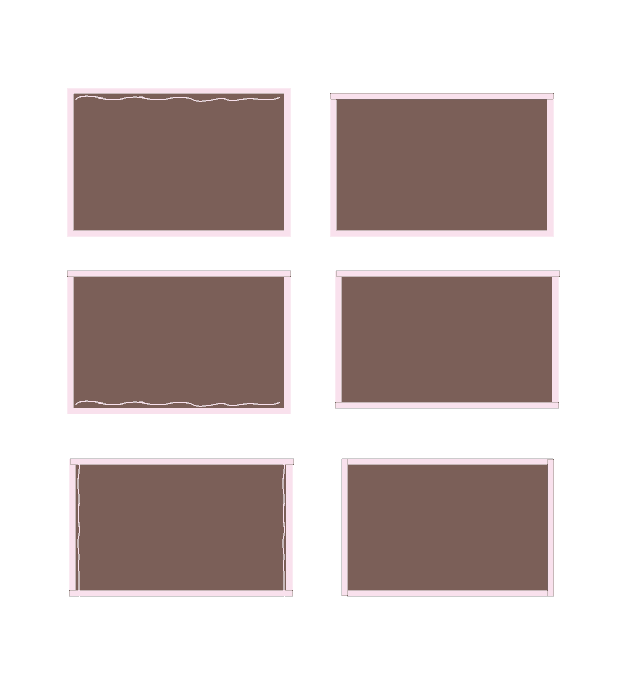 The pillow and comforter are sewn pretty much the same way.
Lay the batting on the wrong side of the comforter fabric and fold BOTH pieces in half matching the shorter edges. Flatten then out and pin, then sew along the 3 open sides, leaving about 5″ open on the bottom. Clip corners and turn right side out. Press well and topstitch the top and bottom of the comforter, 1/4″ from the edge.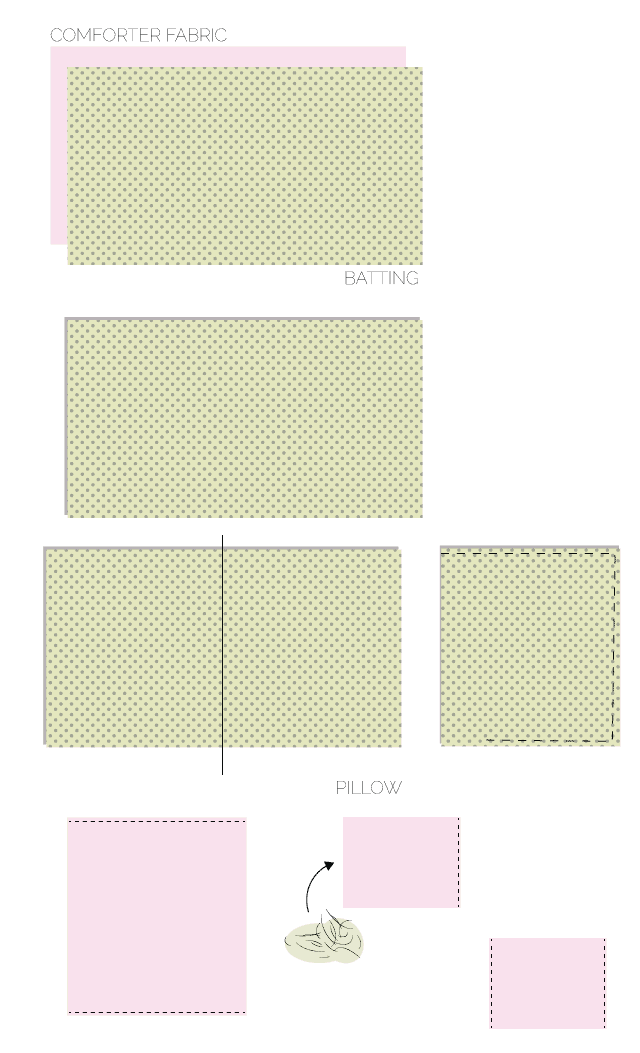 The pillow is made the same way, but you'll leave an opening on one of the short sides. Stuff it up with fiberfill, then press and topstitch pillow on both sides. The batting will make it super soft and the filling will make it puffy like a pillow!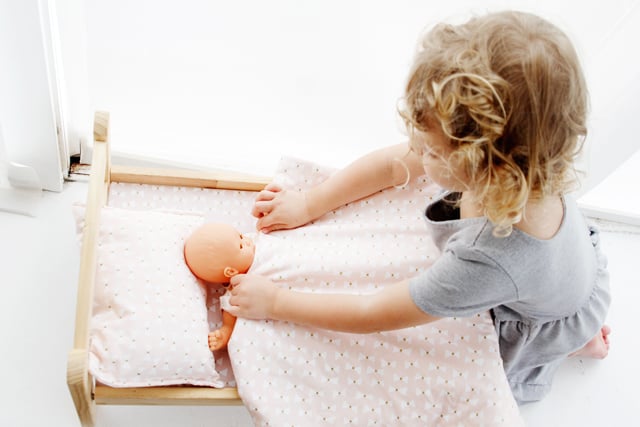 That's it! Make a few coordinating sets and teach your baby to change the sheets, too!