As much as I hate remembering to move the elf, I love making creative little scenes and my kids think it so magical! So here is another one! Make an Elf on the Shelf Christmas Tree Outfit with this free template.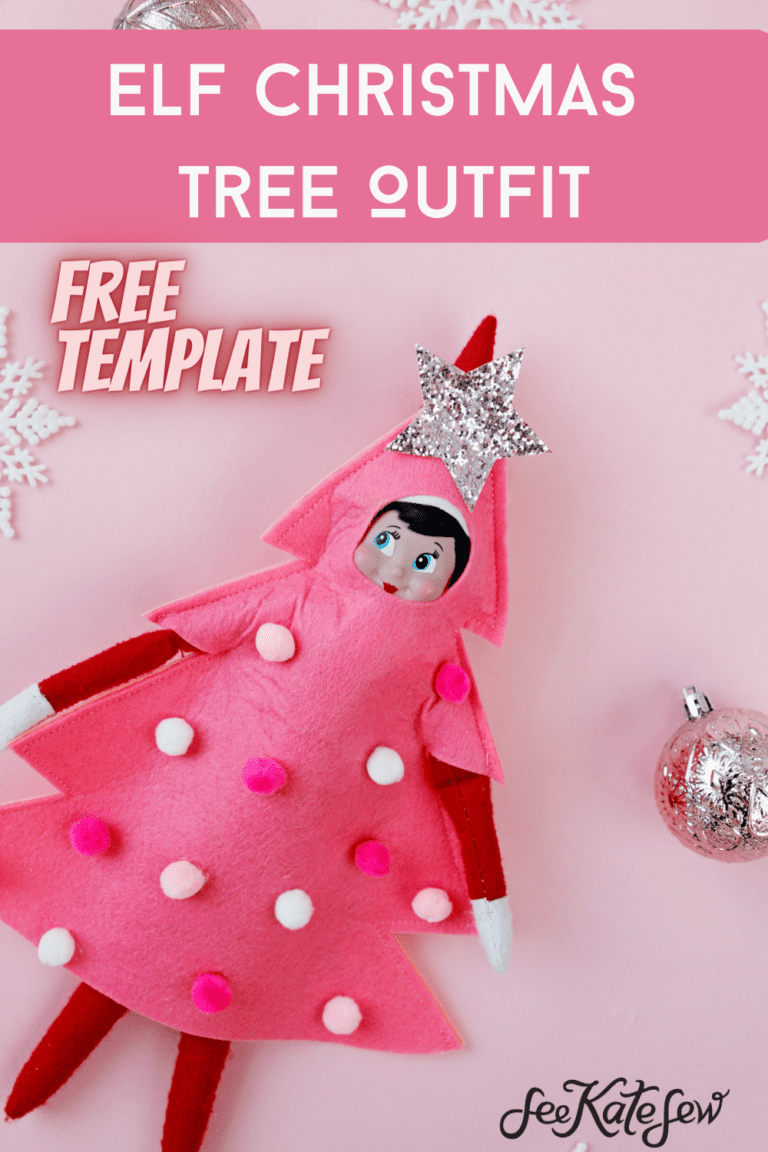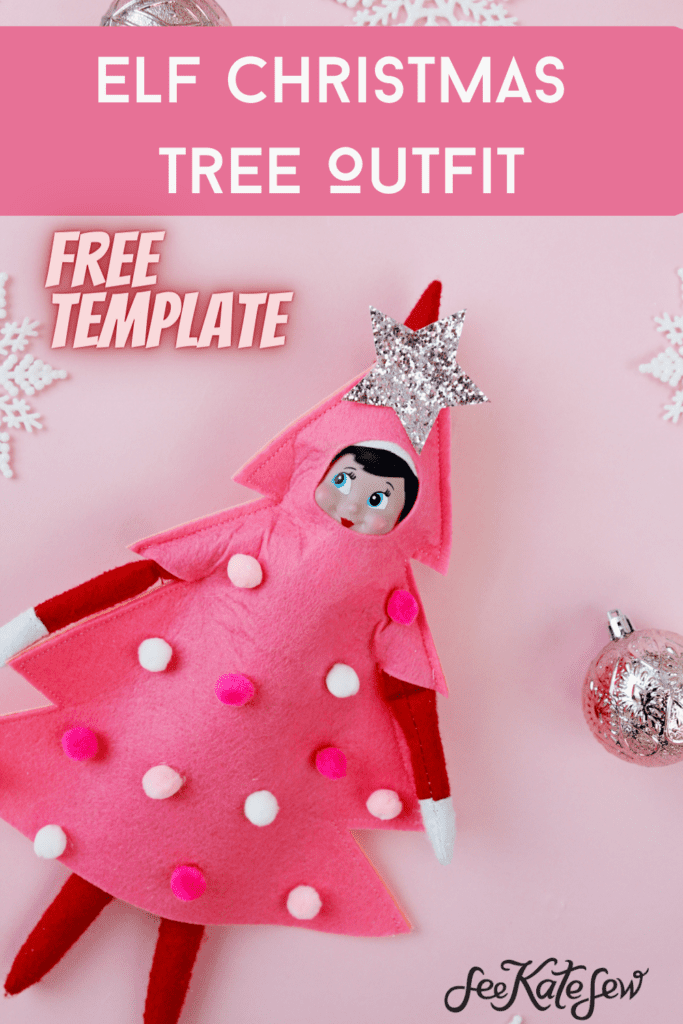 These little tree costumes are a fun Elf on the Shelf idea that you can sew or glue easily!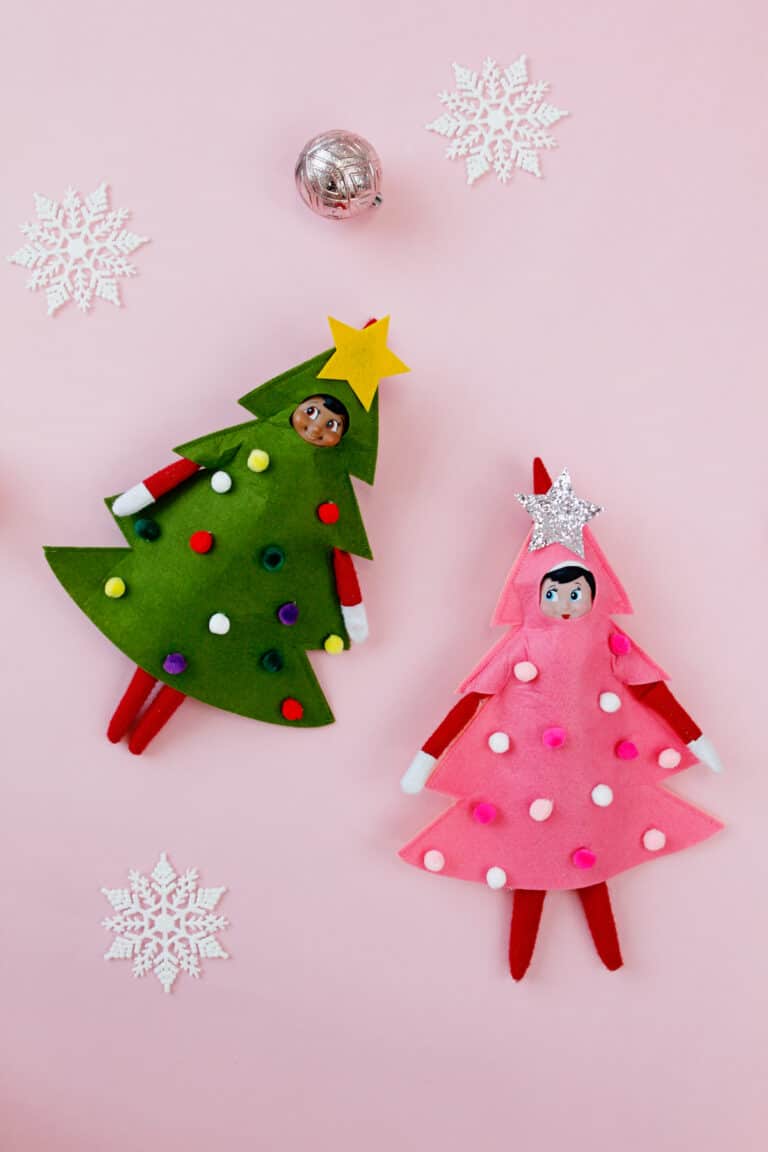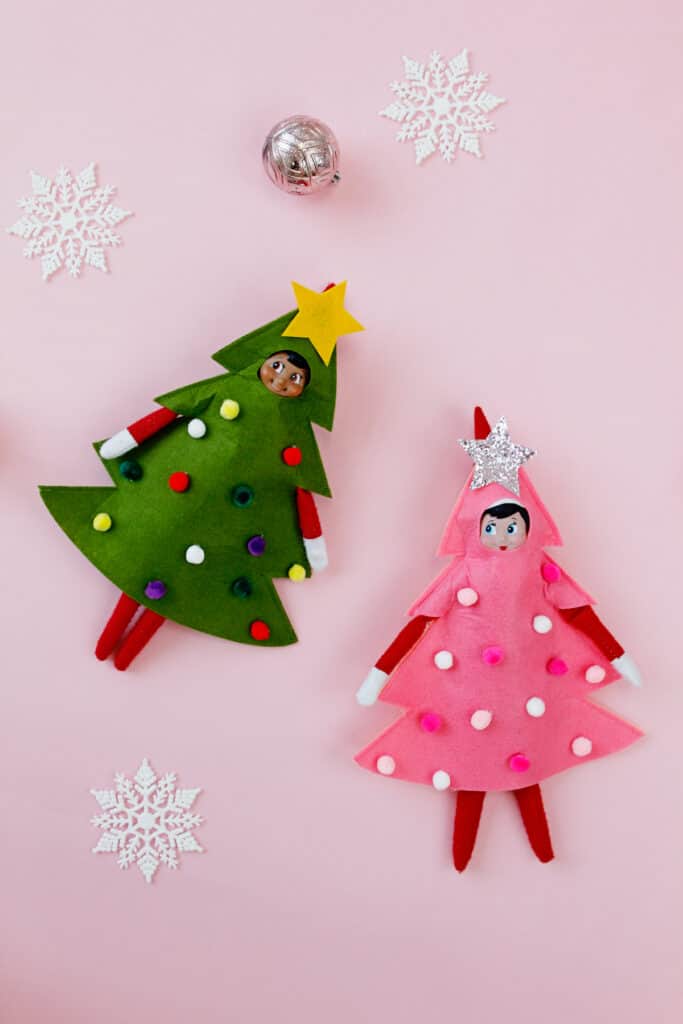 I made one in a traditional green tree color scheme and another with just pinks! I love them both! They are so festive and hilarious. The tree has little arm openings, too!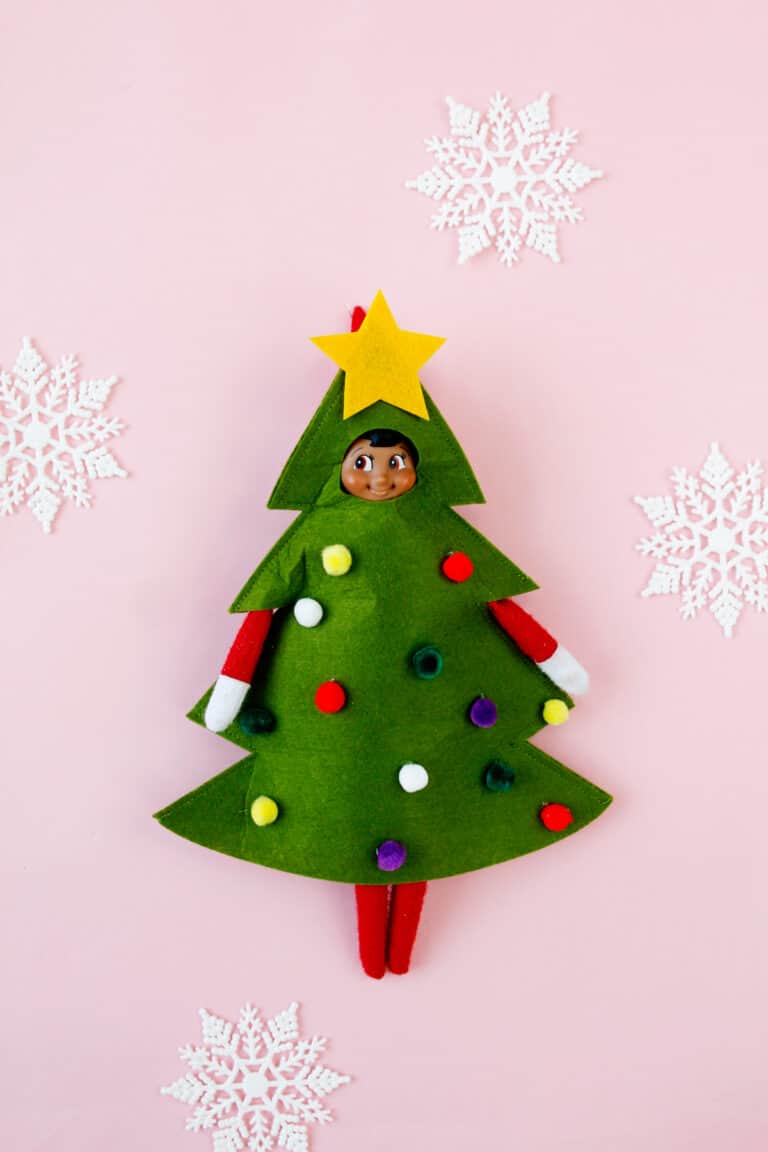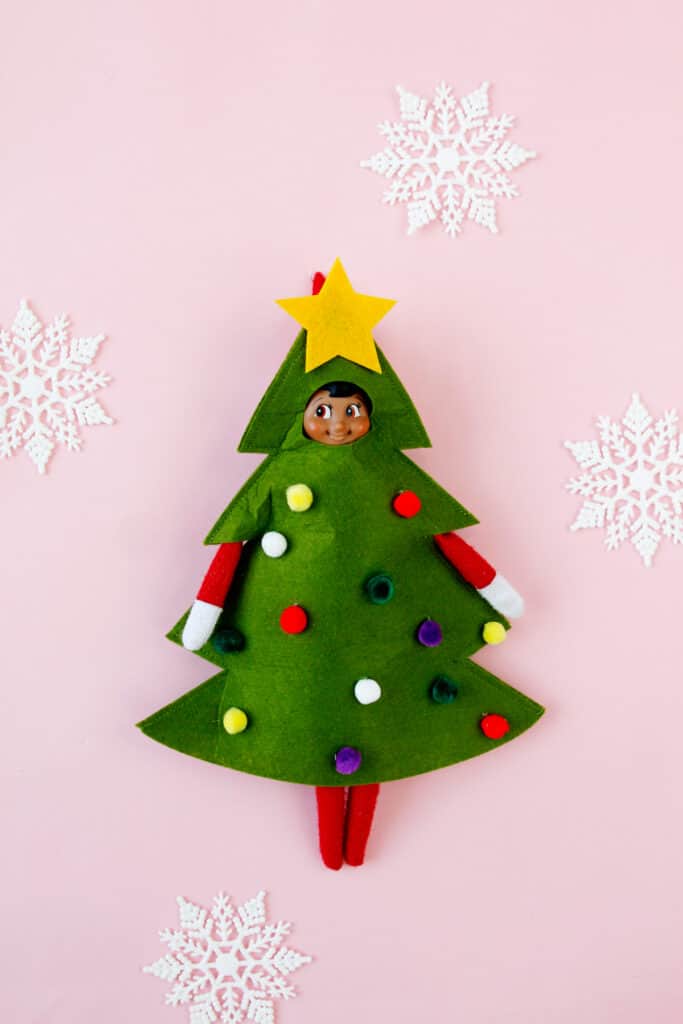 The Elf on the Shelf Christmas tree outfit will only take a few minutes to make but it is a totally memorable elf idea!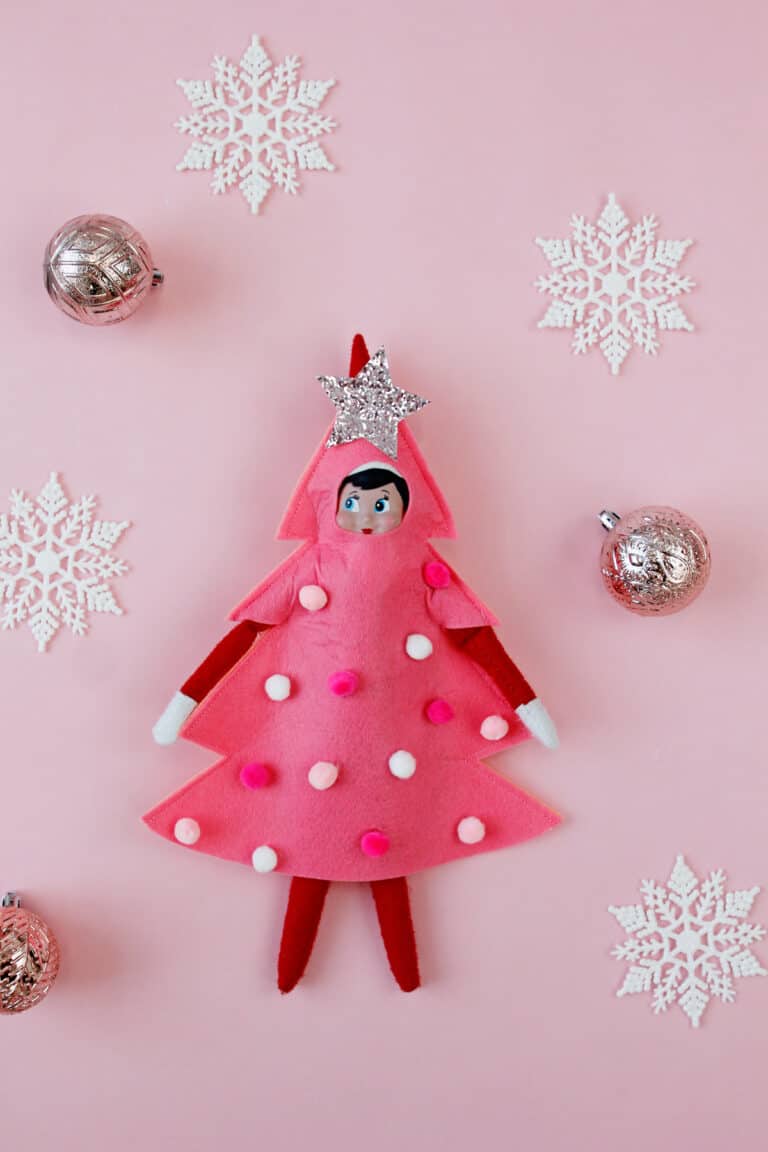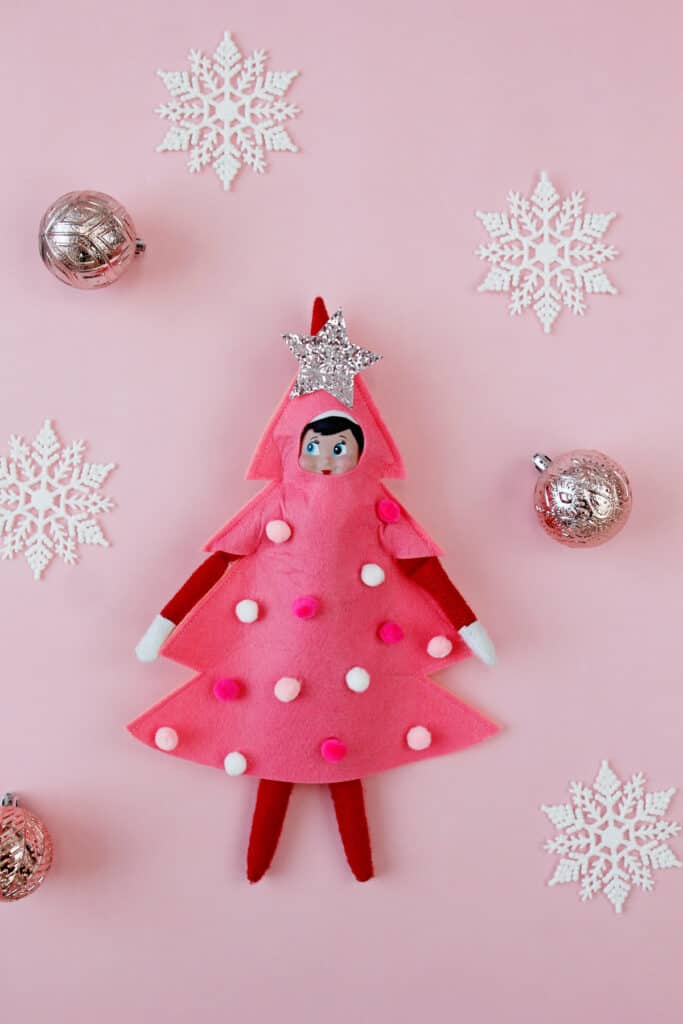 Christmas Tree Elf Outfit Materials
Two 12″ square green or pink felt sheets or 1/3 yard felt by the yard

I used Cricut felt sheets (affiliate links) for this. They are less stretchy than the cheap felt you get at the craft store but any kind of felt will work

Yellow felt or glitter fabric sheets for star
Premade bows, beads, felt ball or pom poms for ornaments

Raid your craft room and see what else you can use for these. You can even have your kids glue the ornaments on and leave them out for your elves to find!

Matching threads for sewing, or use glue
Glue gun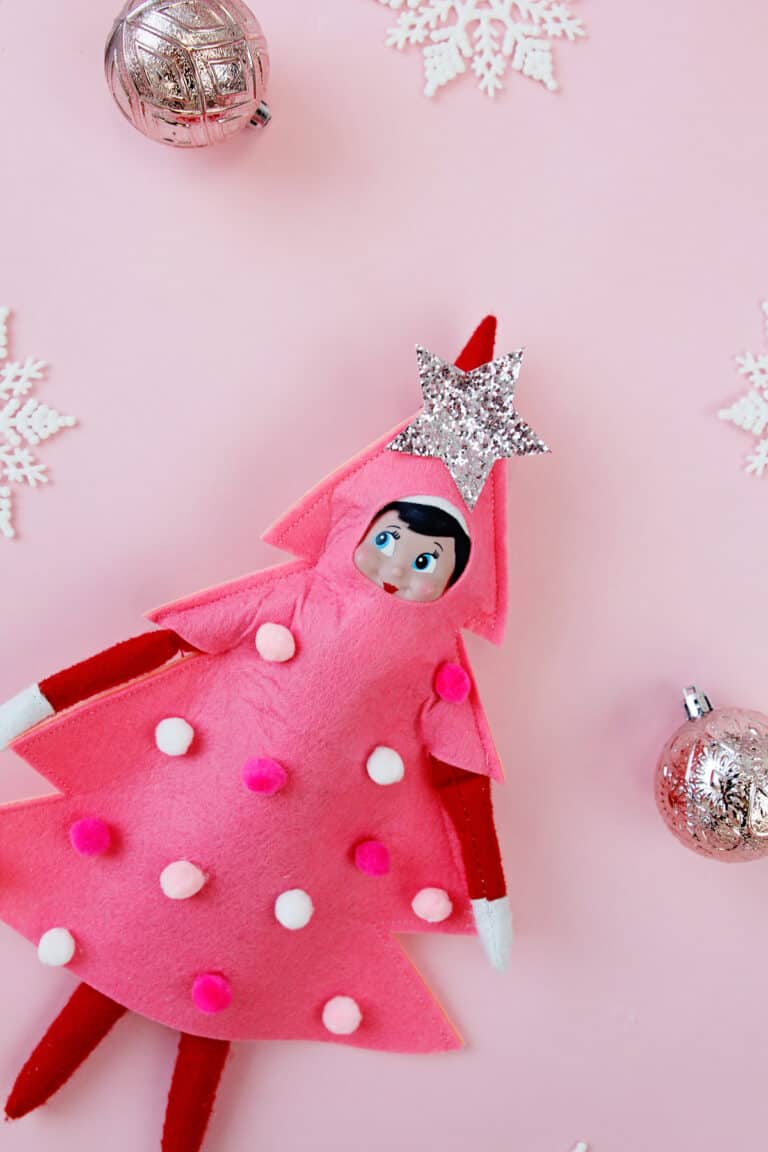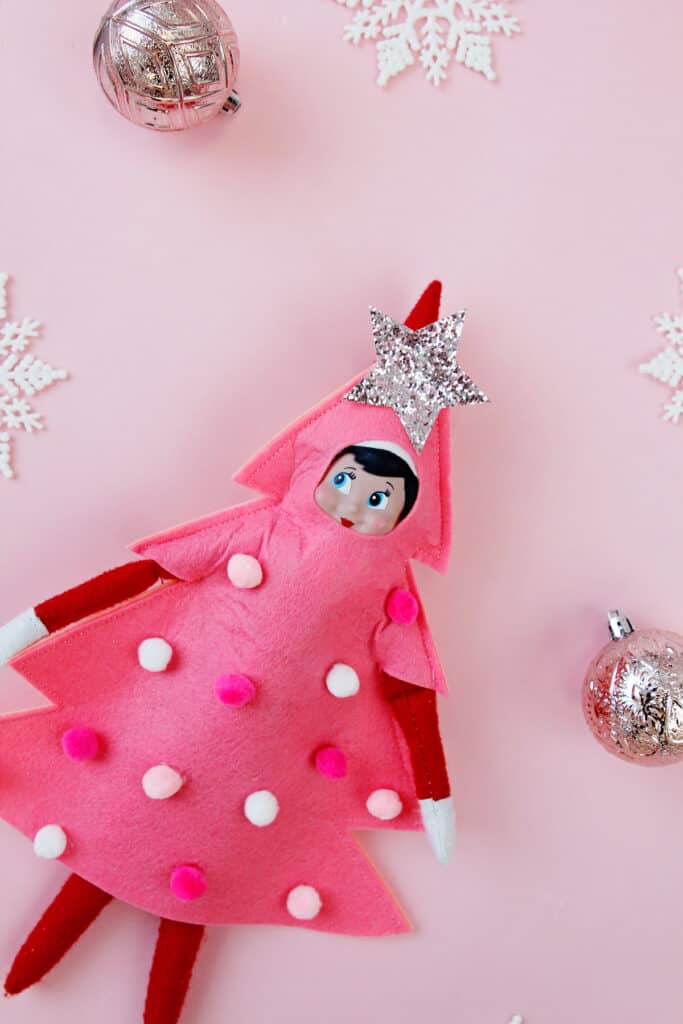 Elf Christmas Tree Outfit Templates
Print out the Elf Tree Costume template by clicking on one of the buttons below. Click PDF to print it out from your home computer. The Elf Christmas Tree outfit templates are also available as jpgs which allows you to upload them to cutting machine software if desired.
When printing on paper, use 100% or DO NOT SCALE. Tape the pages together as shown.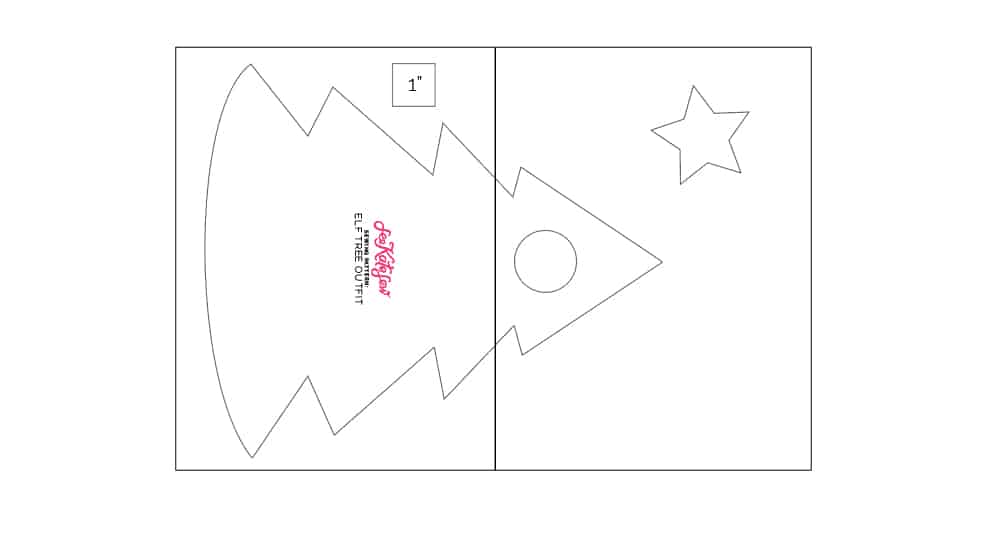 Don't change the size in your cutting machine software – the tree is sized just right for the standard Elf on the Shelf.
How to make a xmas tree outfit for your elf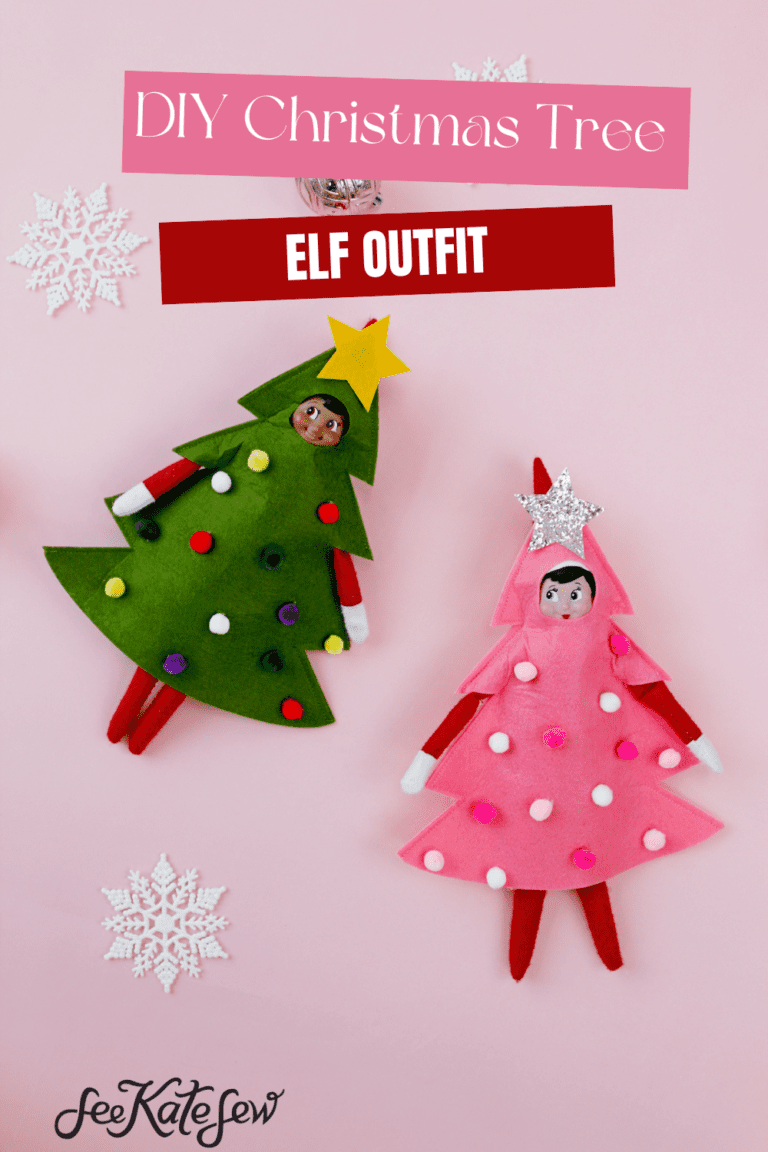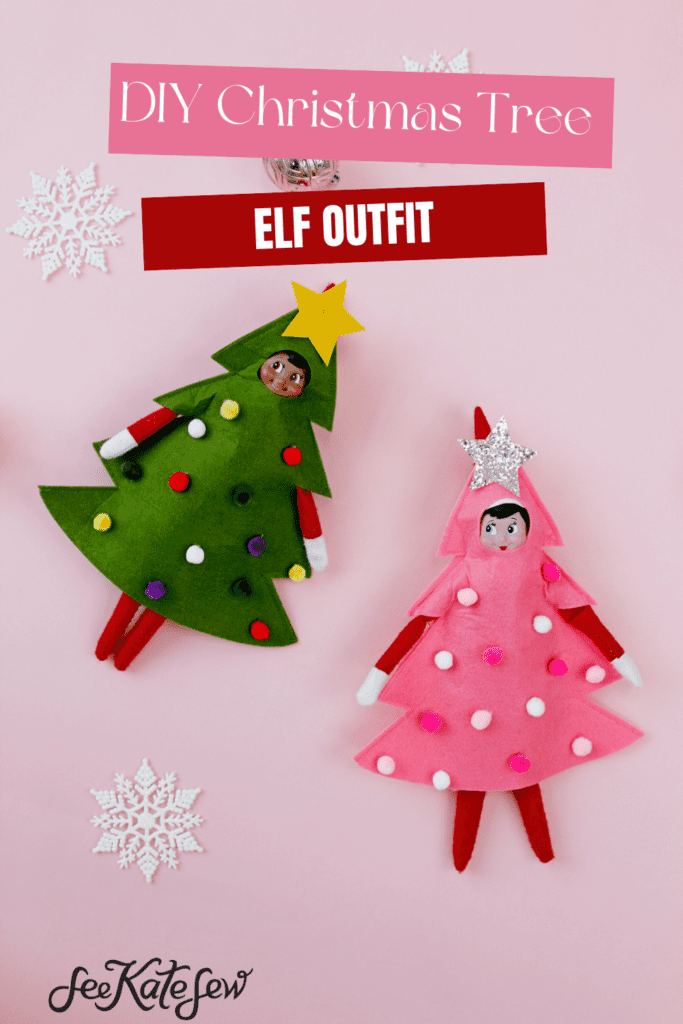 Cut out two tree templates from your felt. Both sides will have a circular opening. In the front, the opening if for the elf's face. His or her hat and head will poke out the back hole. Cut one star.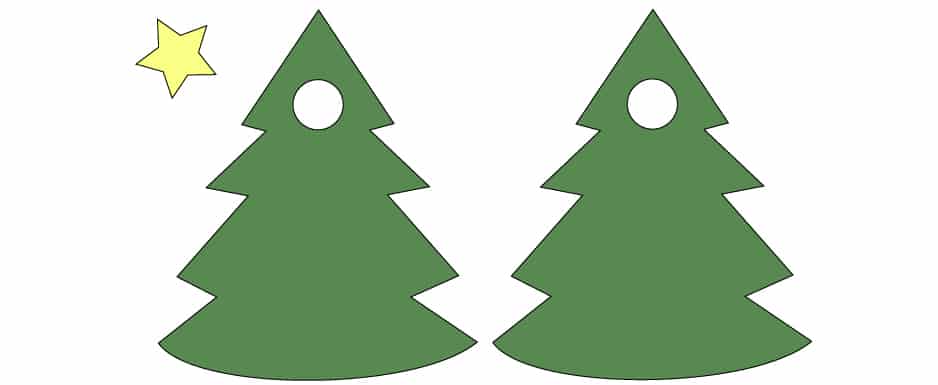 Sew the two layers of the tree together very close to the edges, about 1/8″. Leave the bottom open. Also leave arm hole openings where shown. Backstitch whenever your stitching ends.
If you are glueing the tree together, use the stitching lines shown below to see where the glue will go. Be sure to use a very narrow line of glue so the elf will still fit inside.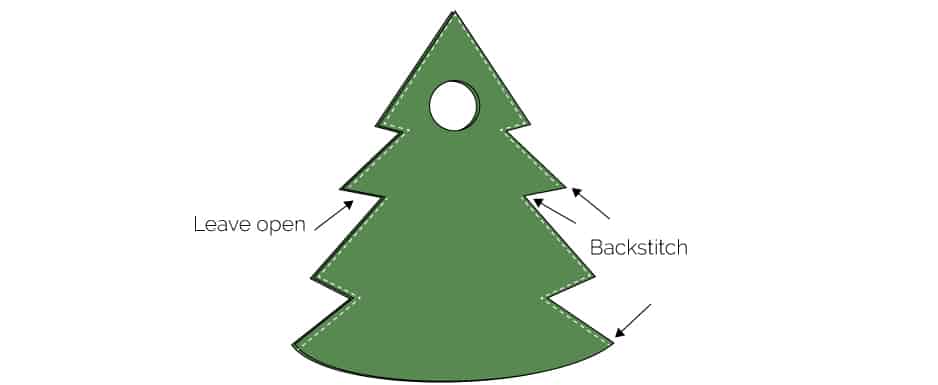 Glue the star and as many ornaments to the tree.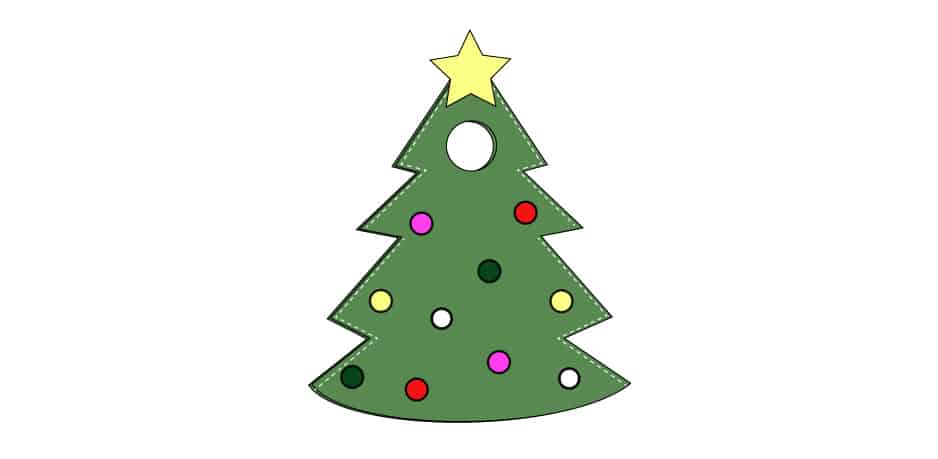 And you're done! Stuff your elf inside. It is a well-fitting tree costume so the arms are a little tricky to get out. But the result is worth it!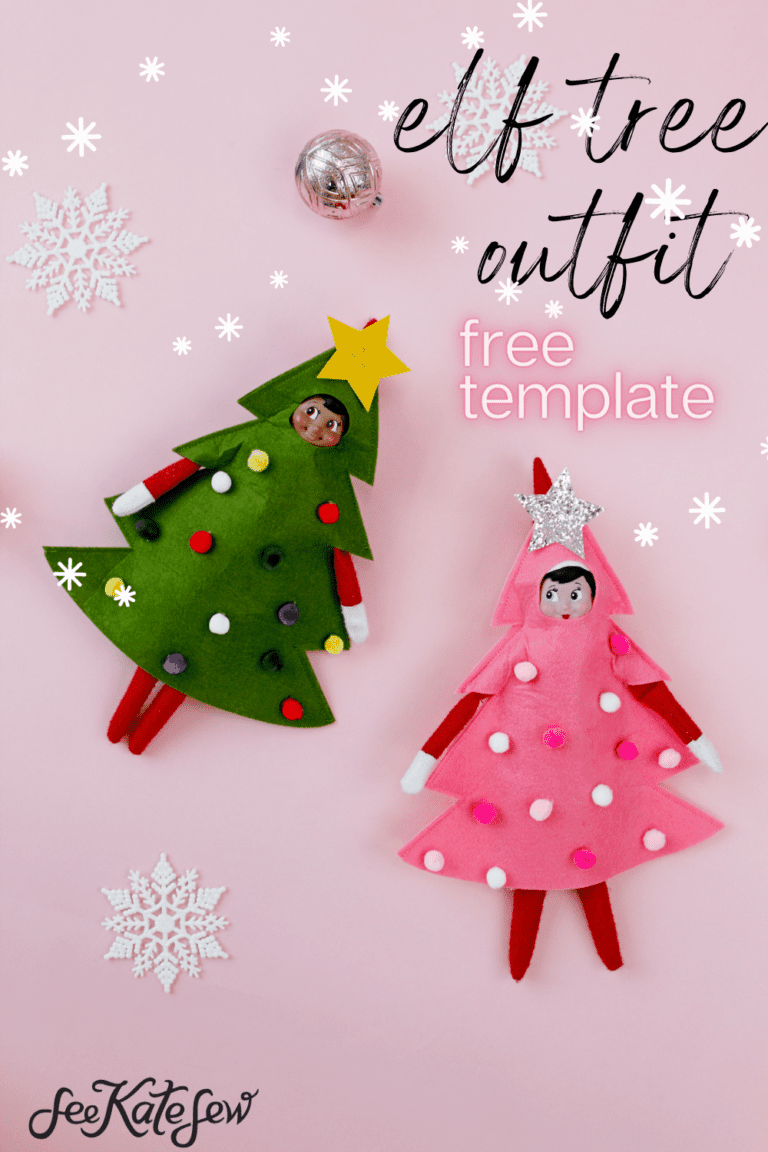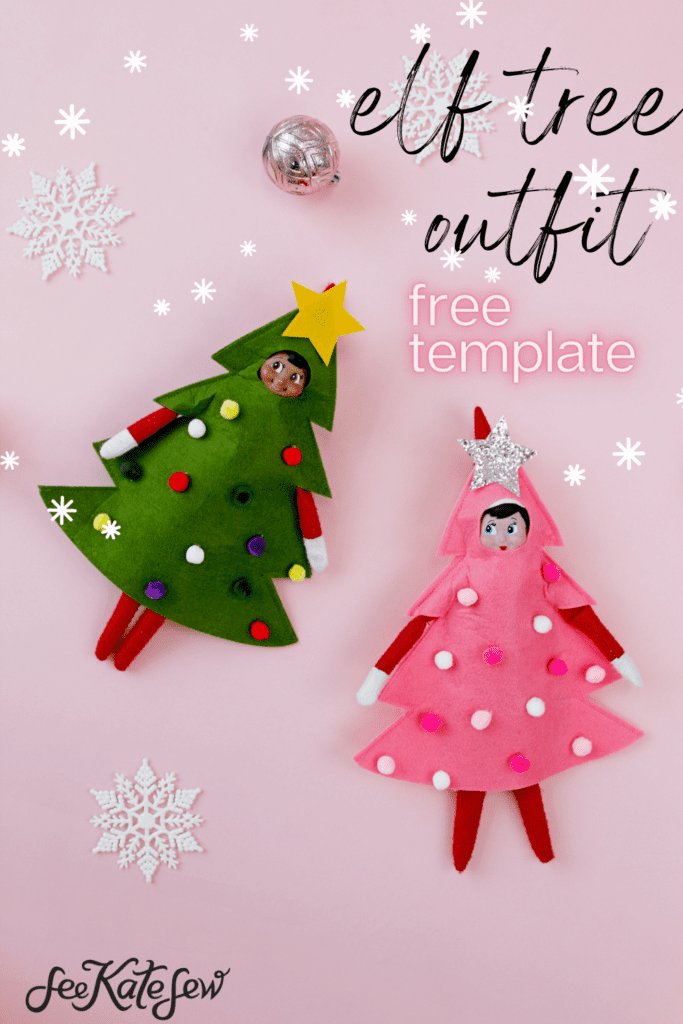 More Elf on the Shelf Outfits and Accessories
Share your DIY elf shenanigans in our Facebook Community!