This post was created in partnership with Bing. With a type or a swipe you can search the web, the cloud, apps, and your PC or tablet, all in one place using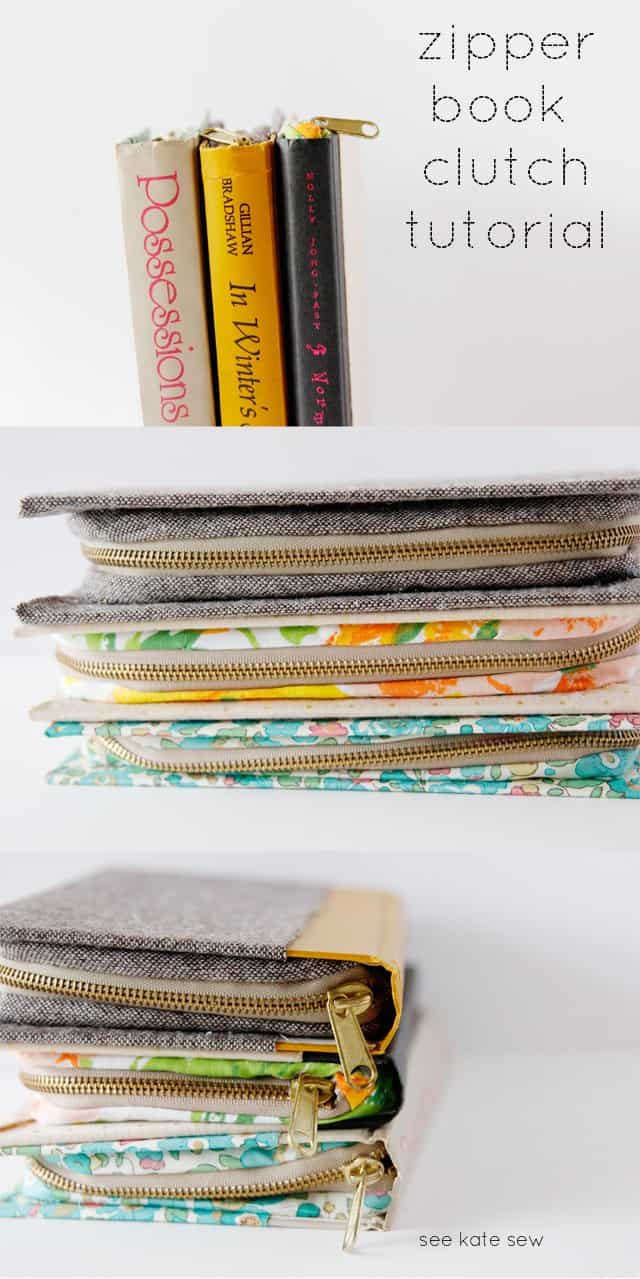 Bing recently encouraged me to try out their new Smart Search to inspire a DIY project! I've been wanting to make more book clutches for a while now, so I used the app to gather inspiration and source supplies. I made one a long time ago by upcycling a purse, but I wanted to try another way…using a zipper and fabric!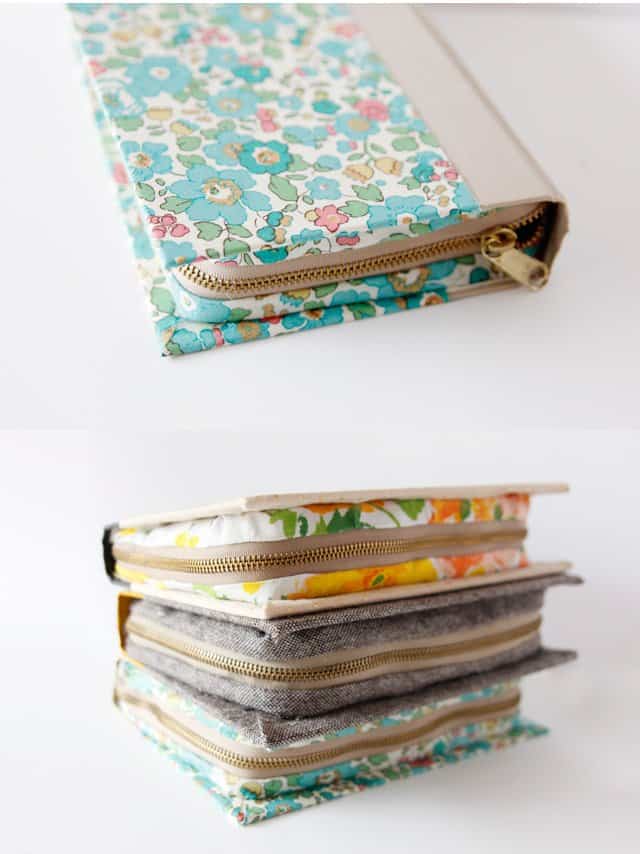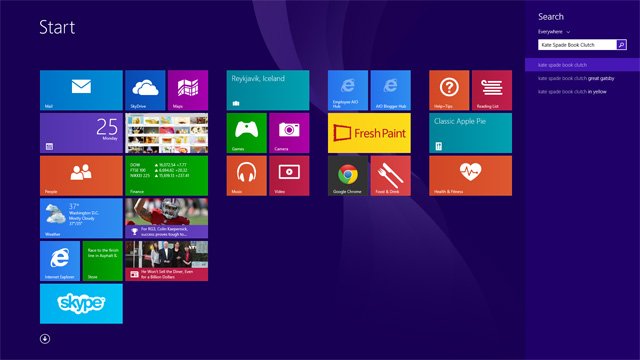 I love Kate Spade's book clutches, they are SO cute. I was definitely inspired by those books. A quick search on the Bing Smart Search App showed me some amazing pictures to help me decide how to recreate them. I love how you can make the images really big or index size so you can see them all.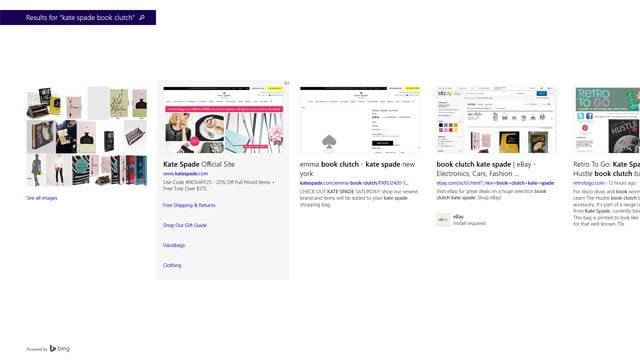 I love that the search can be photo based, because that's all I really want sometimes. Aren't these books the cutest?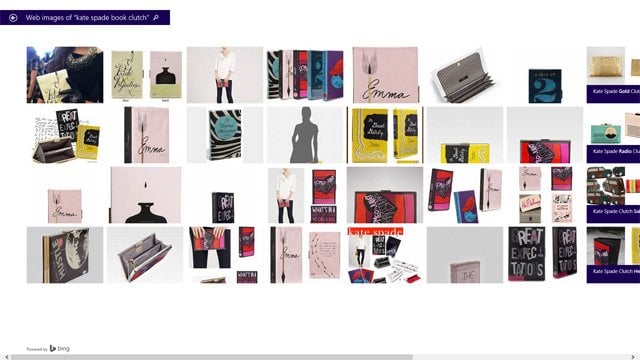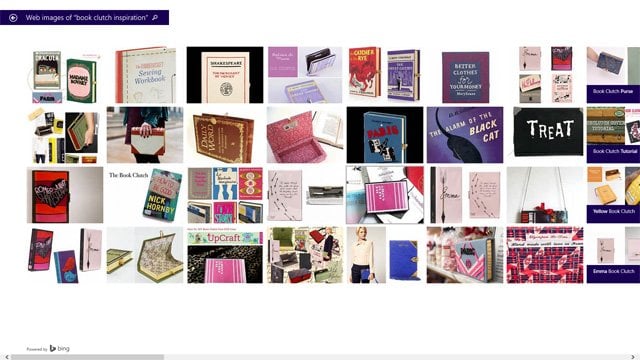 I really wanted a gold zipper to mimic the gold clasp on the Kate Spade book. I have a lot of zippers in my stash but I needed a thicker one. I did another search to find one. I was hoping to find it at a store locally so I added Joann to the search. And sure enough it came up! So I went and grabbed a few. I got the reversible zippers because they were the right size, about 22″ and also have a pretty thick metal portion that is very visible, like a clasp.
I felt like this was a good splurge project, so I ordered myself some Liberty of London fabric online. I have never sewn with Liberty and I wanted the perfect floral. Liberty of London basically invented floral and I love all of them! Check out this search screen….drooling.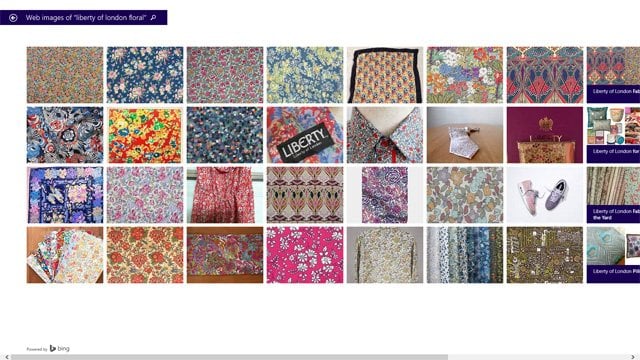 I found this great print at fabric.com. Ordered that and when it got here, I made some clutches! I also used a few other fabrics from my stash because I felt like making more than one clutch.
The books are from the thrift store. I love how clever the one titled "Possessions" is! Cute, right?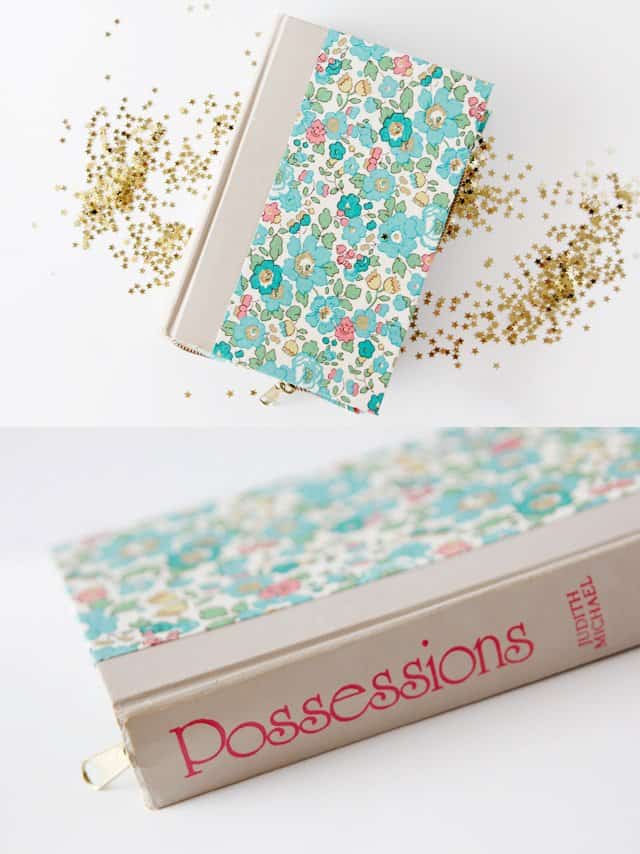 A book clutch makes a super cute gift, and you can fill it with different items to create a gift within a gift! I turned the book clutch into a stationary set and a baking kit. I think there are endless things you could use these books for though. You can pretty much stuff any gift inside!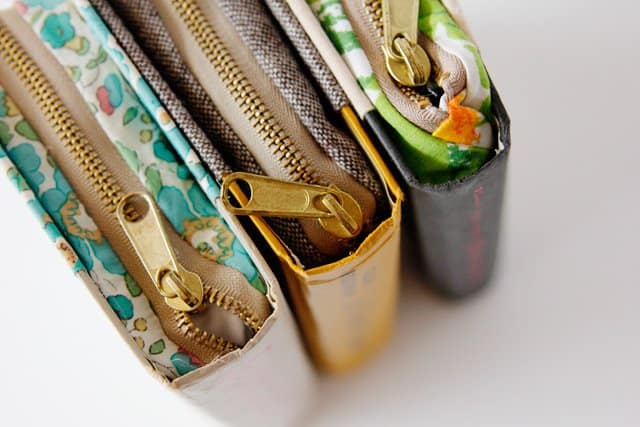 Materials:
-one old hardcover book, about 8.5″ by 5″ with a 1″ to 1.25″ spine is the size I am using
–heat n bond (red package)
-fabric, scraps or 1/4 yard
–archival glue, (pva is great!)
–brush for glue
–thick metal zipper, 20-24″
–x-acto knife
–ruler
–e6000 glue (open your windows or buy the fume-free kind)
Instructions: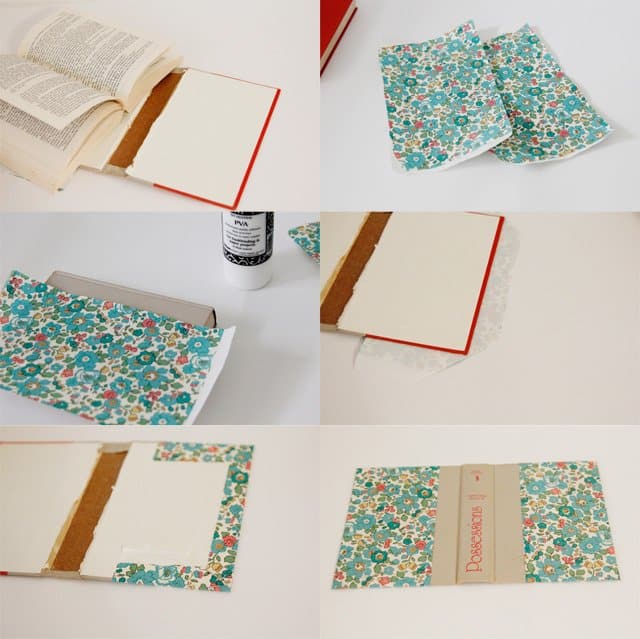 1. Gut your book. This is usually done by simply slicing down the inside cover where the cover meets the pages. Simply cut out the page block with an X-acto knife. Of course, you can save this for more projects, read it or recycle it!
2. Cut out rectangles of fabric and heat and bond. They will need to be about 1-1.5″ wide and long than the front of your book that you will be covering with fabric.
3. Iron heat-n-bond to fabric. Then square one of the long edges.
4. Glue fabric to front of book, then flip it over and trim the corners. You will leave a little bit more than 1/8″ on the corner.
5. Flip over top and side flaps to finish your book cover. Repeat on the other side.
6. Let dry.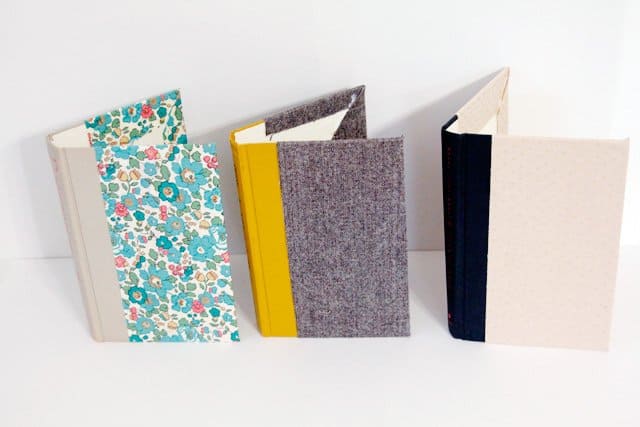 While the book is drying, create the zipper insert.
7.  Cut four squares of fabric that are about 2″ by 2″.
8. Sandwich the zipper between these two layers of fabric with the end of the zipper peeking out. Then sew along the line indicated.
9. Fold over the two flaps and press. Repeat with other side. And trim to width of zipper.
10. Cut four strips as long as your zipper piece (including the fabric ends) and 2″ wide. Sew these onto the zipper like so: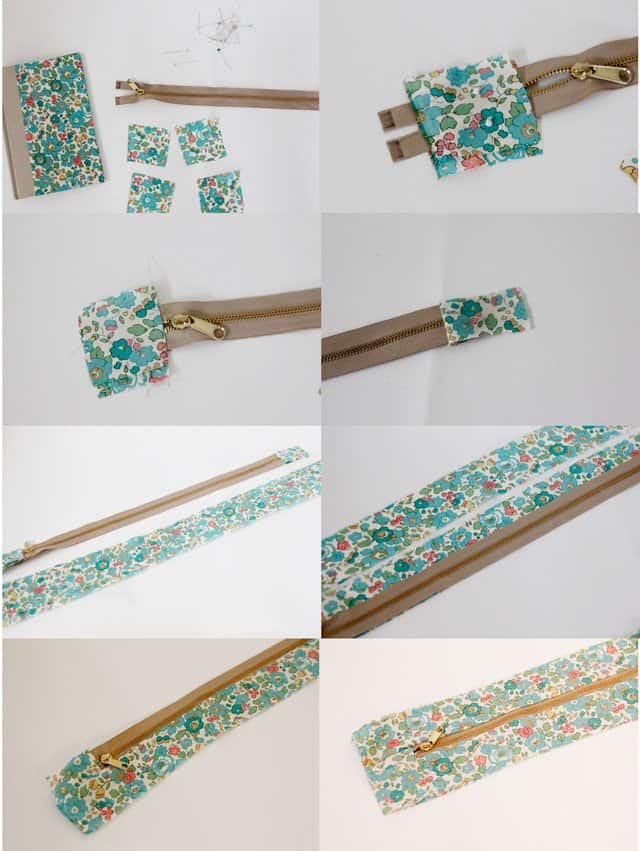 11. Repeat with the other side and you'll have a fully encased zipper with fabric all around. Now you're ready to glue it in.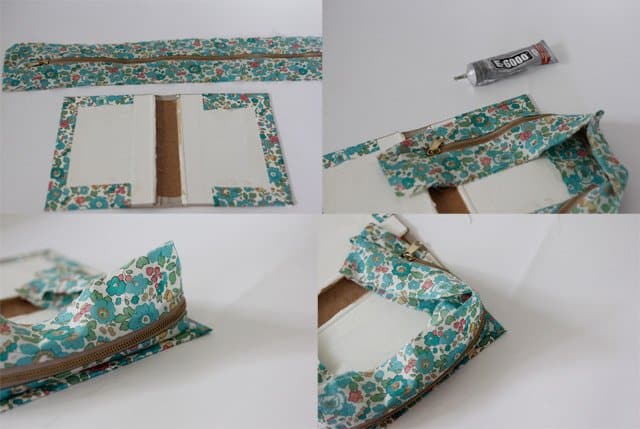 12. Start by gluing the end of the zipper. Fold over 1/2″ and glue underneath the fold. Then curve the fabric and start glueing one side of the fabric to the book. When you reach the corners, pivot and fold your fabric to fit.
13. When you get to the end let it dry. Then open the zipper and repeat with the other side.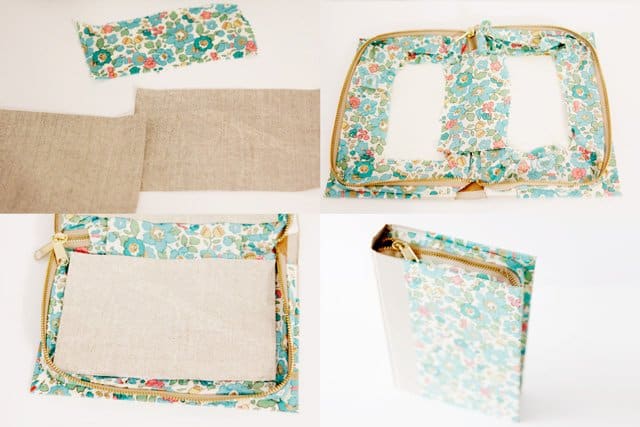 14. Cover the inside spine with fabric. Turn under the raw edges at the top and bottom and glue it down.
15. Now cut two pastedowns from fabric backed with heat n bond. They should be about 1/2″ smaller than the inside of the cover. Glue and press firmly.
16. Let dry and you are done!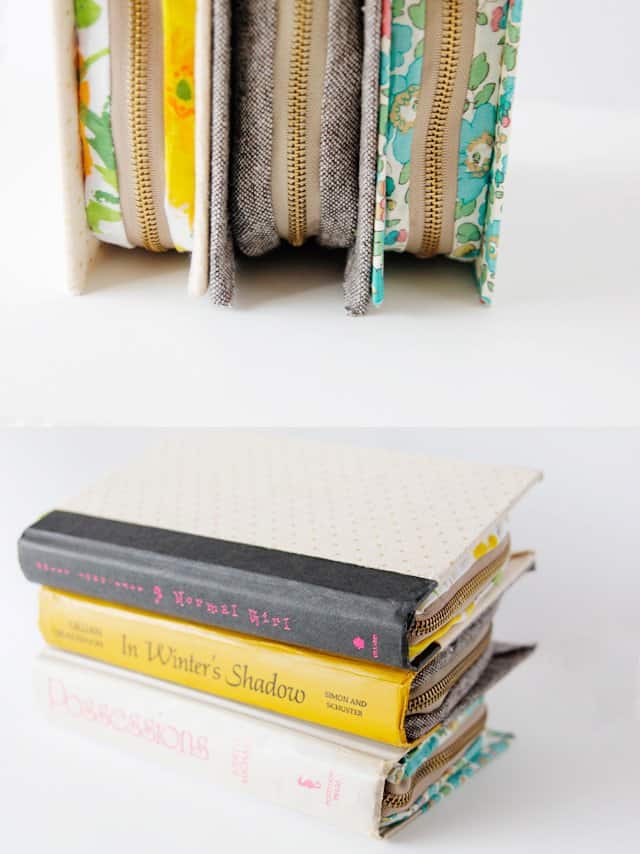 Make it into a kit to give as a gift:
Add sprinkles, chocolate, baking cups and cupcake toppers to make a cute little baking kit! I got the little clear cases in the bead storage section of Michaels.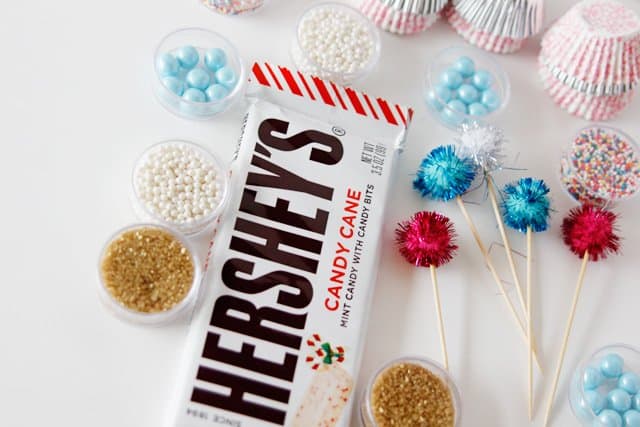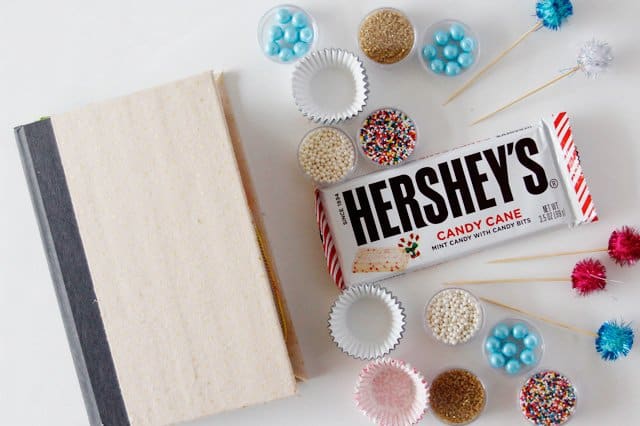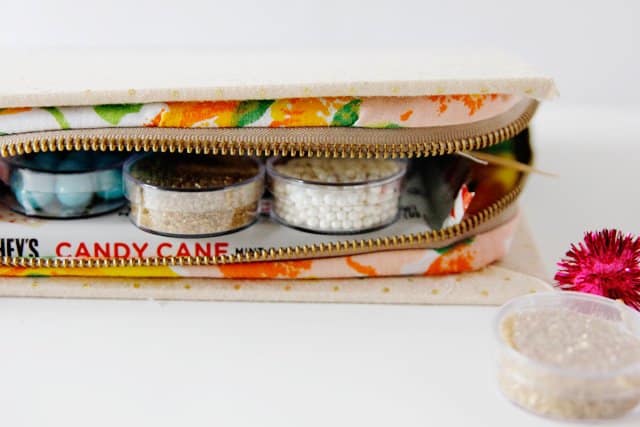 Or add stationary supplies, like paper, notepads, pens, confetti, envelopes and card and stamps for a perfect little stationary set (supplies from Target and Michaels):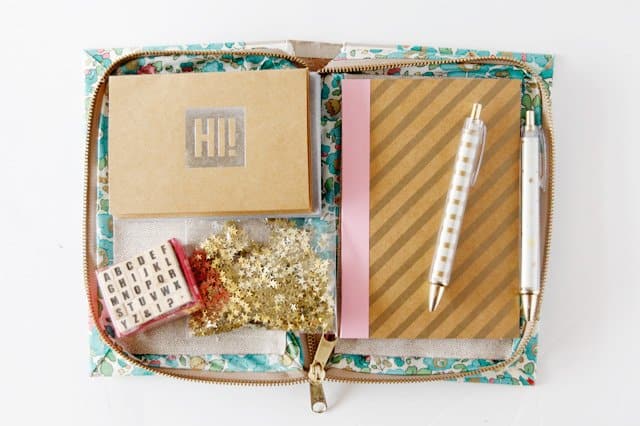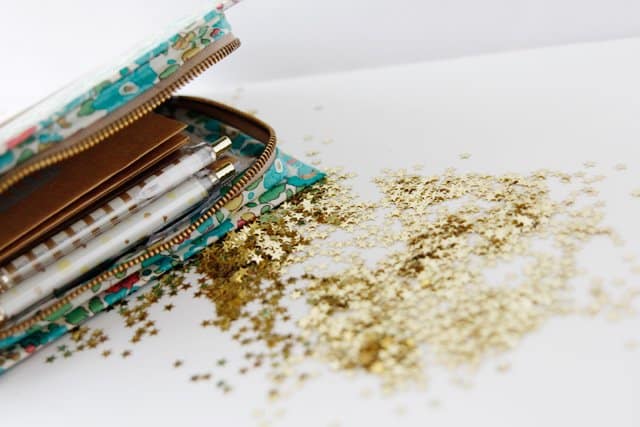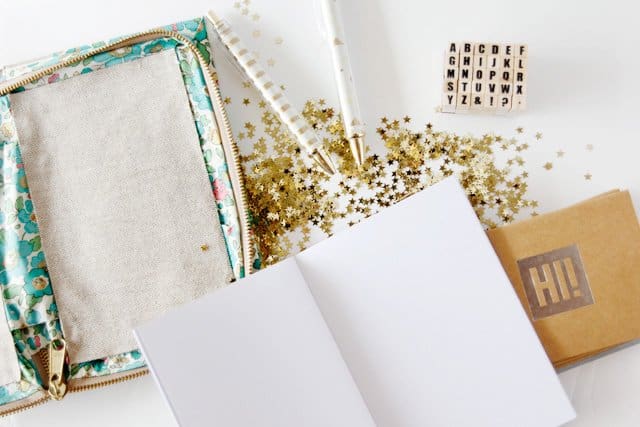 Some other ideas are:
-make a detective kit for kids (magnifying glass, disguise, notepad and pen)
-add makeup for a makeup storage solution for women
-fill it with aftershave/cologne samples for men
-stuff it with jewlery for women
Check out the Bing Smart Search on your Windows 8.1 device today!

I'm required to disclose a sponsored partnership between our site and Bing. I have been compensated in exchange for this post in the form of payment, product or experiences.

Thank you for supporting the brands that make this blog possible!
If you make your own version of the book clutch, add it to my flickr group! I would love to see it!
fabric and supply sources:
-Liberty, fabric.com
-brown fabric,  Fashion Fabrics Club
-gold polka dot, Girl Charlee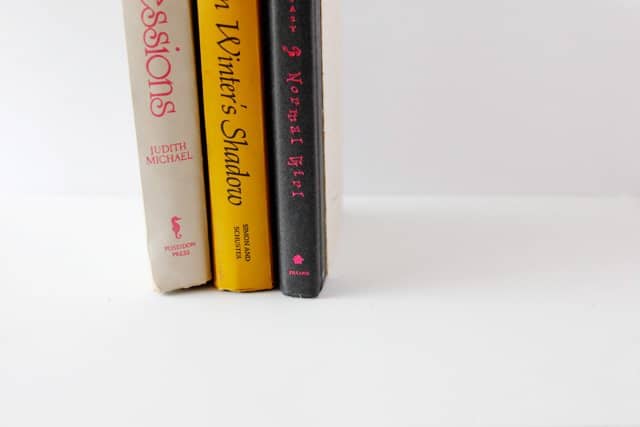 SaveSave