This post is a comprehensive review of the Create Room Dreambox for 2023! I've had my Dreambox for a few years now and through those years it has gone through some expansion with the addition of the Sew Station and DreamCart and transformation with the new DiviDrawers and tracks. So this review will tell you all about the DreamBox, why I love it, how I use it and how to get your own! Use the code SEEKATESEW for $100 off the DreamBox!
Create Room Black Friday 2023 Sale Details
Sale dates: 11/17-11/27
This year's Create Room Black Friday sale is the best I've ever seen! Both the DreamBox and Sew Station have deep discounts to make 2023 the merriest Christmas ever!
DreamBox $350 OFF with code: SKSBF23
Sew Station $250 OFF automatically applied with this link
When purchasing the Sew Station and DreamBox together, the Sew Station discount is $300, for a total of $650 off both when you use the code SKSBF23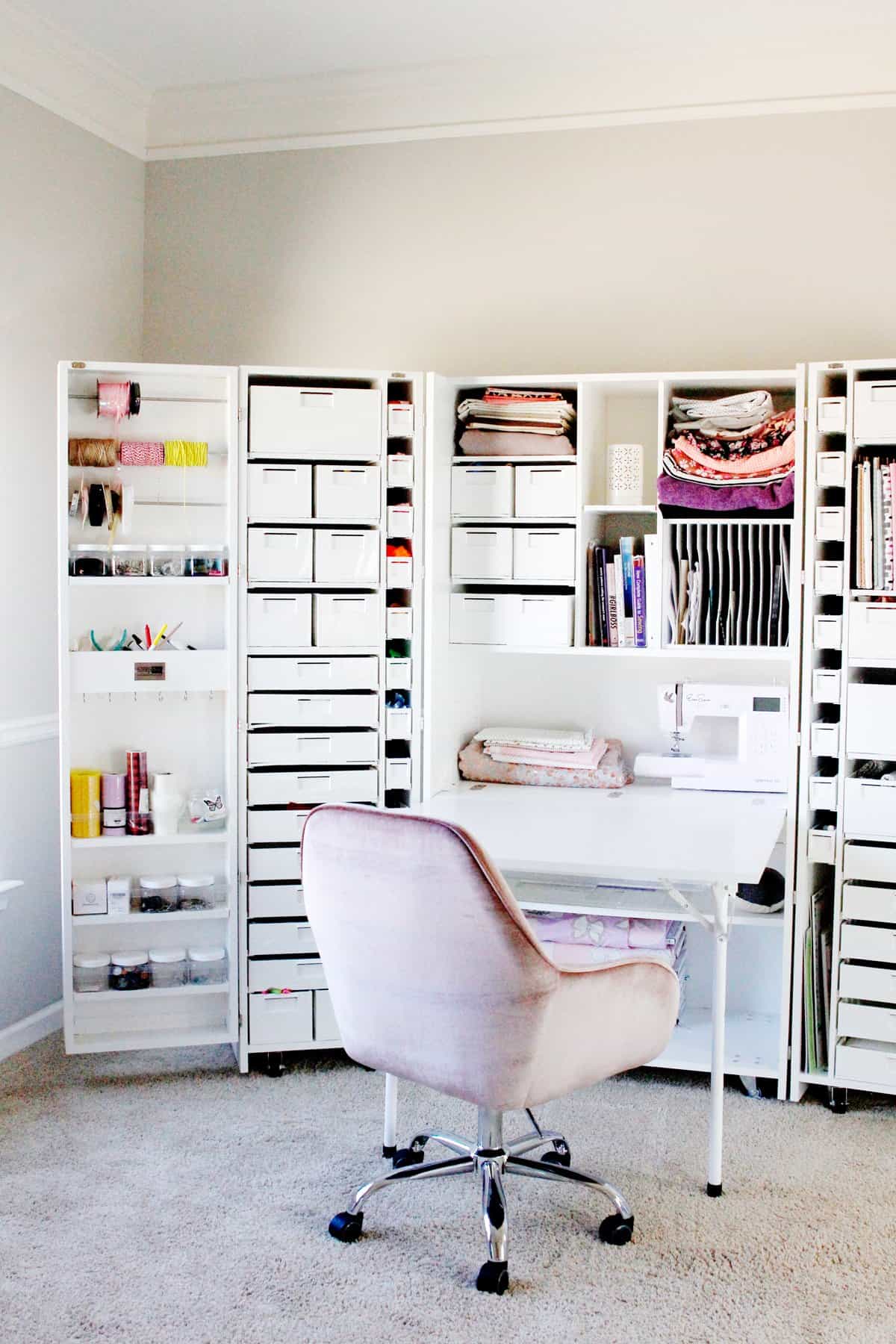 The Create Room Dreambox (previously the Original ScrapBox Company) is a game changer when it comes to craft room organization! This all-in-one craft organizer is the only thing you need to clean up your sewing space and create your dream craft space.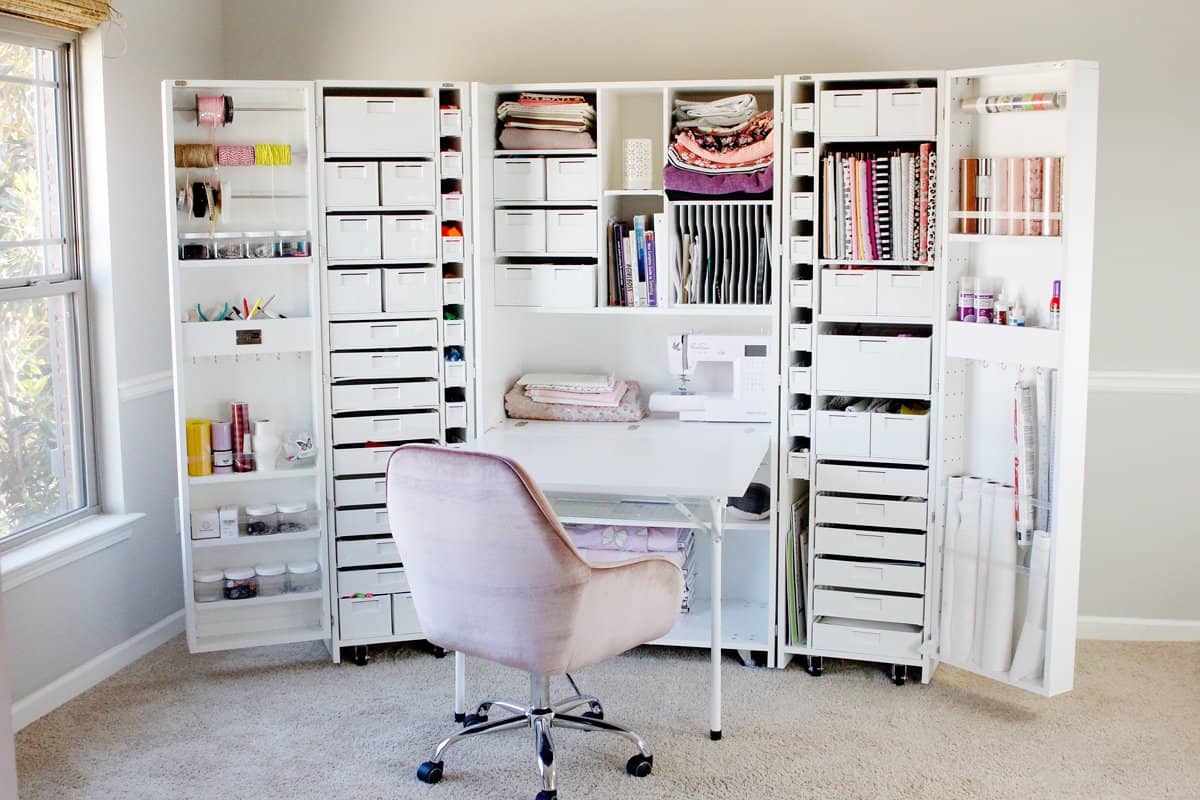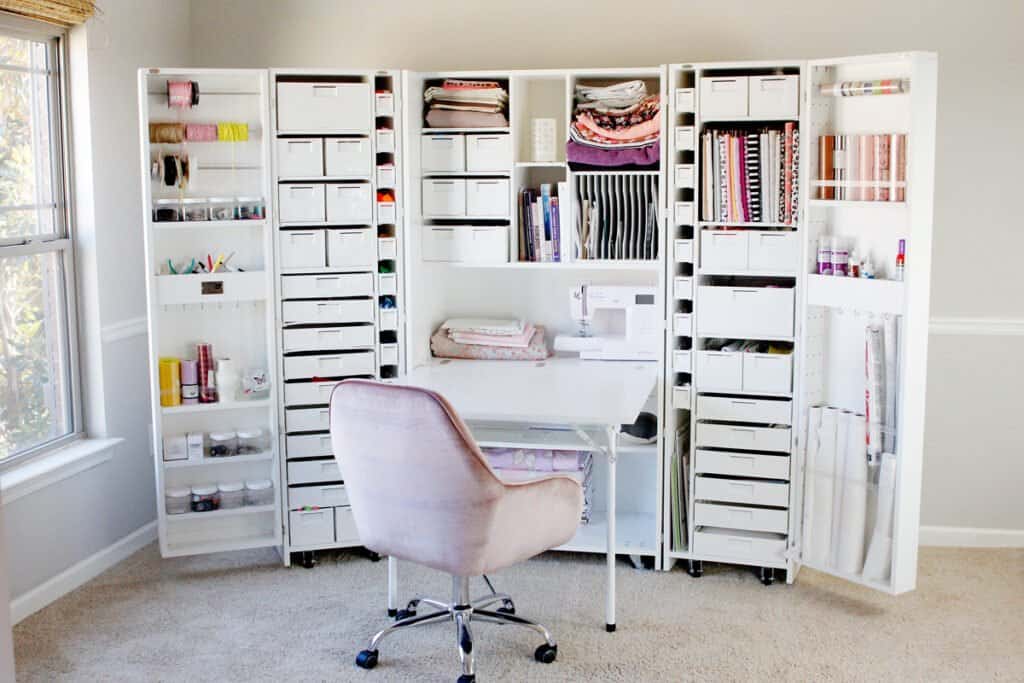 The DreamBox is made by Create Room and is the ultimate craft organizing tool! Use my Create Room Coupon Code: SEEKATESEW to save $100 on your purchase!
Why I love the DreamBox Storage System
Come on in! Ah! It is just so inviting! The DreamBox has solved all my sewing room problems (and I had a lot of them!)!
There's a place for everything and it's all visible and accessible! My creative process definitely thrives when I have supplies and materials right in front of me ready to inspire my next project. I get so much more sewing and crafting done with everything at my fingertips! And my projects are ending up with more fun materials since I know where they all are!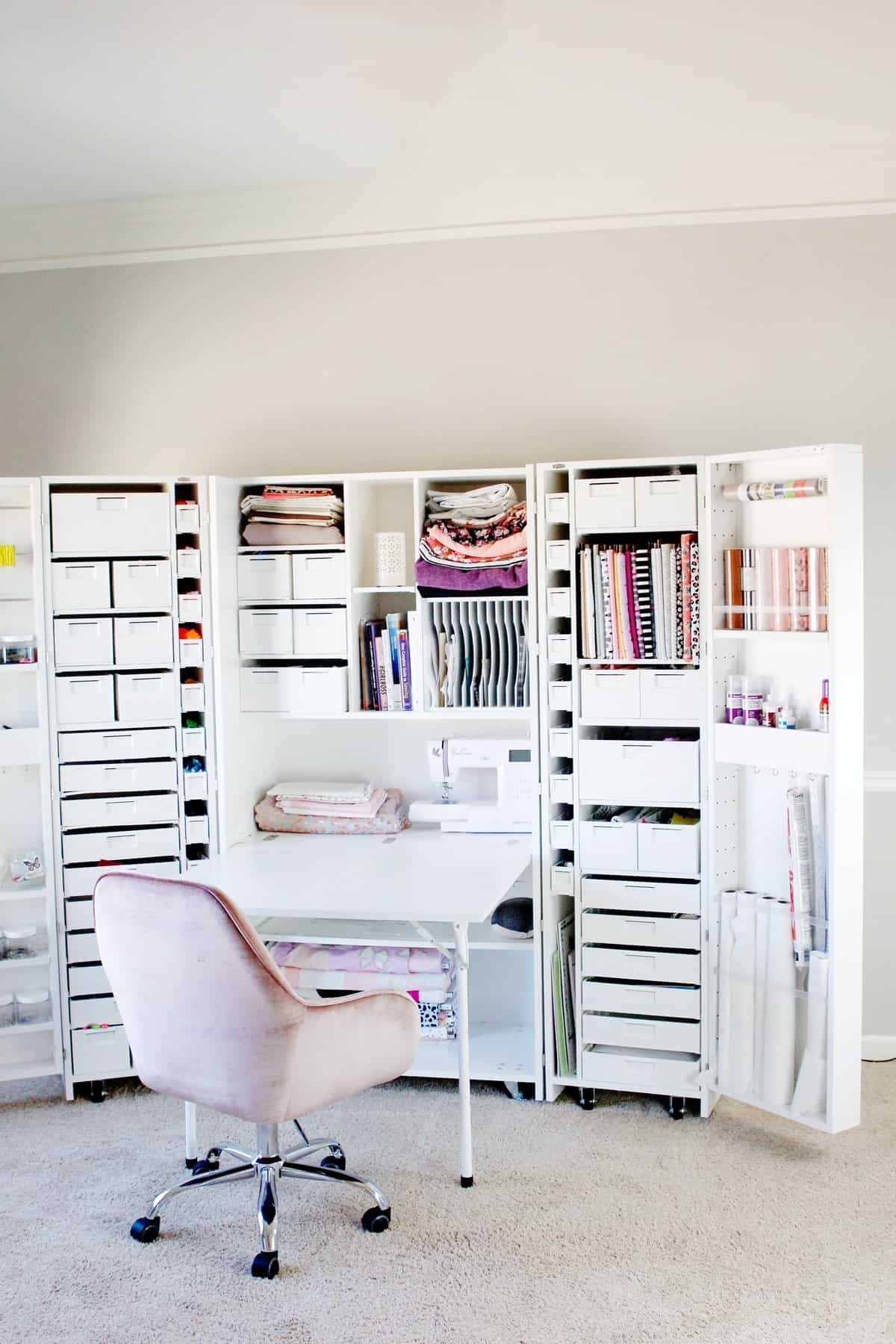 I also feel less stressed out when I'm in this room. It's very easy for a sewing room to get messy and that mess always hinders my productivity. It's so zen and totally my happy place!
I love knowing where everything is- it has changed my craft sessions. So much less looking for supplies and so much more actually CRAFTING! Need a glue gun? Got it! Need some tulle? Done! Everything has a place and I know where to find it!
The middle space has a place to store machines. I usually keep a sewing machine and Cricut machine there and just pull them out when needed. Underneath the table there is even more storage space. I have a few bolts of fabric down there and large quilting rulers, Cricut mats and more.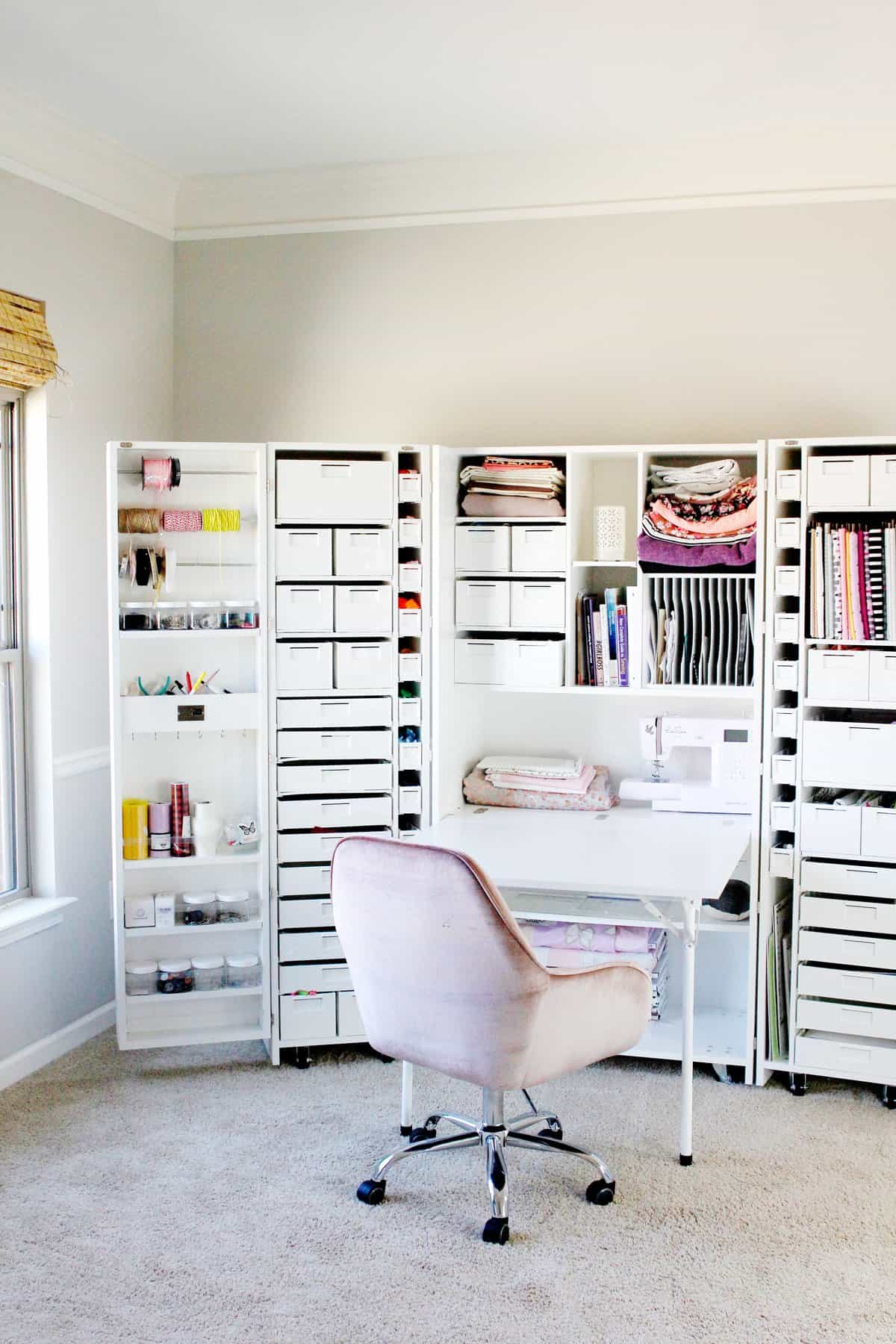 Before the DreamBox, I found myself buying supplies that I knew I had, but I couldn't find anywhere. They were probably at the bottom of a box somewhere! While I was organizing all my supplies into the DreamBox, I found so many examples of this!
My previous "organization" was two ikea square shelves with boxes full of stuff. It didn't quite work and I would have to sift through each box to find what I needed. Craft supplies need specific organization, so I'm so happy to have the DreamBox in my sewing room now. The size of the totes and drawers are just right for small items like craft supplies. It's hard to find a good storage system that doesn't have super big and deep boxes or storage bins creating dozens of boxes full of clutter. With the Dream Box, everything has its place and that makes a huge difference.
The table folds out and make a sturdy and sizable workspace! The DreamBox is an actual dream, they have perfected craft organization with this thing!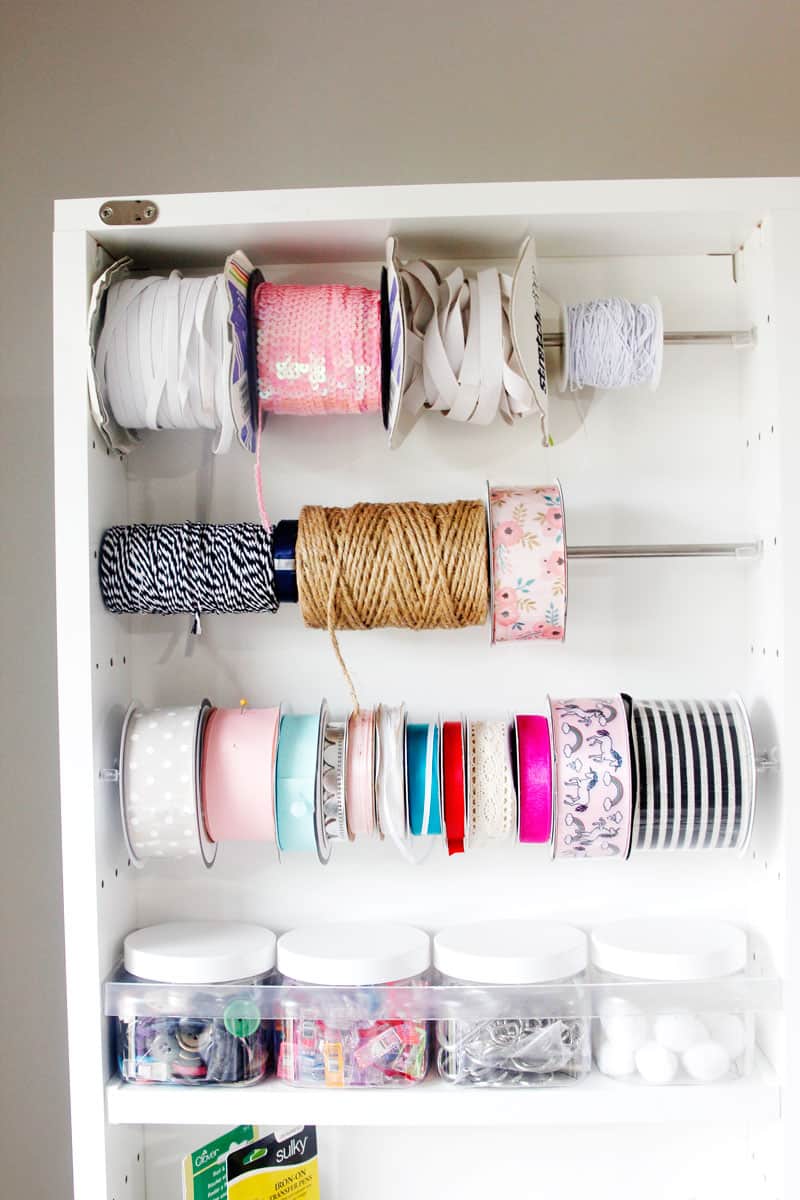 One of my favorite features of the DreamBox is these ribbon holders! On the left side, I put elastics, ribbons and twine that I use for sewing and gift wrapping. On the other side, I put a whole roll of black iron-on vinyl! It's so easy to access. Create Room thought of everything!
I also LOVE the plastic clear lidded jars. They are so cute but also perfect for things like buttons, bag hardware, blank hair clips, etc.
The door also has hooks to hold essential tools! I love them for scissors and Cricut supplies.
About the Dreambox with Create Room Dividrawers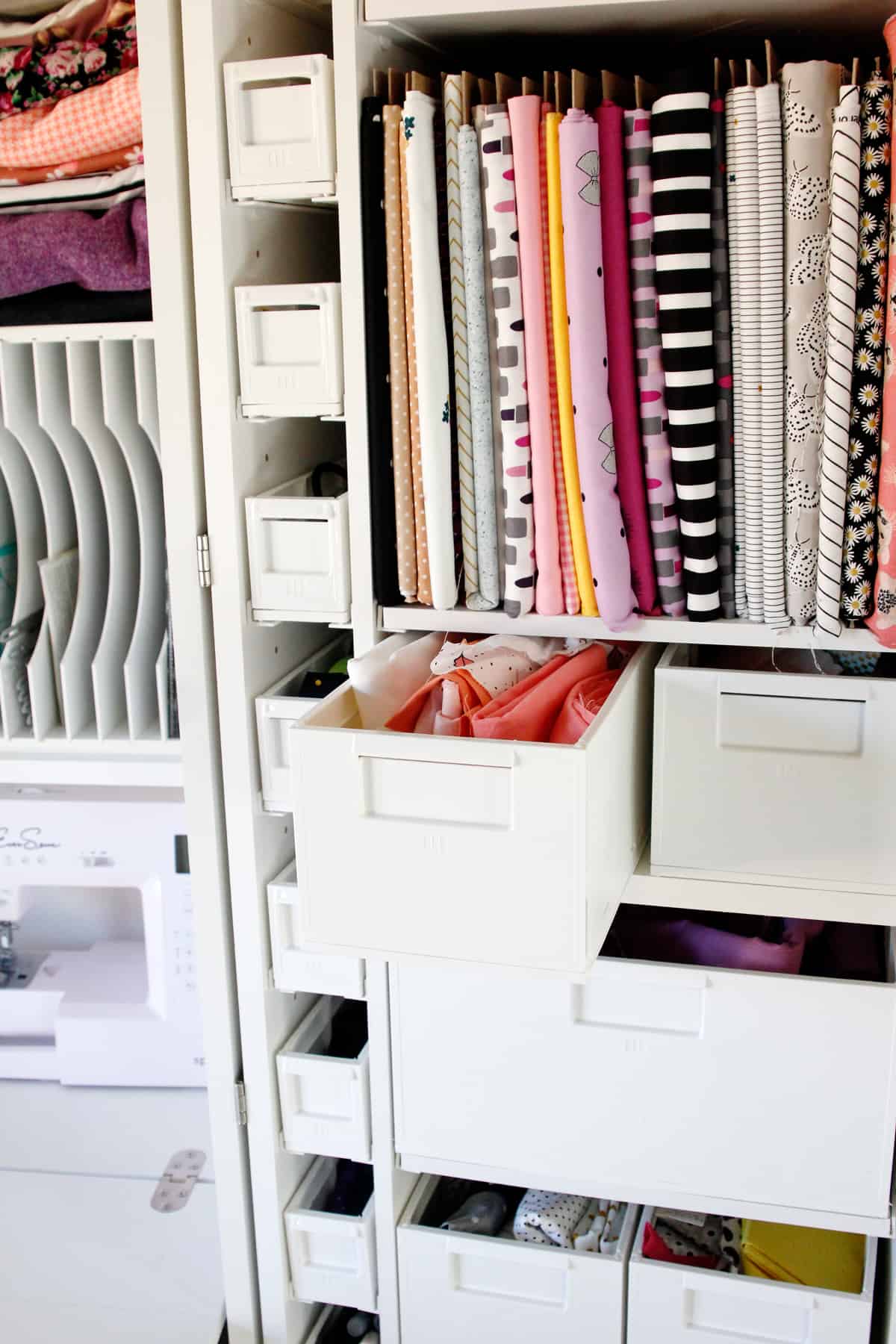 I recently changed out all my totes and put in DiviDrawers instead. The DiviDrawers are a little bit sturdier and have more options for where the dividers can go. I actually loved the Totes and I love the DiviDrawers! I'm not sure I have a preference besides the clean look of the DiviDrawers. However, you can put paper tote covers in the front of the InView Totes if you want. So, it's really up to you which you choose!
Here is a before and after: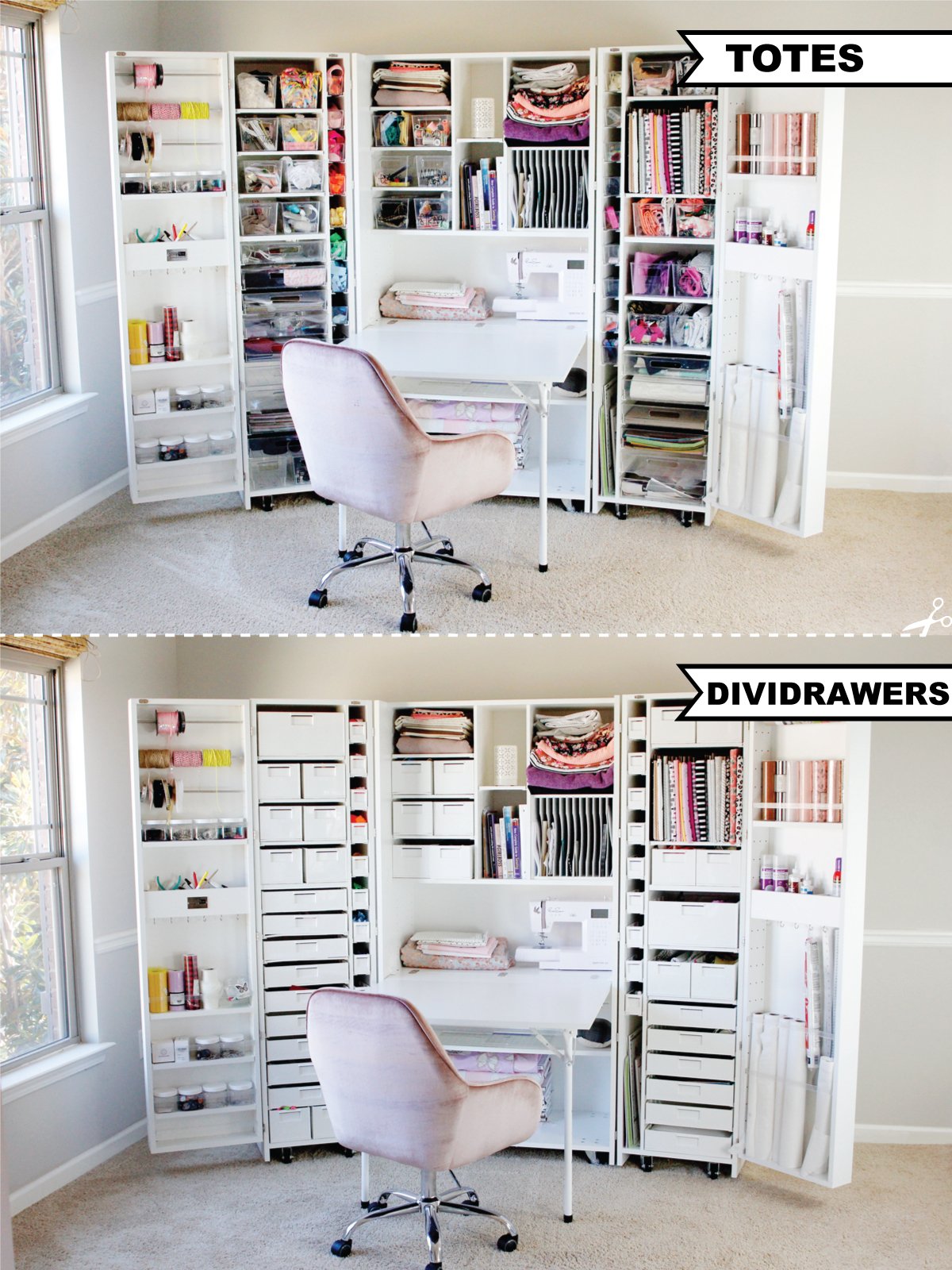 There is also a new Extra Large DiviDrawer which I LOVE! You can see two in the photo above and a close-up in the photo below. These are nice for fabric storage!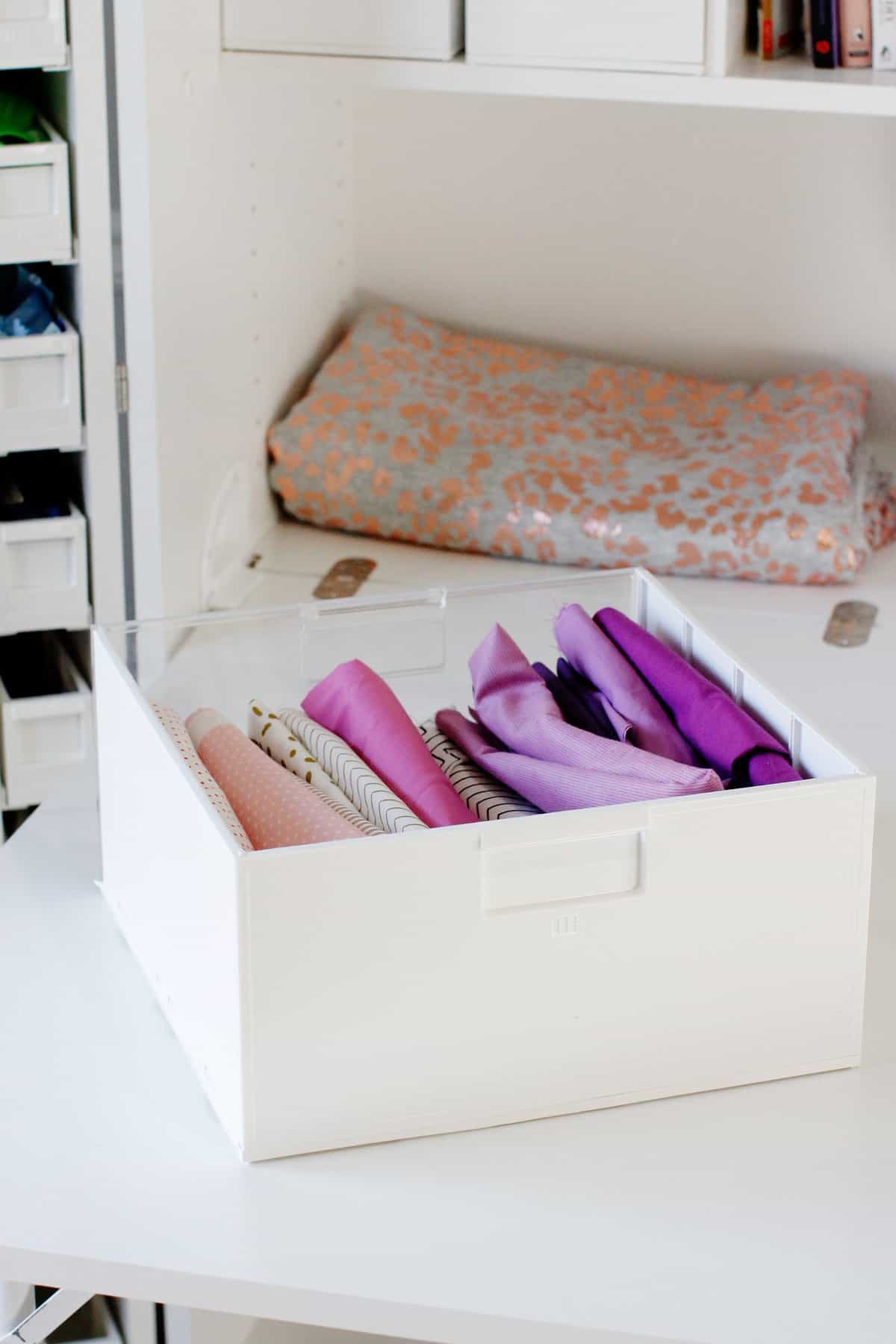 Which look do you prefer?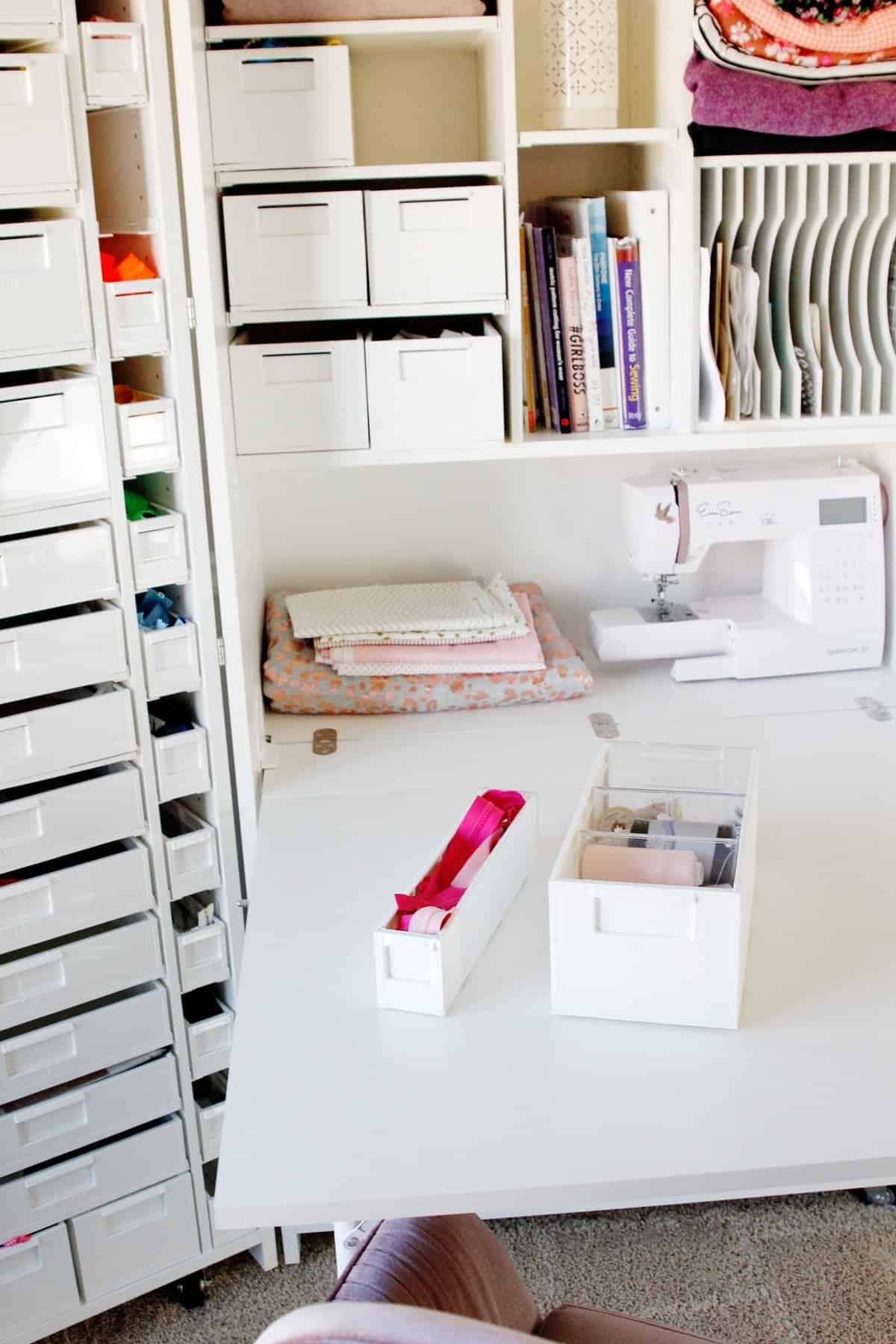 The DiviDrawers have one side with an opaque white cover and the other side is clear. You can turn them around if you prefer to see the contents of the drawer and turn them back if you decide you need a blank slate. The totes above are the small size and the shoebox totes.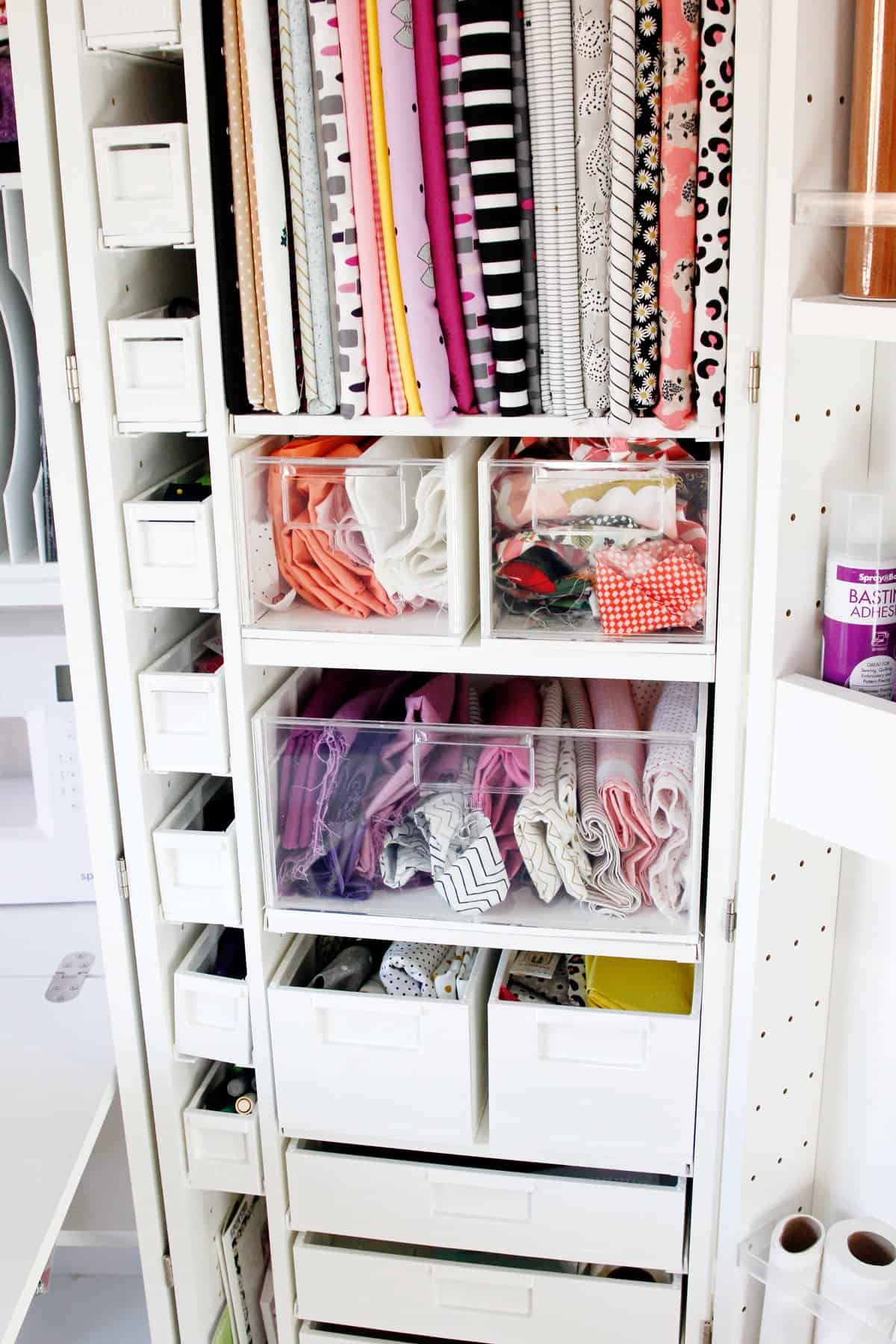 There are four different sizes of DiviDrawers from small to extra large. I like to use the medium and XL drawers for fabric and the small andlarge drawers for different types of notions. The flat Large drawers are great for all my Cricut materials like sheets of felt, paper and scraps of vinyl. The smallest totes are the notions totes and are great for things like zippers, fabric chalk, fabric markers, pins, hardware, washi tape, velcro, beads, elastic and anything else that is easily lost!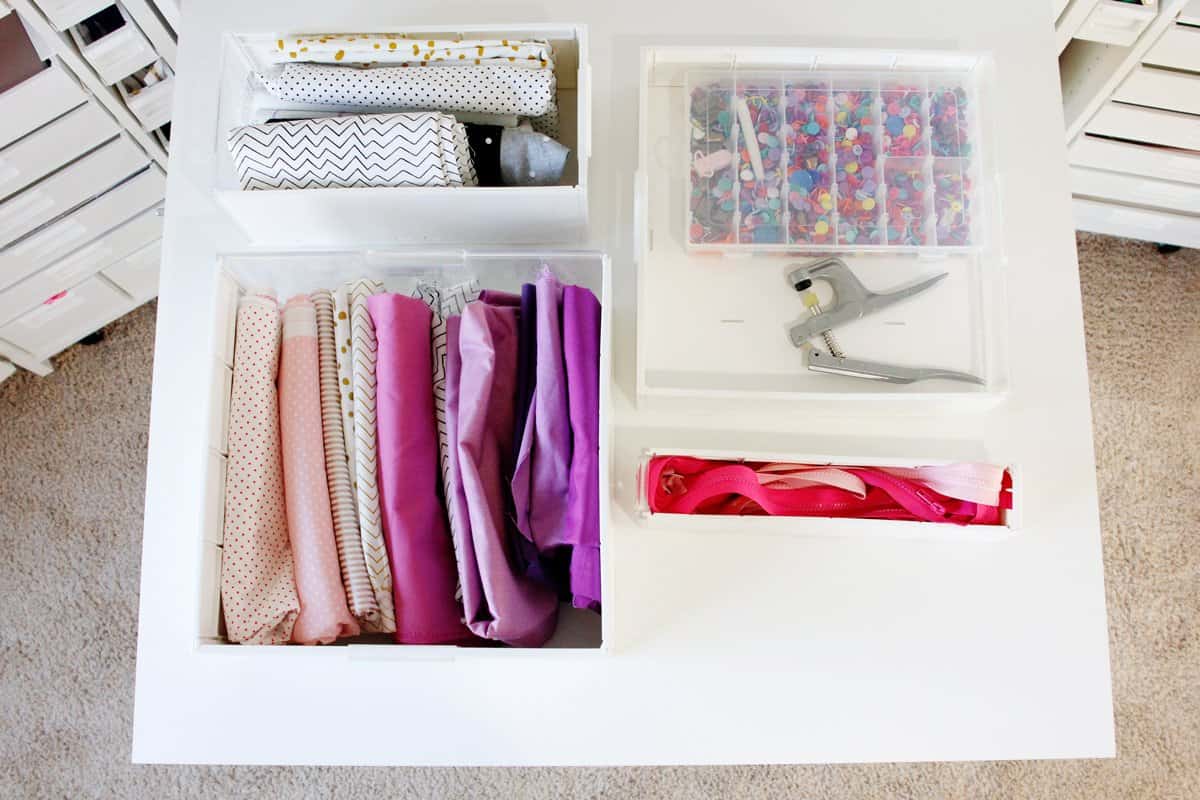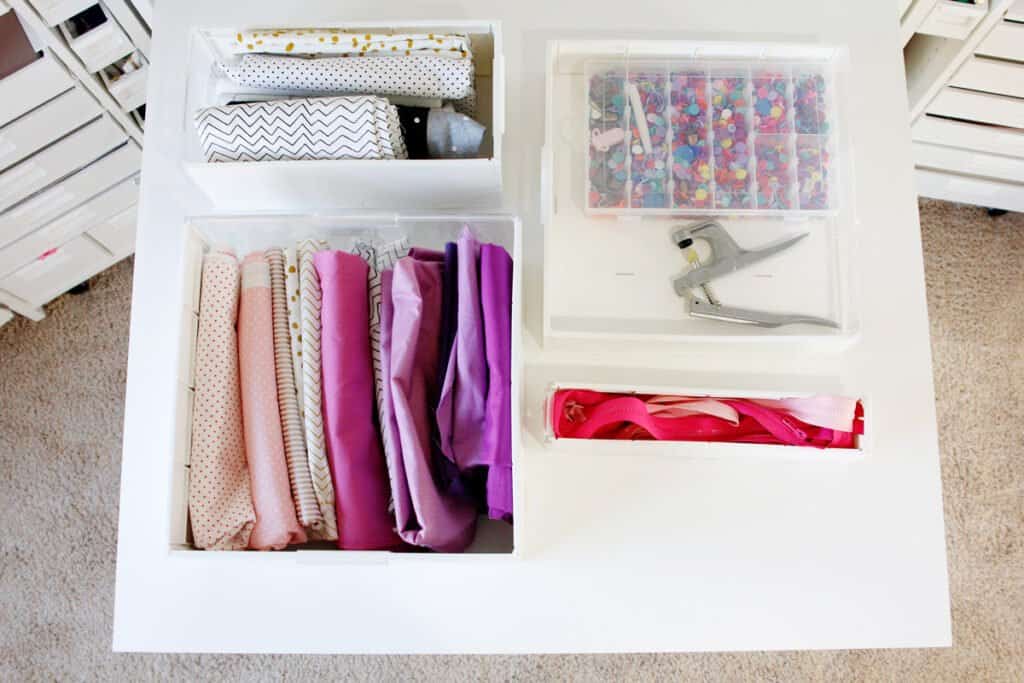 I organized most of my sewing supplies on the left door and most of my Cricut supplies on the right. The adjustable shelves are perfect for heat presses and irons, stacks of fabric and any other odd-shaped item. The flat bins were made for cutting materials like leather, paper and iron-on vinyl. I have a scrap drawer for all my iron-on scraps, too.
The DreamBox was originally made for scrapbookers, so the flat drawers are ideal for paper storage – they fit 12″ by 12″ squares. I don't use a ton of paper but I like to keep my tools and notions in the flat drawers since I can pull them out and see everything easily. I use one flat drawer to hold my KAM snaps and KAM tool in one place and another with glue guns and glue sticks! It's so nice that I can find both the tool and the supplies to go with it!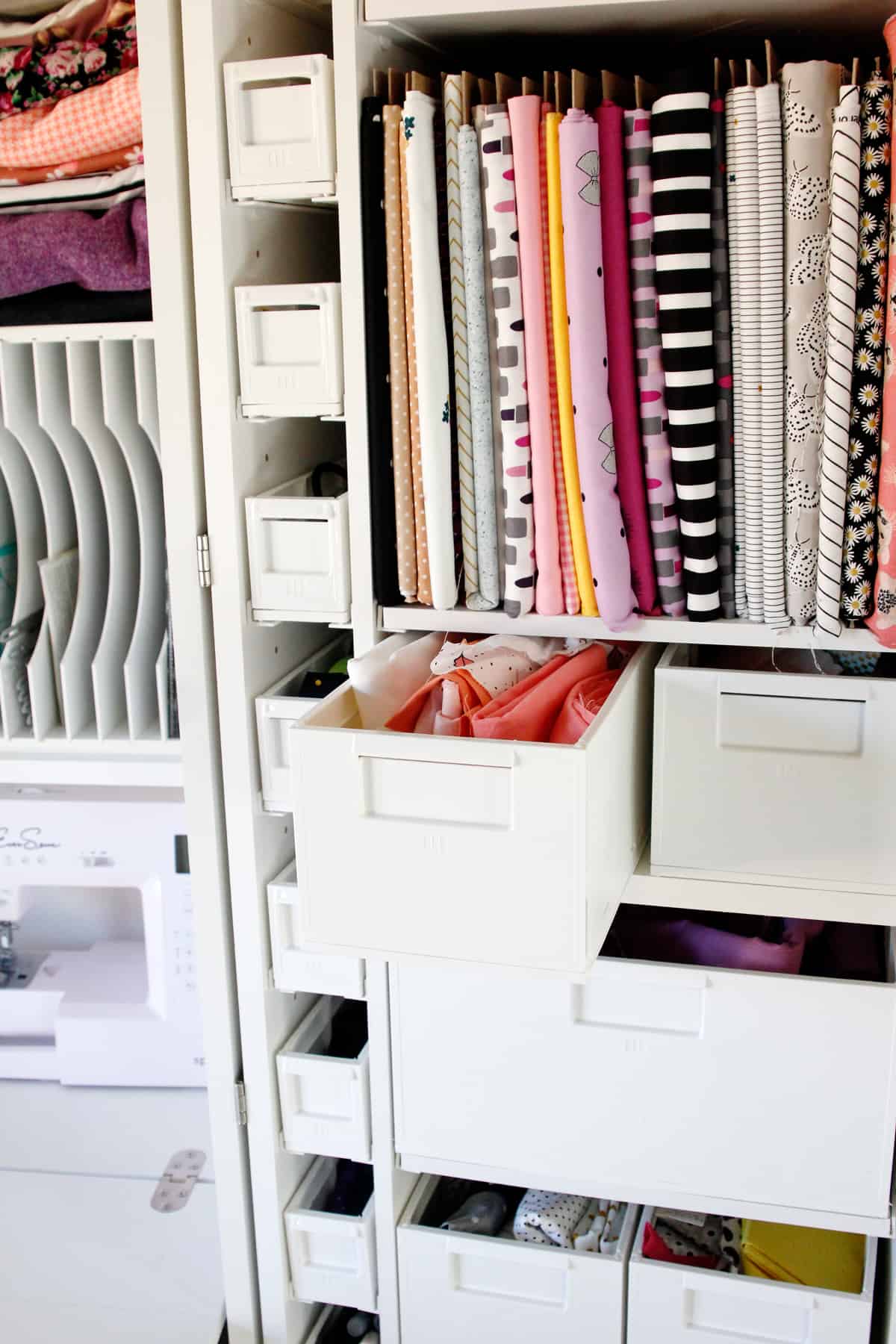 The DreamBox makes the perfect Cricut storage cabinet if that is your art! I have found it to be perfect for all my sewing supplies, Cricut crafts and even all the extra craft supplies I keep on hand just in case.
About the DreamBox InView Totes
Before the DiviDrawers my DreamBox was filled with InView Totes. I love these bins – you can add dividers to break them down into smaller compartments for smaller items. It's just so functional! These acrylic totes are clear all the way around and come with removable dividers to use if needed.
The InView totes come in 3 sizes: small, medium and large.
Here's how the divided bins work: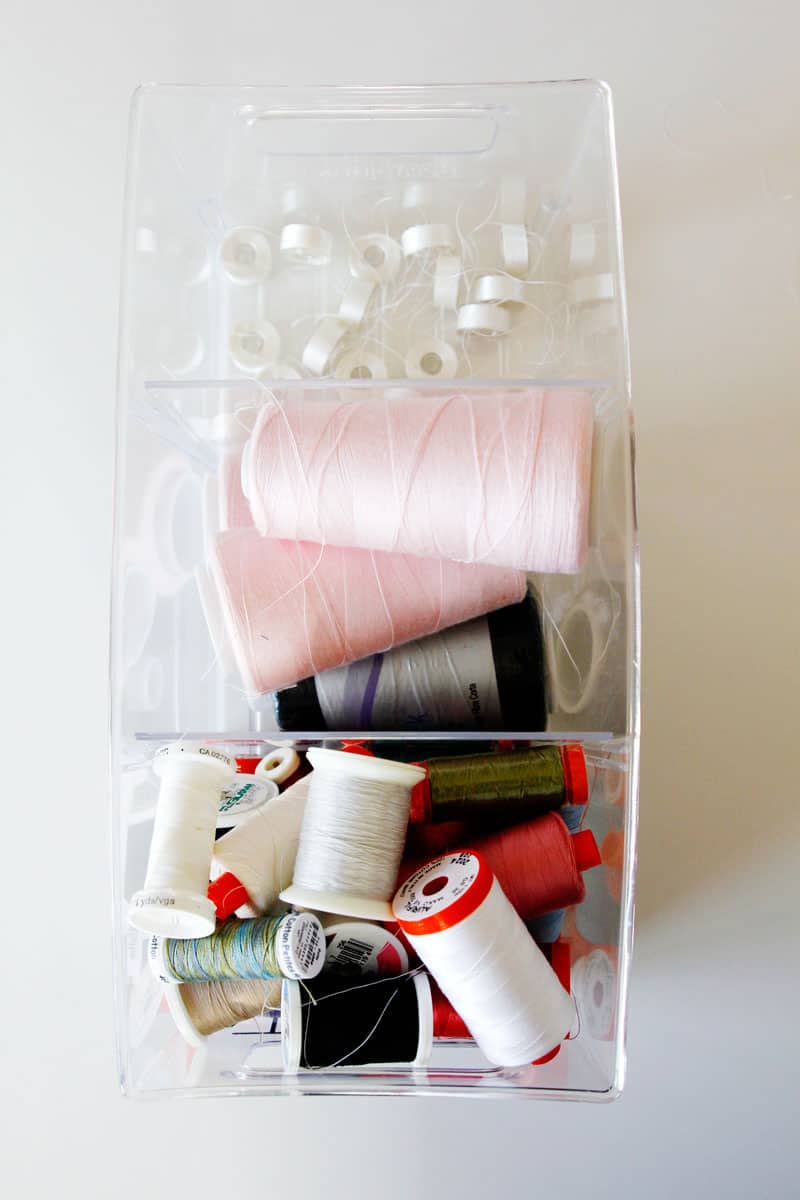 The InView Totes are great because they don't have to be put together, you just fill them up and put them right in the DreamBox!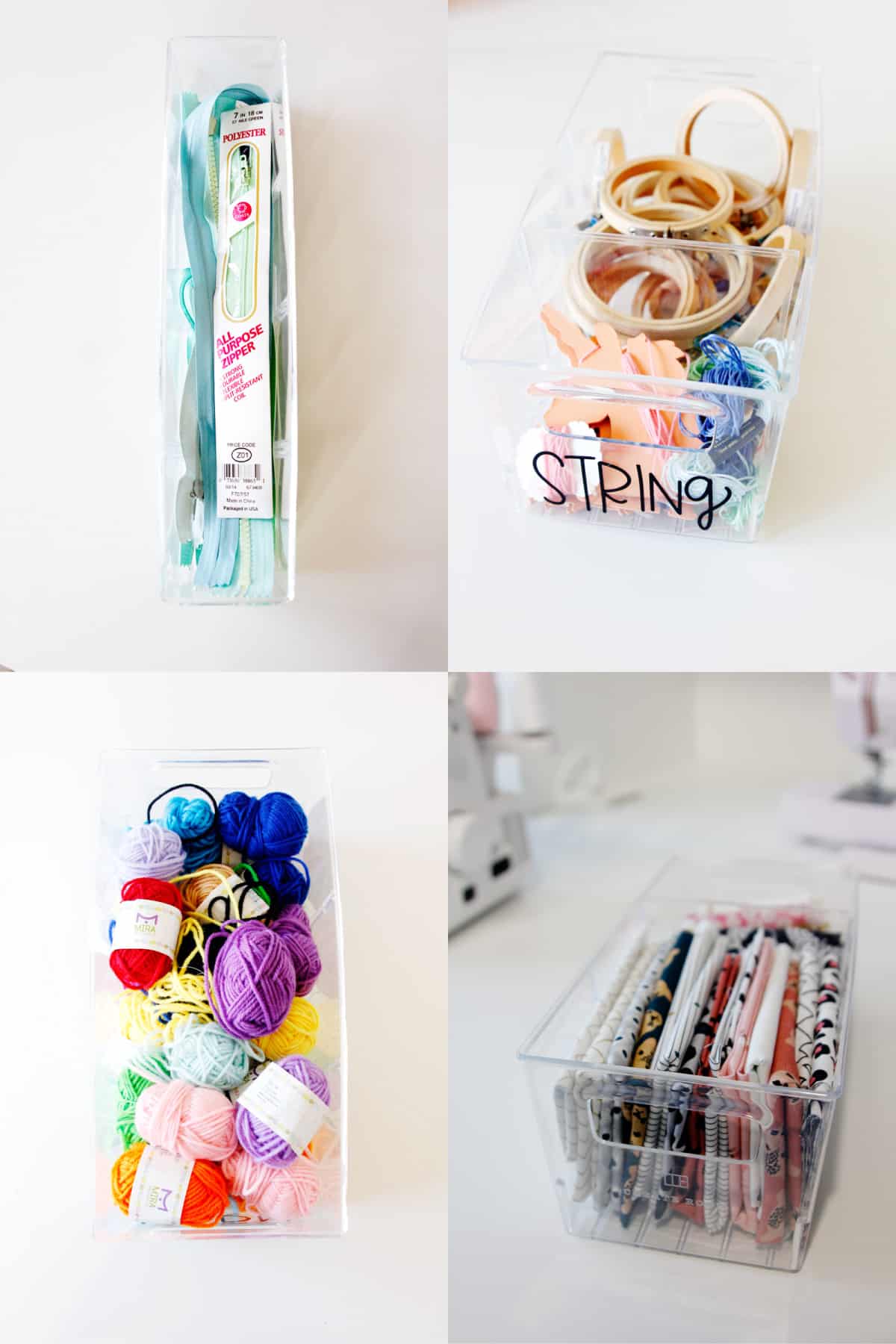 Here is my DreamBox with the InView Totes: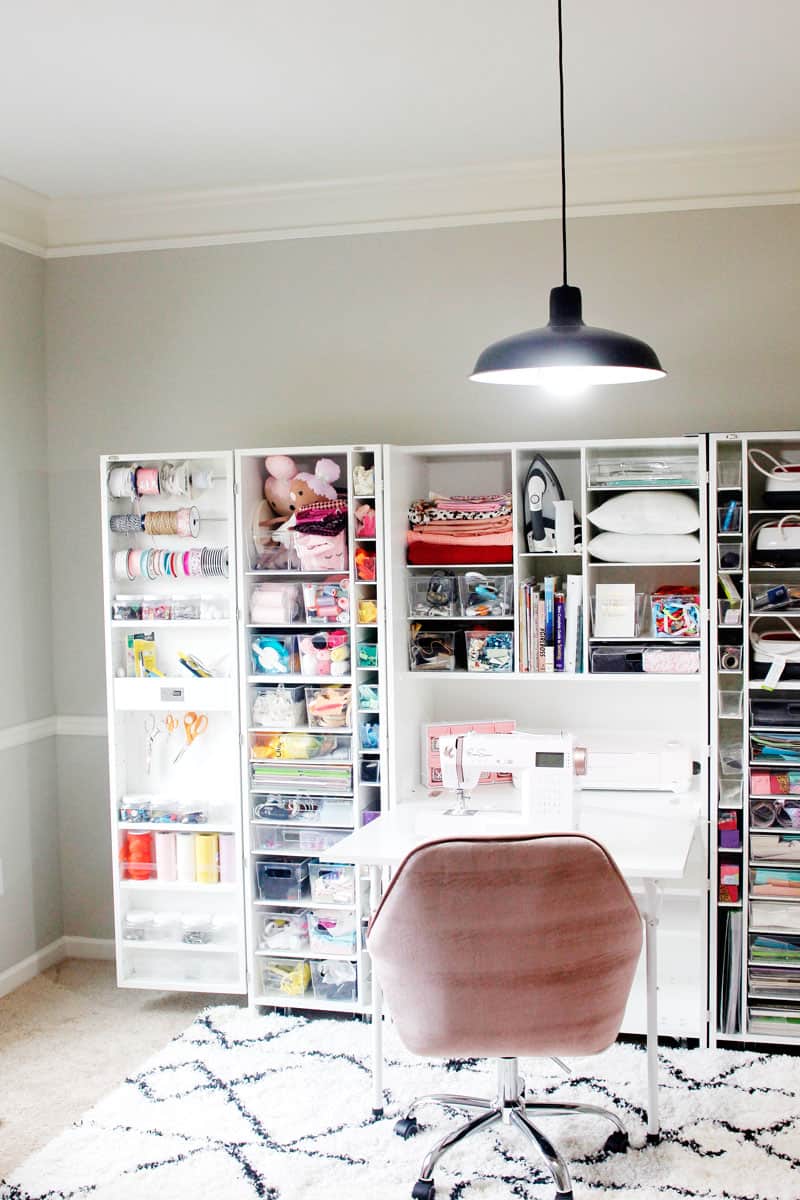 How to store fabric in the DreamBox
There are 3 main ways I store my fabric – in stacks on shelves, on mini bolts lined up vertically (my favorite way to look at it!!) and in clear containers by color or type.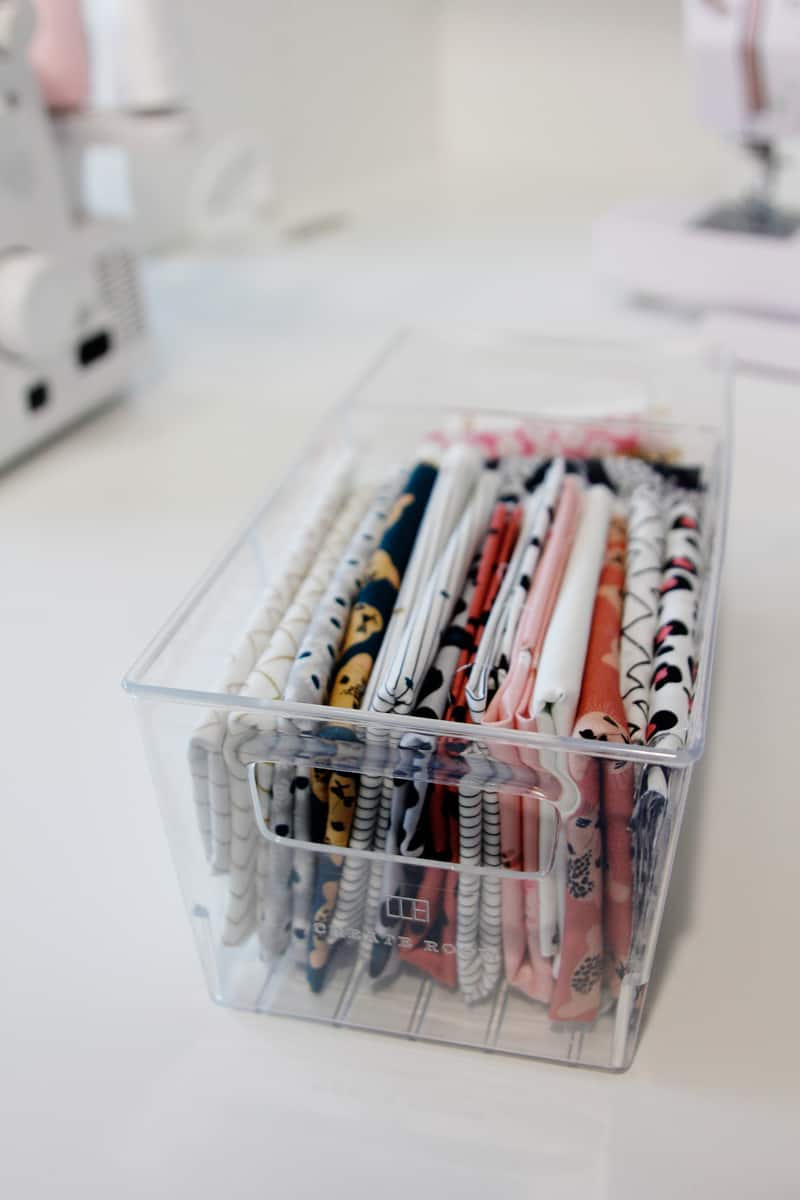 Organizing fabric in stacks
Stacking fabric is probably the easiest way to put fabric up. I love pretty stacks of fabric and this is how I tend to store heavy weight like denim or coating and bulky fabrics like knits.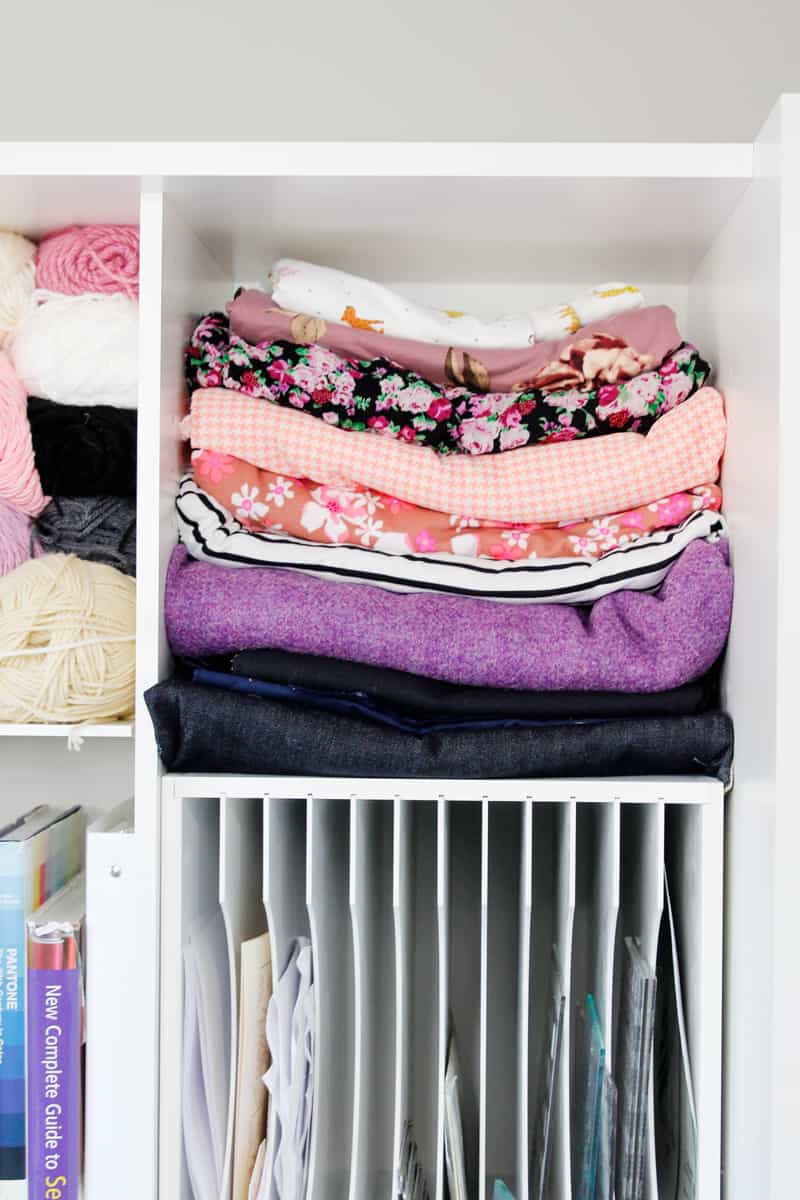 Stacks tend to fall over, especially if they are bulky and uneven. But if the shelf space is small, stacked fabric is great.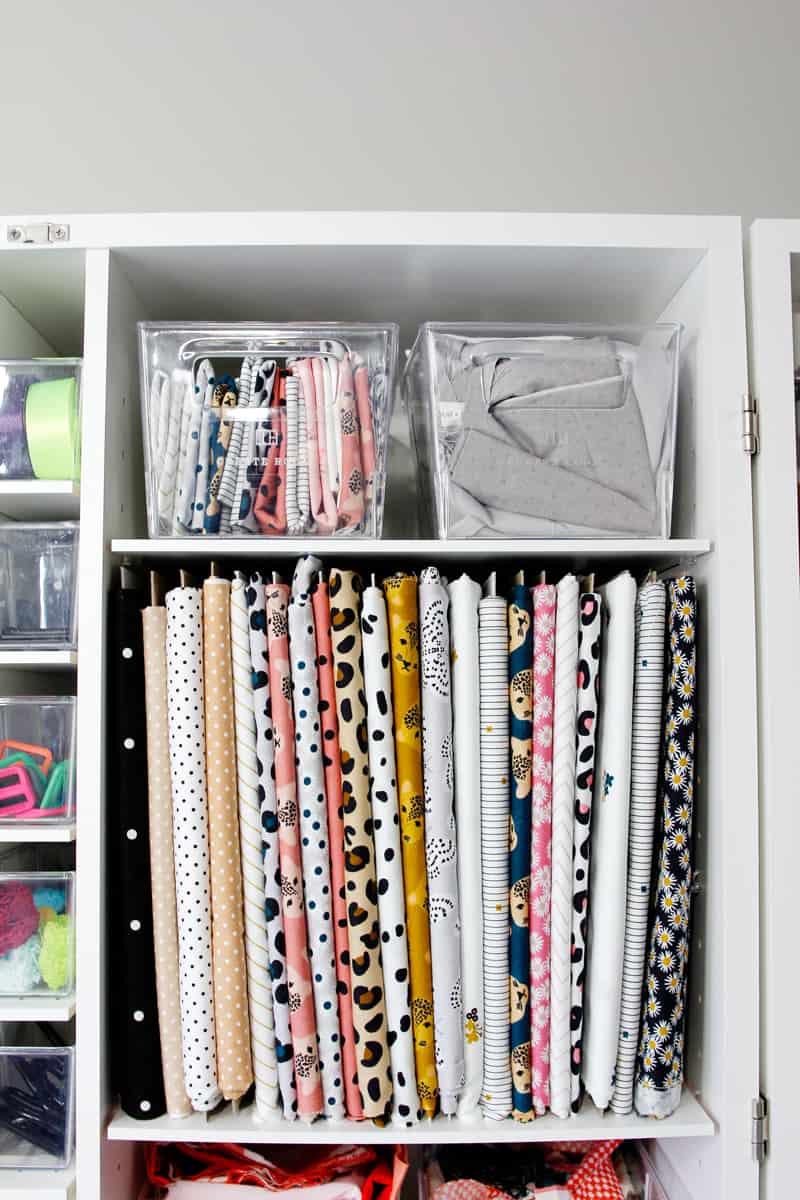 Mini Bolts for Fabric Storage
This is my newest genius fabric storage idea that is my new favorite way to store fabric yardage. I used simple 12″ by 12″ craft board to create "bolts" for lengths of fabric around 1.5 – 4 yards.
I did this mostly with quilting cotton prints that I want to see as inspiration. It works great for displaying pretty fabric!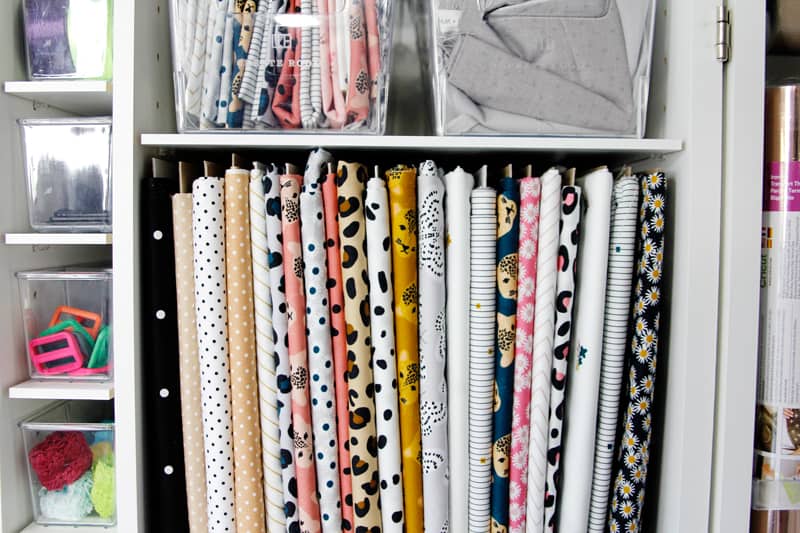 The craft board I used is this pack of 25 – the board are precut to the correct size and they are fairly inexpensive!
I love being able to see all my prints and not mess up a whole stack when I take one bolt out.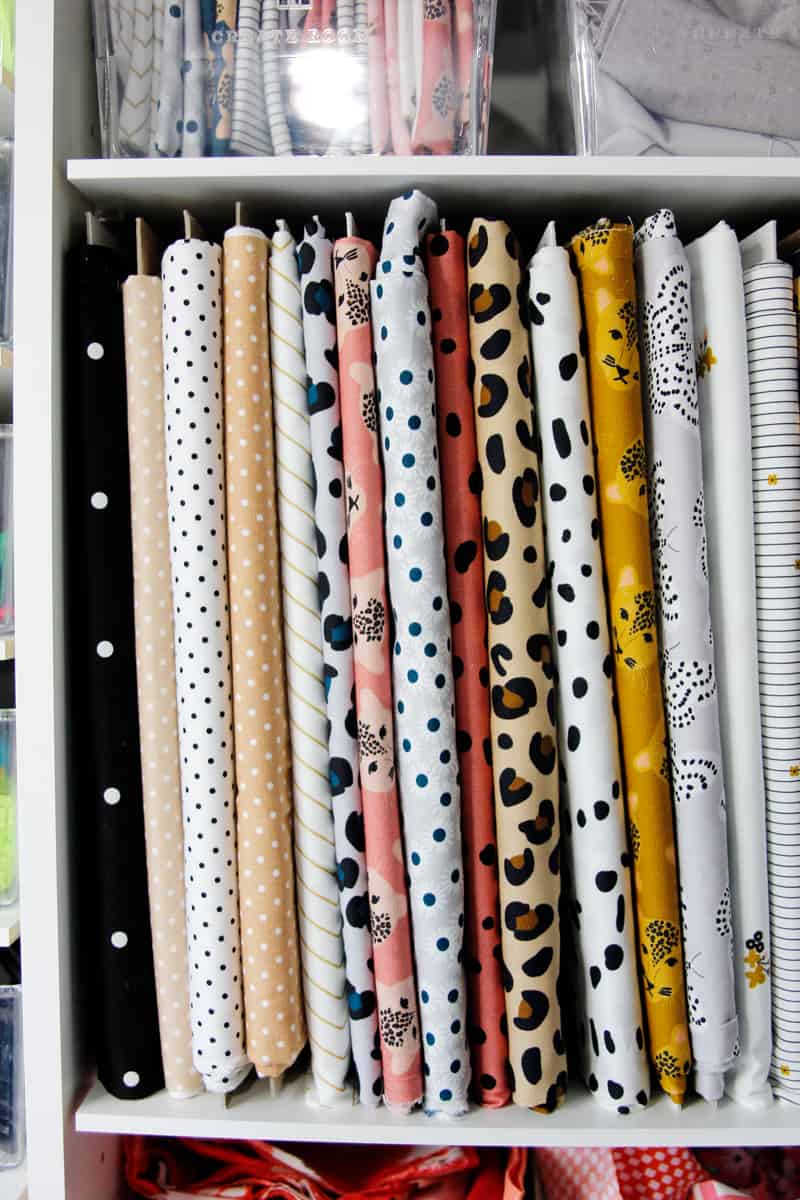 The DreamBox shelves should have 9 peg spaces in between to get the perfect fit. Heart Eyes!
When you get your fabric from the bolt, it comes folded with the selvages together.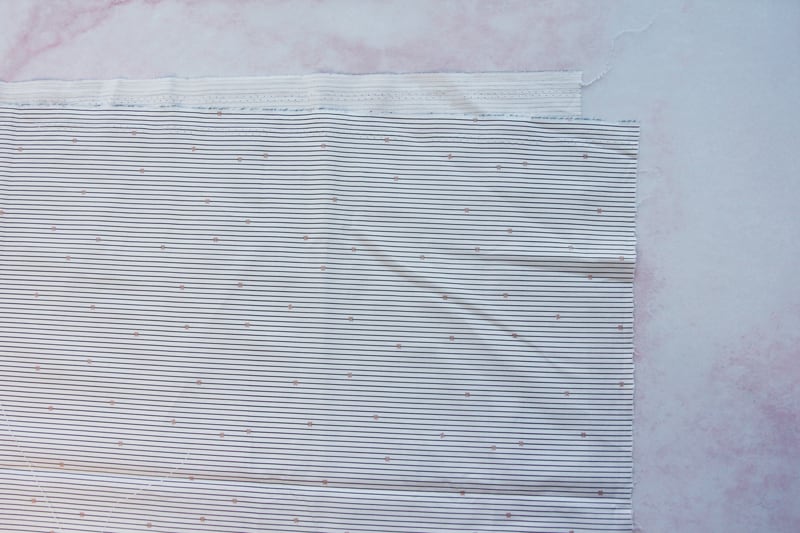 Just fold the long edge down again and wrap it around the board!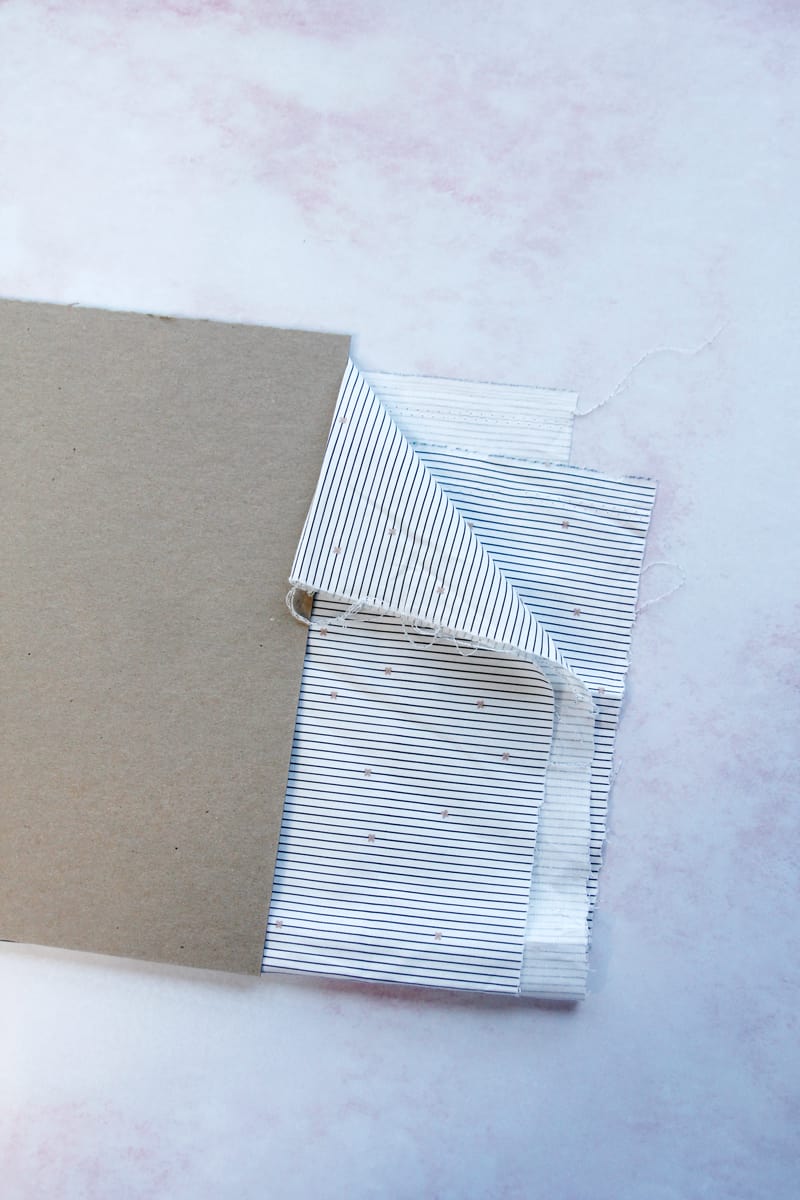 Secure with a pin and line it up on a shelf.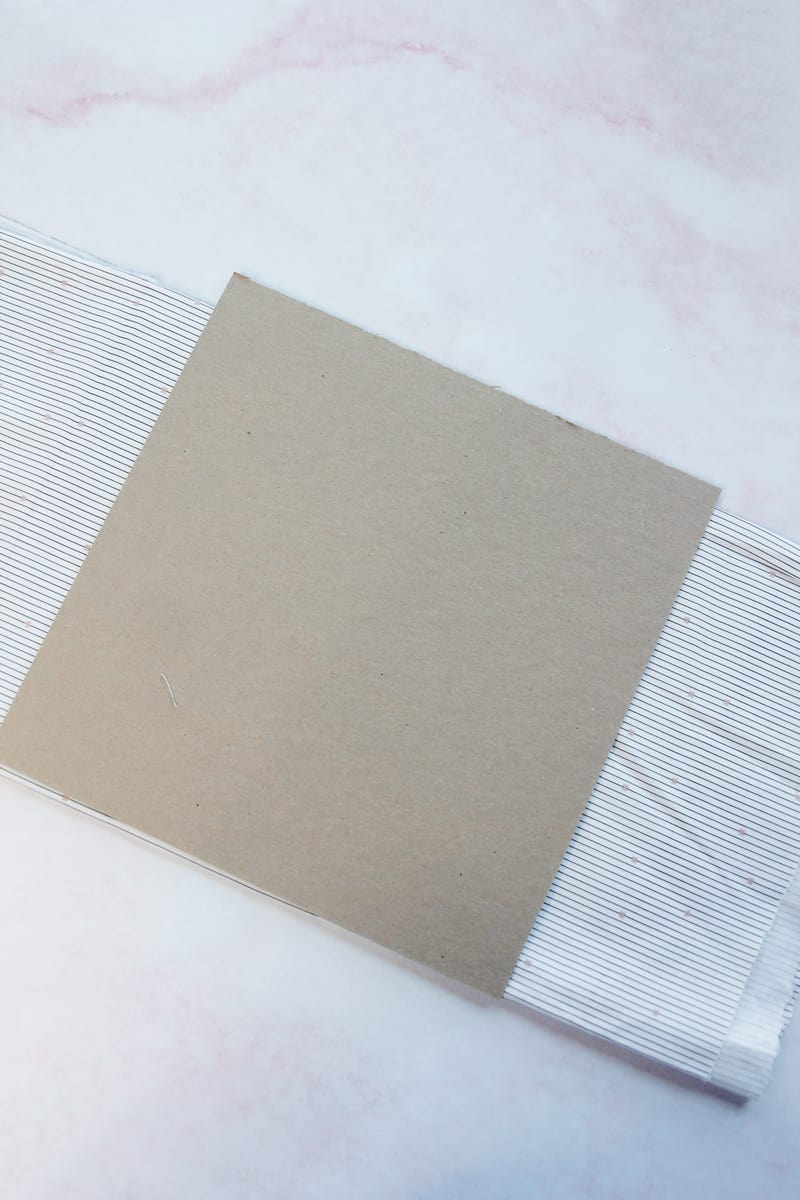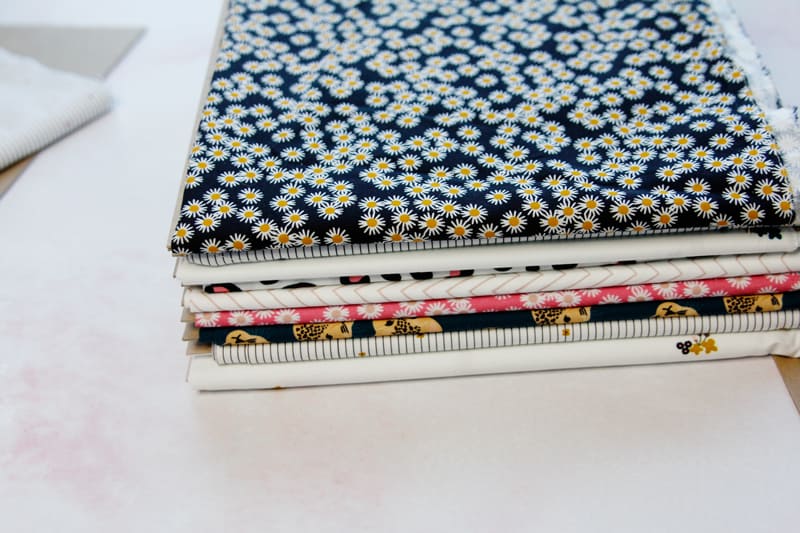 Store fabric scraps in containers
Small, clear containers are the best place for fabric scraps, fat quarters, and lengths less than 1 yard.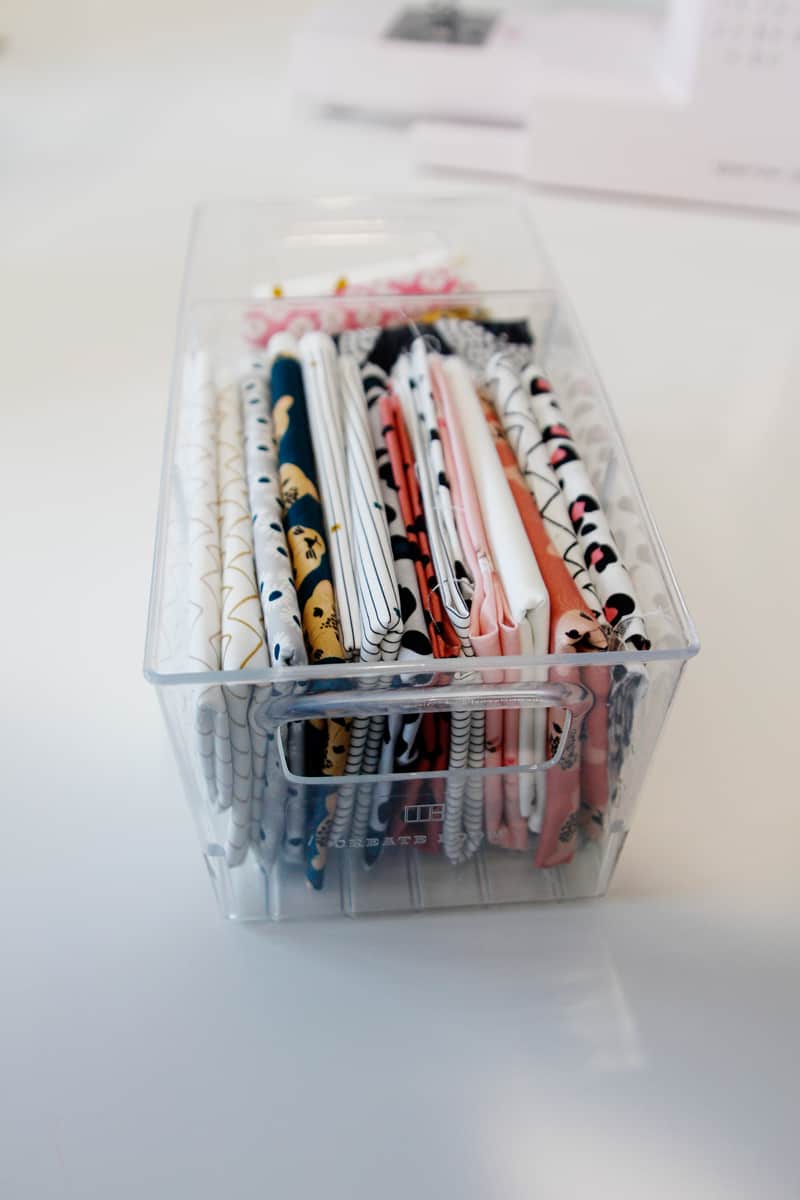 The DreamBox comes with 2 totes sizes that I use to organize fabric.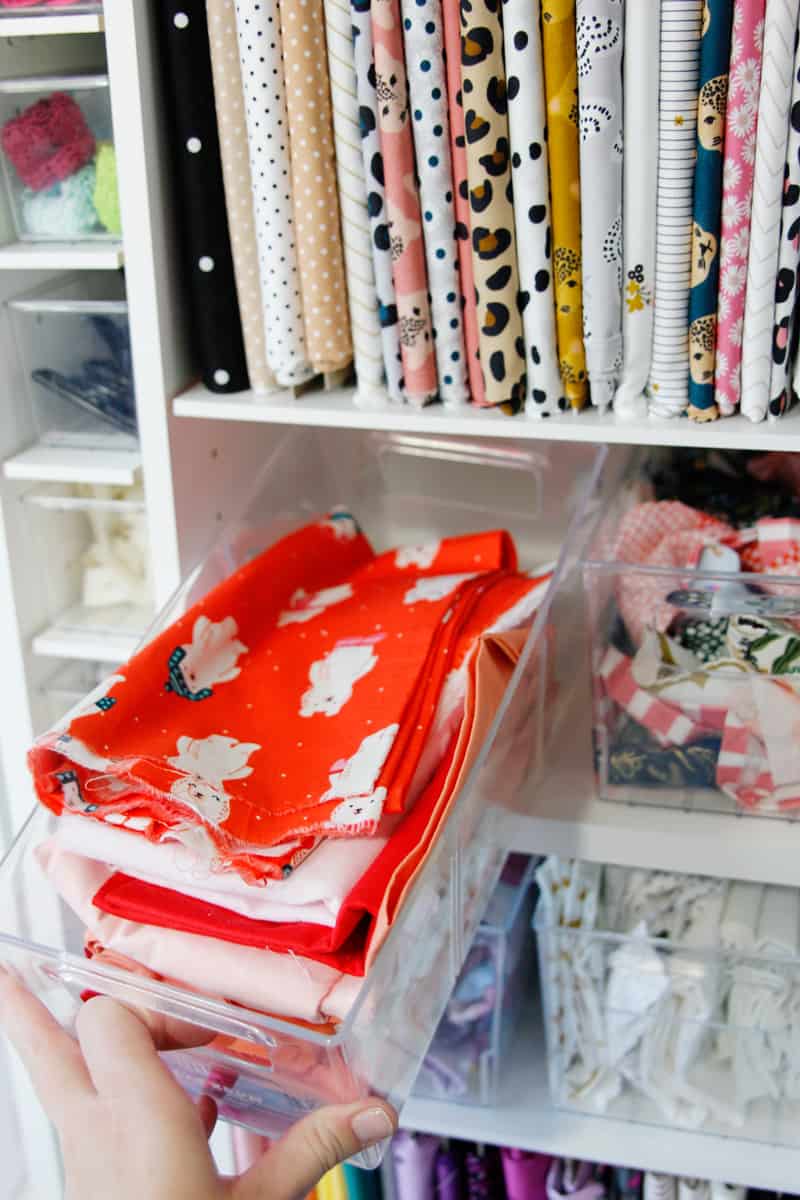 The shoebox tote is about the size of a shoebox and is how I store yardage less than 1/2 yard. If is a piece of fabric that can be stacked, I will fold it down and line it up using the clear tote dividers that come with the DreamBox. The dividers make it easier to pull fabric out without the whole bin being messy again.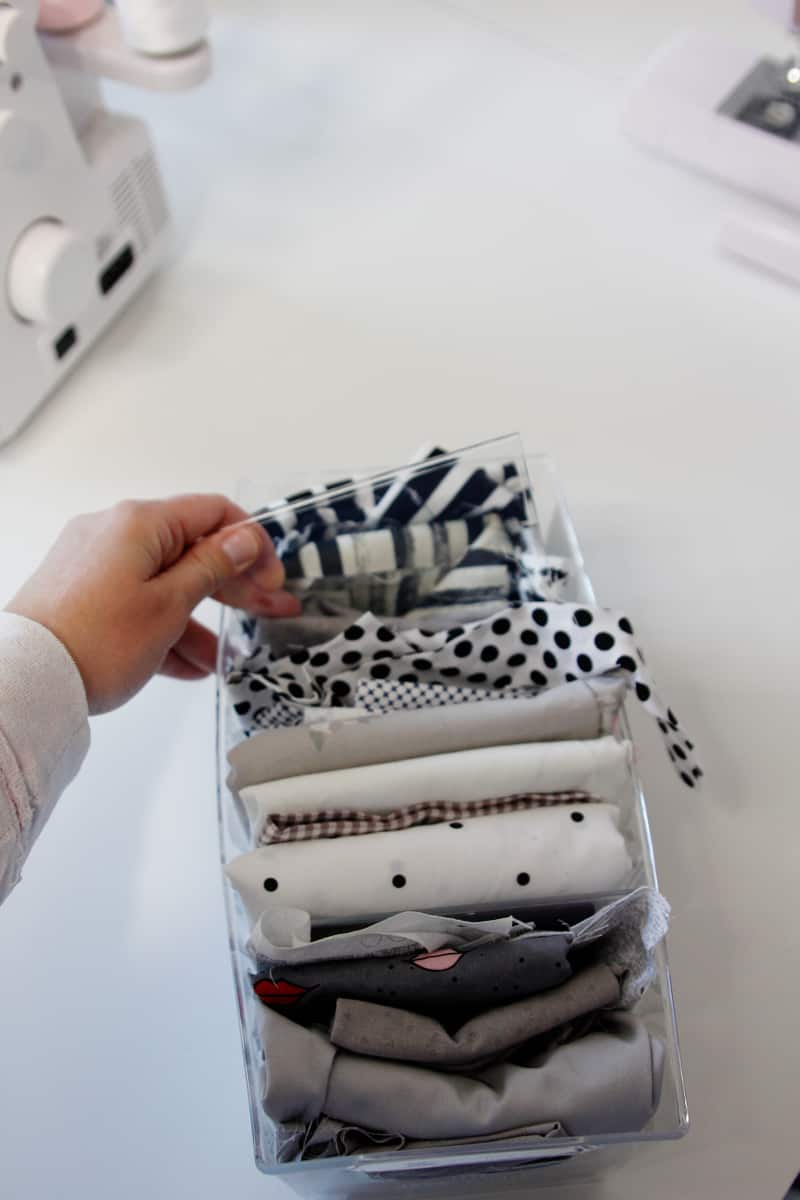 The shoebox totes are also great for things like jelly rolls or keeping one line of fabric in one place.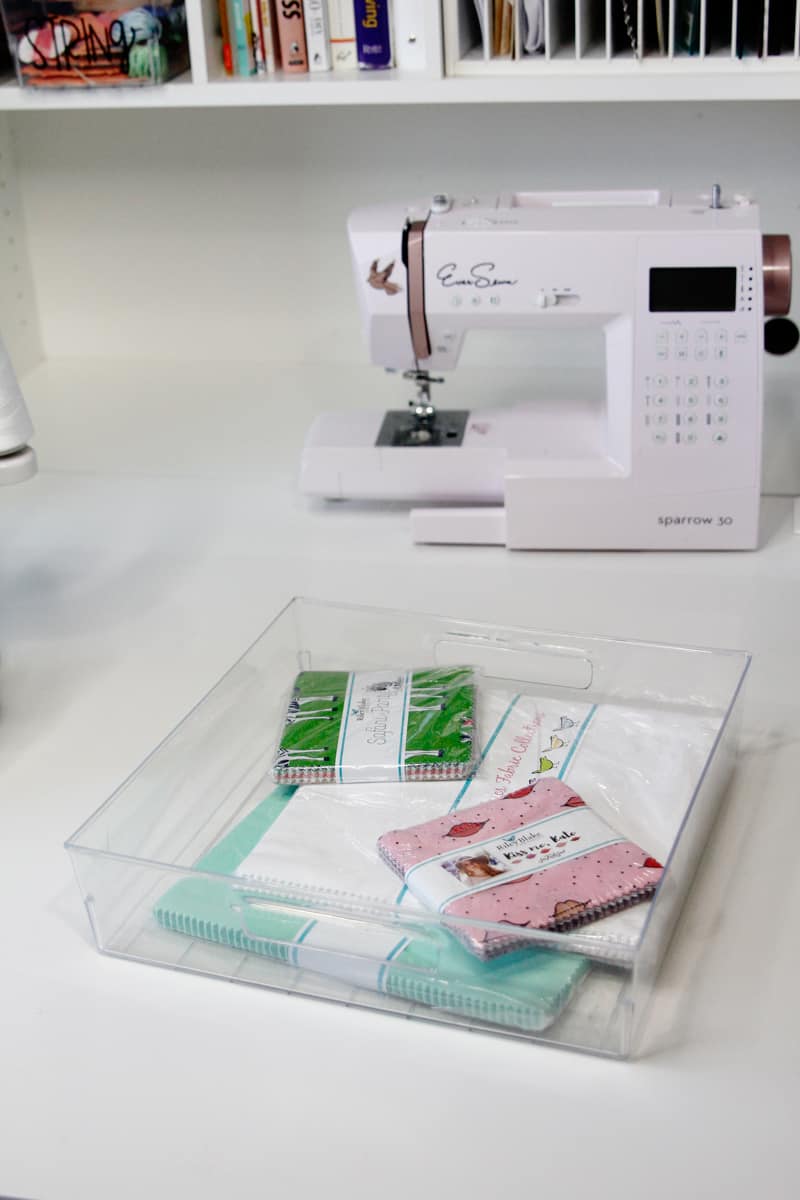 The flat totes are 12″ square and I use that for cuts of fabric that are about a yard and still folded in their freshly cut from the bolt glory. I like to organize these by color or pattern, like all the dots together.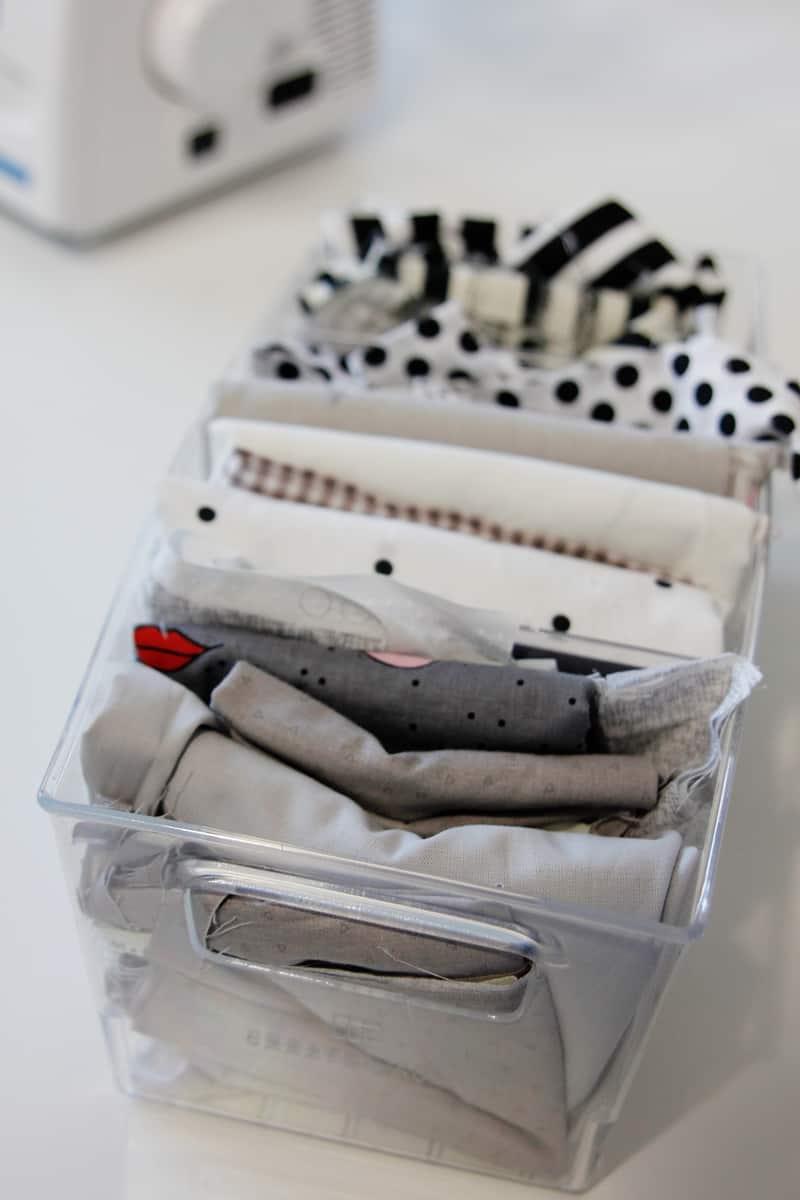 I also love the flat totes for stacks of precut squares like 10″ stackers or charm packs.
Organize fabric by color
I think the easier way to store fabric is by color, by fabric line, or by type of fabric. Most of my quilting cotton is organized by fabric line until the fabric becomes scraps and I sort by color.
I hope you learned something that will help you make your fabric organized in your home! How do you store fabric?
The Dream Box Folds Up!
And a major selling point is that the DreamBox folds up into a beautiful armoire! This is perfect if you share your creative space. You can put this in the dining room, living room, guest room, or even master bedroom. It folds up so nicely! This is the Shaker White option – there are a few other finishes to choose from!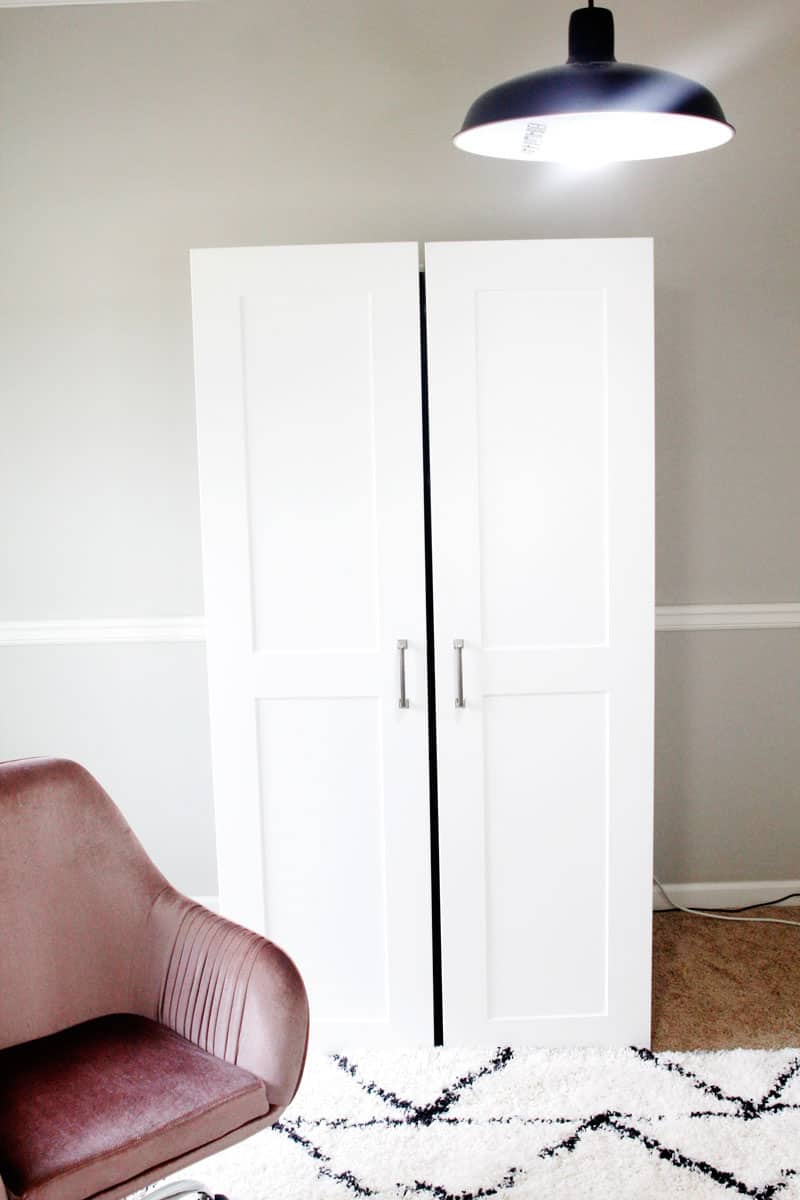 Create Room DreamBox Coupon Codes
In this section I've written out everything I know about Create Room Sales, Create Room Coupon Codes, Promos and more to help you as you dream about your DreamBox!
For any DreamBox, use the affiliate code SEEKATESEW for $100 off your purchase
The code SEEKATESEW will give you $200 off if you purchase the DreamBox with the Sew Station
SEEKATESEWSS for $50 off the Sew Station
SEEKATESEWDC for $50 off the DreamCart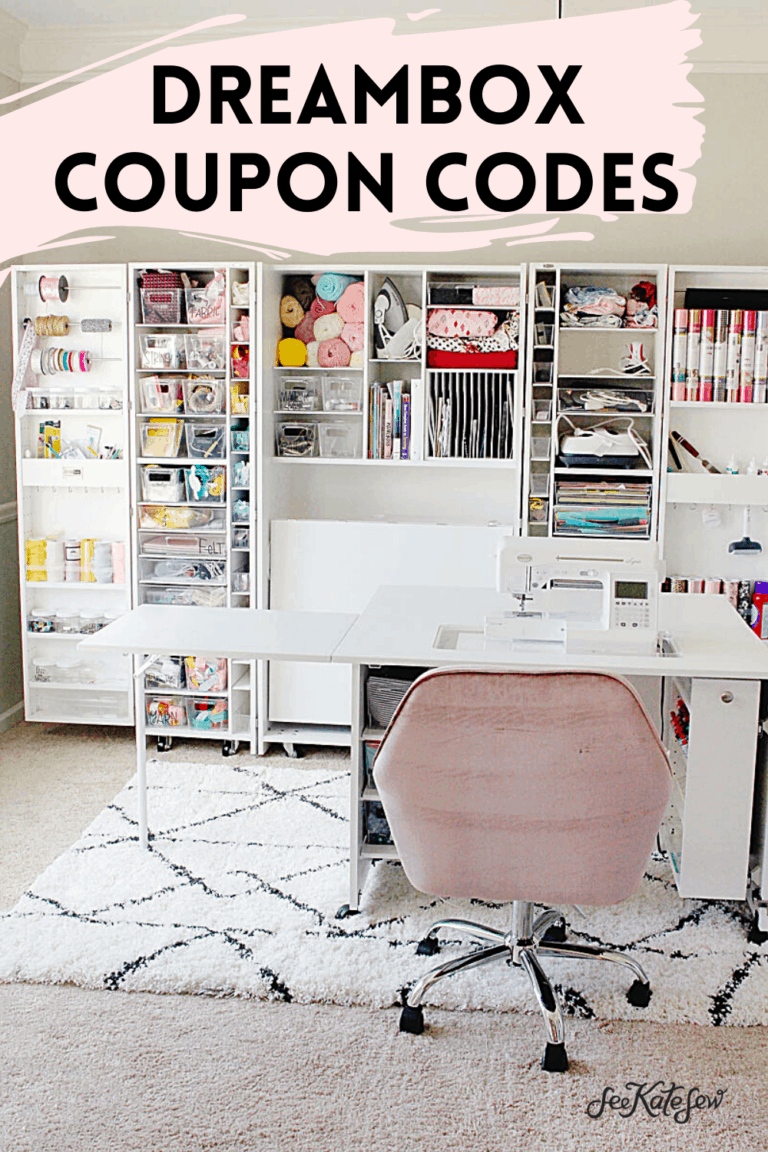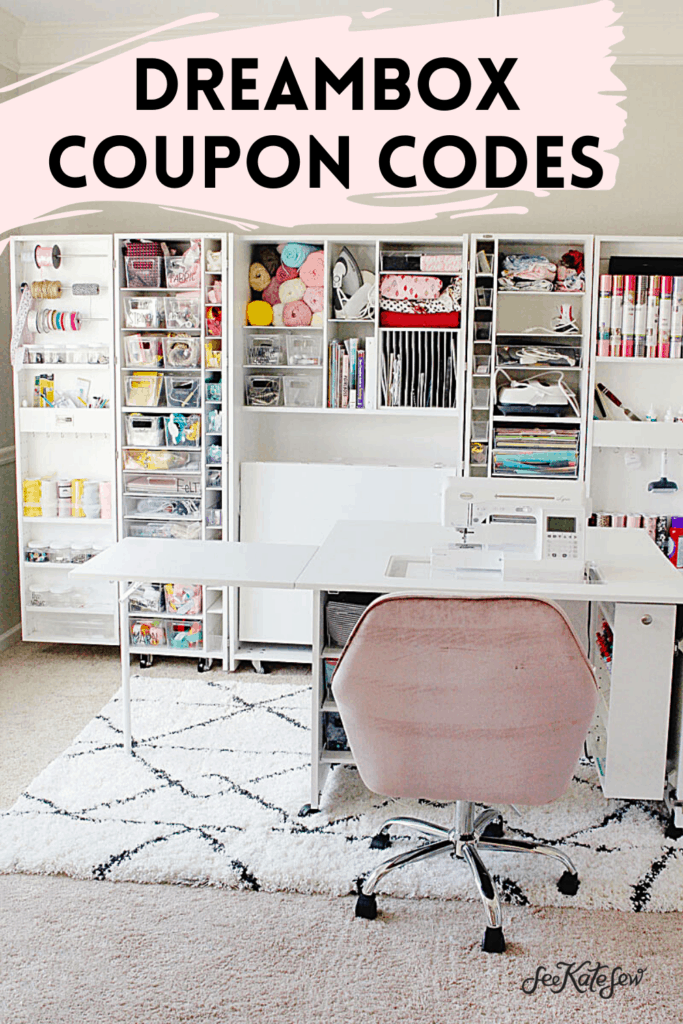 Join my newsletter for Create Room sale notifications and new DreamBox coupons.
Create Room Canada DreamBox Coupon Codes
SKSCANADA for Canada discount.
Create Room UK and EU Promo Codes
Use affiliate code SEEKATESEWEU
Create Room Sales Schedule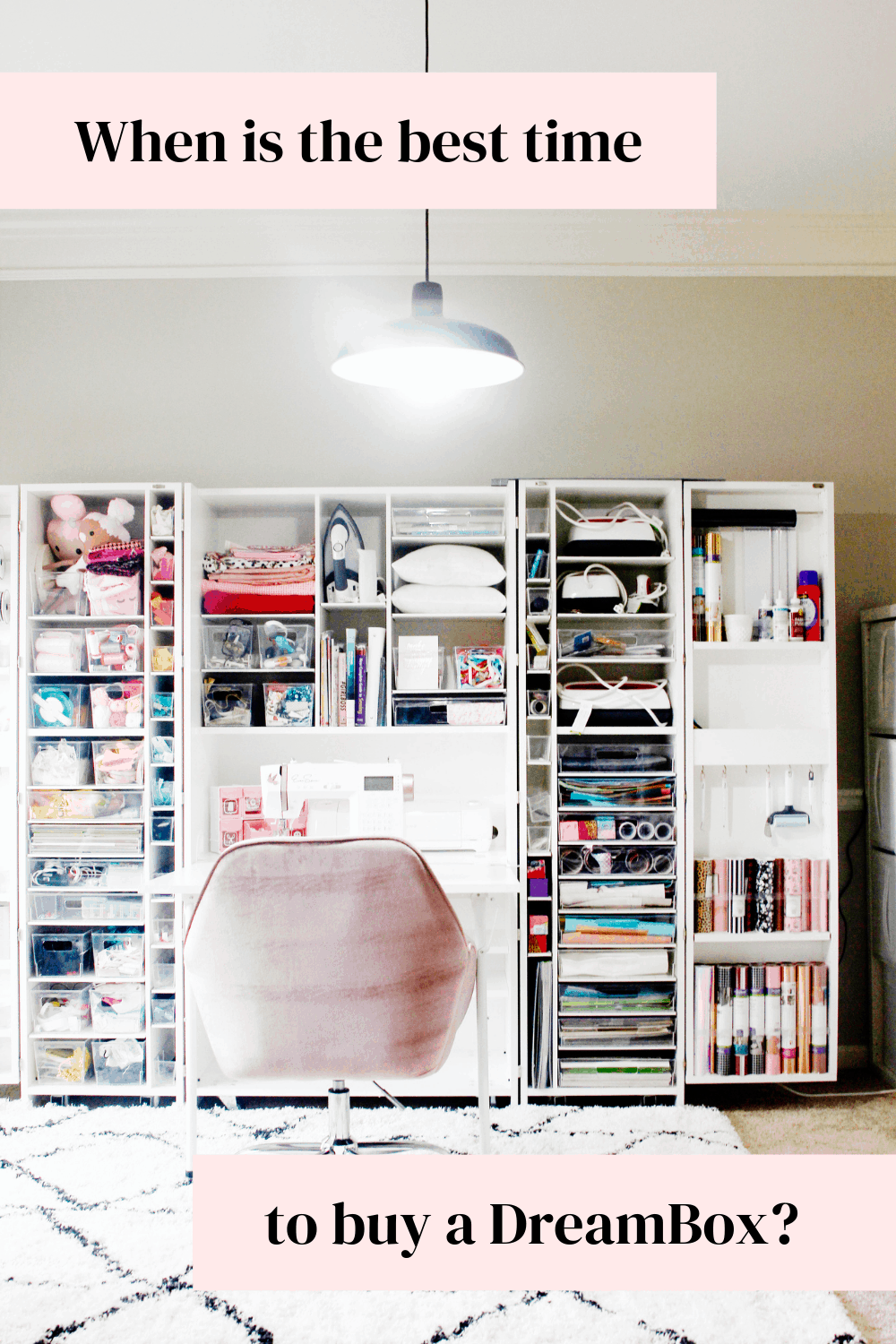 Although nothing is set in stone and sales can vary year to year, there are typically two big sales:
The DreamBox Black Friday Sale comes up in November each year

Create Room typically does a big sale on the DreamBox and accessories. This is the best sale to wait for if you are wanting a decked out DreamBox.
The discount usually goes up when adding accessories and add-on, such as the Sew Station or DreamCart.
Sometimes there are deals on the PreBuilt service, Crown or other accessories you will want anyways

Mother's Day Sale happens in May and is typically similar to the Black Friday Sale
Other sales happen throughout the year, join my newsletter to keep informed!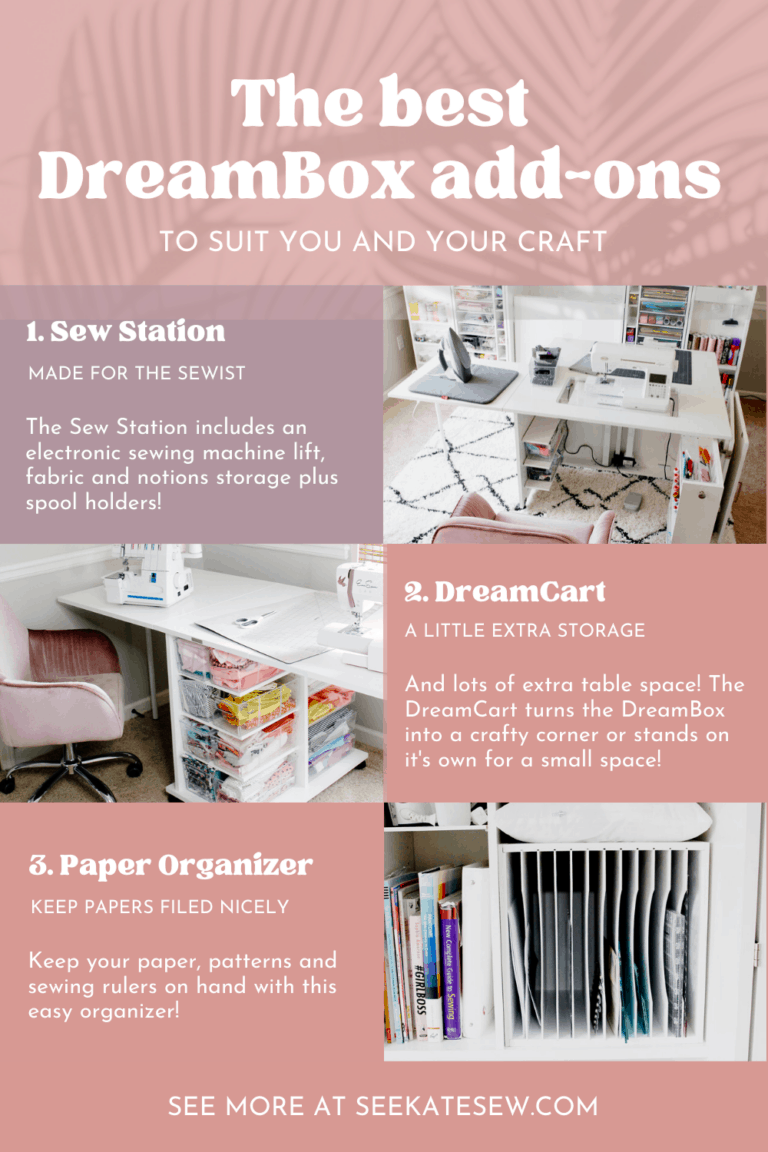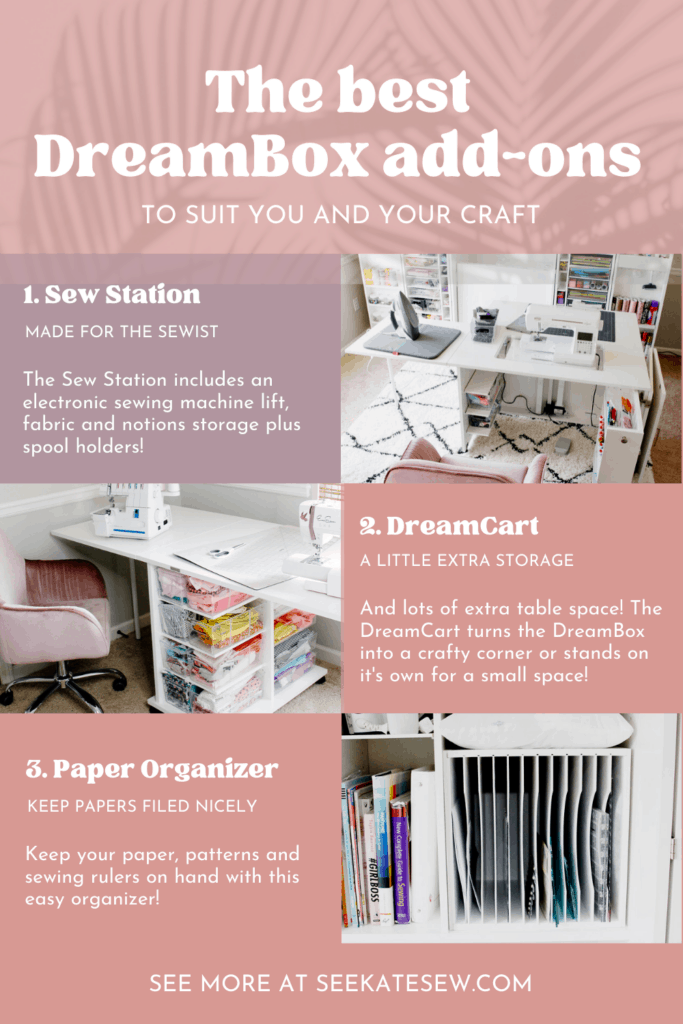 When is the best time to buy a DreamBox?
There isn't really a best time to buy a DreamBox because the sooner you get it, the sooner you can get started organizing your mess. Having an organized craft room will save you so much stress and time – so you'll be more efficient at your craft. If you're using the DreamBox for a creative business, the sooner you get it, the sooner you'll be crafting more productively. With inflation on the rise, the DreamBox has gone through a few price hikes recently, so sooner is better in that regard as well.
If you're planning to deck out your DreamBox will a lot of accessories and add-ons, it may serve you well to wait for one of the 2 *BIG* Create Room sales. The Black Friday and Mother's Day sales have historically saved purchasers up to $1000 – but only if you are buying all the add-ons (think $5000+).
If you plan to buy just a base model DreamBox (around $2000), the smaller sales will give you a great deal. You can always use my code to get $100 off – use code SEEKATESEW to save $100 right now. Keep in mind, you can add to the DreamBox later with accessories, extra tables and more. The code SEEKATESEW will always save you $100.
Sometimes there are discounts on the prebuilt service or other things you may add to your cart.
The only downside to purchasing during a big sale is that shipping times may take a little longer.
DreamBox Craft Storage Recommendations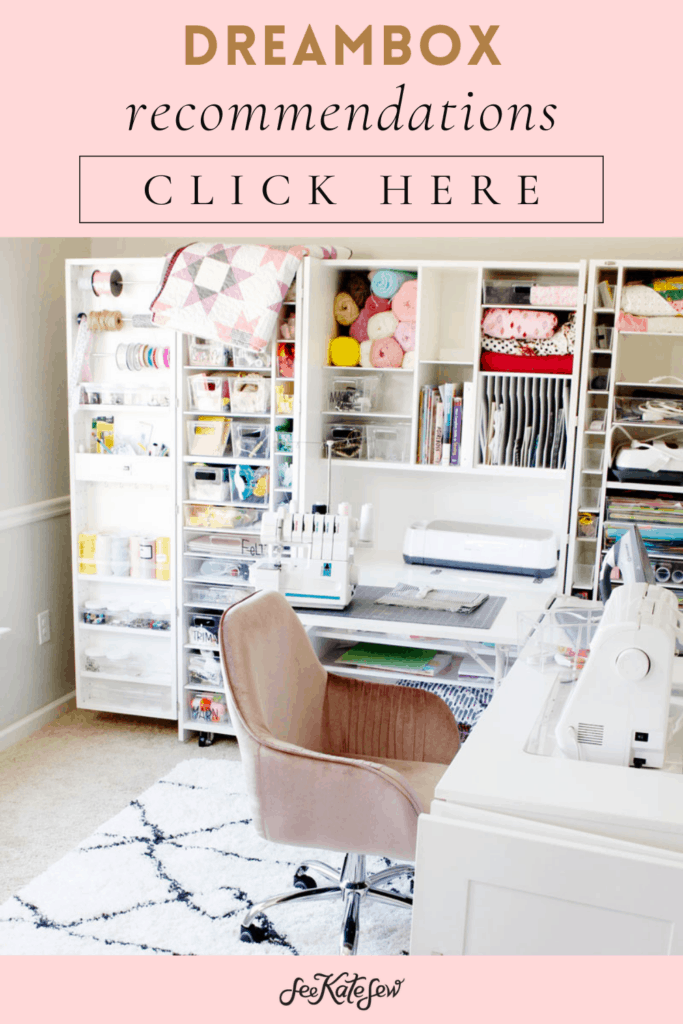 Dream Craft Room Recommendations
The best part about the DreamBox is that most of the accessories and add-ons can be added later! That means you can invest in a DreamBox and then customize it as your needs change.
In this section I have a break down of my favorite options for the DreamBox. Since there are so many things to choose from I'll help you decide what options you need the most as you build your cabinet.
When you get to the Create Room website, you'll find the DreamBox builder. There are lots of options and they change from time to time. The only accessory that is hard to add later is the 3-shelf insert so if you want that, get it now.
DreamBox Style Options
The price changes based on the look of the DreamBox. If you are putting your DreamBox in a shared room and plan to close it, you'll want to pick a style that fits with your decor.
I keep my DreamBox in it's own room and to be honest, I NEVER close it! I just love the way it looks open and its so easy to just sit down and craft when I have a free minute. So, despite having the white Farmhouse style, I never see the front of it! Haha, so if you plan to do that, too, the cheapest option style may be the best one for you!
If you plan to add a Sew Station and/or DreamCart, those only come in white, so I recommend getting a white DreamBox to match.
The Sew Station is an add-on that I definitely recommend! It connects to the DreamBox on the side so you have a whole sewing oasis. You can read all about the Sew Station in this post, but the main features is an electronic lift table that holds YOUR machine perfectly (you get a custom insert) and is sturdy for sewing with speed! There are spool holders and notions storage. It was made FOR the sewist! Before I had this table, I sewed with my sewing machine on the center table of the DreamBox and that works great, too!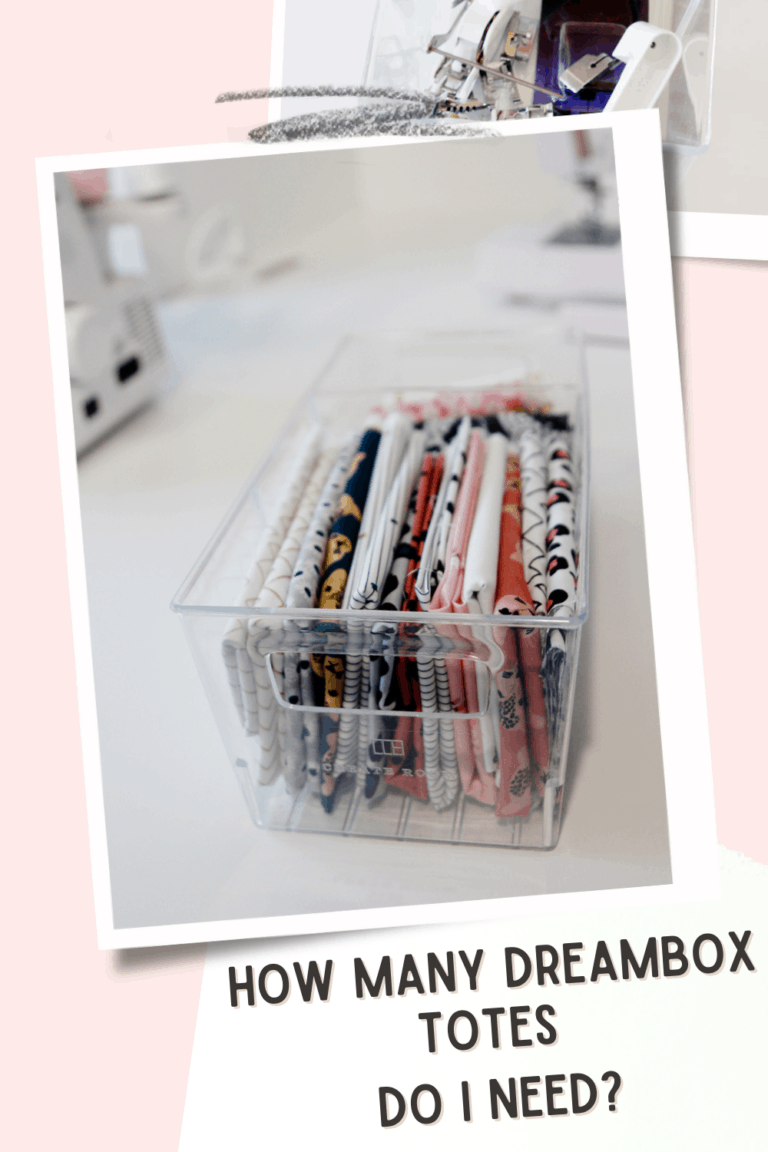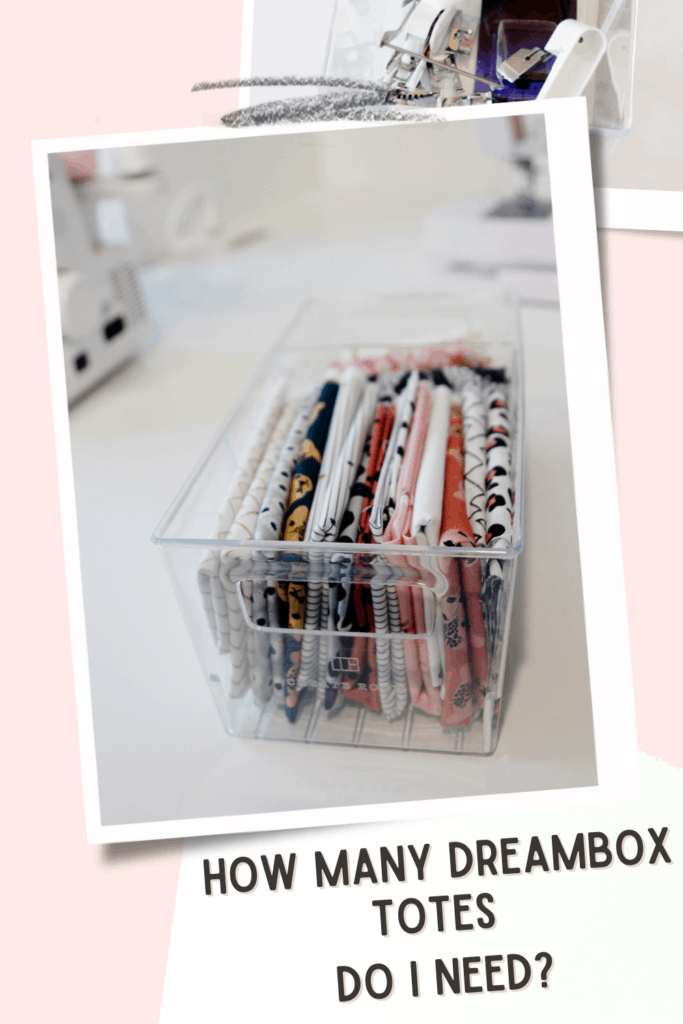 DreamBox Prebuilt Option
Create Room sent me a pre-built DreamBox, which is an add-on service. I definitely recommend the prebuilt service if you can swing it – the whole thing took about than an hour to assemble. If you order the prebuilt service option, the DreamBox craft cabinet comes in 3 parts as shown below and cuts down substantially on the assembly time!
Whether you purchase the prebuilt service or not, the DreamBox comes with curbside delivery!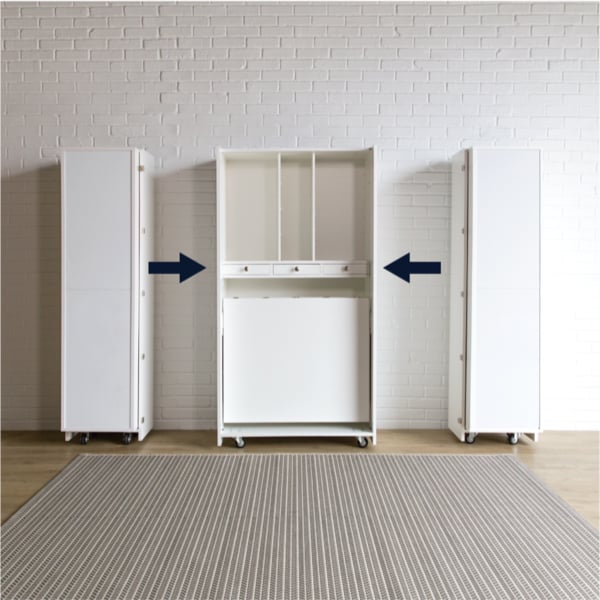 Once you put those pieces together you can decide how to arrange your tote tracks and shelves. The tracks are so easy to install, you just put them in the peg holes!If you want to rearrange bins and shelves later, it's super easy to do. The DreamBox will evolve with your crafts, so it's a great investment piece!
How Many Totes Do I need for my DreamBox?
There is one sorta big decision you have to make when you purchase the DreamBox and that is how many totes to buy. There are two options – a half set (40 totes) and a full set (80 totes). The 80 used to be standard, but the 40 was recently made an option to bring the price down a little.
To simplify the decision, I recommend getting 80 if you NOT be storing fabric in the box and only using it for smaller craft supplies and things. If you are going to store stacks or mini bolts of fabric, you can probably go for 40 totes and fill the rest of the box with fabric. Totes can be purchased later, too, so don't worry too much, the DreamBox is adaptable!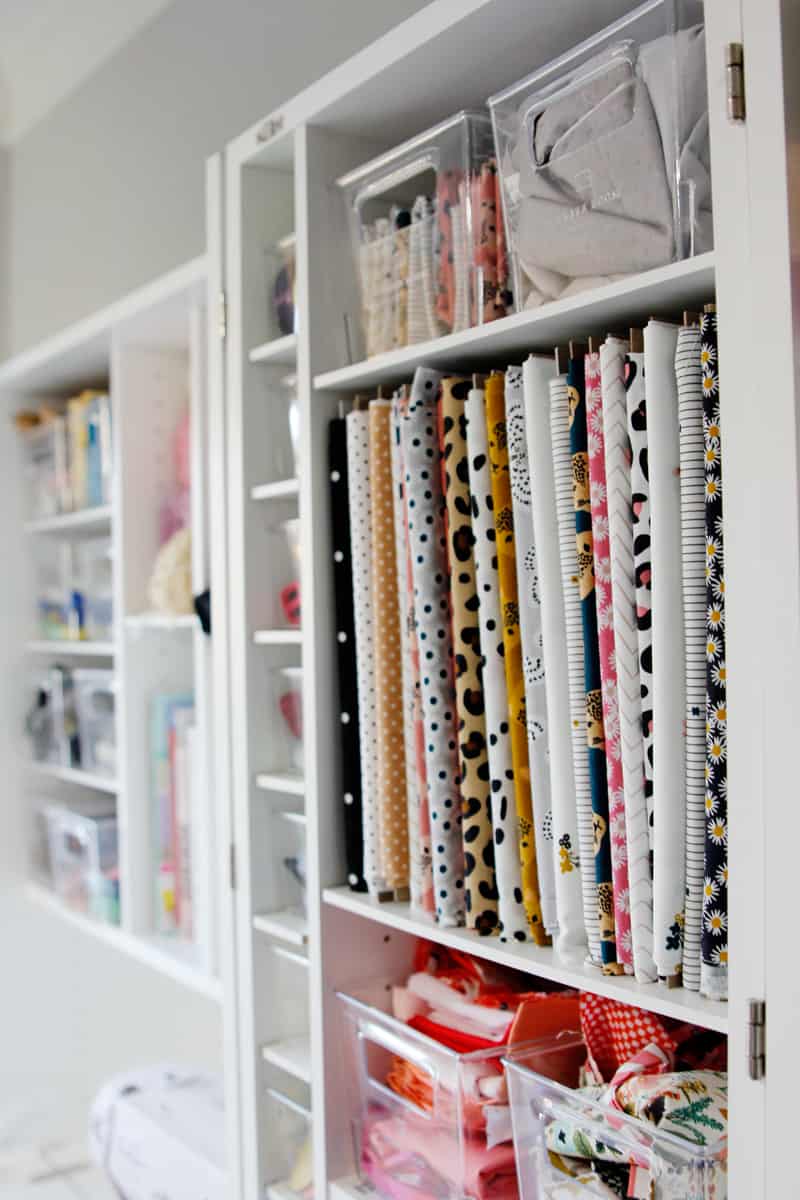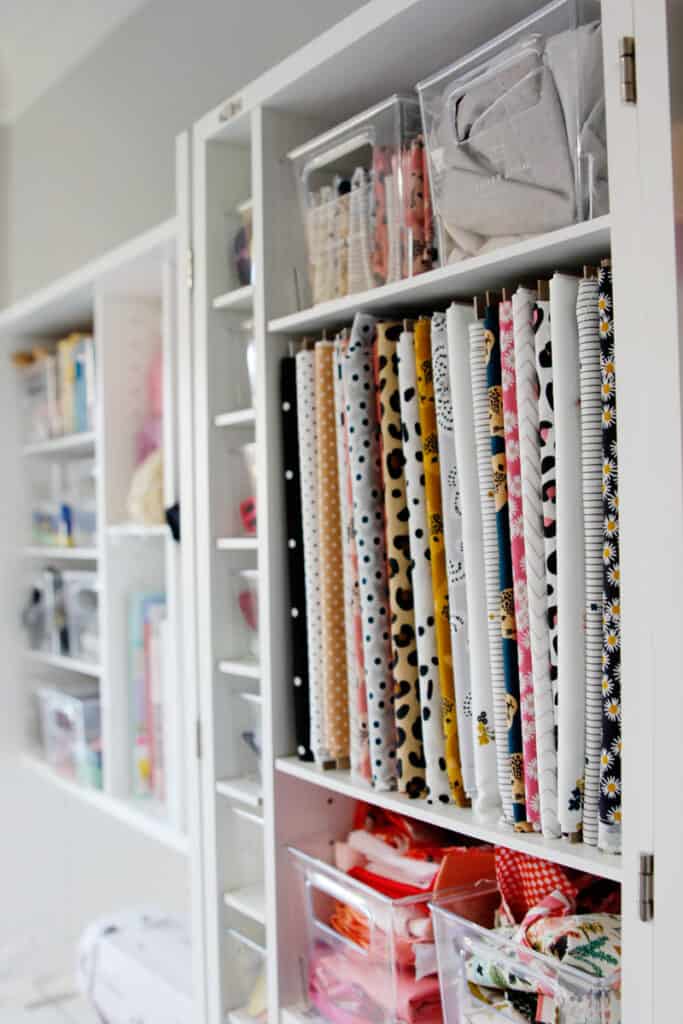 Other cool accessories you can get are extra metal rods, a tool cubby for pens, a drink holder, white boards for planning.
DreamBox Savings Tracker Printable
I created this printable savings tracker to help you get a DreamBox! The DreamBox Create Room created is an all-in-one solution but it is an investment piece! This tracker will help you reach your goal so you can get your DreamBox sooner!
Since the DreamBox can be built different ways with or without accessories, the total price is up to you! Visit the Create Room DreamBox Builder and build your DreamBox to your liking so you know the total price!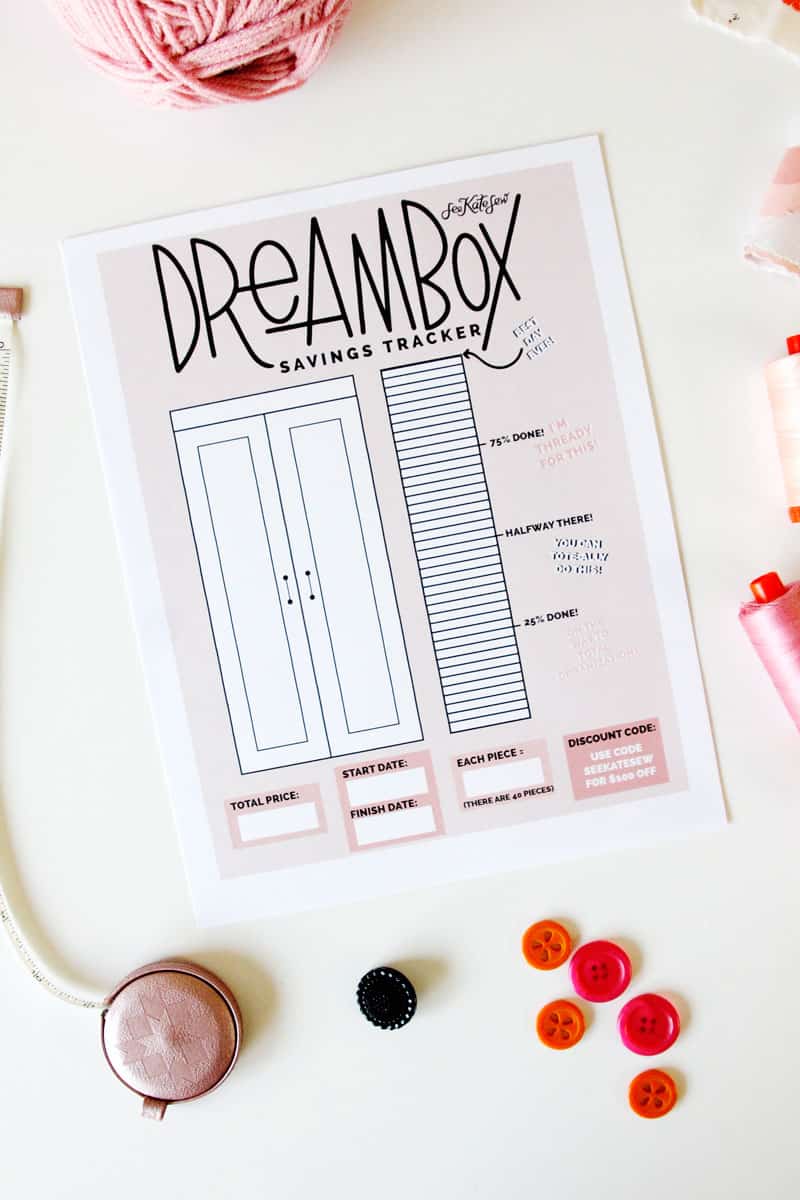 To use the tracker, divide that price by 40 and that is value to save for each of the boxes in the chart. You can decide to save that amount weekly, monthly or etc. until you have enough! You'll be able to set your own start and end date and don't forget to apply the SEEKATESEW discount code for a $100 off, or a free space on the graph!
There are some great craft puns thrown in there, too! Hopefully "I'm Thready for This" and "You can 'tote'-ally do this!" will help motivate you to skip your fancy coffee and stash your cash for craft supplies! Hah! Create Room does have a financing program and you can read about that here.
I hope you love the printable! Click on the button below to download and print! This is an 8″ x 10″ print. It is in color, but you can also print in greyscale.
DreamBox Planner Printable
When I first got my DreamBox I was a little overwhelmed! I got the PRE-BUILT service (which I definitely recommend!) so it was easy to set up – just 3 pieces. But…after that it was just a big empty (gorgeous, amazing) armoire. I stared at it for a few weeks before biting the bullet and just starting with the shelving. It's not that it was hard to set the shelves and organize my stuff….it's just that I didn't want to mess anything up…I wanted it to be PERFECT! So I made this free DreamBox Planner Printable – this printable will help you decide how many totes to order and will help you organize your Create Room DreamBox before it comes!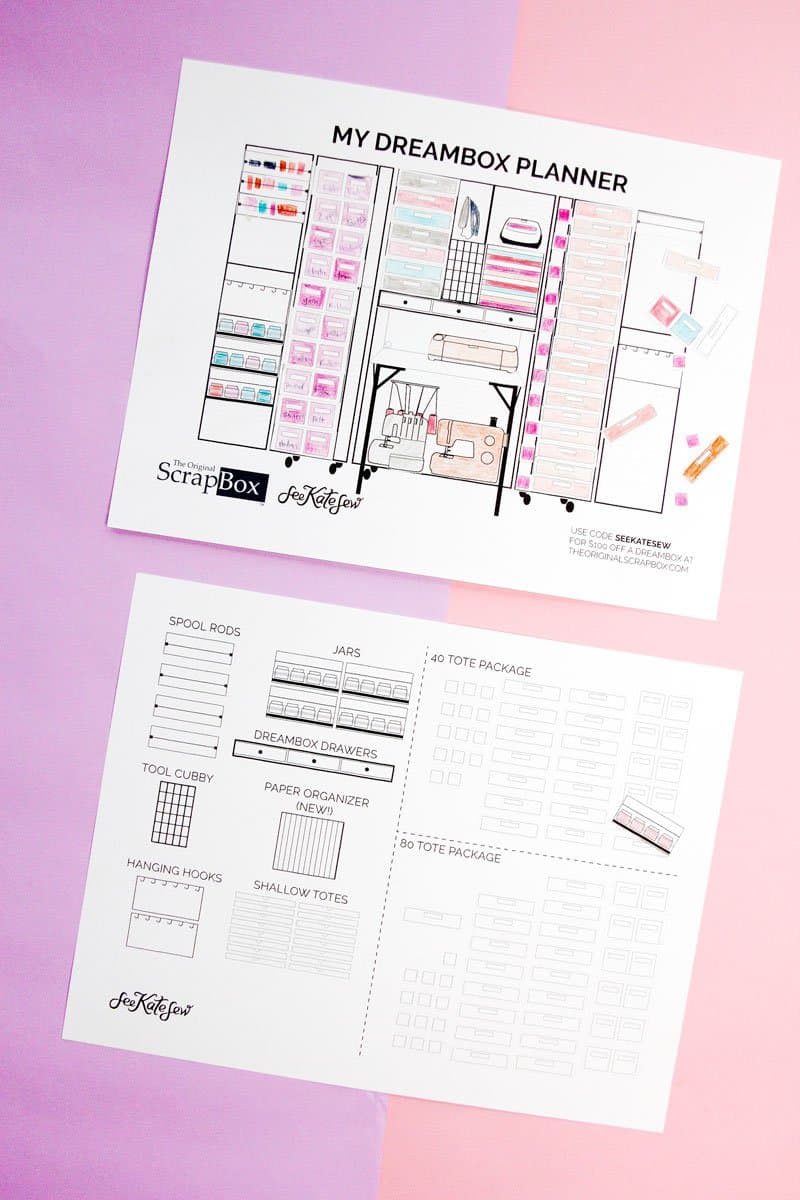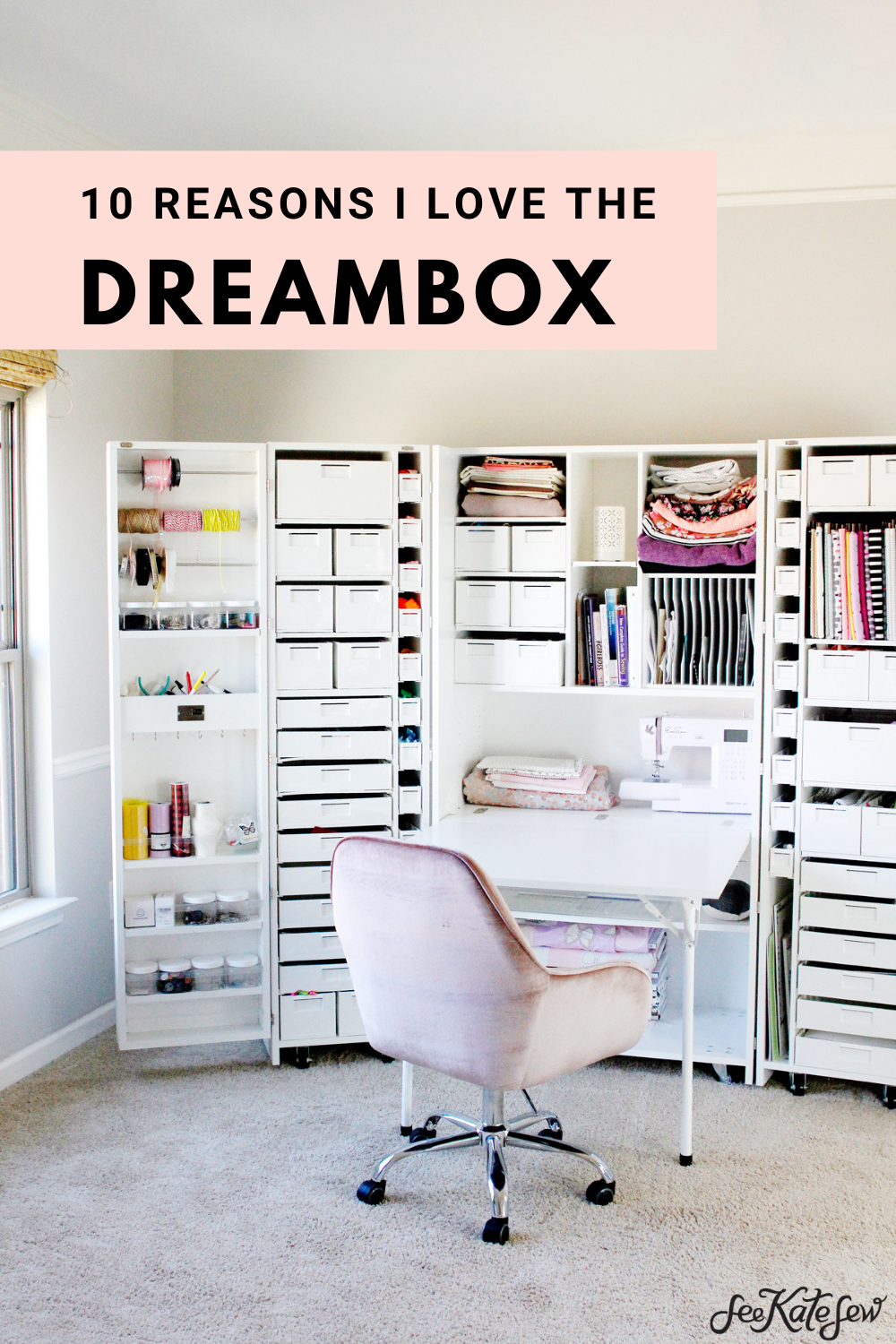 10 reasons I love my the Dream Box craft cabinet
You will never lose your supplies again – With the DreamBox, everything has a place. Storing craft supplies is always tricky especially when you have a lot of them!
More time to craft – With a DreamBox setup, you just sit down and craft! Everything you need is literally within arm's reach. The totes are the perfect size for your supplies so you'll spend less time looking and more time crafting!
Perfect for shared sewing spaces – The DreamBox folds up beautifully into a pretty armoire (see photo below!). So, you can put it in any room and then hide your craft if you need to make room for guests.
Folds up for safety – Craft supplies can be dangerous, so folding them all up can be a way to keep them away from small hands and pets. The DreamBox comes with a wall anchoring kit with a safety strap for added safety. These features make the dreambox great if you have kids.
Save money not double-buying craft supplies – When I broke down all the containers that I used to have my supplies in, I was a little surprised at how many glue sticks I had! So many hot glue gun sticks! I use my hot glue gun sparingly, so every time I needed it, I would buy more glue sticks! But now, I know where they are and I haven't bought glue sticks since. Hah! You can watch my YouTube video tour to see what kind of storage I was using before. It was not ideal!
Inspiration at your fingertips –
The DreamBox has a place for everything – There is so much space in the DreamBox and there are a million ways you can fill it up. The tote and shelving placement is up to you so it will fit your specific craft!
It was created specifically for crafters – These aren't bookshelves turned craft shelves, the DreamBox was designed specifically for crafters. There is a place for everything that is just the right size for your supplies.
Cleaning up is a breeze! – Just take down the totes you need and put them back when you're done! It's so easy to keep the DreamBox neat and organized.
It's expandable and changeable – There are lots of accessories and extra things to add to the DreamBox. You can add a Sew Station and/or a DreamCart for extra storage space. Side tables are an option if you need lots of workspace. The accessories can be purchased later and shelves and totes are so easy to move around. You can continue to customize it as your craft supplies change and grow!
More Create Room DreamBox FAQ
Can you use the DreamBox on carpet?
Yep! I've been using mine on carpet for years. I did originally have a thick rug under it, too, but took it out. It's hard to close with the thick rug, but the carpet is totally fine.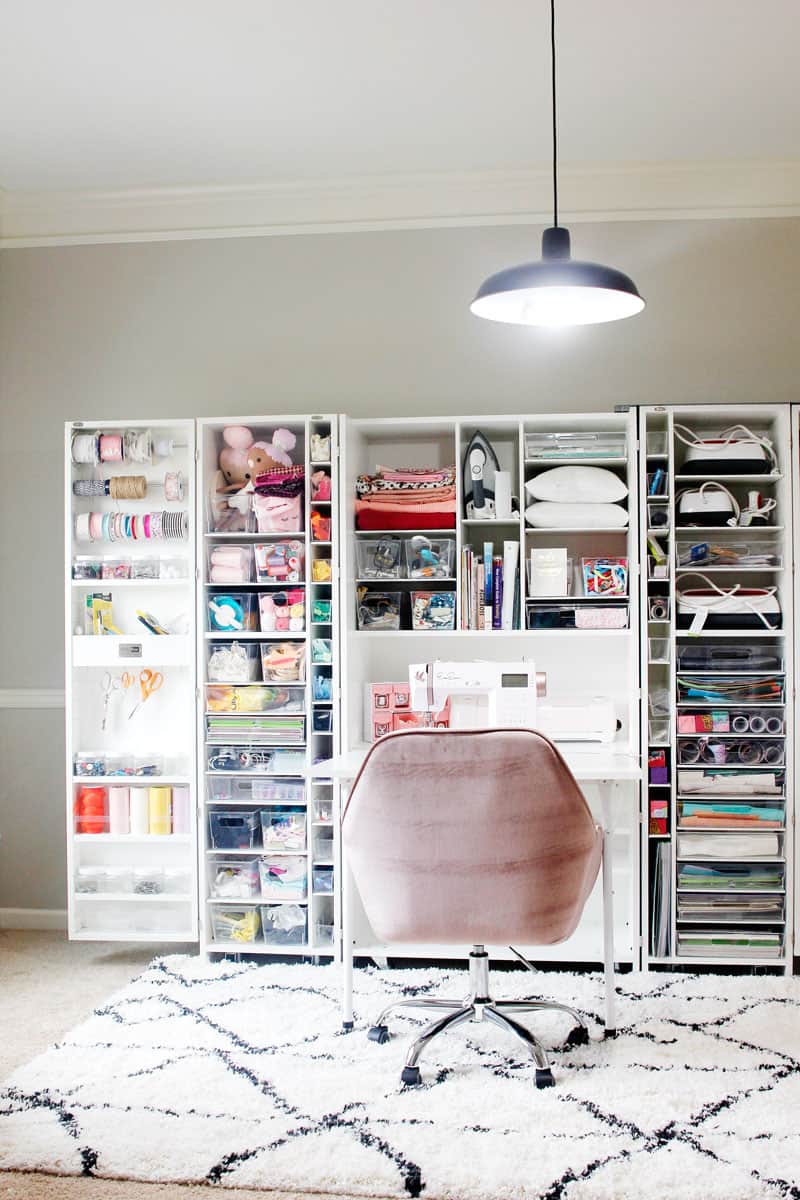 What are the dimensions of the Dream Box? How tall is the DreamBox?
The Dreambox is 6 feet tall and 9 feet wide when fully opened. See other measurements below. The DreamBox can fit in smaller spaces or corners because the sides fold out and can be angled.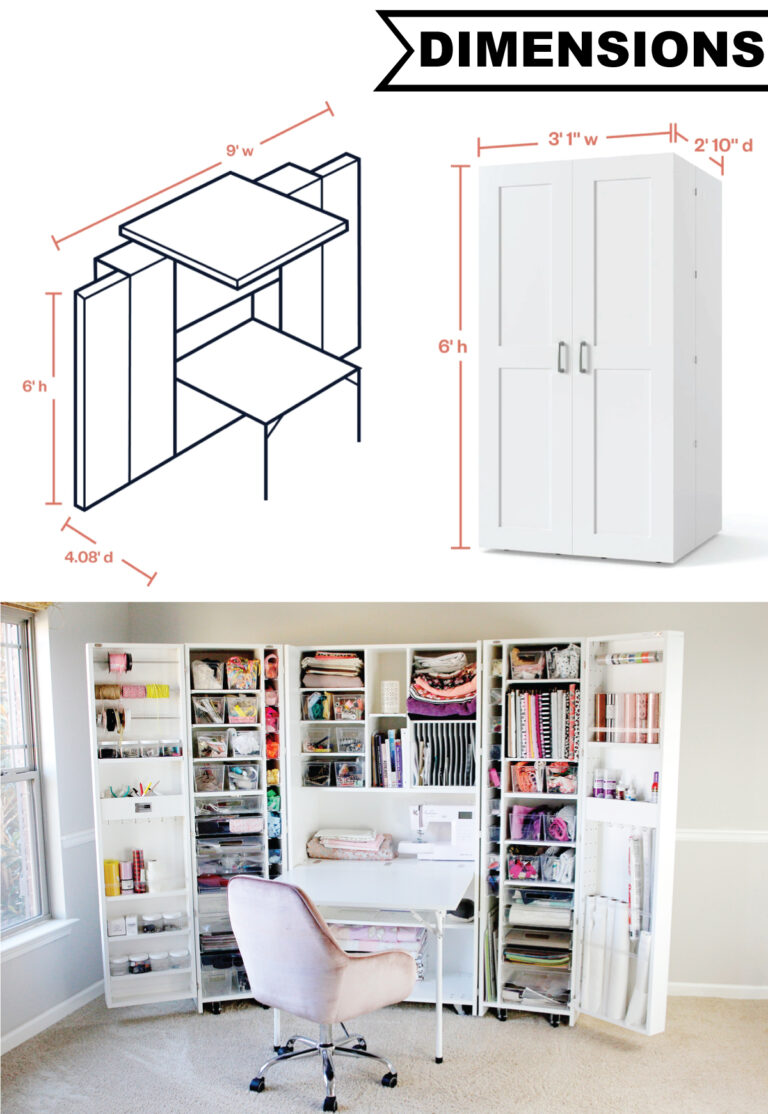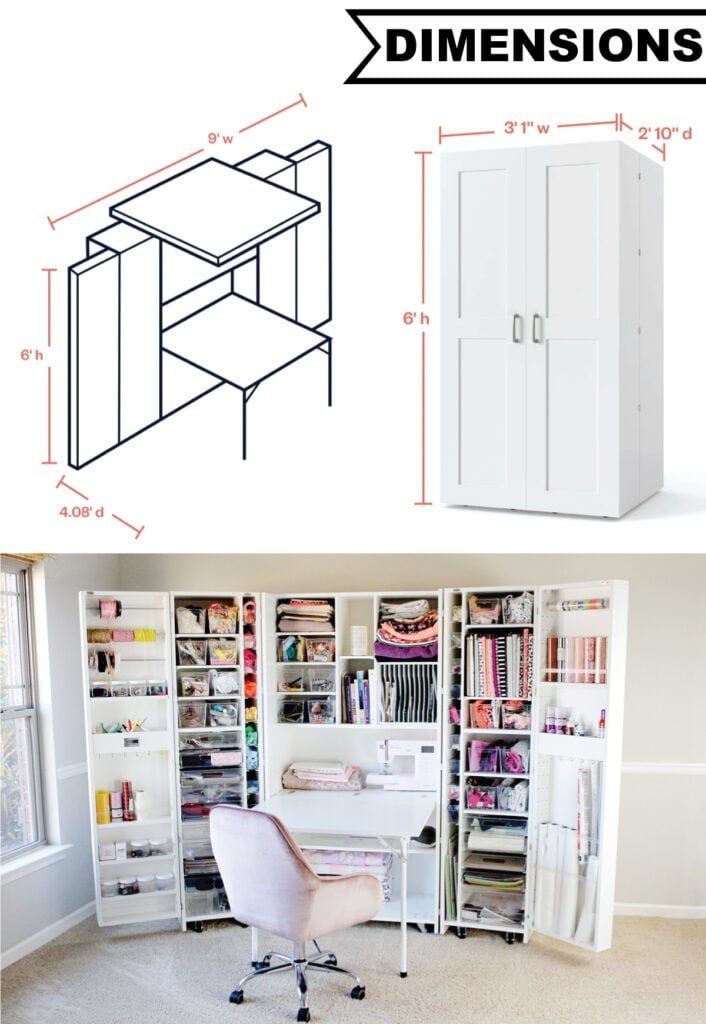 How much does a DreamBox Cost?
The DreamBox price starts at $2399 and goes up depending on which accessories and add-ons you choose.
What comes with a DreamBox?
The base model comes with 40 storage totes, shelves, tracks, wheels and all hardware needed to assemble.

Overall, I love my DreamBox storage cabinet. This cabinet truly turns any craft space into a productive studio! The feeling I get when I walk into this room is so calming. The DreamBox makes any room inviting, organized and conducive to creativity! I definitely recommend the Create Room DreamBox for any crafter! The createroom dreambox is great for the hobby crafter to business artist. Now, if you'll excuse me, I have to get back to that room!
I hope this DreamBox review answered most of your questions! If you have any others leave them below!
If you liked this post, you'll love my 10 clever craft room hacks!