Last week on sytyc:


I made this crushed ruffle tote from all hardware store materials. (That was the theme: hardware store!) These are a new take on my smashed ruffle clutches. The ruffles on the front look a little different because of the thicker material. It was hard to sew through so many thick layers, but I'm happy to say I didn't break a needle!


This week is the next seasons audition round. You can go vote and see who is participating. And next week will be the finale.
……..
turquoise ruffle printed flock totes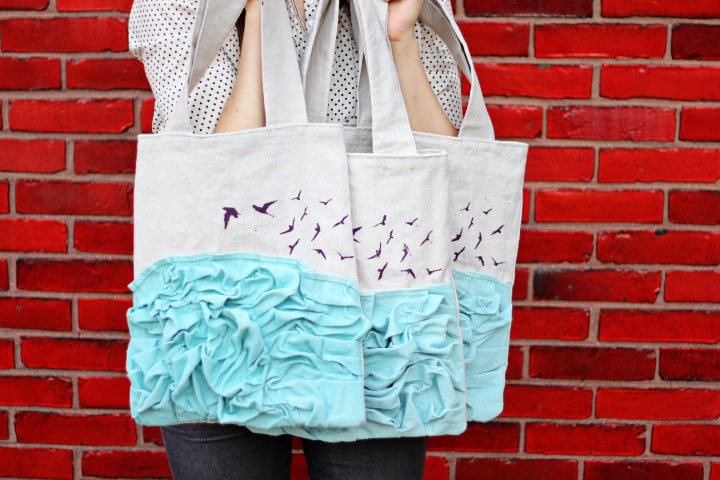 You may be thinking "You made those from hardware store materials?" The hardware store is a crafters dream but I really wanted to sew something. So I found the only "fabric" in the store: A painters drop cloth in one color, natural canvas. I also used: spray paint, sample wall paint, masking tape and contact paper. I spray painted some of the fabric turquoise and left some natural.
Then I screenprinted the fronts of the bags using my other materials and sewed them all up into cute totes for summer, with a crushed ruffle effect on the front. Lots of steps, but the result is…well ruffly, summery and so unique. This is some heavy duty sewing. Not for the faint of heart. And this bag is made to last, it's so sturdy!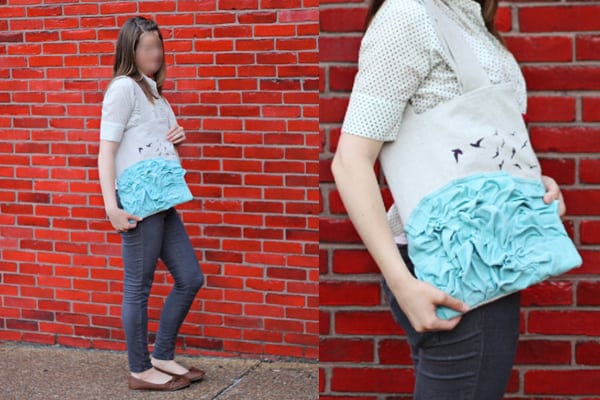 The crushed ruffles look sorta like beachy waves, so I printed a flock of birds on each tote, for the perfect summery tote. And take a look inside. It's fully lined! Plus there's a little cell phone/sunscreen/snow cone cash pocket!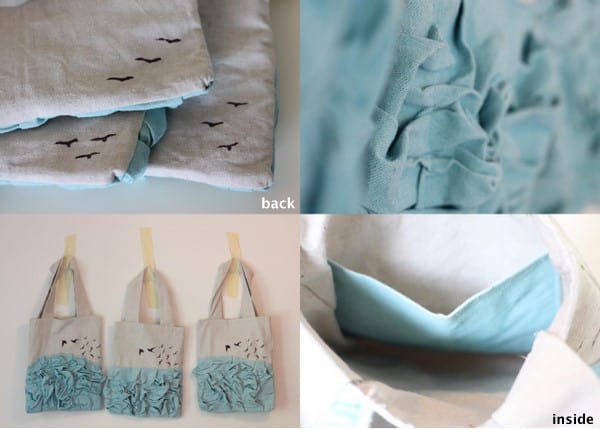 To make each one unique, I printed a mini flock of birds in different formations on the back corner of each one. Birds, turquoise, bags, what could be better? One drop cloth yields THREE fully lined crushed ruffle totes + a little painters cloth to spare!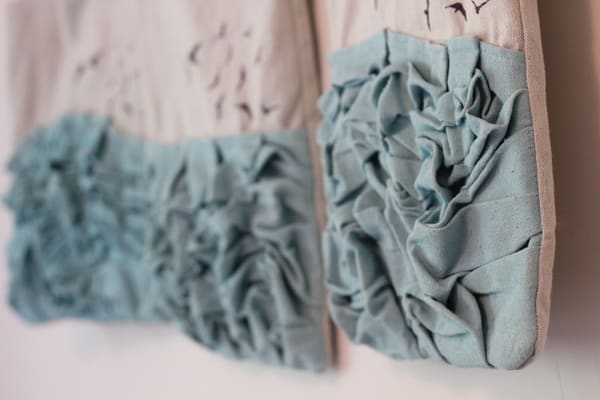 p.s. if you want one, I put the extra in my shop.. oo la la!