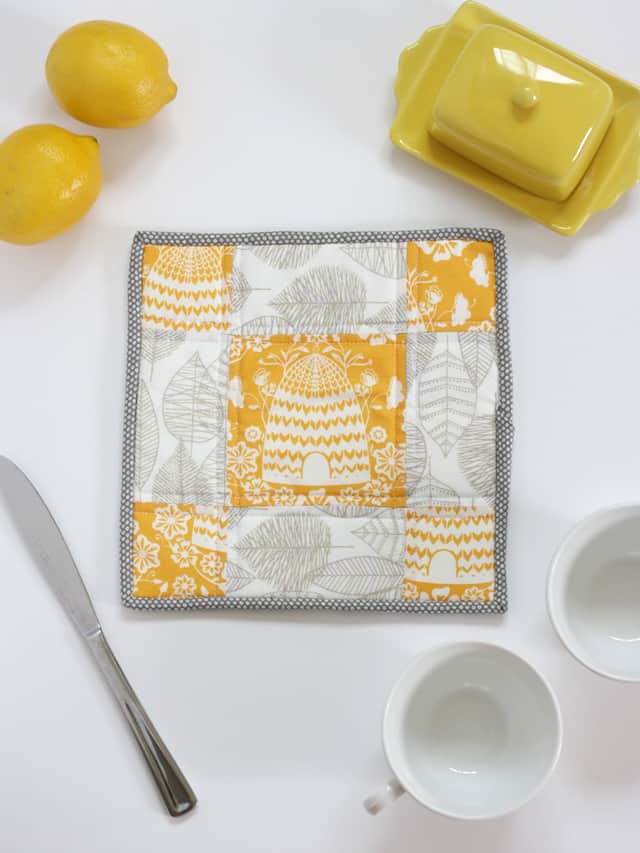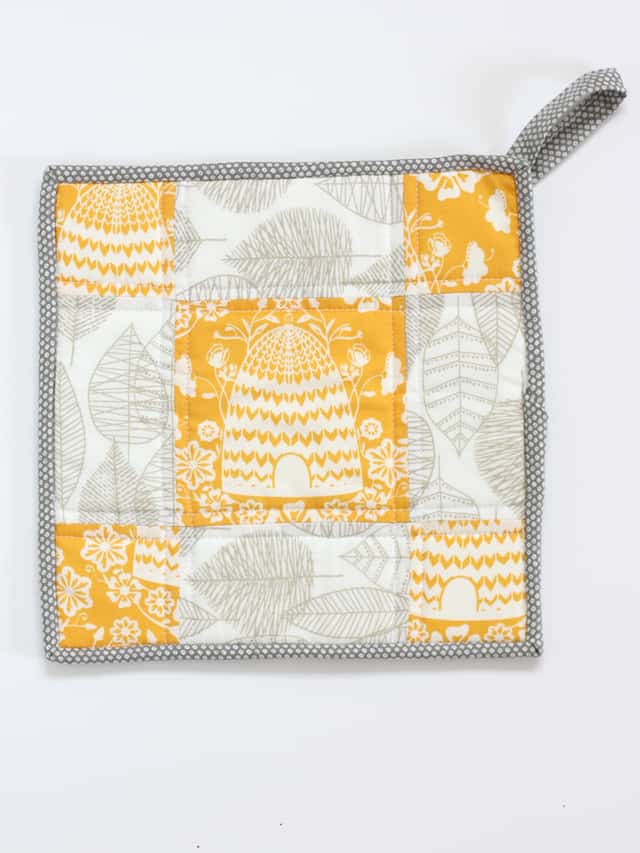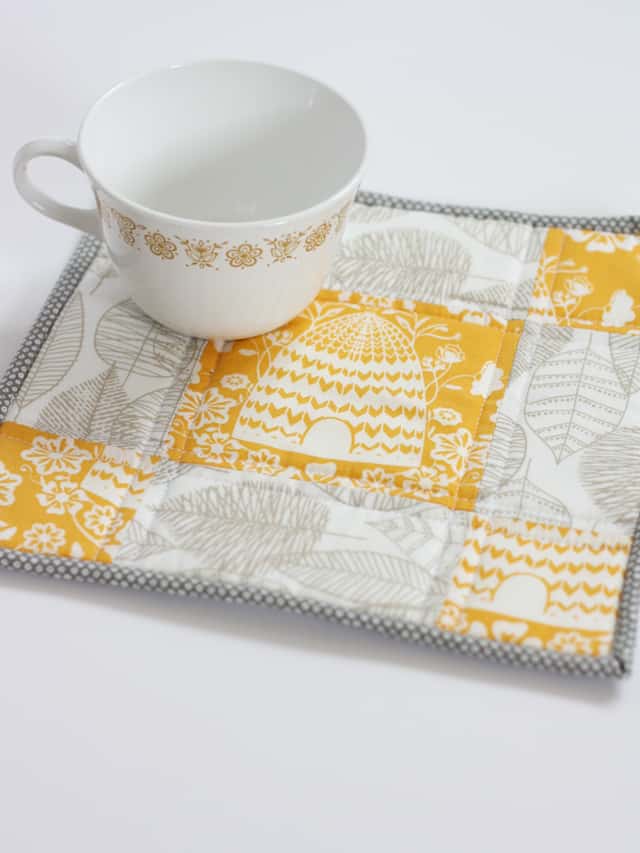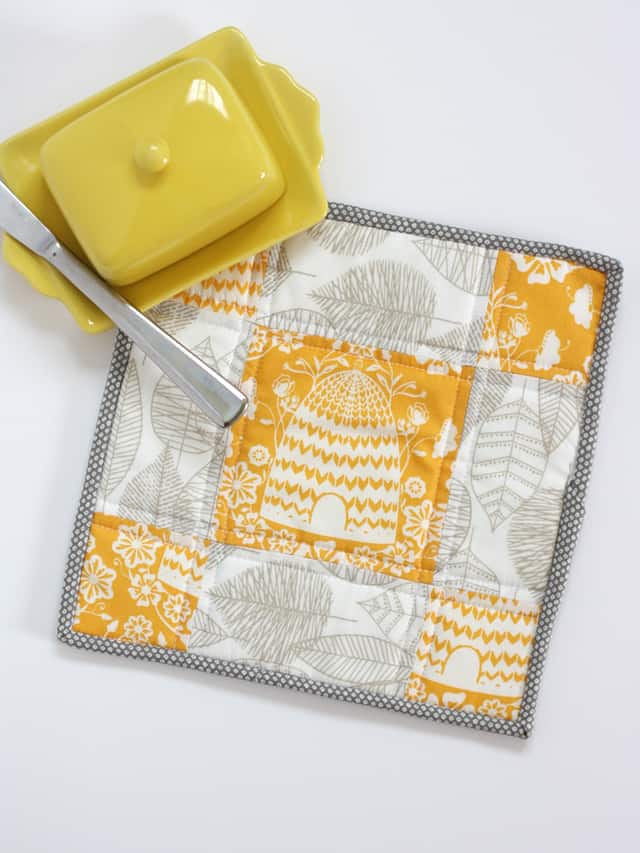 Hey crafty friends, Michael Ann here, from Michael Ann Made, with a cheery little kitchen craft.A handmade potholder may seem like the cheesiest beginning sewing project ever, but I love giving darling, extra special potholder as gifts. My mother in law still uses the potholders I gave her a couple Christmases ago! With bright cheerful fabrics it's so easy to make a little potholder that looks more Anthropologie and less old Aunt Betsy…The extra bonus is that potholders are basically teenie tiny quilts. If you've ever wanted to make a quilt but have been too intimidated, make a couple potholders to practice. So let's get stitching!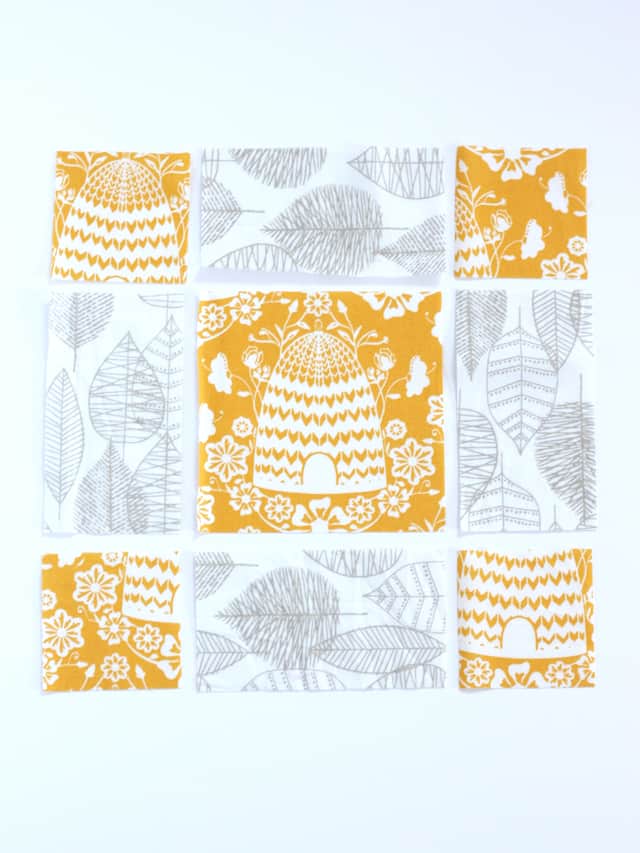 DIY Patchwork Potholder
Supplies You'll Need –
1 – 4.5″x4.5″ center square
4 – 2.5″x2.5″ corner squares
4 – 2.5″x4.5″ contrast rectangles
1 – 9″x9″ background square
3 – 9″x9″ batting squares
40″ strip of 2″ binding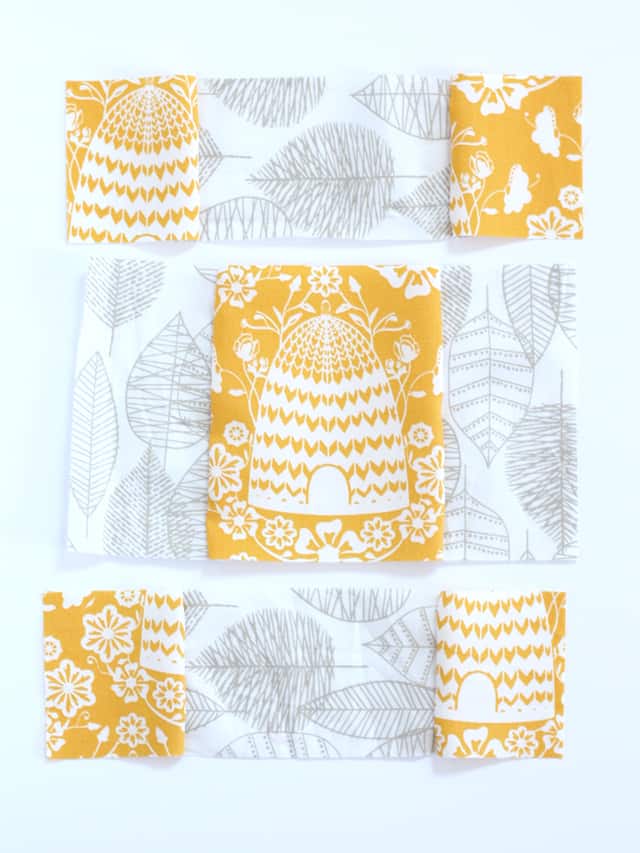 Layout the squares for the front patchwork piece as pictured. Sew together each row using 1/4″ seam allowance. I like to press my seams open.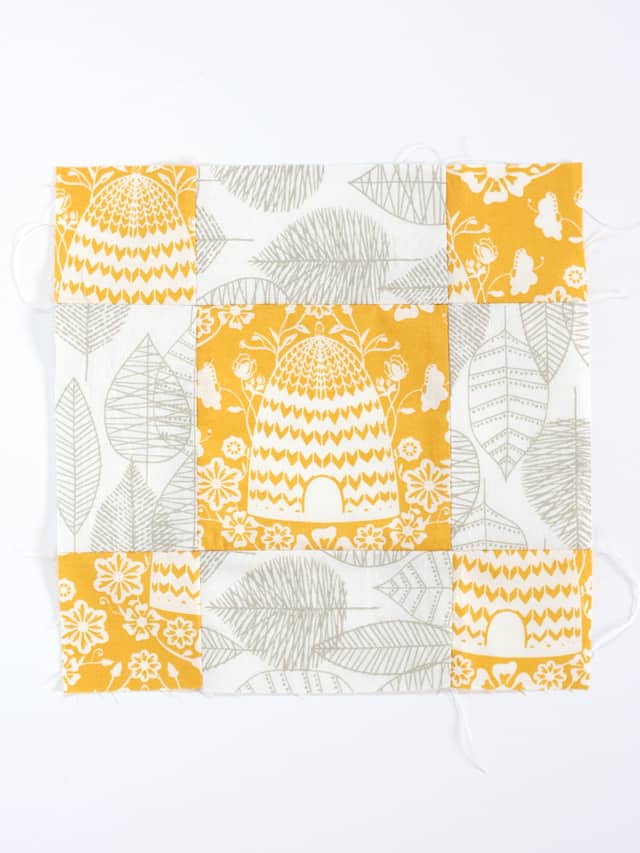 Sew your three rows together and press the seams open. And look! You've just made a quilt block!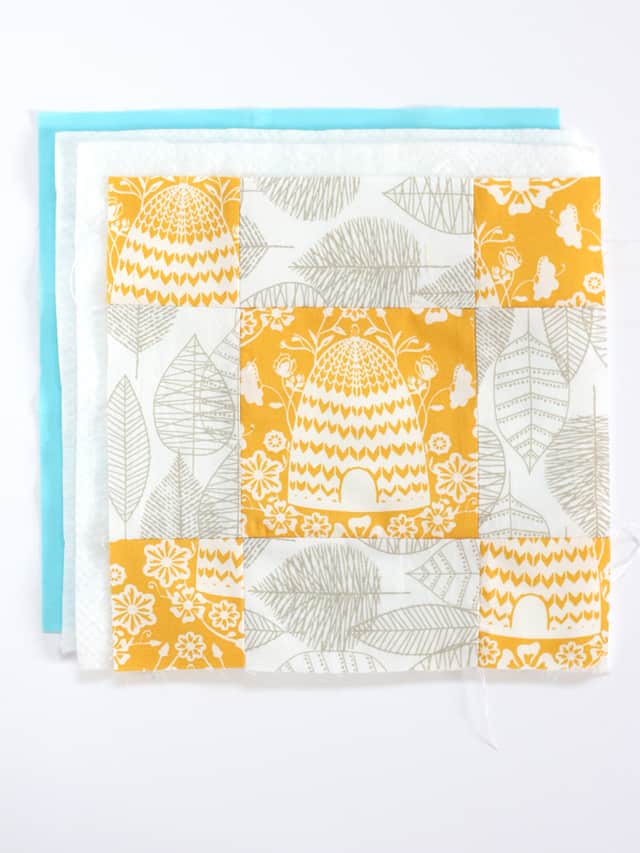 Now to make your "quilt sandwhich". Place your background fabric face down, and place your batting on top. Center your patchwork top on top, right side facing up.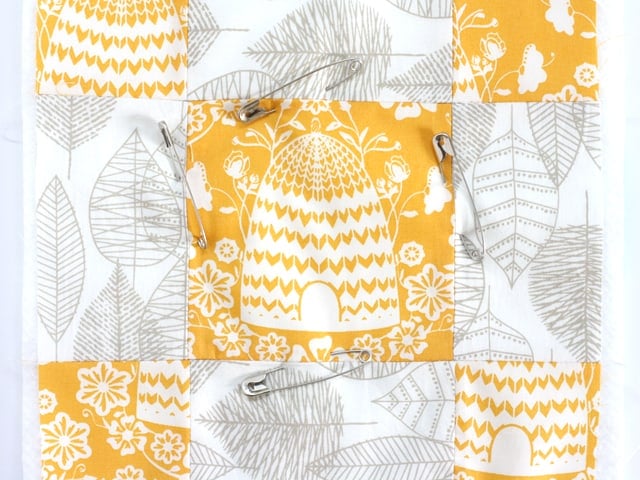 Baste your layers together with a couple large safety pins to keep it all together while you sew.
Now for the quilting! Quilts have stitching on top of them to keep the layers of top, batting, and backing together while you use it. A project of this size is very easy to quilt on your own machine with no special equipment. It helps to have a sharp needle, and to use a bit longer stitch length.
Decide on a pattern and stitch it on top, through all layers. I echoed the lines of the top patchwork pattern, a 1/4″ away from the seam lines.When you're done, trim away the excess batting and backing, using a rotary cutter and ruler to make sure it's all nice and straight.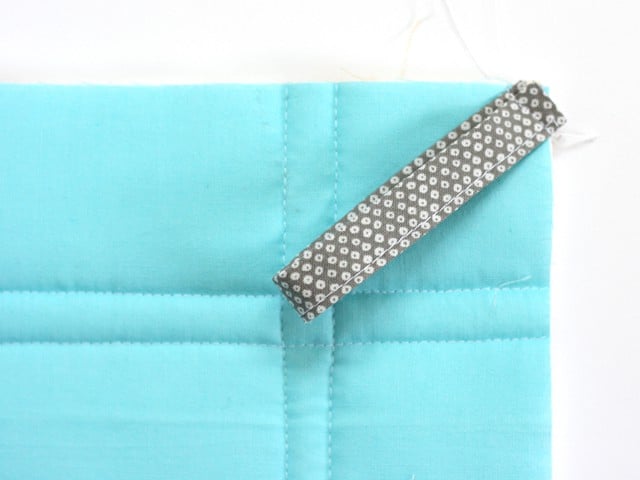 Make a little loop from a couple inches of your binding by stitching it together on the long end, folding it, and then tacking it to the top corner.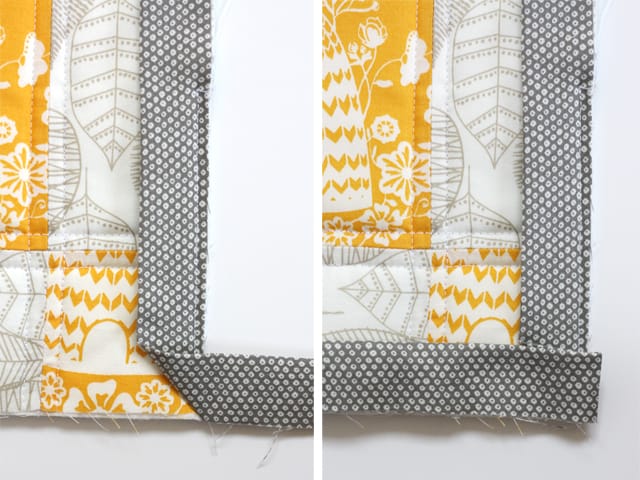 Begin binding your potholder by stitching the unfolded edge of your double fold binding to the raw edge of the top of the potholder. Stitch a little less than a 1/4″ away, and leave a couple inches of binding free at the top of your stitching.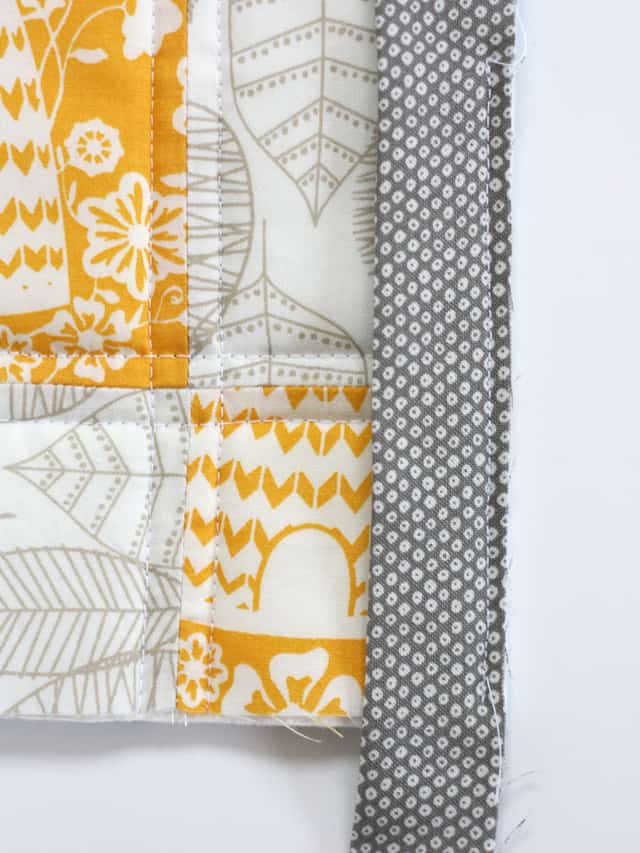 To make fancy mitered corners, stop sewing and backstitch when you hit the end of a side. Fold the binding away from the corner, and then back towards it, creating two extra triangles of fabric at the corner. When you flip this all over, it will make a neatly folded corner! Now just continue stitching from the end you just folded.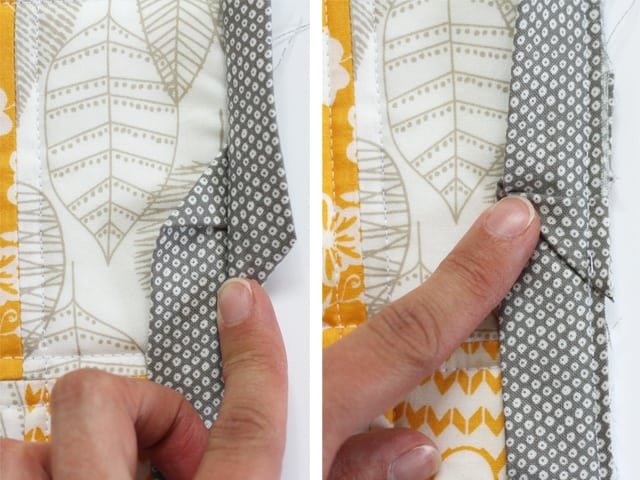 Right before you hit the place you began stitching, create a triangle fold with the extra fabric from the beginning. Then create a triangle fold with the end strip of binding. Stitch both of these down and the ends of your binding will be neatly folded under.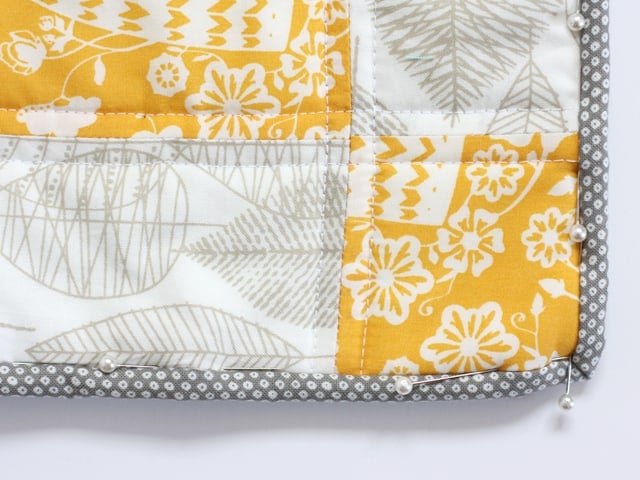 To finish the binding we will fold it around to the back and then stitch it in the ditch from the top. To do this, first iron the binding over to the back of the potholder. Make sure that it hangs over the original stitching line. You can make sure that it does by placing pins from the top side along the stitching line.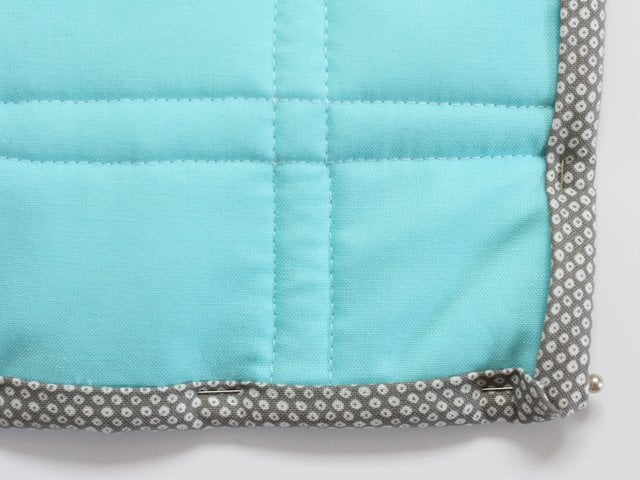 When you flip the potholder over, you should be able to see the pins poking through the binding.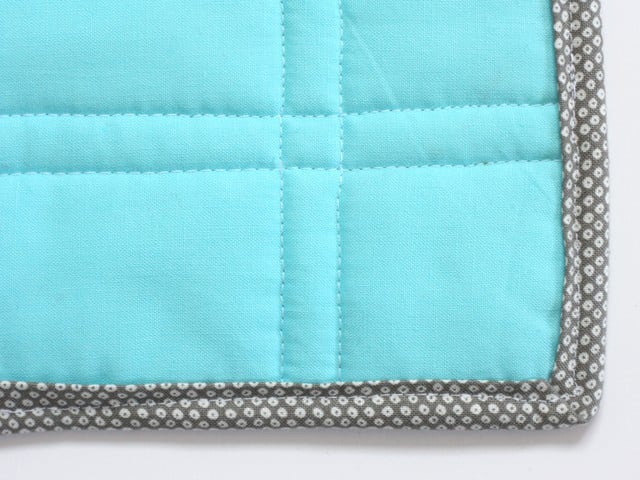 Now we will stitch it all down, from the front, by placing the stitching line right inside the stitching line of the top and binding. When you reach a corner, keep your needle down and turn the potholder around to continue on the other side. Once you hit the beginning, backstitch and you're done!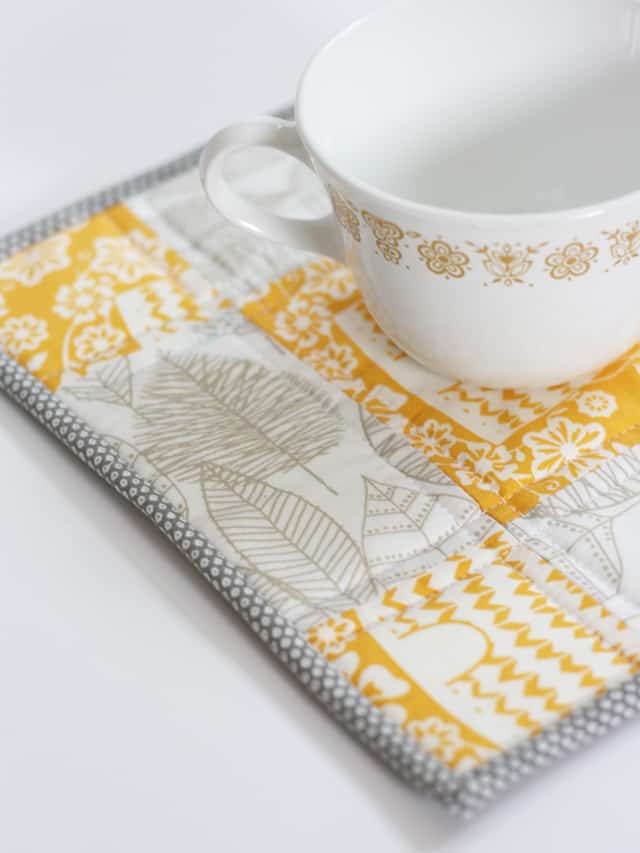 And there you have it, you've just made the tiniest quilt ever! And you can use it to serve delicious baked treats straight from the oven, even better, yum! Good luck with your stitching and hope you have fun!