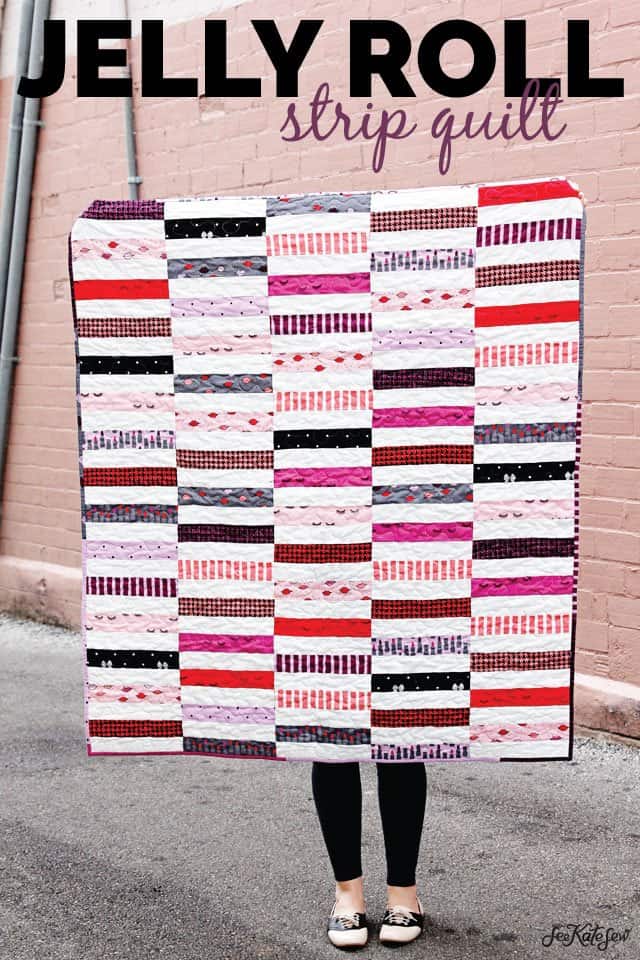 It's time for Quilt Block of the Month with a Jelly Roll Strip Quilt! This quilt block is very easy and uses a 2.5″ strip which you can buy precut in jelly roll (rolie polie) form! The Jelly Roll Strip Quilt uses 1 jelly roll / rolie polie and 1 solid coordinating color (I chose off-white!)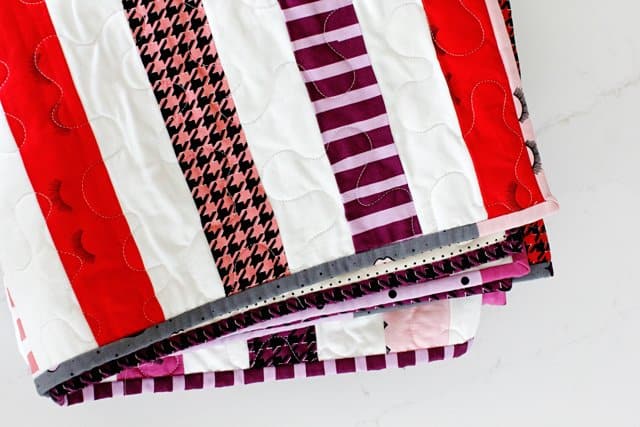 You will have extra fabric from the jelly roll left over so you can use it for other projects. The pattern comes together quickly and makes a lap-sized quilt. I am always amazed at how quickly quilts come together and using a jelly roll makes it even faster! So the jelly roll strip quilt can be made in an afternoon!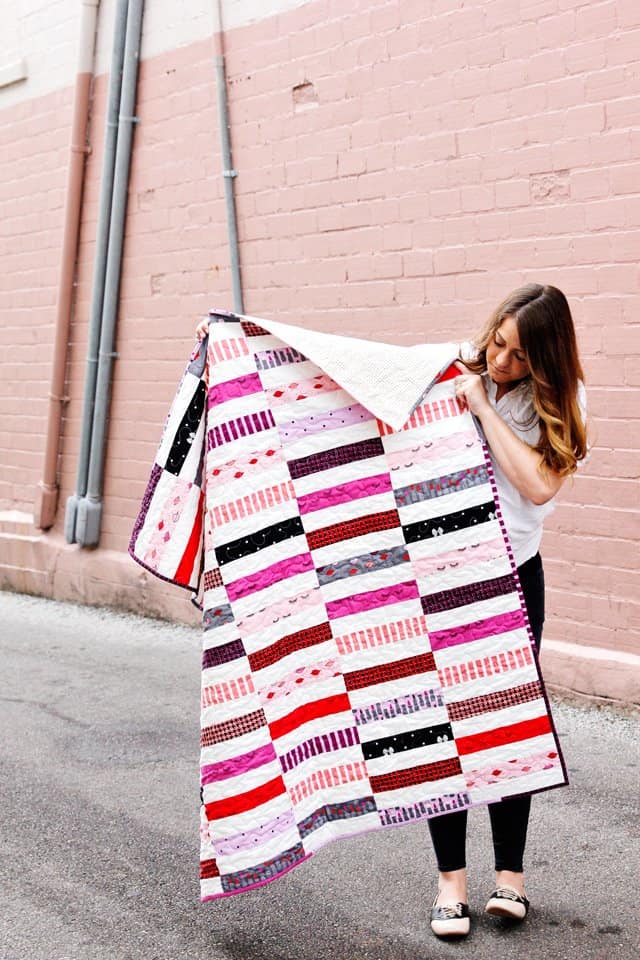 This quilt doesn't actually have to be made in blocks, you can just make vertical strips and sew those together, but I like the idea of making 1 block at a time to more easily digest the project! It breaks it down a bit and then you have more control over arranging the patterns in a nice way, since you can lay out the blocks and switch them until you find a combination you like.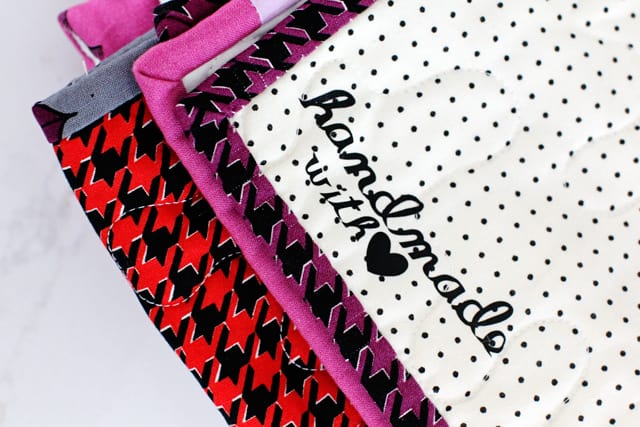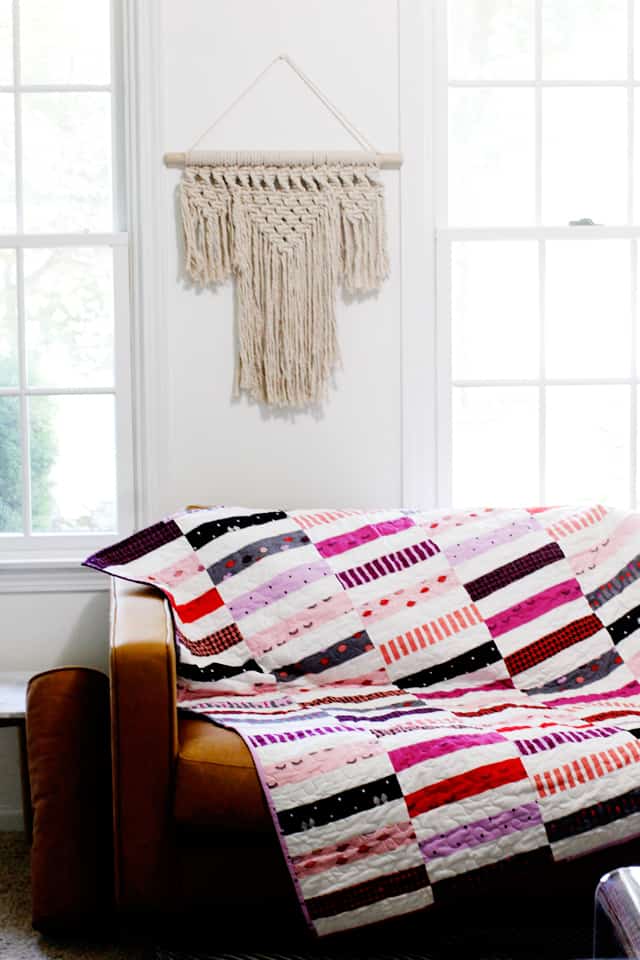 The final block size for this pattern is 10″ by 10″ so it correlates with other QBOM posts. They all end up the same size, so you can mix and match them to create your own custom quilt, or a sampler to practice different quilting techniques. I had this quilt machine quilted with a squiggly pattern. With a simple, bold pattern like this, you can use really use any longarm pattern for quilting it. The final size is 50″ by 60″.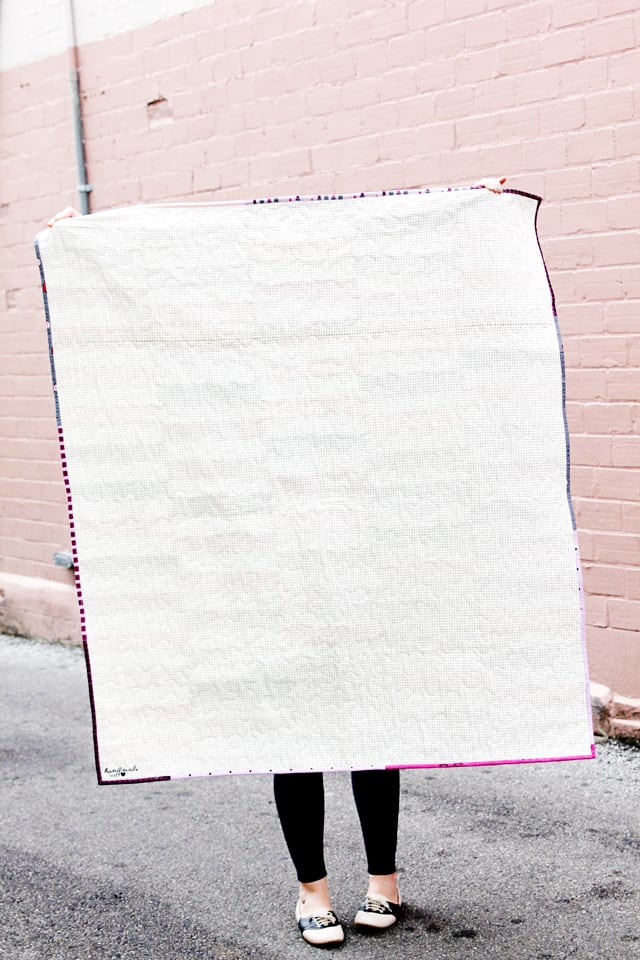 This quilt is made with my new fabric line – Kiss Me, Kate – and it's available now! You can buy the Rolie Polie of this line at Fat Quarter Shop. I used most of the prints, but filtered out a few of the mostly white ones just so there was a better contrast between the solid white strips and the patterned strips. I had a bit of the jelly roll left over after, I used leftovers for binding and still have some to use for other projects! 2.5″ was already cut to a good starting size for binding, so it just made it very simple!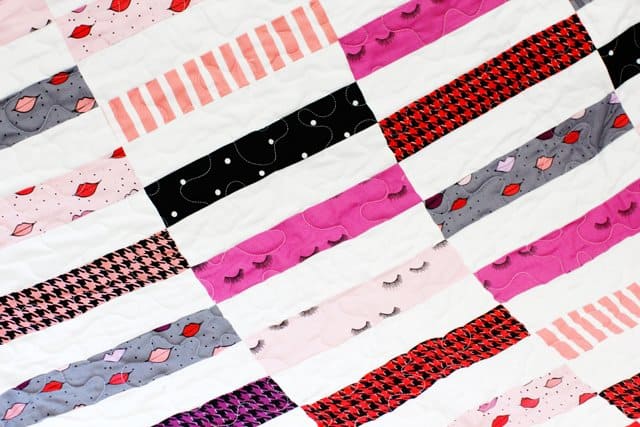 Check out other Quilt Block of the Month Tutorials:
–You're a Gem Quilt
–Coffee Cup Quilt Block
–Makers Gonna Make Quilt Block
–Pixie Dust Quilt Block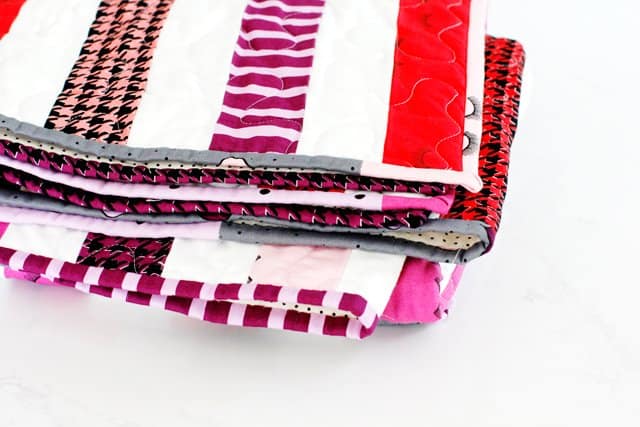 Materials//
–Kiss Me, Kate Jelly Roll
–1.5 yards Solid Off White Cotton
–Rotary Cutter, Mat + Ruler
-Backing Material
–Batting
Instructions//
Cut the jelly roll strips down to 10.5″ long. You need a total of 75 strips.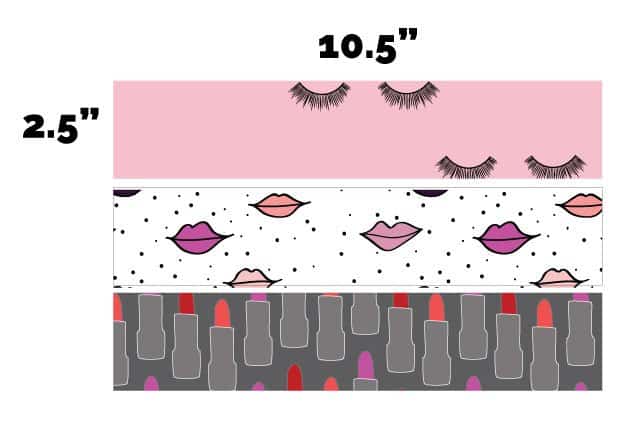 Cut strips from the white cotton 2.5″ by 10.5″ wide. You need a total of 75 strips.
There are two blocks in this pattern, they are the same block inverted and turned. You'll make 15 of each.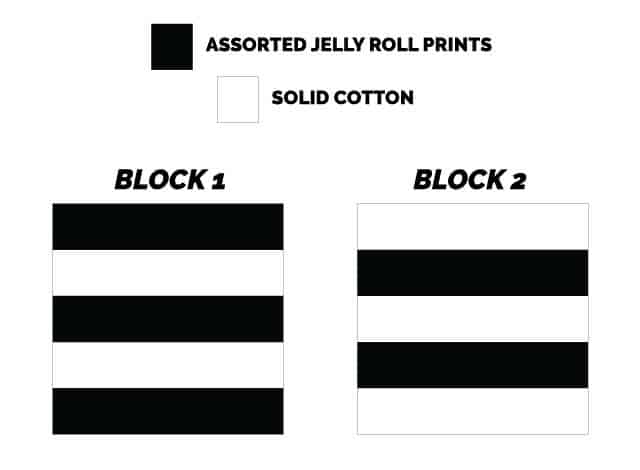 For the first block, align the fabric white/pattern/white/pattern/white.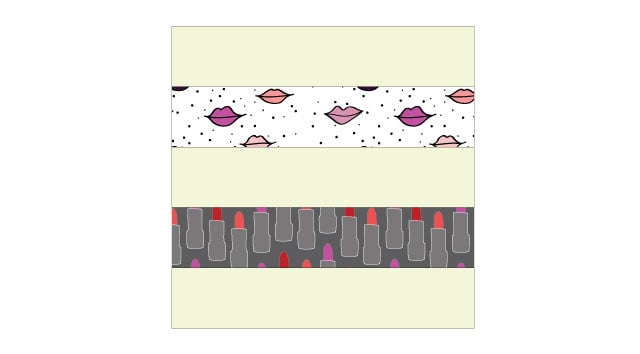 For the second block, align the fabric pattern/white/pattern/white/pattern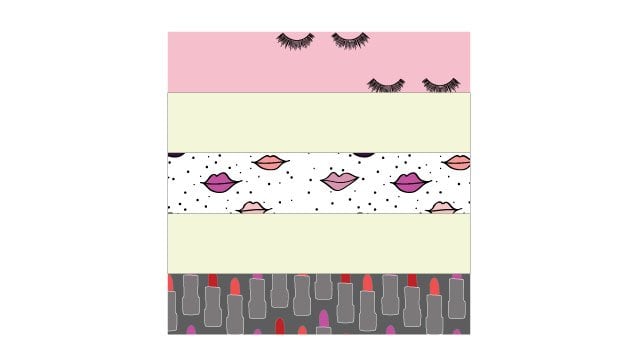 Sew them together in strips 5 across, alternating the blocks.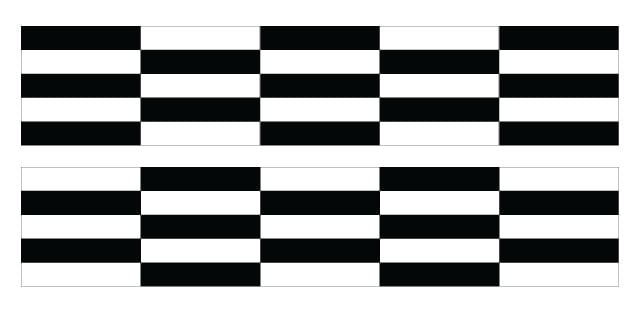 Then sew the rows together, alternating the starting block.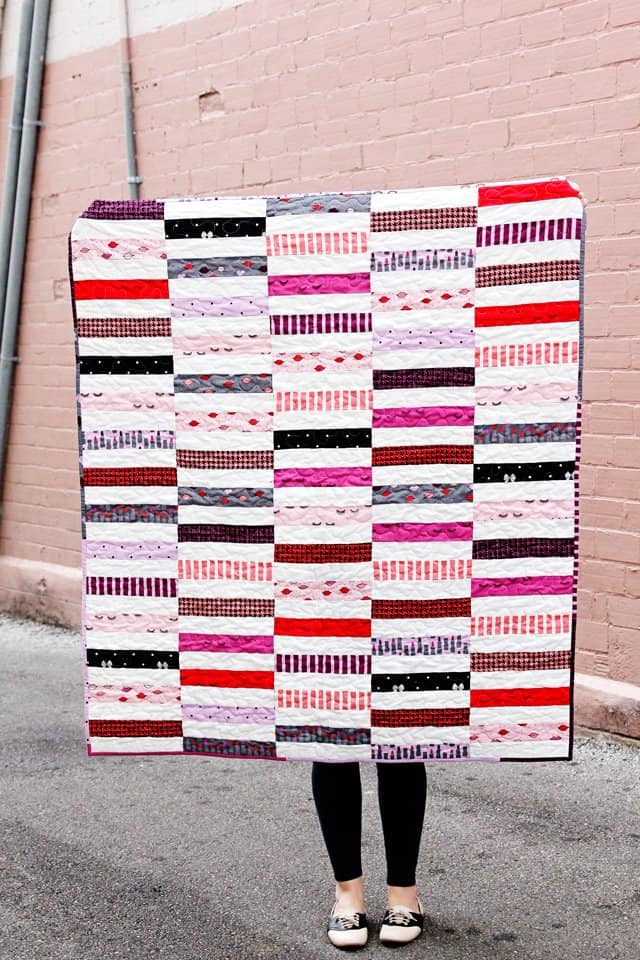 Use extra jelly roll strips for the binding! I cut them in half so each strip was about 22″ long. Sew them together and use them to create a scrappy binding!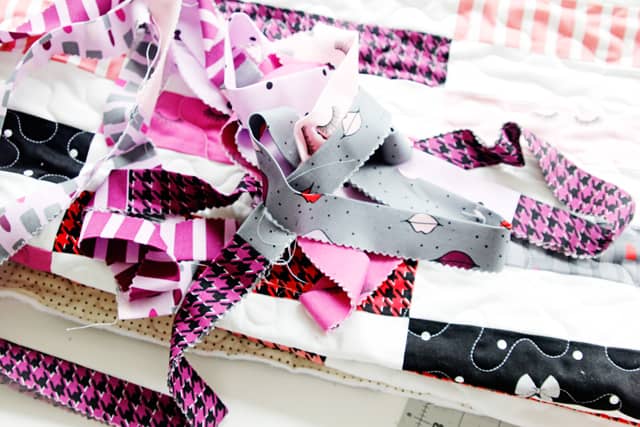 All done!
Check out this easy HST quilt if you're ready for another precut quilt!
Love quilting? Join Pattern of the Month and get a new modern quilt pattern emailed to you EVERY SINGLE MONTH!