This post is part of a social shopper marketing insight campaign with Pollinate Media Group® and DripDrop®, but all my opinions are my own. #pmedia #DrinkDripDrop #DripDropHydrates http://my-disclosur.es/OBsstV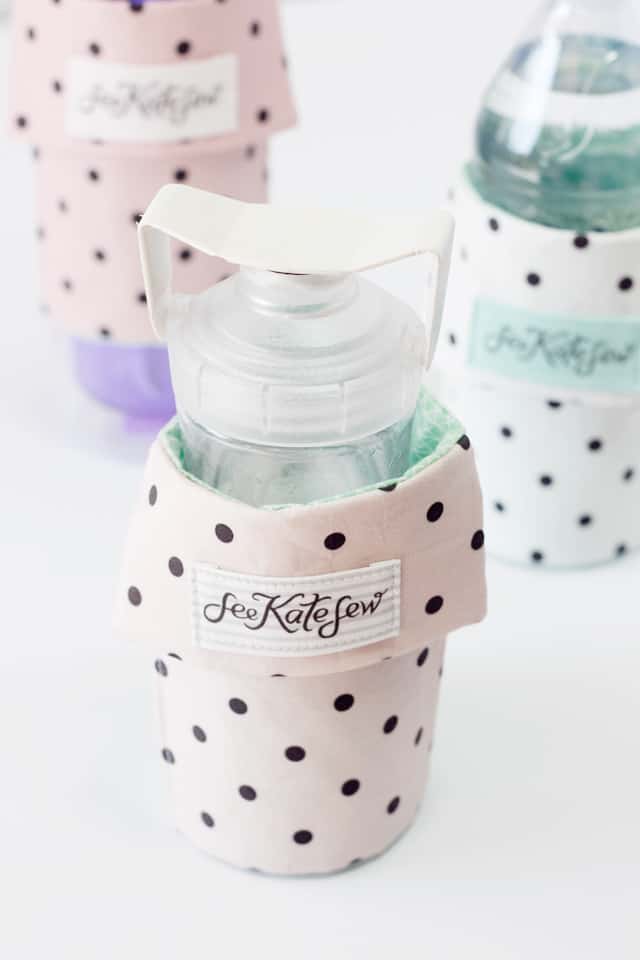 One of my new years resolutions is to drink more water. It seems so simple but it is easier said than done. I had the opportunity to review DripDrop, a new hydration drink, and it's already making my resolution more fun! My biggest hurdle in drinking enough water is to remember to do it! I'm less likely to forget if it tastes good! I made some water bottle cozies to go along with it. They have a little pocket that is perfect for DripDrop packets, keys and other little things you may need when running or working out. It's always fun and motivating to have a new workout/healthy living accessory…so I made it in three colors!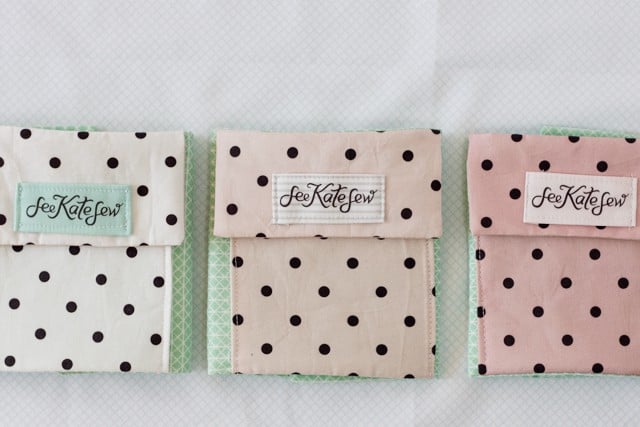 DripDrop is great for after workouts or for rehydrating sick kids, it hydrates 2-3x better than a sports drink because of the electrolytes! My daughter LOVED the flavor of Berry as much as I did, it's really sweet!
These water bottle cozies are adjustable, you can use them on any size water bottle. They only take a fat quarter to make.
The idea is you can stash anything you need while running in the pocket and get moving! Sometimes I feel like I have my pockets and hands full of things while I run, so this will hopefully reduce that. Let's make one!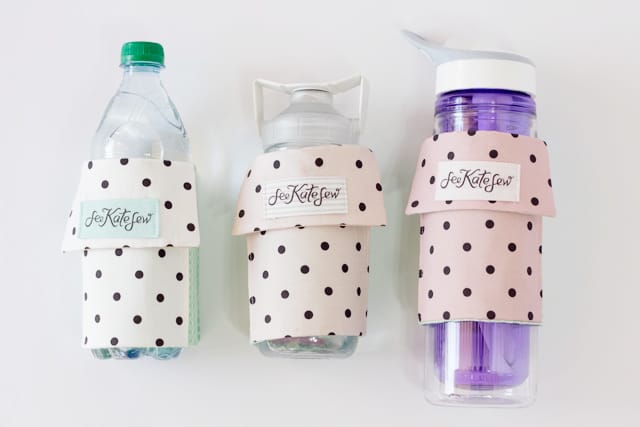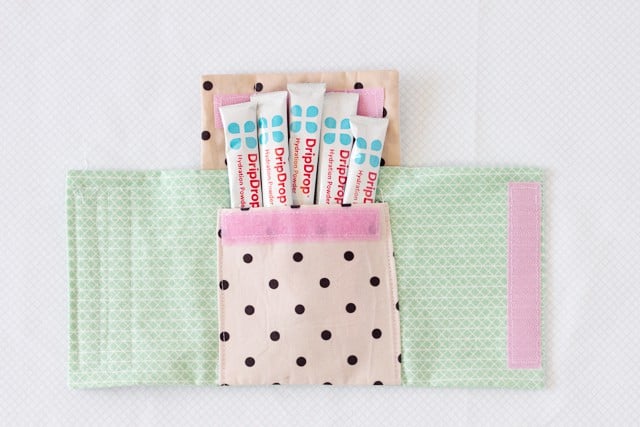 Water Bottle Key Holder Materials
1cfat quarter cotton
scraps for contrast
velcro
lightweight fusible interfacing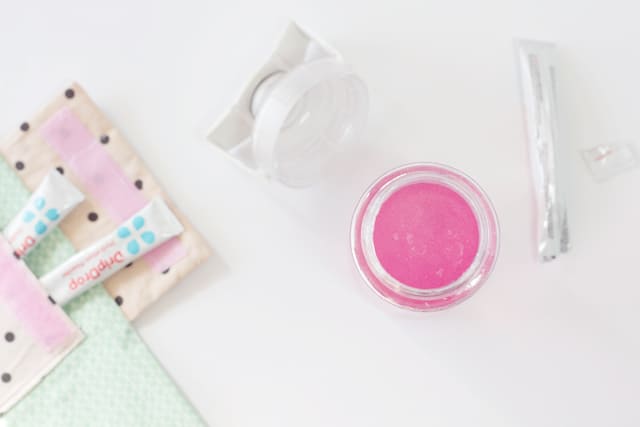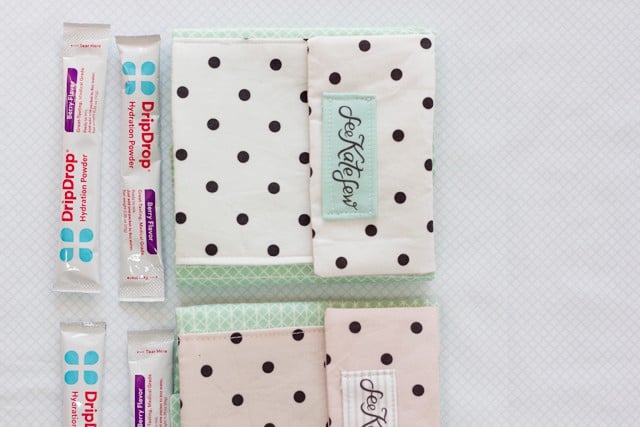 Pocket Water Bottle Cozy Instructions:
Print pattern and cut out the following:
-2 Main Pieces Fabric
-1 Main Piece Interfacing
-2 Flap Pieces Fabric
-1 Flap Piece Interfacing
-1 Pocket Piece Fabric
-1 Pocket Piece Interfacing
Fuse interfacing to the back of one main piece, one flap piece and the pocket piece.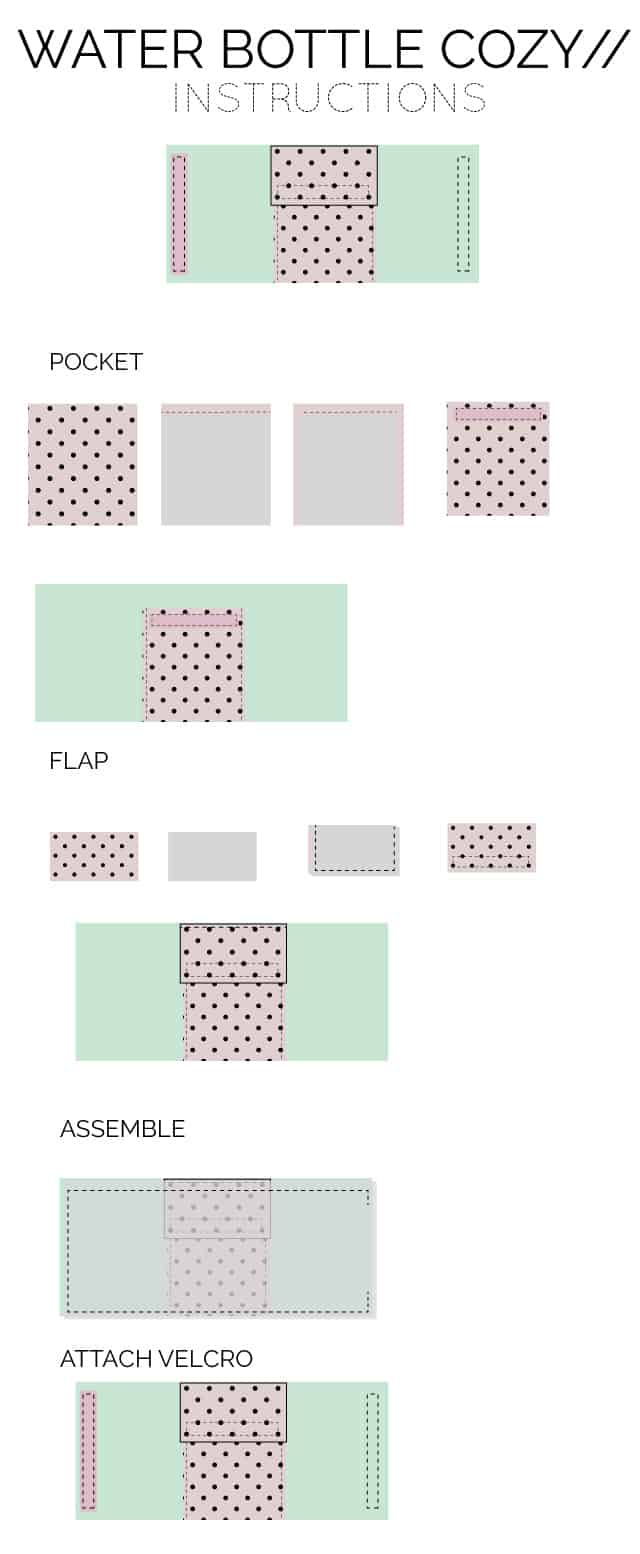 Fold over 1/2″ twice at the top of the pocket piece and stitch. Fold and press under 1/4″ on the two side edges. Sew velcro to the top. Pin to the middle of the main piece and sew the side edges.
Sew two flap pieces together around the bottom and side edges, leaving the top open. Clip corners and turn. Press and attach velcro. Baste to top of main piece.
With right sides together, place lining main piece on top and stitch around the edges, leaving a 3″ opening on one side edge. Clip corners and turn.
Sew up open side edge with a topstitch. Attach velcro on either side to make a wrap.
Use an extra piece of velcro to make the cozy adjustable for different size water bottles.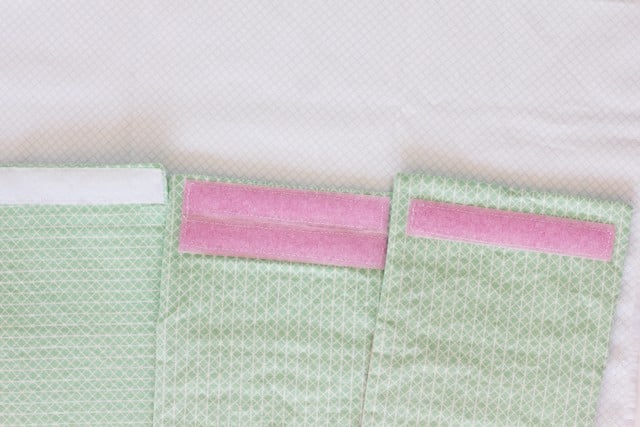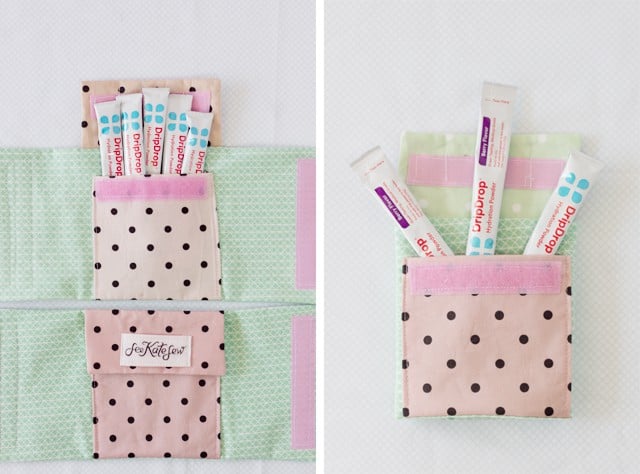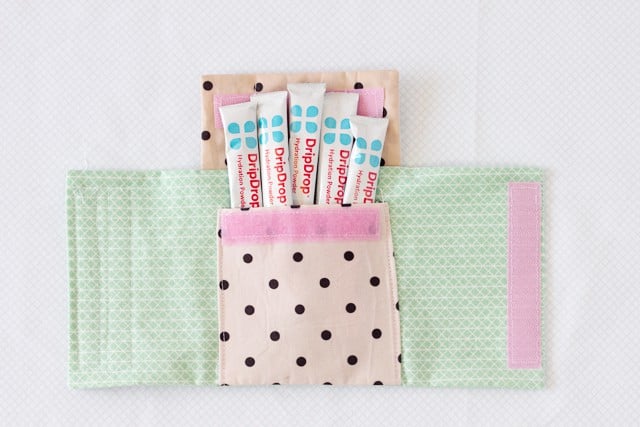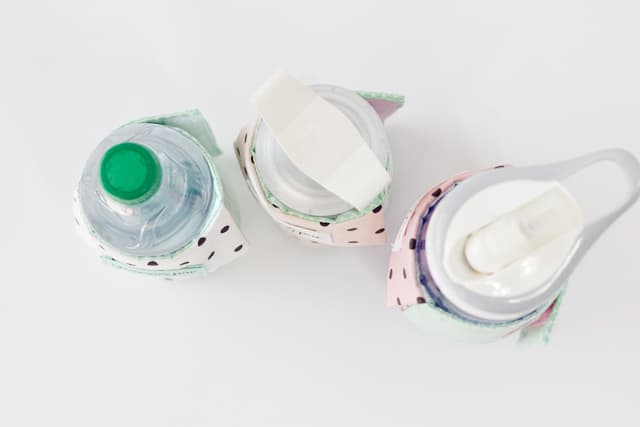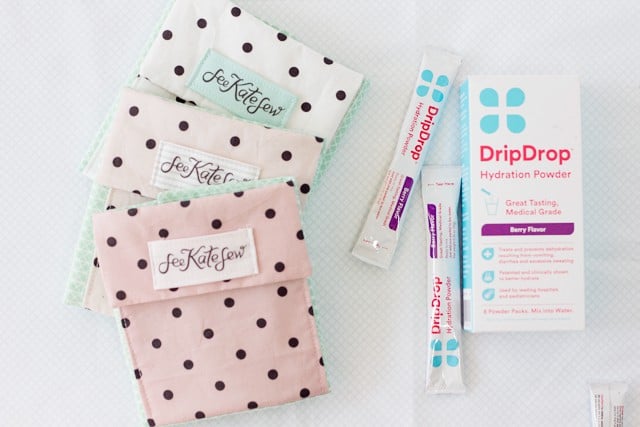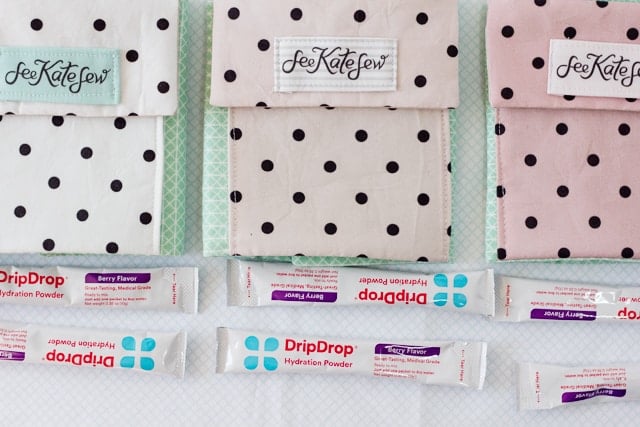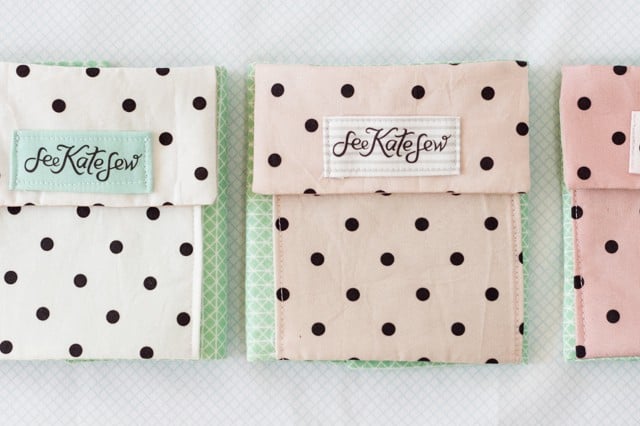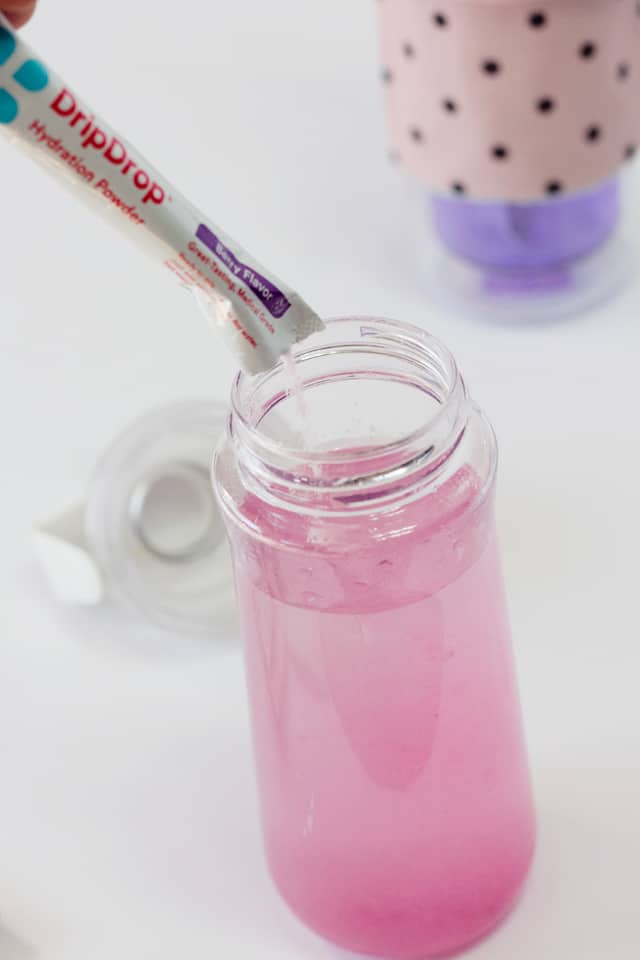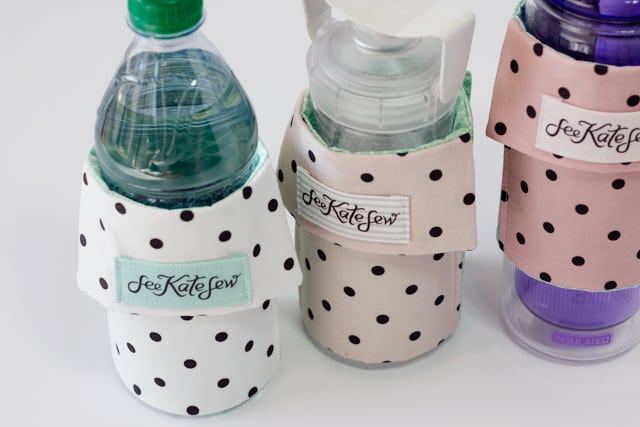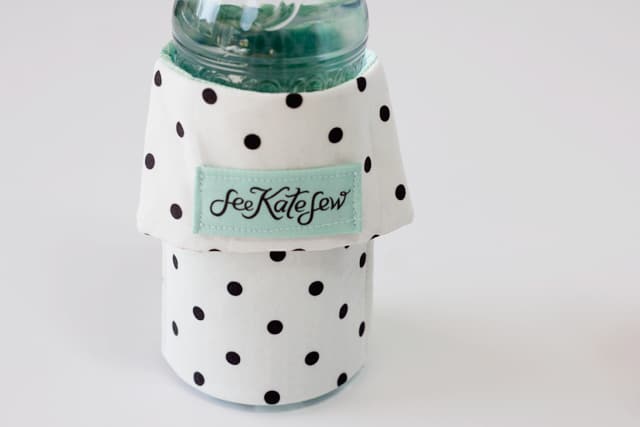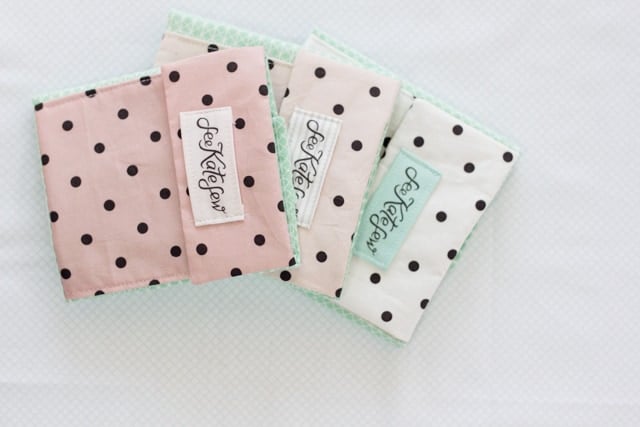 Enjoy!

Fabrics:
Aqua – Cotton + Steel Basics
White Polka Dot
Cream Polka Dot
Dusty Pink Polka Dot