It's time for Quilt Block of the Month! Each month (or so..) I'm sharing a 10″ by 10″ quilt block that you can use to create an entire quilt, or sew 1 at a time to create a sampler quilt! Today's quilt block is called the Pixie Dust Quilt Block because it has a little bit of a pixie magical feel to it. There are 5 pieces in each quilt block and you use 5 different fabrics in the block. Each piece of fabric is a nice band that shows good amount of the fabric so you can use fabrics with a little bit of a bigger scale. I think this quilt pattern is a great way to showcase gorgeous colors or gorgeous prints since the fabric pieces are bigger than some quilts!

I designed it (kinda accidentally) in very My Little Pony colors. It has Twilight Sparkle vibes (here's a link to the plush set), which I'm not opposed to! Hah! So this quilt block is a great pattern for a magical bedroom. You can totally make this in your favorite pony colors to coordinate with a bedroom set – or really any character for that matter! It's a modern way to do a character themed quilt without having any character fabric!
I'm using the pattern for another project using prints and it's looking cute, too! You also pick your 5 favorite prints from a fabric collection and use those for this quilt!
Check out other Quilt Block of the Month Tutorials:
–You're a Gem Quilt
–Coffee Cup Quilt Block
–Makers Gonna Make Quilt Block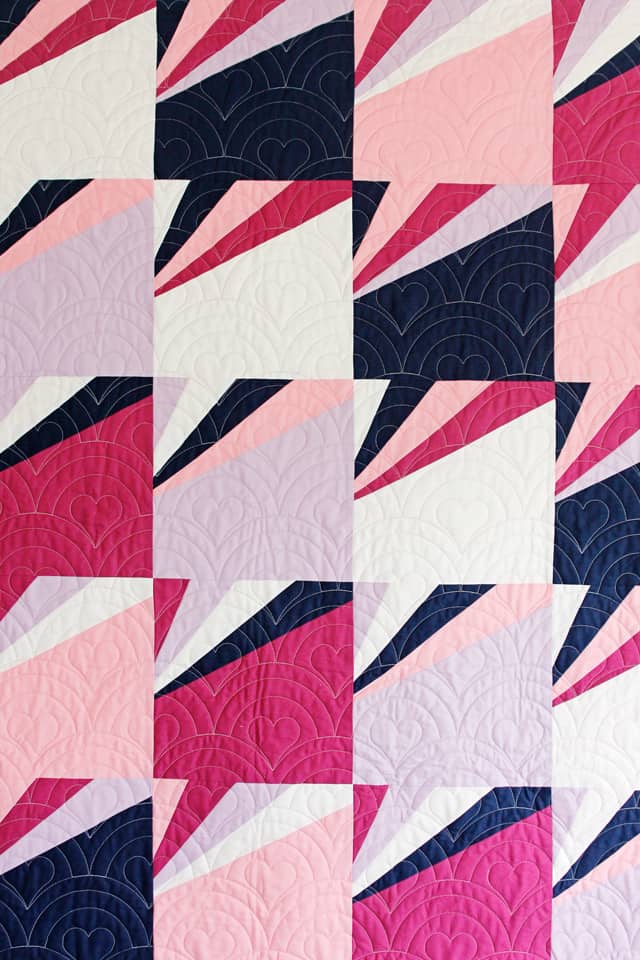 Materials//
Finished size approx. 50″ by 50″
-Riley Blake Confetti Cottons – 3/4 yard each
-1 1/2 yard Quilt Backing I'm using Doe by Carolyn Friedlander, it's 108″ wide and I love it. I also used this for the binding.
-Binding
-Pattern Pieces (download below!)


Instructions//
Use 1/4″ seam allowance.
Print the pattern pieces from your home computer. Be sure you are printing at 100% or DO NOT SCALE. Piece the pages together. You'll have to trim the edges of two of the pages.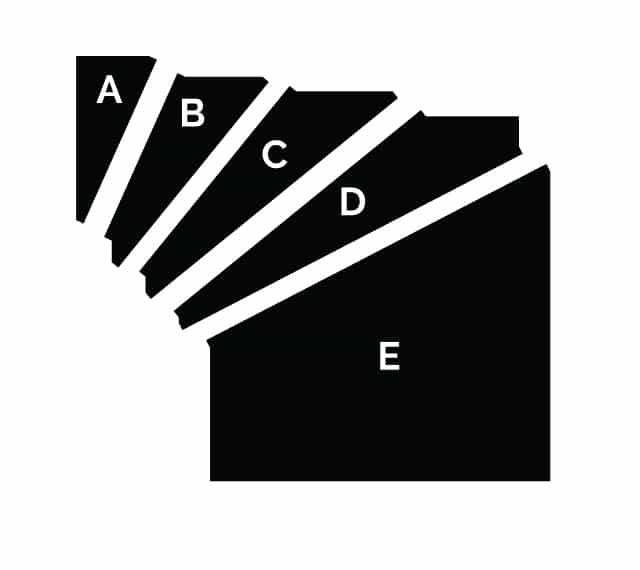 Cut out 1 of each piece from each of the 5 colors with 4 colors in each block.
Lay them out as follows to create all 5 blocks: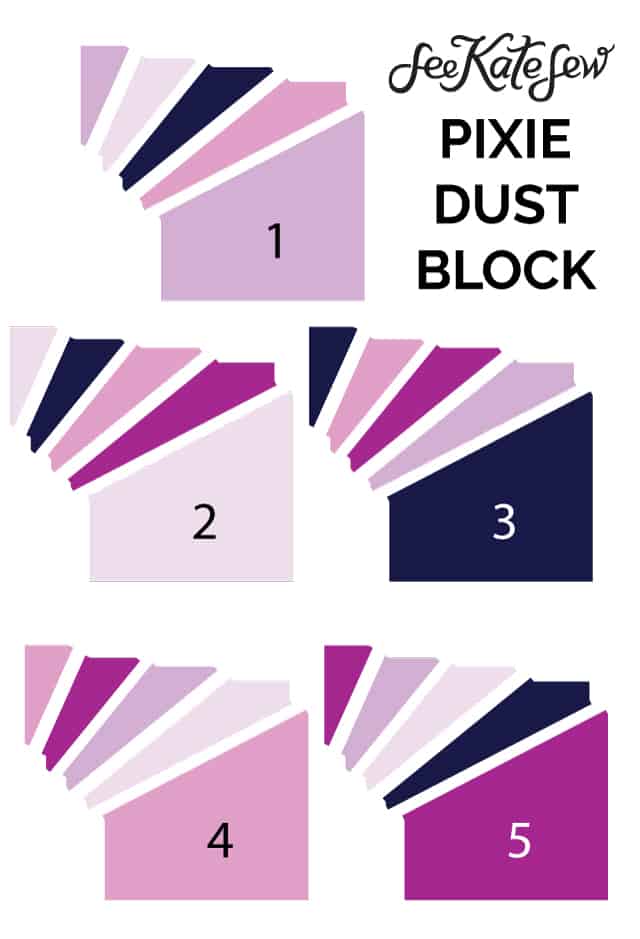 Repeat 5 times so you have 25 blocks.
Arrange them as follows and sew together in rows. Then sew the rows together!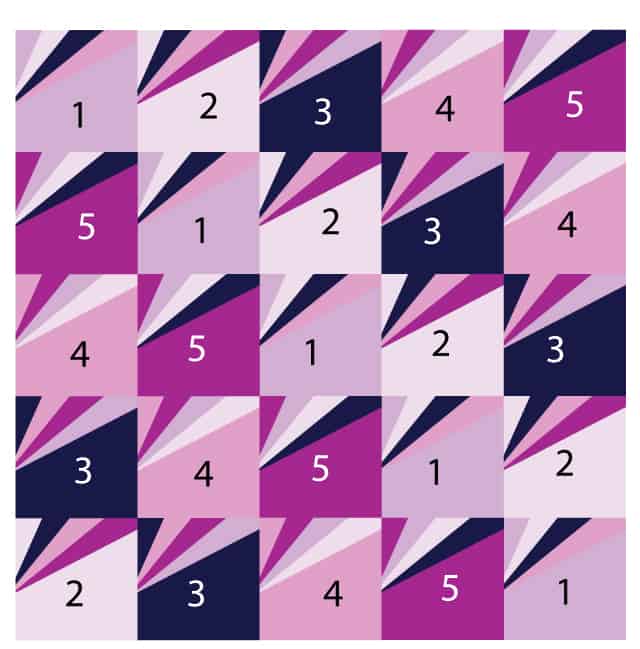 When you're done with the quilt top have it quilted.
I had this long-arm quilted by CrinkleLove. I chose a rainbow and hearts pattern because it just fit with the whole vibe! CrinkleLove also quilted the You're a Gem Quilt and the Coffee Cup Quilt and they are all gorgeous! I love the design selection, there are so many to browse through and you can find a perfect one for every pattern! You can read about how to send your quilt to CrinkleLove here. 

I love the backing that I used! It is an extra wide fabric so it was easy to get enough to fit the back of this quilt without piecing. The fabric is a white and black grid and it's so neutral you can use it with anything. I went ahead and used it for the binding, too, since I had plenty left over!

I love the binding! Since you only see part of the grid it looks like little X's.

Done!

Love quilting? Join Pattern of the Month and get a new modern quilt pattern emailed to you EVERY SINGLE MONTH!