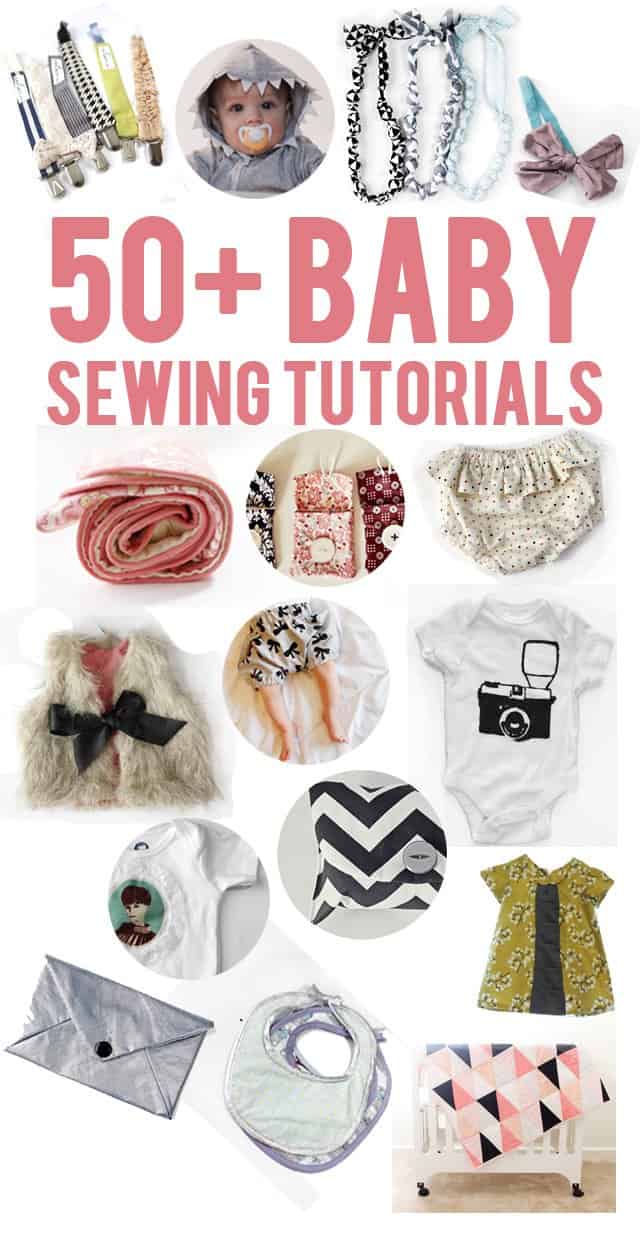 I've been doing a lot of baby sewing lately, SO MUCH! There is just nothing like sewing for a baby! Here are 20 free baby sewing projects from the blog! From simple paint splattered bibs to adorable rompers, there are a lot of fun things to make, use and cherish.
Boho baby romper – This FREE printable pattern is just stinking cute for any summer baby!
Mermaid baby gown – And also a basic version, perfect for boys and girls!
Crinkle toy – This noisy toy is a fun thing for grabby babies!
Paint splatter bibs – Simple and chic, use remade bibs and get your splatter on!
Simple yarn tied baby blankets – Every baby needs one of these! Simple and sweet and easy to stash!
Wipeable changing mat – Oilcloth is fun and easy to sew and this project will get you started!
Fabric baskets – Organize your nursery with these cute baskets, or use it as a gift basket!
Hello world onesie – Say HELLO! to the world with this free cut file!
Pom pom swaddle blankets – Pom pom all the baby things! These are cute and fun to make!
Hospital packing list – In all your baby prep you will need a checklist for the hospital! Print this one off and don't forget a thing!
Stretchy car seat cover – Doubles as a nursing cover and oh so useful! Print the pattern and start sewing!
Wooden ring teether – This cute bunny ear teether is chewable and cute!
Bandana bib  – Drool bibs for those teething babies!
Easy fleece bound blanket – Use bias tape for a pop of color!
Modern granny square quilt -Pre-printed fabric makes this a quick sew!
Modern ways to announce your baby's name – Get creative with your baby name announcement, here are four ideas!
Piped edge baby blanket – Flannel and piping, so sweet for baby!
Fabric toy buckets – Organize those toys with these easy buckets!
Braided leather pacifier clips – Keep the pacifiers handy with braided leather.
Knotted baby hat – Cute little hats for knit scraps!
Basic baby gown – The basic baby gown is perfect for nighttime diaper changes!
Hexagon quilt – Another pre-printed fabric for a geometric quilt!
Summer Lace Baby Romper – Super adorable way to use lace for your babe!
Rainbow Baby Quilt – The perfect gift for a rainbow baby!
Bunny Bonnet Pattern – The cutest little hat for Easter!
And if you're making a gift for a new mom, check out this new mom gift basket!