Baby sewing is in full swing! For my own baby and for others! This wooden ring teether tutorial is quick and fun to sew.

You know I love a good baby shower project and I submit that this little combo is perfect for baby gifts! It's also perfect because it can be adapted for a baby boy, girl or a not-finding-out gift!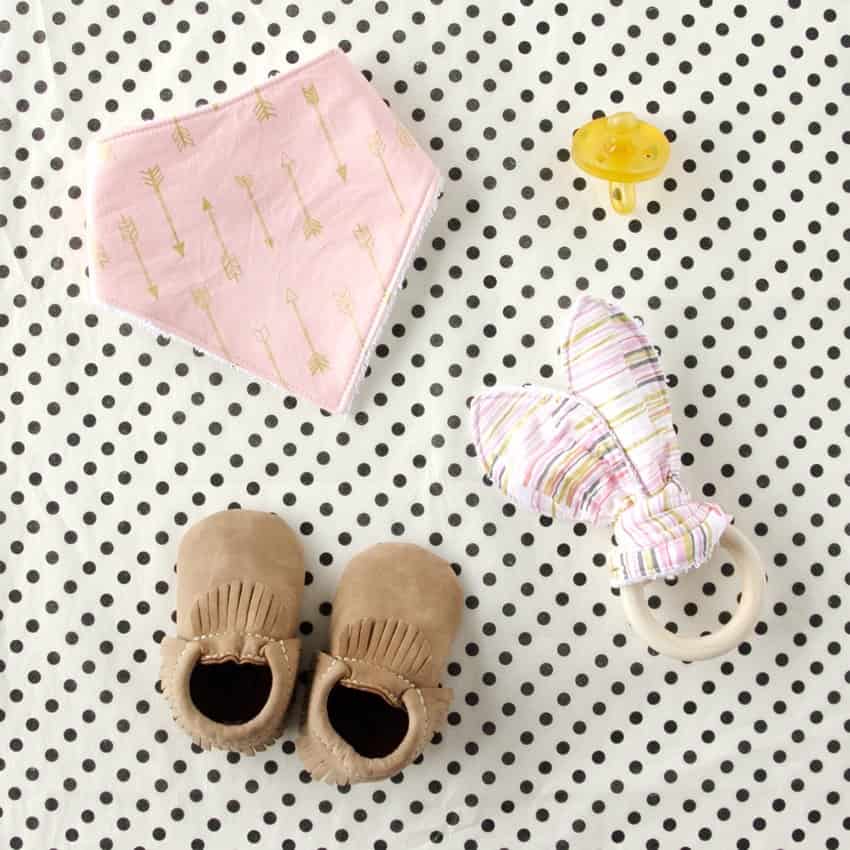 I used a Fat Quarter stack for all of these. They were just ALL so cute and go together so well. The FQ pack is called Pastel Arrow Flight by Michael Miller, available at Fat Quarter Shop.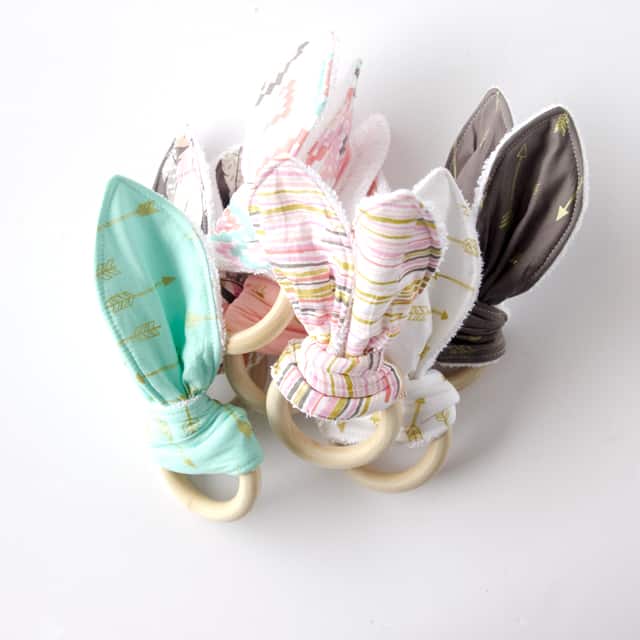 I really love that there are a few girly prints in here and also some great gender-neutral ones (the arrows!) so I have a nice little stash of baby gifts saved up now!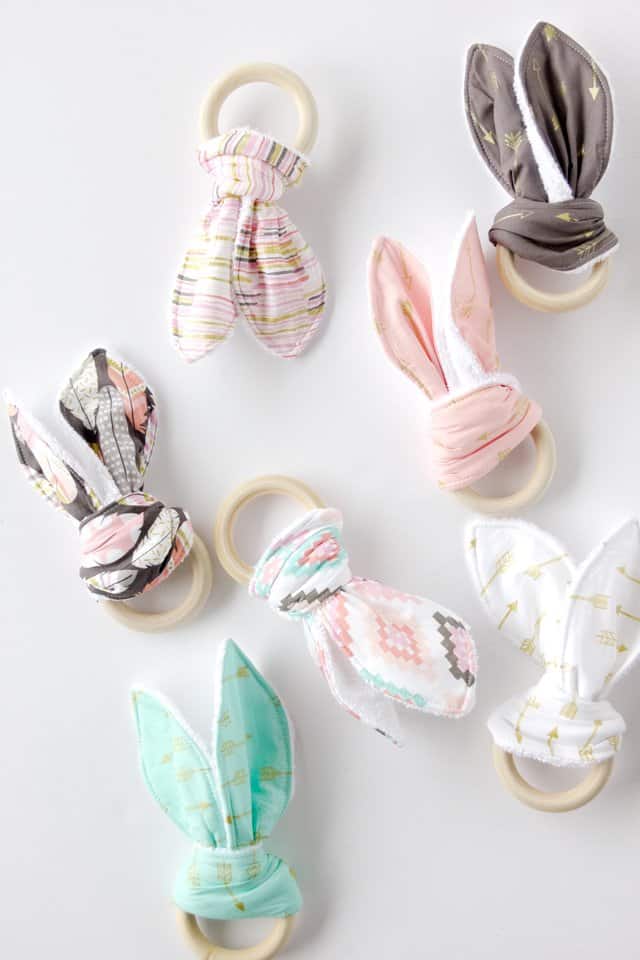 I used the Bandana Bib Pattern listed on my site (it's FREE!) with one little twist: terry cloth backing. The backing makes for a nice absorbent bib for extra drooly babies, and as a bonus it's nice and soft on the backside. Even if your baby isn't super drooly, why not have a towel on the back?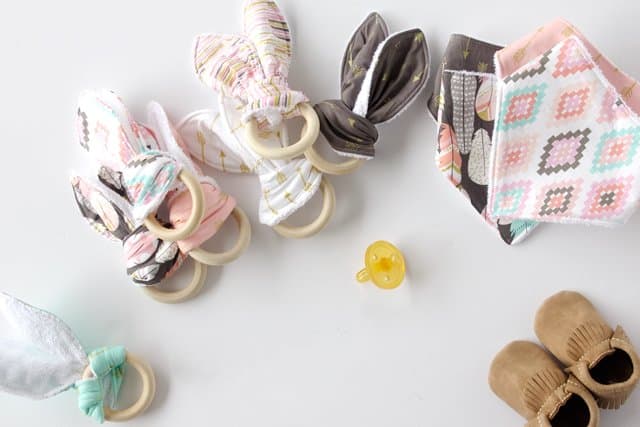 I put these snaps in with a KAM snap placer. I'll tell you more about it later, but I love this thing!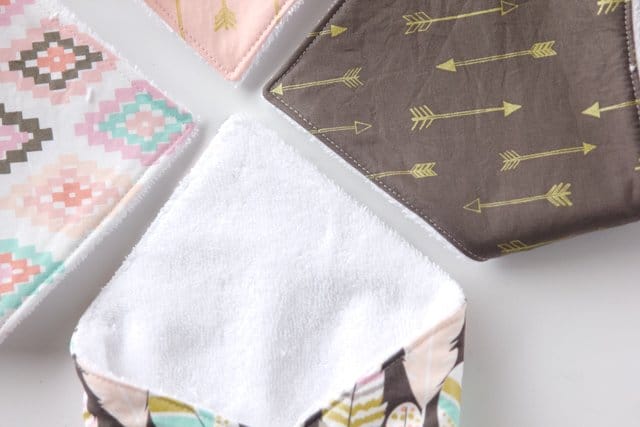 The backing is really just made from a white towel I got at Target. You can purchase terry cloth material, or just use a towel!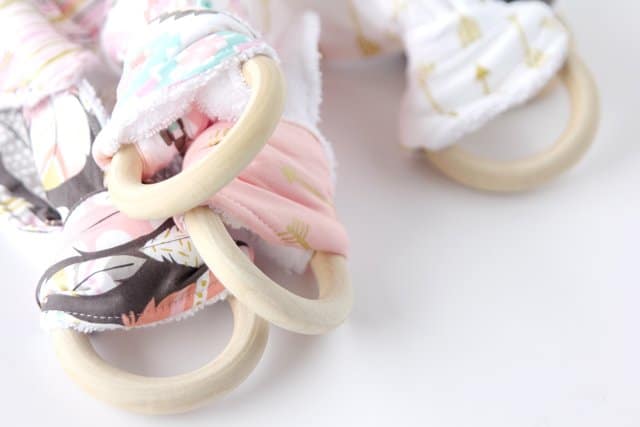 I made a little bib/teether set with these wooden ring teethers. There's a FREE download for these, too!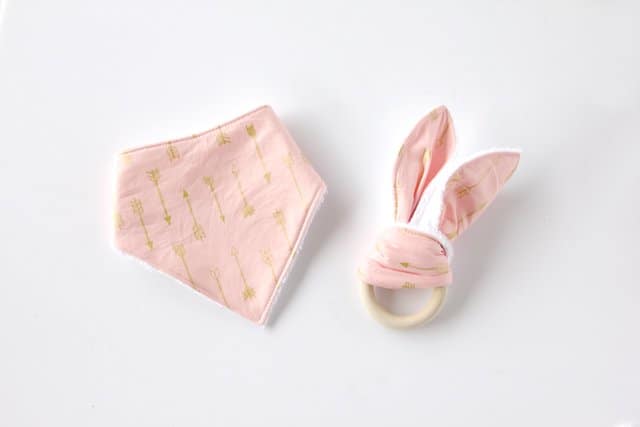 Wooden Ring Teether Materials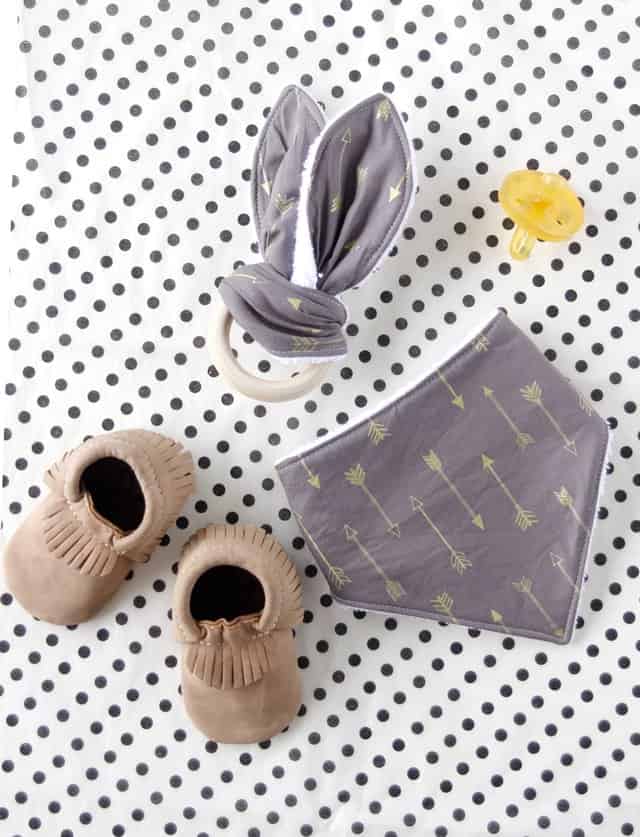 Wooden Ring Teether Tutorial
Step 1: Cut 1 front and 1 back from pattern download. Make sure you put the arrow up against a fold.
Step 2: Sew front and back together with right sides together, leaving a 1/4″ seam allowance. Leave a 1-2″ opening on one side for turning. Trim seam allowance and clip points.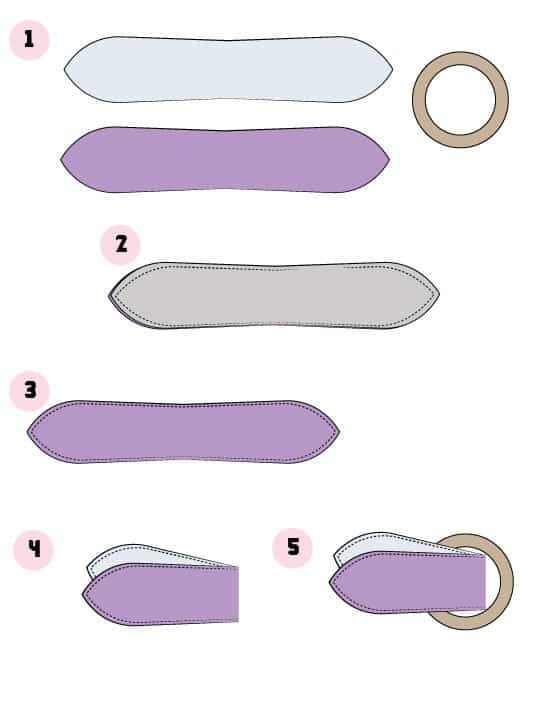 Step 3: Turn rightside out and press well. Then topstitch around teething toy, 1/8″ from edge. You'll close up the hole you left when you topstitch so make sure those edges are pinned together neatly.
Step 4: Fold fabric in half.
Step 5: Slip into wooden ring.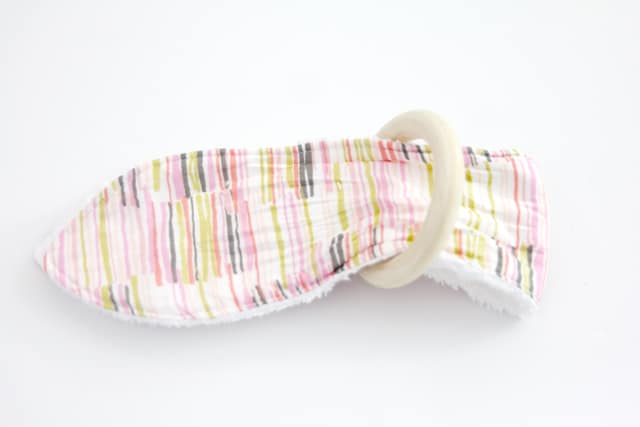 Step 6: Pull ends over loop and through the fold in the fabric.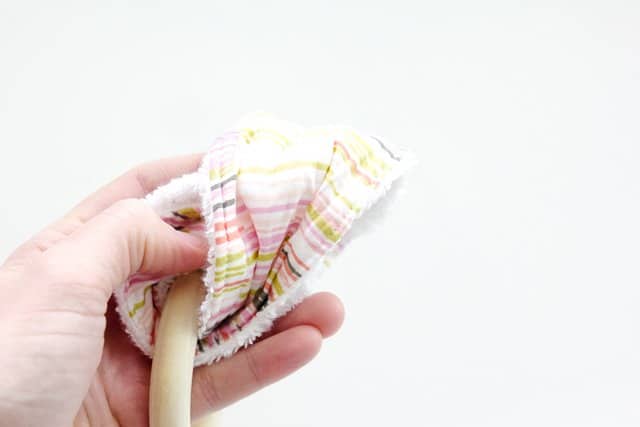 Step 7: Pull edges until the fabric is taut, adjust as necessary.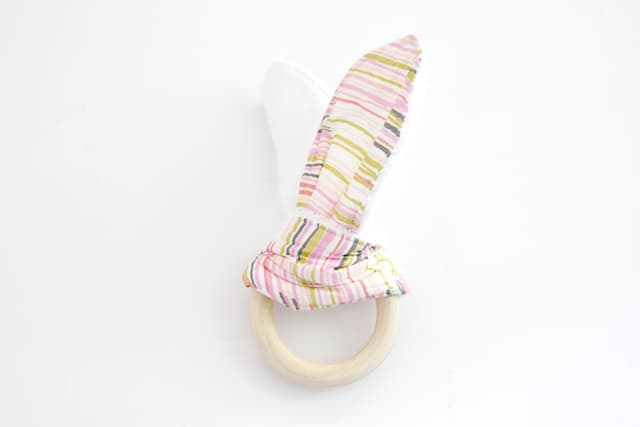 And you're done!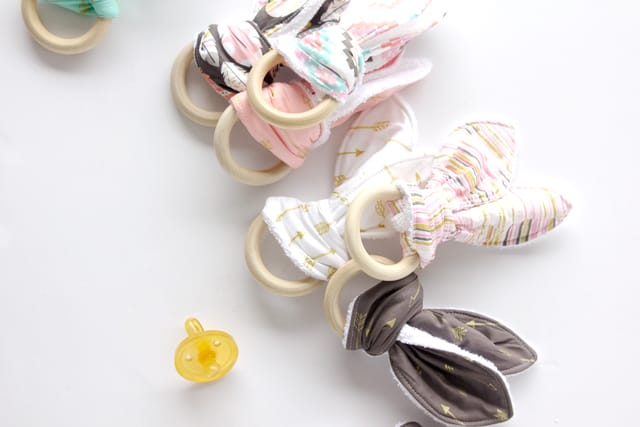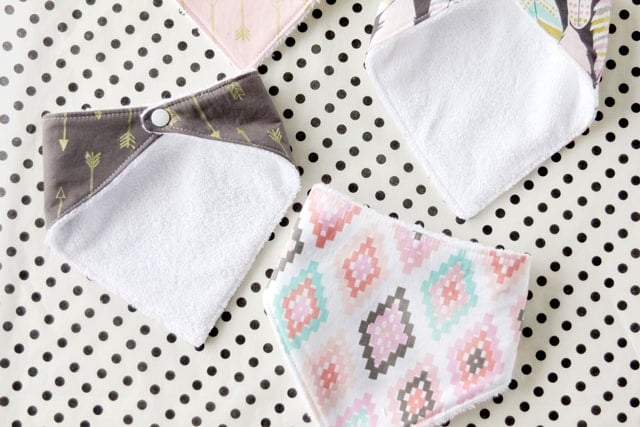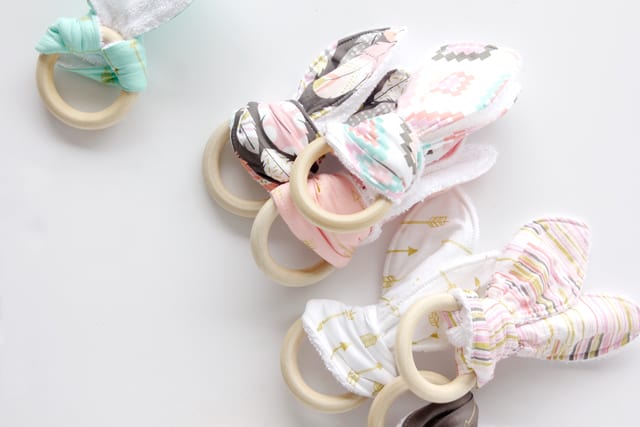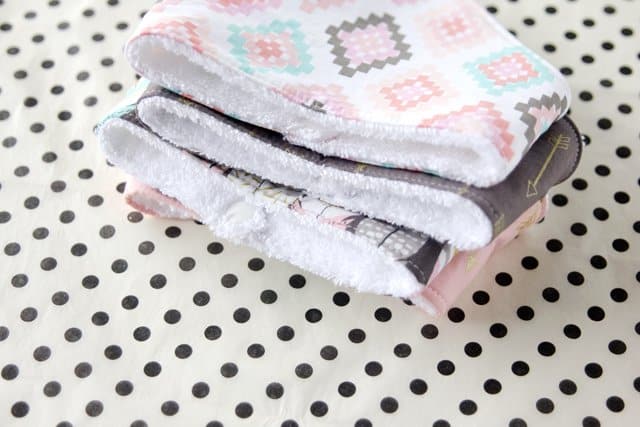 Check out more baby tutorials here!
SaveSave