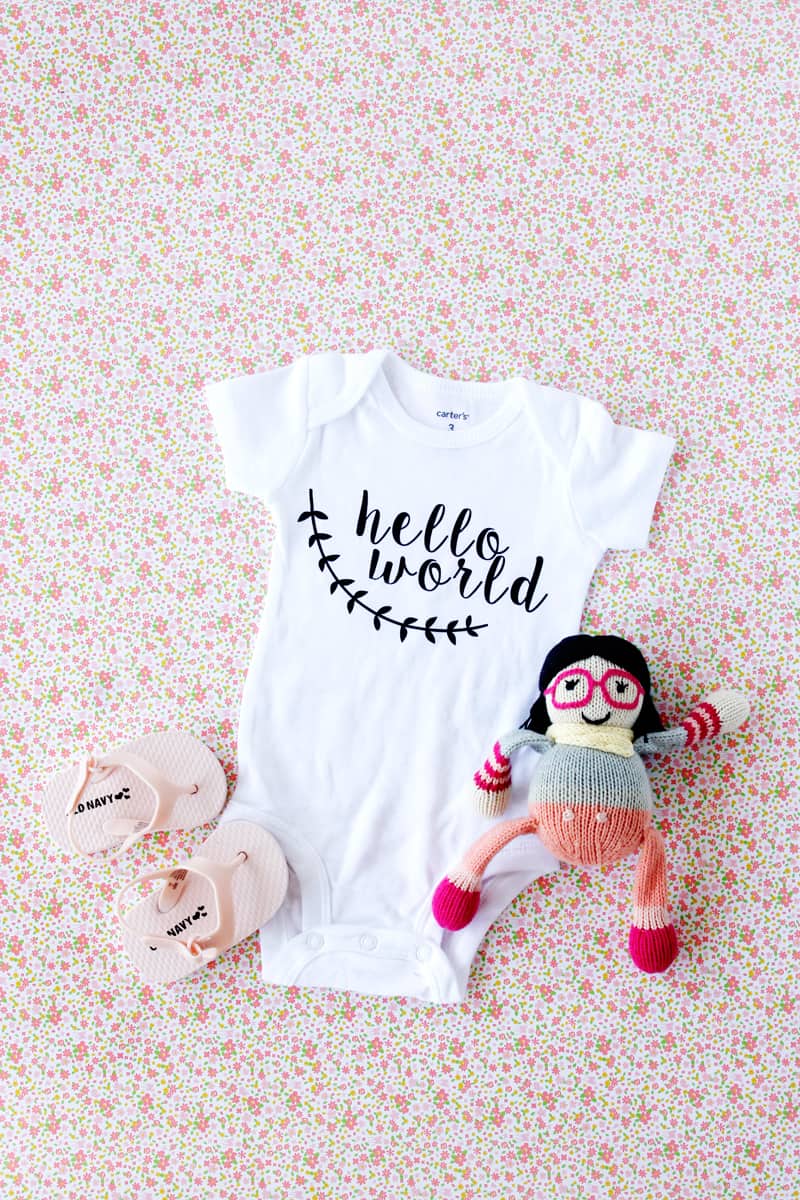 I'm never sick of onesie crafting so when Silhouette sent me a Cameo machine to review, I knew that's what I would do first. I used black heat set vinyl, which was super duper easy and turned out really crisp and cute.
I'm excited to put this onesie on my little girl! I designed the graphic and have included it below as a Silhouette Studio download. So you just have to download it, unzip and send it to your own machine!
Materials:
–Silhouette Cameo
–Heat Transfer Starter Kit, (or buy it in this bundle with the machine)
–Hello World Cut File (.svg .zip file)
–Onesie* (I love the packs of white Carters for craft projects!)
*This cut file is shown on a size 3 months onesie.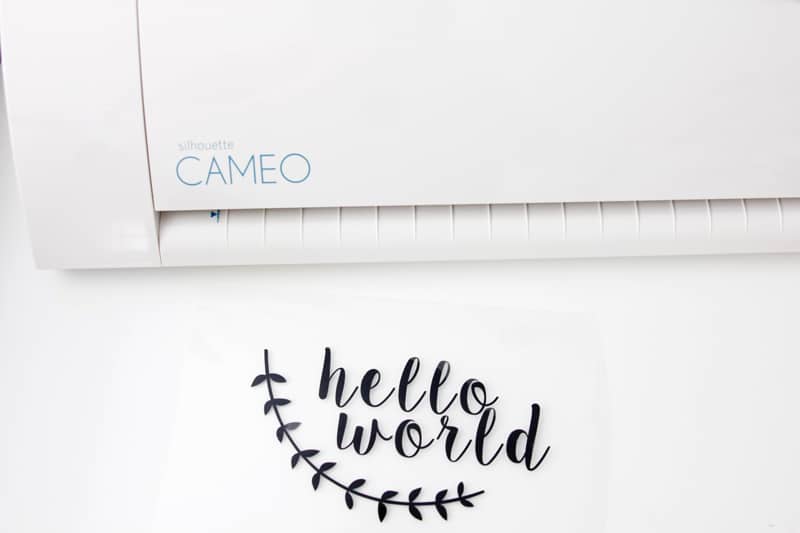 I set up my machine and had this onesie FINISHED in 30 minutes! It was my first time using this vinyl heat transfer material with a cutting machine and it was so much easier than I thought! I guess since I'm used to sewing, I'm not used to starting and finishing projects all in a 30-minute timespan!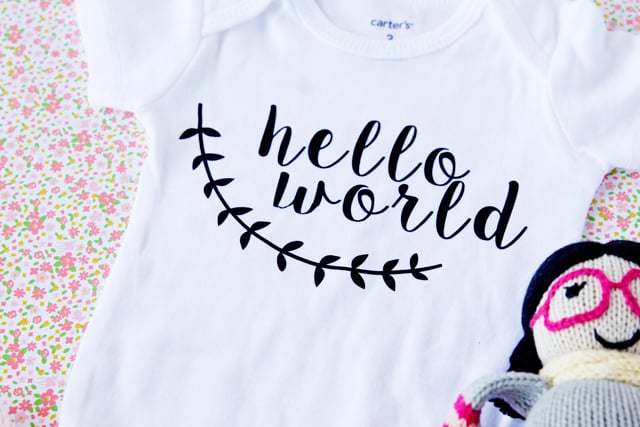 I was a little impatient and pulled the plastic off of the vinyl too quickly in the "w" spot so it's not perfect. Next time I'll wait for the vinyl to cool before pulling off the plastic sheeting. Other than that, I'm really happy with it and can't wait to put it on my tiny girl!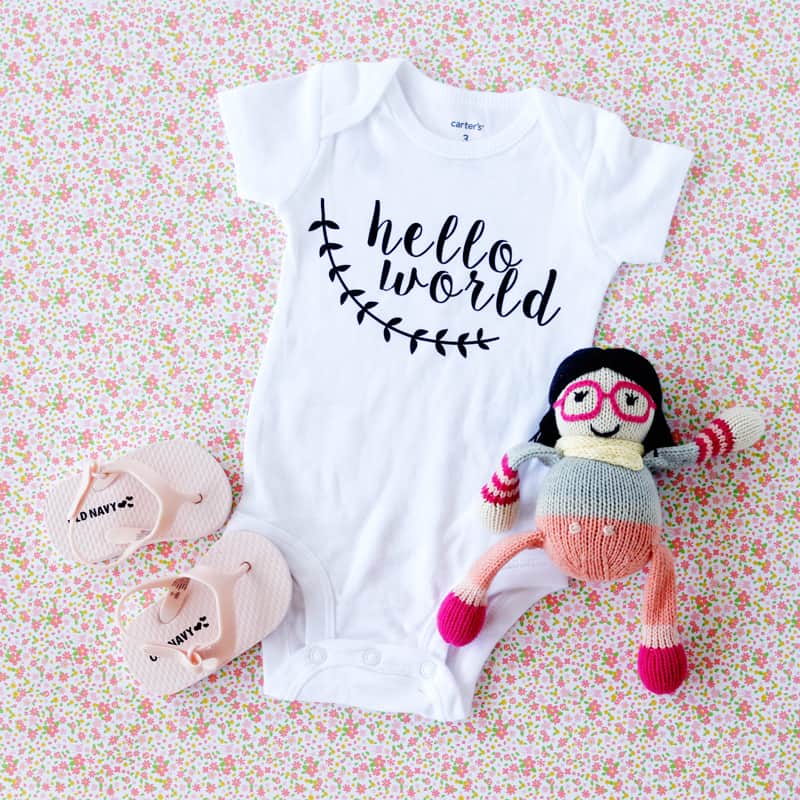 Ready to make your own!? Let's go:
Instructions:
-Set up your machine with the following settings:
Blade: 2 (on machine)
Material Type: Heat Transfer Material, Smooth (in Silhouette Studio)
Move roller to inside notches.
-Load Heat Transfer Material with the "Load media" button on the screen of the Cameo.
-Start Cutting
-Remove excess vinyl with hook tool included in heat transfer bundle kit.
-Place design on onesie, adjust placement. The design will still be attached to a clear plastic sheet to keep it all together.
-Cover with a press cloth and iron for 45-60 seconds.
-Let it cool and remove plastic. I like to replace the press cloth and iron one more time for a few seconds just to make sure it's all flat and perfect.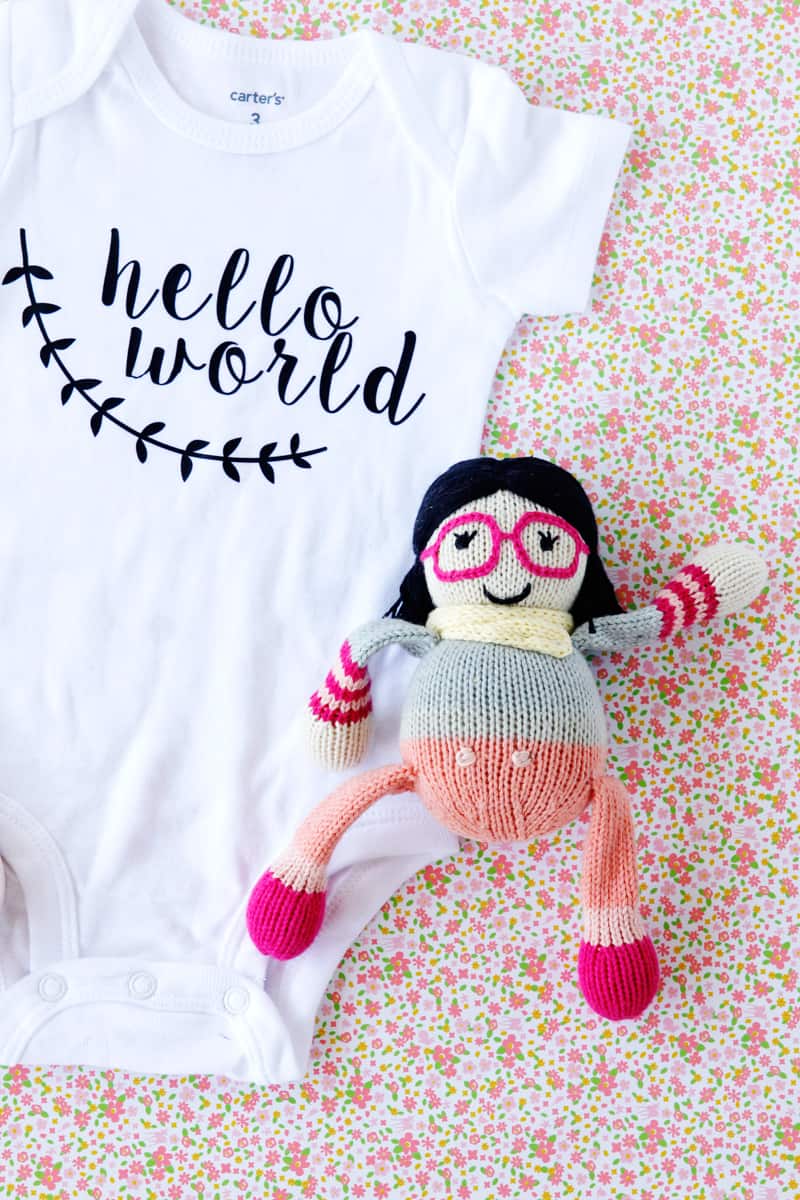 And that's it! Super cute and ready to give or keep!
Sources:
-Tiny (impractical but adorable, hah!) sandals: Old Navy
-Doll Rattle c/o Finn & Emma
This is a fun gift to stick in a new mom gift basket or pair with DIY baby bloomers!