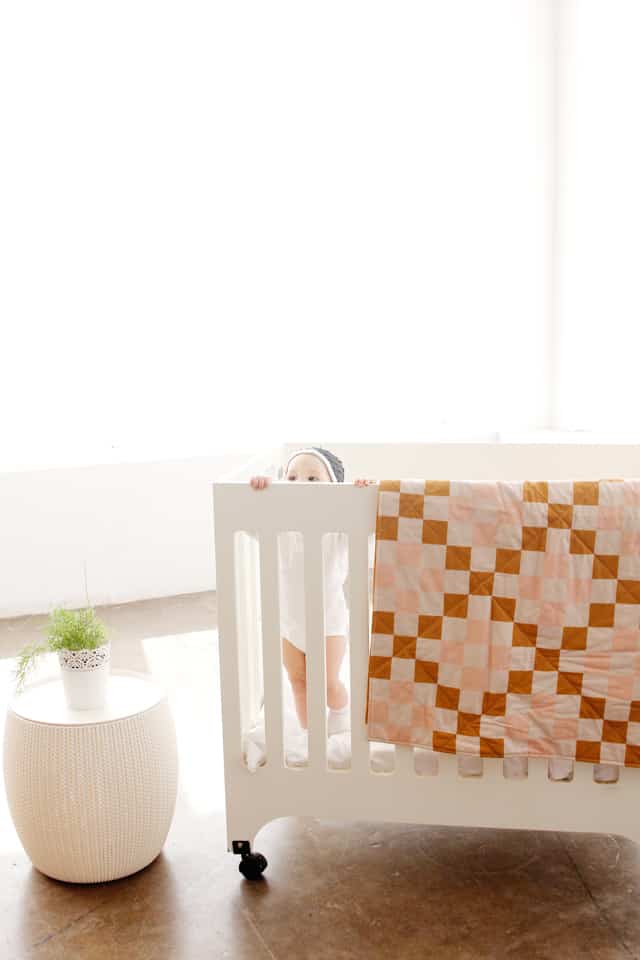 I have a new cheater quilt cloth to share with you today! This is a new pattern in 3 color ways! I'm calling it Modern Granny Square Quilt Cloth because the pattern reminds me of crochet granny squares. I love the simple pattern and I STILL haven't decided which color to use for my baby, even though I made these a few months ago! Haha. I may keep 2 or maybe even all three.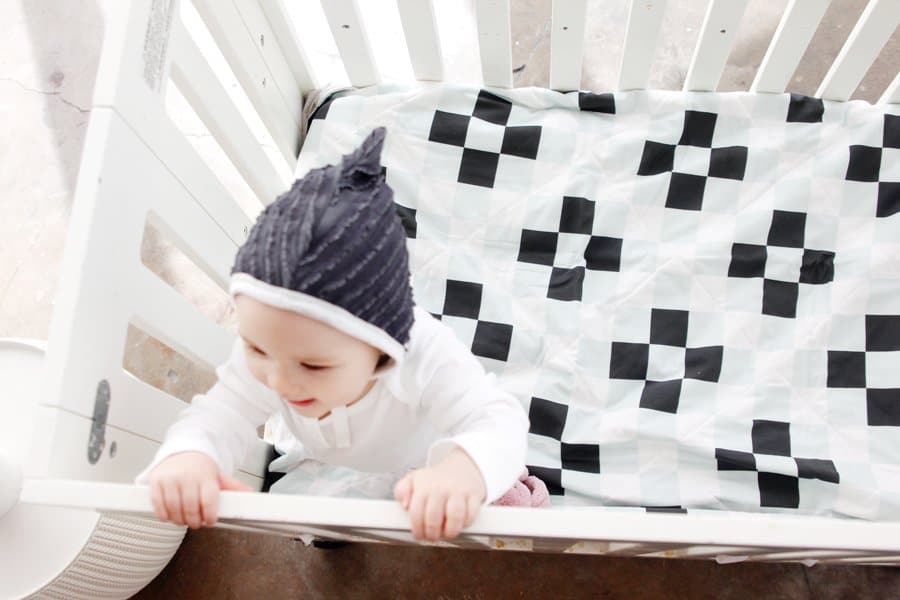 This fabric sews up into a simple baby quilt just like the One-Hour Hexagon Quilt or the One-Hour Triangle Quilt tutorials.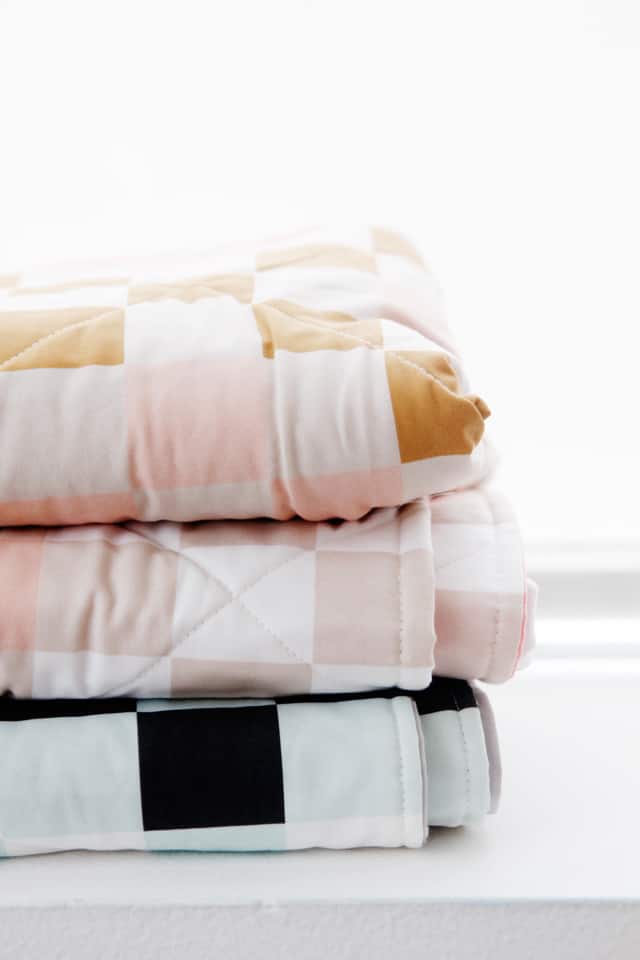 The quilt cloth comes in 3 color ways:
Plus a few more in the works!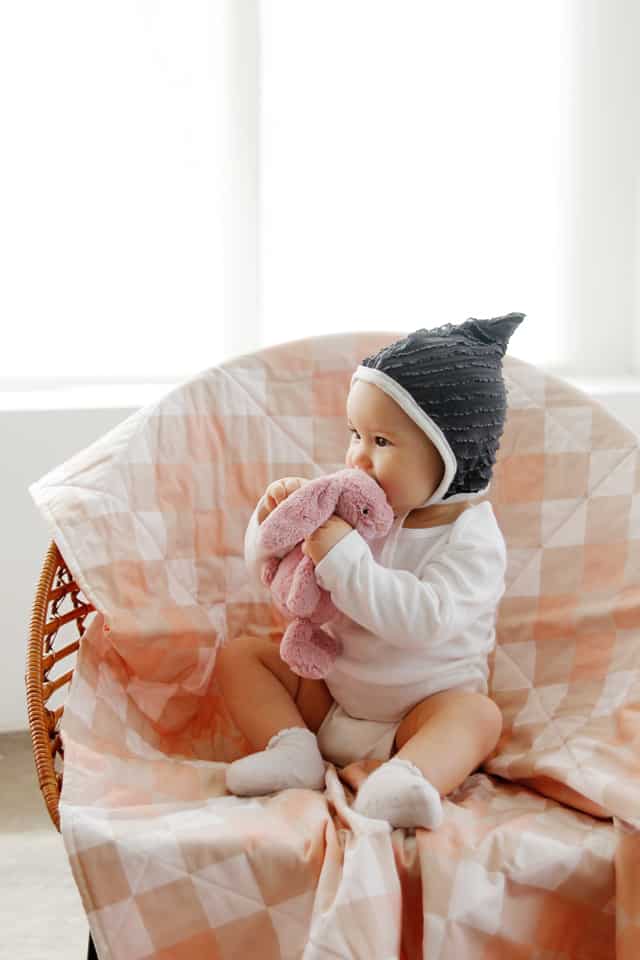 I love the way these look and I am really excited to take photos with a new baby on these blankets! I think it will make a fun background for a snuggly sleepy baby.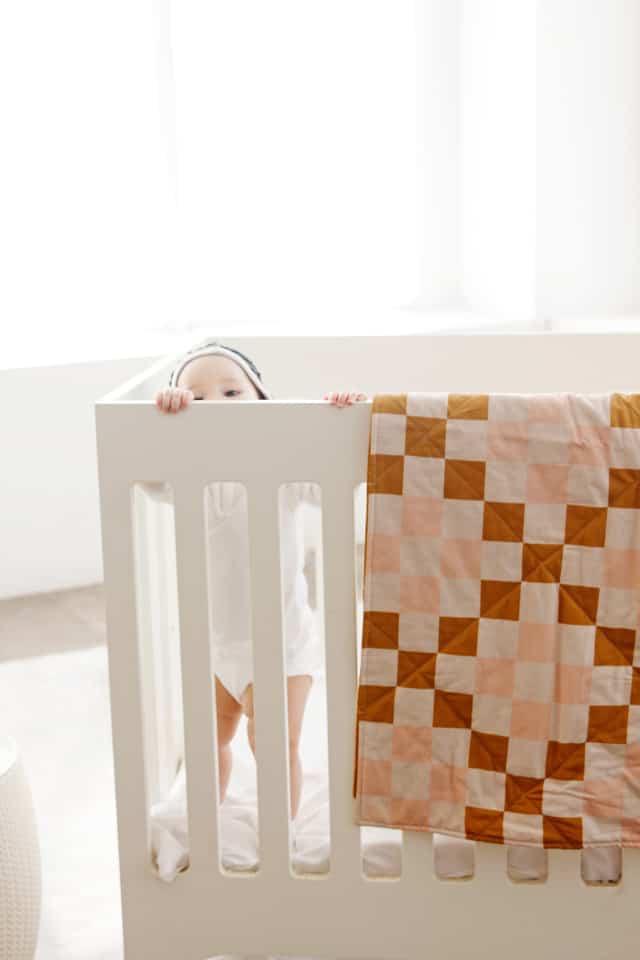 So let's make one!
You literally need 1 hour to make this! I think it's even easier than the Triangle Quilt Cloth tutorial because the quilting part is much faster and there is no binding on this one.
Modern Granny Square Quilt Tutorial//
Order 2 yards of quilt cloth printed on any cotton substrate from Spoonflower. My favorite is Kona cotton.
Materials:
-2 yards Modern Granny Square Quilt Cloth, available at Spoonflower
-2 yards backing material, any color cotton
–needled batting, crib size for 1 (or buy queen size and get a couple quilts out of it for a better deal)
-thread to match backing and bias tape
–Spray baste
You can choose any fabric to back these with or use my recommendations below! I love Kona Cotton, it's nice to sew with and a great quality.
Backing Material Pairings: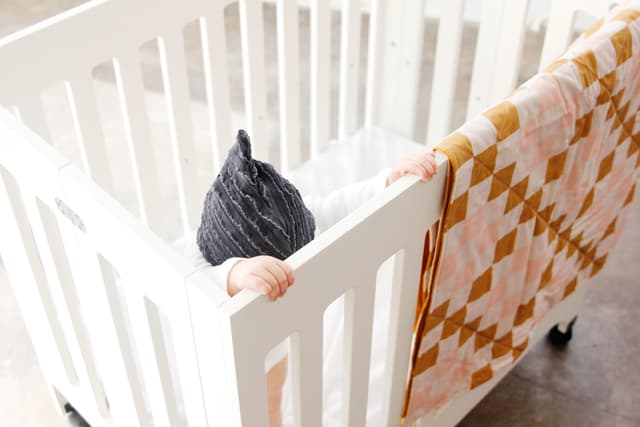 Instructions:
Cut quilt cloth 42″ wide by 55″ long.
Cut batting and backing material to match the size of the quilt cloth. You can use measurements for this, or layer them together and cut all at once.
Back the granny square quilt cloth with spray baste. It's as easy as spraying the baste spray all over it and smoothing the batting over the fabric. I like to use a flat floor surface, with the fabric face down. Then I spray sections of the fabric as a roll the batting onto the fabric. Smaller sections will allow you to avoid bumps more easily.
Pin the backing of the quilt face down on the top of the quilt cloth. Right sides will be together.
Sew around the entire quilt with a 1/2″ seam allowance, leaving a 5-6″ opening on one side edges.
Clip the corners so they aren't as bulky and turn the quilt right side out. We're creating a "pillowcase binding" just like in the Hexagon Quilt Tutorial so it's the same method you'd use if you were making a pillowcase.
Press the quilt, focusing on the 5-6″ opening.
Topstitch all the way around the quilt 1/4″ from the edges.
Now quilt the layers together using the pattern shown below. You really can use any pattern for quilting, so it's up to you! The method shown is super fast and gives you a big "granny square" look.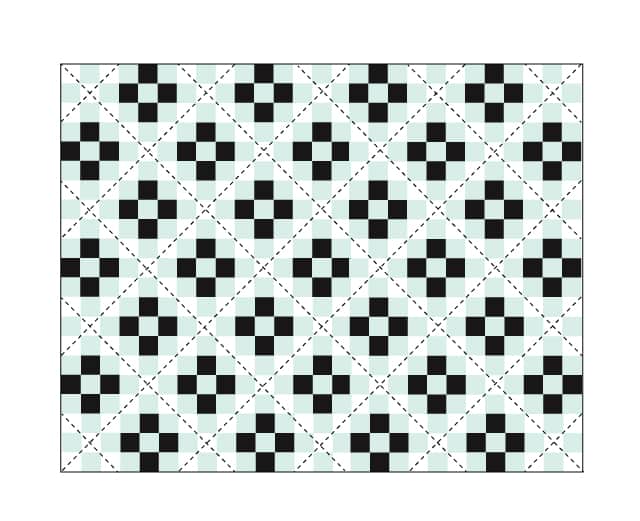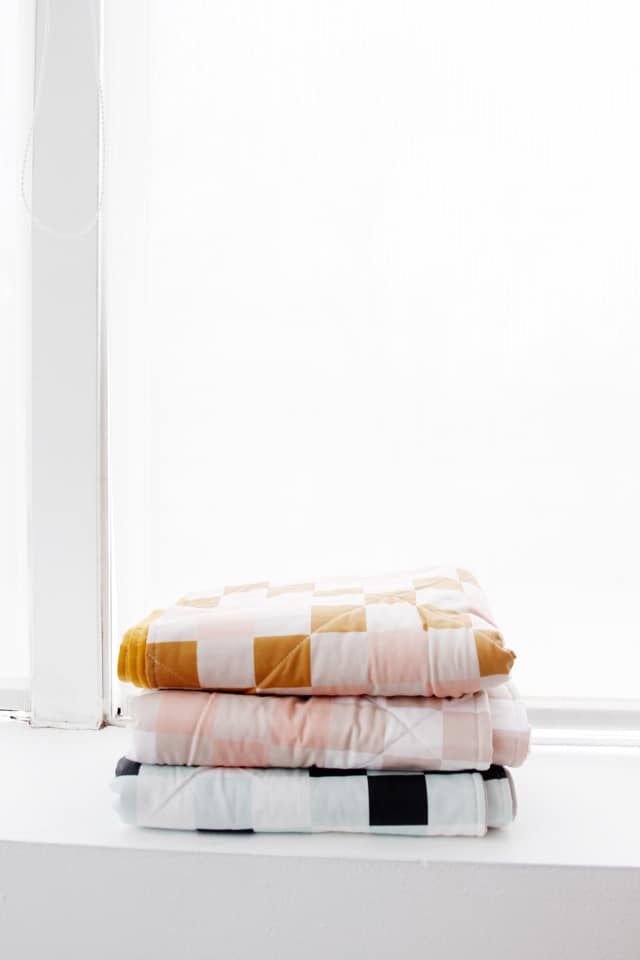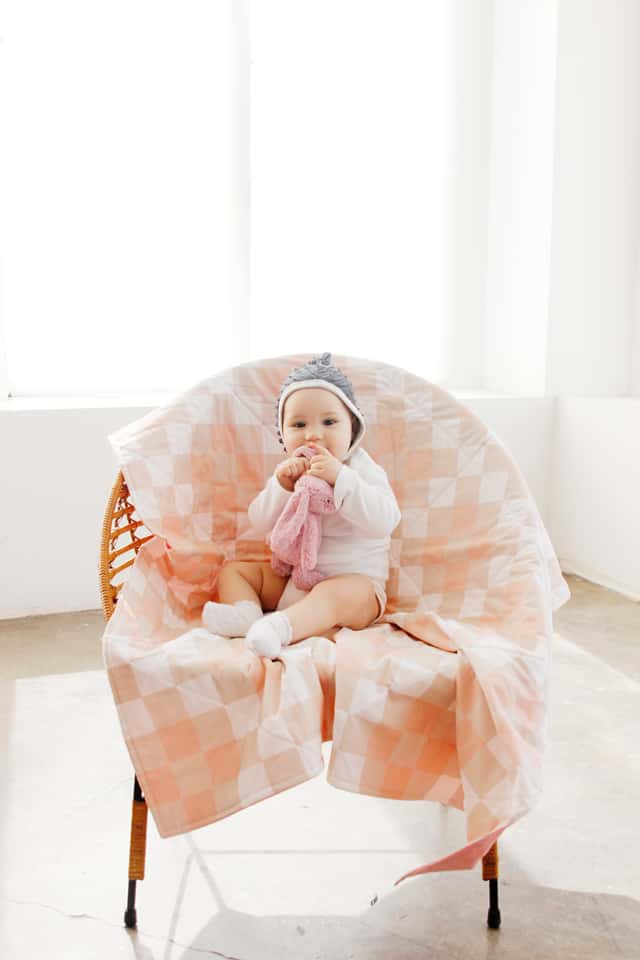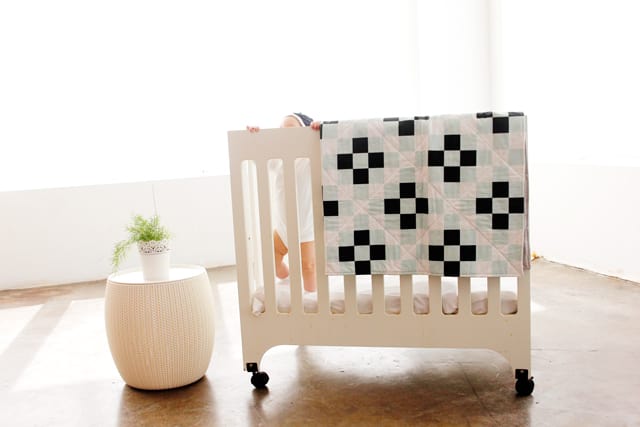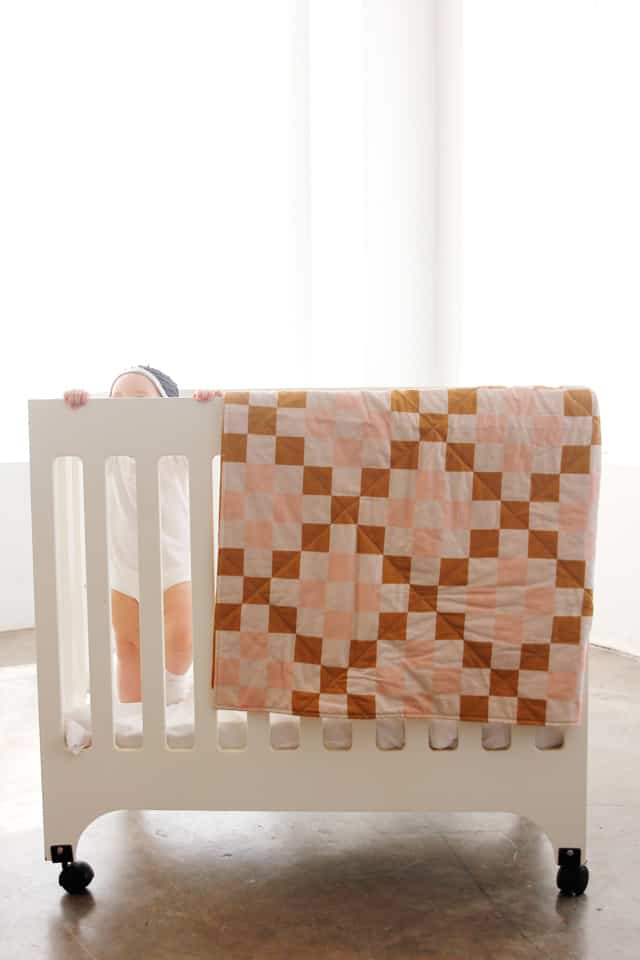 Sources:
Crib: Babyletto Grayson (discontinued)
Chair + Side table: Target
Pixie Bonnet: Pattern
Plant + Pot: Ikea
Onesies
SaveSave