Packing the hospital bag is always one of my favorite baby activities. It's just so exciting thinking about when and where you might be when you GO INTO LABOR! The anticipation of a new baby is hard to describe, I think that's why we as mothers obsess over the hospital bag so much. It's like we're bottling up all of our anticipation of the last 9 months (or 10) and putting all in a cute little bag. This hospital bag packing list printable will help you get ready!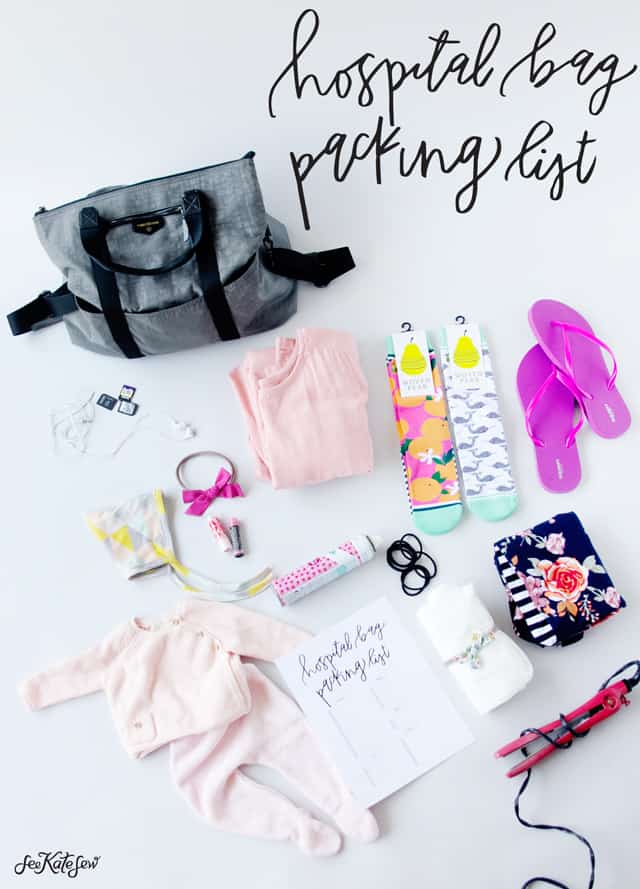 I guess for me the anticipation of a new baby is manifested best in all the cute outfits I've selected, the accessories I've made and the things I've collected. And then to pick just one or two of those things to bring with me to meet my baby…! It's just so exciting.
Click below to download this printable and then read my details below!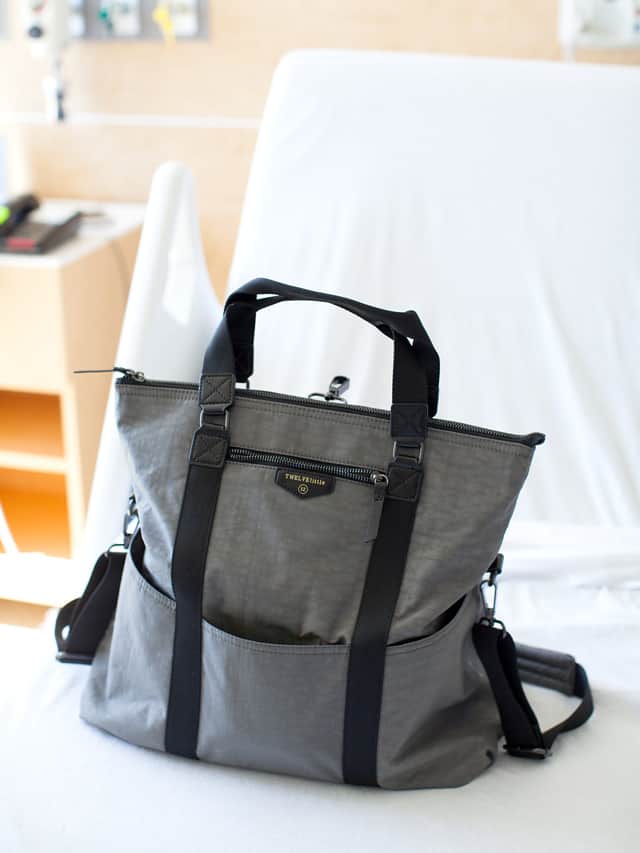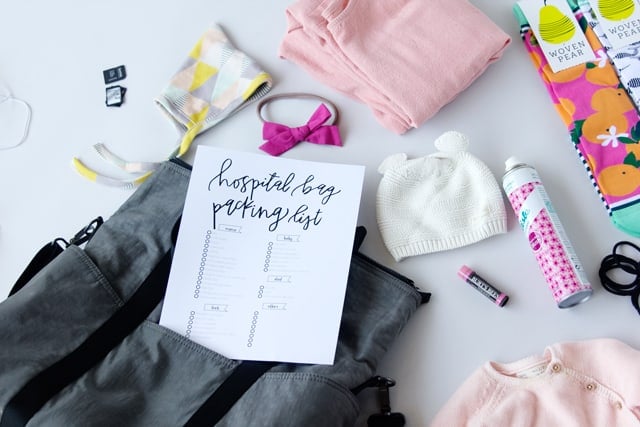 What to pack in your hospital bag:
For Mom//
Bag, a big one! I took my TwelveLittle Diaper bag, it's huge and all the pockets came in handy! Read more about this bag here.
A cute robe. Hospital gowns get a little stark feeling after a while. I'll share a DIY robe soon!
Socks! Treat yourself to something cute before labor. You'll thank yourself afterwards when your body isn't quite as you remember it. But your feet will be cute in a pair of bright socks. I've loved Woven Pear socks since I got my first pair a year ago and they sent me a new box full before labor. These socks come in a bunch of cute styles that will make you feel a little normal again! I took 3 pairs to the hospital and wore all 3! It was nice to have a fresh pair each day, especially since my feet were so swollen after labor. The emoji ones "Happy Feet" were pretty perfect for the hospital, perfectly described how I was feeling holding a new baby! They are also available on Amazon, and I think would make great gifts!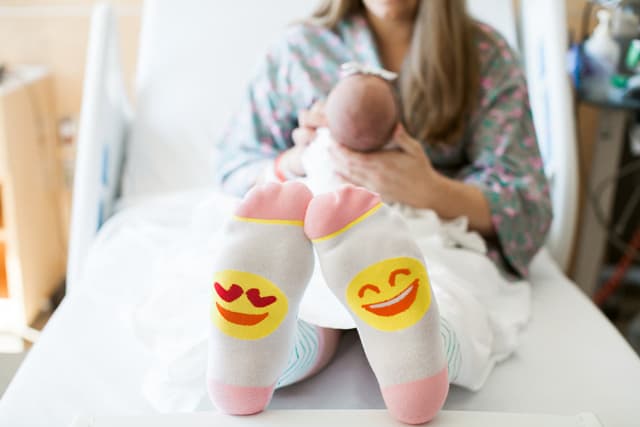 A few more favorite "pears":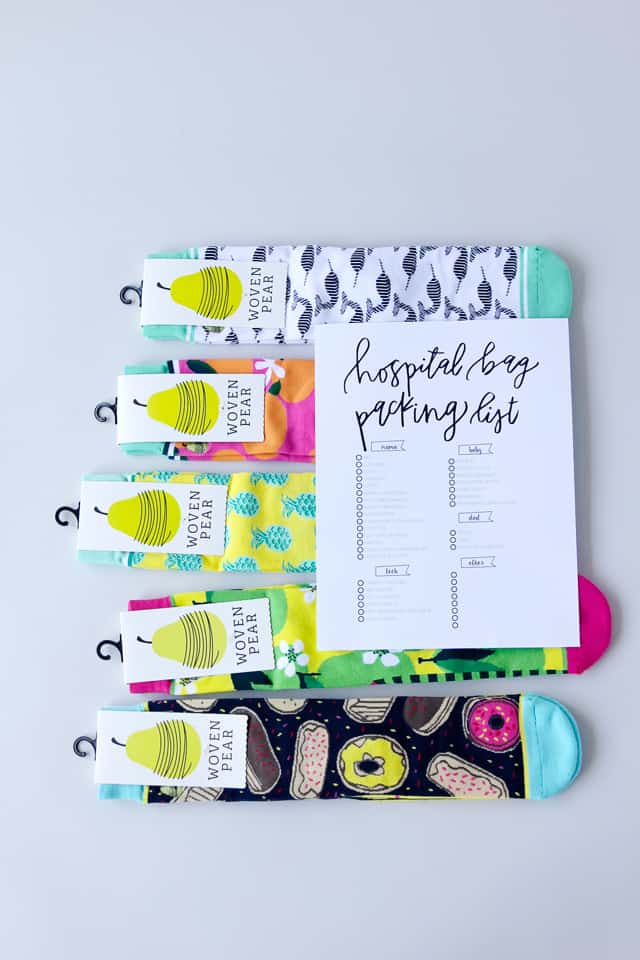 Chapstick + lotion, hospitals are dry. I brought BabyLips since it seemed fitting and a tinted Burts Bees.
Makeup and toiletries. Bring all your favorites, including shampoo and styling products! They will make you feel normal again after labor. Especially mascara and dry shampoo!
Post-labor snacks, I was so glad I had these after we ended up in the NICU and stayed longer than expected!
Nursing Bra + Tank + Nursing Pads
Yoga, or lounge pants for you. You'll get sick of wearing a hospital gown and it's amazing how good you'll feel in your own stretchy pants! As a bonus, after you have the baby, pants will help hold up your huge maxi pads.
Loose t-shirt to go with the yoga pants
Flip flops for the shower/slippers for the room
Hair Elastics + Bobby Pins – labor is sweaty business folks!
Curling Iron/Straightener/Blow Dryer
Something to go home in (fresh yoga pants or a loose dress)
Tech//
Camera with a new SD card and charger
Cell Phone + Charger
Laptop/Tablet
Mp3 Player + Headphones for labor
Video Camera
For Baby//
Car Seat + Car Seat Cover
Swaddle blanket for the ride home and an extra if you're not into the pink and blue striped ones they have at the hospital. I love these basic white bamboo ones, or make a few pom pom swaddles!
A going home outfit plus a spare. If this is your first baby I recommend packing 2 in slightly different sizes. Some "newborn" sizes are REALLY tiny and may not fit your bundle of joy. I brought the cutest Ralph Lauren layout outfit for my first baby, but he was TOO long for the footed pants. It was a total disappointment. Other things may happen too, like poop, pee or spitup, so be sure to have a spare!
Hats/Bows
Birth Announcement Props
For Dad//
Pillow
Cash for snacks
Gifts for other kids. We always bring the baby home with a gift for the other kids "from the baby" to help offset a little jealousy.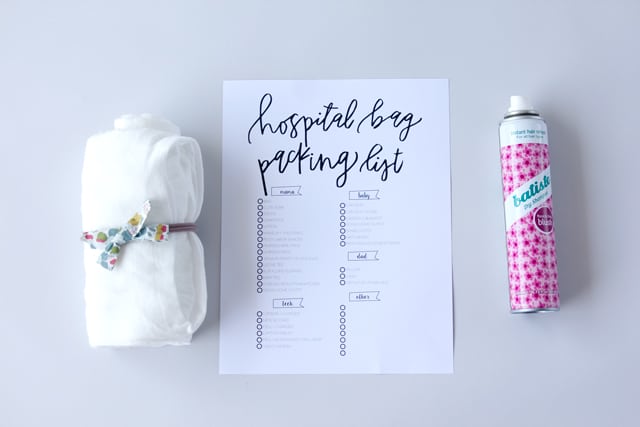 And there is some extra space at the bottom of the checklist so you can add anything else you might need! Print it off and good luck!