is like an understatement?


Well, good. Because starting in ONE WEEK we're going to revel in ruffles. Ruffles rock, so we're going to rock them. For 3 weeks. With 10 guests. 3 giveaways. Ruffles. Ruffles. Ruffles.
Ruffles up to your ruffle sleeve elbows. 





As a little teaser to our 3 weeks full of ruffle madness, have a look at my $5 Anthropologie inspired ruffle shower curtain. This was my project for the Dollar Store craft over at So You Think You're Crafty. 


Week two is going on now and you can GO VOTE for a thrift store project!
Here is my post for last week's project:
Anthro Inspired Ruffle Shower Curtain
I know what you're thinking… Anthropologie inspired at the Dollar Store!? 
It can be done! When I walked into the dollar store my mind was flooded with ideas. And then I remembered this awesome shower curtain from Anthropologie. I needed it of course. Needed. But at $168 it was a few (hundred) dollars above my budget. They have since lowered the price to $118. (Maybe they weren't selling or something??!)
So then I saw the plain boring shower curtains that were available at the dollar store. 
I picked up a few and made my own, with an all-white color palatte, which is trendy and oh-so-Anthro!
I made this baby for 5 bucks. That's really good for a shower curtain to begin with, and with the Anthropologie look that is even better! It just goes to show that aesthetics don't have to mean $$$$! Now I'm showering in ruffled style. And for only 5 bucks!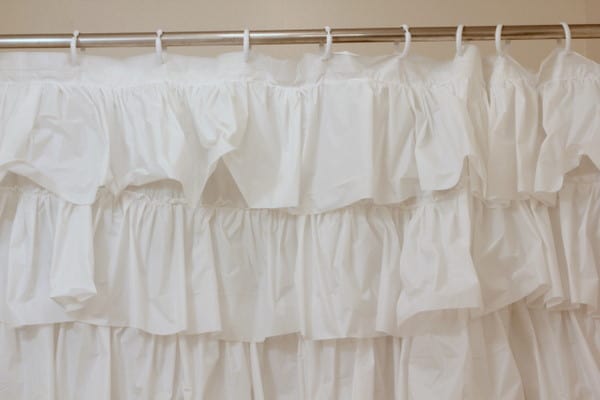 do YOU need a ruffle shower curtain too? I promise you'll feel awesome every time you see it.
All you'll need is 5 cheapo vinyl shower curtains and your sewing machine. 
To get started, unfold your shower curtain and then refold it into eighths by folding it in half the longwise a few times. This will just make it easier to cut into strips.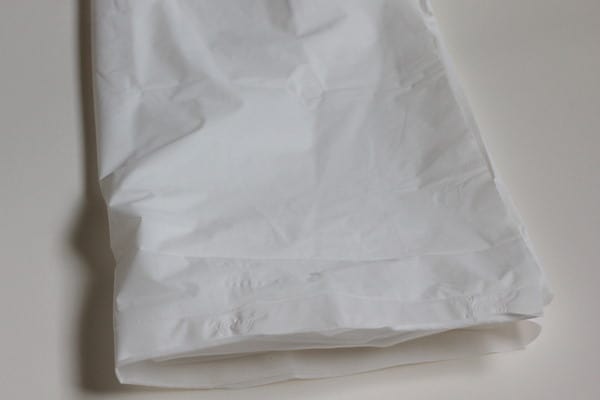 Cut 4 of the shower curtains into 10 inch strips. You'll need two strips for each ruffle. So you need 16 strips total. You won't need all of the last curtain. (You can adjust the length by adding more strips, though!)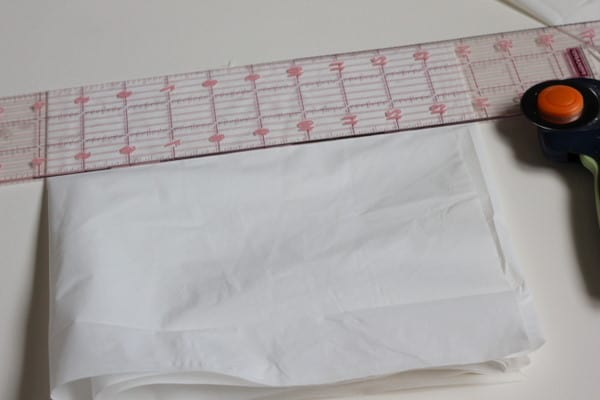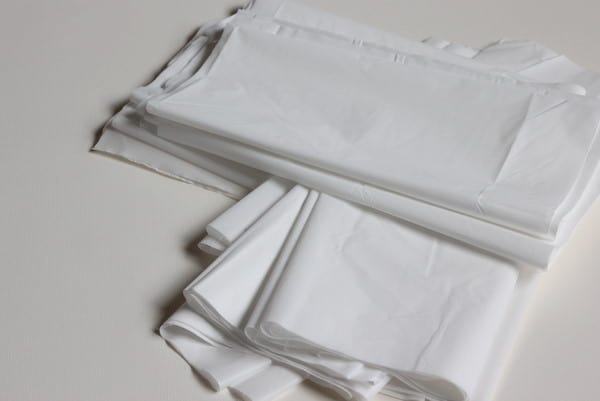 To make each ruffle, pin and sew 2 strips together. Then run a basting stitch across the top of the strip.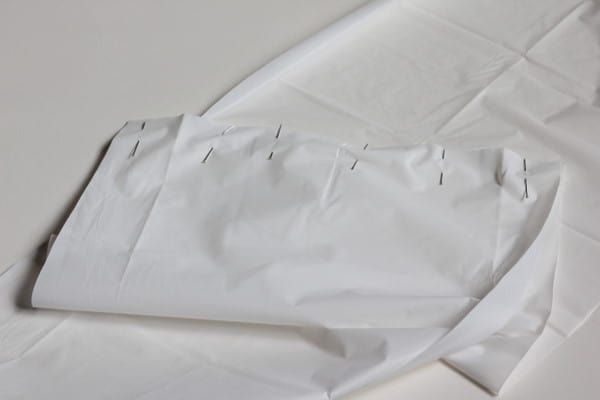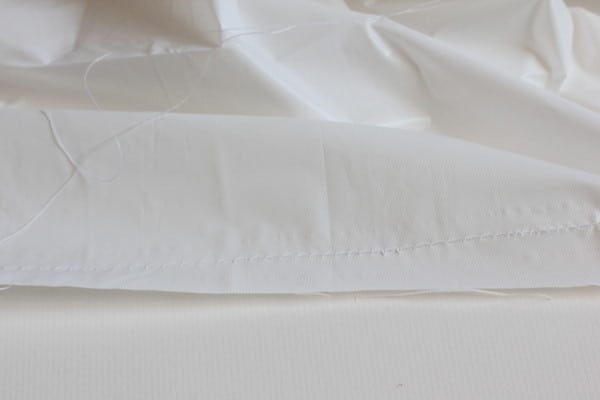 Pull to gather the vinyl. Repeat for each ruffle.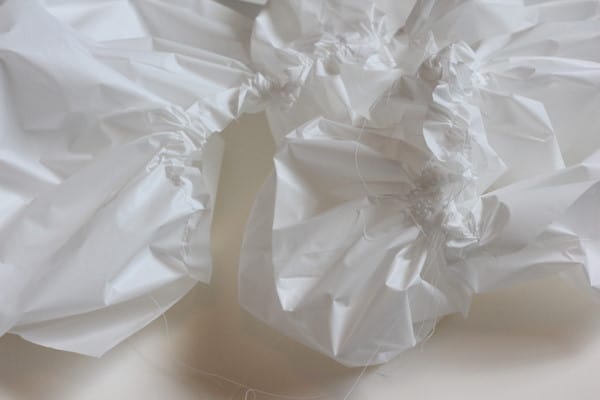 Then, unwrap your fifth shower curtain and lay it out. Pin on one ruffle at a time. To make it the right size, pin the two edges of the ruffle to the edges of the shower curtain and space the ruffle to fit. I started from the bottom and worked up, but it doesn't really matter. Each ruffle overlaps the others just a little bit. The bottom ruffle should hang over 5-6 inches to make up for the length you'll take from the top when you finish it.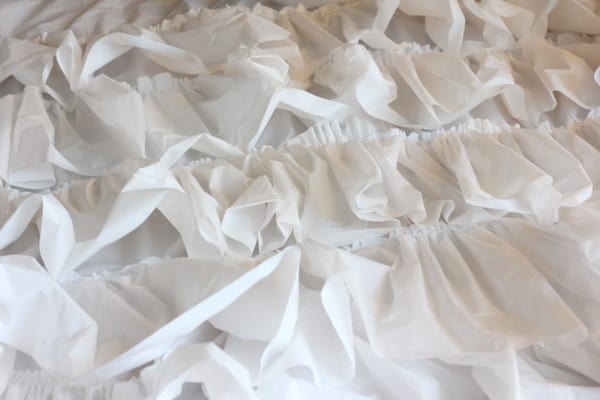 Repeat until your curtain is covered!
To make the top look nice, bring the top edge of the shower curtain down, creating a fold in your fabric behind the shower curtain.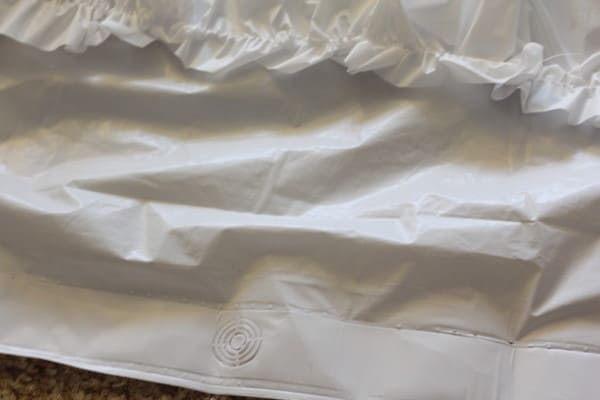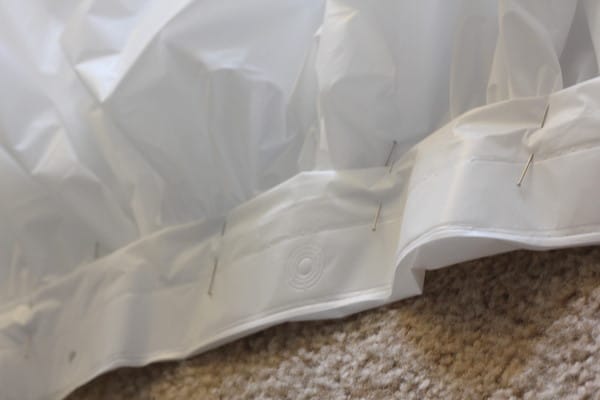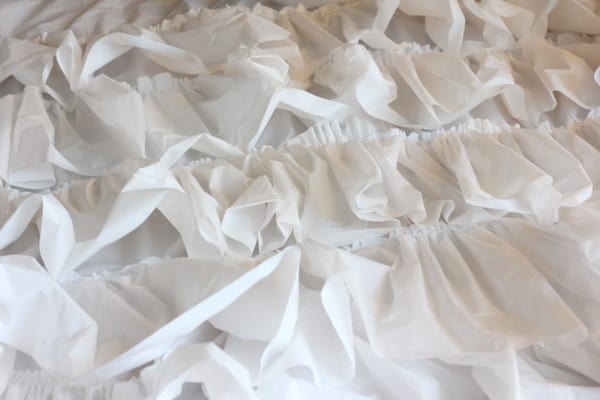 That's it! Now you have some luscious ruffles! mm hmm.
 And if you're like me, your life can never be too ruffly!
-It's easy to pin through vinyl but it will leave a little hole, so don't go too pin-crazy
-Be careful when pulling your baste stitch. If you are too harsh with the vinyl it will tear! Eek. 
-The cheap nature of these shower curtains makes for light and flowy looking ruffles!
Today is the last day to enter!