We are all in love with this project over here! I've had this ombre mermaid tail blanket pattern in my mind for a long time now! In fact, I've had the fabric cut for months and months (before the baby came!). I finally had a chance to finish it up, just in time for the holidays. This is a perfect last minute sewing project to stick under the tree for lots of cozy evenings by the fire.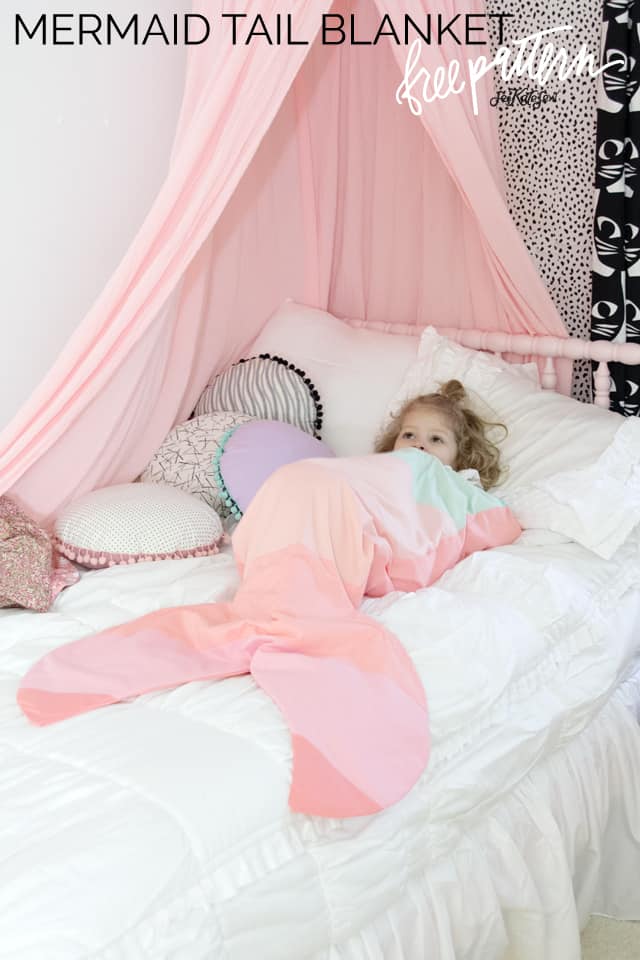 The project itself didn't take long. It's not a hard project, even though it is a big project.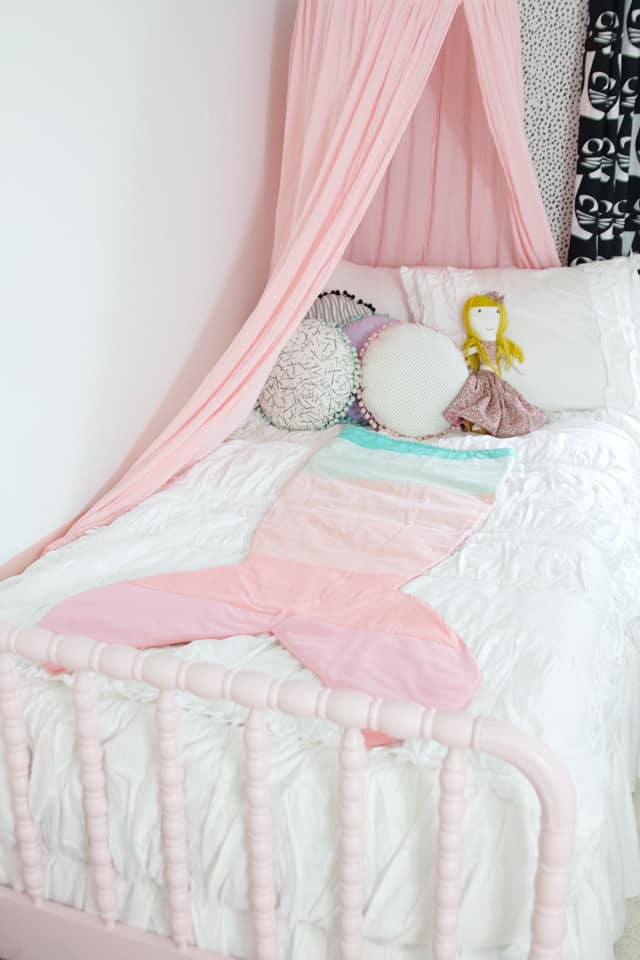 The techniques involved are simple piecing and simple sewing. A layer of batting in between the layers makes it quilt-like and the lining makes it comfortable to wear.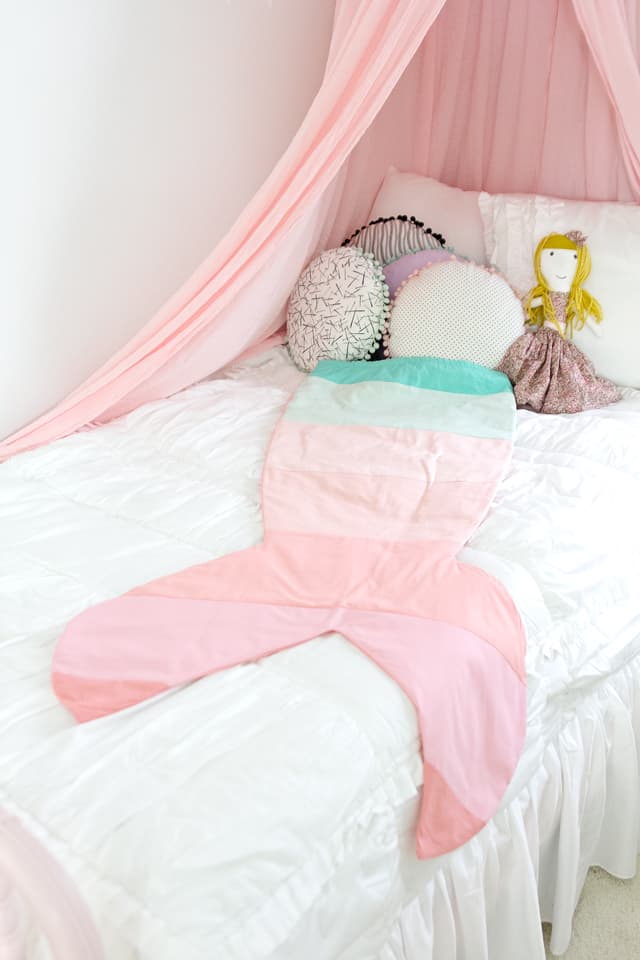 I love a bed full of pillows and accessories! And this mermaid tail adds a nice pop of color to the otherwise stark white bedding! (The pillows are a project from my brand new book, check it out here. And the other sources are listed in this post.)
Before we got to the bedding and accessories, we had to start with a bed frame. I found this cute Jenny Lind bed on Craigslist, it was such a good day when I picked it up! I LOVE IT! (You can find a similar one at Land of Nod) I almost painted it white, but at the last minute decided light pink was a better fit! And then Helix Sleep sent us a BIG GIRL MATTRESS! It was super exciting for my little big girl to get her mattress in the mail! I mean, look at that face!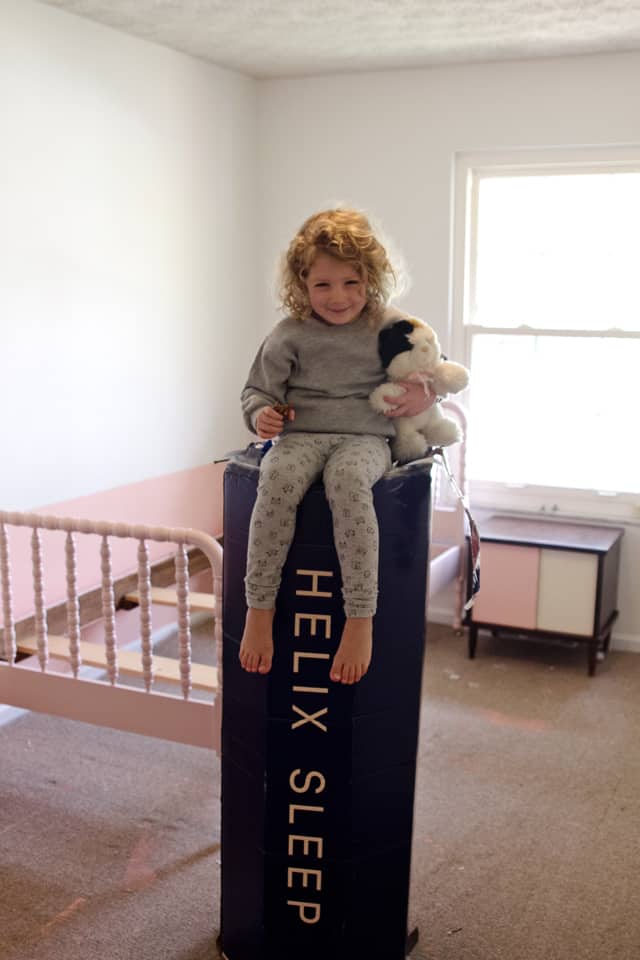 And the ordering process at Helix was super easy. No stores, no laying on endless mattresses feeling nothing different! I filled out a survey, order the mattress and about 5 days later had a shiny new vacuum sealed mattress all wrapped in a cute box on my doorstep! It was painless, hooray!
The mattress is super soft and comfortable. I've had the luxury of napping in it and I am always jealous when my daughter crawls into bed! Lucky girl! The online survey included rating how firm and hot/cold you prefer so the mattress was customized based on those preferences. That just makes so much more sense to me than walking into a mattress store and laying on a bunch of beds.
We took a few photos as we unboxed the mattress. I was always curious how this worked, a mattress in a box! So here is how it goes: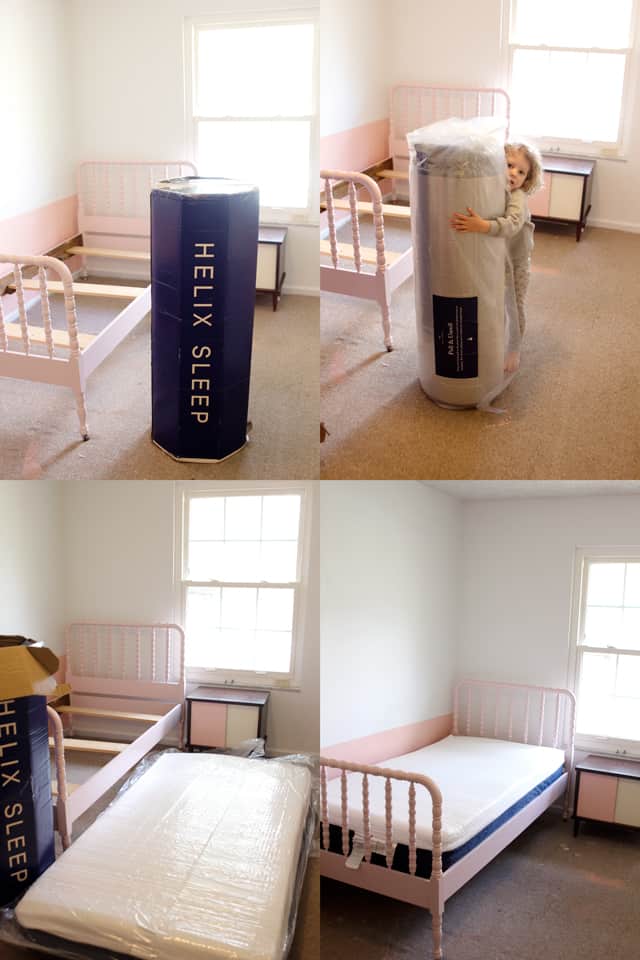 The mattress is rolled up super tight. After the outer plastic is removed it instantly starts to rise, it's pretty fun to watch! And viola! A mattress! This is the twin size. I'm really impressed with the quality and ease. I'll never go mattress shopping again!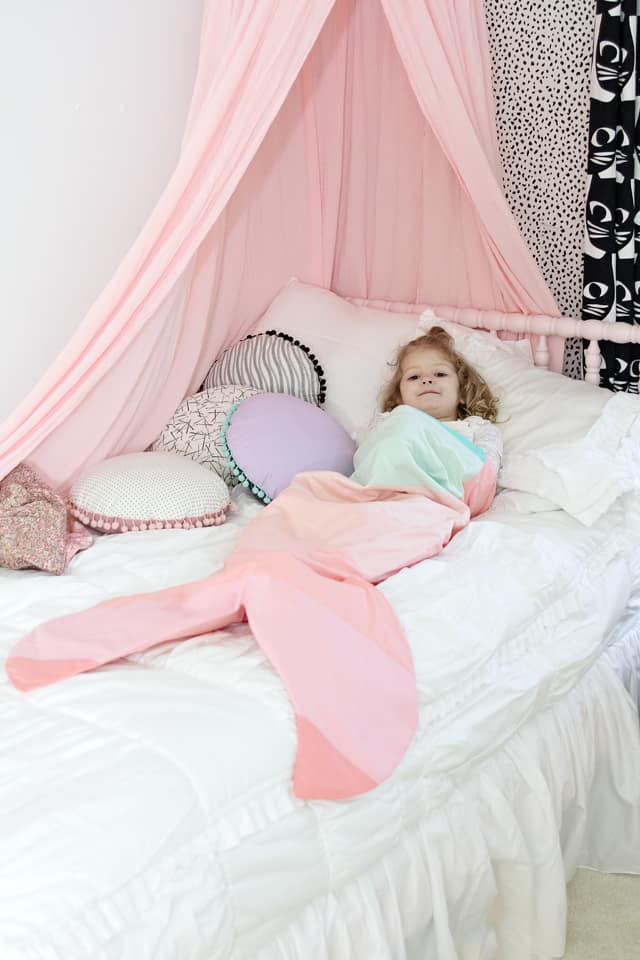 A mermaid tail blanket makes this spot extra cozy! I created an ombre effect using different fabrics in shades of pink and green. The tail is hollow so your child can stick her feet all the way in, mine likes to walk around in it. And it's really quite cozy inside! And now my son wants one! I think I'll do blue ombre for him and call it a Whale Tail!
Ombre Mermaid Tail Blanket Pattern
Mermaid Tail Materials
3 yards basic cotton
1/4-1/2″ yard scraps in 7 colors for ombre
pattern download size 2-5years (FREE for a limited time!)! see below

Print out the pattern and trim the edges off. This is a large pattern so you'll have to tape all these pages together.
For the ombre tail, cut strips of fabric 9″ tall and 24.5″ wide. If you're using scraps, use the smaller scraps at the top of the blanket. The "Tail" part requires wider scraps than the top part!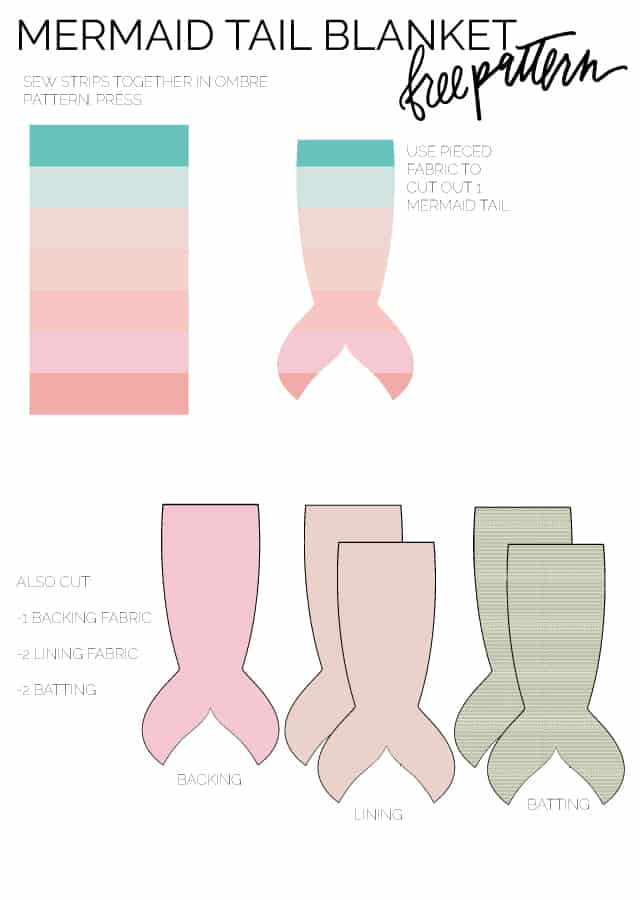 Sew them together in the order that you prefer. I went from green to light green to light pink to dark pink. Press well.
Fold the fabric in half and press. Pin the pattern piece to the fold and cut out. Repeat with backing fabric, two lining pieces and two batting pieces.
Baste the batting to the front and back blanket pieces.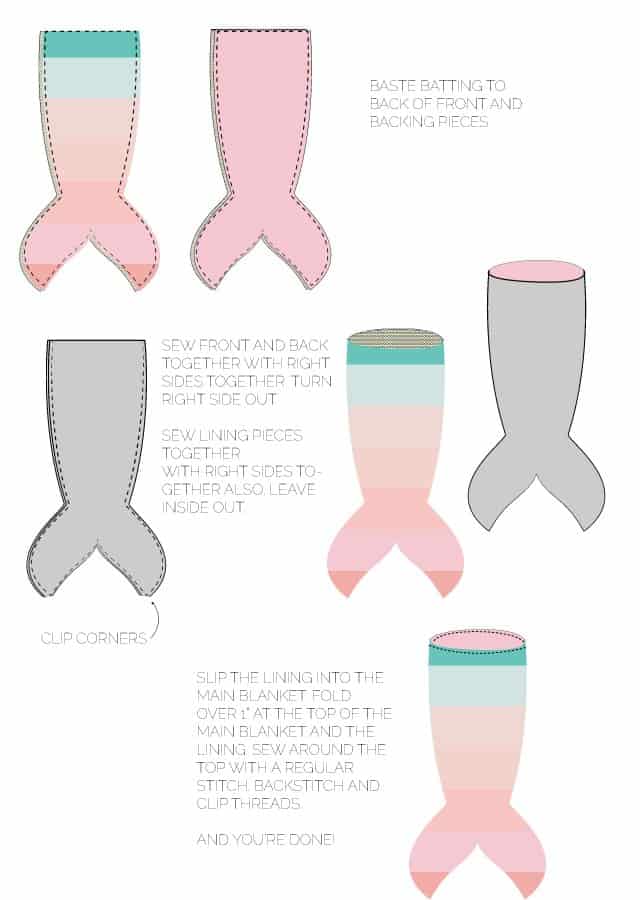 Sew the front and back together and sew with a 1/2″ seam allowance. Repeat with the lining piece. Clip the corners. Turn the main blanket pieces right side out but leave the lining INSIDE out.
Slip the lining into the blanket and fold over the top 1″. Pin the top together and topstitch all the way around. All done!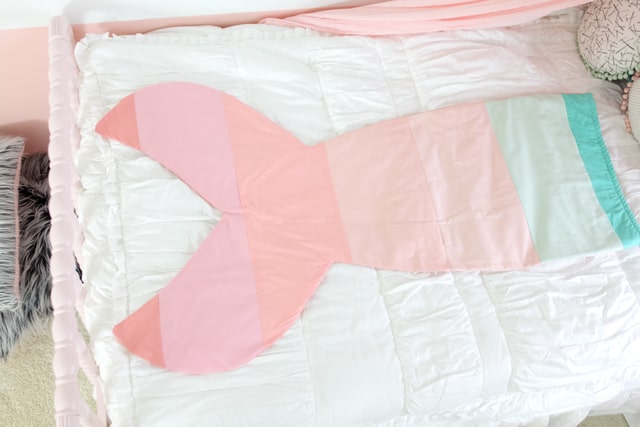 I told you, easy! Now wrap it up or give it to your kiddo and wait for their big huge smile!