Let's talk about grain.
Grain matters. Usually.
Every piece of woven fabric has grain. Lengthwise grain, crosswise grain and bias grain. Grain describes the direction of the threads. It's important when sewing, just like woodgrain is important when building.  


The lengthwise grain is parallel to the selvage edge.
Crosswise grain is perpendicular.
Bias grain runs at a 45 degree angle from lengthwise and crosswise grain.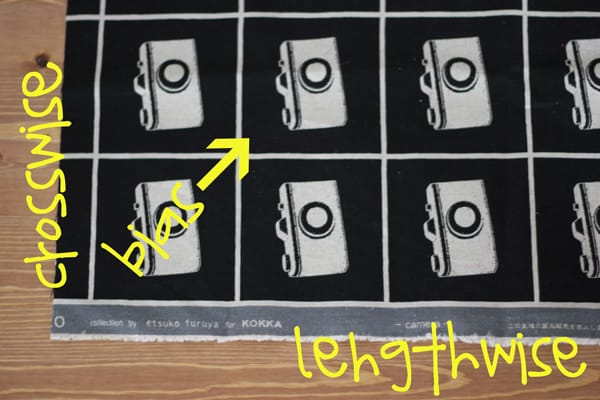 Bias grain is the stretchiest and has the most give.
Crosswise grain is next stretchy.
Lengthwise grain tends to have the least stretch or give.
A good fabric store will tear your fabric along the crosswise grain instead of cutting it. That way you get the full yardage and your garment can be on grain. I cringe every time I go to Joann and they cut their incredibly off-grain cotton with a pair of scissors. I usually tear it when I get home and find that it is 2-3 inches off grain. Cringe again.
Most garment patterns instruct you to cut pieces along the lengthwise grain.
A lot of clothing manufacturers don't pay attention to grain on purpose. Cutting on the grain is not always economical, but it will make your clothes hold up better. 


How to get your fabric on grain:
When you get home from the fabric store, getting your fabric on grain is pretty simple. You might need a friend to help you though. Tear your edges so you know you have your threads right. I always cut a slit first, then tear. Then all you need to do is stretch it on the bias grain. So, have your friend grab a corner of the fabric and you grab the opposite corner on the other side of the length. Pull until the edges line up. 


Here's an ugly diagram to help explain: If this is the piece of fabric you need on grain…


Let's get technical:
Lengthwise and crosswise grain are also referred to as the warp and weft, respectively.
warp=lengthwise
weft=crosswise
Warp threads are the first to go on the loom. They are secured tightly and then weft threads are woven back and forth to make a woven fabric. 


Grain doesn't always matter. If you're just using your fabric for a little crafty project, it really won't matter how you cut it. For example, I didn't pay attention to grain for this fabric covered tissue box.


That's your Sewing 101 tip for the day. I hope I didn't bore you!
This is going to be a little series, mostly to help remind me of correct sewing principles but maybe you'll learn something useful, too. 


Do you have any sewing questions you want answered? Do you want to know sewing lingo? Ironing secrets? My favorite sewing tools? Please let me know what you want to know!