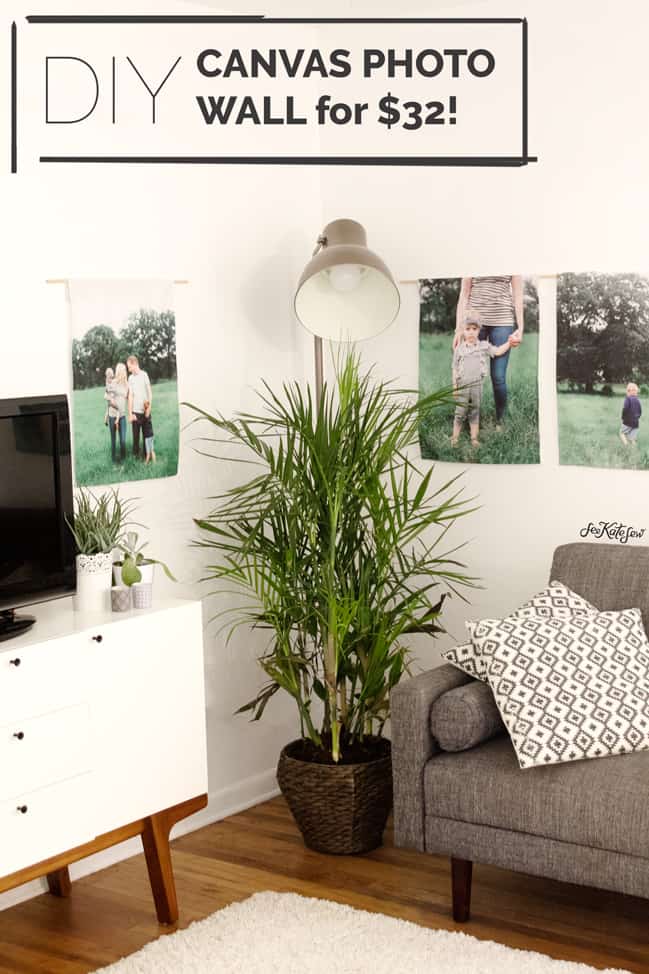 I'm excited to be a part of the Spoonflower Handbook tour today and to share a little corner of my home with you!  The Spoonflower blog is a brand new book from Spoonflower that is full of sewing projects. It also breaks down fabric designing from start to finish, including specifics about formatting, etc. It's so inspiring and just chock-ful of sewing goodness!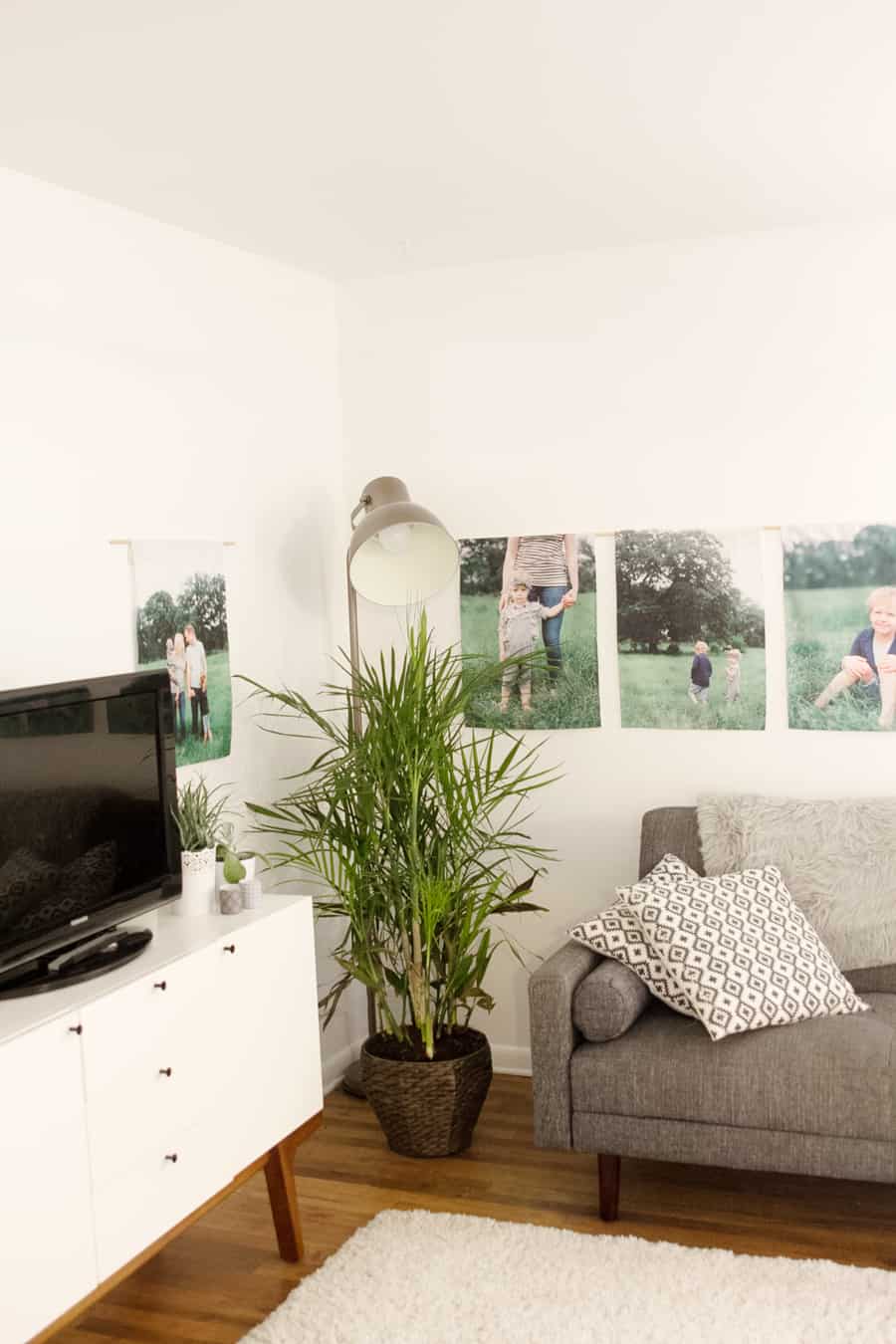 I decided to do one of their photo projects. I had 4 photos printed on Eco Canvas, sewed them up with a casing on the back. I used dowels to hang them up on my wall and I'm really thrilled with the result. I think this is the first piece of my home besides my sewing room that is clean enough and fully decorated enough to share! (Fist in the air! Yes!) (It only took me a few years…) Anyways, This project totally completes my favorite corner of the living room and it feels so homey and cozy to me now. The kids also love seeing their photos on the wall. It's great all around!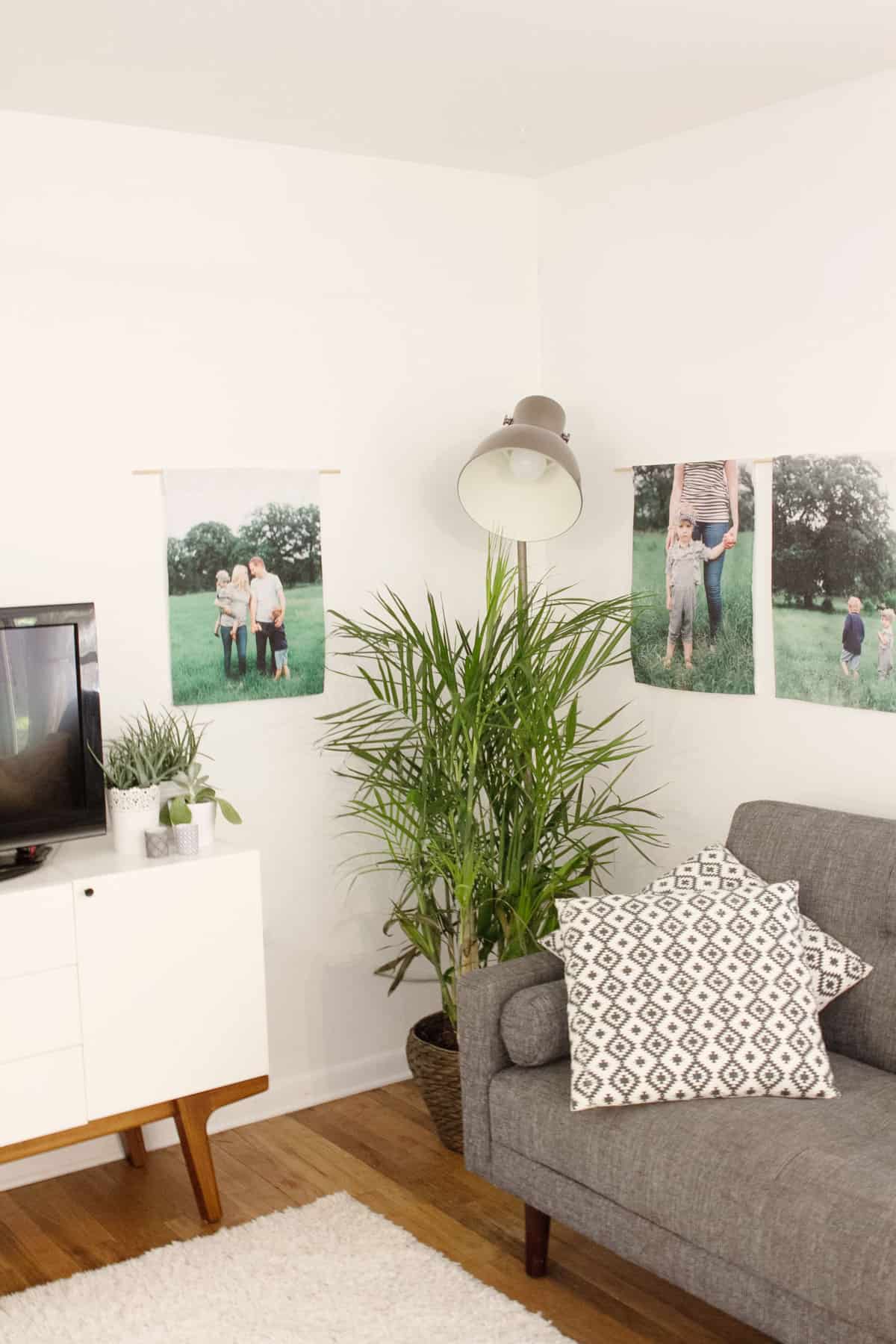 The best part is you can choose from a variety of fabrics and 4 big photos on one yard of fabric becomes so much cheaper than printing off enlarged prints and WAY cheaper than printing photos on canvas the normal way. It's like a gallery wall hack! I used Eco Canvas, which is a nice heavy weight for a banner project like this.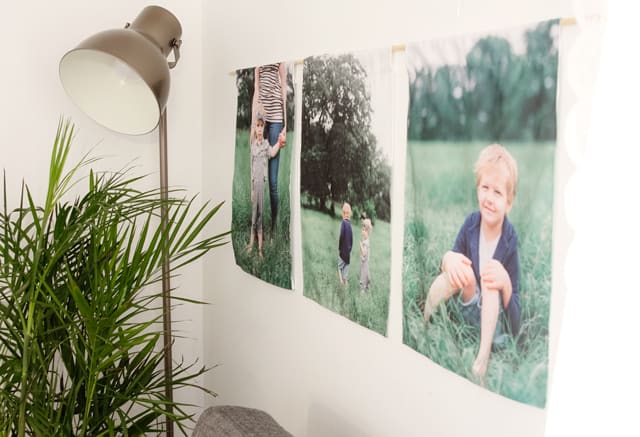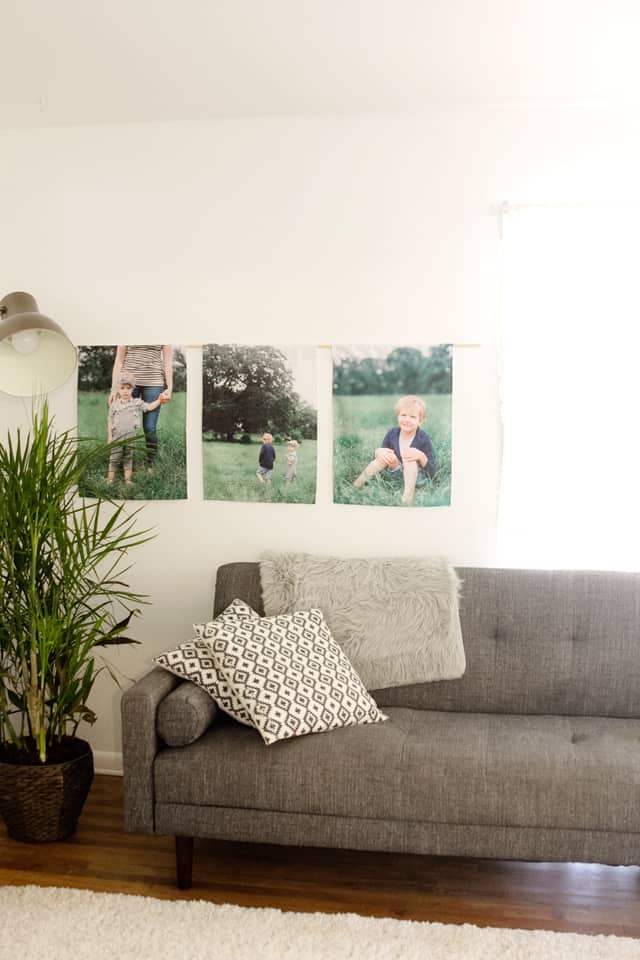 Another thing I'm excited about with this project, is being able to switch them out frequently, without the cost of normal canvas art AND without having to worry about storing large canvases somewhere in the house. These fabric banners fold up or stack up and store flat, they don't take up much space at all.
And once your wall is full of nice photos, your kids may sit and read together quietly, though results may vary ;)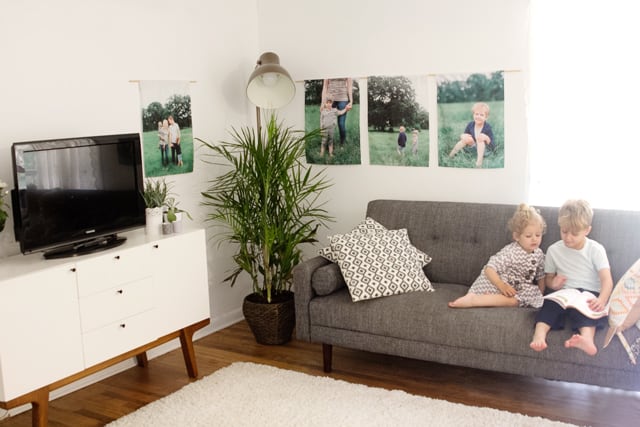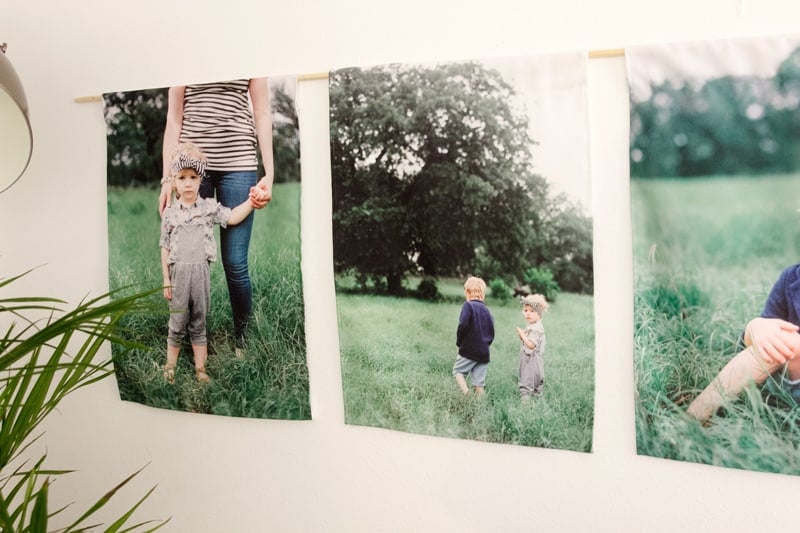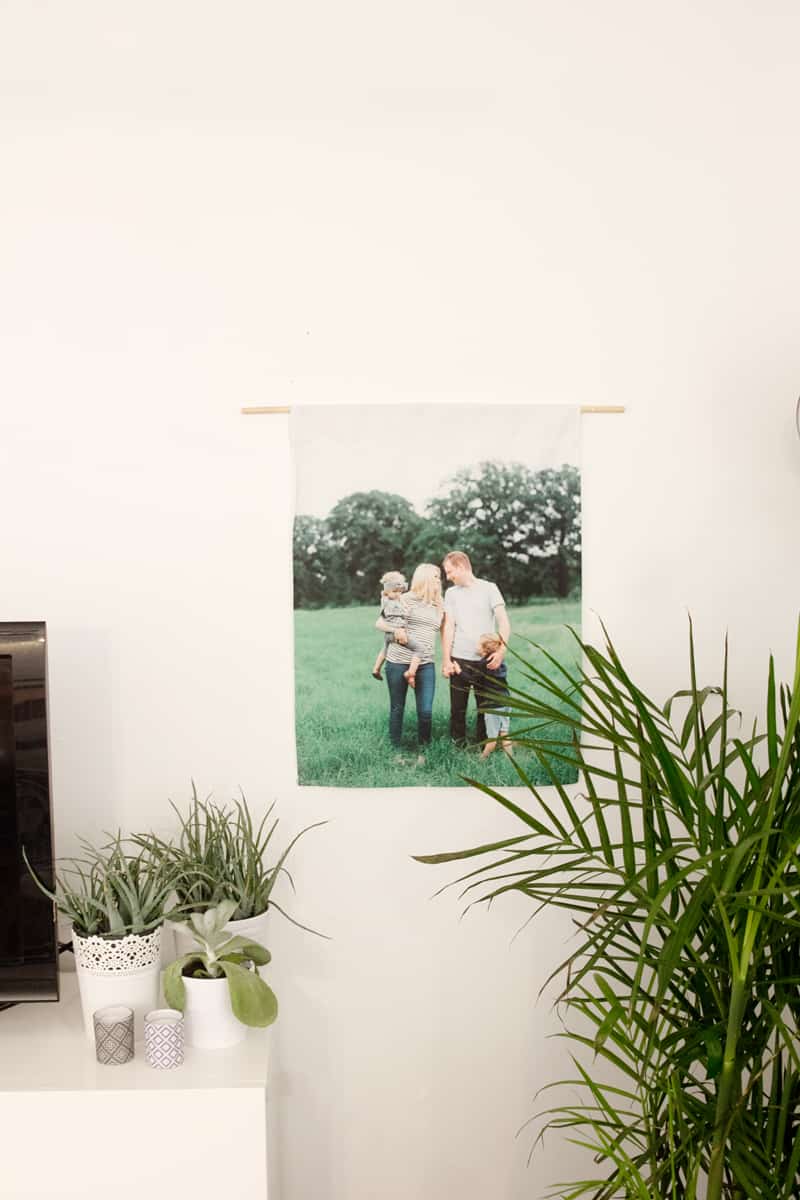 Want to make your own? Here's how to do it!
DIY Gallery Canvas Wall //
Materials:
-1 yard eco canvas printed with 4 high res photographs
–Three 36″ or 48″ dowels. If you can find a longer one use it! I had to tape two together with a little make-shift splint for my longer dowel.
–Transparent thread, or thread that matches your photo. I recommend transparent thread for photos with lots of colors.
Step 1: Upload your photos to Spoonflower, following the directions on page 96 of the Spoonflower Handbook. The handbook has all the info on how to make sure your photos are the correct size and format, etc.
If you decide to put 4 photos on one panel, you'll have to use a program such as Photoshop to put 4 photos on one file. Make sure you have at least 4″ of extra fabric at the top of each photo and 1″ in between photos on the sides.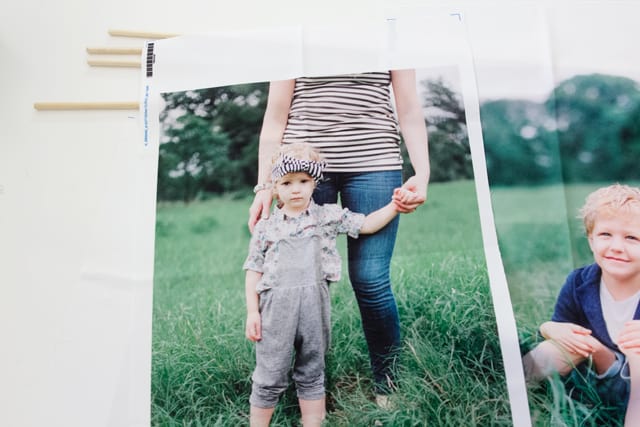 Step 2: Trim around photo leaving 3″ at the top and 1/2″ (or a little more) at the sides and bottom.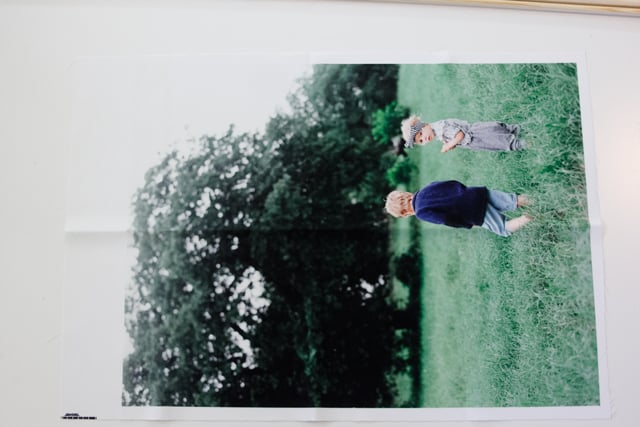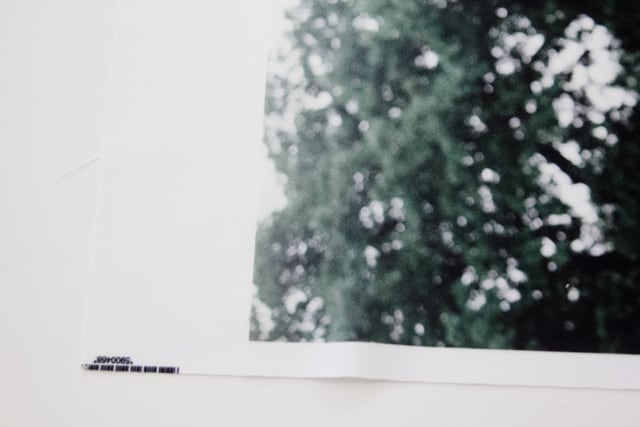 Step 3: Fold under and press 1/4″ and then another generous 1/4″. You want to make sure there isn't any white showing on the front of your panel, so be sure to get some of the photos colors in this hem. Clip or pin your hem.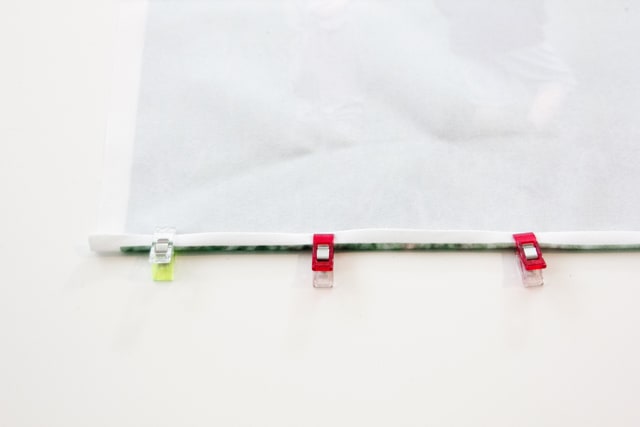 Step 4: Sew along hem with a 1/8″ to 1/4″ allowance using TRANSPARENT thread. Transparent thread is tricky to sew with, but you can follow my steps for sewing with Metallic Thread (omitting needle requirement) for help. Transparent thread is basically fishing wire, it's not super fun to sew with and can go all over the place. It also breaks and snaps so you'll want to make sure the tension is right. The best part about transparent thread is that it will sew right over the varied colors in your photo and you won't see a thing!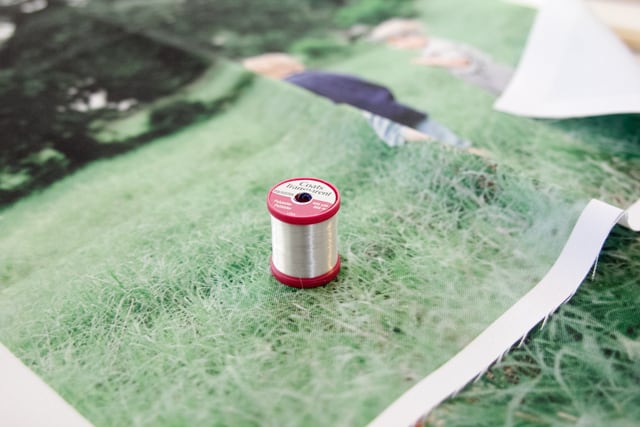 Step 5: Repeat steps 3 and 4 with sides of panel. At the top, fold under 1/2″ and then 2.5″ to create a casing. Pin it down and sew along the bottom of the fold to create a casing to run your dowel through.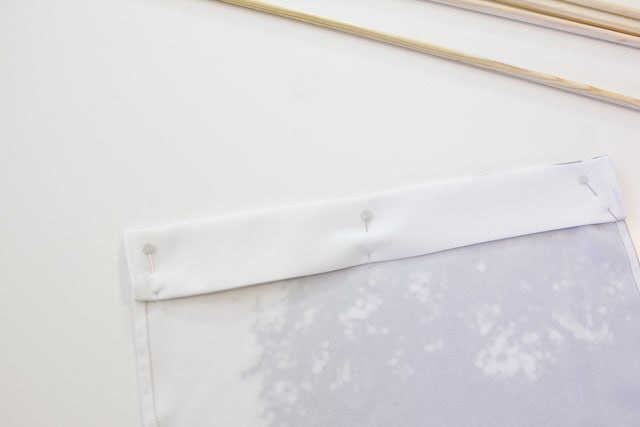 And then you're done! Give it a nice press (but not too hot—that thread can melt!) and then hang it on your wall. I used little pieces of tape on the bottom corners to get them to lay flatter against the wall. I think glue dots or other similar adhesives will help with that, too.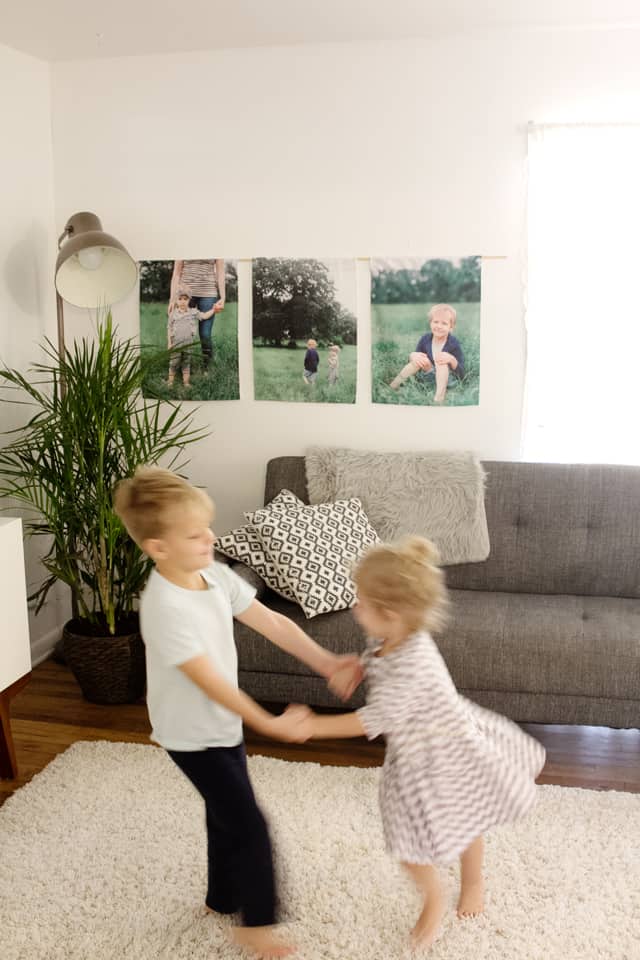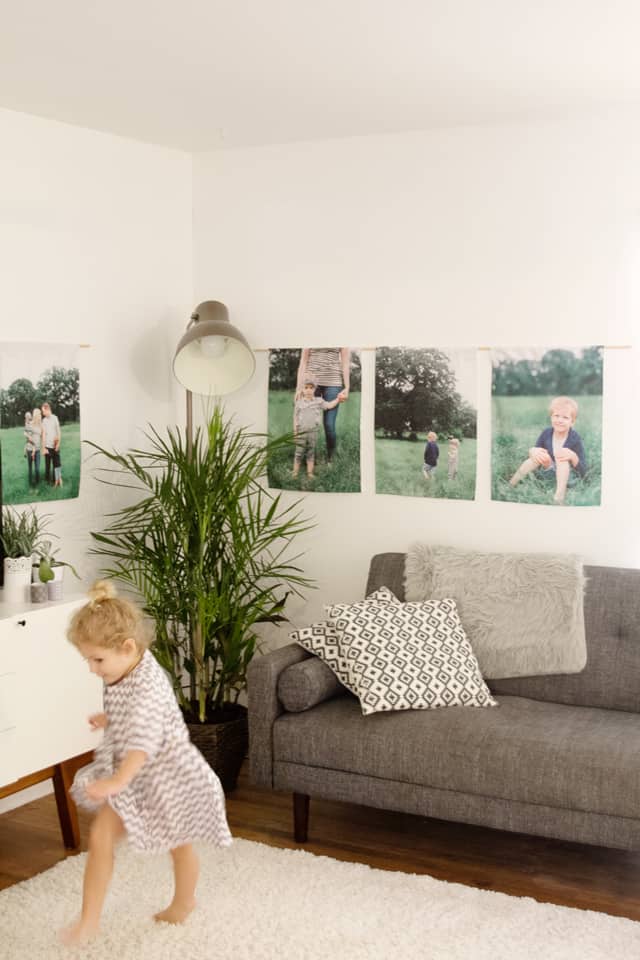 Enjoy! Check out the rest of the Spoonflower Handbook tour on the Spoonflower blog and order your copy of the Spoonflower Handbook today!