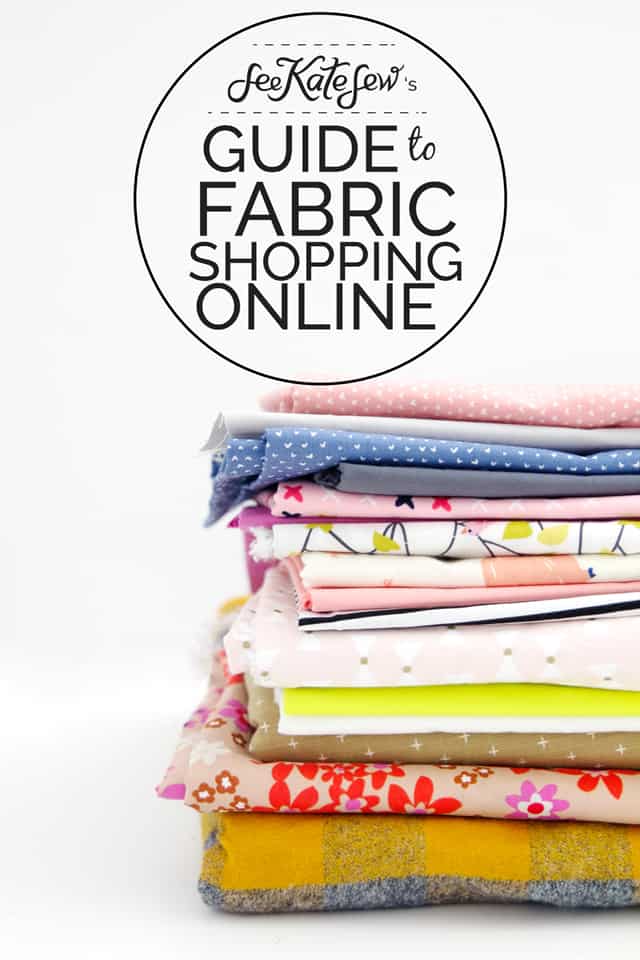 Where do you buy your fabric online?
This is one of my most asked questions and I have been meaning to write it for months and months (years?)! Sometimes it's hard to step away from the sewing machine and write a blog post, so it's finally here! This is my current guide to shopping online, right now. I'm always finding new shops and adding to my list, so I may update this in the future! But right here, right now, this is my online fabric shopping routine! I'm also including some general sewing supplies, because if you're not going into fabric shops, you're probably not getting those either! Some of these shops are brands I have a working relationship with, but only because I've been ordering with them for years beforehand, so this is truly my list fabric shop favorites.
I do probably buy more fabric than the ordinary person, since I make so much stuff for this blog and other projects, so I feel like I have a good grasp on fabric shopping. And with small children, online shopping is my favorite kind. So let's go!
First let's talk about the downsides of shopping for fabric online and why I do it anyways.
Downsides of fabric shopping online:
Not being able to touch the fabric is one of the downsides, but this really only applies to apparel fabrics.
Sometimes descriptions are vague or confusing, this especially applies to knit fabrics. Stretch recovery is not usually discussed in online listing and that can make or break a project
You have to wait more than an hour to use your fabric. Hah. hah. ;)
I do love supporting small brick-and-morter shops. It's nice to have those around and I know it's hard to run a small fabric shop as a business. So not supporting them is a bummer
Why I do it anyways:
Shipping is generally pretty fast and there is usually a free shipping offer if ordering over a certain dollar amount.
LESS ERRANDS WITH KIDS. I love my kids and I love being a mother. I love spending more time doing interactive activities like reading and crafts and less time yelling at my kids to not wander off or not touch things. So, this is my #1 reason.
Errands also exhaust me, with or without kids in tow. I don't even want to talk about grocery shopping (and then you have to cook the food….le sigh.).
Once you know fabric, fabric shopping online has little risk, especially when ordering trusted brands, stuff you've worked with and basic supplies.
Prices are good online! Sometimes better than in stores.
In no particular order, these are the shops that I order from:
Raspberry Creek Fabrics is my go-to apparel fabric shop. There is a good solid selection of popular and basic knits and wovens! She does carry quilting cotton, but the apparel fabrics are where it's at! Raspberry Creek also recently started a signature line of knits, called CLUB fabrics that print every so often. I've never had a quality issue with any of the fabrics from RCF and the shipping is fairly cheap and always priority.
Fat Quarter Shop is my quilting cotton source. They have every line, when it comes out, organized nicely! They don't carry apparel fabrics besides a few lawns, so I'm on there for the quilting cottons, which actually makes shopping at FQS pretty simple. I love the website, the selection rocks and the shipping is also very fast. One unique thing about FQS is the way they stack their fabric before shipping it to you. It's so flat and nice, you almost don't want to dive into it. The free shipping threshhold is $80, so I'll usually purchase for quite a few projects at once to save on shipping.
Spoonflower is a fun site! If you've ever been on there you know that. I design my own stuff on there and order that generally. I don't go into the Marketplace much, but it is a fun place, too. I usually order basic cotton or Kona cotton. There is a new Jersey blend that I am anxious to try since I haven't had great luck with their other knits. Find my doll fabric, quilt cloths and other designs here!
Fabric.com is my source for the cheapest Kona cotton. I back most of my baby quilts with basic Kona solids and I can't ever beat the prices at Fabric.com. The free shipping threshold is only $35, so done and done. I also love Fabric.com because they carry pretty much every Riley Blake print. Since I design for Riley Blake, that is exciting to me!
I can't leave out Amazon. Though it will probably run the world one day, I order SO MANY sewing and craft supplies on Amazon on a weekly basis. Usually if i need just one little thing (a spool of thread, a package of elastic, KAM snap refills, pacifier clips) I get on there and 2 days later, bam! In my mailbox. They have started carrying some fabric, I also love to buy Kraft Tex on there.
Miss Matatabi is a unique shop with a unique selection. Every once and a while I crave a good Japanese print and Miss Matatabi is the source for that! It ships US shipping so you don't get an postage charge. So much eye candy on there!
Fabricworm is the birthplace of Birch fabrics and I love Birch. I haven't ordered from them in a while, but I always have a good experience when I do. They also have most popular fabrics, including a selection of apparel stuff.
Girl Charlee is another favorite for knits. You need to know knits to order from here since they carry all types and some are thinner than you may expect. Any spandex blend is my favorite.
Mood.com is the online Mood store. I don't order from here often, but their selection is incredible. The price range also gets really high, so I generally go to Mood for specific things. Mood is my favorite place to order coating fabrics from.
And I also order from Joann occasionally. Usually, if there is a good sale on notions, pillow forms, or other basics and an online coupon code to use(like a 20% off total purchase), I'll place an order. Shipping has never been very fast for me, so I don't place an order that I will need right away. Another downside is you can't use more than one coupon online, so it's usually a better deal to just go to the store.
Need something rare, specific or out-of-print? Etsy is a great option if you know the name of the fabric.
And that's about it! Sometimes I'll try a new shop, but these are my favorites that I keep going back to!
I'm sure there are lots more great fabric shops that could be on here, so join the See Kate Sew Facebook Group and add to our conversation about it!
SaveSave