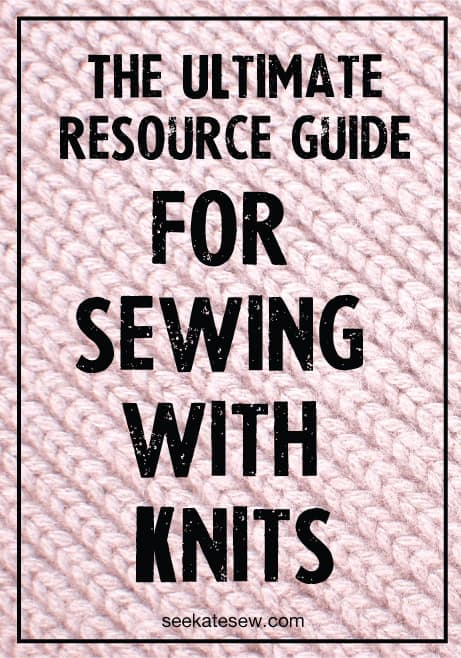 I have a new pattern coming out very soon that is designed for knits and a new enthusiasm for sewing with knits after discovering Girl Charlee's website. I don't normally love knits because it is so hard to find cute knit fabric, but Girl Charlee is full of cute stuff, florals, stripes, oh my! I have been sewing with them a lot since my first order came! You'll love them, too. Check out the half yard cuts for some great deals, too, I love that section.
I put this post together for anyone who hasn't yet ventured into the realm of knits yet, or for the knit-lover who wants to learn something new. Sometimes sewing with knits can be scary so I have rounded up some top sewing with knits posts and a whole slew of tutorials to get you started. I hope that this resource guide will help you feel comfortable sewing with knits and inspire you to make something stretchy! It is a really fun field of sewing and I don't want you to miss out just because you're intimidated. (Because you shouldn't be!)
20 great resources for sewing with knits
tips for sewing with knit fabrics from oliver and s
sewing with knits 101 from Shwin & Shwin
Sewing with Knits: Beginner Basics from the Girl Charlee Blog
Cutting Knit Fabric from MadMim
tips for working with knits and mock coverstitch tutorial from sew mama sew
Finishing techniques for knit fabric from MadMim
No fear. How to sew with knit fabric from MADE
types of knit fabric part 1 and part 2 from Kitschy Coo
6 ways to beat those pesky puckers from made by rae
how to sew on knits from adventures in dressmaking
sewing with jersey 101 from Prudent Baby
tips and tricks for sewing with knits from Threads Magazine
end knit wavy seam syndrome from the sewing rabbit
the easiest knit neckline from design diary by megan nielson
clean finish neckline binding from design diary by megan nielson
knit fabrics and selection from One Little Minute
shopping for knit fabric online from made by Rae
sewing with knits: where to shop and pattern round-up from Noodlehead
Lots of these posts have links to even more posts so this will give you a great place to start! Do you have any tips to add?