Written by Michael Ann of Michael Ann Made. Also keep up with her on facebook, instagram, twitter and pinterest!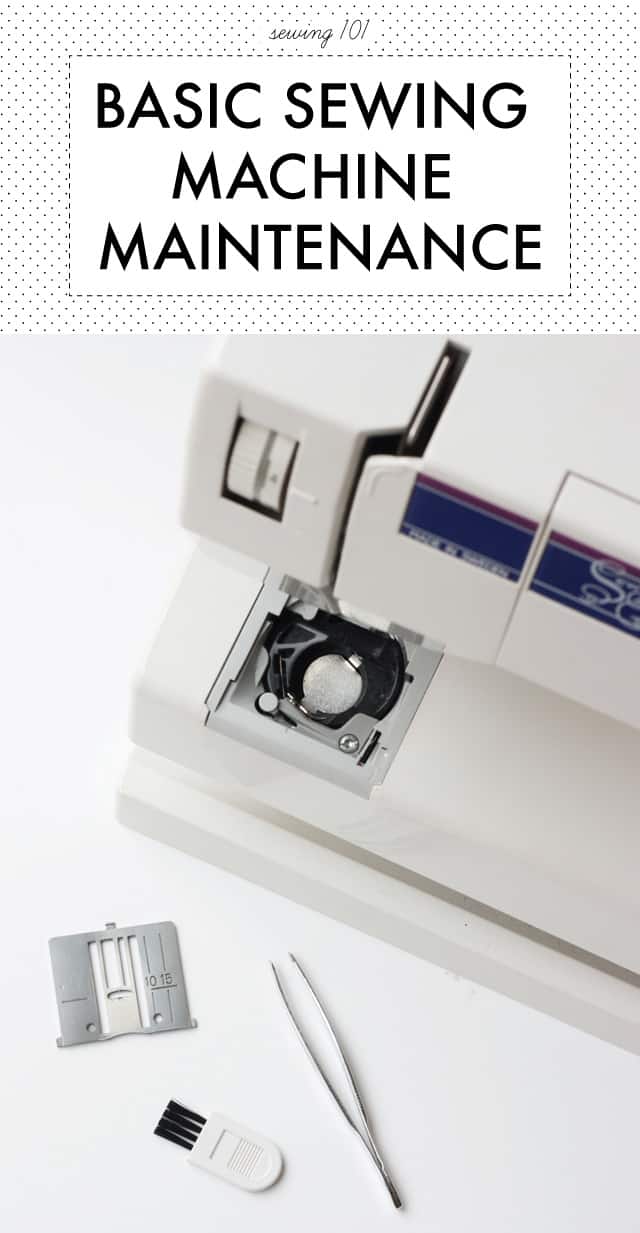 Hello Kate and Friends, it's Michael Ann again!
With it being a fresh new year and all, I thought I would talk a bit about proper sewing machine maintenance and care today. Something I am terrible at if I'm being completely honest, haha!
My sewing machine is probably my most treasured possession, but the poor thing doesn't always get treated like that. And the funniest thing is, it doesn't even take that much to take good care of your machine! Today's post will show us all how just a little bit of TLC here and there can help make sure our babies run well for a long time.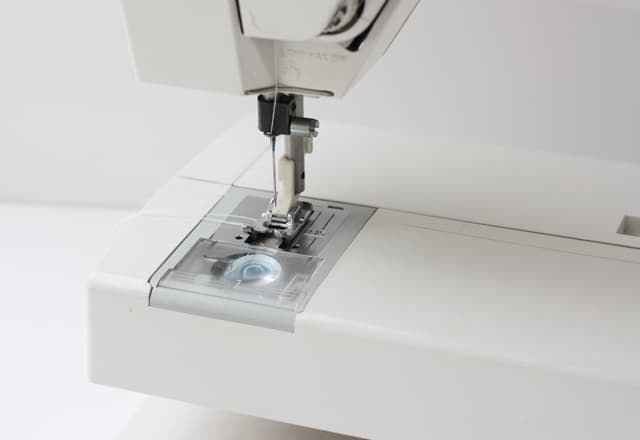 After Every Time You Sew.
Use The Right Needle – You wouldn't normally think of this as a part of sewing machine care, but always make sure you are using the right needle for the job at hand. Using too small or large of a needle can put unnecessary stress on your machine, and a broken needle caught up in your machine could cause serious trouble. If you need a brush up on needle types, check out Kate's Sewing 101 post on needles here!
Take Care Of Your Bobbins – Make sure your bobbins are winded and loaded correctly. In my machine, the bobbin loads a little tricky, and I can't tell you how many times I've wanted to throw my machine out the window, only to discover I just loaded my bobbin in wrong… Having a wonky bobbin can throw off your tension (and patience). Also, double check that you use the bobbins designed for your machine (example – mine uses plastic instead of the standard metal).
Keep It Covered – This is the simplest act of maintenance! Just keep your baby covered up when you're not using it! Anything from an old pillowcase to a handmade vintage style machine cover will do the job. Just make sure your machine is being protected from dust and debris while it is stored away. (And try not to store it near any extreme temperatures, open windows, or curious toddlers.)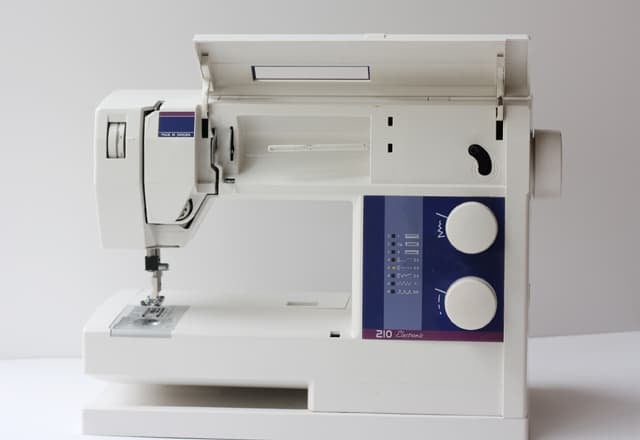 After Every Project.
Change Needles Often – This is one I am terrible at, but some sewers say you should change your needle after every 8 hours of sewing! At the very least, you should change your needle after every major project. Making sure you always have a sharp needle will ensure everything runs smoothly while you are stitching.
Clean It Out – Now for the part you've all been dreading – the part where I tell you to clean out your machine! It sounds daunting, but after quite a bit of research, I've discovered that you don't have to clean out all that much to keep your machine well maintained. Basically anything you can get to easily should be cleaned after every project, everything else you can leave to the pros. This means your bobbin area, and upper thread tension areas if you can get to them.
And if cleaning out the bobbin area of your machine sounds terrifying, keep reading ;]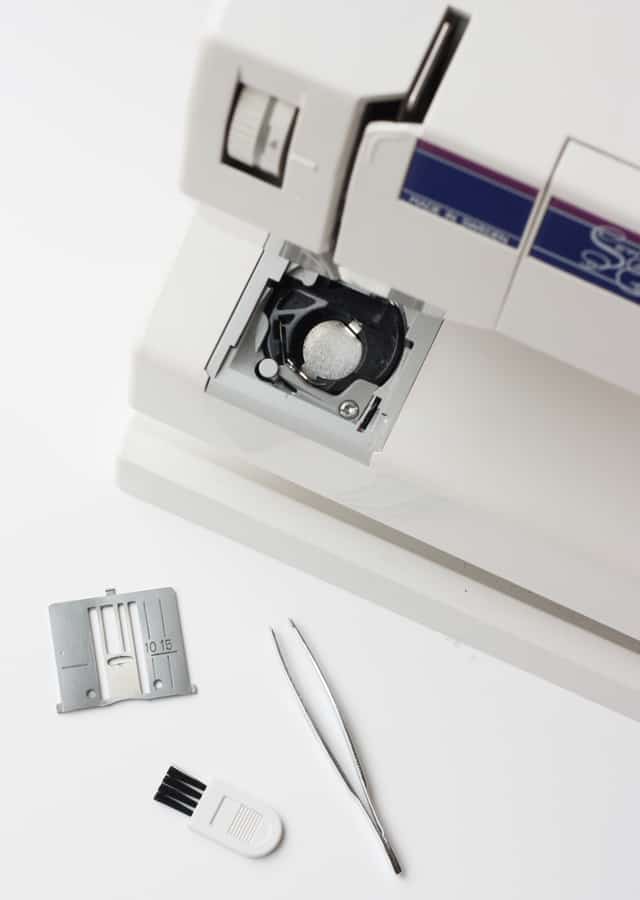 How To Clean The Bobbin Area Of Your Sewing Machine!
(As a note, my machine has a top loading bobbin and no pop out bobbin case. Most machines have a front loading bobbin that needs placing in a metal bobbin case. Although there are a couple different steps, the basics are the same.)
You will need a sturdy tiny brush, and I like having a pair of tweezers too. It also helps to have your sewing machine manual to guide you, and a bottle of sewing machine oil if your machine needs it (your manual can tell you).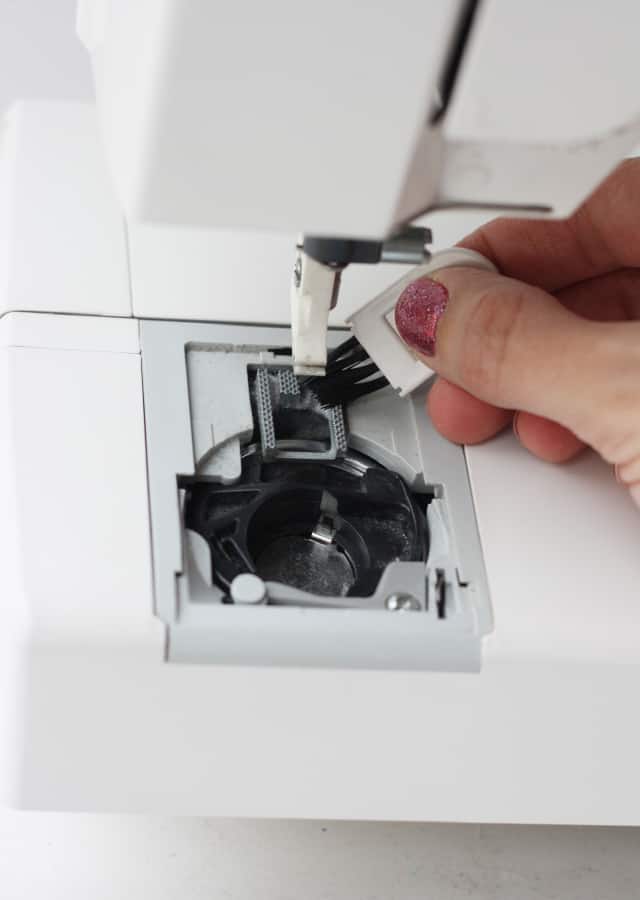 Take out your bobbin and bobbin case, as well as your needle, presser foot, and throat plate (the metal part surrounding the feed dogs under the needle area). Some throat plates have tiny screws, others just pop out.
Use a tiny brush to clean around the feed dogs and bobbin area. I like having a sturdy brush that the bits of lint can kind of stick to so you can pull them out. The most important thing to remember is to brush OUT of your machine not further into it! Also remember to never blow at the dust. The condensation in your breath is bad for the machine parts, and you could also lodge lint further into the machine instead of out.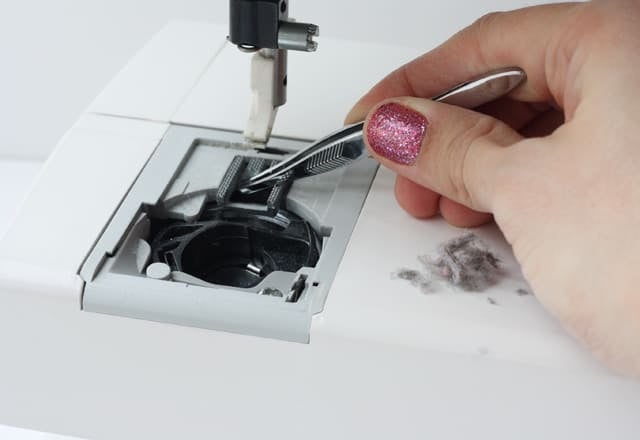 I also like having a pair of tweezers for picking out lint bits in hard to reach places. And time for the true confessions moment – look at that pile of junk I pulled out of my machine! Yuk! And here I was cursing my machine all Christmas for skipping stitches… If only I'd cleaned it out earlier!
If your machine needs it, now is the time to oil your bobbin. Check your manual on where to place it, but most machines with a removable hook (the metal piece the bobbin case clips into) need a dot of oil rubbed onto the outside of it with a piece of muslin. Remember that it is always better to oil a little bit more often than too much at once. When you finish, sew through a scrap piece of fabric for a couple stitches to make sure you distribute the oil.
And that's all there is too it! Look how easy that was! And if you did that after every project, imagine how much faster it would go…
If you take good care of your machine after every use and major project, you should only need to take it to a repair shop every two years for a good check up and cleaning. Check online or at your local sewing store for recommendations on where to take it.
Now how is that for simple?! Have I inspired you to go out and clean some lint out of your machine? Think you could get my pile of linty junk beat? ;]
I'll see you next month, or back at Michael Ann Made until then!
Check out more Sewing 101 posts here!