This may be an obvious post for some, but for the very beginning seamstress, this information will save you! I think most of us have come home with a knit fabric and ruined it by sending it through the sewing machine with a regular needle. Fabric determines the needle you should use. Get it right and sewing through anything will be a breeze!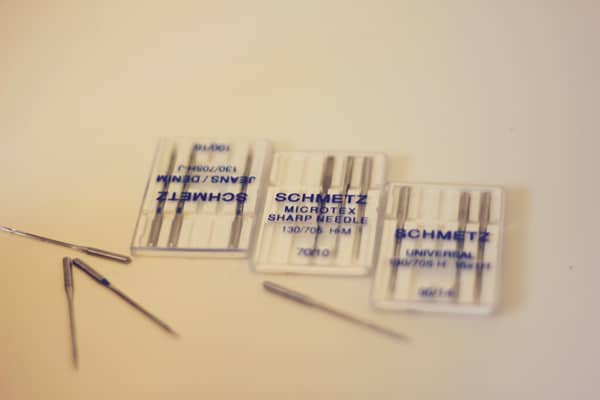 I have 4 kinds of needles in my collection. I always buy Schmetz if it is an option. I like the little cases they come in and I have found their quality is excellent.


Universal
– My normal needles, for normal sewing. And by normal I mean cotton. It's just my go-to needle if I am not working with something fancy or tough. Not good for knits and delicate fabrics. I've been known to break these when sewing through too many layers.


Stretch
– Stretch needles are for knits. The shape of the needle lets it slip right through the knitted stitches without snagging. If you have ever used a normal needle on a stretchy fabric, you've probably had lots of snagging and ugly stitches! 


Heavy Duty
 – If you find yourself breaking needles a lot, you may need a heavy duty needle to pile through your fabric. These are great for denim and other rough fabrics. I use them often when I am sewing through a lot of layers. However if you use them on a delicate fabric or even a quilting cotton the needle will leave big holes, so make sure to switch it out!


Microtex Sharp
 – For sewing delicates such as chiffons, violes, silks, etc. The needle's point is extra sharp so it slides through the fine threads in the fabric, instead of catching and tearing them.


There are other specialty needles too, for leather and other types of fabrics. But these are the four I always have on hand! 


What is your favorite kind of needle? Mine is definitely the heavy duty/jeans…for when I'm extreme sewing. ;)


More sewing 101.