This post is sponsored by Sony Pictures Home Entertainment in connection with the home release of SPIDER-MAN: FAR FROM HOME, now available on Digital, Blu-ray™, DVD, and 4K Ultra HD.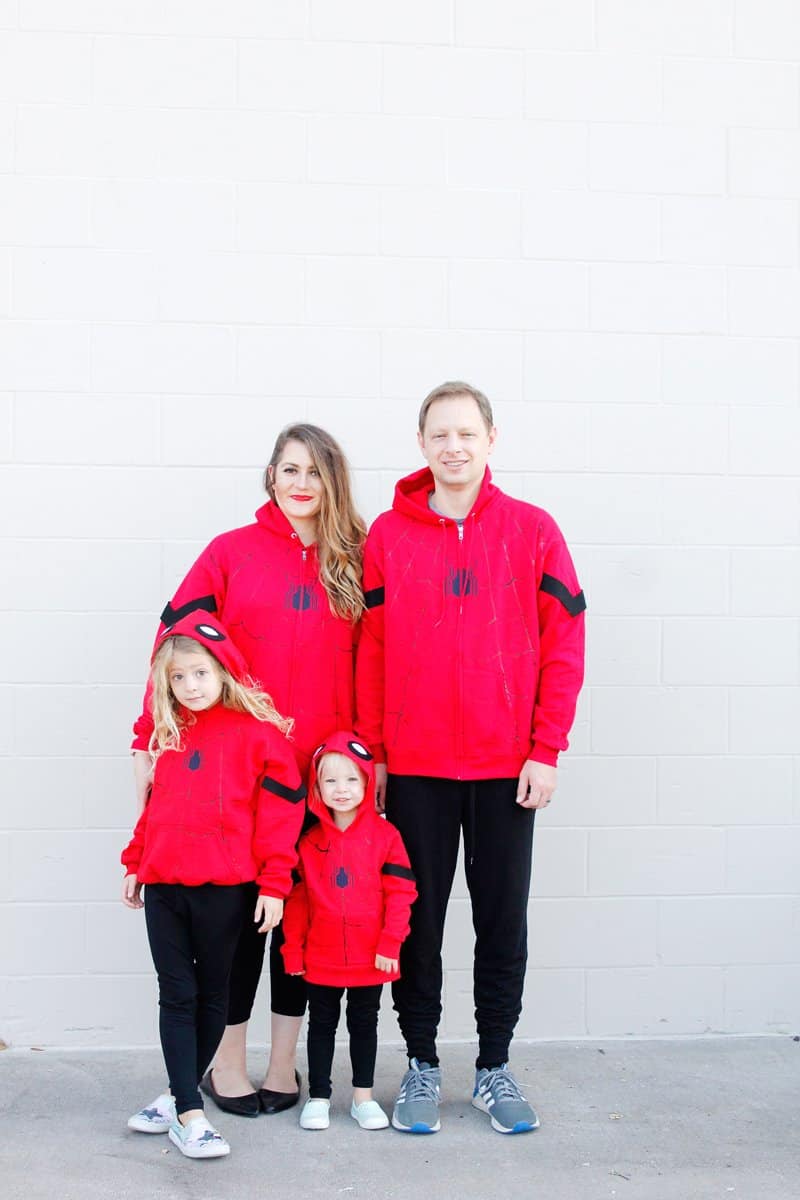 Spider-Man is a great easy costume to make for Halloween! We were inspired by the new Spider-Man: Far From Home. Spider-Man: Far From Home is the perfect family movie night pick. A little mystery, action and some of my favorite actors come together for this family-friendly and inspiring movie!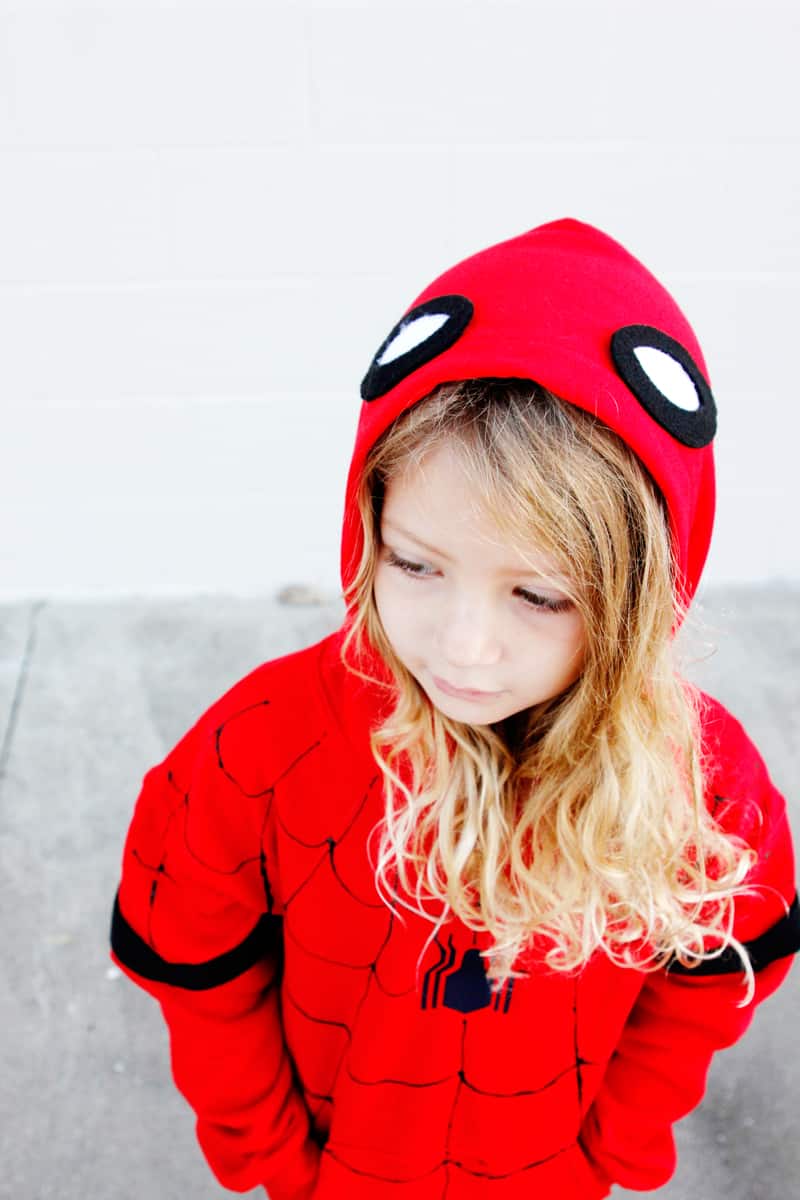 In this movie, Spider-Man's costume is updated with a sleek black and red design, which was so fun to recreate! I loved watching Zendaya play MJ – she is one of my favorite fashion icons right now!
It is so fun to put on these easy-to-wear costumes and pretend we have superpowers! My favorite quote from the movie is Peter Parker saying "I'm really strong….and I'm sticky!"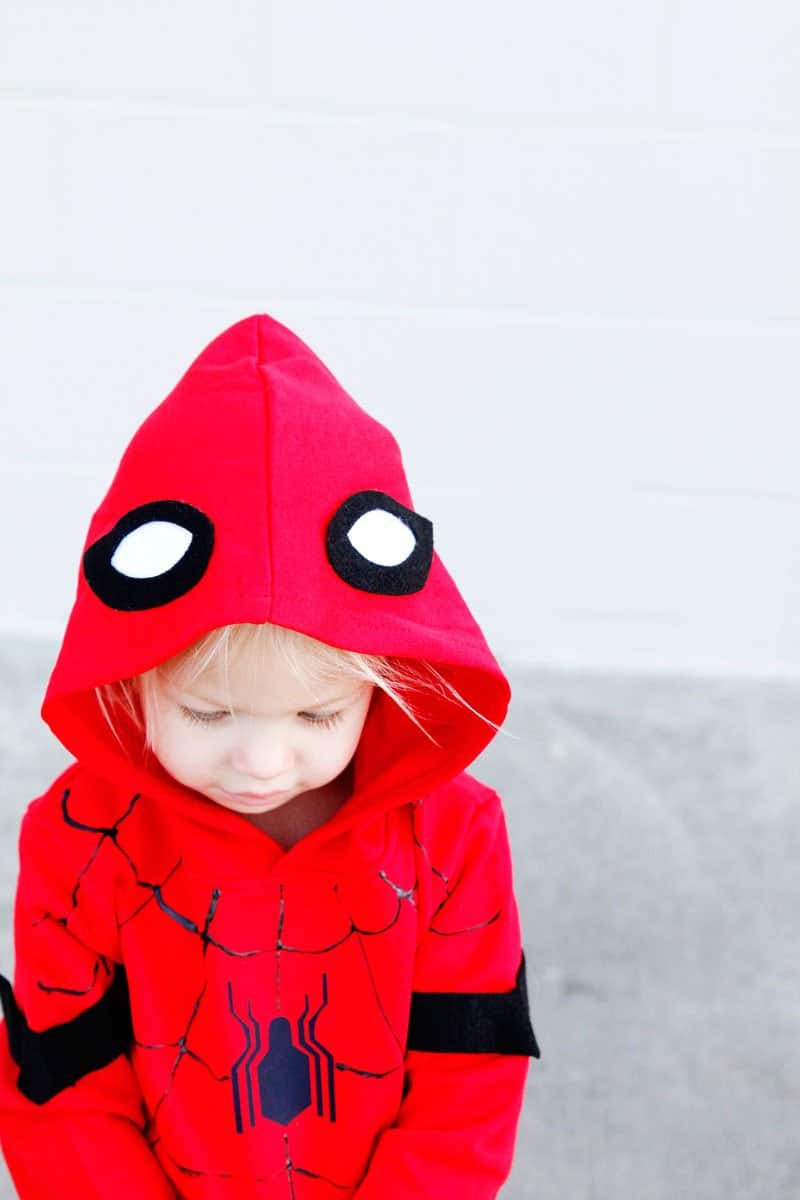 These Spider-Man costumes are so easy to make, especially since we started with basic red hoodies and black leggings! It's so easy that you can involve your kids in the creation process!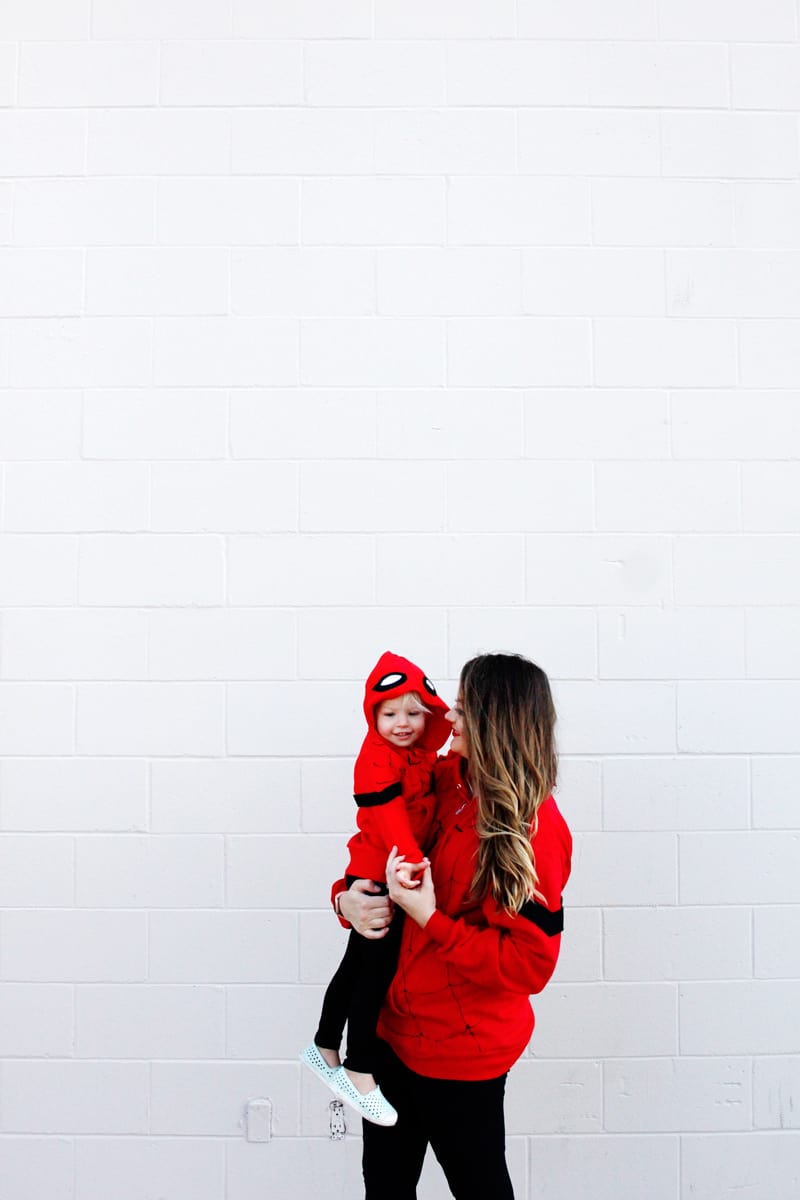 My kids have been running around shooting their pretend webs in their spidey suits, so I think these costumes will get some good mileage in the dress-up box after Halloween, too!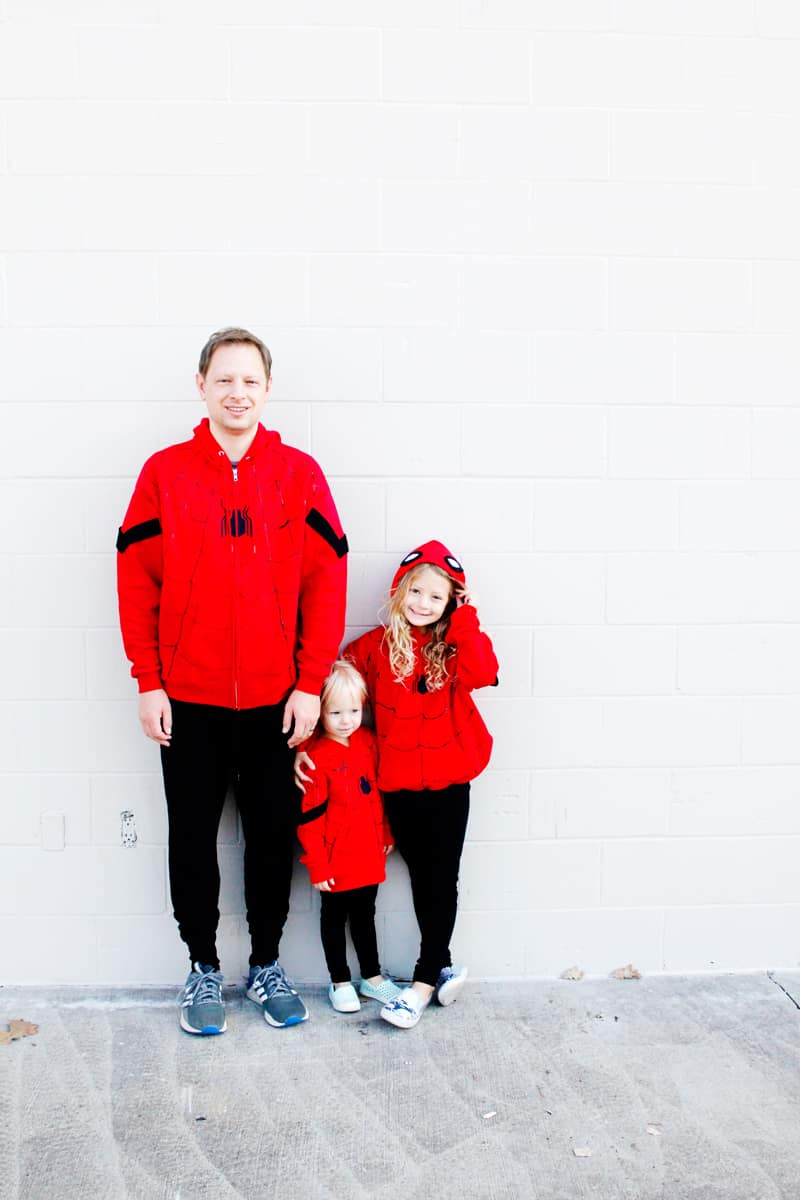 My kids always love matching at Halloween! I'm going to assume that won't last forever, so I'm reveling in it now!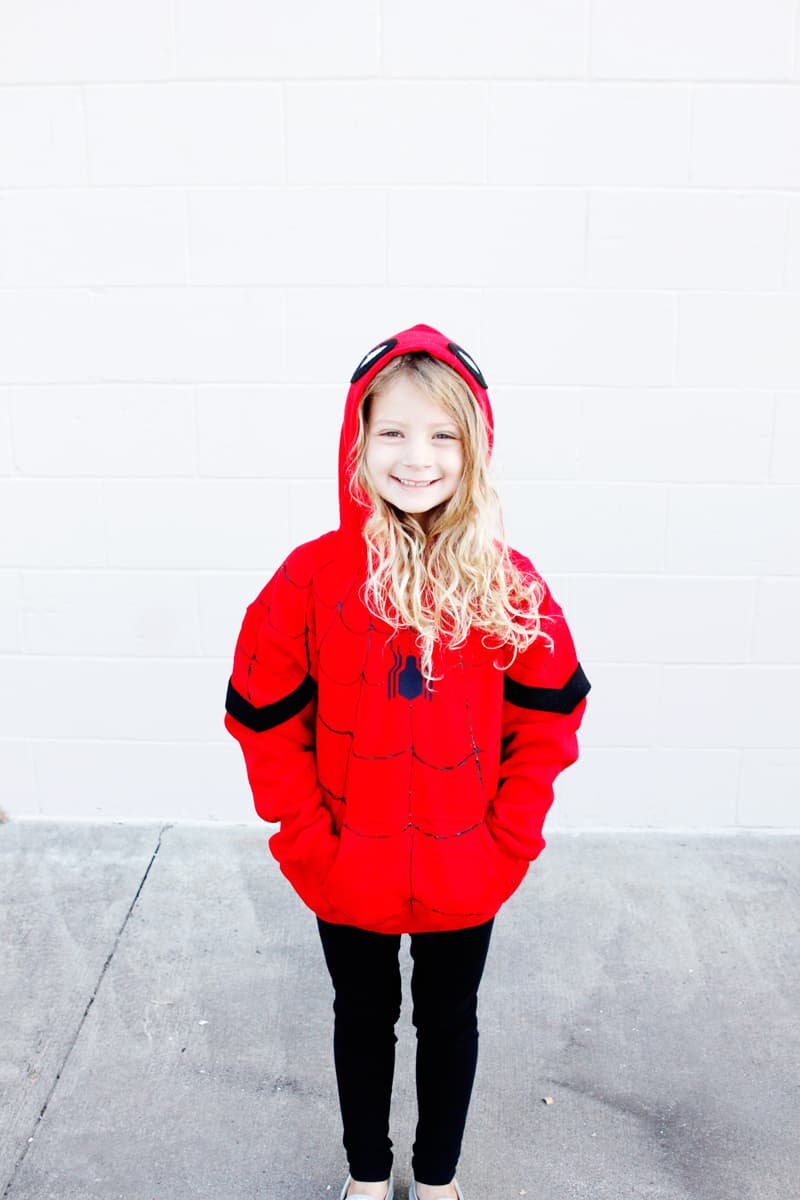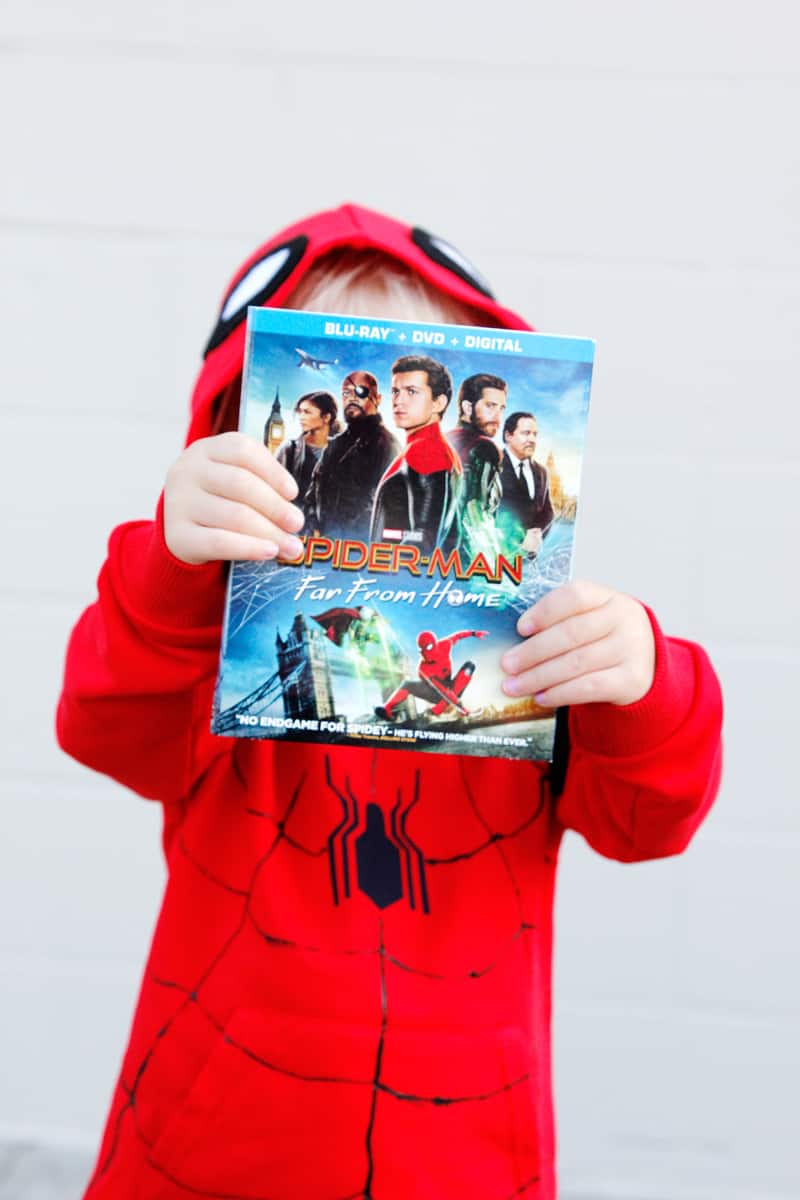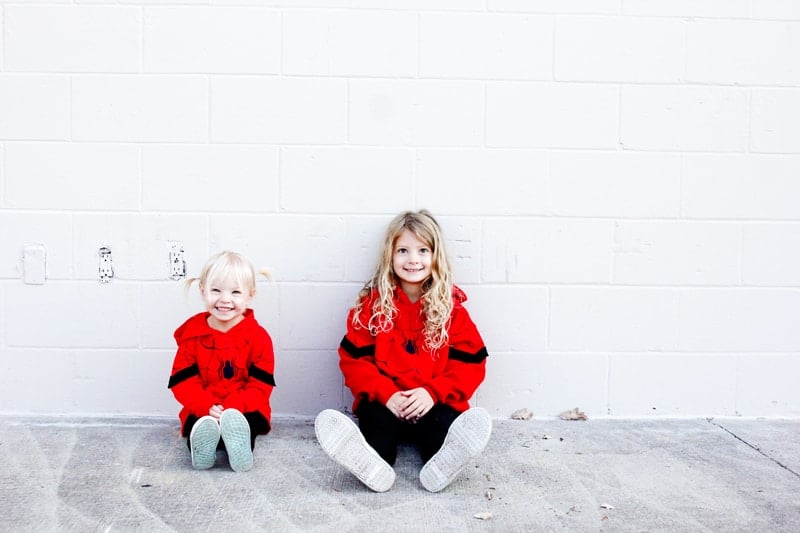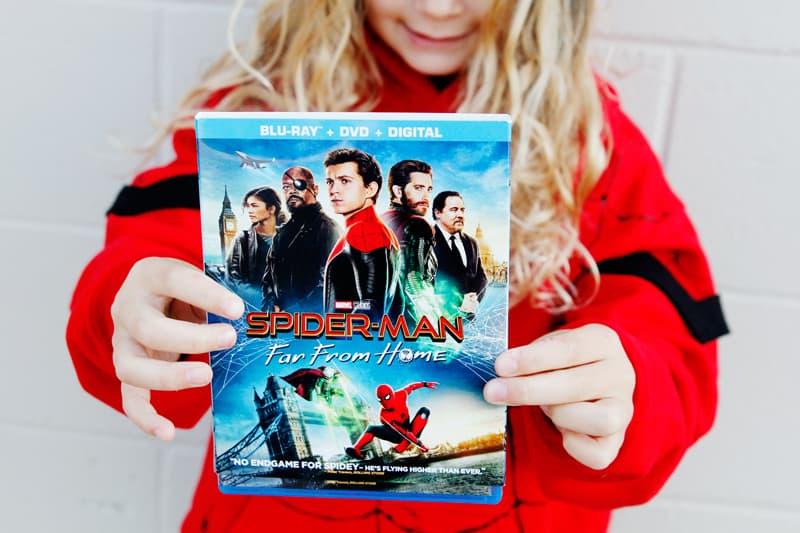 We're so glad there have been so many Spider-Man movies lately, it's fun to keep up with a series as a family.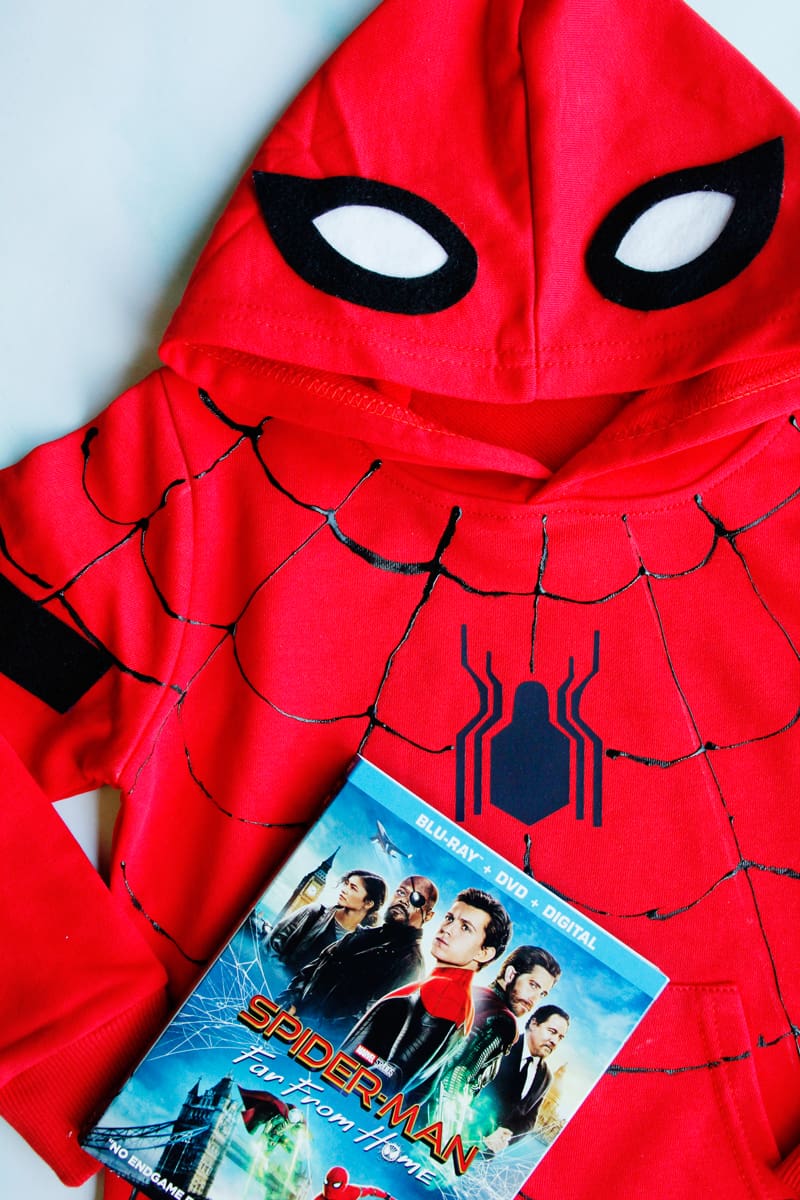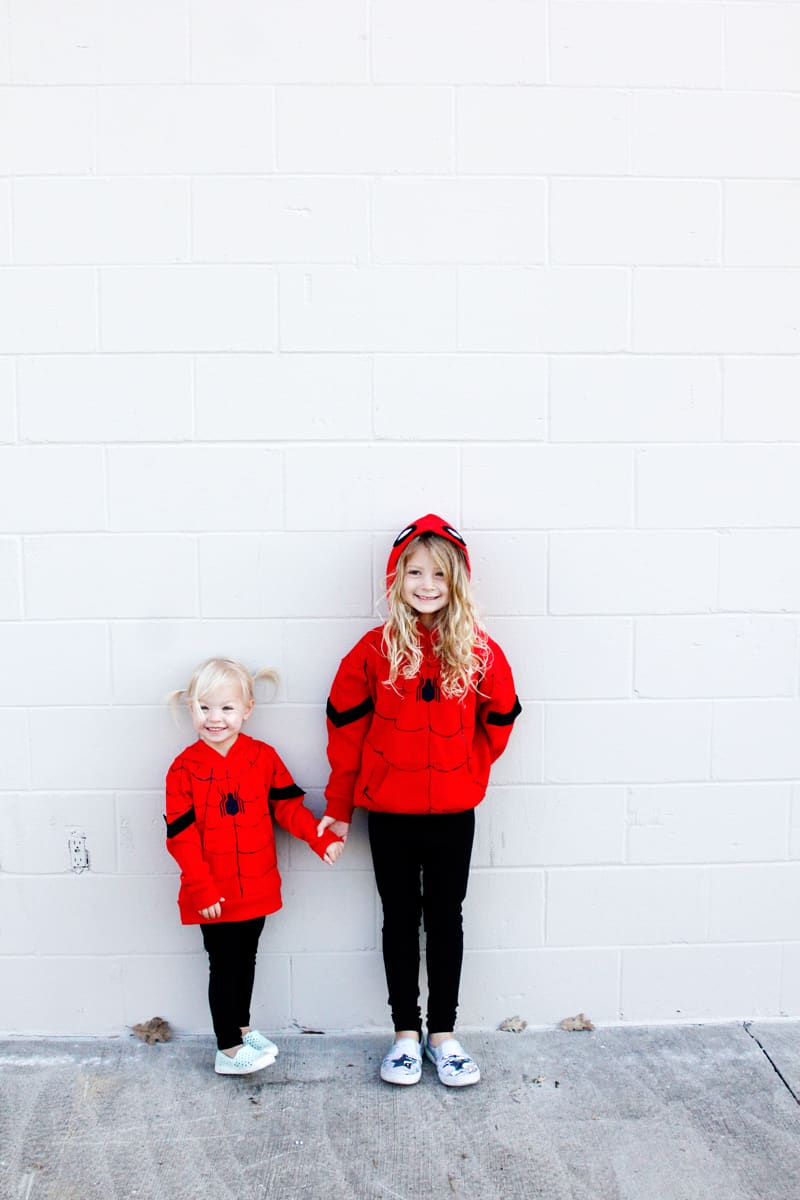 Spider-Man Costume Materials List
-Red hoodie
-Black puffy fabric paint, black felt, and/or iron-on vinyl
–Spider-Man hoodie templates
-Tailor's chalk
-Sponge paintbrush
-Black and white Felt
-Black leggings
How to make Kids Spider-Man Hoodie Costume
For the spider and shoulder accents, there are a few material options to choose from. You can cut the designs from iron-on vinyl, felt or draw them directly on the hoodie with fabric paint! I used a combination of all three materials to give different levels of shine and texture, just like the Spider-Man suit in the movie.
Lay out your hoodie on a flat surface. Iron-on vinyl or felt are two great options for the center front spider accent.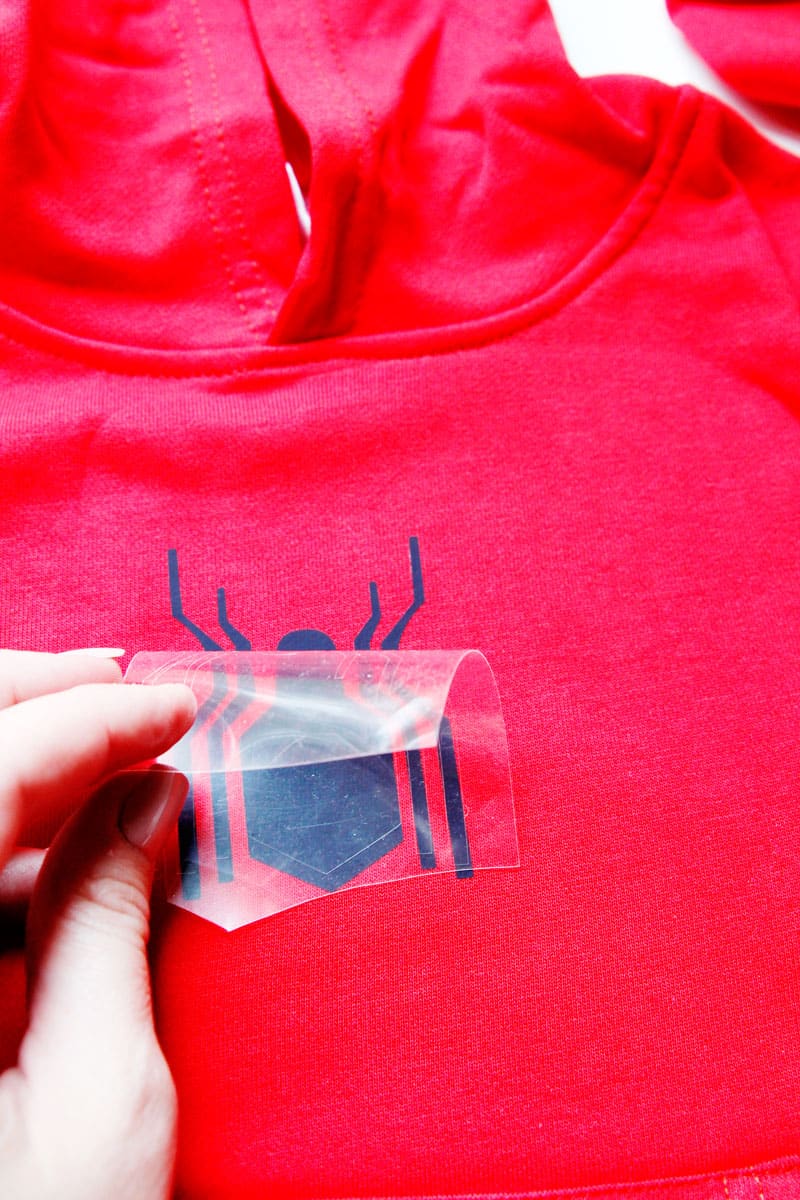 Cut a smaller piece of white felt and glue to the back of the hoodie eyes before attaching to the hood.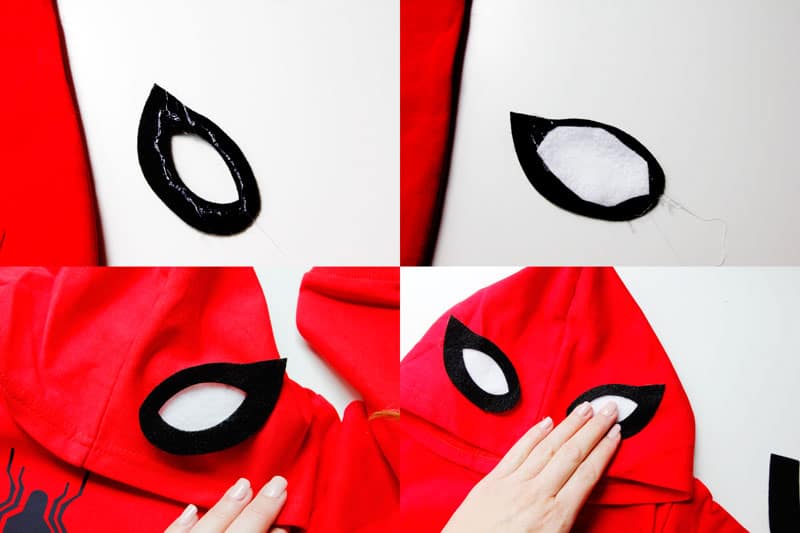 Glue shoulder accents to the shoulders. Glue these down with a glue gun about 4-5″ from the shoulder seam. If you want to be able to see the point a little better from the front, glue it more on the front of the sleeve.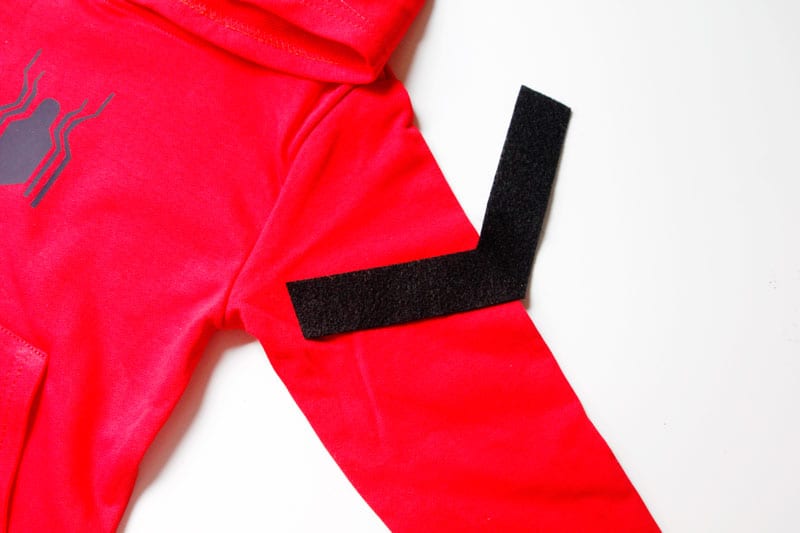 Use tailor's chalk to draw a spider web design all over the hoodie. The spider web lines are pretty straight, so you can use a ruler to draw them. Then go over the chalk with puffy fabric paint.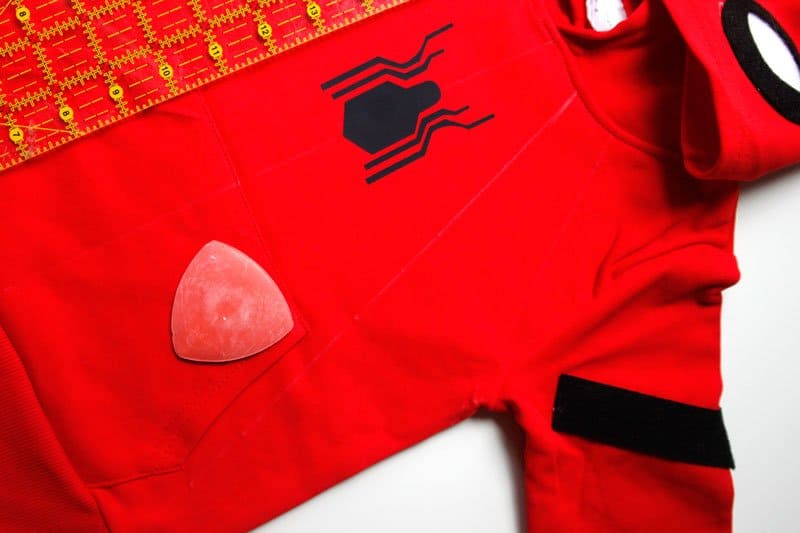 Puffy fabric paint is thick and shiny when it dries which makes a great wet-looking web!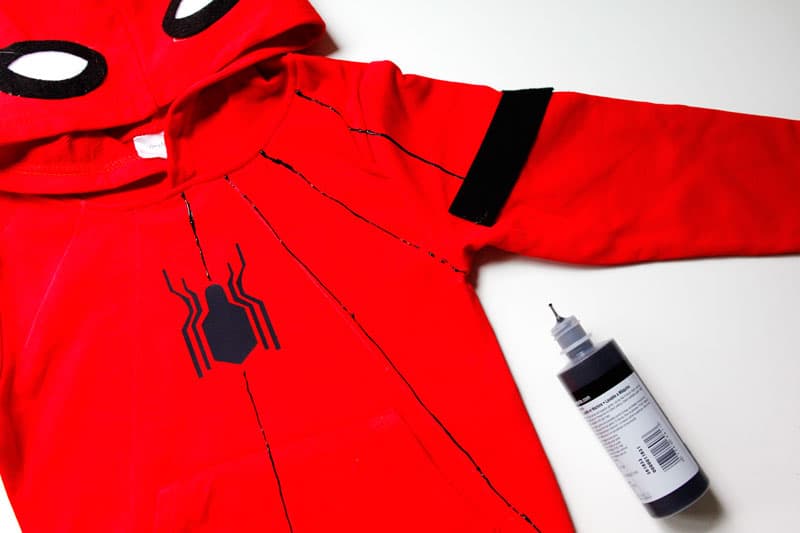 Use curved lines to connect the spiderweb in a web pattern! You can freehand this or find something round to trace, such as a plastic cup.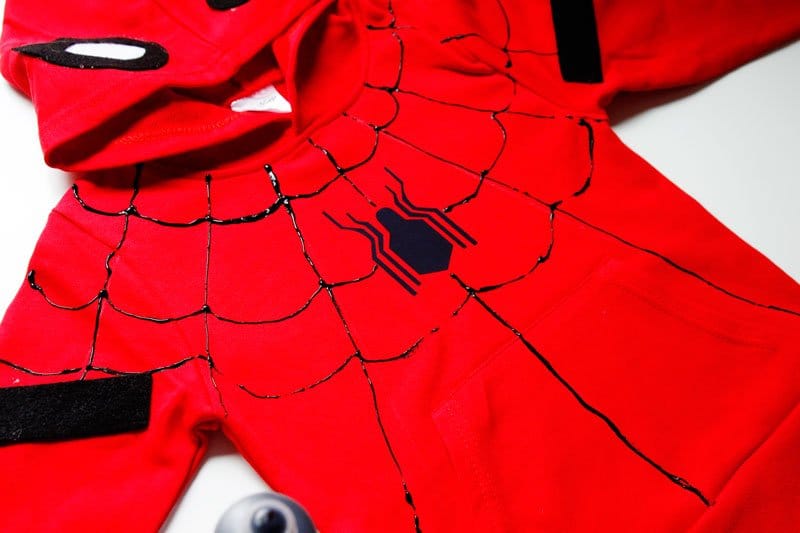 Let dry and suit up!

Get Spider-Man: Far From Home on Digital, Blu-ray™, DVD, or 4K Ultra HD and plan your movie night or costume making session today!
Check out the Spider Gwen costume and custom Spider-Man costumes we made in the spring! And check out the Halloween archives for more inspiration!