This post is sponsored by Girl Charlee. Check out GirlCharlee.com for fresh and modern knits!
Our new collection, JUST ADD JEANS, is a little play on outfit-making! Buy the collection and just add jeans! You know like the pancake mix that says "Just add water!". Most require eggs and milk, too, which is a bummer if you're out of those. Our collection also requires FABRIC! No brainer, right! You also need some thread and things like that. But it is not a bummer if you need more fabric, right? I take any excuse to buy more fabric!
We specifically made this collection with patterns that require knit fabric. Knits are just so playfun and fun right now. You can wear them anywhere, dress them up or down. I sometimes find myself cozying up in my handmade knit tops for bedtime and lounging around the house. They are just versatile and everyday pieces.
So let's add some knit fabric! These are my knit recommendations and favorites for the Just Add Jeans collection: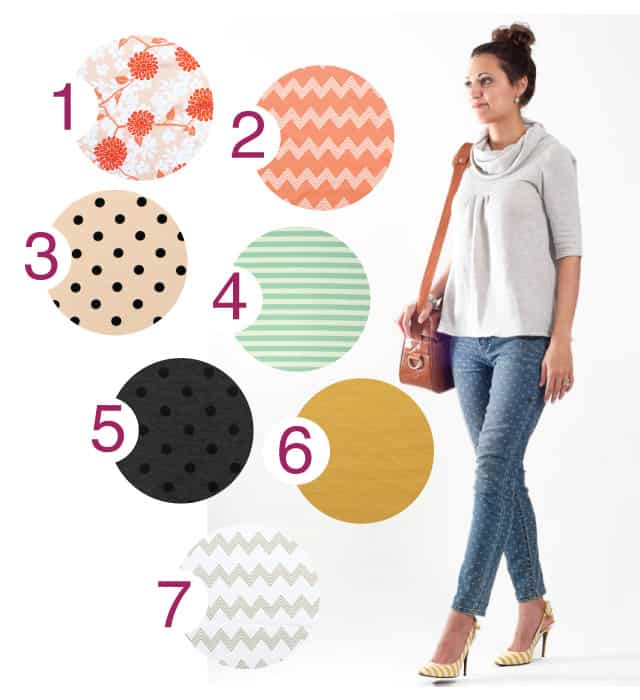 Let's start with the City Girl. Since I made it, I have all the dirt on what works best with this pattern. The City Girl looks really great in sturdier knits that hold their shape a little bit. The swingy silhouette and thick cowl collar look extra cozy, too! Interfacing and Ponte De Roma are super great fabrics to choose and you'll love working with them! They are a little thicker and easier to sew.
1 persimmon orange mums interlock
2 sherbet orange chevron interlock
3 black on mauve polka dot ponte
4 mint stripe ponte
5 black on charcoal polka dot ponte
6 solid mustard ponte
7 white pepper chevron cotton interlock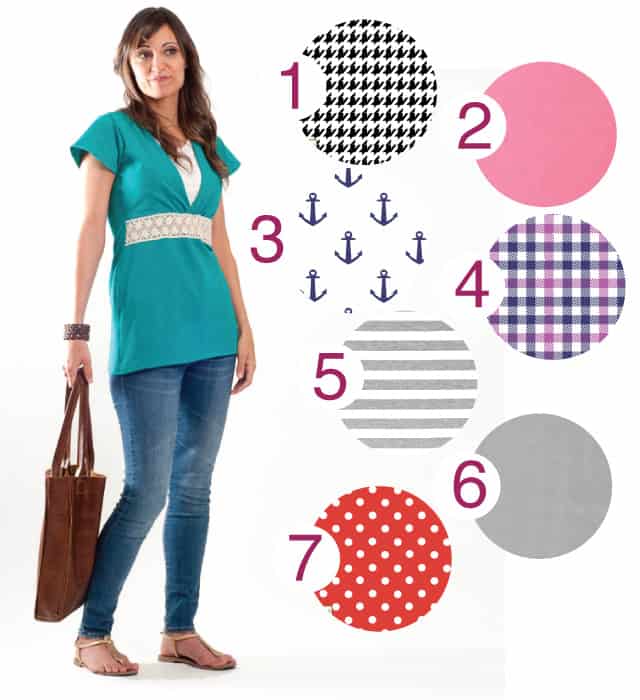 The Wildflower can be made with a contrast lace band, so be sure to think about that if you'd like to add that option! I can see myself wearing this top a ton in the summer so I picked some lightweight cottons for comfort!
1 black houndstooth
2 pink lemonade solid jersey
3 anchors away blue
4 candy plaid purple navy
5 white and grey half inch stripe
6 solid grey
7 red and white polka dot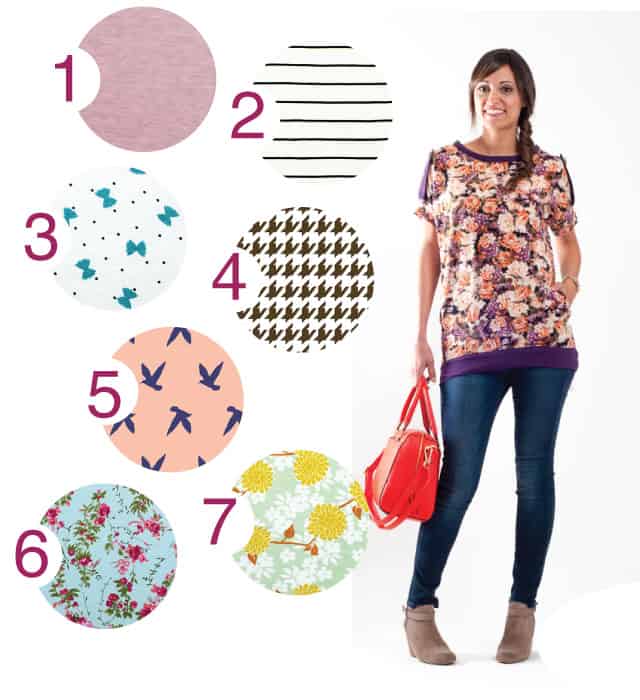 The Daytripper is such a casual top that pretty much anything goes! I love some of the florals and stripes that Girl Charlee has.
1 heather pink grey solid
2 black and white stripe jersey blend
3 blue bow tie and dots
4 brown houndstooth
5 navy peach birds
6 pink rosy vines
7 yellow mums interlock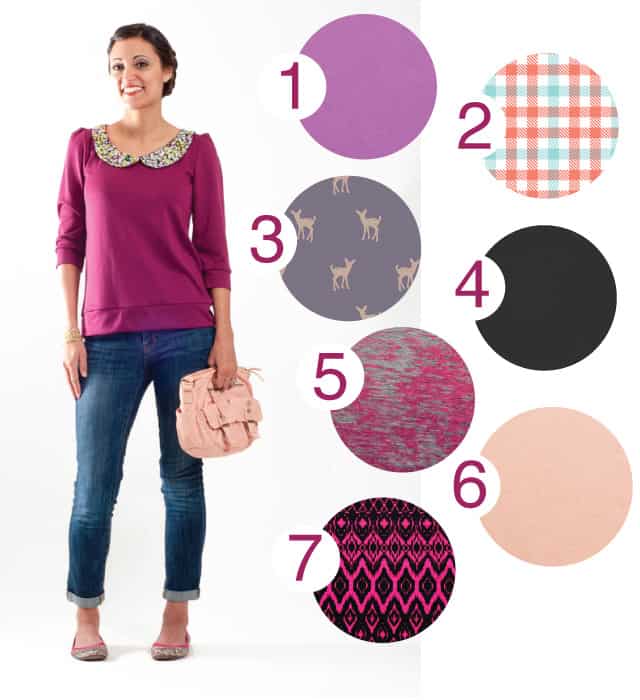 The Parisian is a little bit sophisticated! I love this top in solids with a contrast collar!
1 radiant orchid solid
2 coral aqua plaid
3 fawn silhouette
4 charcoal black jersey
5 fuchsia grey burnout cotton
6 peach parfait solid cotton
7 hot pink and black ethnic pattern
We're thrilled to have Girl Charlee as our fabric sponsor! They are the best source for cute and trendy knit fabrics! Click over to Melly Sews to see her Wildflower top, Shwin and Shwin to see her City Girl and Andrea's Notebook to check out a Daytripper.