Baby Lock Melody Sewing Machine Review.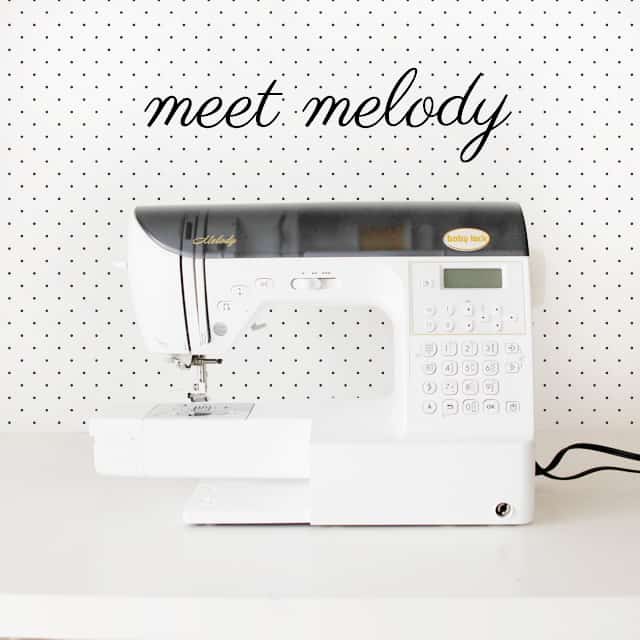 I'm pretty excited to tell you about my new sewing machine today-the Baby Lock Melody! I have been sewing on what I would call starter machines for way too long and it was finally time to upgrade to something more professional. After sewing with this machine for over a month, here are a few details about why I love this machine!
Since my primary focus is apparel sewing, I didn't want something with too many bells and whistles, but just enough bells and whistles, you know? I just wanted a solid machine with enough stitches and abilities for my main purpose. I really didn't want an embroidery function because I would never use it and would just feel guilty about not using it the whole time (but they do have a ton of great embroidery machines, if you're into that!) But I really did want lots of stitches.
I was debating between the Elizabeth and the Melody, but the main selling point for me was that the Melody has 3 whole alphabets in upper and lowercase! Just enough embroidery to write "see kate sew" on everything I ever make! I have totally been doing that, too. It is really fun! It could also be useful to embroider a little size tag inside your garment lining or something so you know what size it is. I'll share a tutorial for this soon!
Besides that, the Melody has ever stitch I will ever need, an automatic threader, the ability to sew without the foot pedal (a function I thought I would never need, but have actually been using frequently), and super even and clean stitching. It's a great machine!
One of the main reasons I wanted a Baby Lock was because I love sewing machine feet (you might remember my love affair with the ruffler, binding foot, piping foot, rolled hem foot…). Some of the other fancy machine brands required expensive exclusive machine feet, but my entire collection of feet still work on this machine! I also love that all Baby Lock machines come pre-named! Isn't Melody an adorable name for a sewing machine?
I have a tutorial coming up tomorrow using some of the decorative stitches, they are so fun!
Have you ever sewn on a Baby Lock?