This is a sponsored conversation written by me on behalf of Cricut. The opinions and text are all mine.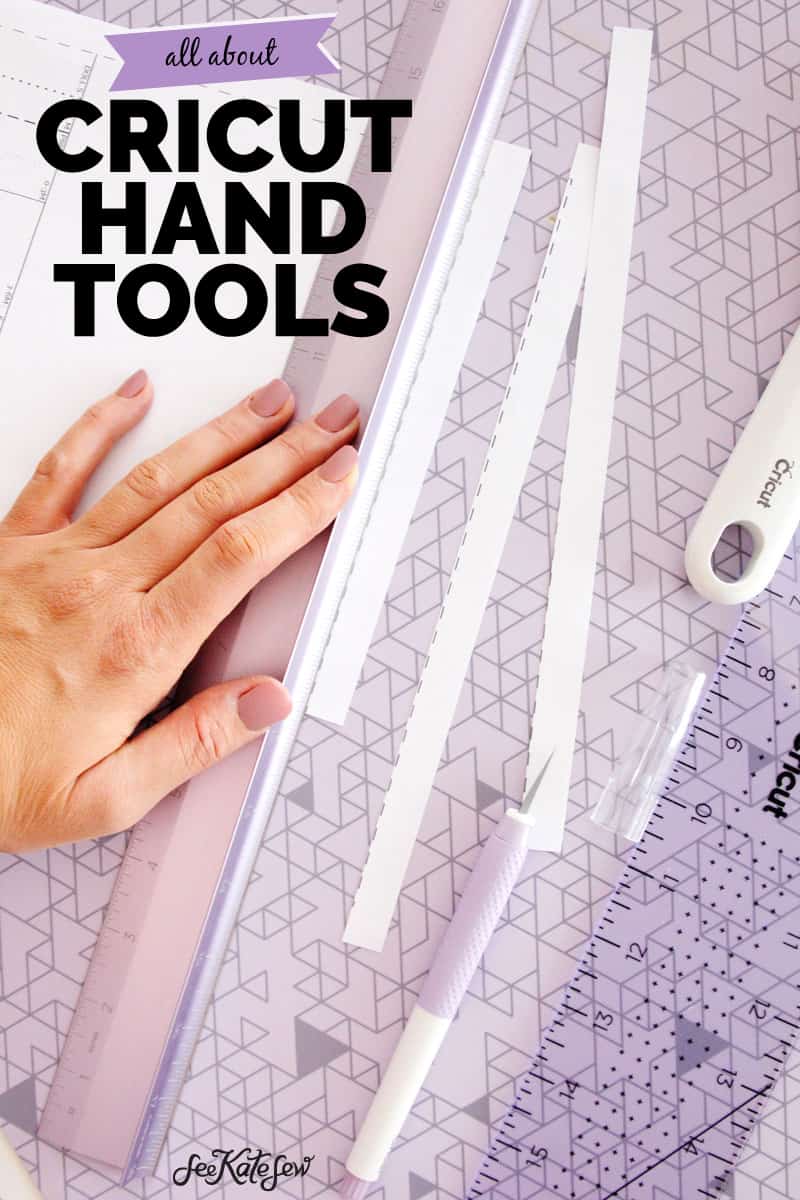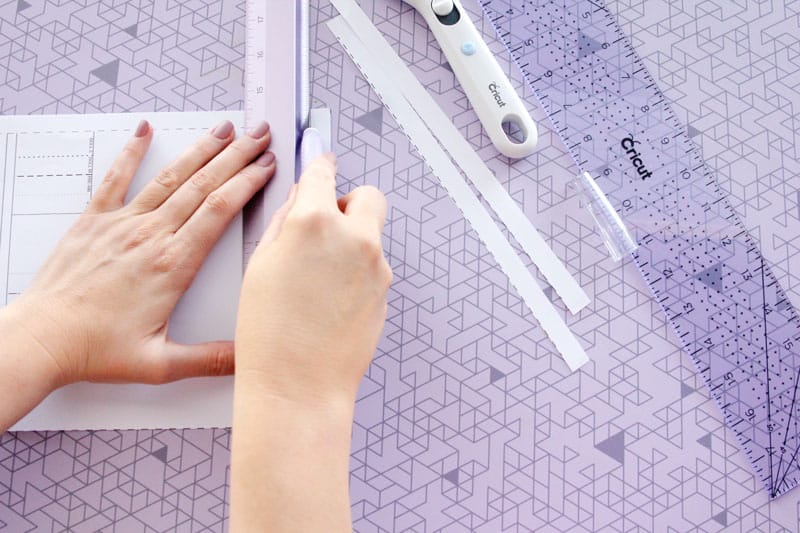 I use my Cricut machines so much and have expanded my collection of Cricut tools into their hand-cutting tool selection! Cricut has kinda perfected crafty cutting, so the precision and sharpness without the machine makes for some awesome craft tools! One of my favorite things about the tools is how pretty they are.  I really love my Cricut Acrylic ruler and Rotary Cutter and use them often with the cute Lilac Self-healing mat! I'm so glad Cricut made gorgeous supplies that are also super functional! I usually say form over function always, but when you can have both – even better! This shade of lilac is my favorite color ever (have you noticed I use it a lot!) and I really love the metallic lavender of the True Control Ruler! They look so good in my sewing room and inspire me while I create!
SELF-HEALING MAT//
Finally a pretty self-healing mat! Cutting mats can be kinda ugly, but I love this one with its lilac hues. This pretty mat has all the function of any self-healing mat but it has a whole side of pretty on one side. So if you're cutting something that doesn't require the grid on the back, you can cut it right on the decorative side! It's pretty inspiring to have colorful tools around.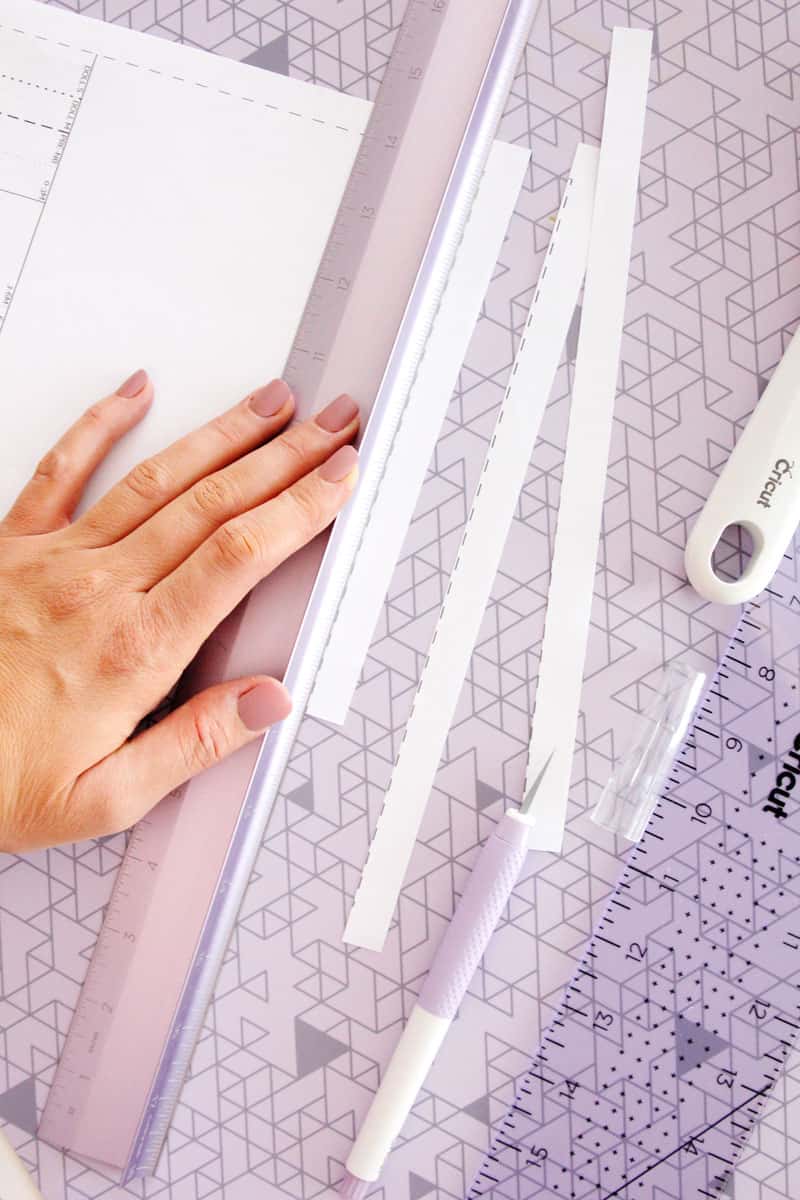 The mat is also extra thick with easy-to-read numbers and markings to match Cricut machine mats. That way you can simply trim down larger materials.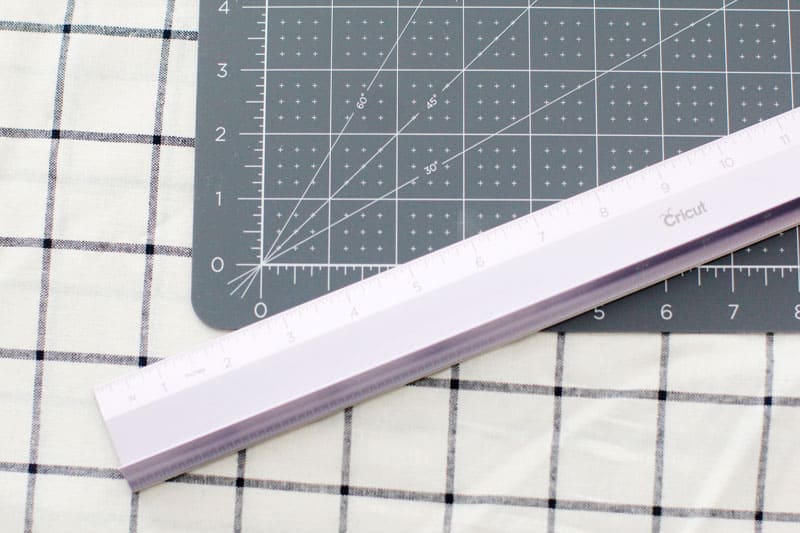 ACRYLIC RULER//

Acrylic rulers are a sewing staple! The 3″ by 18″ acrylic ruler is a standard must for all sewers with an un-standard twist: the gorgeous color! I use this size all the time when I'm quilting or making projects such a zipper pouches. The markings on this ruler are easy to see and include 1/8″ increments, which is ideal for quilting. I also love that there are angled lines marking 30*, 45*, and 60* for angled cuts! I find myself doing a lot of those when I'm making anything with triangles, so it's nice to have the angle set out for you!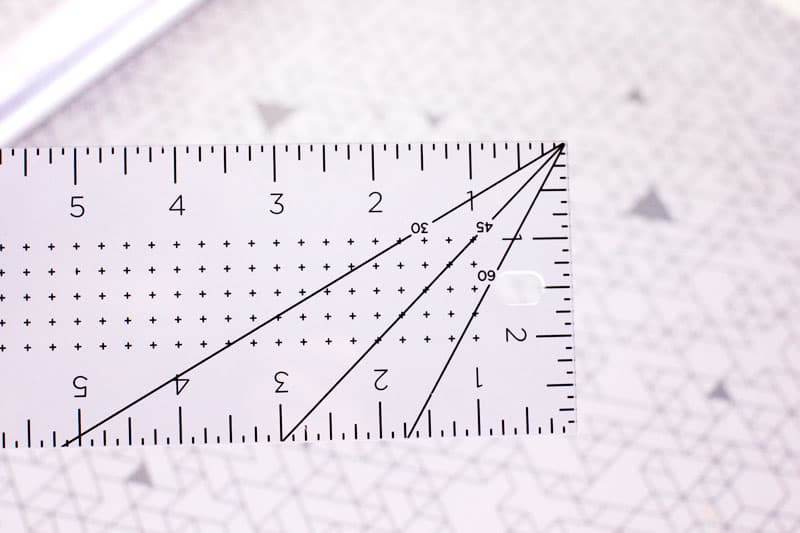 The Lilac Acrylic Ruler is frosted, which makes it super pretty and very subtly purple and a little easier to grip. Also good to note: the hole for hanging is big enough to hang on standard pegboard L-hooks! This pretty ruler also comes in 6″ by 26"!
60mm Rotary Cutter//
Another sewing room staple is the Cricut 60mm Rotary Blade! I actually collect rotary cutters (I think I have at least 8 now! hahaha ) and I always find myself grabbing for this one! The clean design makes it just cut better and it's symmetrical so it works for leftys and rightys! The quick release button makes it fast to unlock! The 60mm premium steel blade makes cutting strips of fabric and quilt pieces so much faster and super precise. I also LOVE the big hole on the end for hanging. I like to keep my cutting tools handy on my pegboard so a big hole that is easy to hang is essential.
I've cut all the fabrics with this rotary cutter and it works like a dream every time!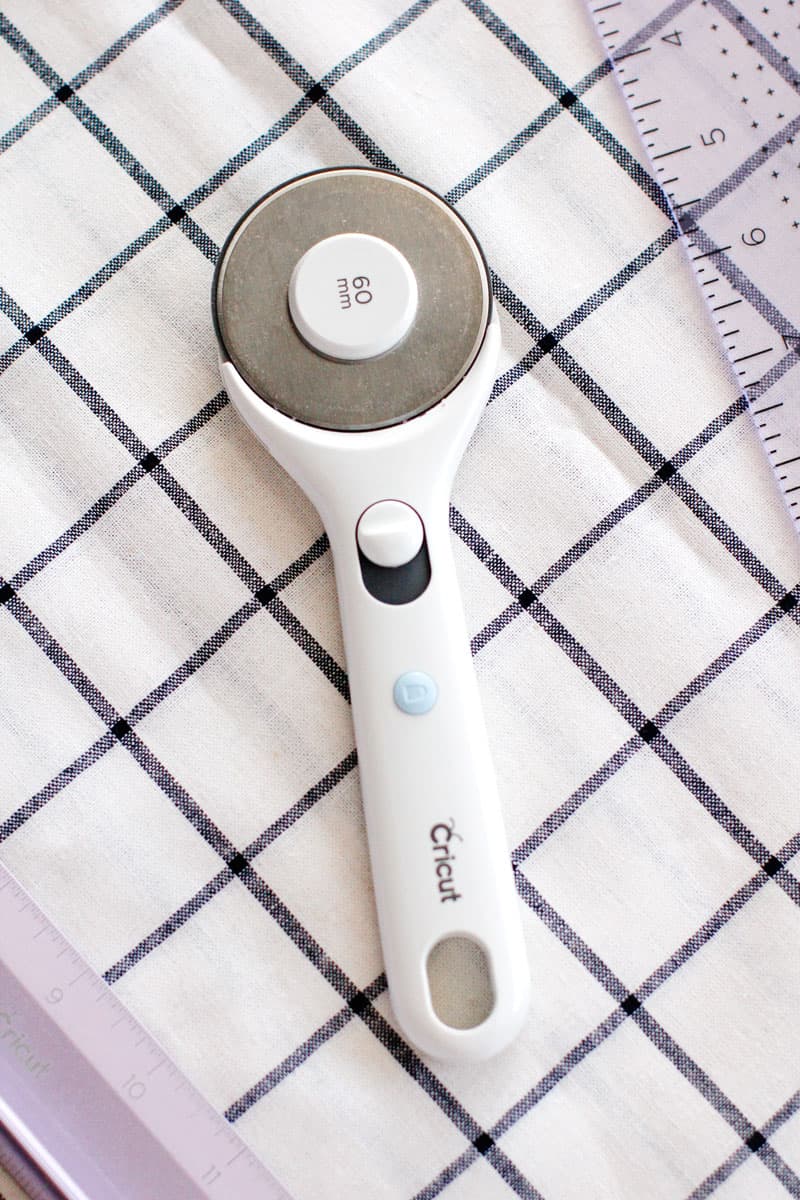 TRUECONTROL KNIFE//
This TrueControl Knife is a dream! It's perfect for cutting into cardboard, paper, leather, and more. I used the TrueControl Knife for the first time when making my Unicorn Valentine box and have kept it nearby ever since! The TrueControl Knife has a few features worth noting. First, it's grip makes it feel safer in your hand and also prevents rolling. Rolling knifes can be scary so that's a plus! When you change blades you wont have to touch the blade at all thanks to Cricut's patented hands-free blade changing system. I love that because, again, blades are scary! And the lilac rubber is just so cute! I also love the blade lock system – the super sharp tipped blade will not fall out. (Raise your hand if that has happened to you!)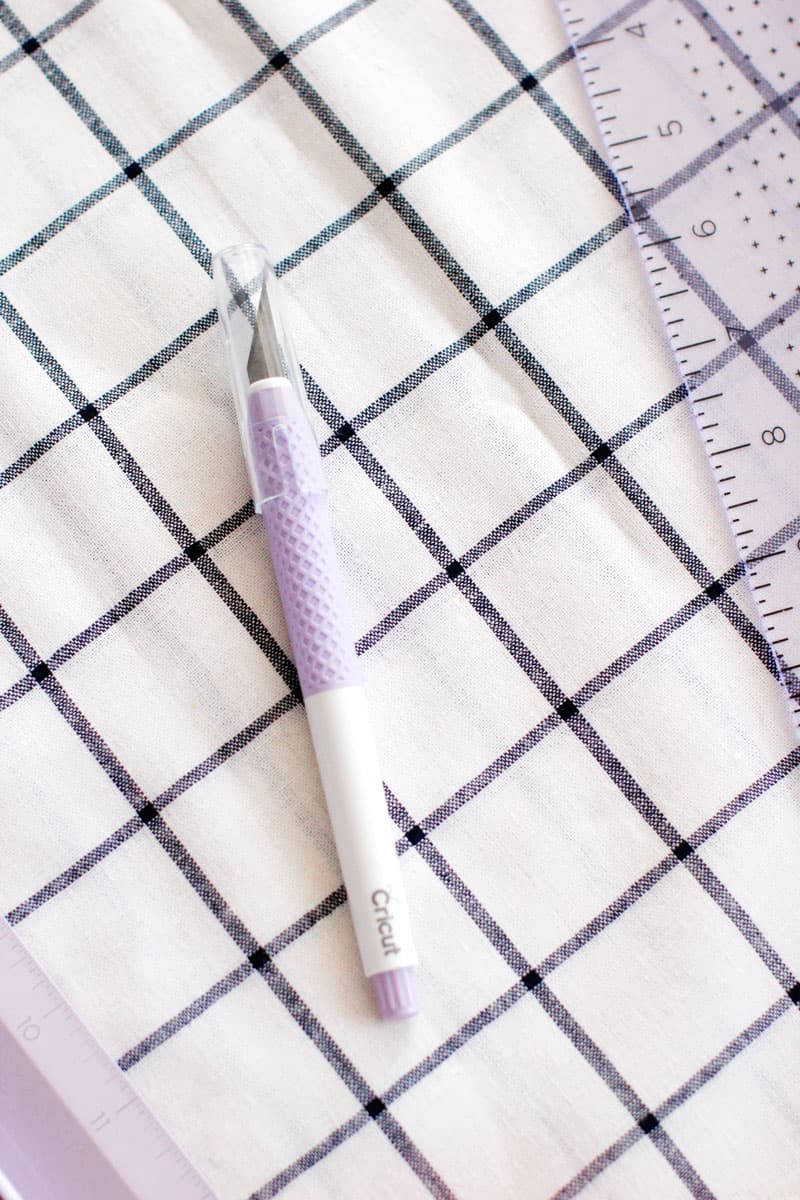 Every craft space needs a craft knife, I end up using these for more crafts than I would have thought. It is also great for cutting quilting templates, canvas, and more! You can also purchase it in a kit with extra blades!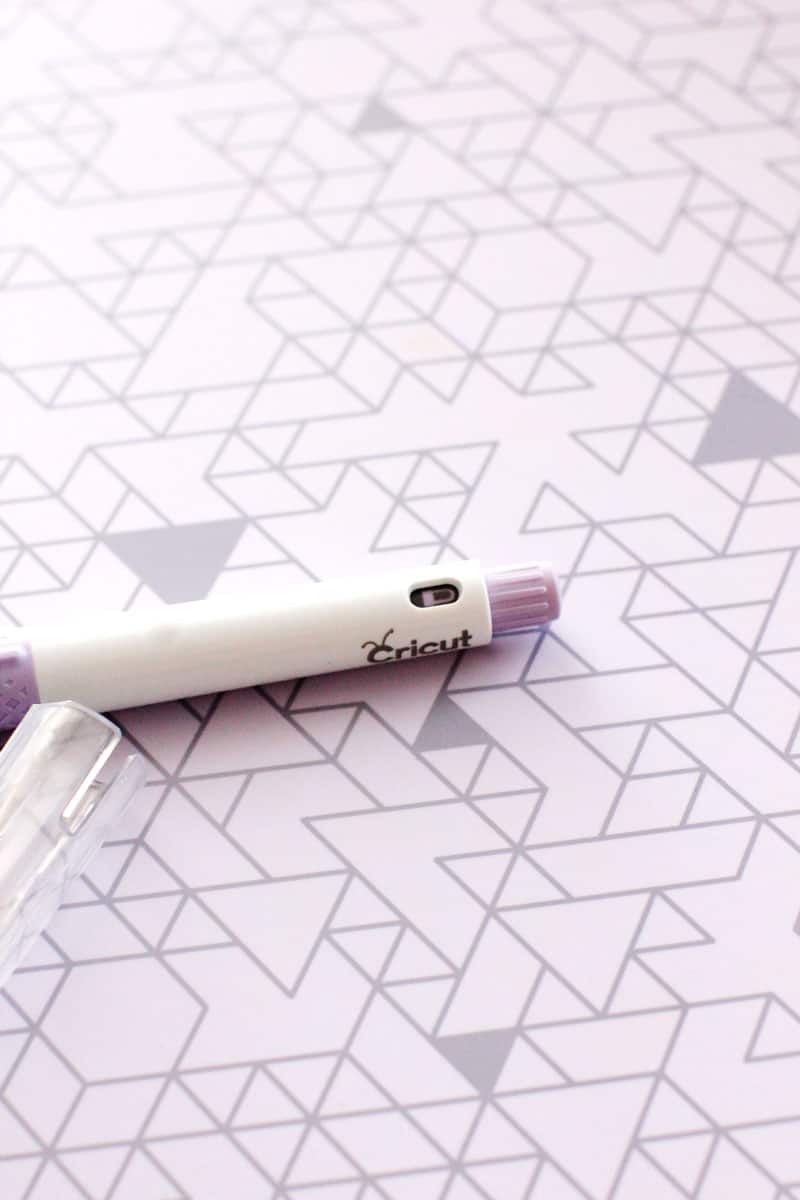 Cutting Ruler//
This cutting ruler goes with the TrueControl Knife. It's an 18″ aluminum ruler with a stainless steel edge and protective barrier! So many well thought out features in a fancy but sleek ruler. I love the silver metallic essence the lilac ruler has, it's just gorgeous and feels so refined. And it feels safe! It's nice to have a guard for your fingers when cutting with a sharp blade! This ruler is so great for trimming sewing pattern pages! It's quick and easy to lay down, doesn't slip and again, is super pretty! Grab one here! 
A few extra notes:
laser-etched measurements and markings
clearly marked "cutting edge"
nonslip baes grips for control and safety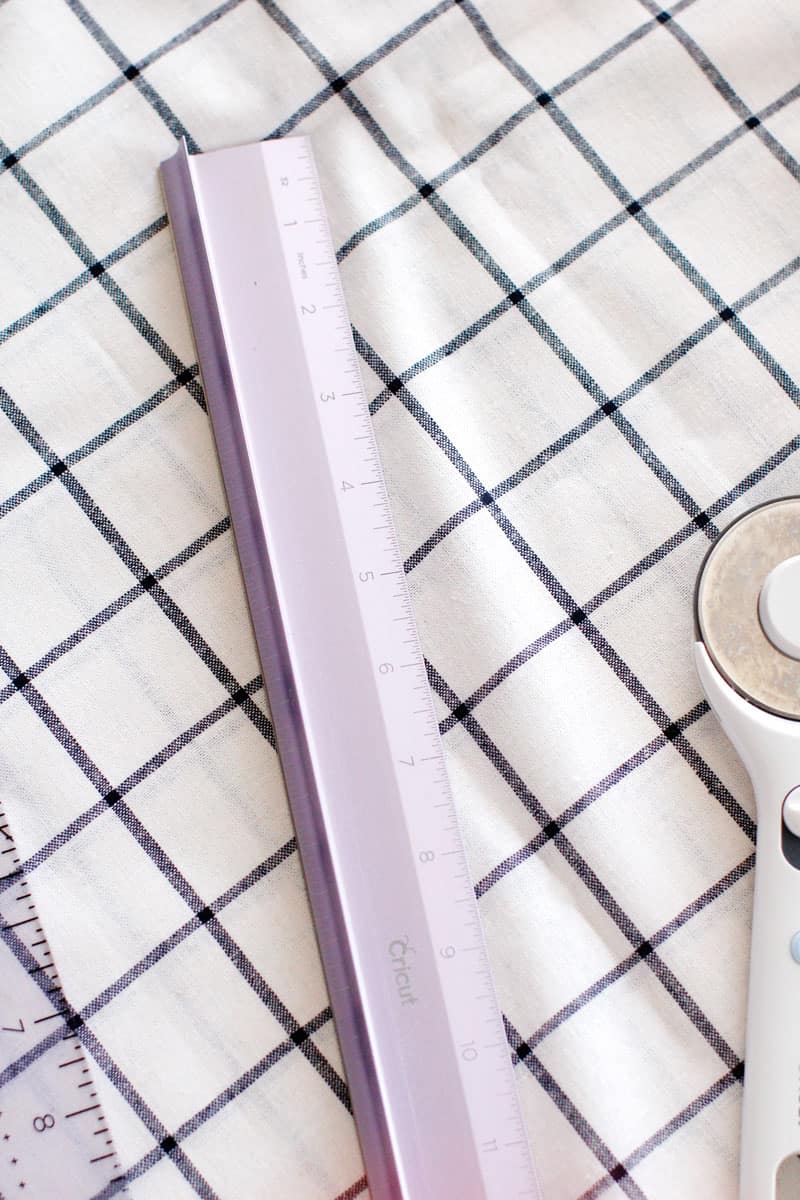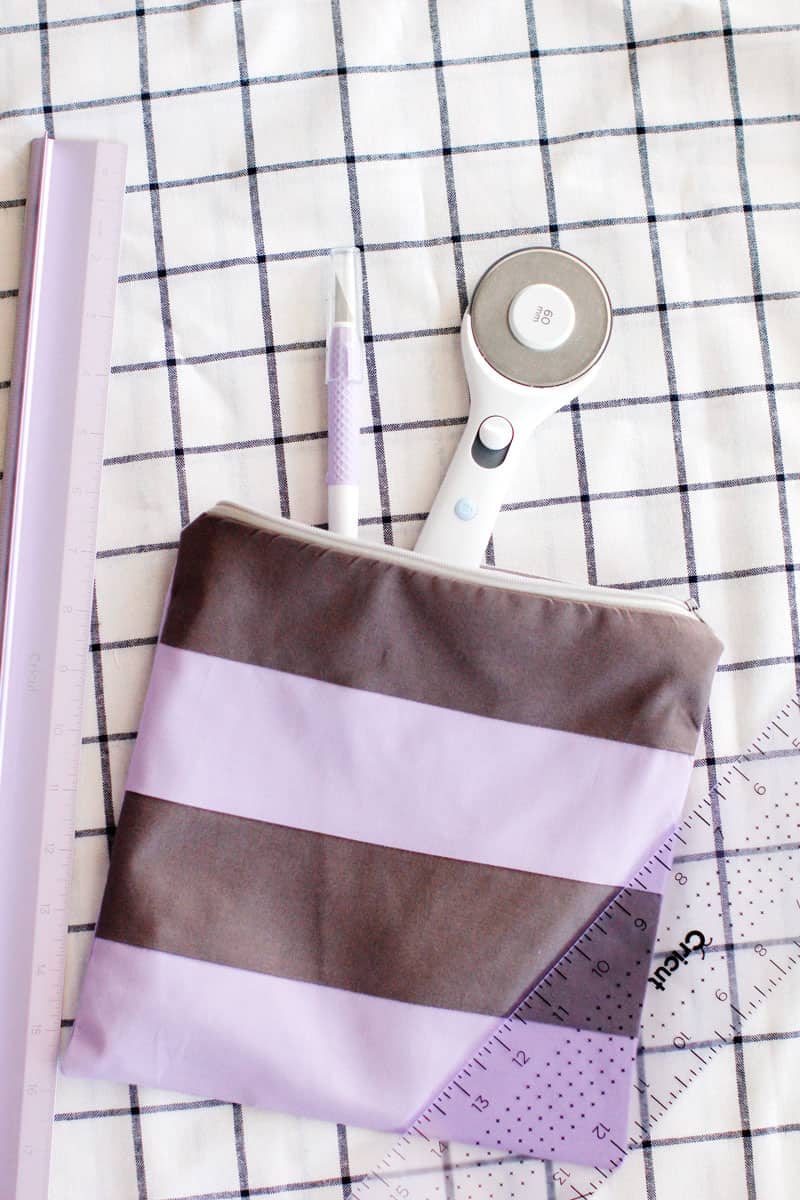 60mm Rotary Cutter//