This microwave bowl cozy pattern is a winter staple! We use these all season long to heat up soup, chili and oatmeal without burning our hands!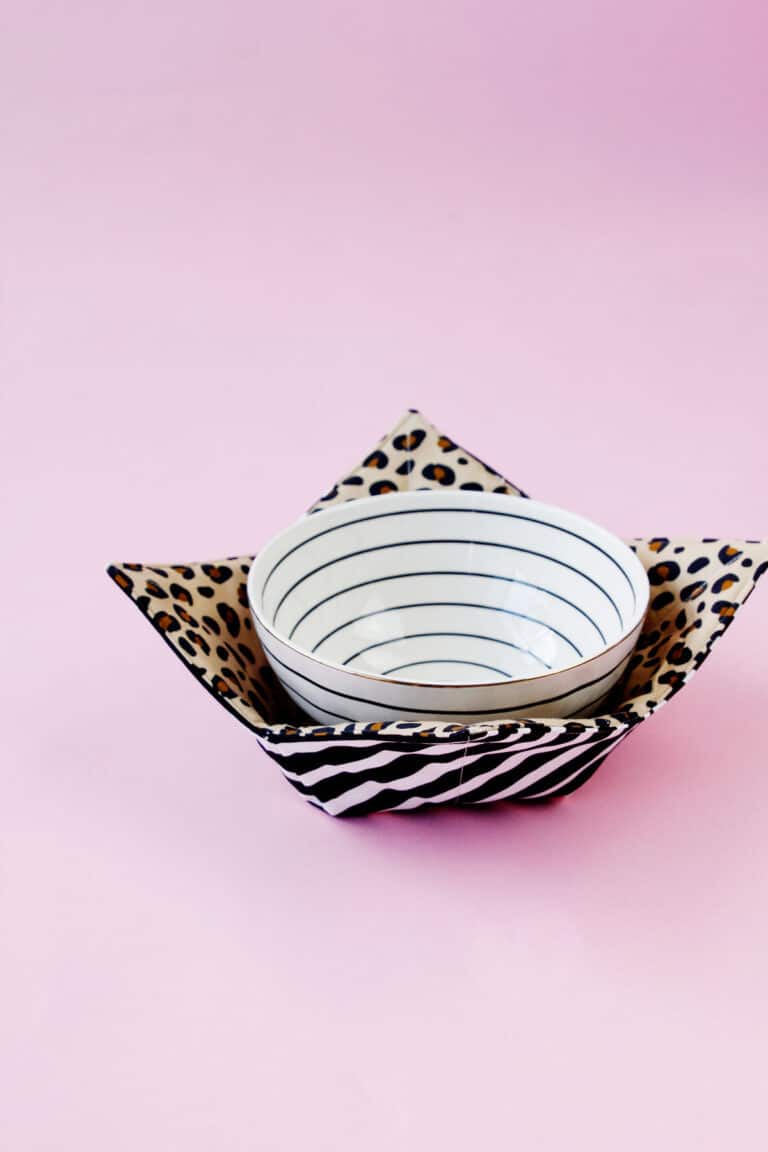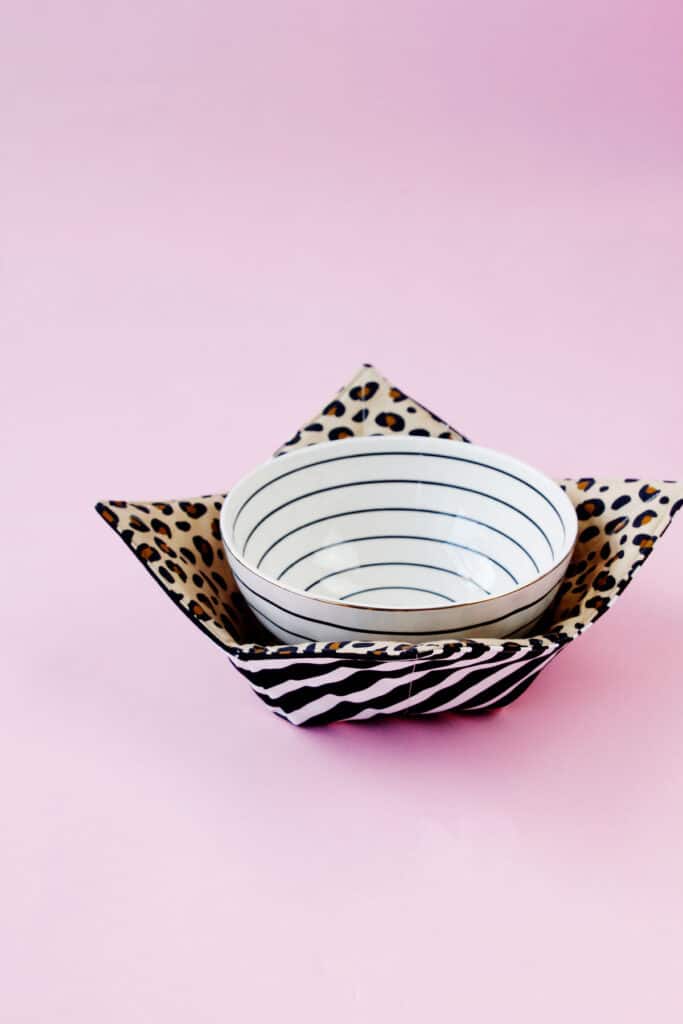 Since these microwave bowl holders are all cotton, they can go into the microwave with your bowl. I'm always alarmed at how hot bowls can get. Sometimes my soup isn't even hot but the bowl is burning!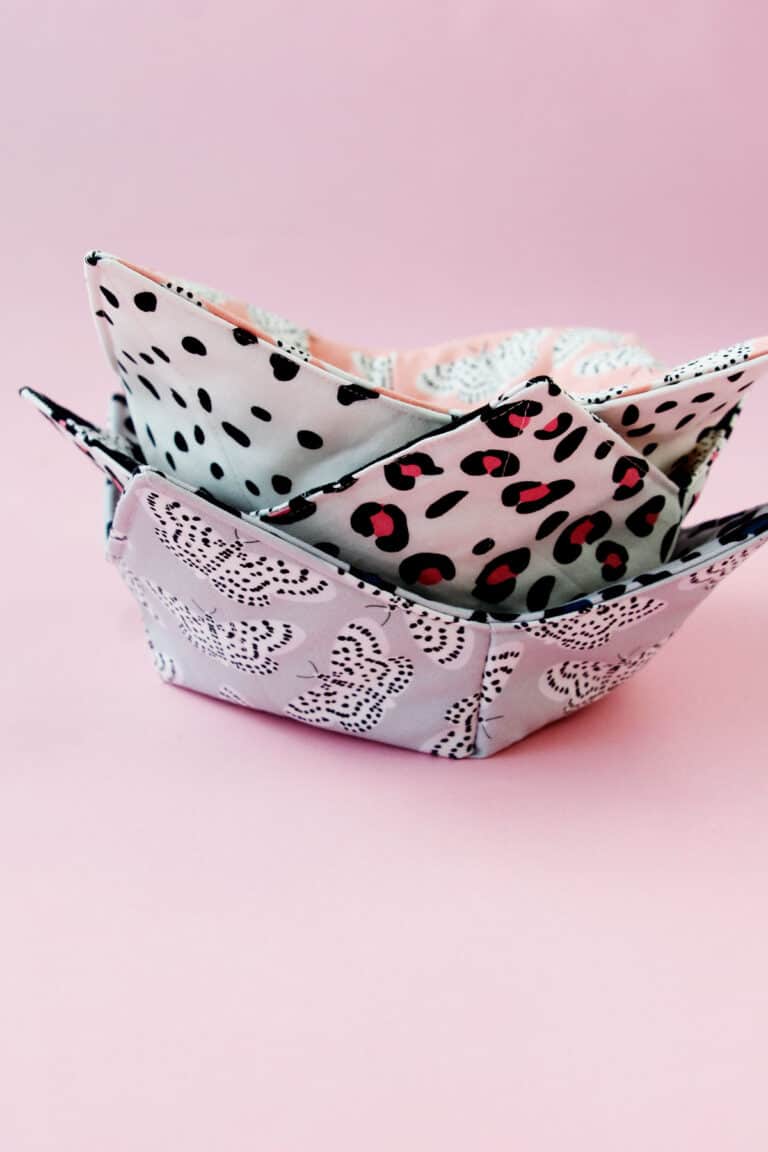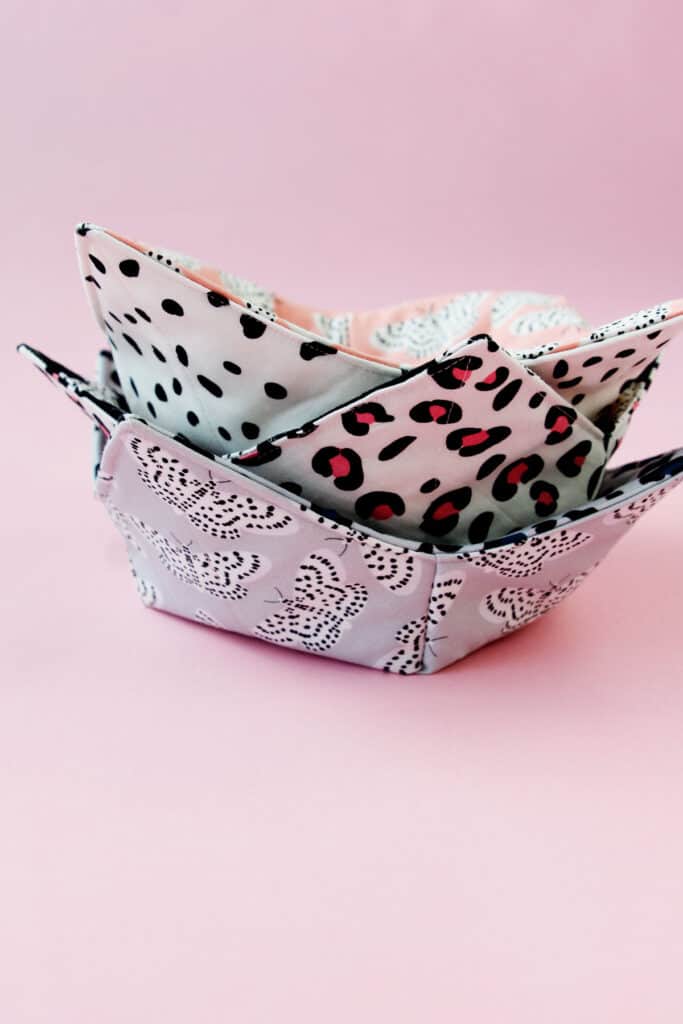 A quilted bowl cozy is the only solution you need for your hot bowl of soup! This allows you to cook your soup for long enough to make it hot and then take it out of the microwave without having to get a potholder. You can even eat the soup or oatmeal in the bowl cozy to protect your hands while you eat.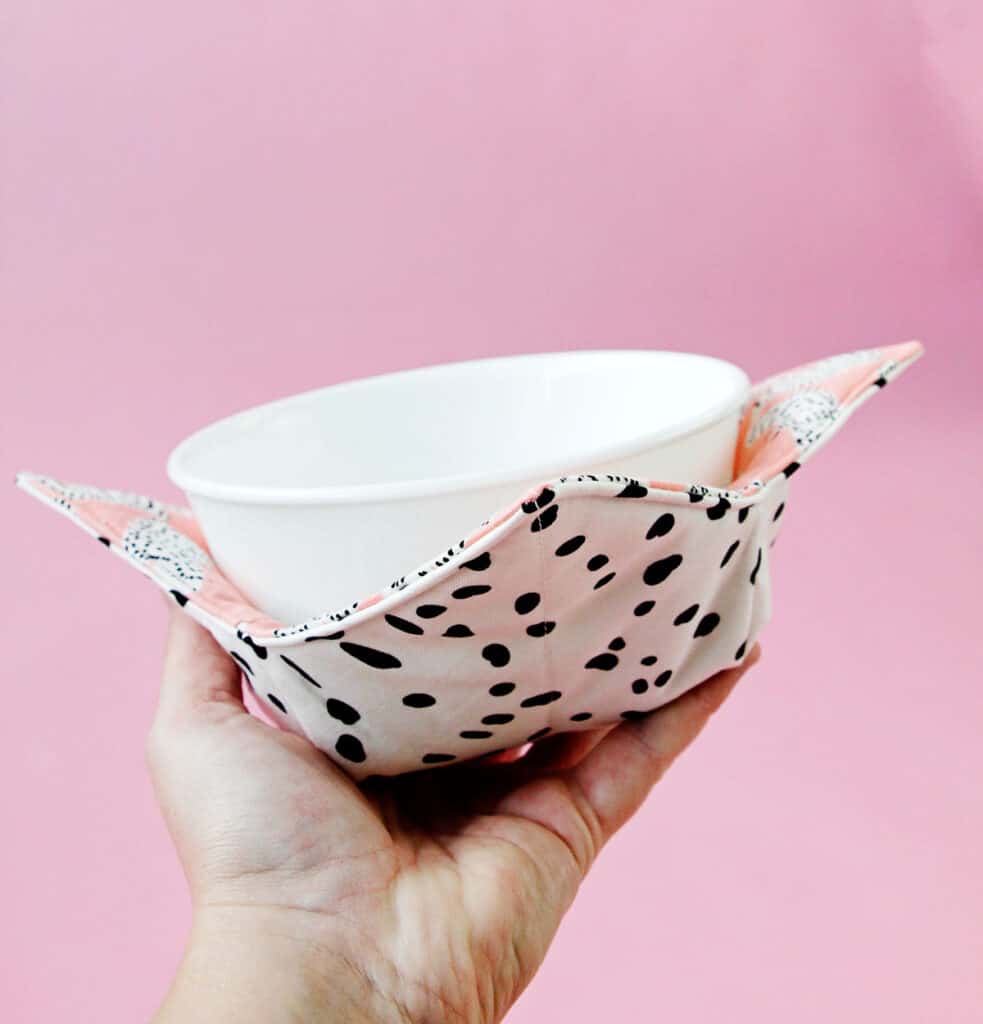 I'll show you how to sew a bowl cozy in this post and you can download the patterns for bowl cozies in multiple sizes. The larger sizes are great heating up side dishes in bigger bowls.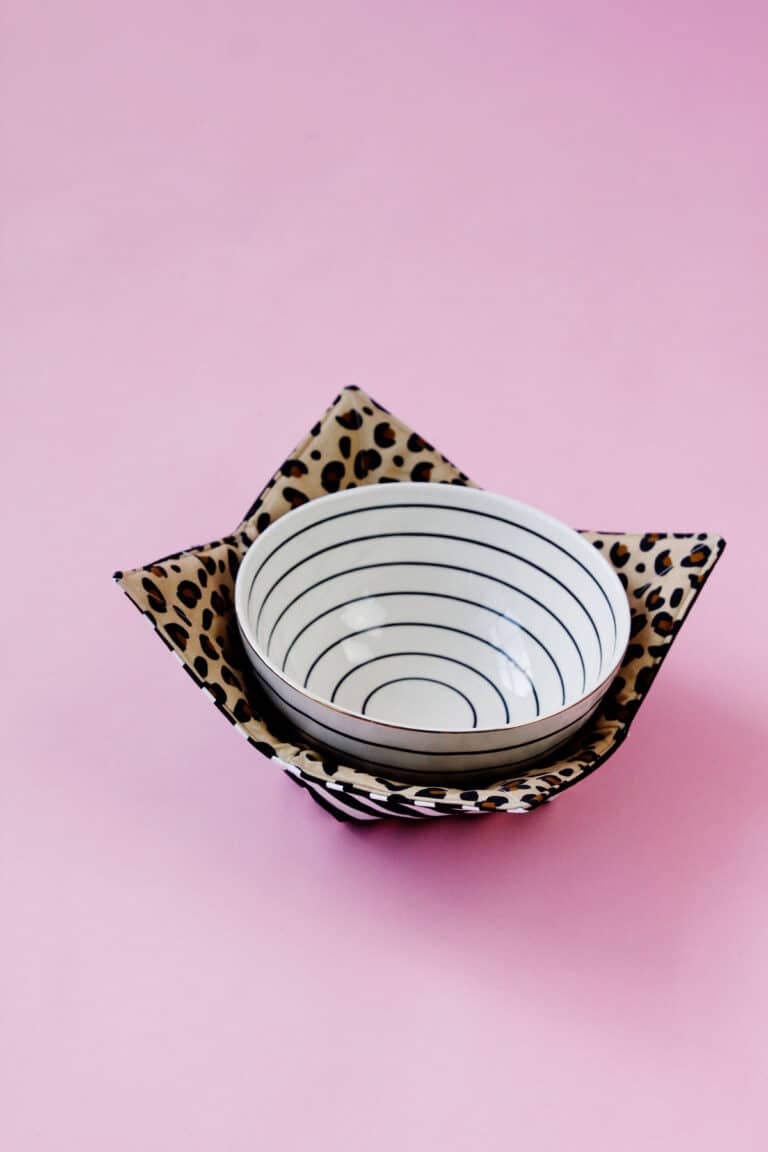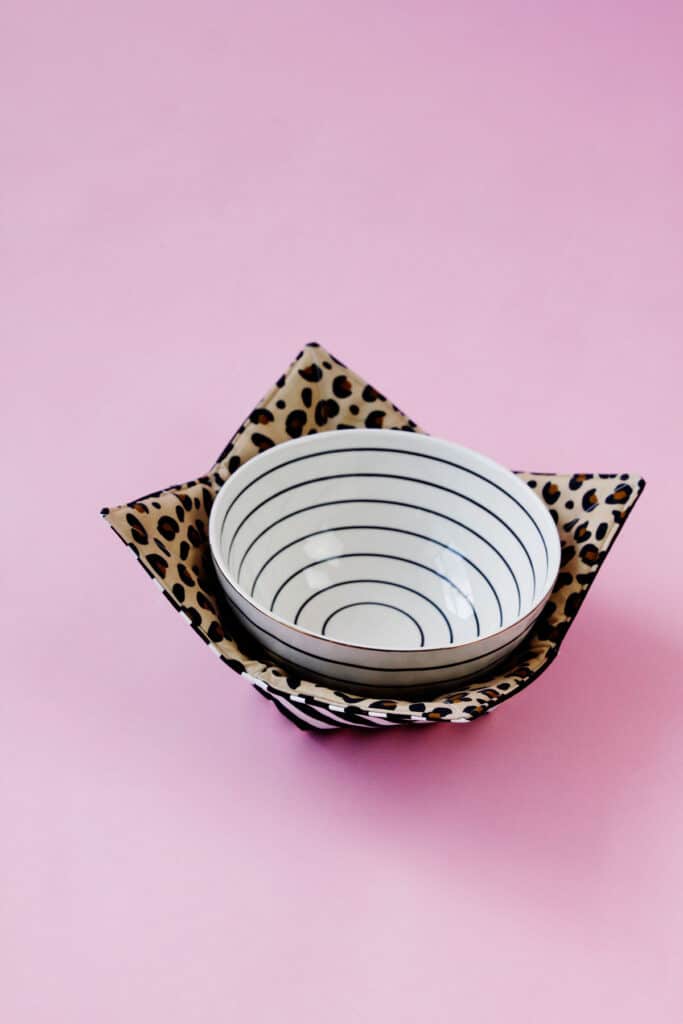 A bowl coozie makes a great holiday gift! And you can even use them for COLD things too – like a big cold bowl of ice cream!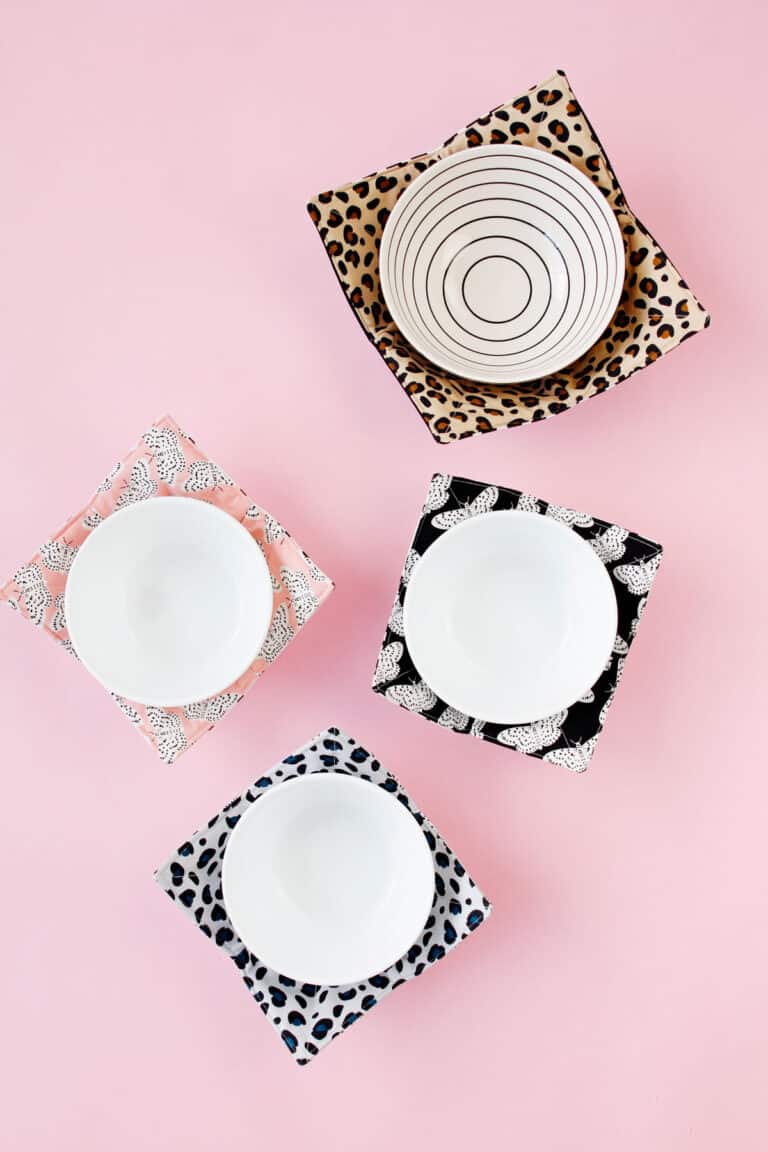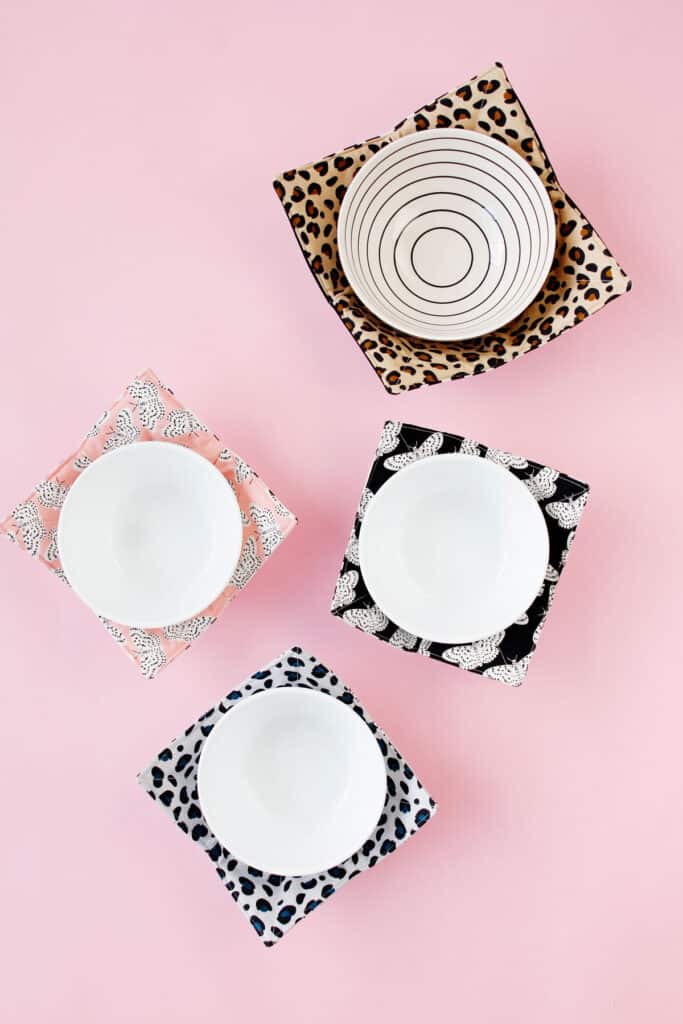 We just love these in our house and it's always fun to make a fresh new stack. These soup bowl cozies are a great way to use up fabric scraps or extra fabric. Make them in bulk for whenever you need a hostess gift or holiday neighbor gift.
Disclaimer: Use common sense and caution while using.
Be sure to watch the video in this post for extra tips and commentary!
Soup Bowl Cozy Materials List
100% cotton fabric

This is a great project for Fat Quarters (any bowl size) or precut squares of fabric like a 10″ Stacker/Layer Cake (affiliate link)(standard bowl size or smaller)

Do not use any synthetics such as polyester or nylon here
Also avoid metallic ink prints (If you're using Spotted fabric, just pick out the metallics for another project!)

100% cotton batting, you'll need batting squares the same size or larger than your fabric

Again, make sure your batting is 100% cotton
Any materials that is heat sensitive could start a fire or sparks so be picky with your selections

Cutting mat, rotary cutter and ruler
Marking tool – I prefer to use a fabric marker, Hera marker or chalk
100% cotton thread for topstitching, I use Aurifil Mako Cotton Thread (affiliate link)

Be sure to check your thread fiber content before sewing! Polyester will melt if heated.

Cardstock for pattern
Sewing machine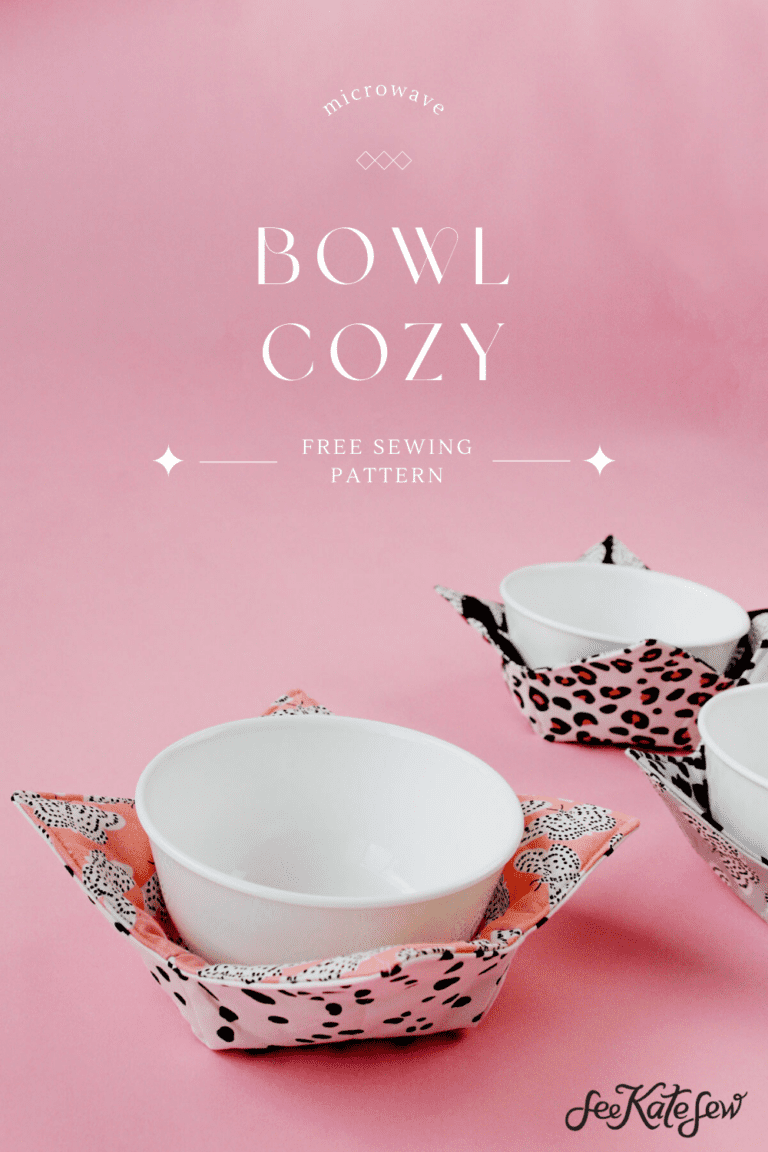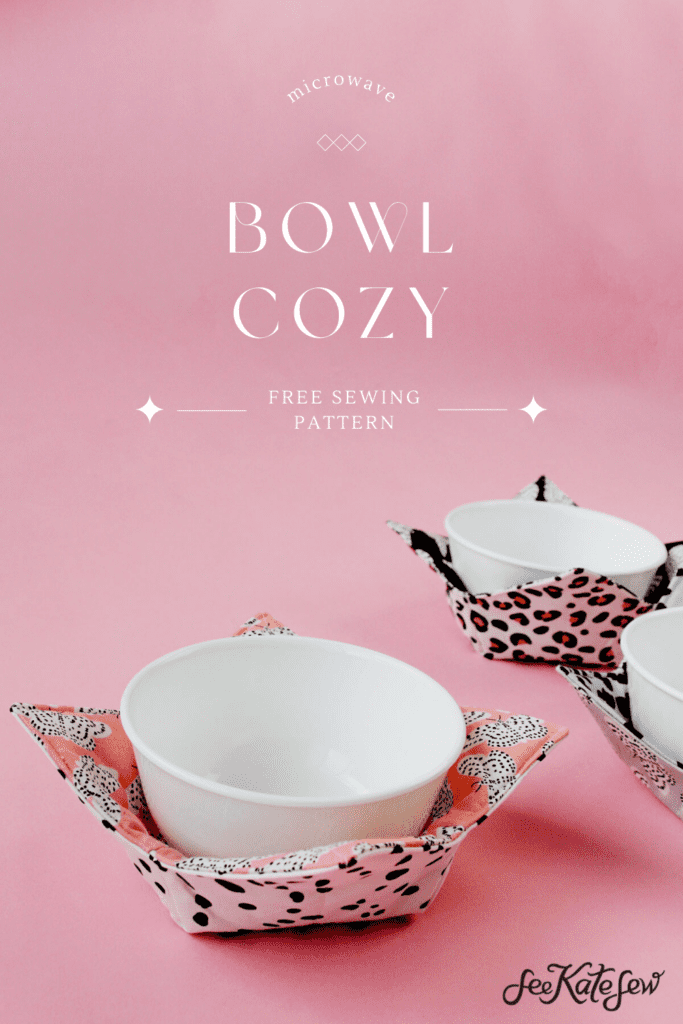 Download Pattern for Bowl Cozy Tutorial
Download the bowl cozy pattern free below! The bowl holder pattern includes the markings and shape you need to create the cozies easily. Download and pick your size.
Print the pattern pages out at 100% or DO NOT SCALE. The pattern includes 4 pages. If you are not sewing the Extra Large size, you can just print pages 1-2. Measure the 1″ box at the upper right corner of the first page to make sure you have the size correct.
Trim the edges of the pages at the dashed lines. Tape together in the layout shown below:

Bowl Cozy Sizes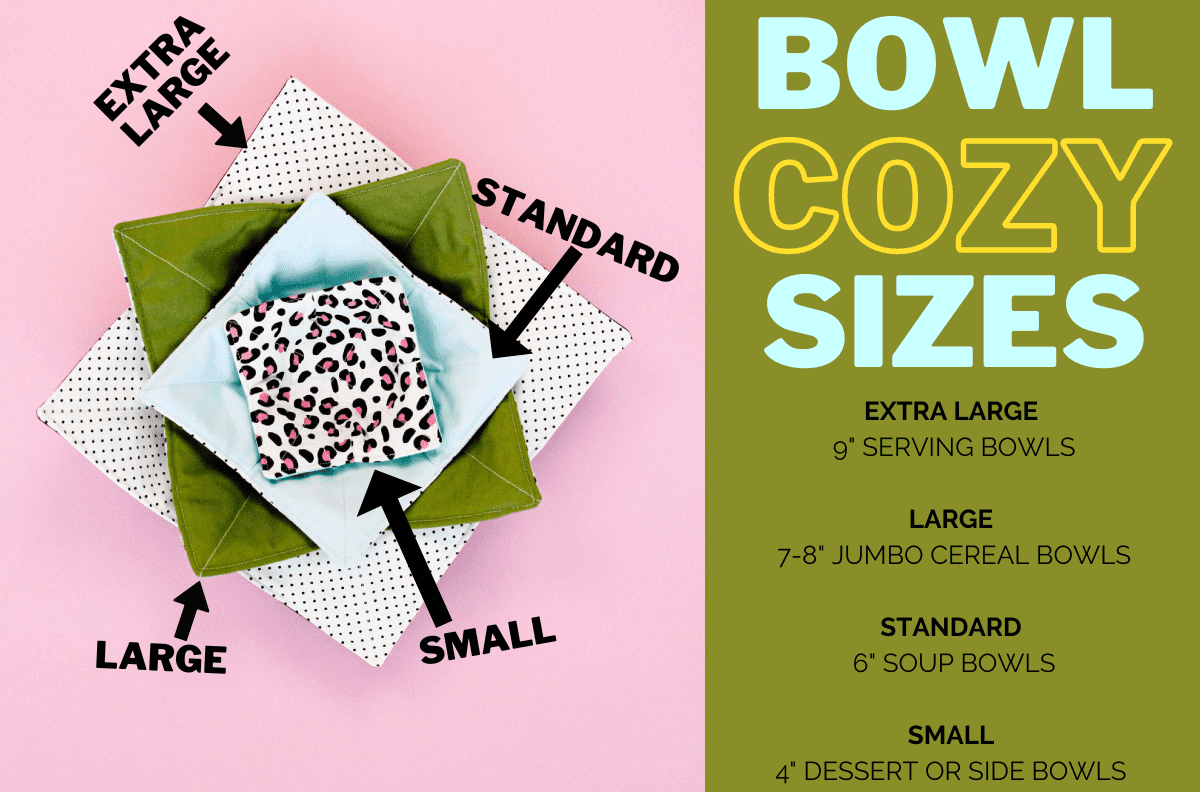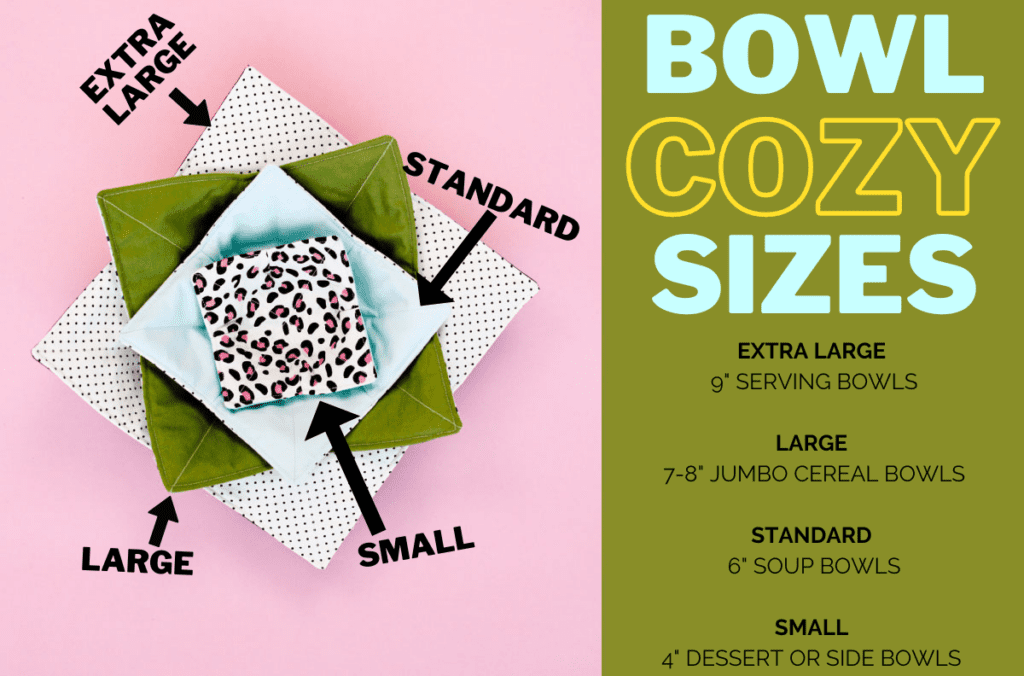 Small – 4″ bowls. Great for little dessert bowls.
Standard Bowl – This size is for a standard 6″ bowl. If you are making these as a gift, I recommend sewing this size.
Large – 7-8″ bowl this is a good oversized cereal bowl
Extra Large – 9″ serving bowl – great for heating up side dishes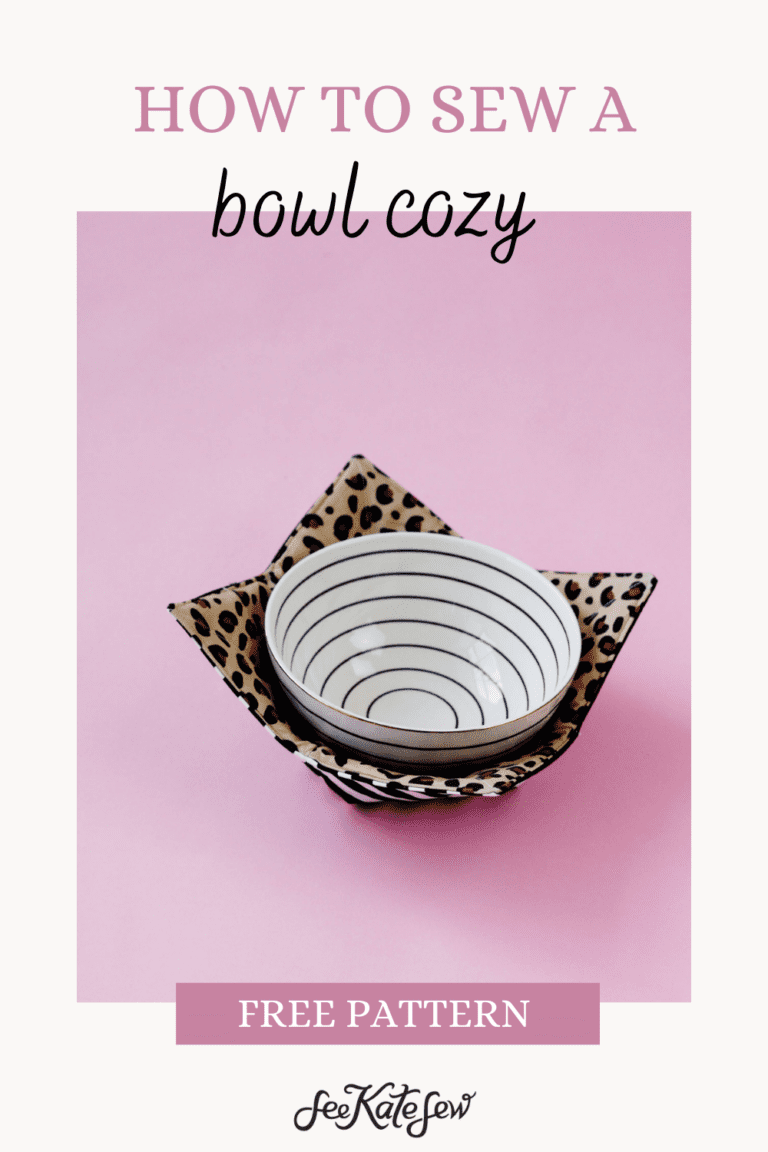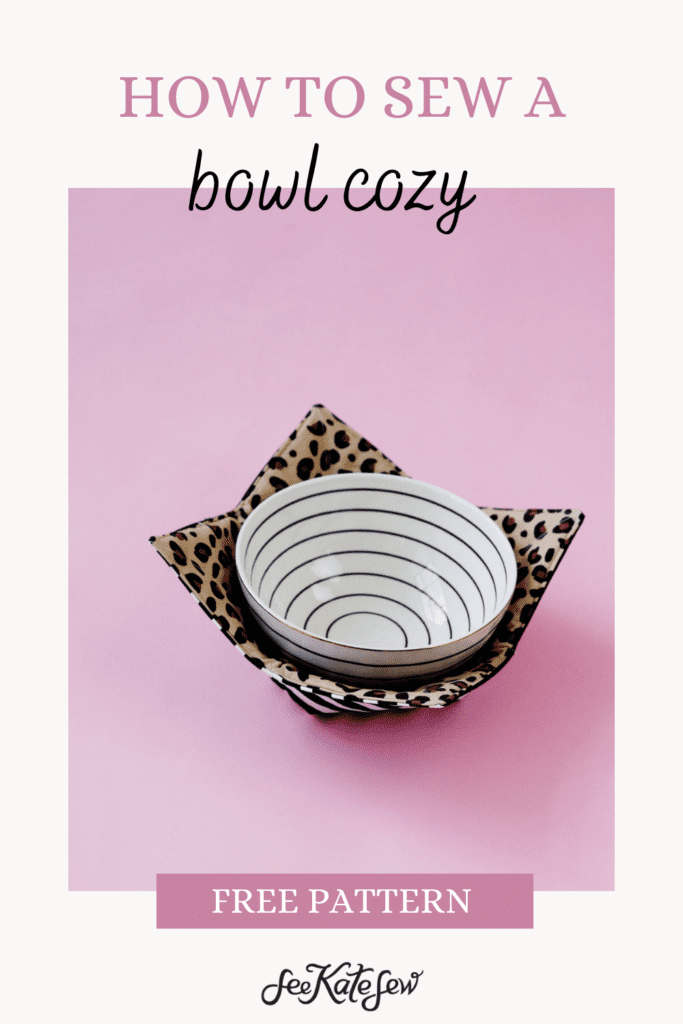 How to make a bowl cozy
Use a 1/4″ seam allowance.
Cut 1 main bowl cozy piece from each of your two fabrics ON THE FOLD. Pin wrong side of fabric to a piece of batting larger than the fabric.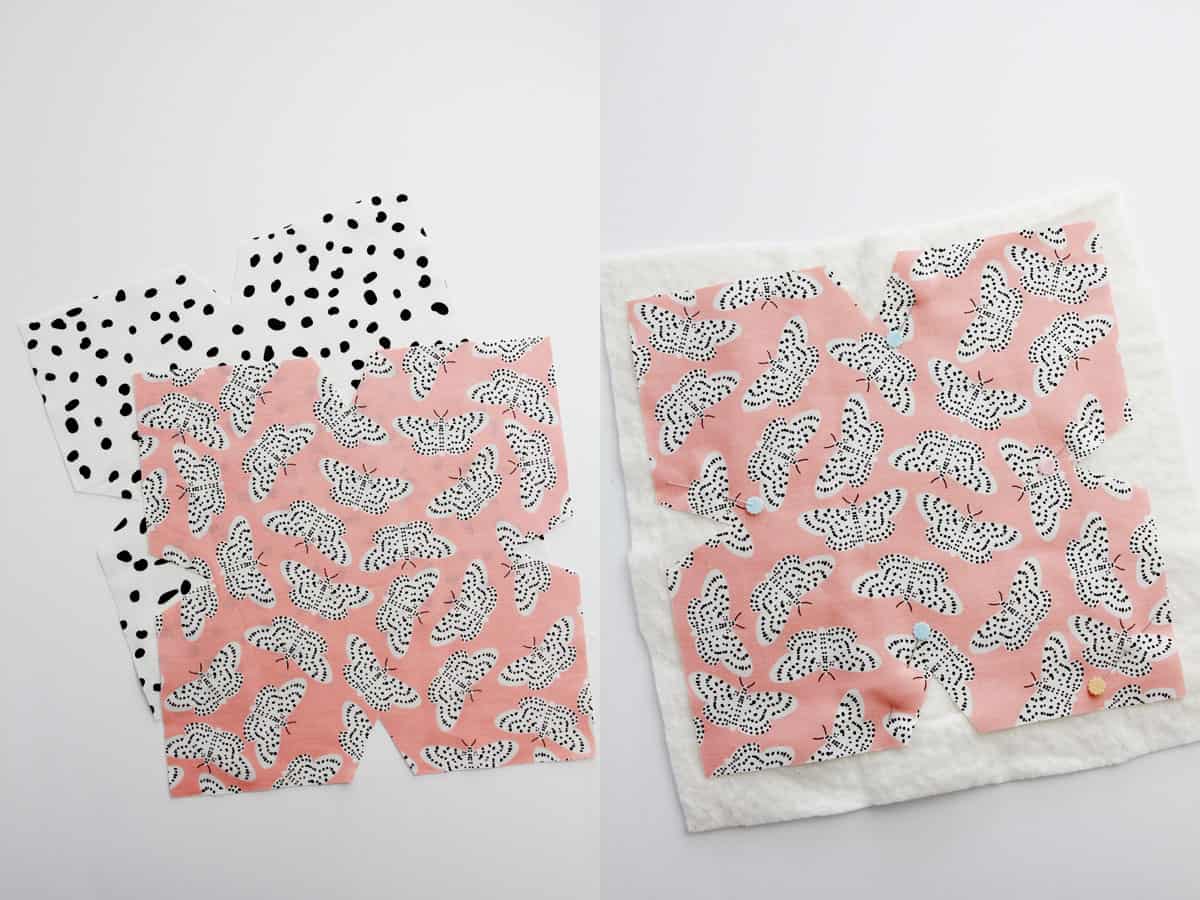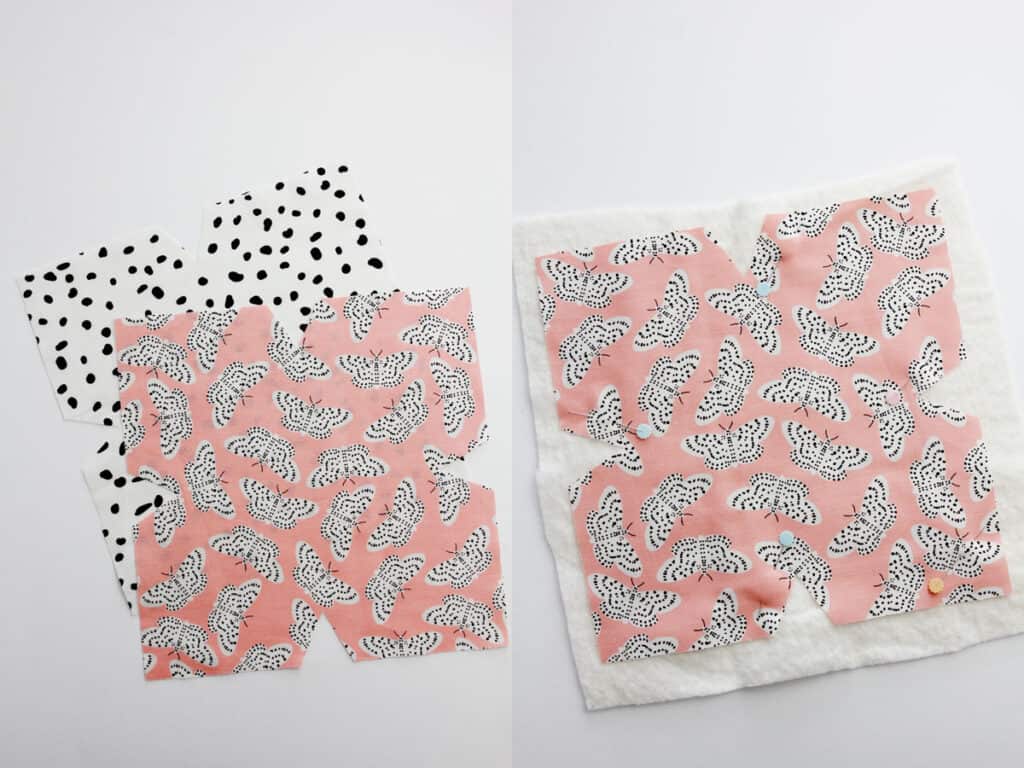 Use a fabric marker or creasing tool to create diagonal lines from corner to corner.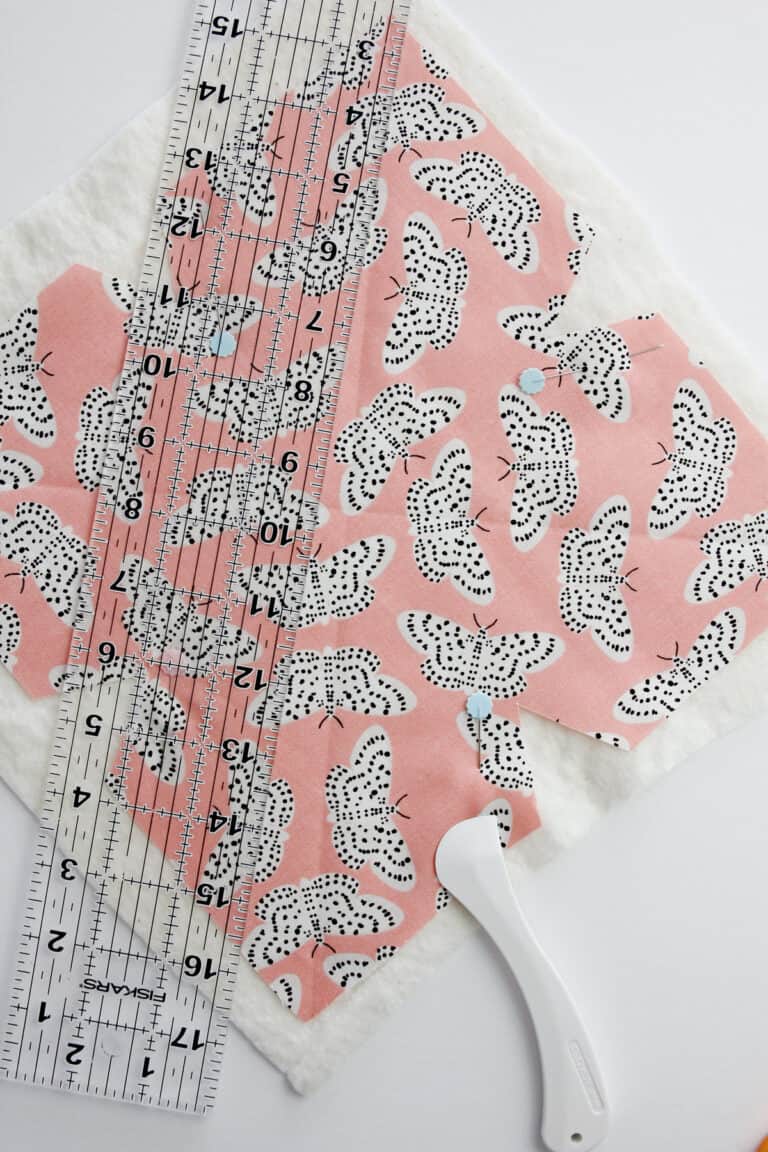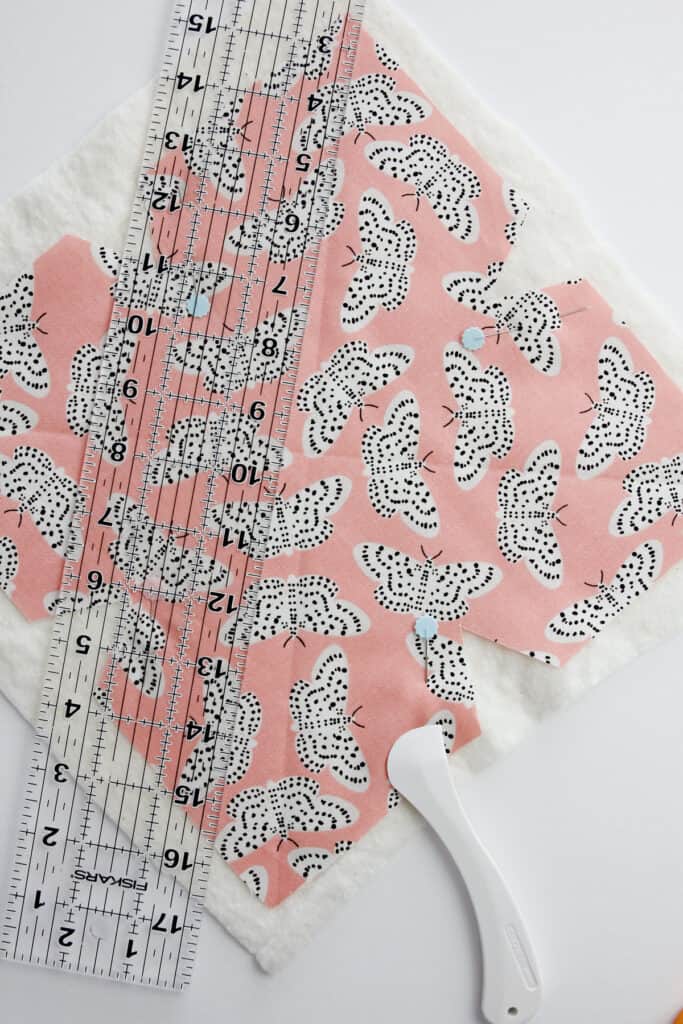 Sew over the drawn lines to hold the batting and fabric together. Trim excess batting around fabric.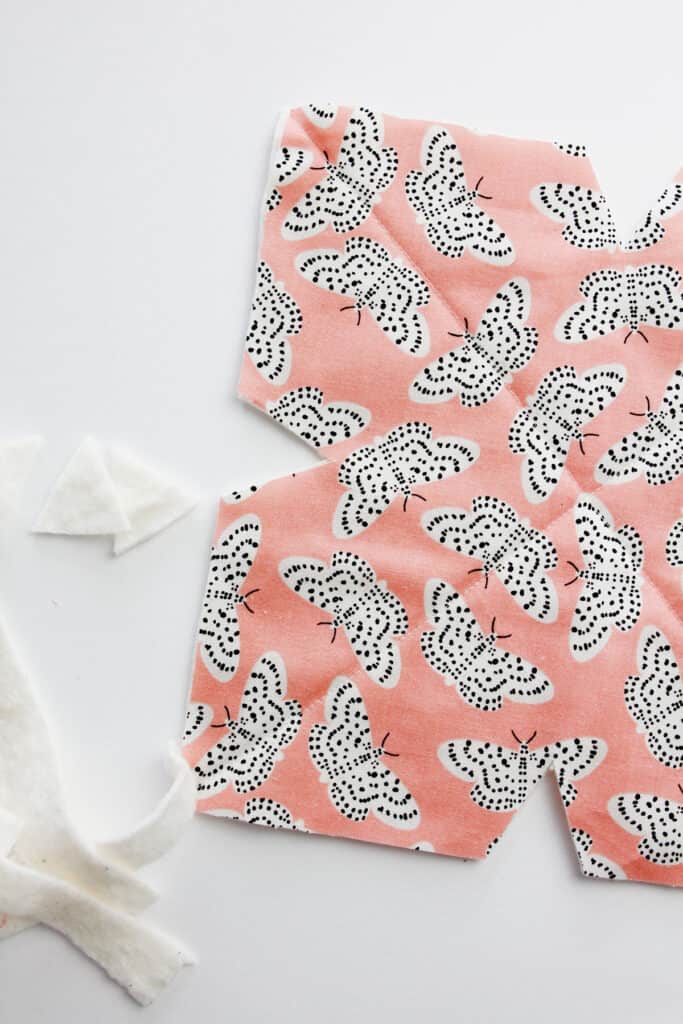 Fold the fabric in half with right sides together. Match the raw edges of the dart and pin. Sew dart at 1/4″, backstitching at the beginning and end of the dart.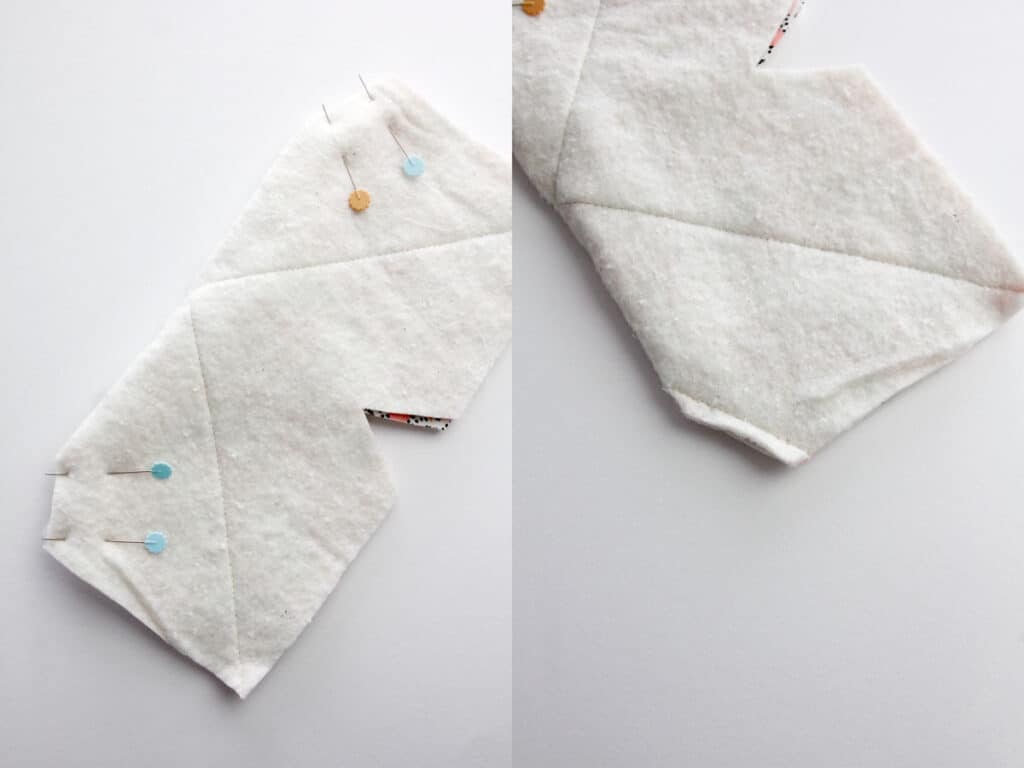 Repeat with all four darts. Trim seam allowances to 1/8″.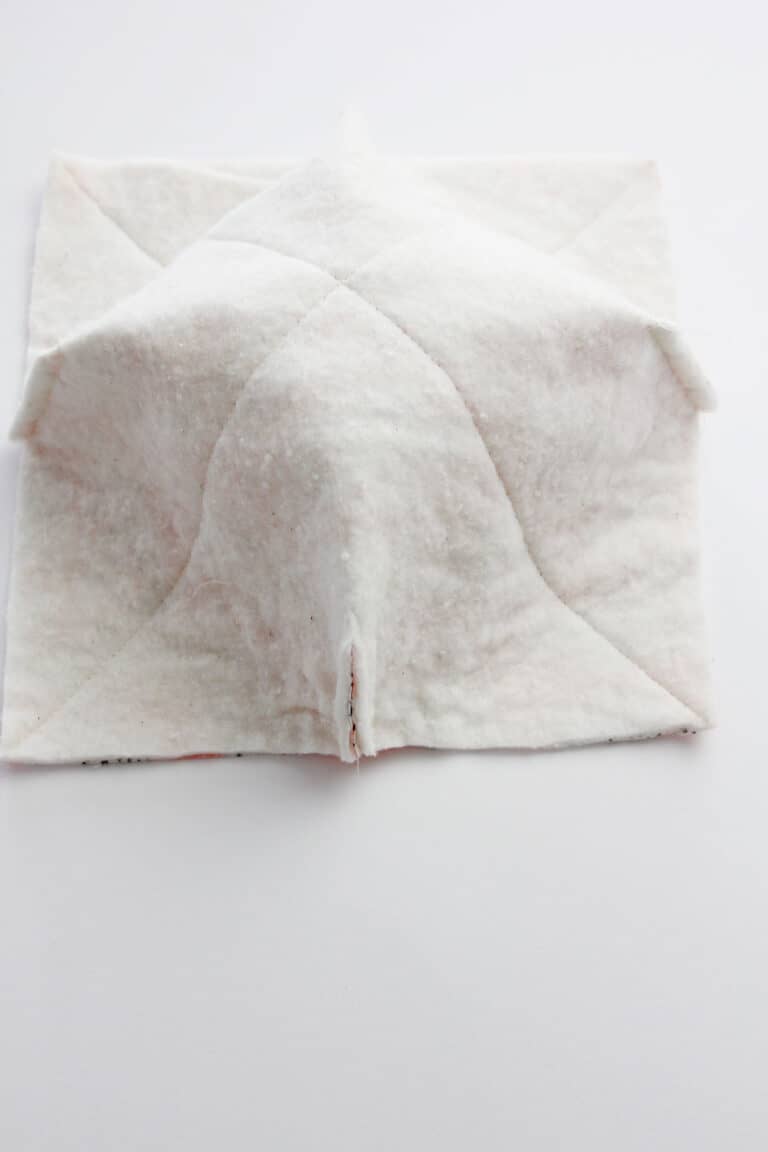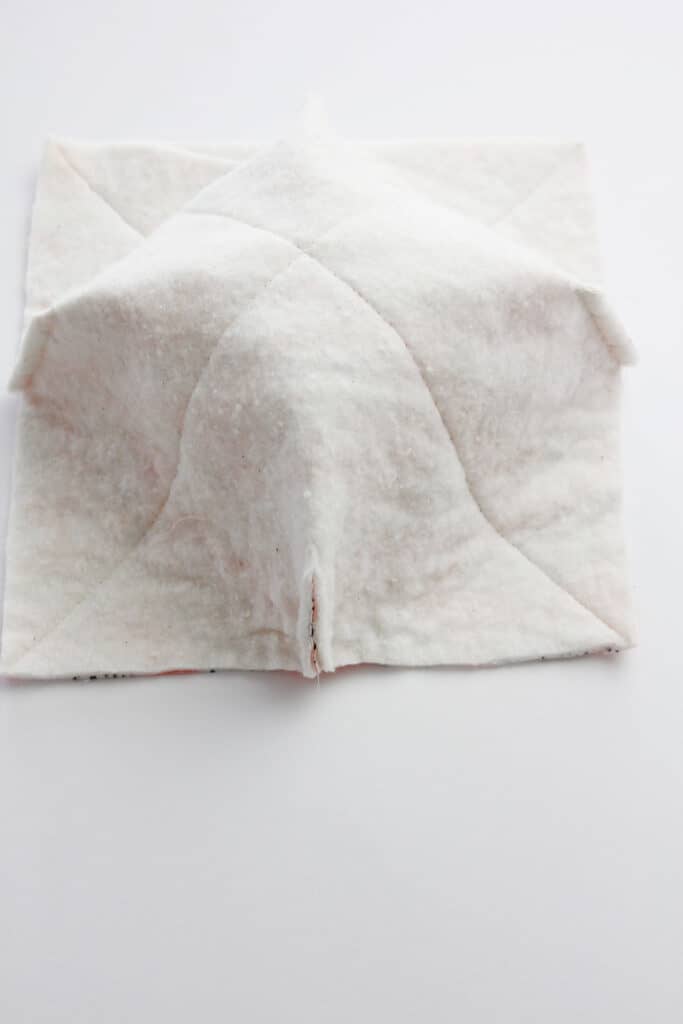 Repeat with lining fabric.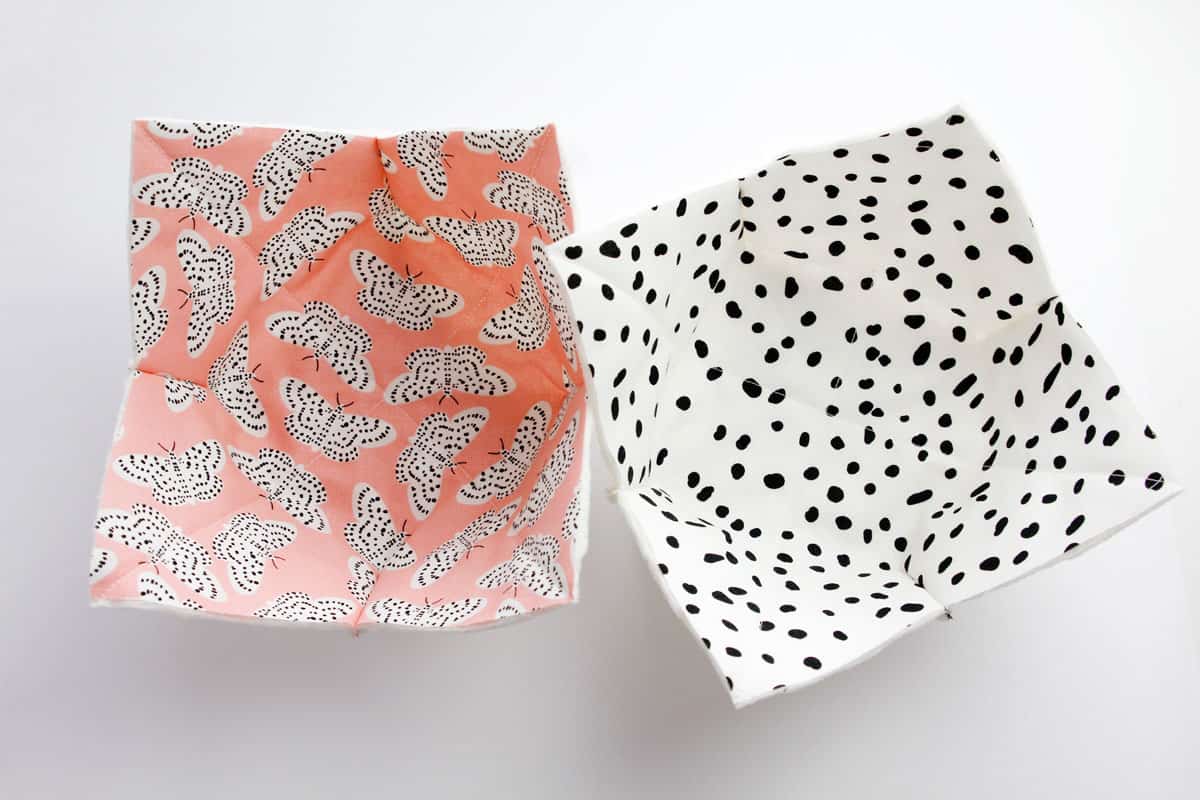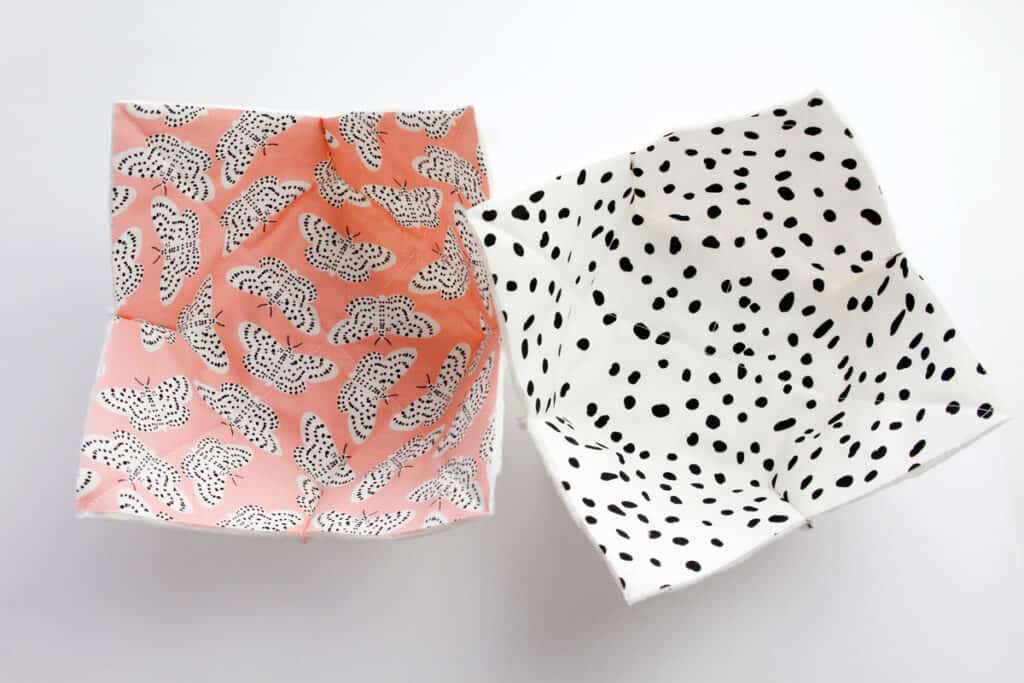 Turn lining insidious and put both layers together with right sides together. Match up the corners and darts.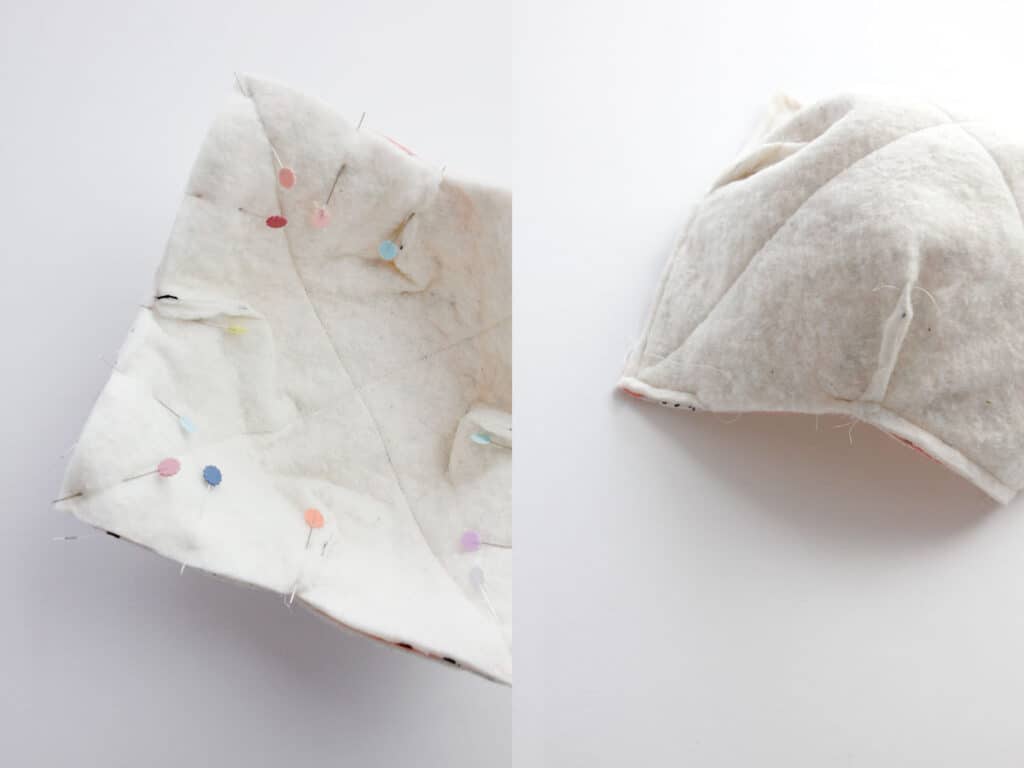 Pin and sew all the way around the outside of the bowl cozy, leaving a 2-3″ opening on one of the straight edges.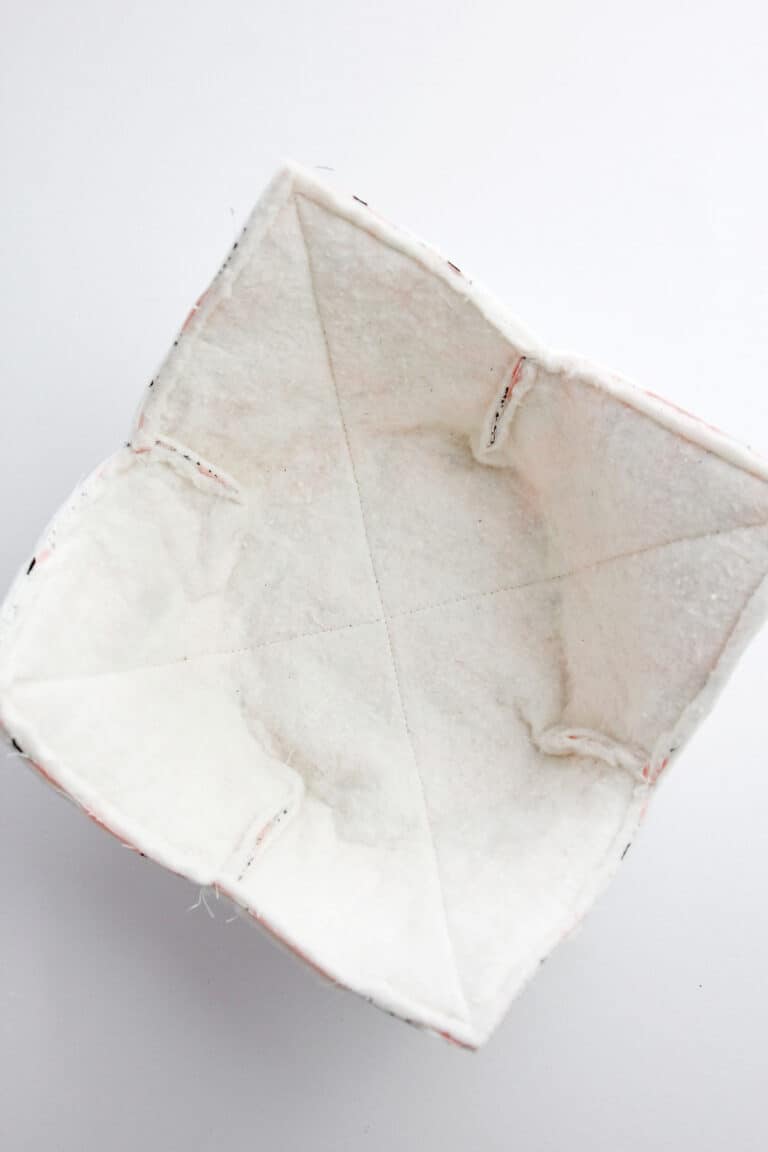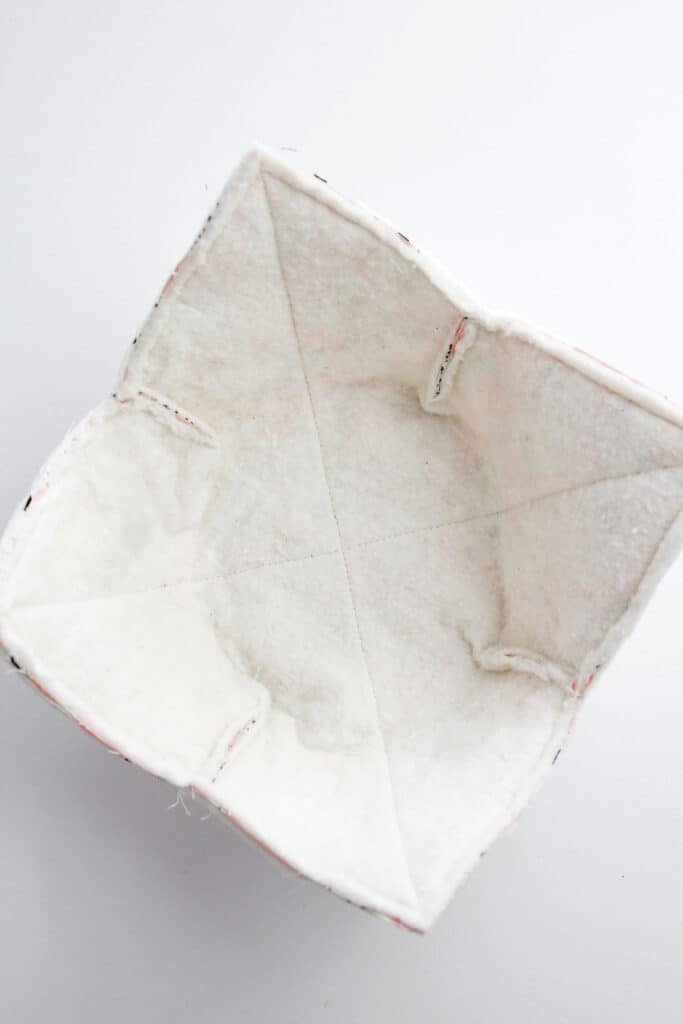 Clip the corners and trim the seam allowances down.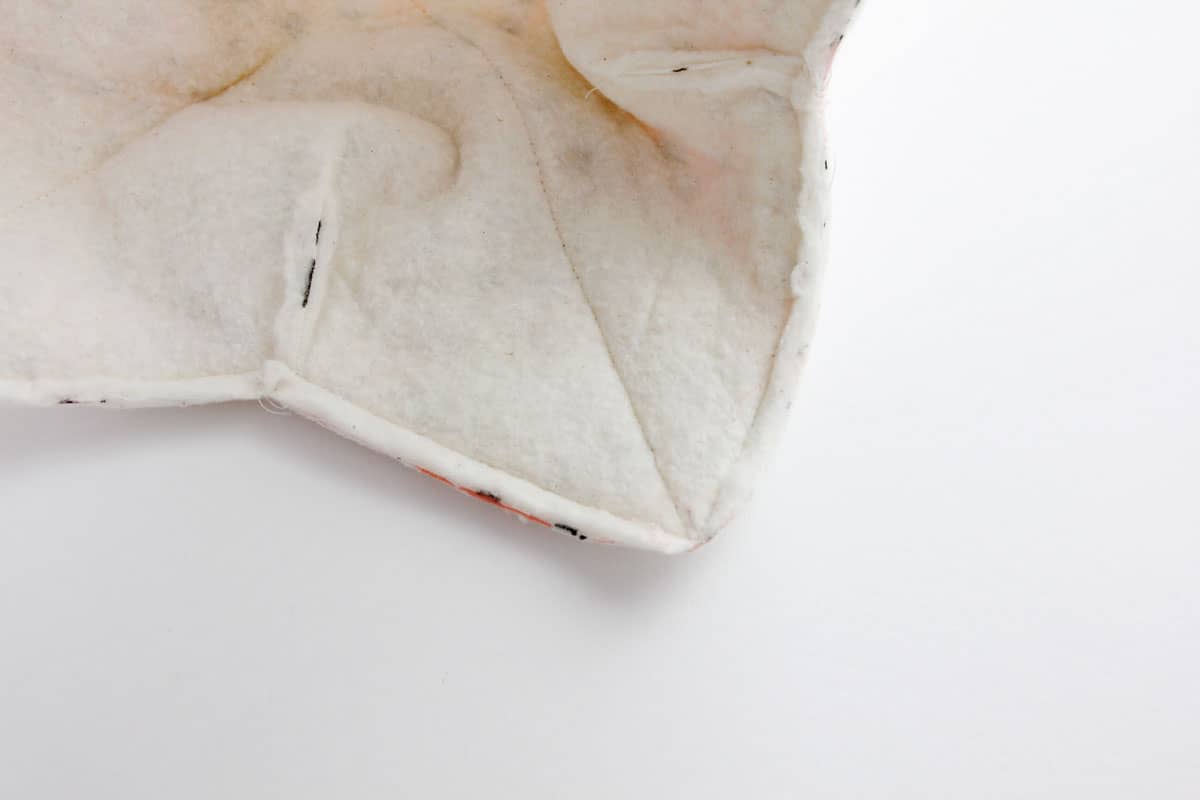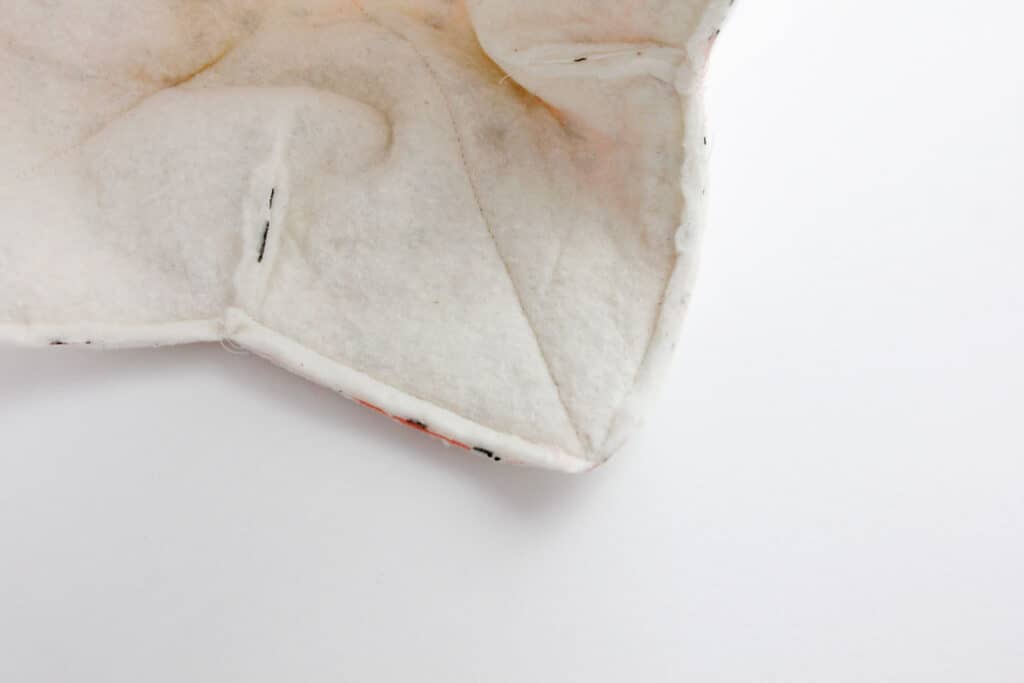 Then turn cozy right side out. Press well. Pin the opening closed. Then topstitch around the edge of the bowl cozy 1/8″ from the edge. Pivot at the corners for a crisp stitching line!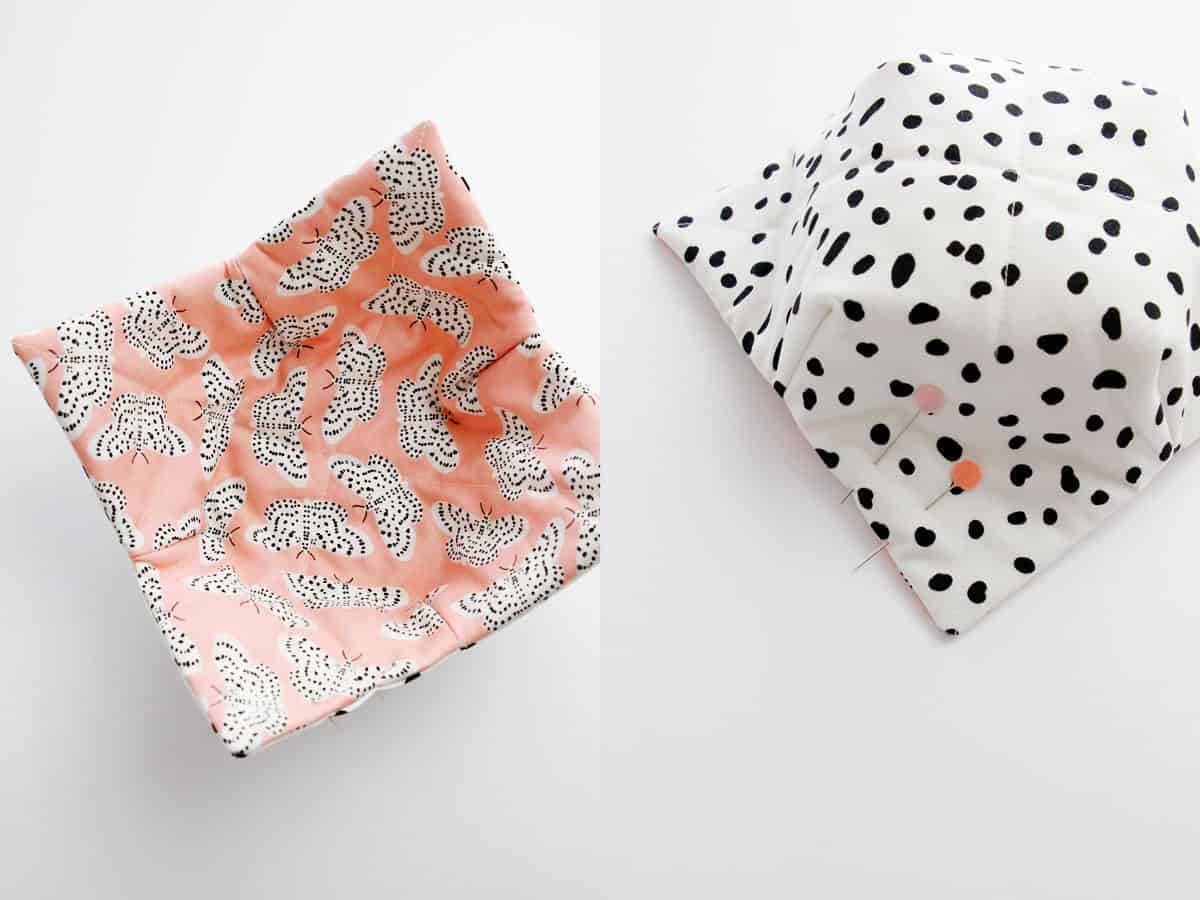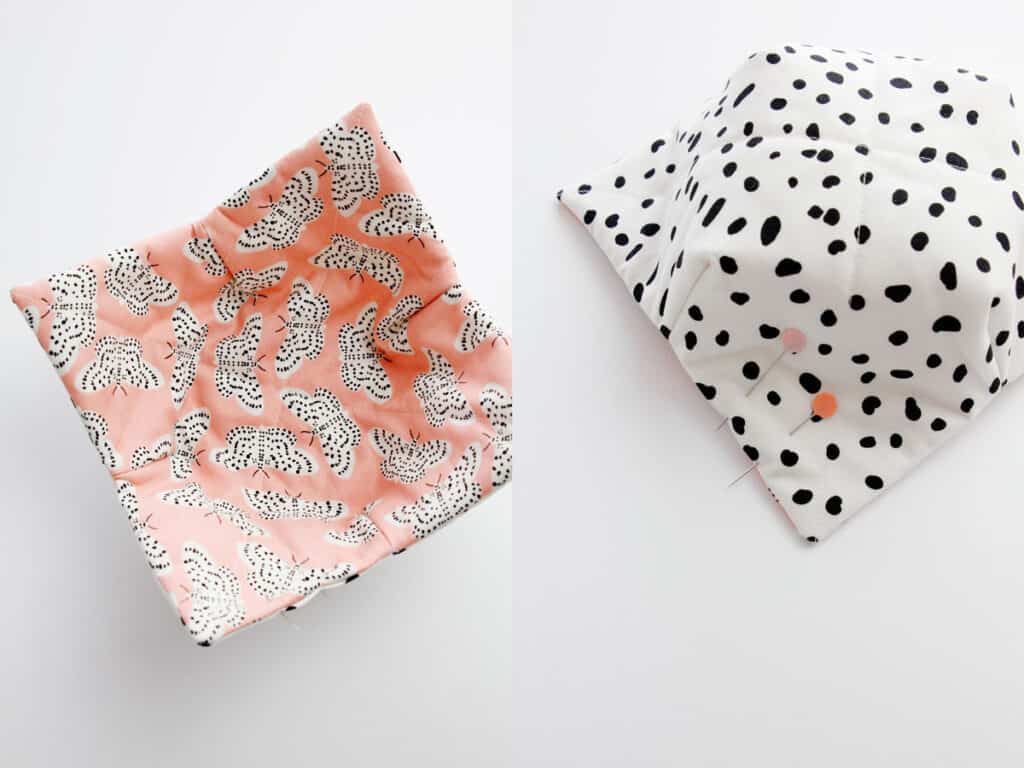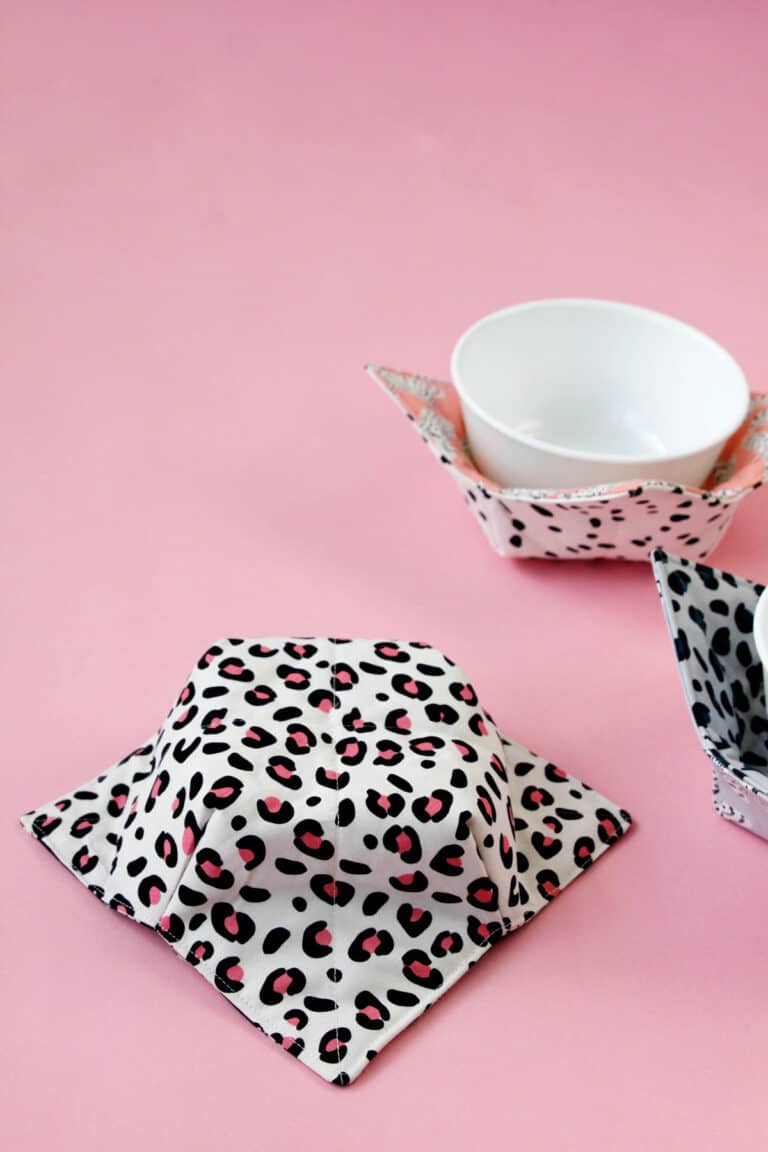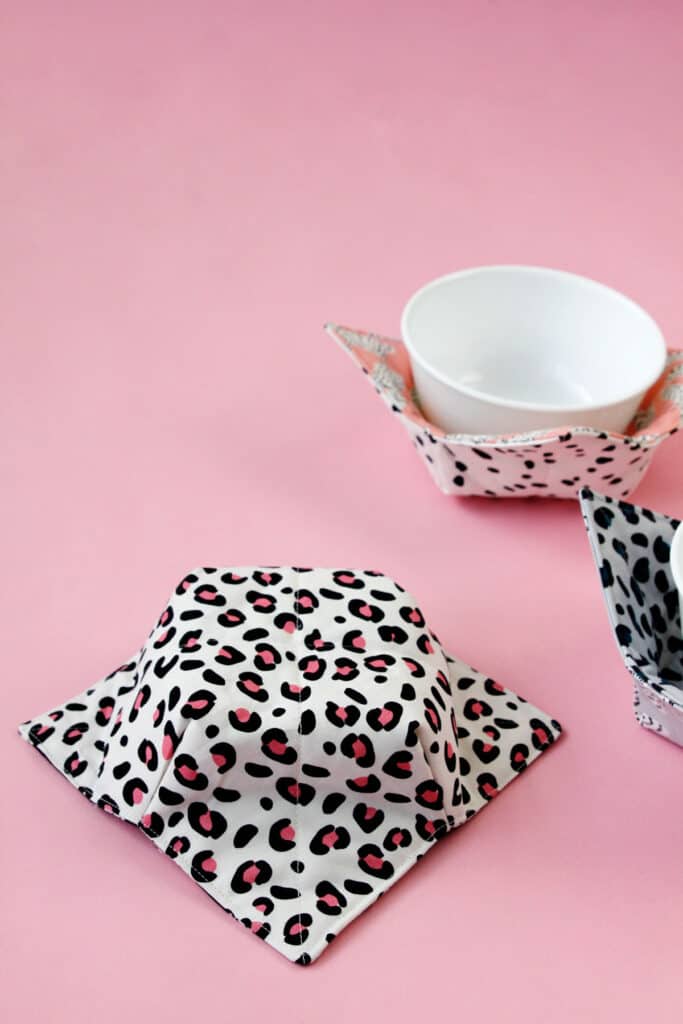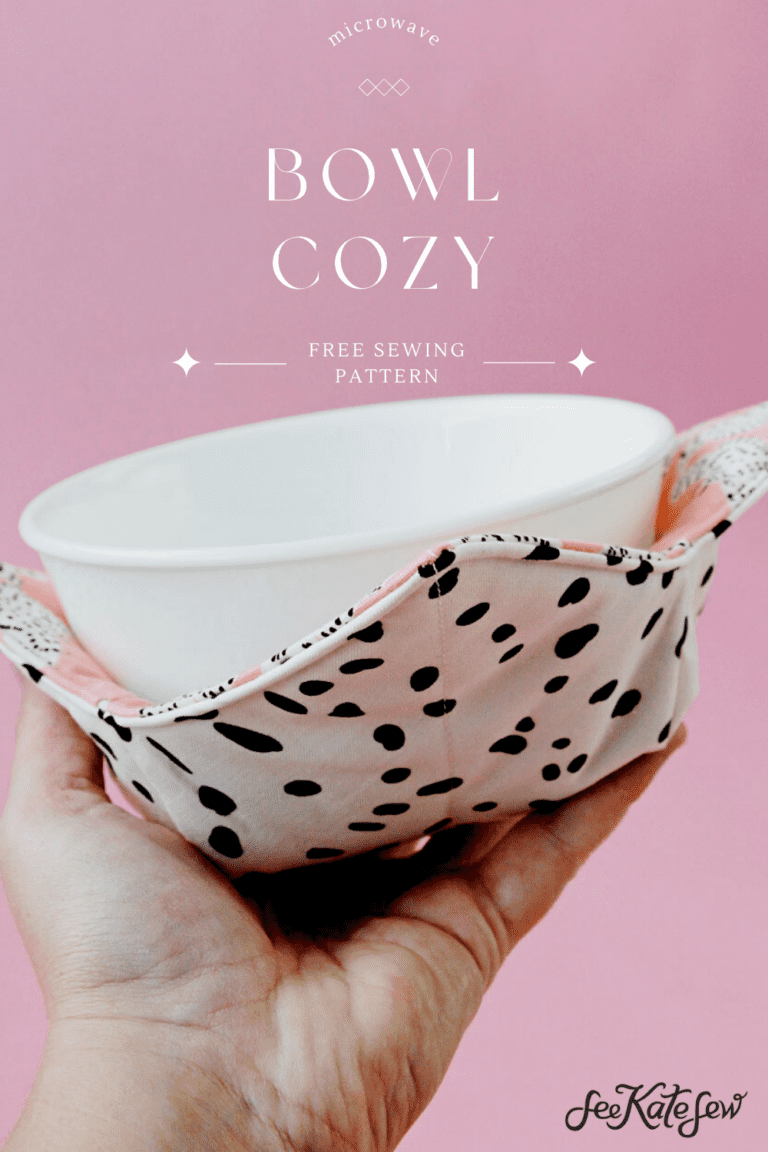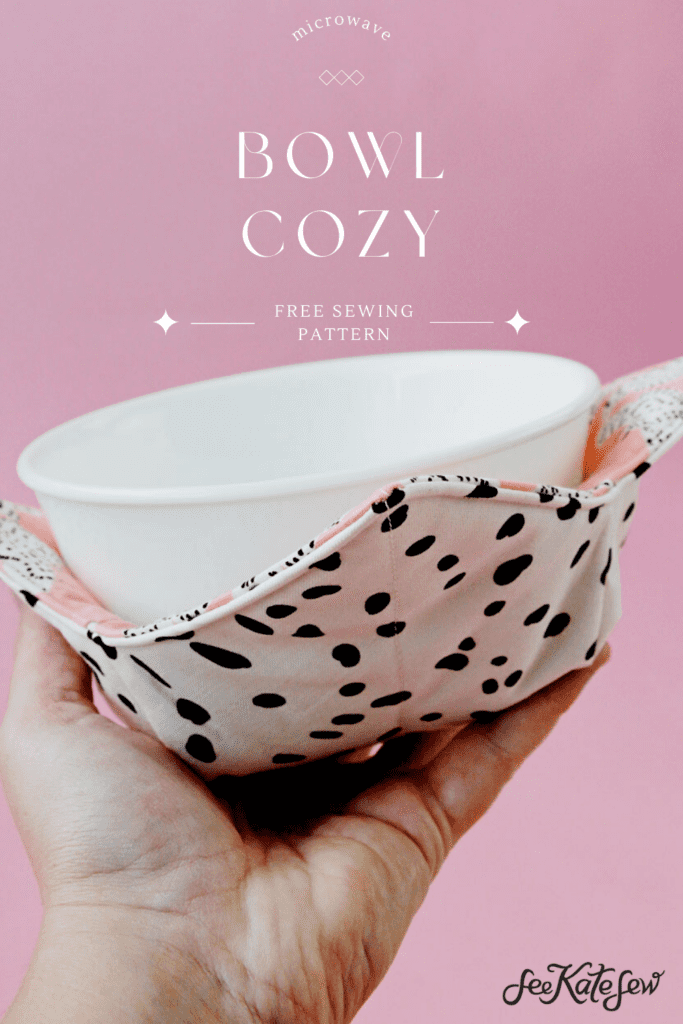 Variations to the bowl cozy pattern
Customize your bowl cozies with
Sew more quilting lines or patterns before assembling cozy
Add a loop to conveniently hang the cozy
Round the corners before assembling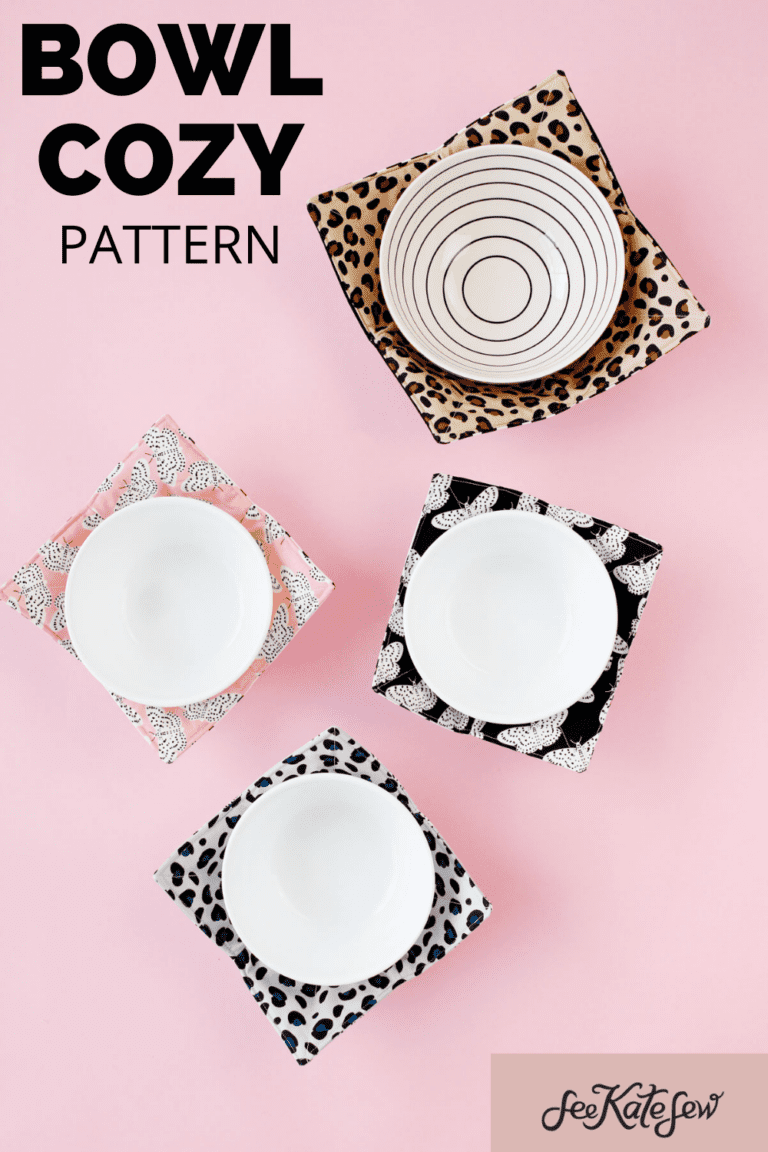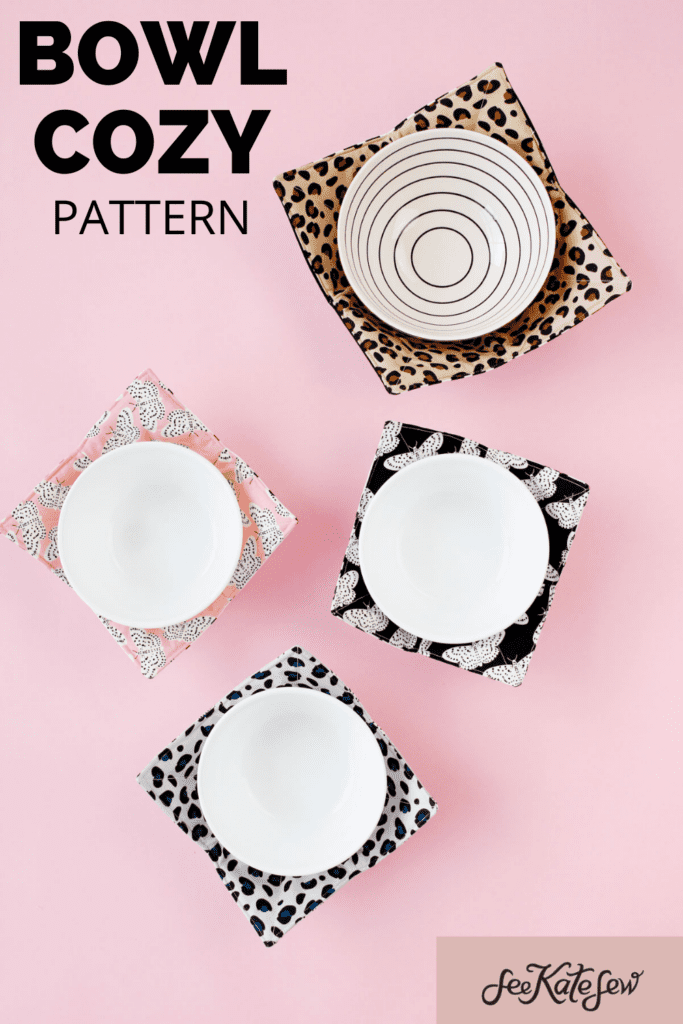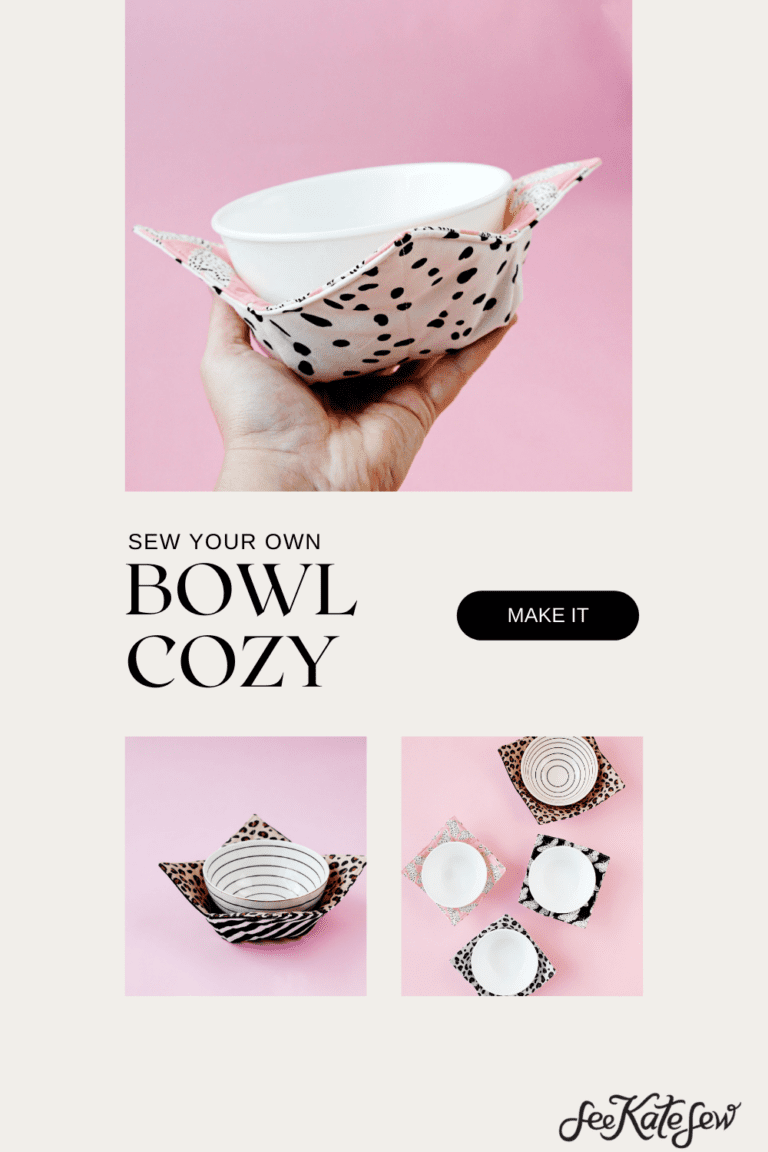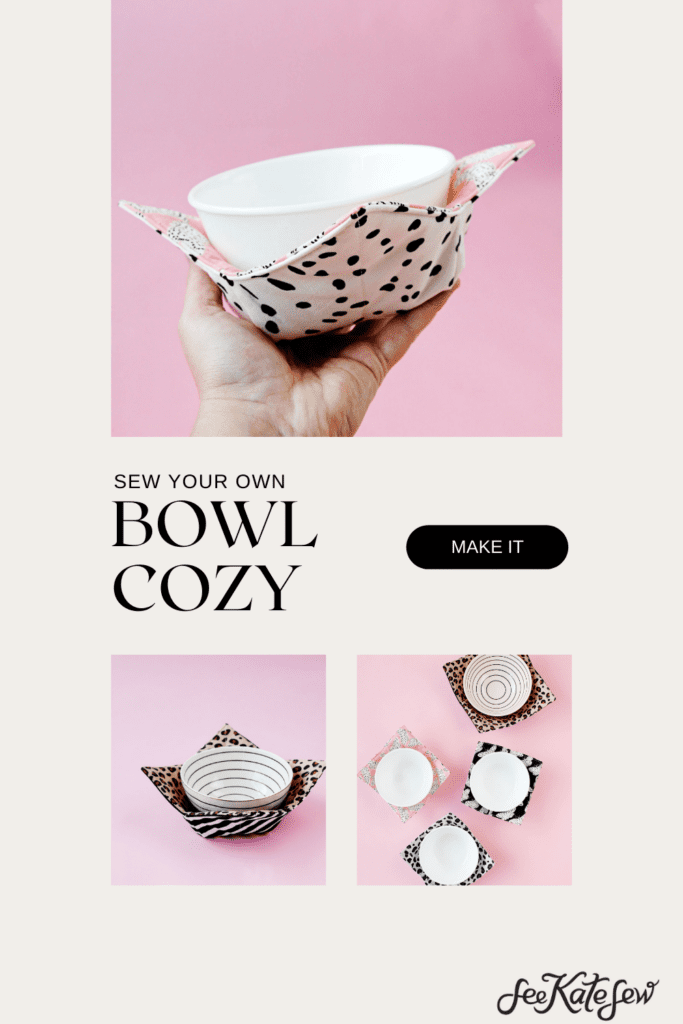 Similar Projects
Follow Along!
Follow me on Pinterest for more sewing ideas!
Share your bowl cozy in the See Kate Sew Facebook community!