With all this rufflyness I haven't mentioned what I'm up to at SYTYC much, but I'm still in! We're in round 5 now, upcycle. Voting starts today so GO VOTE!
Last week, my project was this scrap map:
US Map Wall Hanging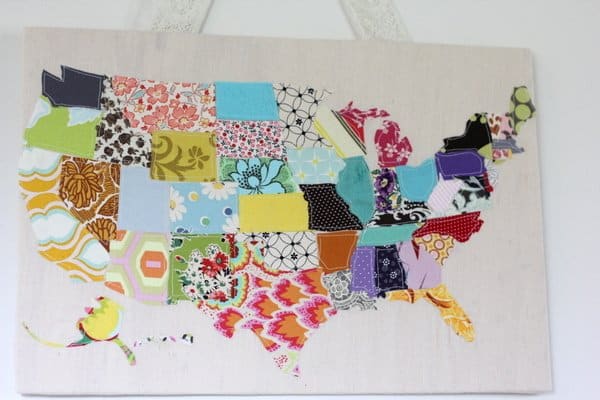 This project even rhymes, a scrap map! I used 50 different little scraps to make this map of America wall hanging. It's bright and colorful and each state is packed with personality.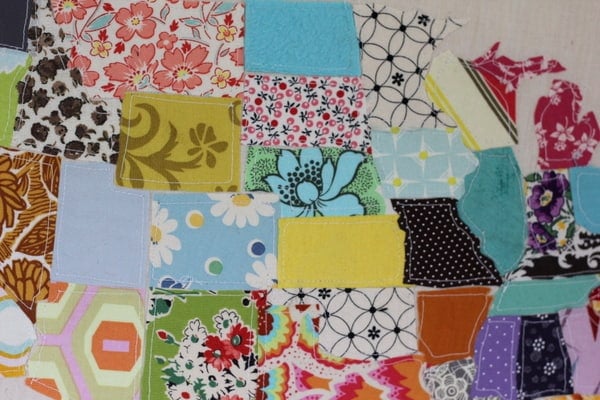 It was really fun to choose a specific fabric print or solid for each different state. And I have a new found appreciation for each state's curves and lines. This project is a great geography refresher! Each state has been delicately topstitched.


I always have a large supply of muslin scraps, so I found one just big enough for the map. Once the map was done I wrapped it around a scrap of plywood I had from another project and hung it up with a piece of lace that was hiding in the scrap pile. The lace reminds me of colonial outfits, so I thought it was the perfect fit. This would be a fun project for a kids room or a classroom.
……
Tutorial: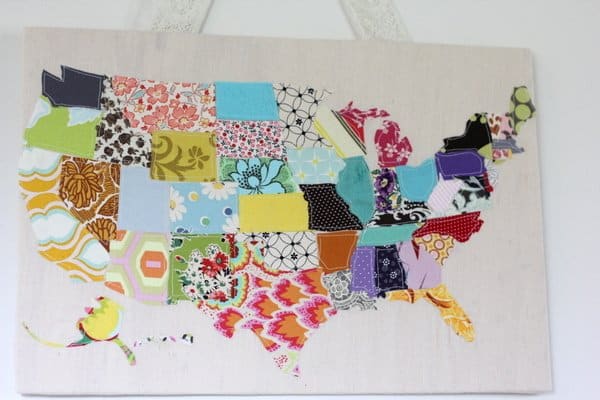 For this project, you're going to need a lot of different scraps, 50 of them. So just go over and PULL your scrap draw out. You can just throw them all over the floor for this one. And don't weed out fabrics if they are unique. I used a fleece for North Dakota (because I think I'd want one there!), a knit for Kansas and a silk in Illinois. It adds some neat dimension to use different fabrics.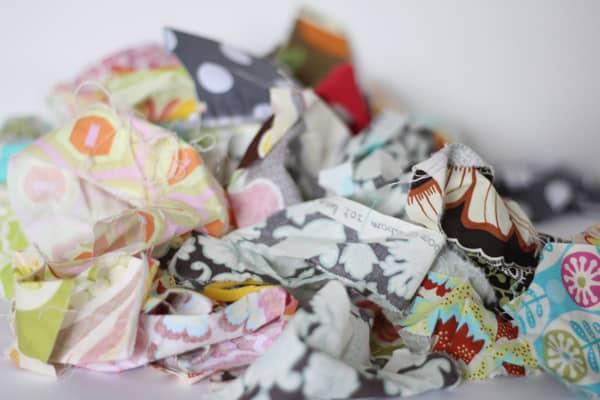 Next, go over here and print off this map, in poster size. I copied the image to Paint(high tech, I know.) and then printed it. To print in poster, go to your printing preferences > Page setup. In the screen shot below you'll see the Poster option highlighted.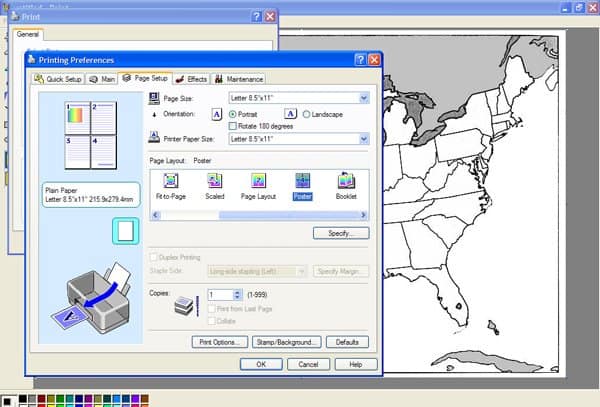 You'll have a bunch of sheets like this: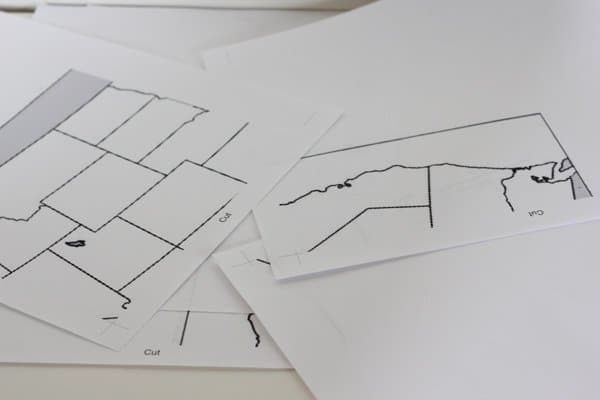 Tape it together, overlapping and trimming as needed. Then cut out California. California is a good state to start with because it comprises most of the west coast and gives you a base to build from.  Now find a piece of fabric that you think represents the state in some way. Here's an example with North Dakota.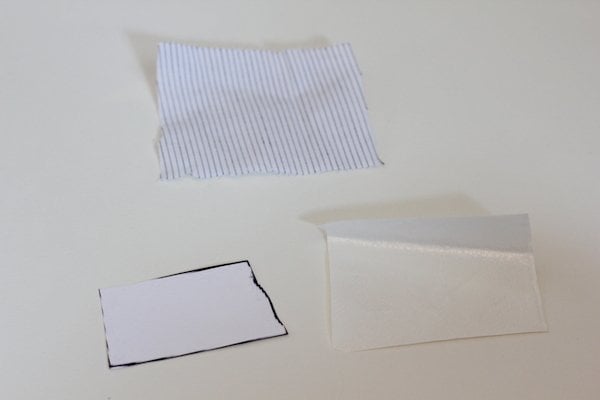 Cut out a piece of heat n bond, large enough for the state and iron it to the back of your fabric.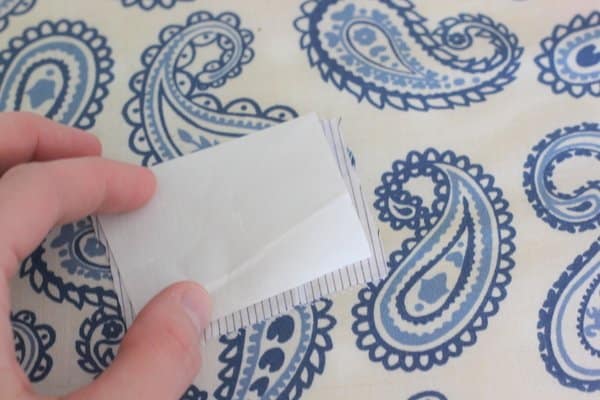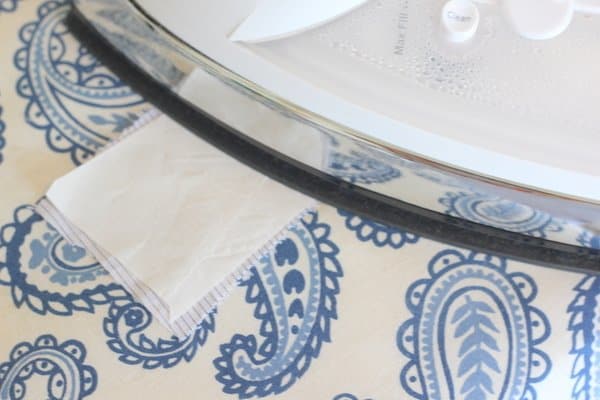 Let it cool and peel off the backing.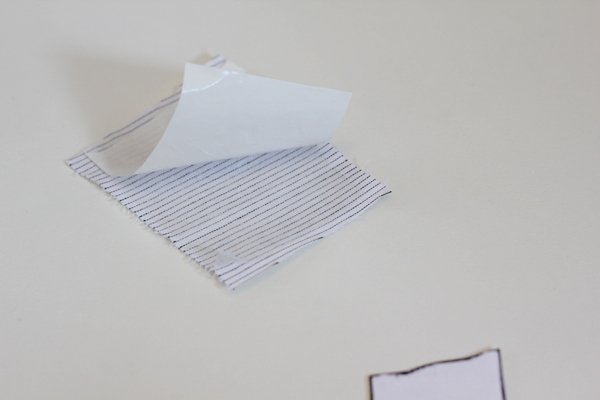 Pin the state to your backed fabric.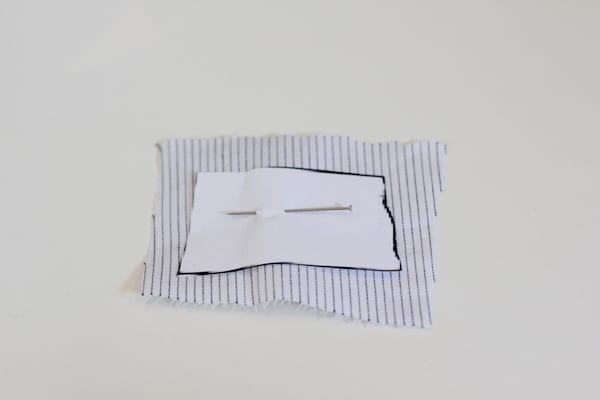 And cut it out.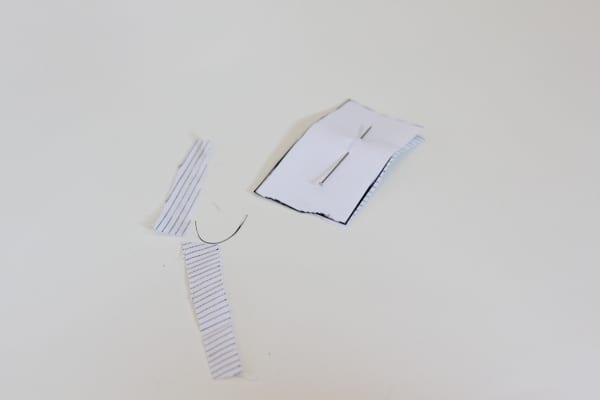 Repeat 50 times.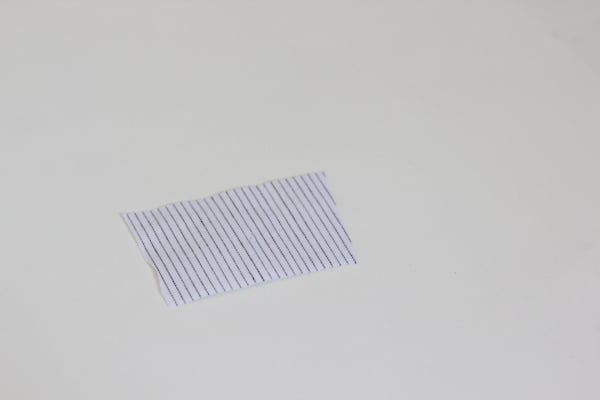 Then iron to a piece of muslin in it's spot. I made sure to cut out one state at a time so I didn't get any mixed up. Keep going until you have all the states on there! Just keep going, working your way from the west coast to the east coast. Those northeastern states are little and tricky, but you can do it! When you're finished, Colorado will be your new favorite state. Perfectly rectangular.
When they are all ironed on, topstitch around each state. This is the most time consuming part, but the most important. It will give each state the definition you want! Before topstitiching, you won't like your map as much as you thought you would. But, when you topstitch, you'll love it! Just remember that because this tedious. Backstitch where necessary to keep your stitches sturdy.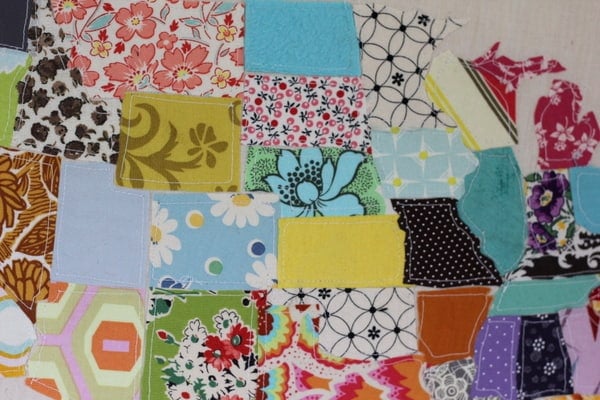 Next, I stretched it around a piece of plywood and glued the back. I just used a glue gun for this step. Then glue on a piece of lace on the back and you're ready to hang it!


*Since you'll be sewing through this, the best heat-n-bond to get is the purple one. I used red, since that is what I had on hand. But purple is more lightweight and won't make your needle sticky.