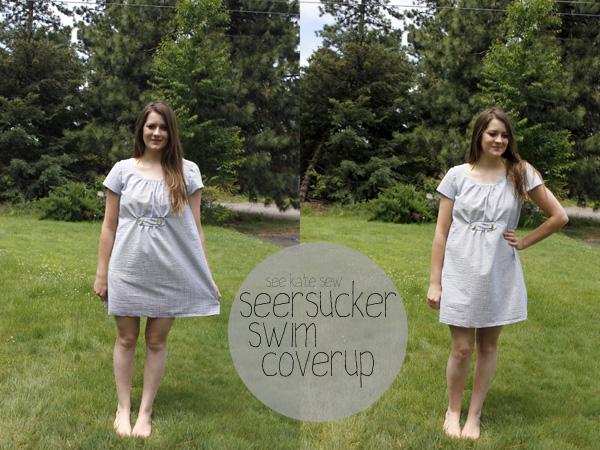 Seersucker is one of my favorite summer fabrics! It's so lightweight and carefree. I love the stripes and nautical feel. I made this swim cover-up to coordinate with my yellow polka dot swimsuit. The fabric is this black and white seersucker
 from fabric.com.
This little coverup slips right on over your head and gathers below the bust. I wanted it make it easy to get on and off but also sophisticated enough that I could wear it out if we happen to go for all-you-can-eat crab (covered in butter!) right after the beach. (Um. Yes. Please.) I think it would also make a cute tunic over leggings for when the summer weather has past. 


To make the dress pattern, I started with the basic blouse pattern that I drafted in this tutorial. I made these changes to make it looser and gathered: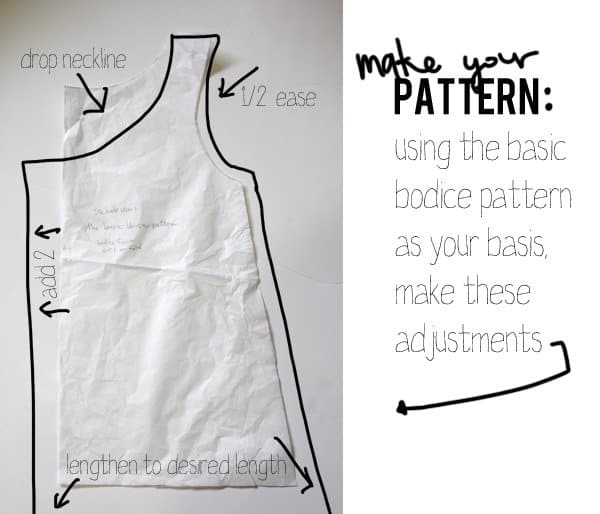 Add 2″ to center front seam to allow for gathering. Add 1/2″ ease to shoulder and armhole for a looser fit. Lower neckline so it slips over easily. Lengthen side seam to desired length. Do the same thing to the back pattern piece except don't add 2″ at the center back seam. Drop the neckline, but not quite so drastically.


Ready to sew?


Gather the top 6″ of the blouse with two rows of baste stitching.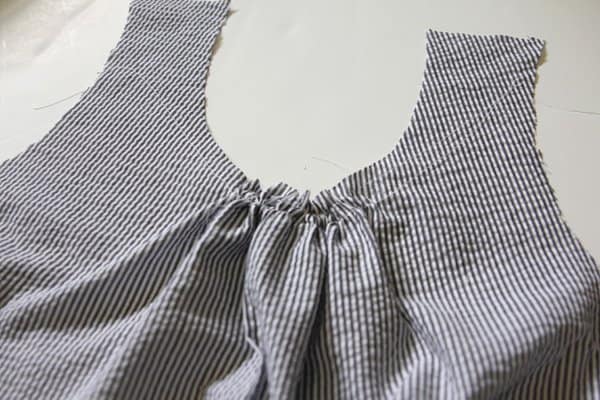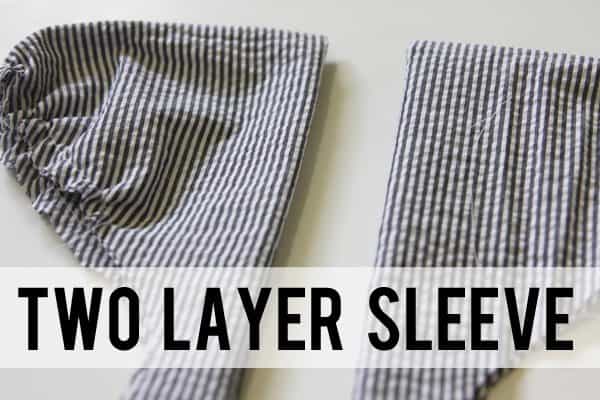 This is my favorite way to make a sleeve! It's super easy and the end result is a fully lined sleeve with no hem to finish. To make the two layer sleeve, cut out your sleeves on the fold of your fabric: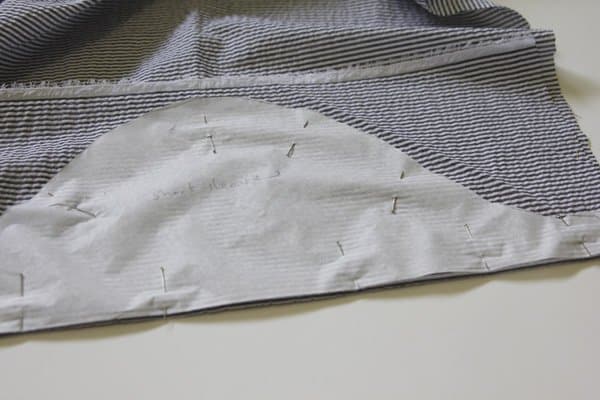 If you open it up, you're sleeve will look like this: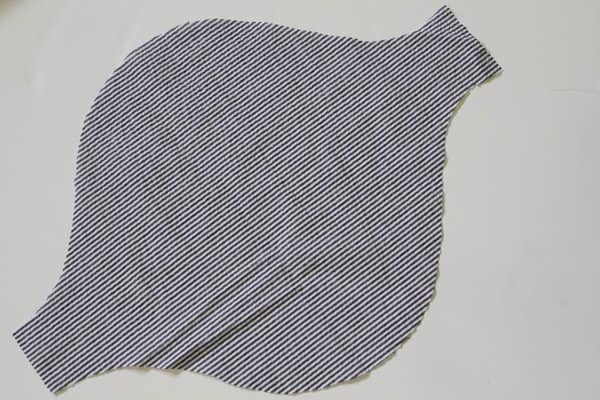 Fold it back up and assemble the side seam. Then add ease stitching at the top and insert your sleeve. It's that easy…no edge finishing!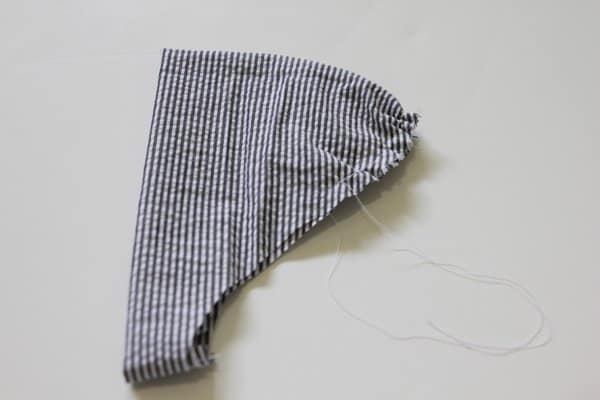 Next finish the neckline with bias tape, then remove the baste stitching.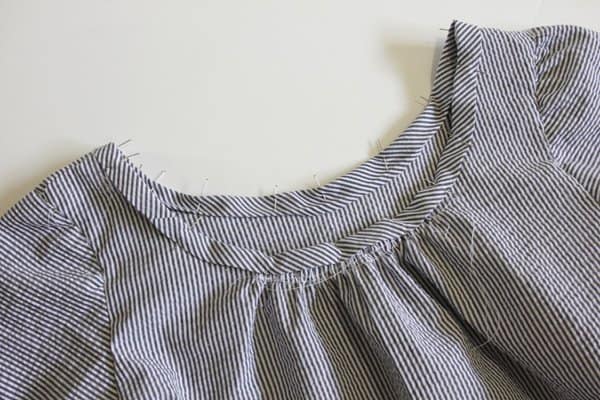 To make the little cinched empire waist detail, cut two strips, 2″ by 6″.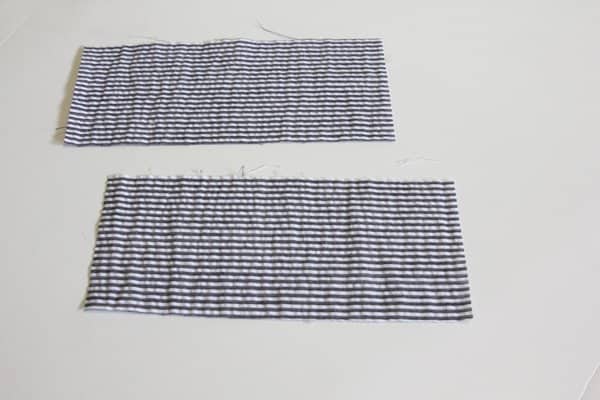 Stack them and round the corners.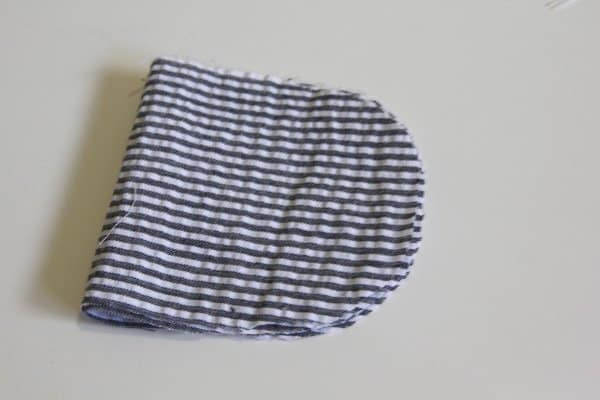 Then sew them together, leaving a 1 1/2″ opening. Use pinking shears to trim the extra seam allowance.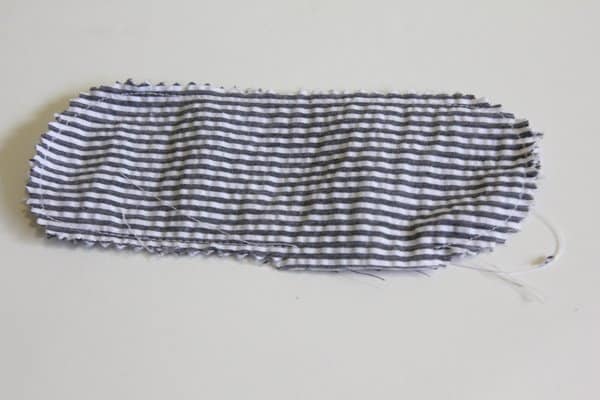 Then gather below the waist with a line of basting.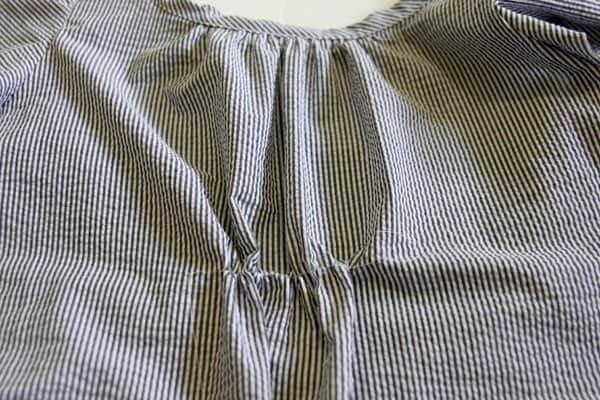 And sew the little detail placket on top.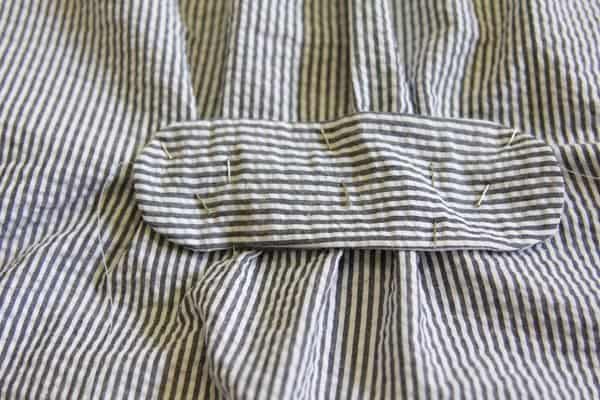 Add some buttons and hit the pool!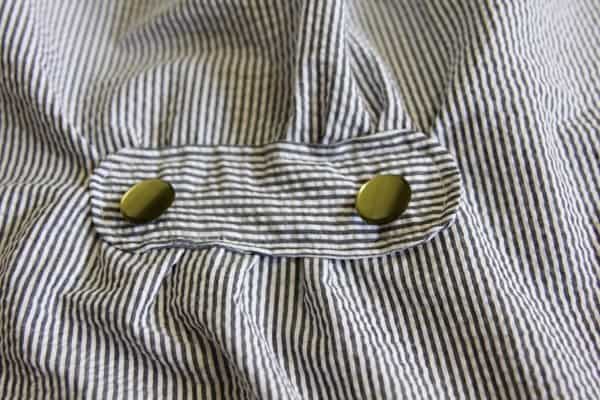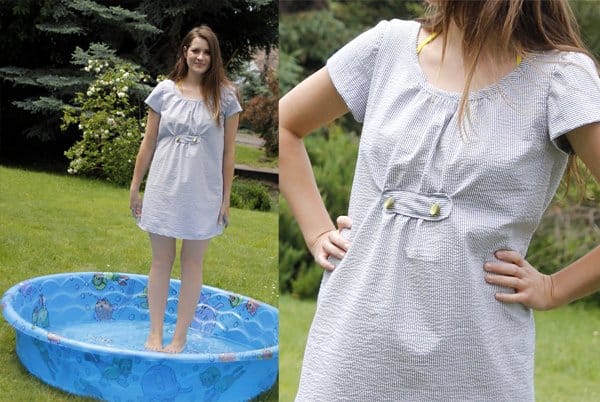 We took a picture in the baby pool as a joke. (And yes, I need a tan!)




So what do you think? All-you-can-eat crab/ beach worthy? My favorite part is the green buttons. I love that color.


Check out what Liz is sharing for summer lovin' at Cotton an Curls today!