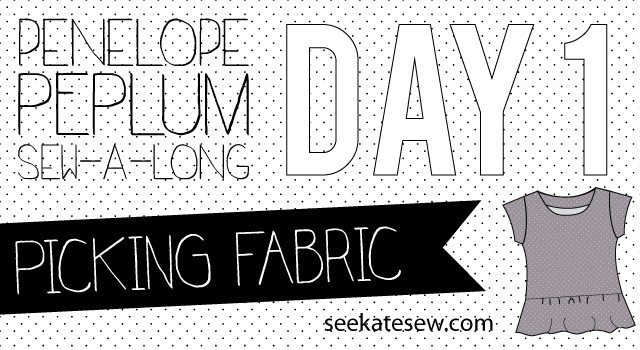 Good quality (and not hideous) knit fabrics have been hard to come by in recent years. My whole view changed this last year, however, when I discovered some great knit fabric sources. A good fabric can really change your whole perspective on the type of sewing you are doing. Not only are there knits available that aren't hideous, there are actually a TON of cute ones! Sometimes quality can be tricky to gauge online, but it is worth the risk when you get a great knit fabric in a cute print. To know what you are ordering, read the fabric type, fiber contents and stretch %.
(This is not a sponsored post, although I have worked with some of these brands in the past. )
1. Girl Charlee specializes in knit fabric. That is ALL they have. They are constantly getting new fabrics in stock and following trends (hello tribal!). I especially recommend their ponte de romas, cotton spandex, ribbing, and french terry. Quick shipping and great prices…thumbs up!
2. Harts is one of my favorite online fabric stores because their site is so organized! It is really easy to find what you need. I have had great experiences with their fabric and their knit section is newly expanding.
3. Mood Fabrics online store is almost as good as the real deal. (Okay, not really, but it is a great online site!) They have great designer stuff, this shimmery poly jersey is sitting in my stash as we speak. Plus, check out the $6 lycra solids! Mood is always the place to go if you need a very specific color.
4. Organic Cotton Plus is a great source for made in the USA solids! It is high quality and made in an environmentally sound way, which I really respect. They also have undyed yardage if you want to get a little crazy and dye your own color.
5. Fabricworm is your one-stop designer fabric shop and they have a knit section! I really love the Heather Ross's Briar Rose knits. Also Birch has some great organic knits, Flight hasn't been released yet, but I love it!
6. Joanns is a little hit or miss with knits, but this year they had some great sweat knits. I got an Aztec black and white print and made matching peplums for me and my girl (see below). I also love their solid interlock. Prices run a little on the higher end(but no shipping), so bring your coupon.
7. Upcycle! Use old or thrifted clothes or sheets. Jersey sheets are easy to find at say Target for a low price per yard. Sometimes they have them on clearance, too! I use sheets for knit muslins, but some of them are good enough to wear!
So there you have it, 7 great places to dig for your knit fabric to sew up a Penelope Peplum with!
Want help shopping? Here are my TOP PICKS. Like, the absolute, don't-even-think-about-it-just-buy-its from the shops above: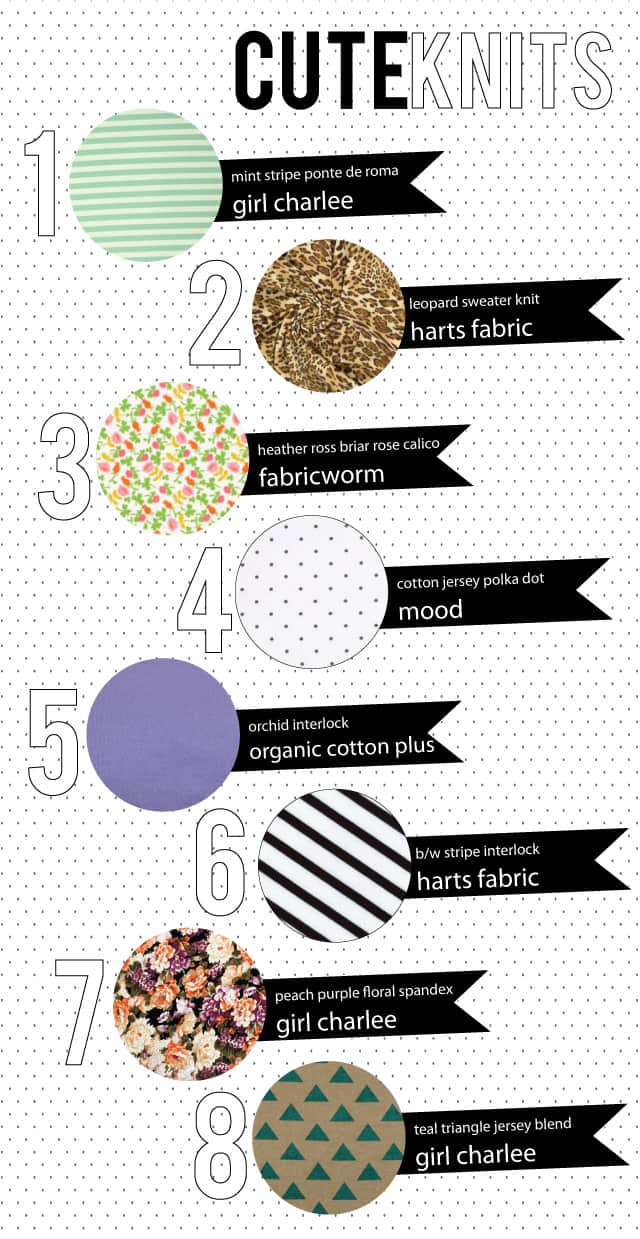 1. Mint Green Ponte de Roma Stripe
2. Leopard Sweater Knit
3. Briar Rose Calico Pink
4. Cotton Jersey Polka Dot
5. Orchid Interlock
6. B/W stripe interlock
7. Peach Purple Floral Spandex
8. Teal Triangle Jersey Blend
I haven't taken photos of most of my peplums yet, but here are the fabrics I used in the photos you have already seen!
Drool not included on the target sheet, sorry!
Other materials to grab:
-Ball point needle (this is needle with a rounded "ball" point that won't snag your knit fabric
-elastic thread (optional)
So, go get your fabric (and prewash it!) and I'll see you tomorrow for day 2: printing the pdf pattern!
If you haven't already purchased your Penelope Peplum be sure to use code PEPLUM for 15% off through January 31! (Works for the Pippa also!)