We've already talked about sewing zippers in a regular seam and sewing invisible zippers so today let's talk about exposed zippers! These are really easy and can add a fun decorative (and functional) element to any garment!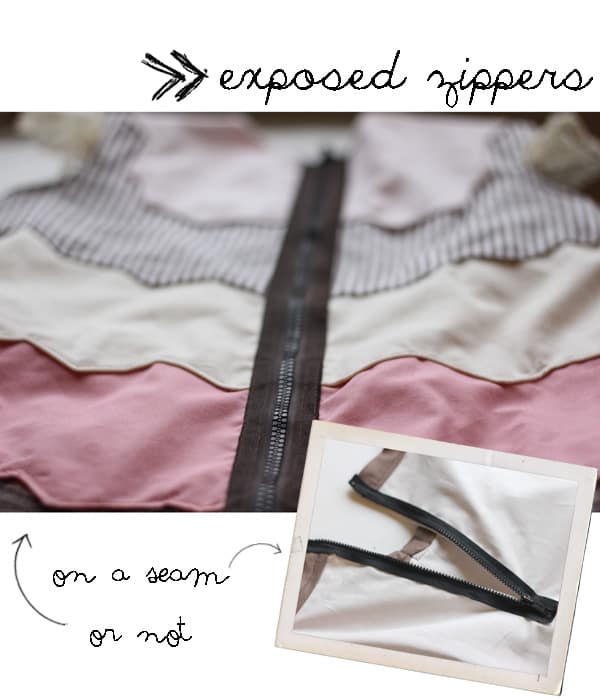 Exposed zippers are zippers that sit right on top of your garment, for a deconstructed look. An exposed zipper can add an element of interest to an otherwise plain garment. Sometimes I use them to add a pop of unexpected color. If you are going for an industrial look, this is your zipper! They can be really fun!
I recently used an exposed zipper on the Neapolitan dress. The brown zipper in the back is the biggest zipper I could find, and extends all the way to the bottom of the dress. This dress didn't have a seam before I put the zipper in. I thought it would be a fun way to give the back of the dress a little extra character.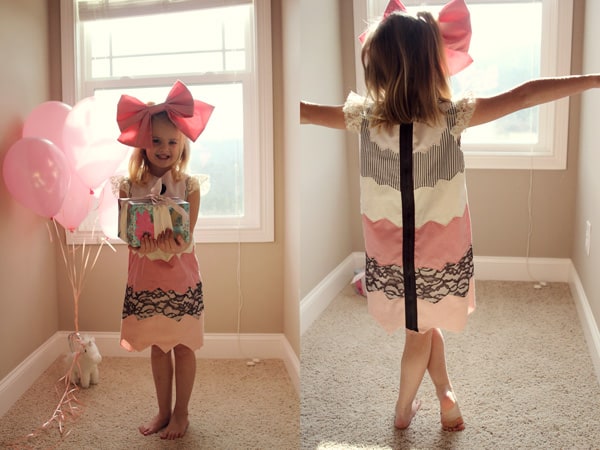 This is what the back looked like before the zipper was added: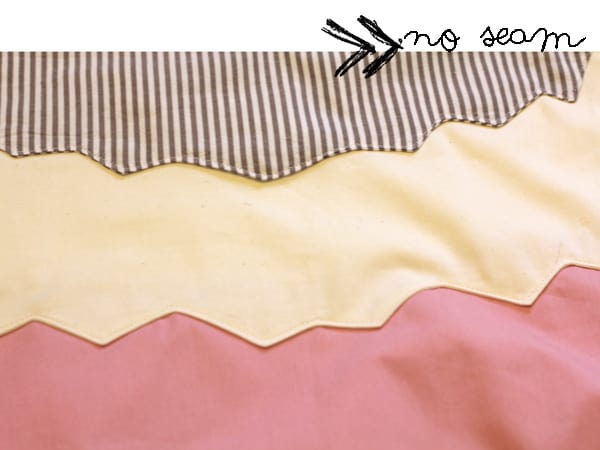 No seam and no way to get into the dress! Exposed zippers can be perfect if you forgot a closure, since you can add them on right on top of your garment. Let's get started: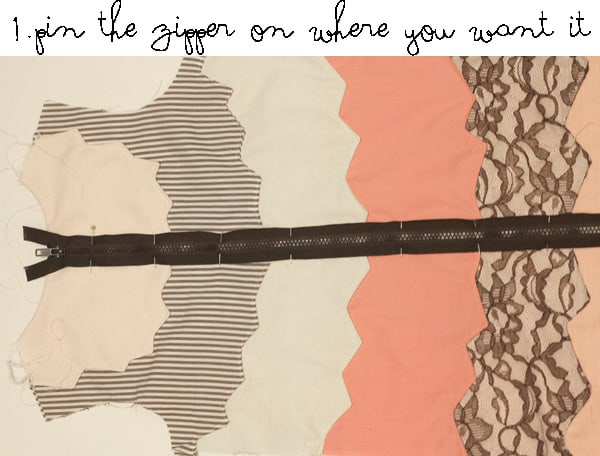 You can pin it straight or make it crooked. Pin it wherever you want! In this example my zipper extends to the bottom of the garment, but in the second example I use a shorter zipper. You can use either, depending on the look you want.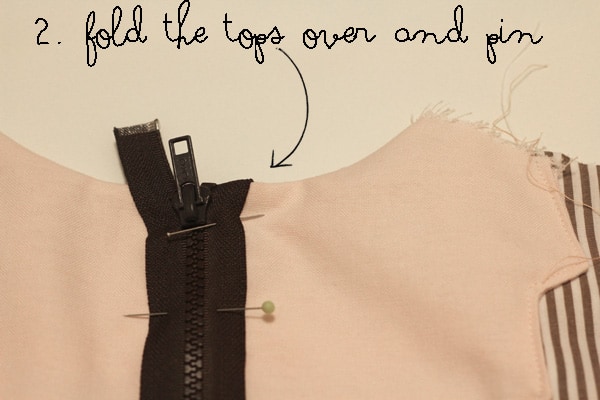 If your zipper extends to the bottom, fold up the bottom edges also. Trim your zipper if necessary.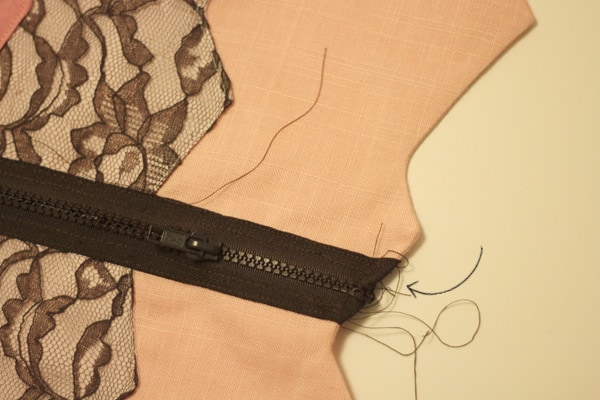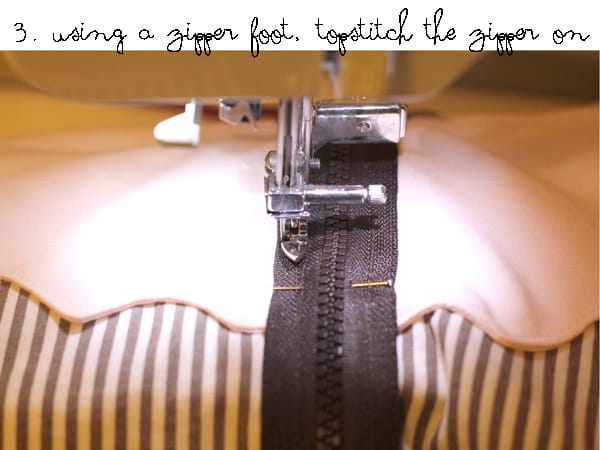 I used two rows of stitching to keep this zipper on since it was so big. Use your judgement to decide if you want one or two rows to secure the zipper on. The zipper foot will allow you to sew closer to the zipper teeth than a normal presser foot would.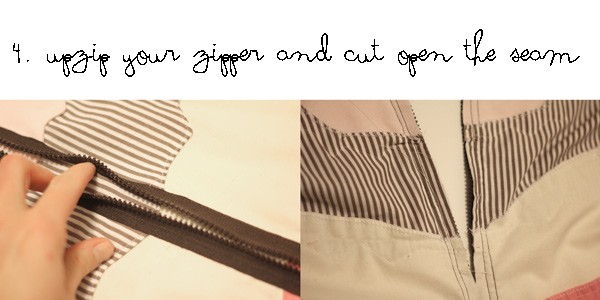 That's it!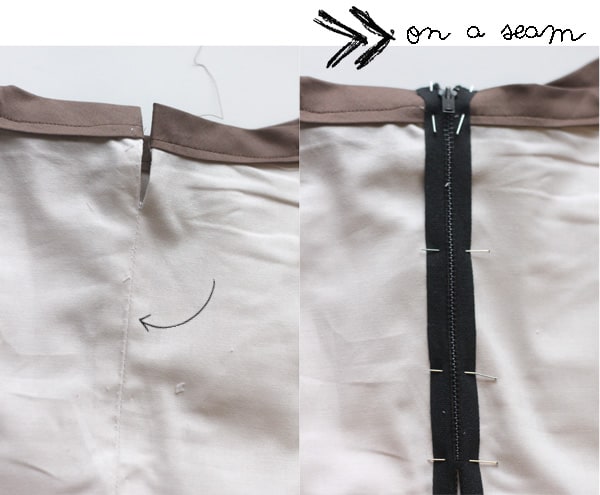 To sew an exposed zipper when you already have a seam, there are a few minor adjustments. First, pin the zipper smack dab in the center of the seam. Then, sew it on the same way and use your seam ripper to unpick the seam and open the zipper. The inside of your zipper will have a nice clean finish because of the folded seam allowance.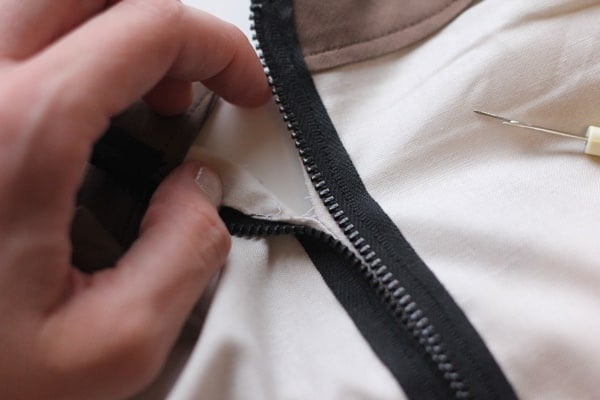 I added this little exposed zipper to my bias tape neckline blouse. The blouse didn't really need a closure, but it's nice to have one just in case. Plus, I just had to compliment the cream and brown with one more neutral, black.
There you have it! Two ways to add an exposed zipper to your projects! Where do you think you'll put one?